Make something in miniature and its cuteness grows! That's what I found when making these DIY faux succulents out of green plastic soda bottles.
Last Christmas I made some very popular and fun Christmas cloche dinosaur terrariums out of upcycled Nutella jars. They were so cute that I still had them on display even though it was spring already.
I decided it was time to give them a seasonal update. That's when I got the idea for the mini faux succulents.
Upcycled Terrarium With DIY Plastic Bottle Faux Succulents
There were multiple upcycled elements to this craft but it still took less than 30mins. I used the small Nutella jars as the cloches, and a wood slice as a base.
I painted mini terracotta pots to look like concrete pots with an old wine cork as the soil. Best of all I made my everlasting miniature fake succulents and tropical plants out of upcycled green plastic bottles.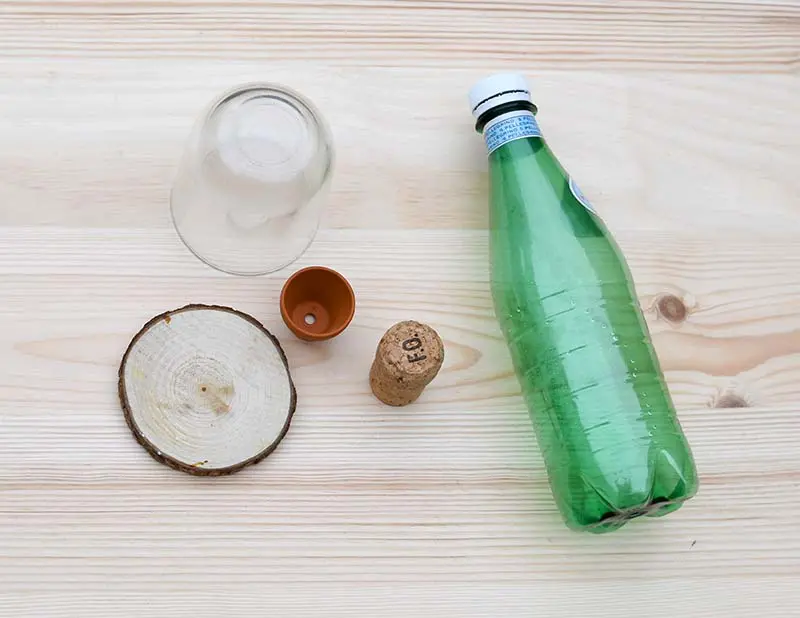 If you don't have mini terracotta pots you can make a mini rustic pot out of an old bottle top. These cute faux succulent terrariums cost almost nothing to make.
I think they would make a lovely gift. They are a cool adult craft to do whilst you are stuck at home as they use mainly materials that you should have to hand.
We're a participant in the Amazon Services LLC Associates Program, an affiliate advertising program designed to provide a means for us to earn fees by linking to Amazon.com and affiliated sites. As an Amazon Associate, I earn from qualifying purchases.
What you need to make plastic bottle faux succulents
Small green plastic bottles, in the UK, are normally for sparkling water. Sprite or Mountain Dew bottles would work too.
Champagne or wine cork
Tiny terracotta pots
Small Nutella jars – These are the ones where the jar can be used as a drinking glass with plastic caps. (Other similar-shaped drinking glasses or jars would do.)
Scissors
How to Make a plastic bottle faux succulent terrarium
Preparing the pot
1.. First, to make the terracotta pots look like concrete pots, paint them with grey paint. Smudge with a paper towel as the paint dries, to give an uneven concrete look.
To make the soil slice a section of the champaign cork (about 5mm thick) and place it in the painted pot.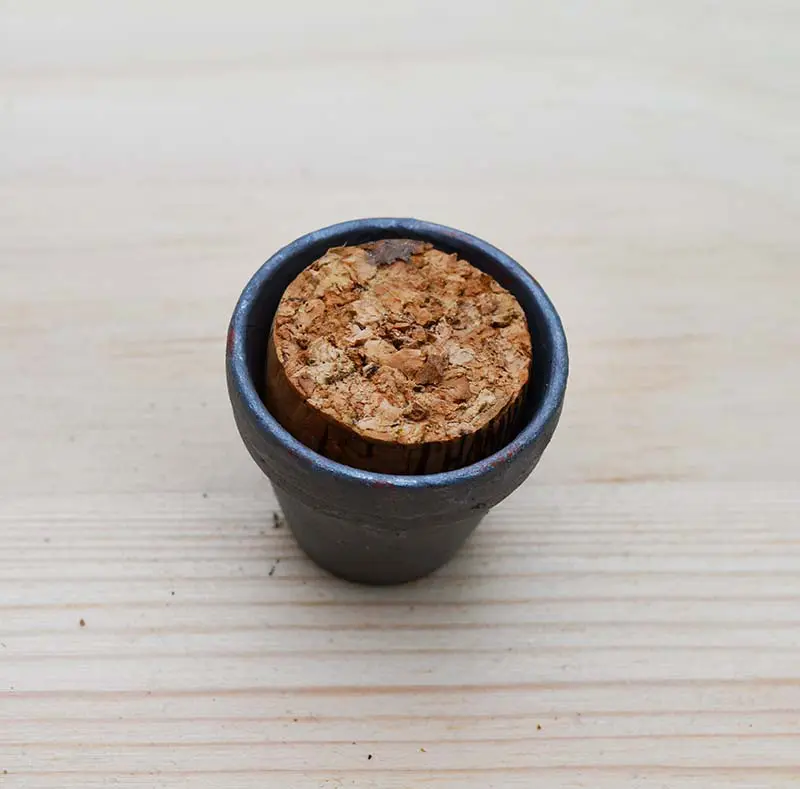 2. Next, using scissors cut a strip of plastic from the green soda bottle, approx 4sm wide.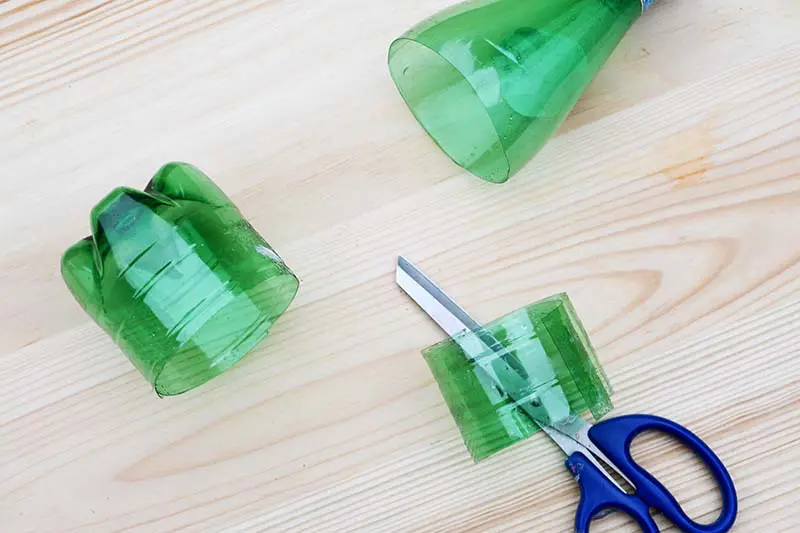 3. Then, using the scissors cut a zig-zag-shaped pattern into the strip of green plastic. Just like in the picture below.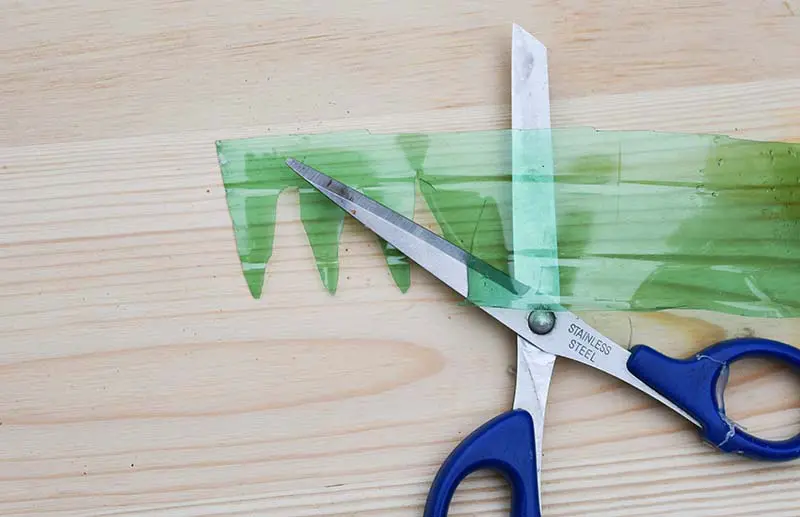 4. The next bit is the fun bit of this upcycled plastic bottle craft. The faux succulent is made by melting the plastic over a candle.
As you hold the cut piece of the green plastic bottle over a small flame it will shrink slightly and curl.
Top Tip: If you curl the leaves too far, just turn them around and heat the other side. Then straighten them out with your fingers.
According to my sons, I have asbestos fingers, demonstrated by my ability to hold hot things. However, if you don't have this superpower you may want to use gloves or tweezers when shaping the hot plastic.
5. Melt each plastic bottle leaf in the strip first and then go over the flame again. This time curling up the plastic leaves tightly together. This takes a little practice but isn't too difficult to master.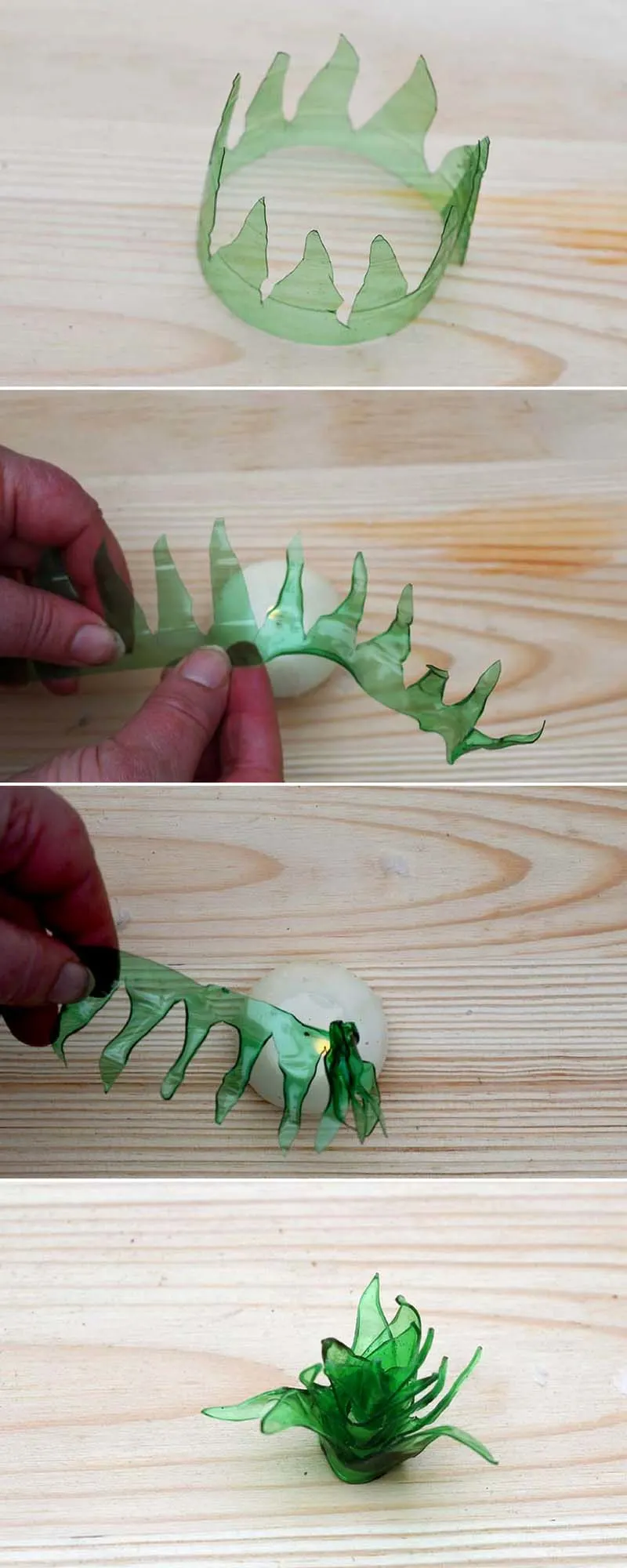 6. As well to the faux succulent above, I made a tropical leaf plant too. This was a little easier to do. I simply cut four tropical leaf shapes from the plastic bottles and melted them over the tealight candle.
They were then simply glued together at the base.

7. Glue the upcycled plastic bottle faux succulents to the cork base in the miniature pots.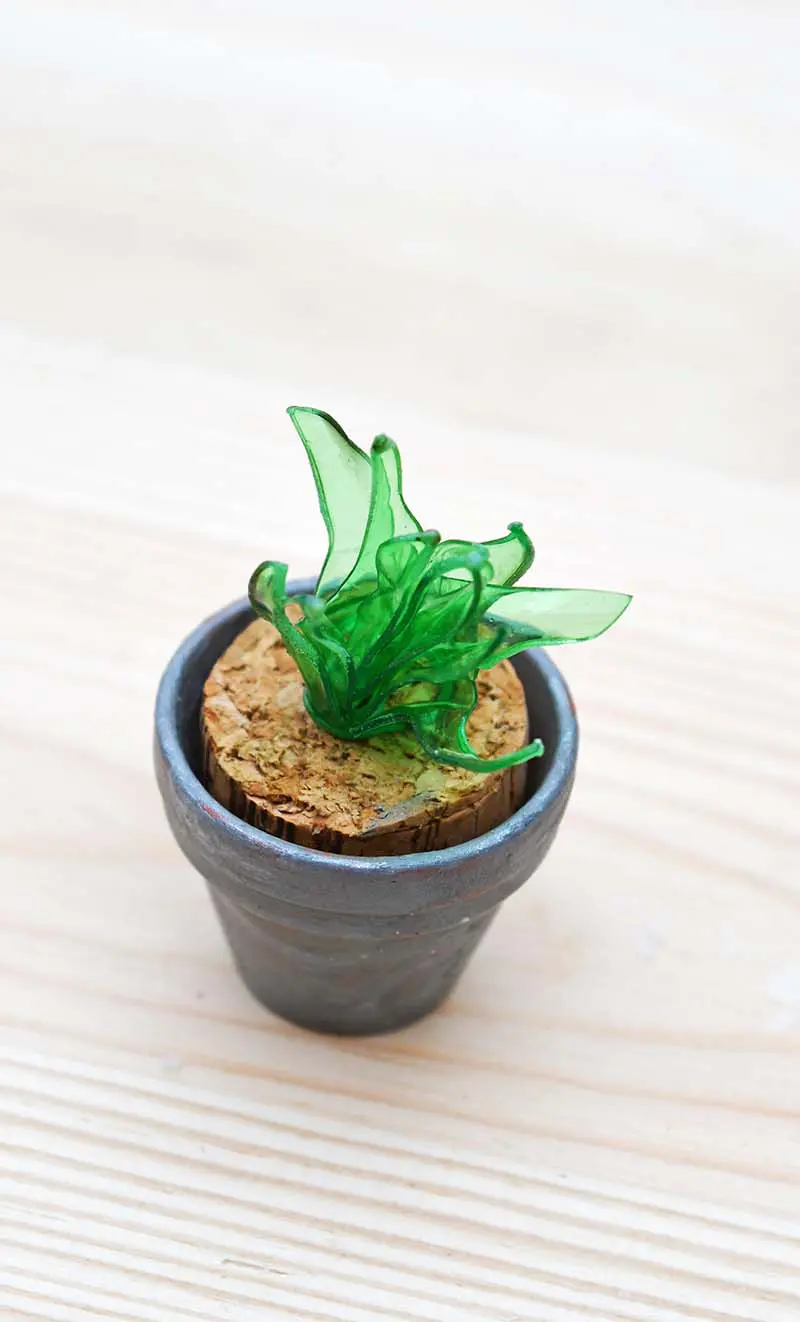 8. Finally, to finish off, place the plant pot onto the wood slice and then pot the glass cloche over them all.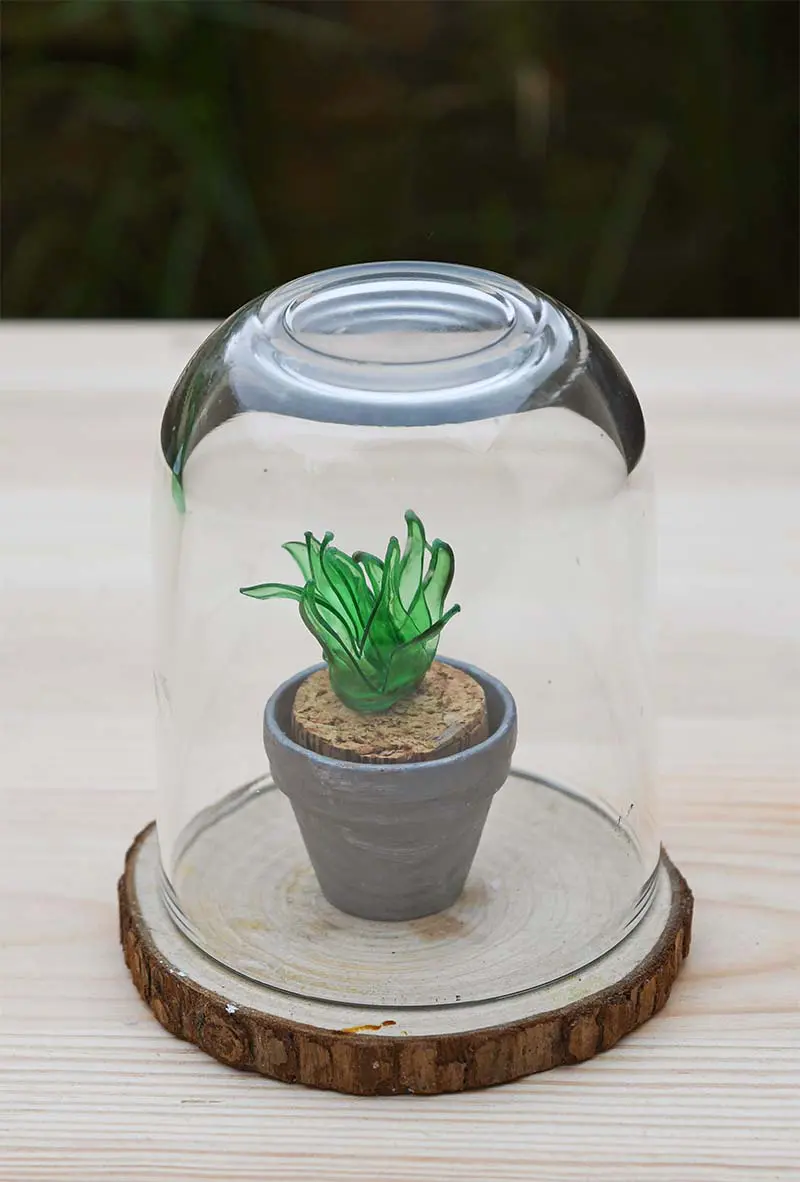 These mini plastic bottle faux succulents terrariums look really cute and just right for summer decoration.
With the tropical plant, I made a more Boho-looking pot. This was done by simply glueing natural twine around a screw bottle top.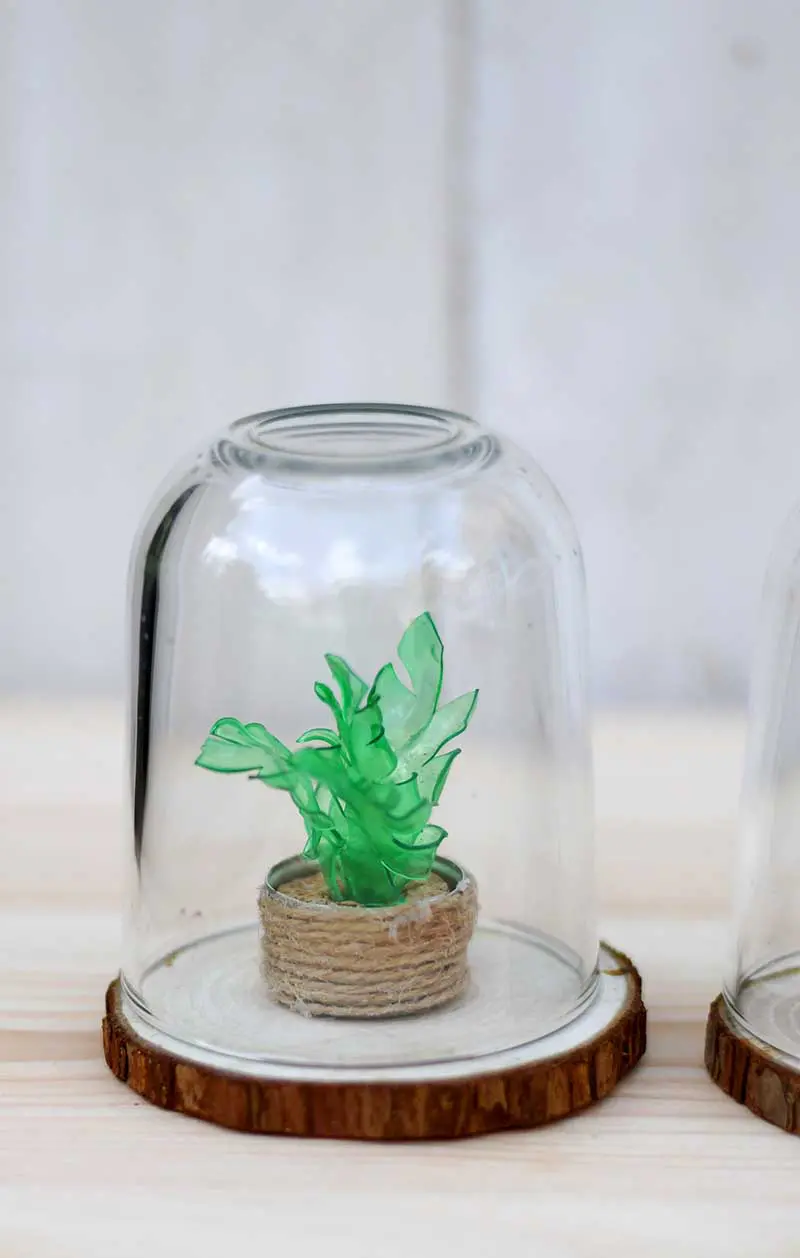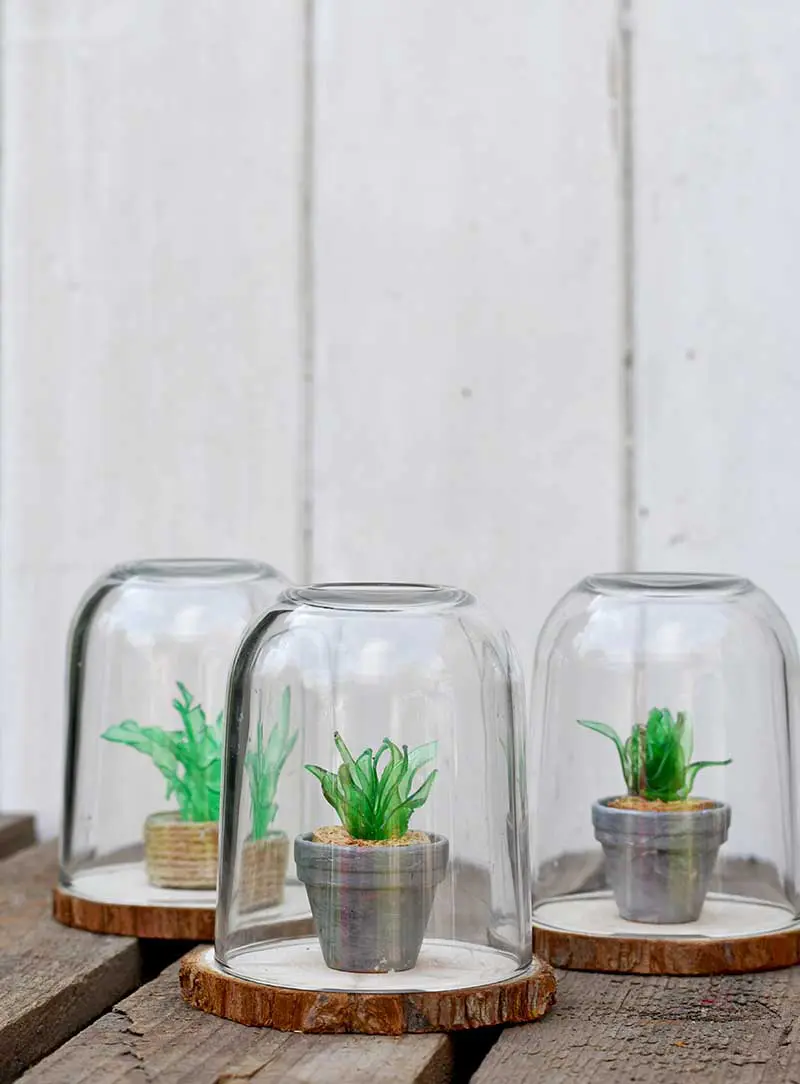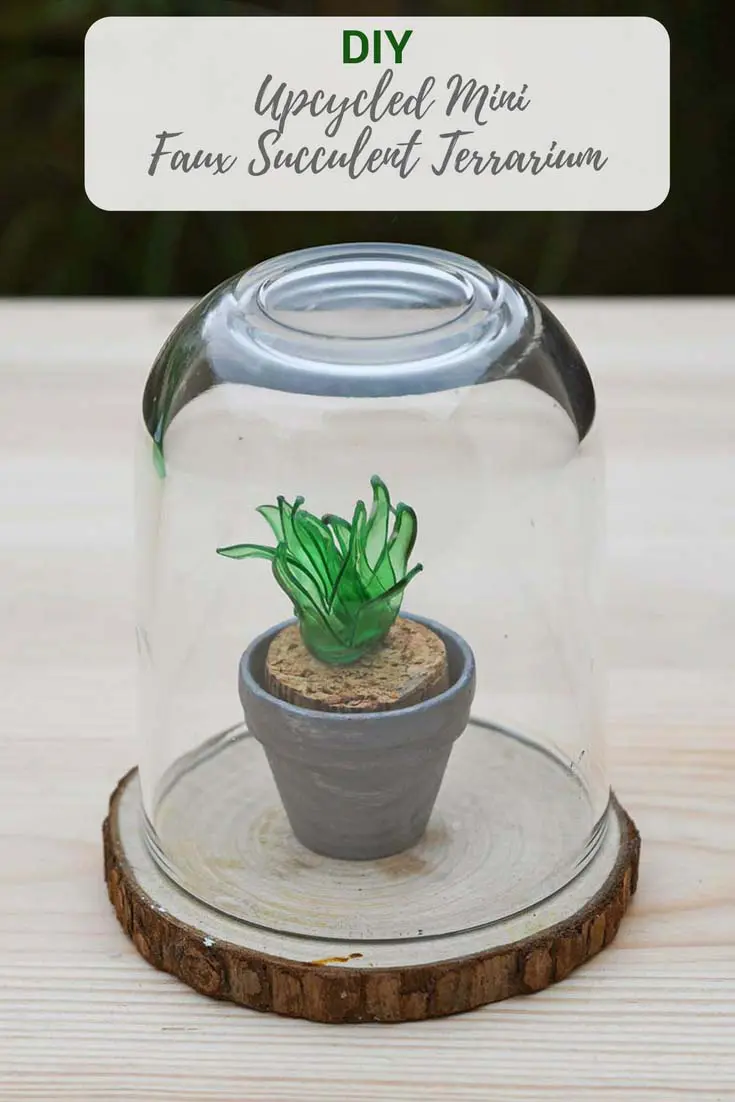 I love cacti and succulents, but unfortunately, I don't have green fingers so I'm always looking for fun ways to make faux ones.
On my mantle, there is a wonderful repurposed felt succulent garden made out of upcycled sweater scraps. I've also made paper succulents for a pineapple paper flower wall decor.
I do think cloches are a lovely way to display crafts and these miniature Nutella jar ones are cute. I do, however, love large cloches too and there is a fabulous parrot paper craft one I also have on my mantle.
Plastic Faux Succulents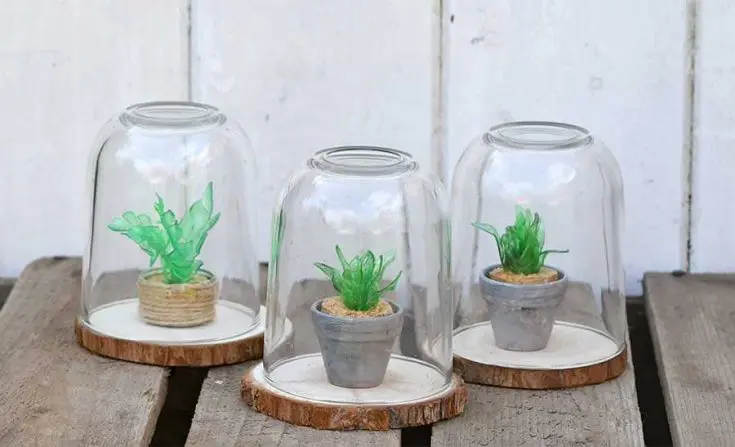 How to make super cute mini faux succulents and tropical plants in their own upcycled cloche by upcycling a soda bottle.
Materials
Green Soda bottle
Mini terracotta pot
Wine cork
Nutella jar - or round bottom shaped glass
Woodslice
Glue
Tools
Scissors
Tea light candle
Instructions
Cut 4cm wide strips of plastic from a green soda bottle.
Paint the terracotta pot grey.
Cut a wine cork to fit inside the mini terracotta pot.
Cut one plastic strip into a zig-zag shape.
With another plastic strip cut out three tropical leaves shapes.
Carefully and slowly heat the plastic pieces over the candle and shape them as they melt.
The plastic will shrink and curl as it is heated. You may want to use tweezers when doing this to avoid burning your hands.
Once the faux succulents have been shaped, glue them onto the cork in the pots.
Finish off by placing the mini plants onto a wood slice. Then place the Nutella jar cloche over the top of them.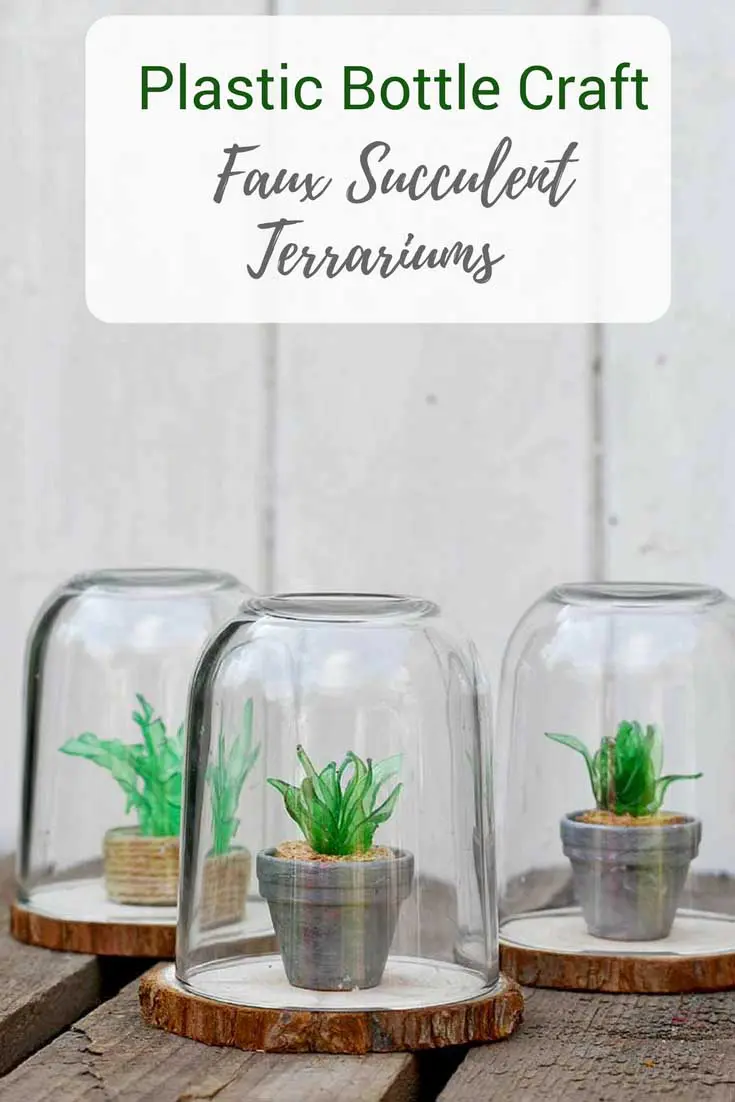 This plastic bottle upcycle was featured in the A to Z of clever upcycling ideas and resources. I also shrink plastic to make earrings.