Inside: Crafting is for grown-ups too. It's good for the soul and has proven to spark joy. Here are 53 easy adult crafts ideas to get you started.
Let's admit the whole point of crafting is to "spark joy" by the adult doing the actual craft or if it's a gift for the person receiving your precious make. Many of us stay home and can't go out to the shops. I have curated a collection of easy cool adult craft ideas. Many use waste material you might have at home already.
Adult Crafting and Joy
I have talked about the psychological benefits of upcycling before. The therapeutic aspects of crafting are well known.
Crafting is not just a boredom buster. Creating something beautiful is such a positive activity in this currently hostile world. It can be a comforting activity when we must stay home and can't go out.
Being absorbed in a creative task while using your hands can be soothing. It is just the tonic you need for a mental pick-me-up. Adult crafting helps with depression and stress and can help keep your mind sharp. Doing things with your hands helps prevent declining age-related cognitive and fine motor skills.
Share the joy of crafting by making things for others. Nothing is more personal than a handmade gift; it makes me smile when I get one. Handmade crafts are an affordable and joyful way to decorate and make a home unique.
Before you start, you might want to ensure these crafting essentials are in your cupboard. And have a rummage through your bin for these waste material crafts.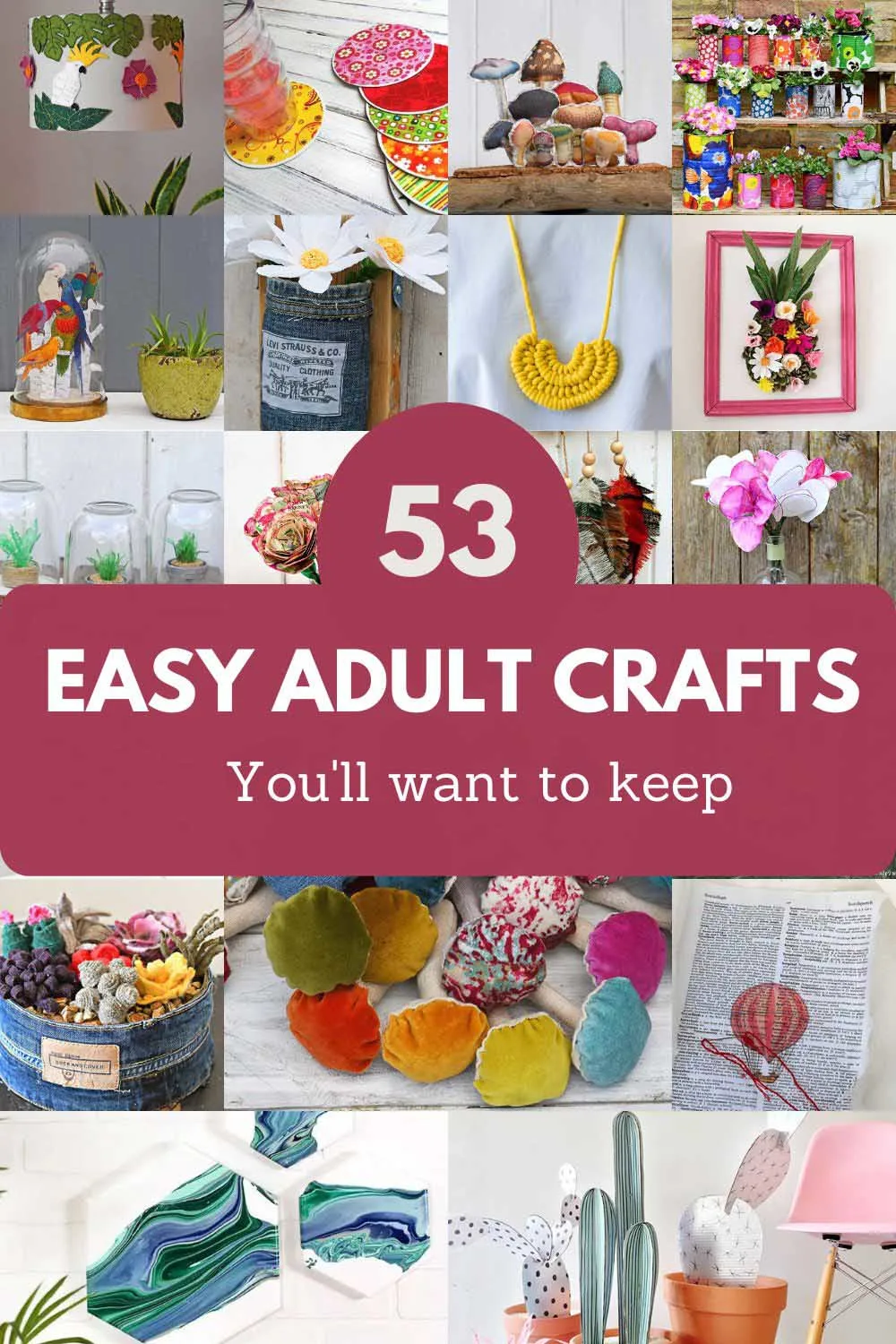 Materials That You Are Likely To Have To Hand
You might be sold on the benefits of crafting and think the next step is to go to the craft store to get supplies. Well, for some of us, that's not possible now.
With many of these adult craft ideas, I have chosen projects that use things you will likely have around the house.
Free things you can upcycle craft include cardboard from Amazon packaging, toilet roll holders, plastic bottles, tin cans, and yoghurt containers.
1. Waste Paper
Scrap paper is a good resource for many grown-up crafts, e.g. newspapers, magazines, sheet music, tissue paper, paper napkins, paper doilies and old maps. Newspapers are great for paper mache crafts.
Old maps are one of my sources for crafting papers. They are very affordable, add interest and personalize your makes if you use maps of places unique to you.
If you don't have a particular map you want to use, you can easily download and print free vintage maps to use.
2. Fabric Scraps
You can make many adult crafts with fabric scraps; they don't have to involve sewing. Fabrics are a great way of adding pattern and texture to an upcycled craft.
Don't worry if you don't have a stash of craft fabric; there are so many ways you can use upcycled materials. Fabrics include old sweaters, sheets, tea towels, denim, shirts and blouses. With these adult craft ideas, you need a few scraps of material and not yards.
3. Natural Materials
If you have a garden or manage to go out for a walk in your local park, you can gather many free natural materials for your adult craft projects. These include items such as rocks, twigs, acorns, and pinecones.
4. Other Free Crafting Resources
Can I substitute if you have everything on the material lists for a particular adult craft project and can't get to the shop? Say a craft needs beads; maybe you can repurpose some from an old necklace or make paper beads.
For example, many of the crafts call for Mod Podge decoupage glue. If you don't have any, try experimenting with another white glue. White glue (PVA glue) is versatile and can be used on most crafting jobs. It also makes an excellent top coat varnish too!
Did you know you can print onto paper napkins and tissue paper on an inkjet printer? Print your own if a craft calls for a patterned paper napkin you don't have.
Check out these nifty Christmas craft ideas for more seasonal adult craft ideas.
Easy Adult Craft Ideas To Spark Joy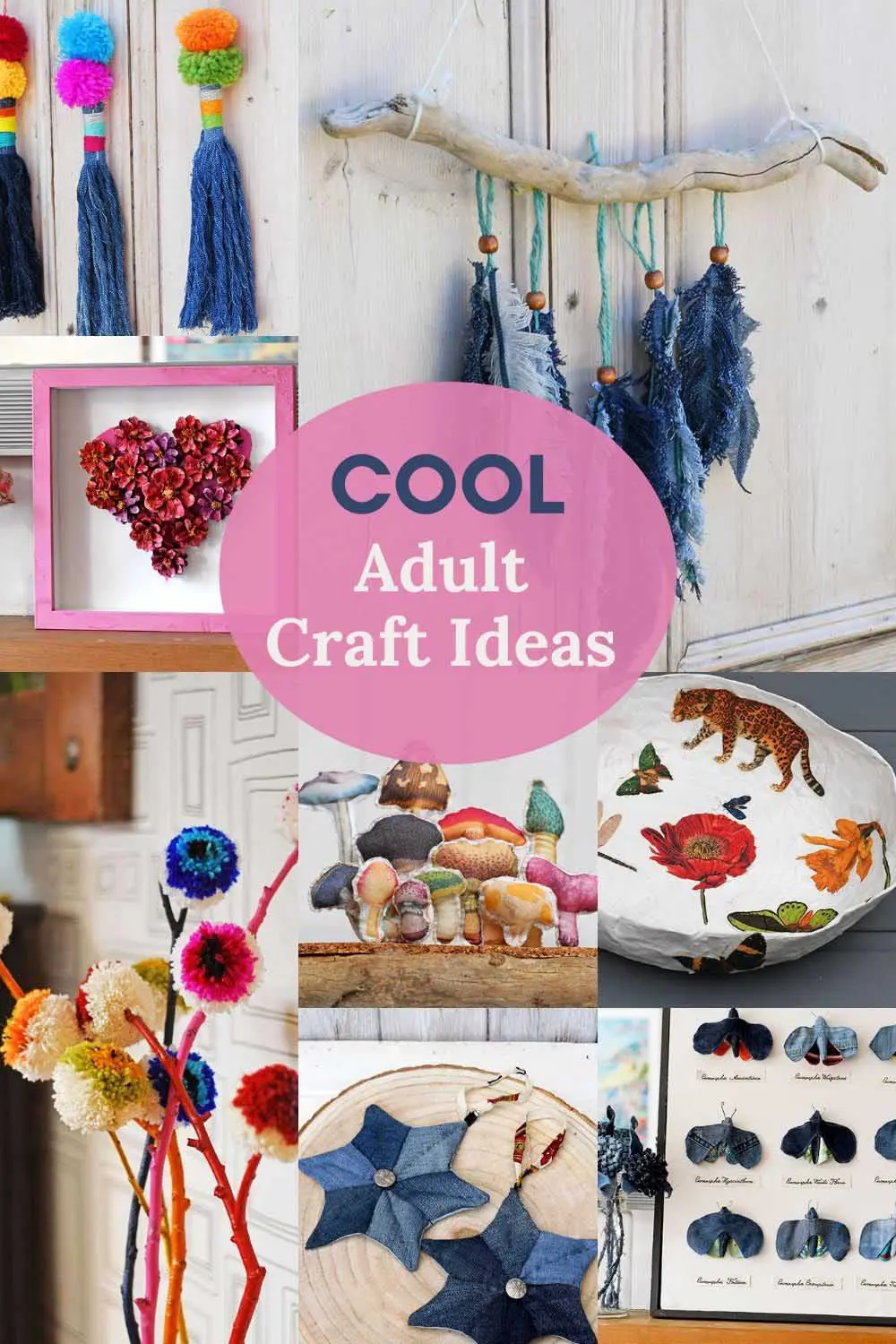 If you like these craft ideas for grown-ups, don't forget to check out these;
For more seasonal crafting, check out these Easter DIYs for adults and cool Christmas crafts.