Inspired by Swedish, Norwegian, and Danish culture these are a collection of DIY Scandinavian Christmas Decorations. I have included some Finnish decorations so strictly speaking they are Nordic decorations.
Finland is not a Scandinavian country but it is a Nordic country and all Scandinavian countries are Nordic. I don't mean to bamboozle you with geography. For some people the distinction is important and I don't want to upset anyone.
My mother in law is Norwegian. So I do have some experience of a Norwegian Christmas. As with the rest of Scandinavia, the main celebration was on Christmas eve. We ate our Christmas dinner in the evening after decorating the tree, then we opened the presents.
Her Christmas decorations are authentically Scandinavian. They followed many of the classic Scandi Christmas themes of hearts, garlands of flags on the tree, straw ornaments, and lots of candles and lights.
No Scandinavian Christmas tree is complete without a garland of national flags.
Christmas in the Nordic countries is called: Jul in Sweden, Norway, and Denmark, Jól in Iceland, and Joulu in Finland. Merry Christmas in Norwegian is God Jul.
Pictureboxblue has a wonderful collection of free vintage Scandinavian Christmas cards, many of which have God Jul on the front.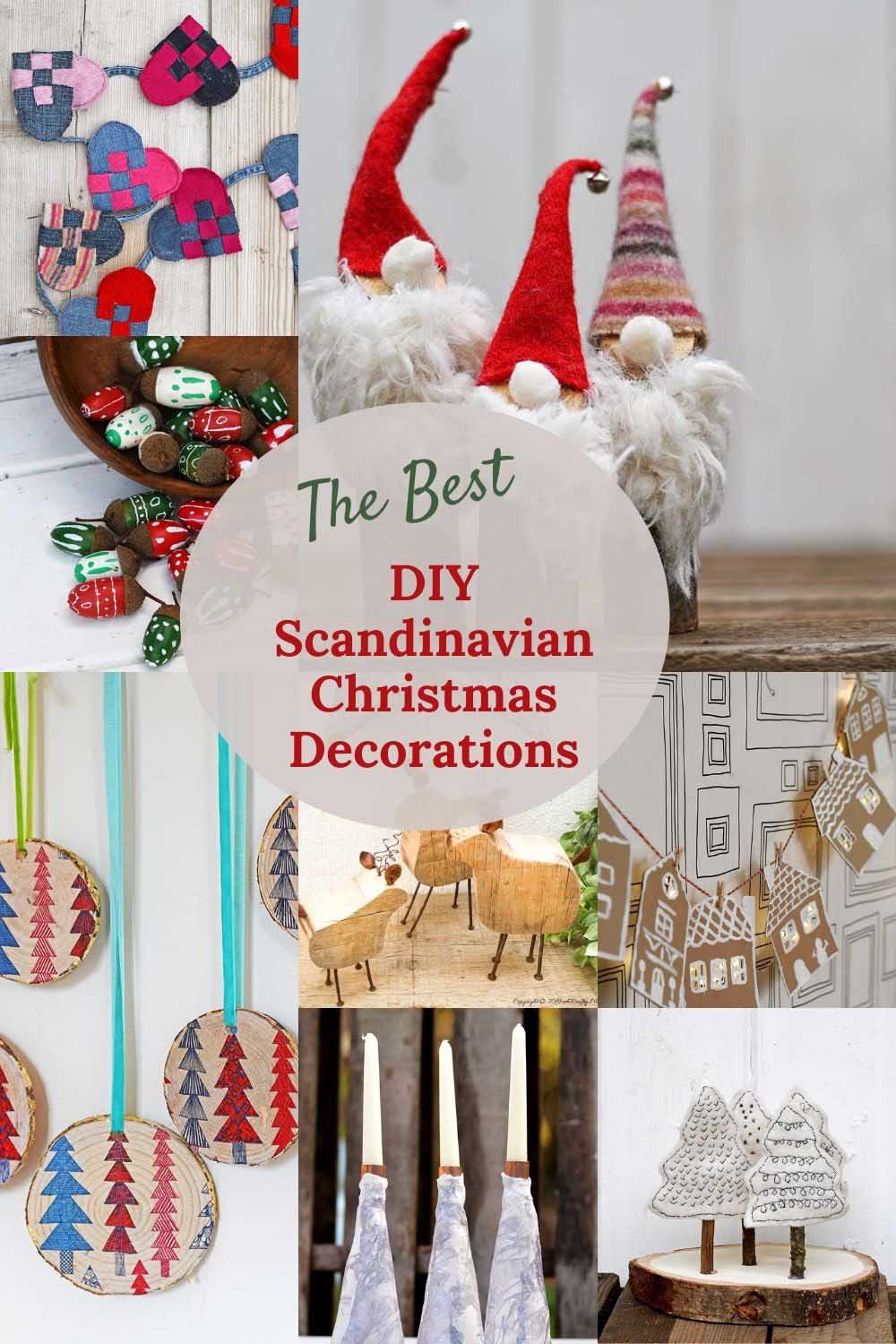 The DIY Scandinavian Christmas Decorations and Crafts
The following tutorials are for Christmas decorations that have a Scandinavian feel to them.
Some of the crafts contain uniquely Scandinavian themes such as gnomes and Christmas goats! The Yule goat is a Scandinavian Christmas symbol and tradition. Often you will find a straw goat ornament on a Swedish Christmas tree.
The Christmas gnomes that have been popular over the last couple of years originate from Scandinavian culture. These little long-bearded gnomes are called Nisse in Norwegian and Danish and Tomte in Swedish.
The Tomte and the yule goat appear on Christmas Eve, knocking on the doors of people's homes, handing out presents.
The simplicity, neutral tones and use of natural elements of wood and wool give the other Christmas decorations that Scandinavian vibe.
Many of the crafts are upcycles too. Which makes them very affordable and kind to the environment. Hopefully, there will be something to inspire you to add a touch of Scandinavian style to your DIY Christmas decorations.
Every year I add a couple of new Scandinavian Christmas crafts to my blog as I love to decorate my home with a few Nordic elements. However, we celebrate the festivities in a more traditional English way. The celebratory meal is served on Christmas day and the presents are opened on the day too.
Scandinavian Slow TV
I love to craft in front of the TV as I like to do something with my hands. When crafting at Christmas I often watch a bit Norwegian slow TV. This really gets me in the festive mood and I find it really relaxing. Plus it doesn't require any concentration.
My two favourite slow TV films are the train journey across the arctic circle and the other is the reindeer migration.
The reindeer migration is a real-time film of Norway's Sami reindeer herds as they migrate across the mountainous region of Finnmark; a week-long journey of over 160 miles far north of the Arctic Circle.
Scandinavian Christmas Crafts
A collection of the best DIY Scandinavian and Nordic-inspired Christmas crafts for the home. Including, hearts, gnomes, nature-inspired ornaments, and the yule goat to name a few.
If you enjoyed these DIY Scandinavian Christmas decorations then you will probably love this collection of Marimekko and Nordic-inspired crafts.
There is also a very cute Scandinavian Halloween felt craft here.