Discover how to make a charming denim fabric star ornament with our step-by-step sewing tutorial. Transform scraps of fabric into a festive decoration for your Christmas tree.
It's that cosy time of the year when the soft hum of the sewing machine is as comforting as hot chocolate on a chilly evening. Let's channel the holiday spirit into crafting something unique—fabric stars crafted from denim scraps that add a personal touch to your Christmas tree.
In this sewing tutorial, I'll turn ordinary strips of fabric into a star pattern that's anything but ordinary. Whether you're a novice or have your sewing skills down, this project is an engaging way to upcycle excess fabric into something beautiful.
Grab your embroidery floss and get ready to add some personality to your decorations. This isn't just an easy sewing project; it's your next step to creating a denim ornament as stylish as it is spirited.
So, gather those denim scraps—it's time to create a beautiful ornament as individual as your holiday cheer.
We're a participant in the Amazon Services LLC Associates Program, an affiliate advertising program designed to provide a means for us to earn fees by linking to Amazon.com and affiliated sites. As an Amazon Associate, I earn from qualifying purchases.
Materials Needed: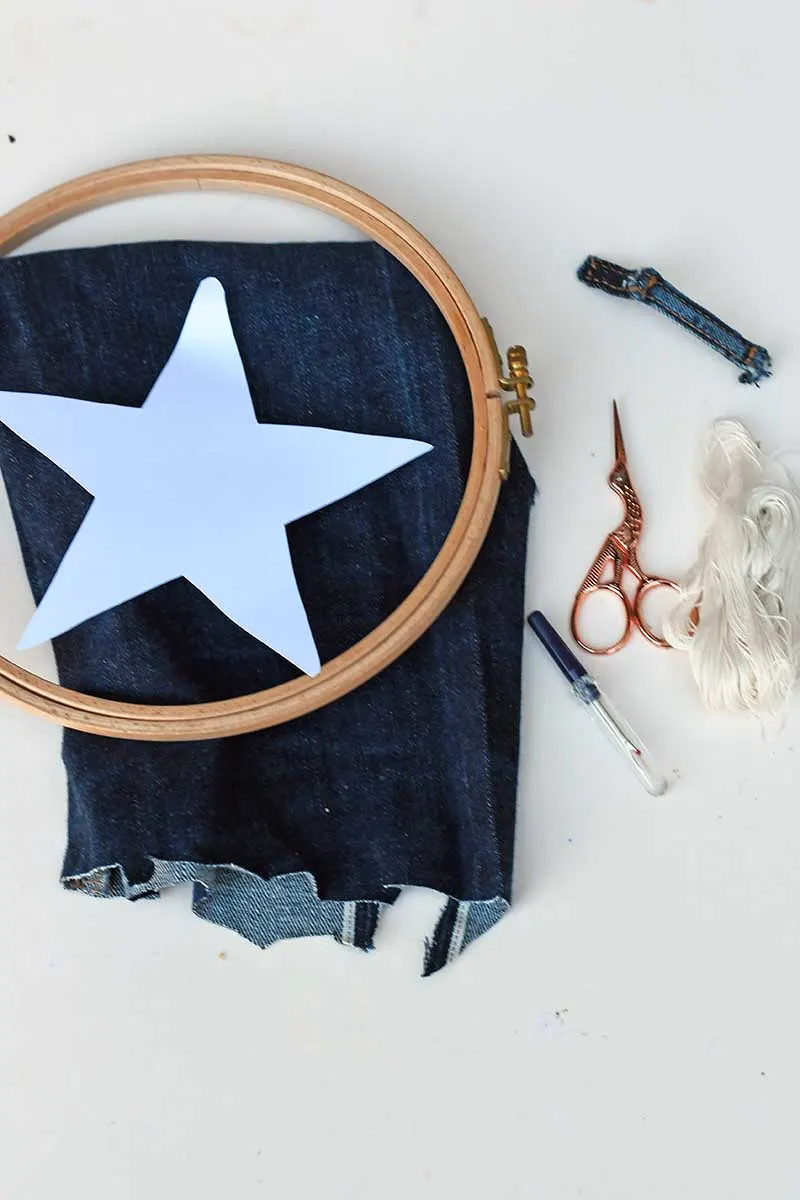 Scraps of fabric – Used denim from old jeans.
Sewing machine
White embroidery floss – I used Japanese Shasiko thread.
Tapestry Needle
Scissors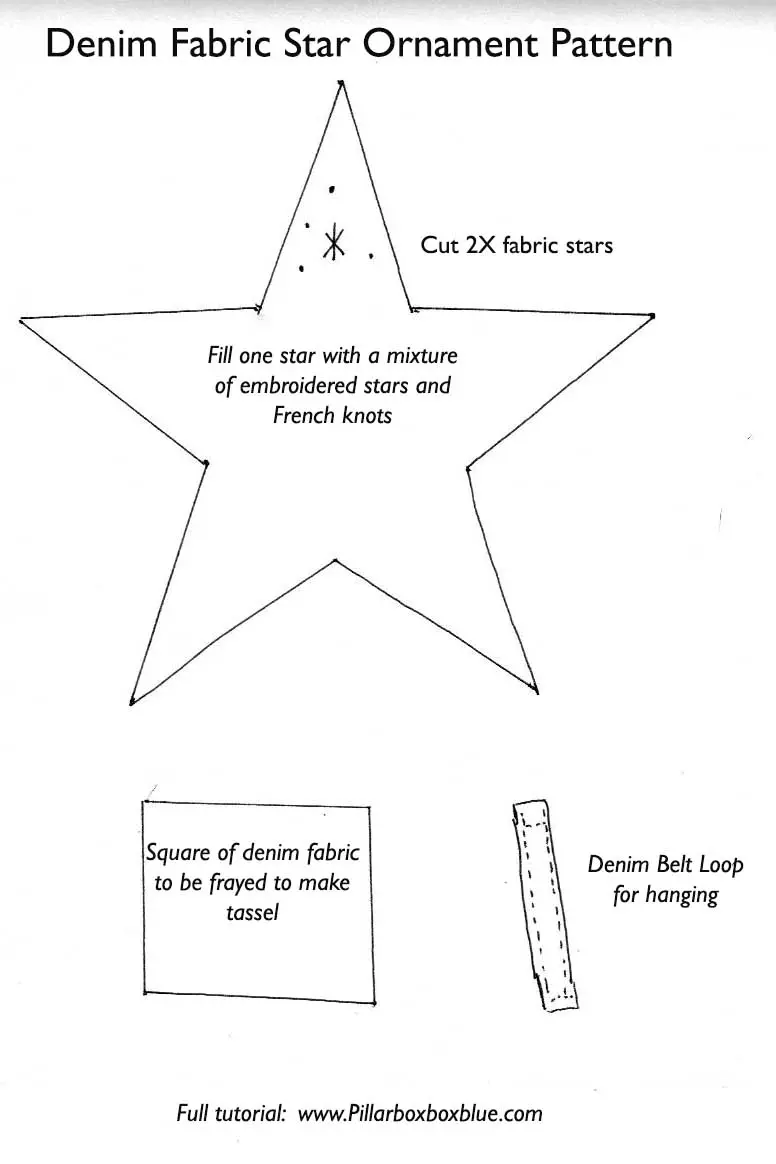 How To Make A Fabric Star Ornament
Step 1: First thing, prepare your pattern and fabric. Begin this easy sewing project by printing out the star pattern provided. Place your fabric in the large embroidery hoop. Using the white fabric chalk, trace around the star template.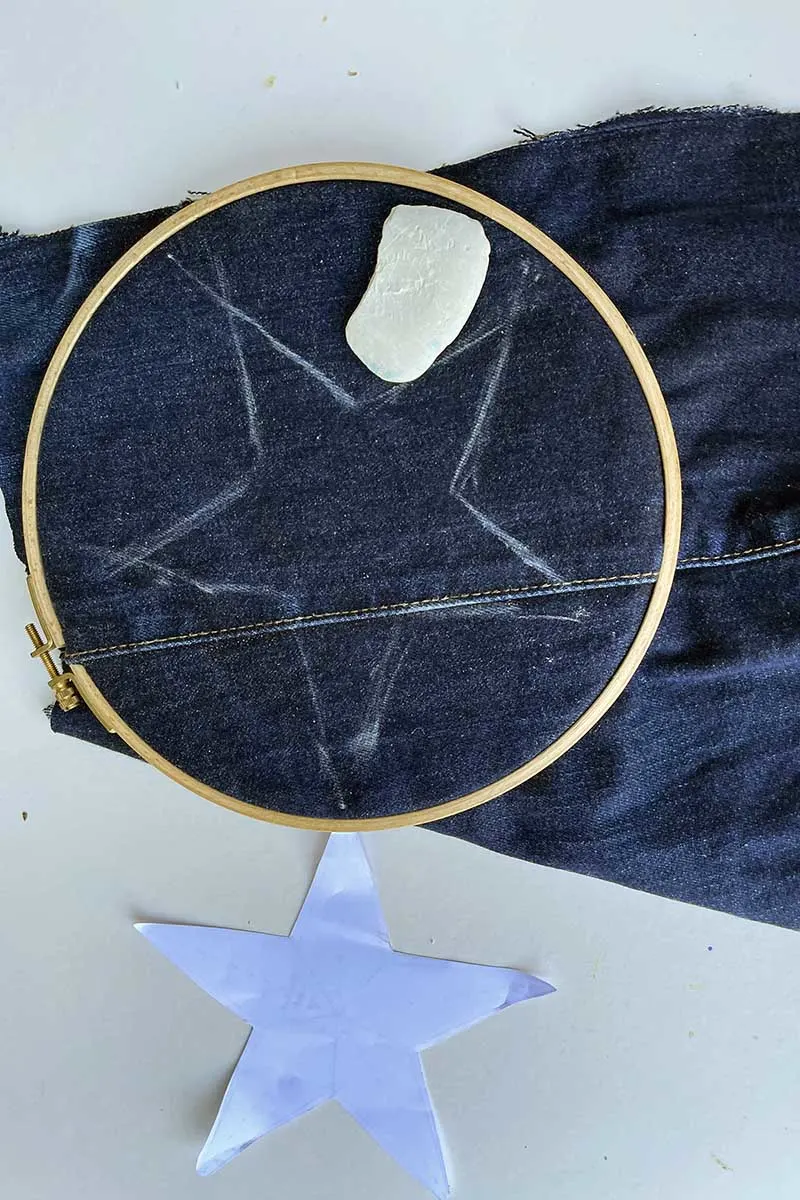 Step 2: Embroidery Embellishments; grab your needle and white embroidery floss. Embroider little stars and French knots onto the front of the star ornament. Let your creativity flow as you stitch random patterns of celestial stars.
For the stars,
Make one long vertical straight stitch.
Then, make two shorter, straight stitches crossing over one another to form an x.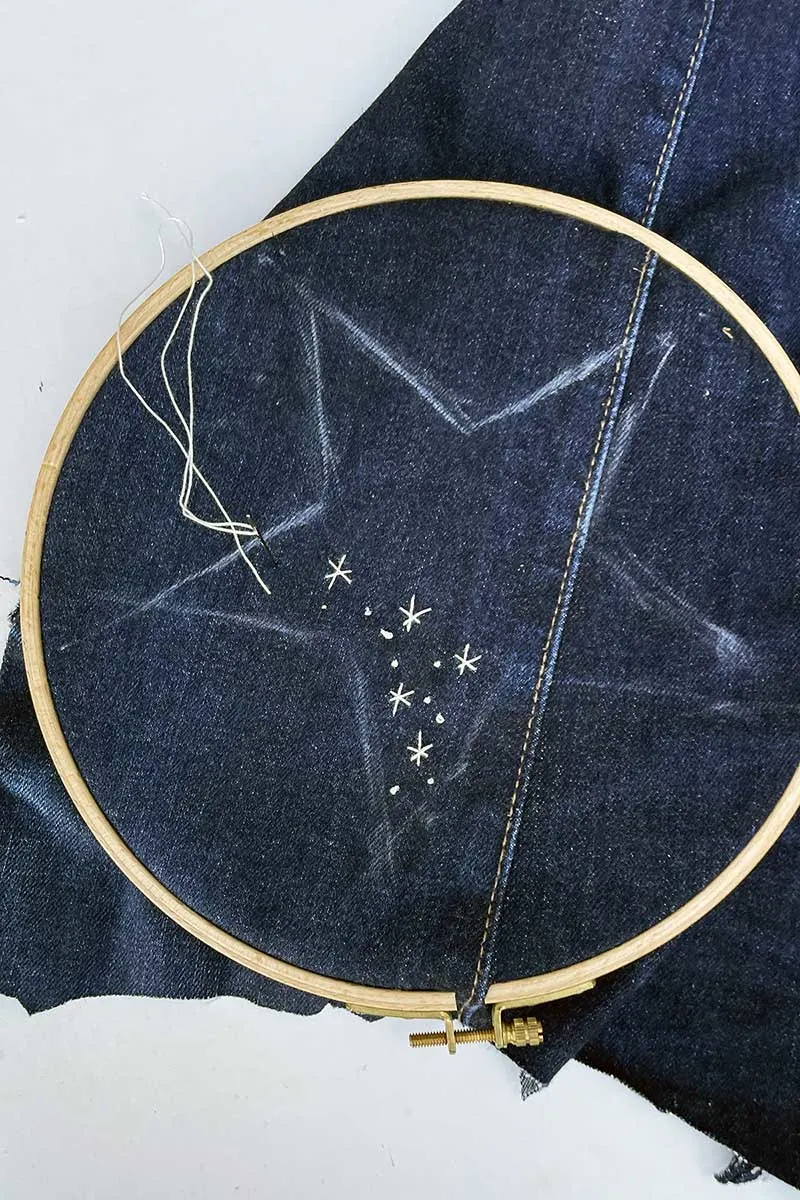 Step 3: Cut out the star shape once your embroidery is complete. From another piece of denim fabric, cut out another star for the back of the ornament. (I left this blank, but you can embroider both sides of the fabric if you prefer).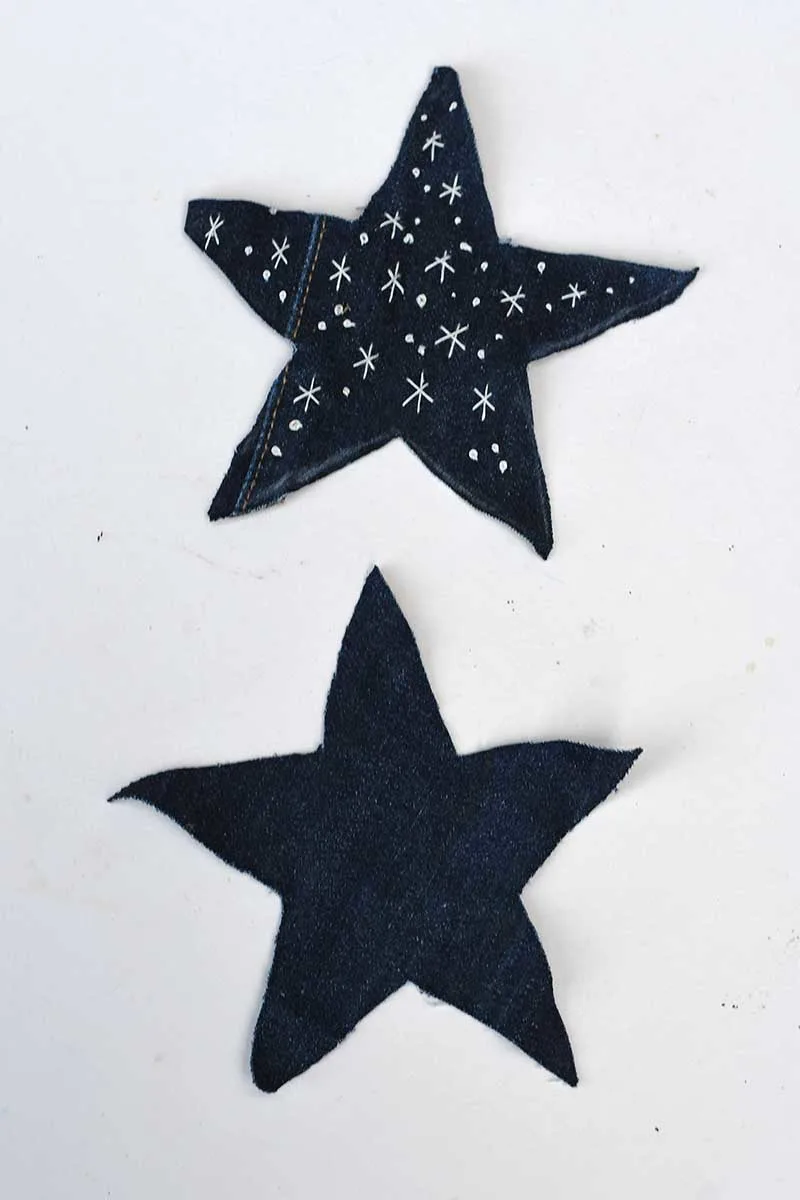 Step 4: Sewing the Star Together Once your embroidery is complete, place the two star-shaped fabric pieces wrong sides together. Using your sewing machine (or hand sewing), stitch around the edges, leaving a small opening for stuffing. Remember to backstitch at the beginning and end to secure your work.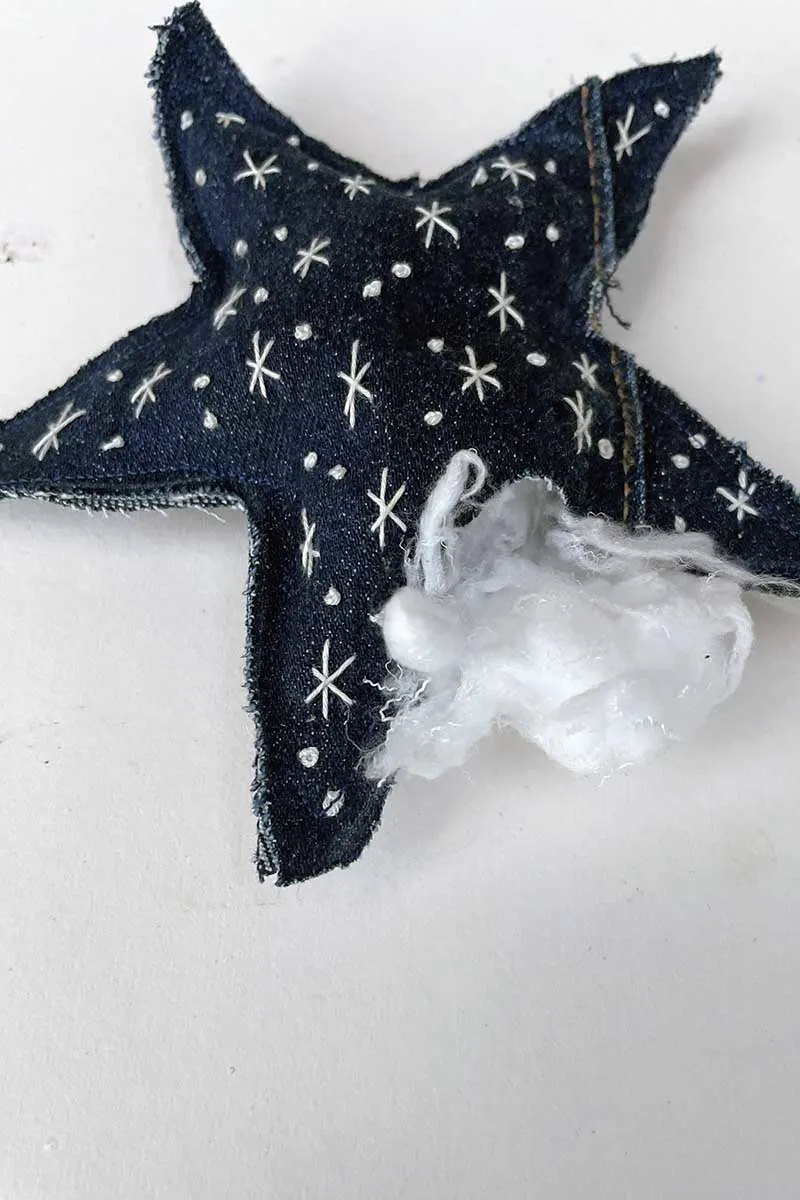 Step 5: Stuffing the Star: Gently stuff it to the desired fullness with your chosen stuffing material. This step brings your star to life and adds the dimension that makes it pop. After stuffing, neatly fold the edges of the opening inward and hand stitch it closed.
Step 6: Trim and round the points of the star with scissors.
Step 7: Adding the Hanging Loop, unpick a belt loop from the jeans and use this. Attach this loop securely to the top of your star tips. This functional loop adds a rustic, charming element to your ornament.
Making the Tassel
The tassel can be made with a small strip of fabric, as long as it's woven. I used leftover scraps for my fabric strips.
Step 8: Creating the Tassel: Tassels are made by fraying the raw edges. Pull the threads out one by one across the top strip of denim.
Make sure you have the fabric the right way round, and pull the white threads to make a blue tassel. Check out this post on making denim tassels for more details.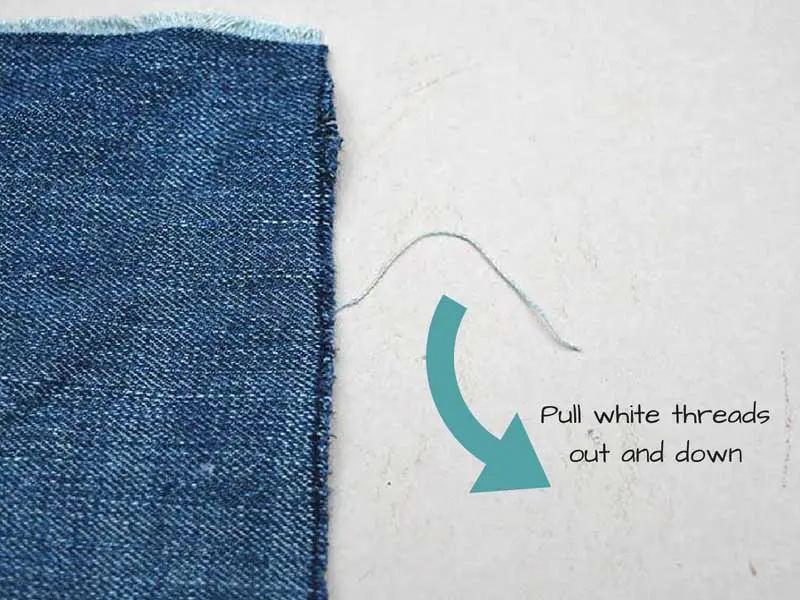 I frayed a 5-6cm fabric square for these fabric star ornaments.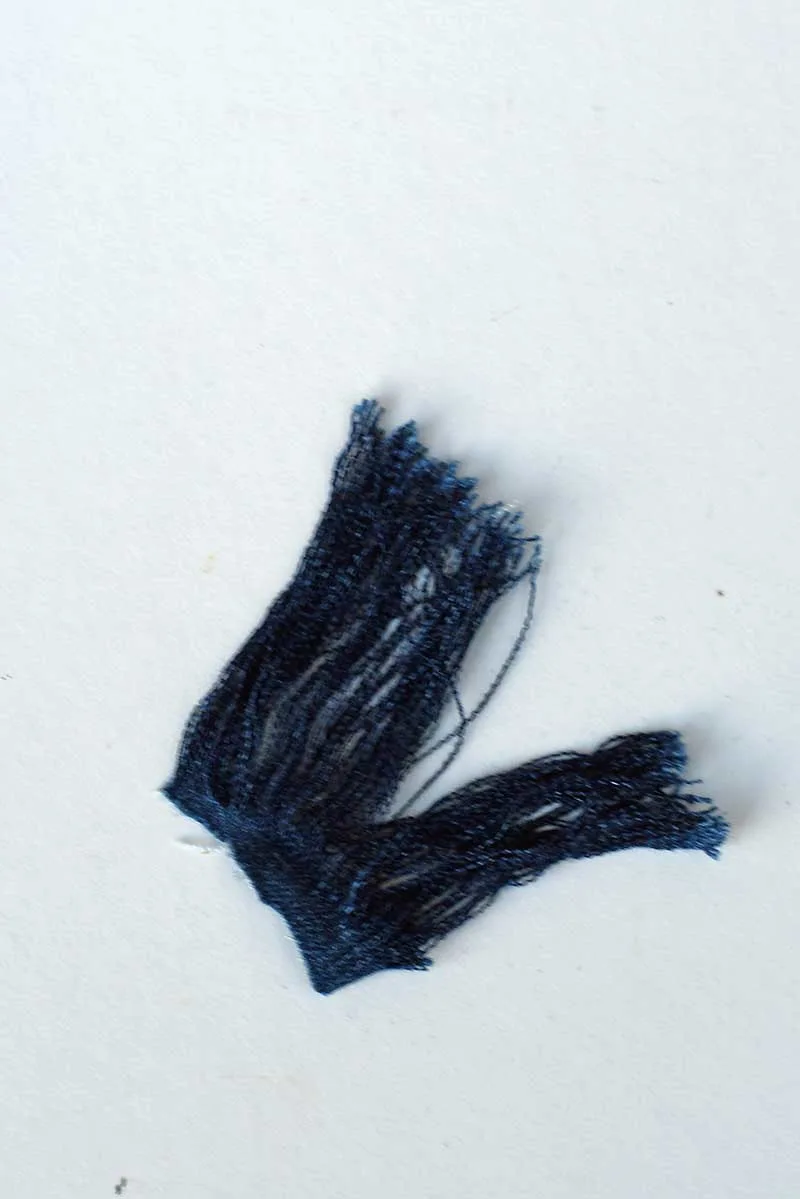 Step 9: Finish the tassel, roll up the strip of frayed denim, and then wrap blue embroidery thread around the top before stitching it to the bottom of the fabric star.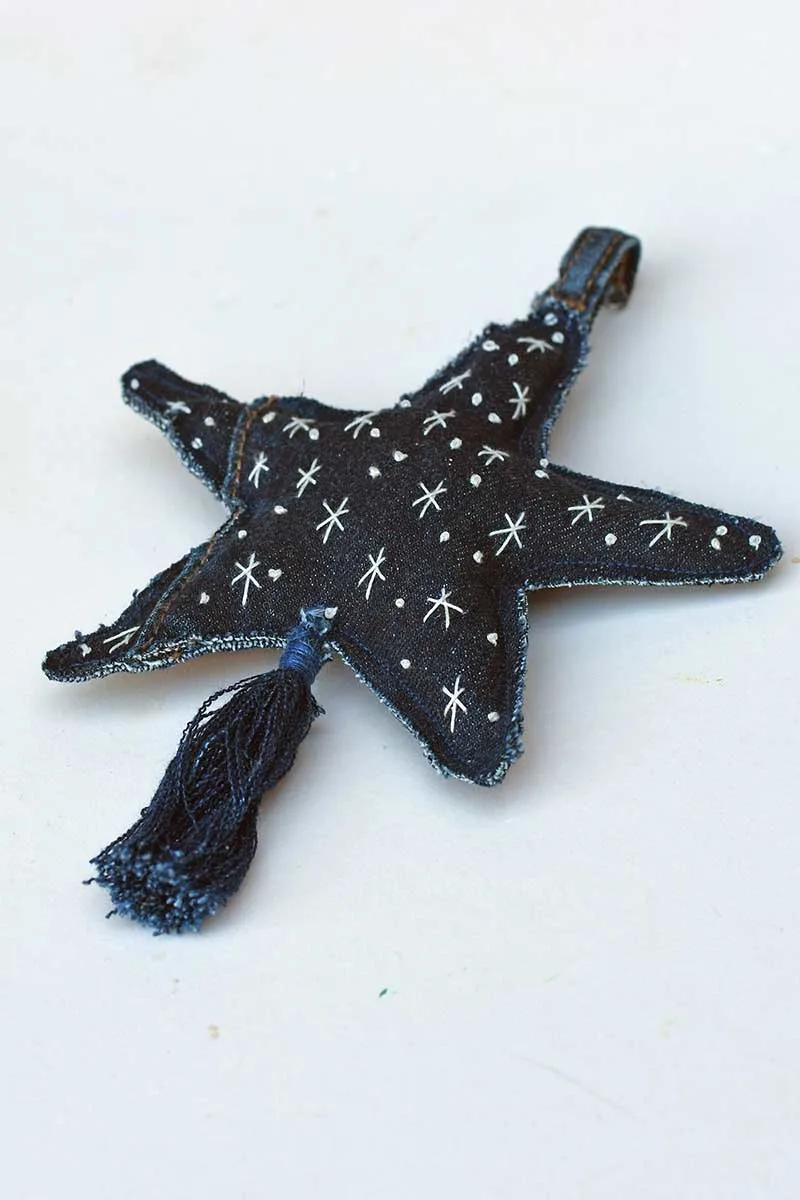 Your fabric star ornament is now ready to be displayed. Whether it finds its place on a Christmas tree or becomes a part of your home decor, it's sure to add a touch of handmade charm and holiday spirit to your surroundings.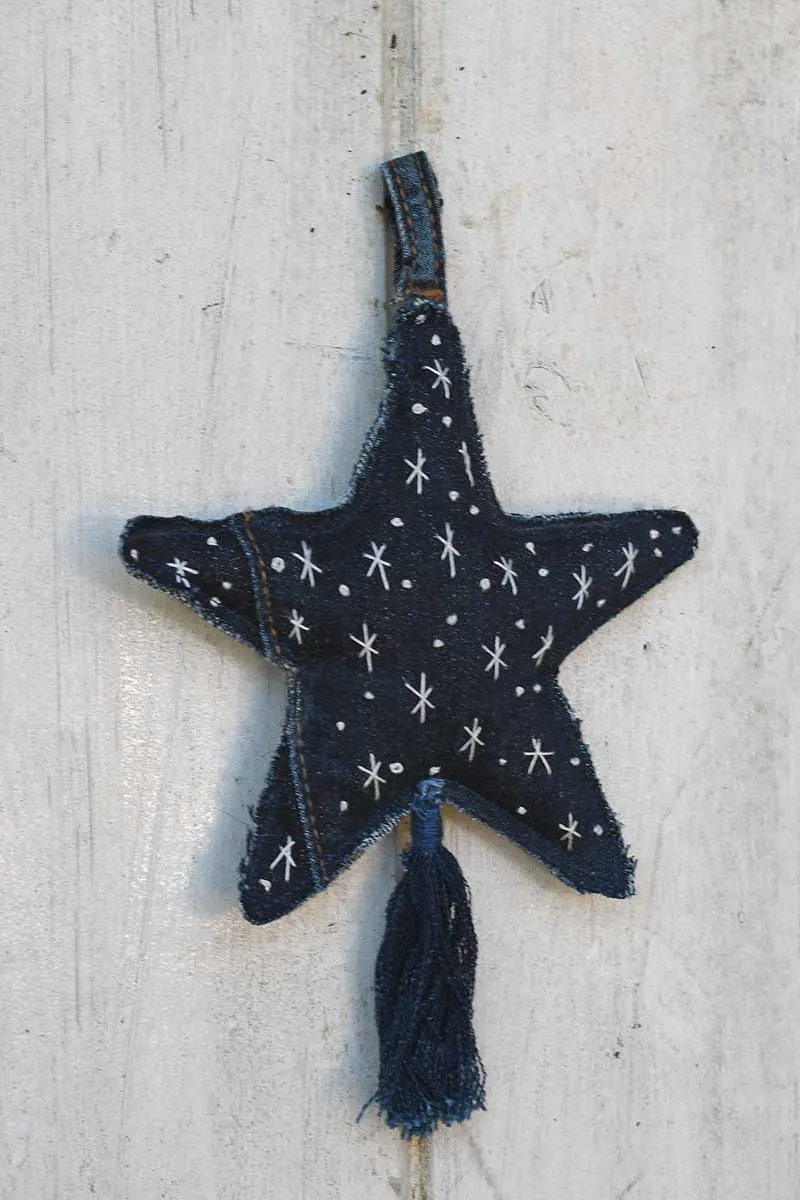 Making these stars in different sizes and shades of denim blue fabrics is fun. For a fun variation and to make the stars more personal, you could embroider Zodiac constellations, like the ones that featured on these Zodiac Christmas ornaments.
They are a fun adult Christmas craft and a great way to use fabric scraps. They would make fabulous hostess gifts and Christmas crafts to sell.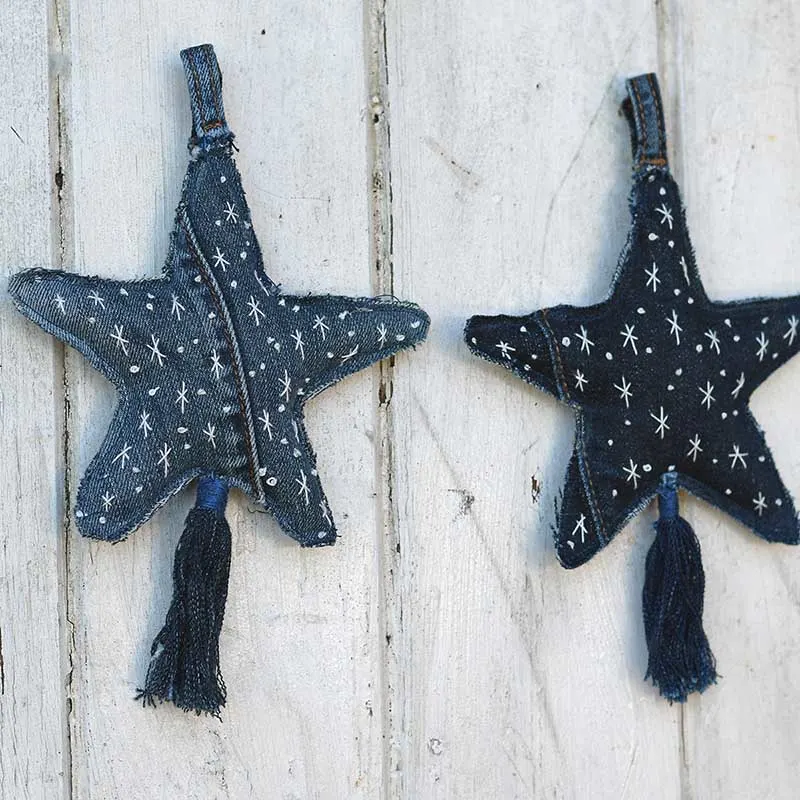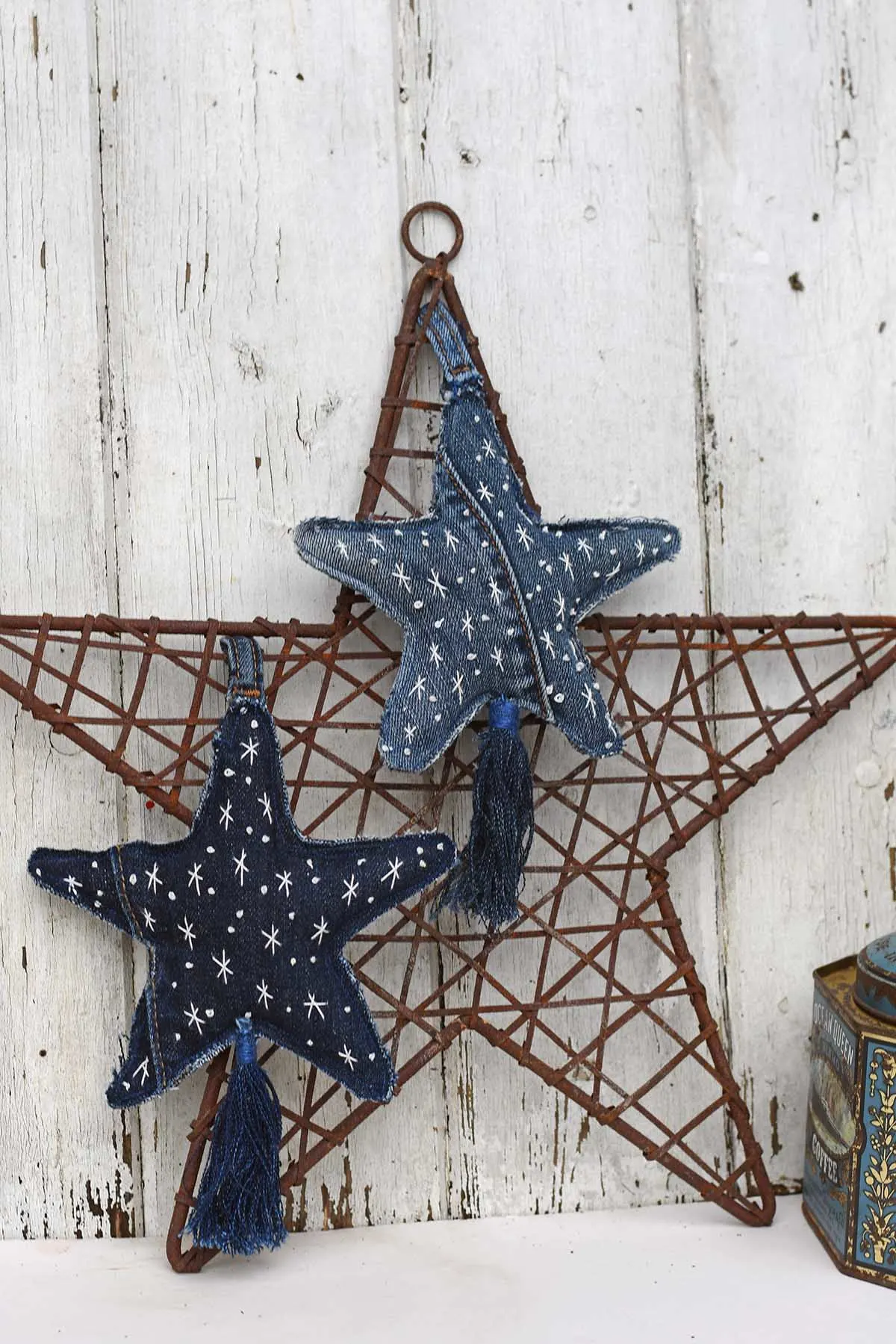 Other Related Posts
If you share my belief that denim upcycles are timeless and perfect for every season, including the festive cheer of Christmas, you'll want to explore my collection of denim Christmas decorations for any skill level.
Don't miss out on my patchwork quilted stars and whimsical denim seam Christmas trees that bring a unique twist to holiday decor.
For those with a passion for holiday stitching, be sure to dive into our other Christmas sewing projects and embroidered Christmas ornaments.
And if stars are your crafting muse, you won't miss our star crafts collection, featuring a fabulous Scandinavian Christmas star ornament.