I know indigo is not a traditional Christmas colour but who cares? I wanted to make some DIY Christmas trees out of denim scraps. I've made Christmas patchwork denim stars so why not trees?
You can always decorate the denim Christmas tree to give it a more festive feel. Or leave the trees "aux naturalle" and have the trees as a year-round decoration.
These DIY Christmas trees are made in a very similar way as the felt Christmas tree I made last year. Like with those trees these denim ones are made from all upcycled materials that you are likely to have to hand. Or they should be easy to get hold of.
To decorate the trees you can just use some pom-pom trim. Or keeping with the reuse, repurpose theme, make a tiny felt chain garland out of wool sweater scraps.
This is a simple no-sew denim upcycle that uses old jeans seams.
We're a participant in the Amazon Services LLC Associates Program, an affiliate advertising program designed to provide a means for us to earn fees by linking to Amazon.com and affiliated sites. As an Amazon Associate, I earn from qualifying purchases.
Upcycle Your Jeans Into A Fun DIY Christmas Tree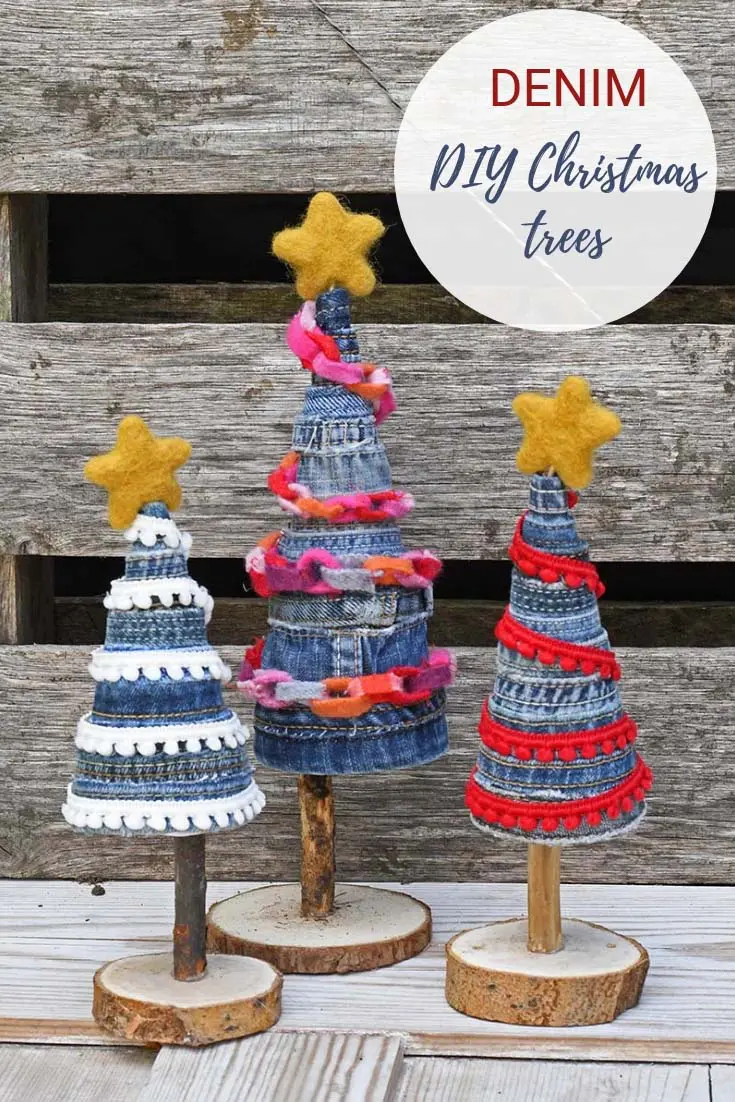 What you need to make a denim DIY Christmas tree
Seams, hems and stitched denim trim from old jeans.
Hot glue gun – Strong clear glue and pins.
Cardboard – I used the cardboard base from a frozen pizza. Any scrap cardboard packaging will do. As long as it is not too thick as you will need to bend the cardboard.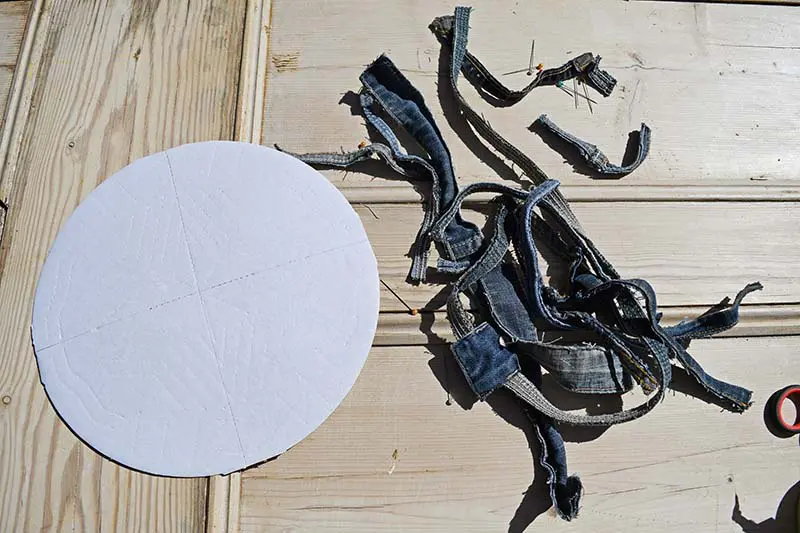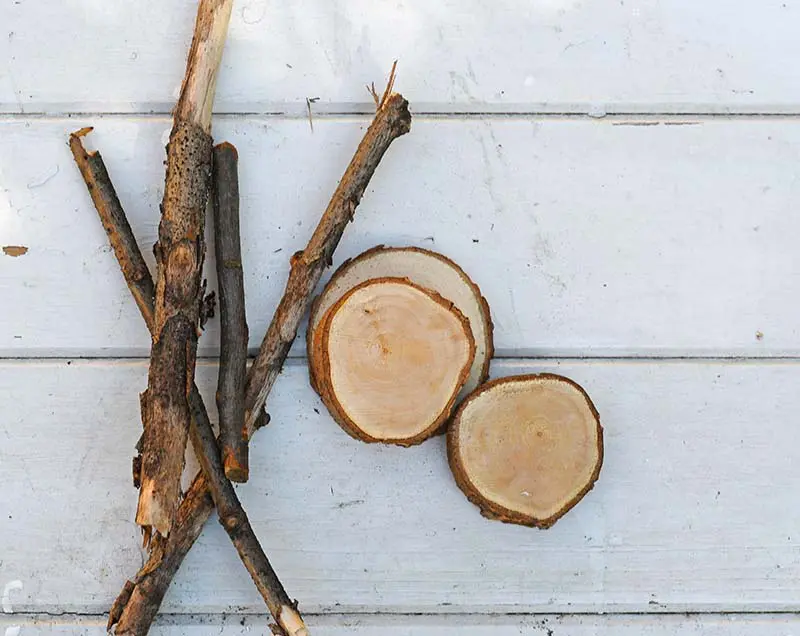 For the denim Christmas tree decorations
Cocktail sticks
Sweater felt scraps in various colours and a needle and thread
How to make a DIY christmas tree
1.. The first thing to do is to make a cardboard cone for the body of the DIY Christmas tree.
I used a cardboard base from a frozen pizza, I cut the base into a quarter. This quarter circle was then rolled into a cone shape and held in place with tape.

Top Tip: If you don't eat frozen pizza, you can just draw around a plate with a sharpie on some other suitable cardboard packaging. Make the cone whatever size you want.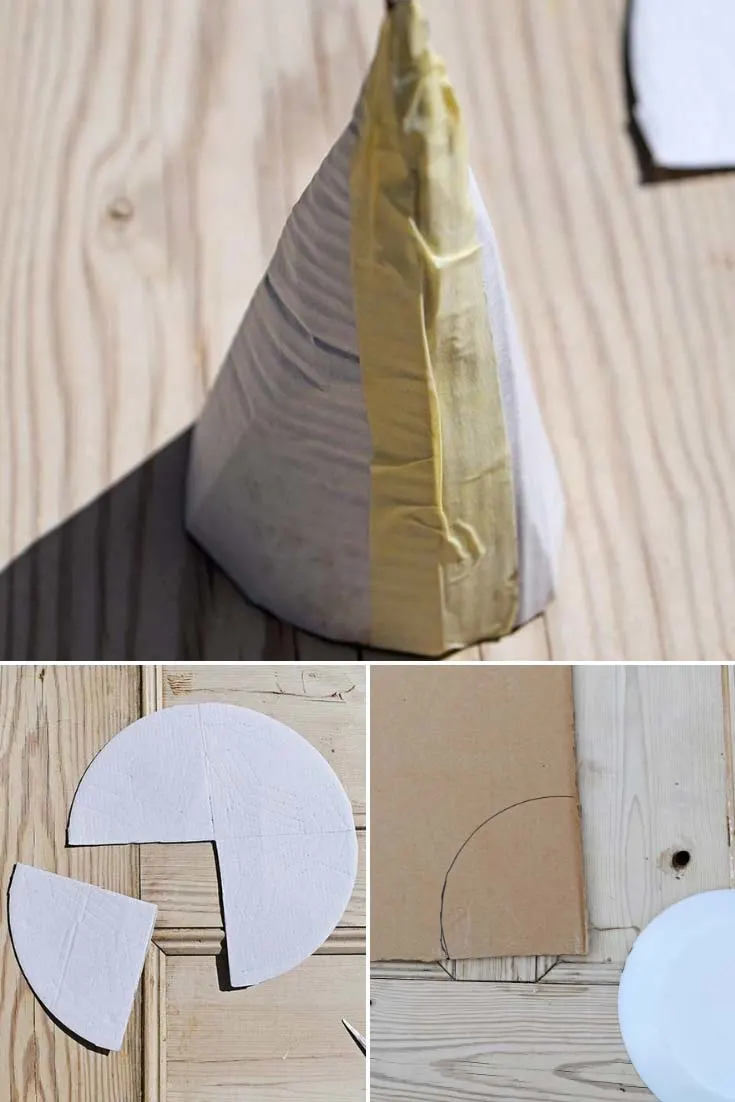 2. Next, starting from the top, cut a strip of denim to fit exactly around the tip of the cone. For these small strips, I used belt loops cut from old jeans. Glue this strip in place and hold with a pin whilst the glue dries.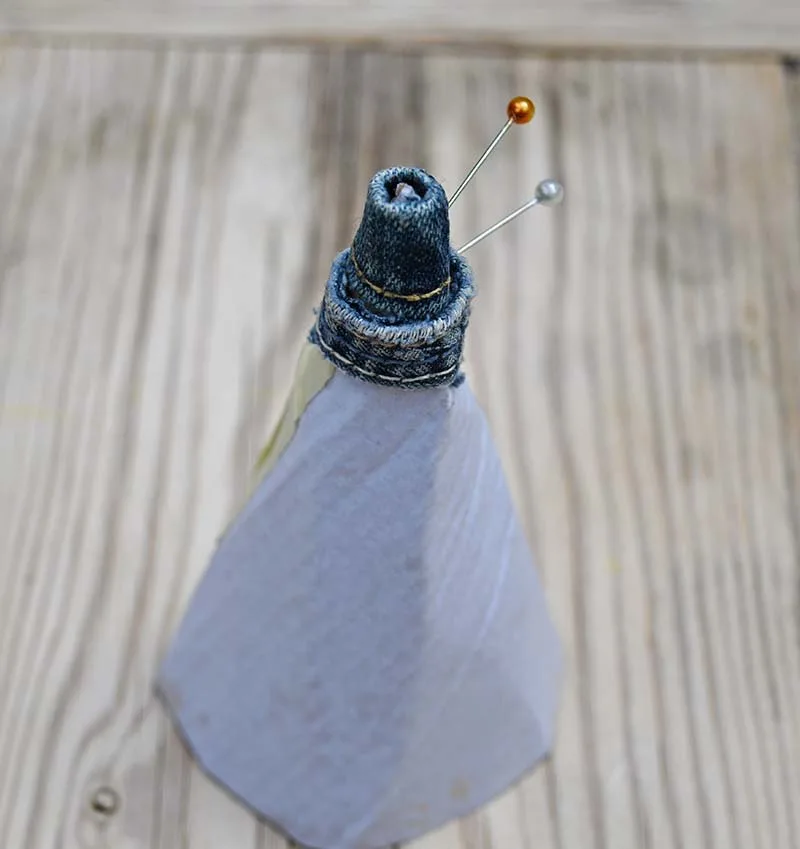 3. Next, carry on gluing strips of denim to the cardboard cone. Work your way down the cone, until all the cardboard is covered.
Once the circumference of the cone got too large for belt loops, I then used the hems of old jeans followed by the long inside seams. If you are making a bigger DIY Christmas tree you can also use the waistbands from old jeans.
Using different parts of the jeans and from different pairs of jeans, only adds character to the trees.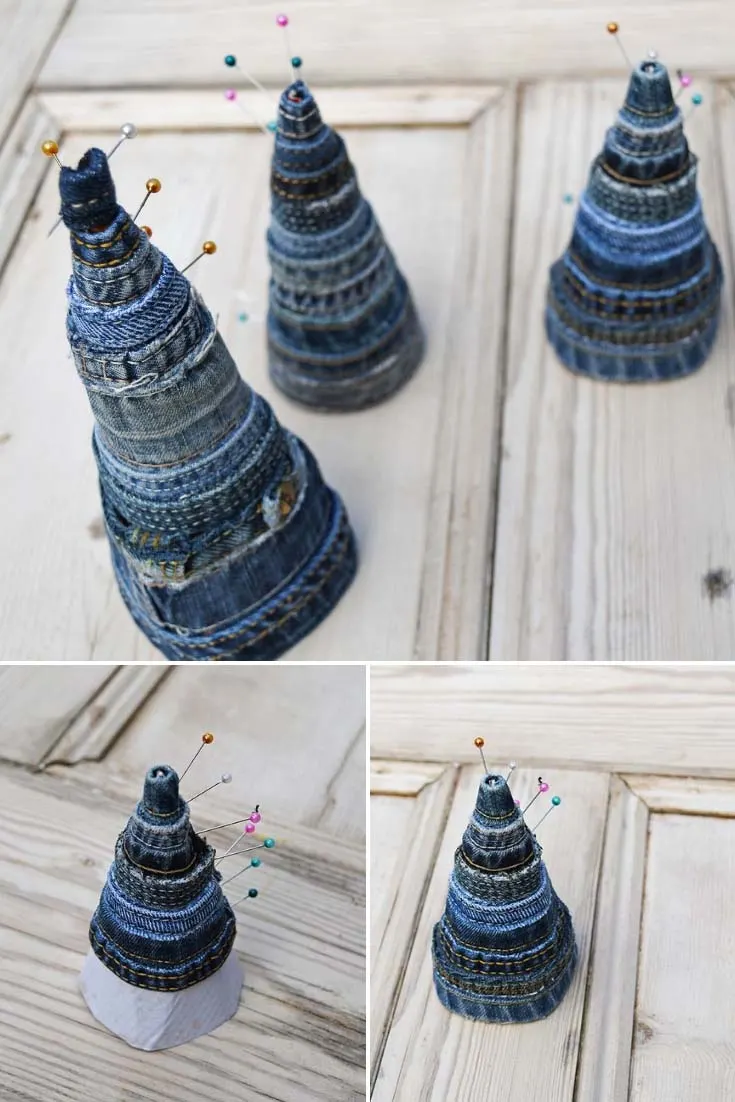 4. Next, to make the trunk and base for the DIY Christmas tree, glue a twig to the middle of a wood slice. I used a hot glue gun for this as the glue dries very quickly.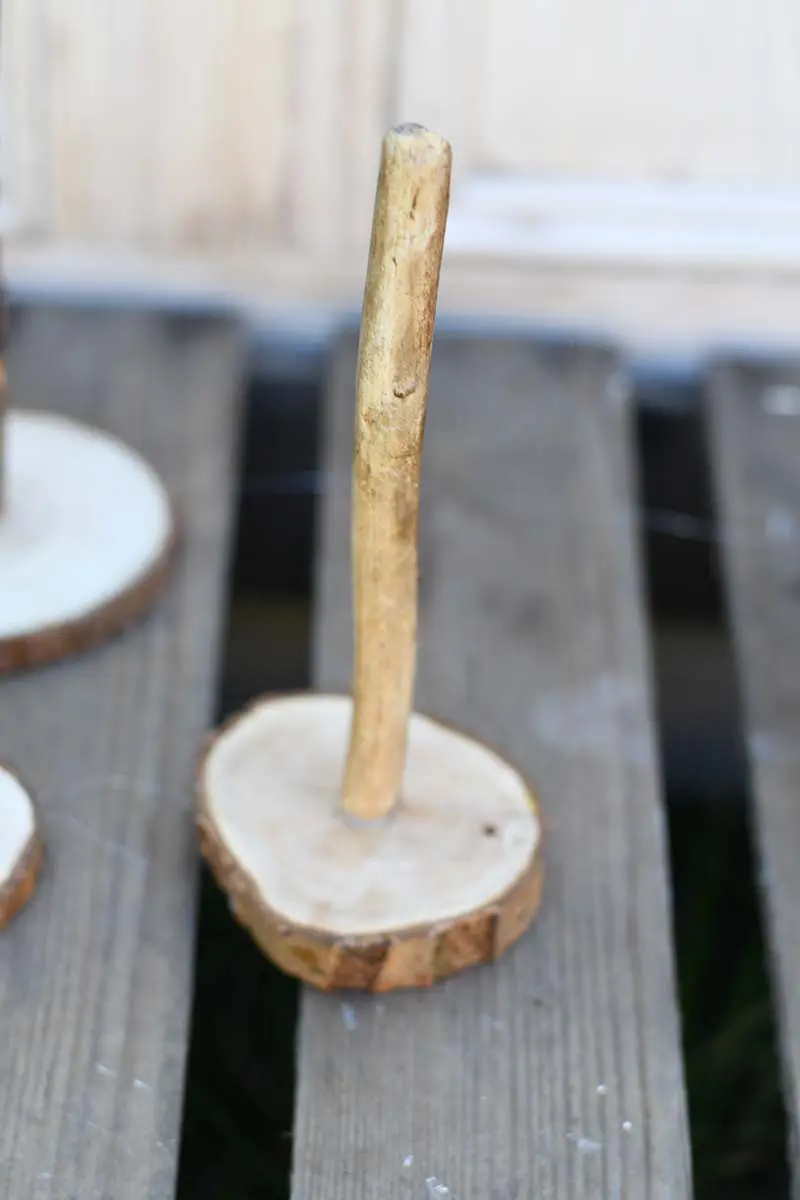 5. Then, to finish off the DIY Christmas trees, simply pop the denim cones on top of the twigs. Use a dollop of glue on the top of the twigs to keep the cones in place.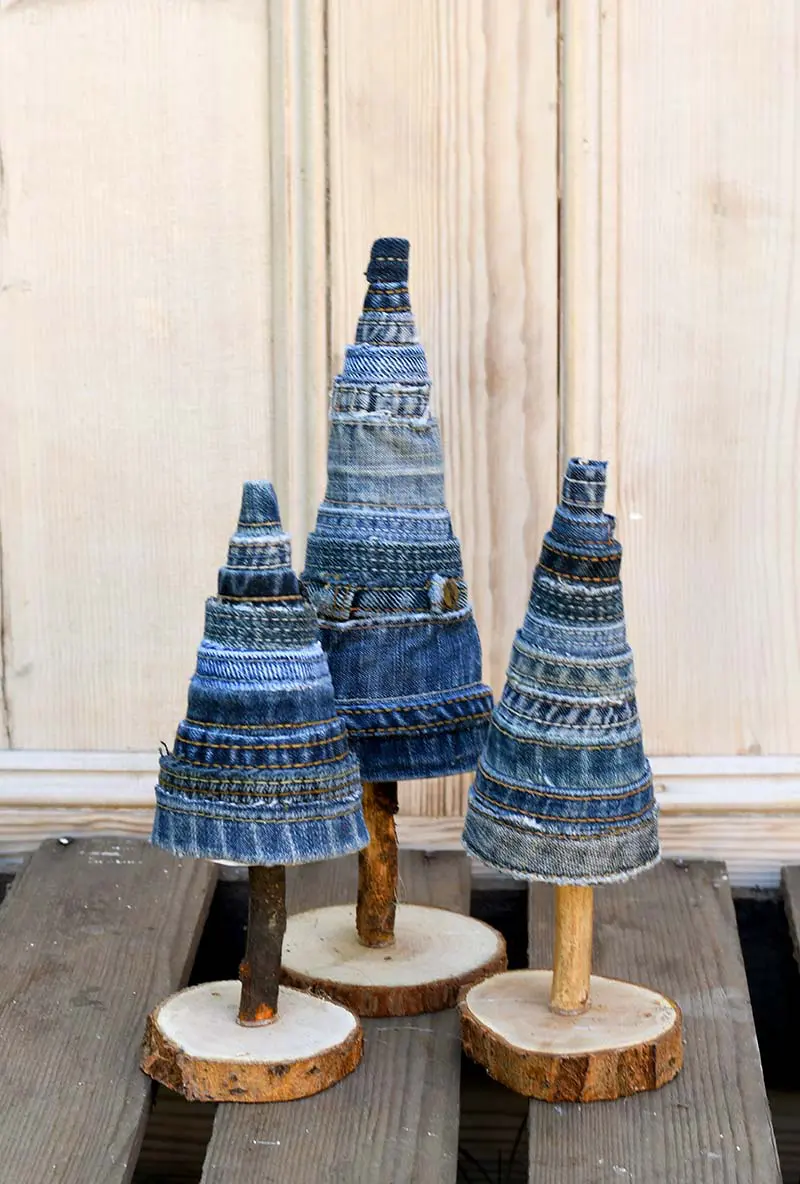 6. Finally, to finish off, make the denim trees more festive by adding a felt star to the top and decorations. The felt star is simply held in place with a cocktail stick.

The colourful mini garland was made by simply sewing small strips of sweater felt scraps into a chain.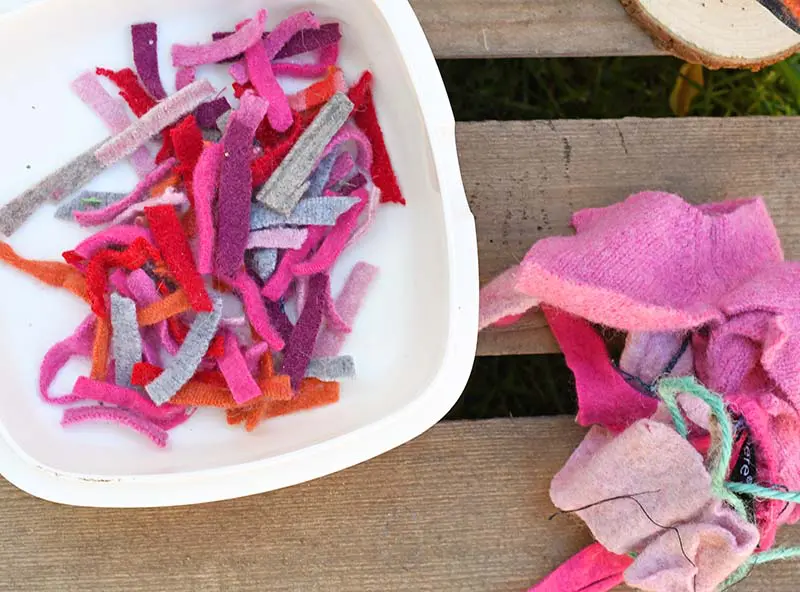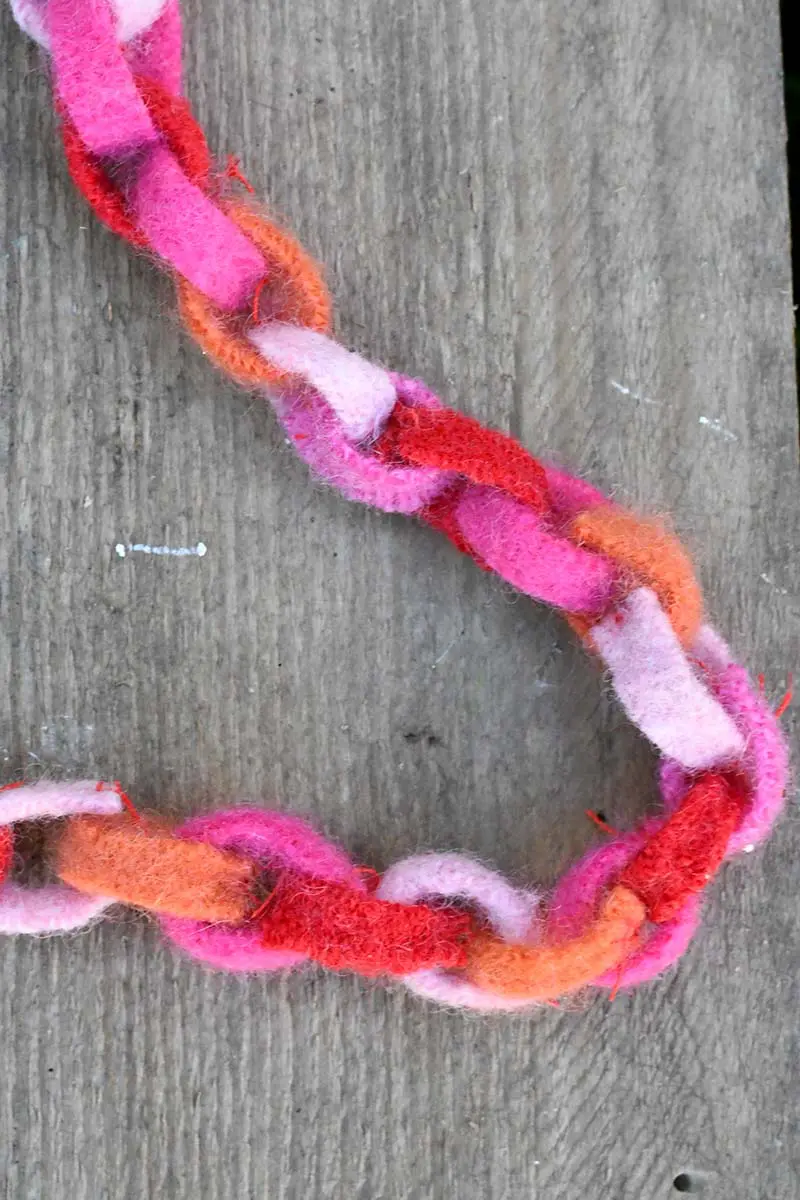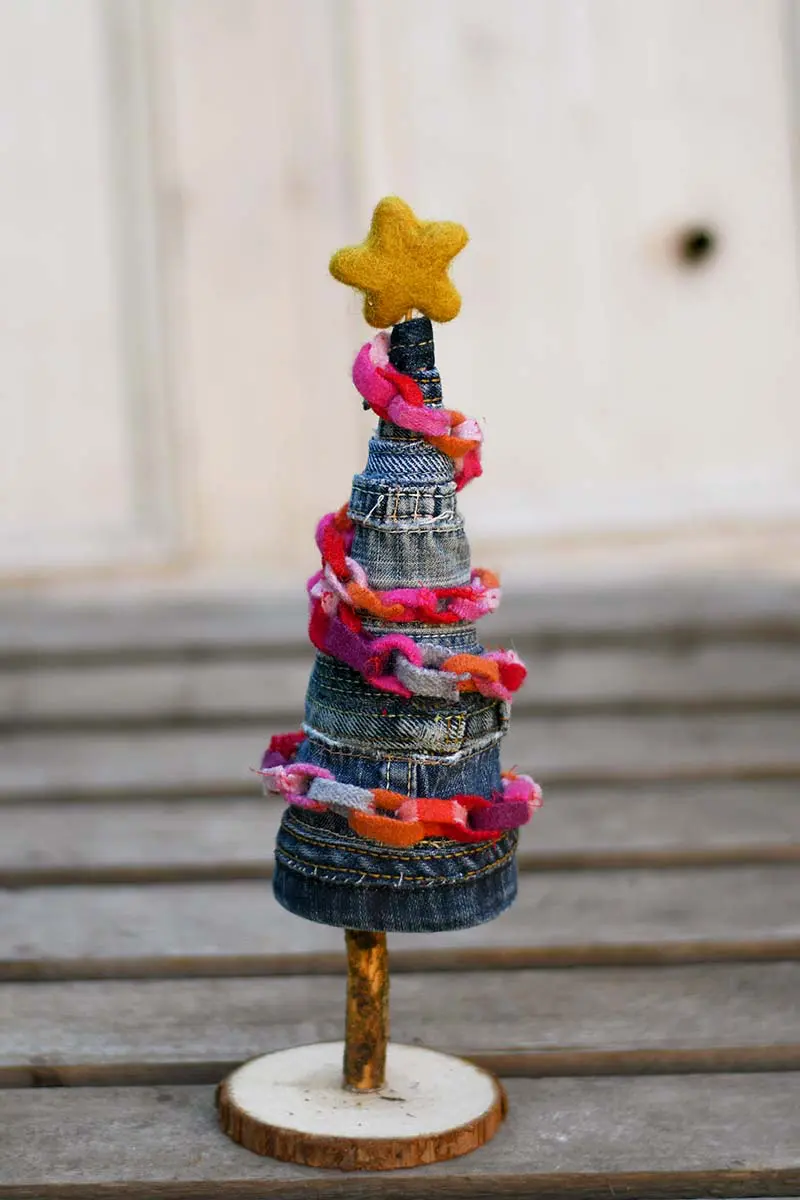 Or you can simply wrap some mini pom pom trim around your jeans Christmas trees.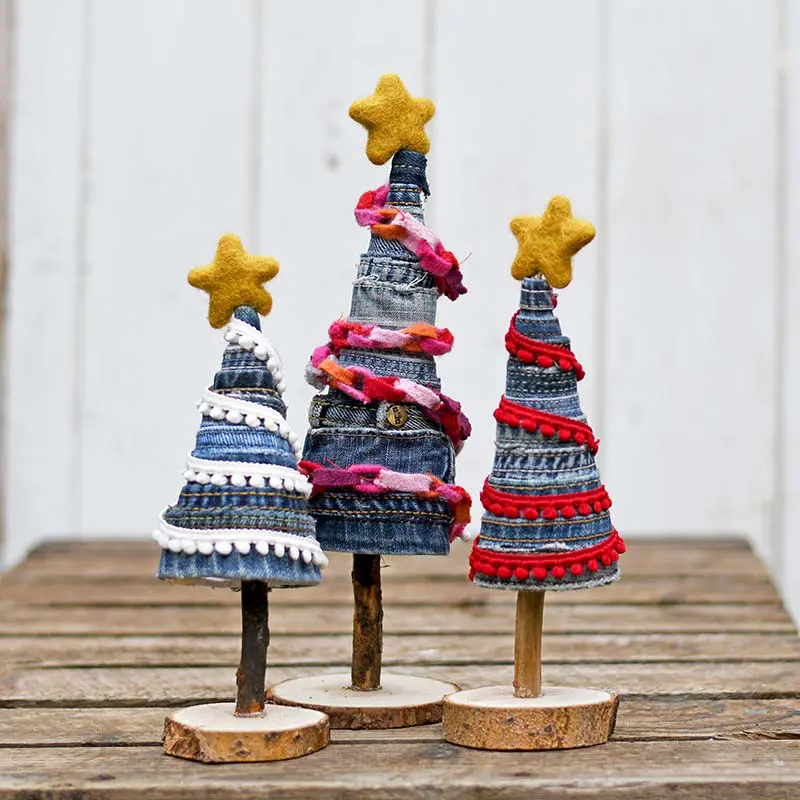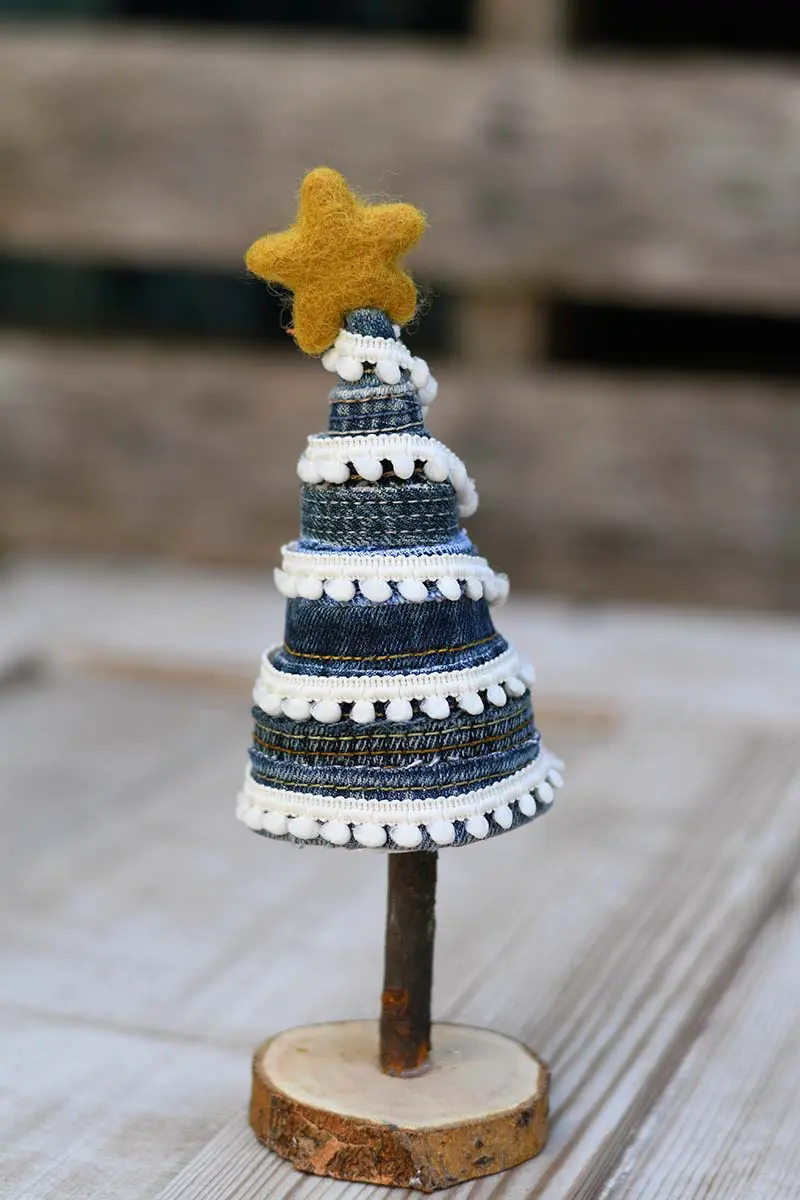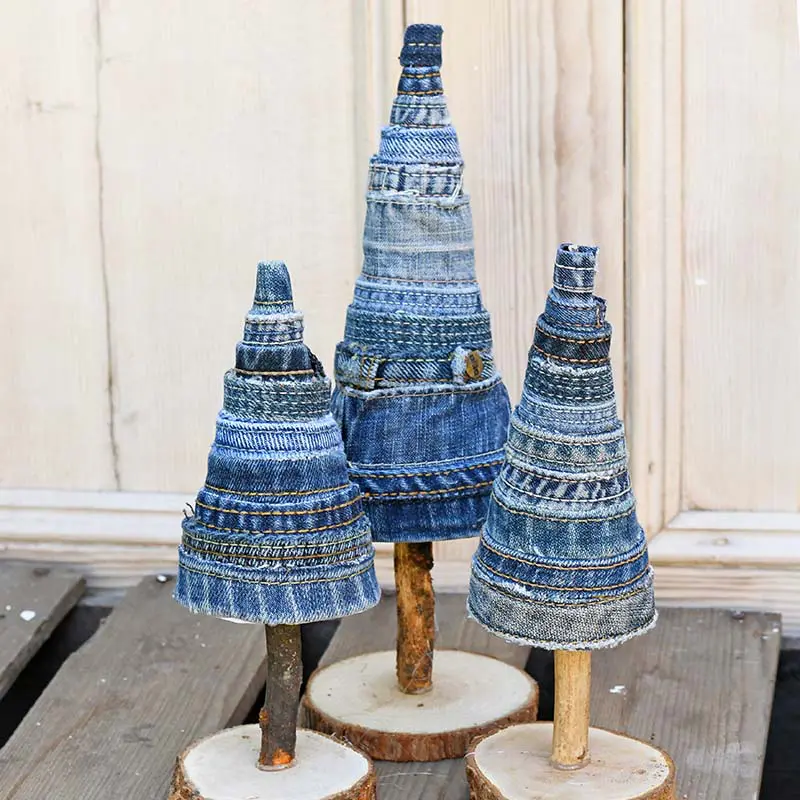 I love both the decorated and plain DIY Christmas trees. All the shades of indigo and interesting textures on the tree look great. I think they would look lovely on a mantle or as a table decoration. I like having a mini forest of these trees in different sizes.
You could even make the denim trees to use as a place card holder on a Christmas tablescape. If the whole tree in denim is a bit much for you, then, you can just make the bases in denim, like with these tartan trees.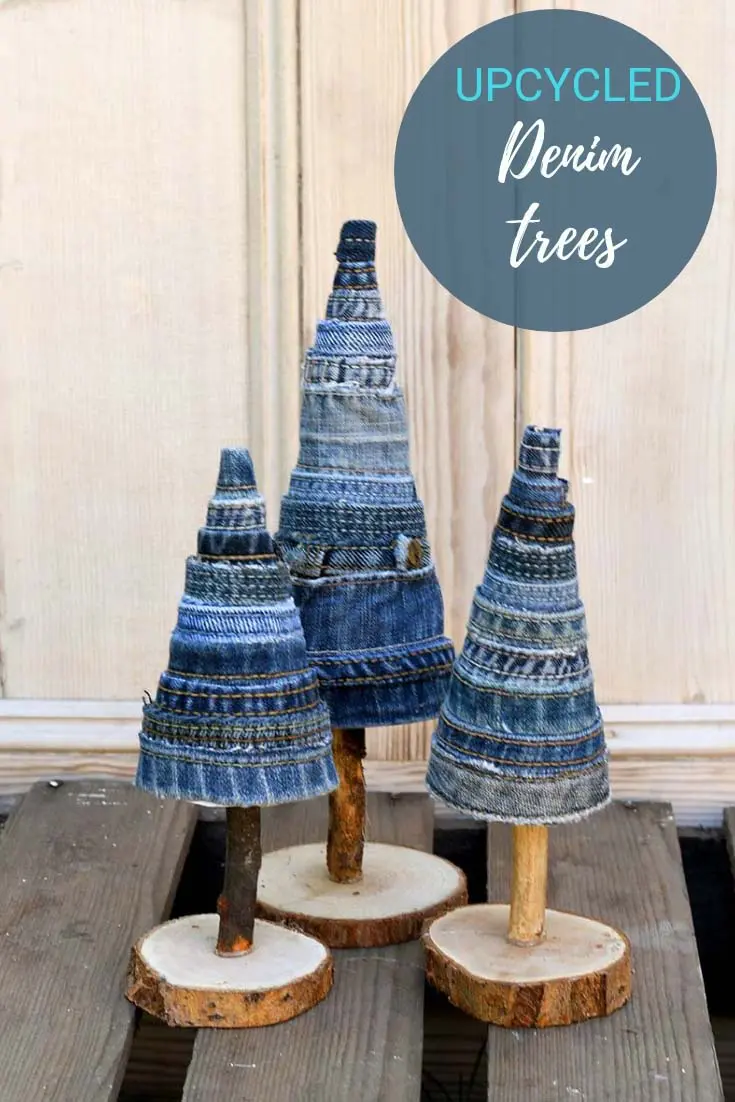 If you like me aren't afraid of using denim in your upcycled Christmas decorations you should check out the denim Christmas decorations here.
Or if you like more festive colours for your Christmas decorations, but still want to make repurposed decorations check out my sweater upcycled Christmas ornaments.
I love a tabletop Christmas Tree and have also made some cute Scandi felt Christmas trees that also stand on a wood slice. You'll find other cool Christmas crafts for adults here.

Or check out my denim feather wall decor.