Give your worn-out jeans a new purpose! Our step-by-step guide shows you how to create chic denim tassels, ideal for jazzing up your wardrobe and home.
Tassels seem to be everywhere. They're the new pom poms. And I do love them! I was so happy to work out how to make denim tassels from my favourite material to upcycle old jeans.
Previously, I have made sweater felt tassels from repurposed scraps. Even though those tassels were fun to use old felt scraps and were very colourful, I prefer these denim ones.
How to Make Tassels From Upcycled Jeans With Pom Poms
Make denim tassels by fraying squares of old jeans offcuts. They are much more robust than other handmade tassels, as the threads are still attached to the denim fabric. As with all my other denim upcycles, I love the shades of indigo you get from old jeans.
The great thing about this tutorial is that you can easily make denim tassels in various sizes.
You can make large denim tassels as curtain tiebacks and smaller ones for fringe cushions and blankets. Or even smaller to make earrings and necklaces. I've even seen tassels of various sizes hung up as a unique wall decoration.
This is what I call a Netflix craft. Because it doesn't take much concentration, it can be done whilst catching up on a Netflix box set.
Each denim tassel takes about 30 minutes and is a no-sew jeans upcycle.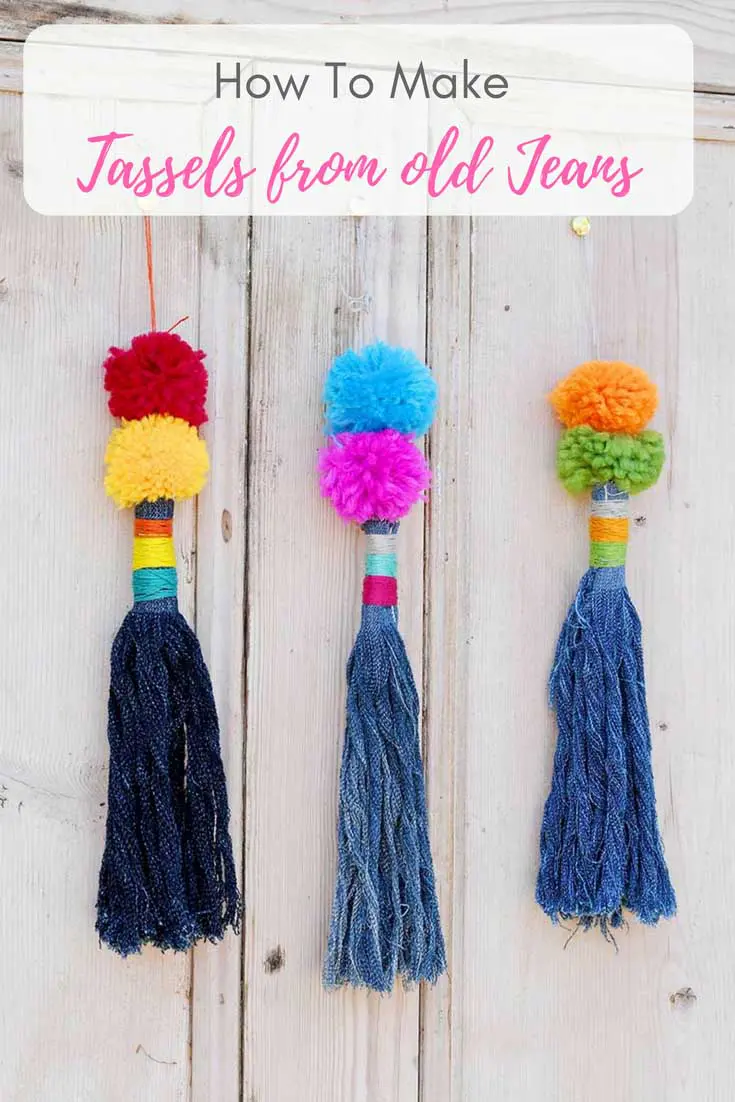 These tassels are featured under T in the A to Z of denim crafts.
We're a participant in the Amazon Services LLC Associates Program, an affiliate advertising program designed to provide a means for us to earn fees by linking to Amazon.com and affiliated sites. As an Amazon Associate, I earn from qualifying purchases.
What You Need
Scraps of denim at least 12cm (5″) square – The size of the denim scrap will determine the size of the handmade tassels.
Bright and colourful embroidery thread.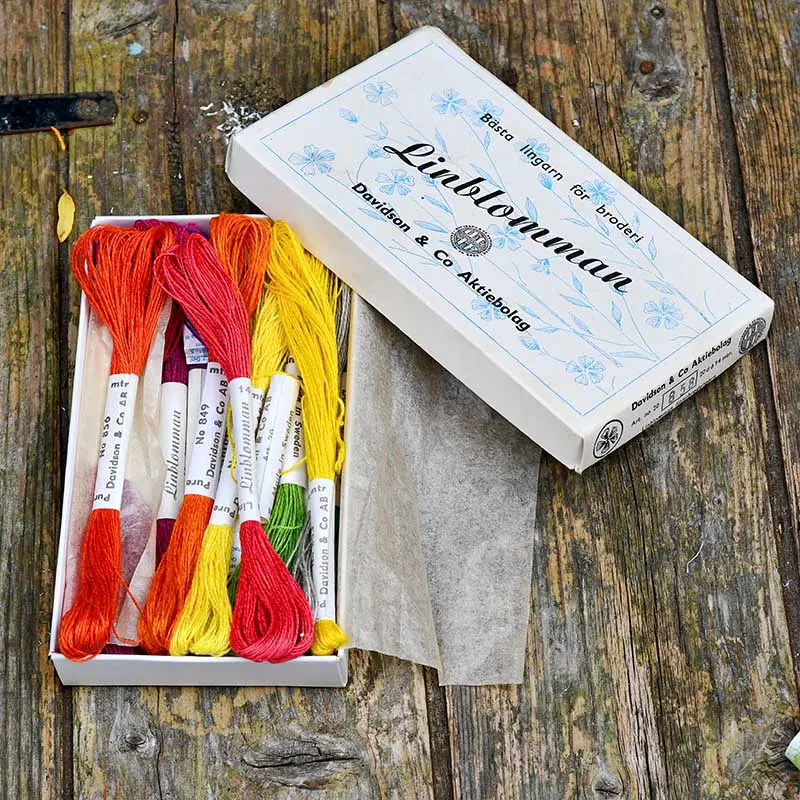 How To Make Tassels From Old Jeans
Step 1. First, decide what size you would like the denim tassel to be. The size of the scrap piece of denim you choose will determine the length.
If making them for a cushion, I recommend using a scrap piece of denim approx 4 inches (10cm square).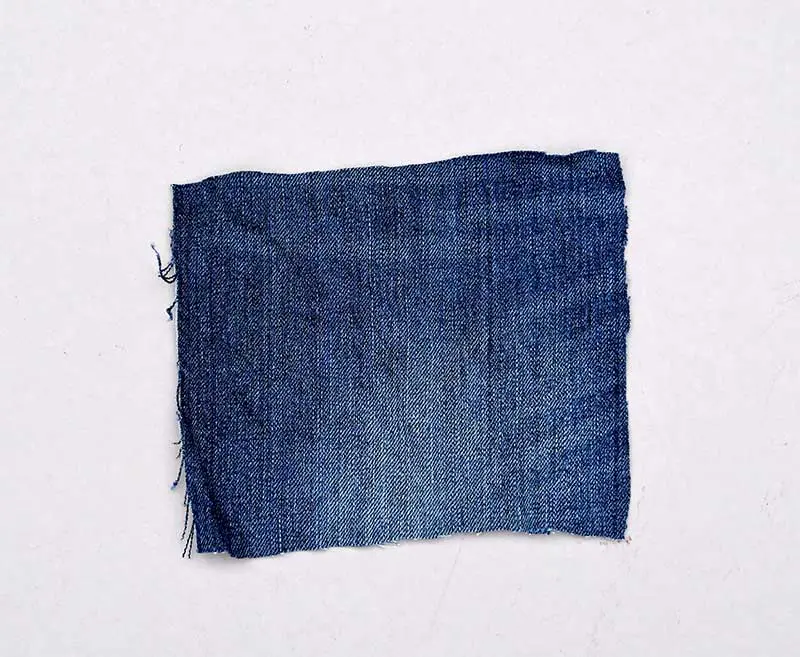 Step 2. Next, pull some of the loose blue threads of denim to expose the white threads down one side of the scrap piece of material.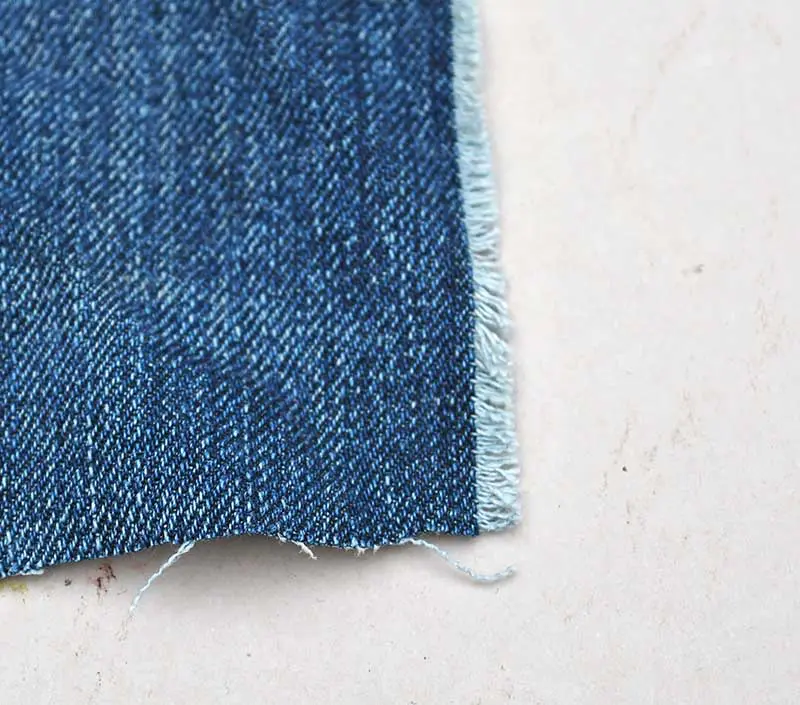 Step 3. Denim is a woven material; the tassel is made by pulling out the white cross threads. Grab the end of a white thread and pull it firmly away from the denim material until it all comes out.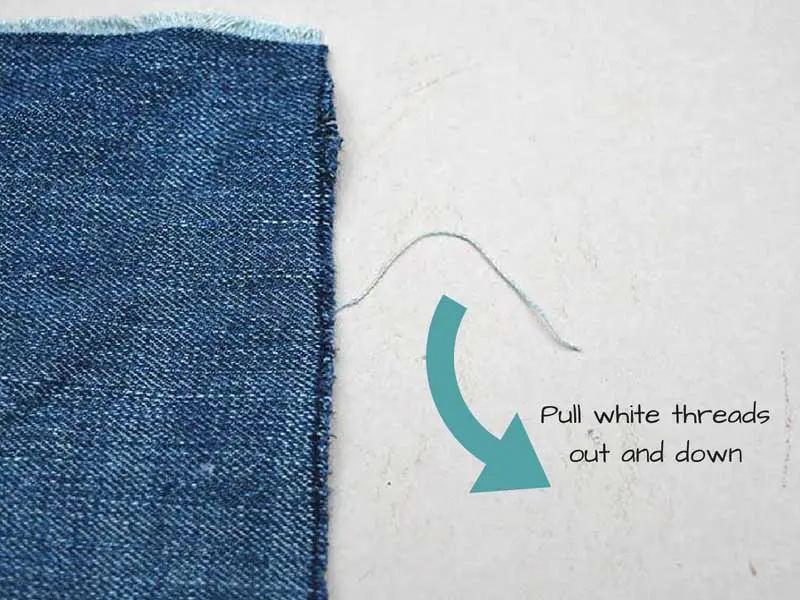 Step 4. Pull out all the white threads until you are left with approximately 2cm of material at the top. I found that I could pull more than one thread at a time with some denim.
If you turn the denim scrap of fabric 90 degrees and pull out the blue threads rather than the white ones, you will end up with white tassels. I did this when making my denim feather wall hanging, so I ended up with feathers of different colours.
Top Tip: If the white thread snaps as you pull it out, use a pin to find the end and pull it again.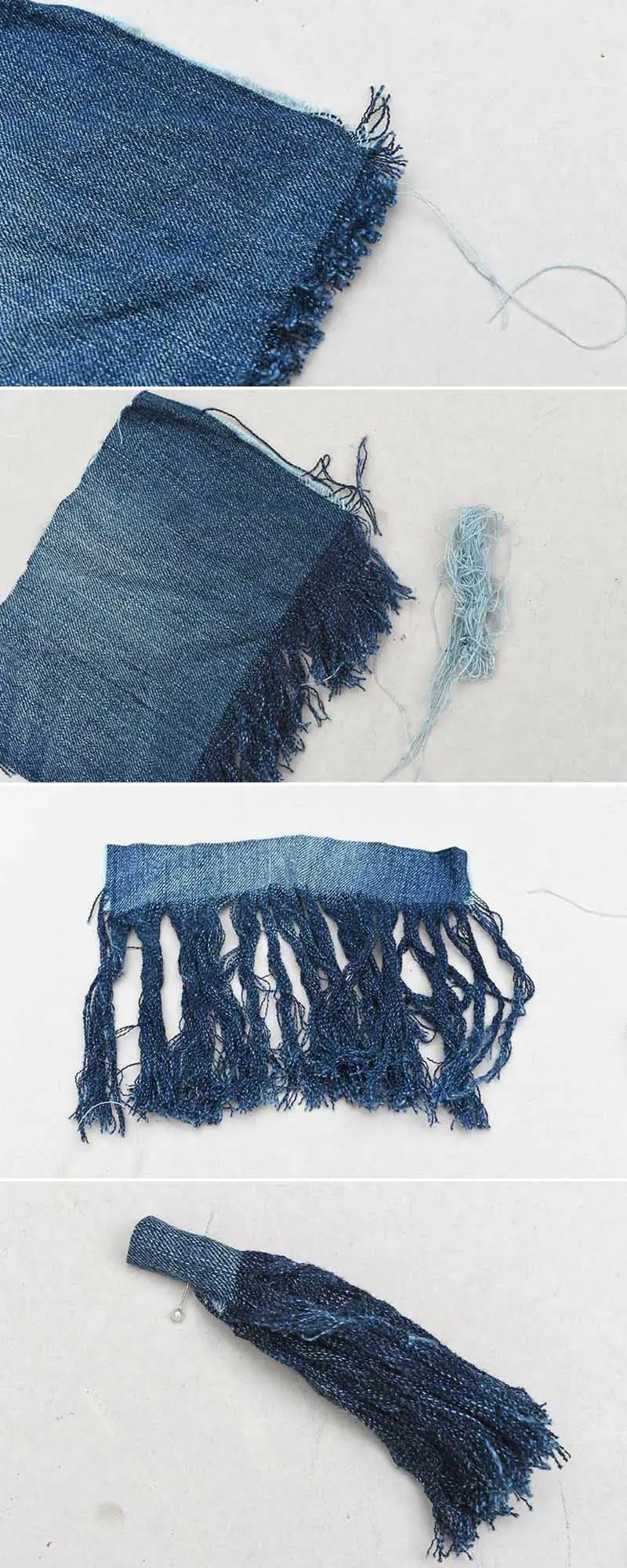 Finishing Touches
Step 5. Next, roll up the denim tassel tightly. Use colourful embroidery thread and needles to hold the top together with a stitch through the denim.
Then, wind the coloured thread around the top of the tassel and finish with a stitch to stop it from unravelling.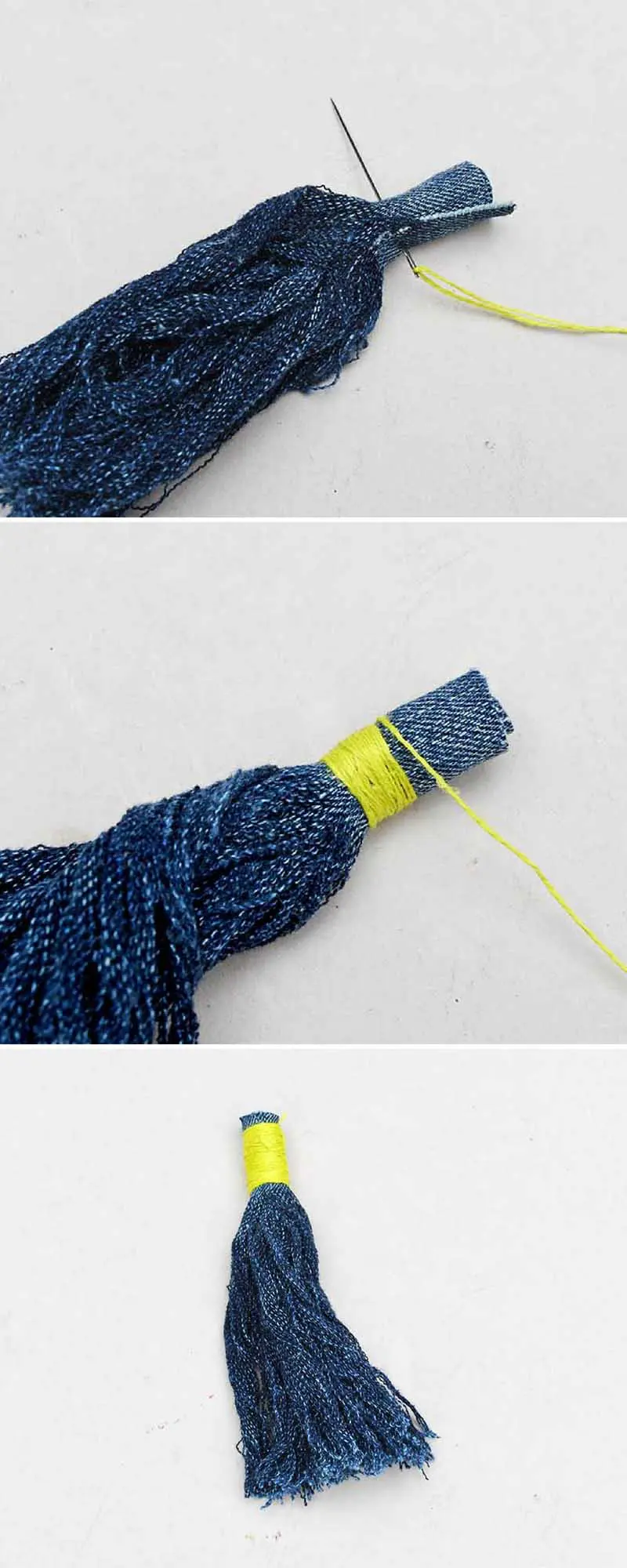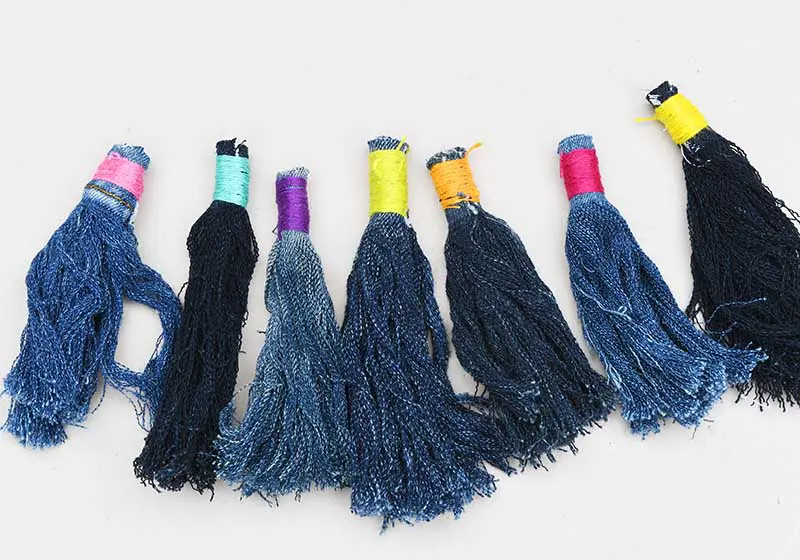 Pom poms and denim tassels look fantastic together. I added a couple of colourful pom-poms for my bigger denim tassels to give them extra panache. I've just been hanging these on the doors for decoration for now.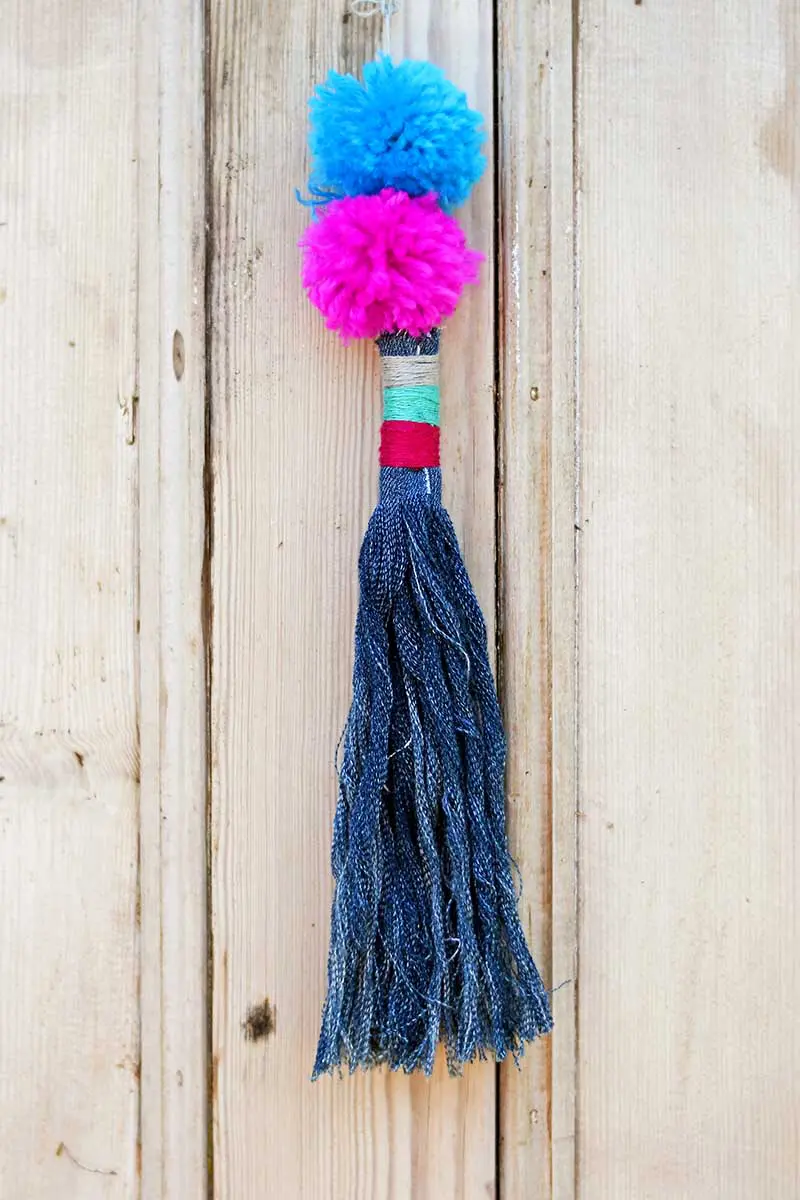 I'm looking for a nice rattan beach bag to adorn with these lovely tassels too.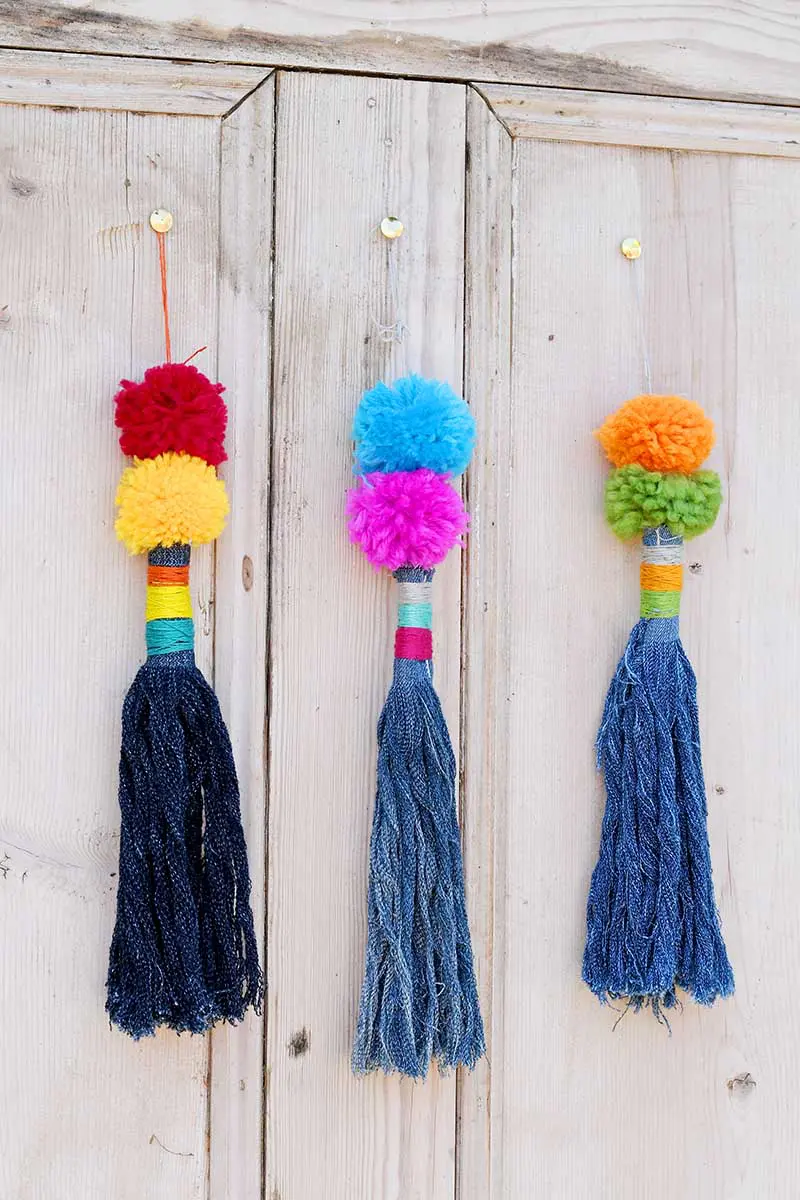 I love the shades of indigo threads you get from different pairs of jeans. Also, these tassels do feel very soft.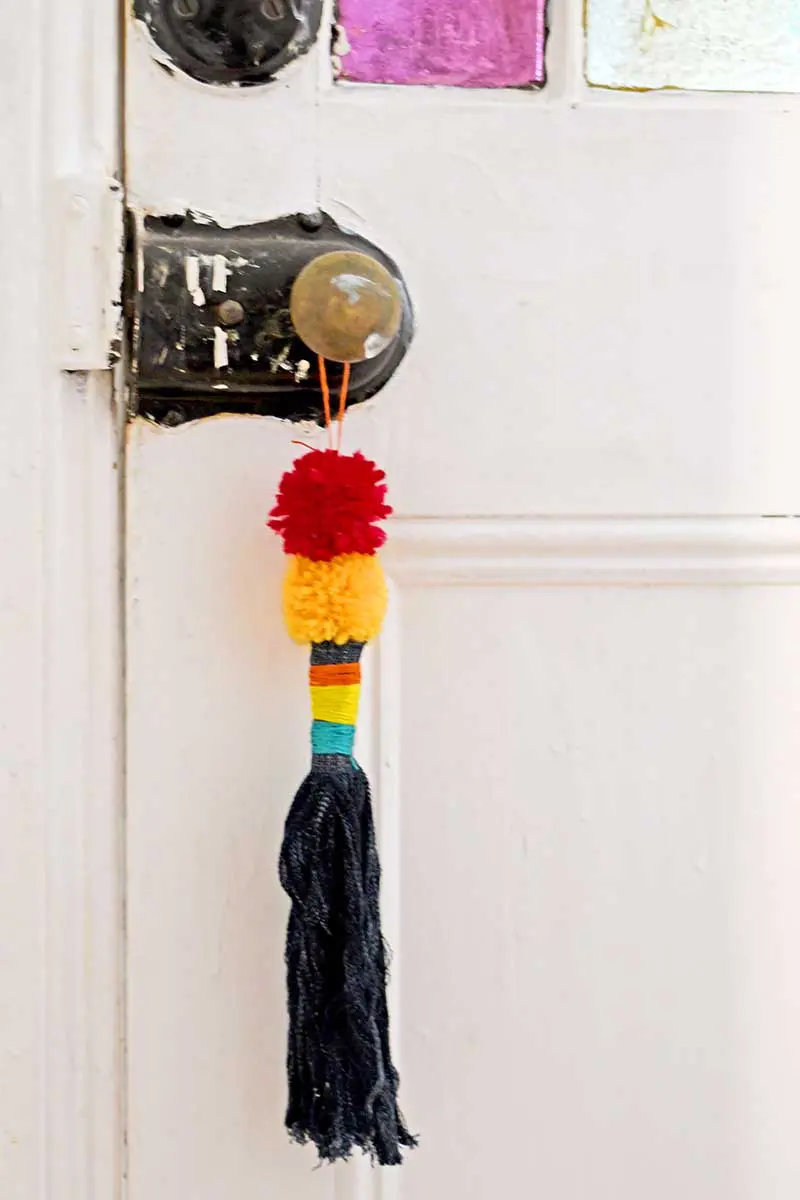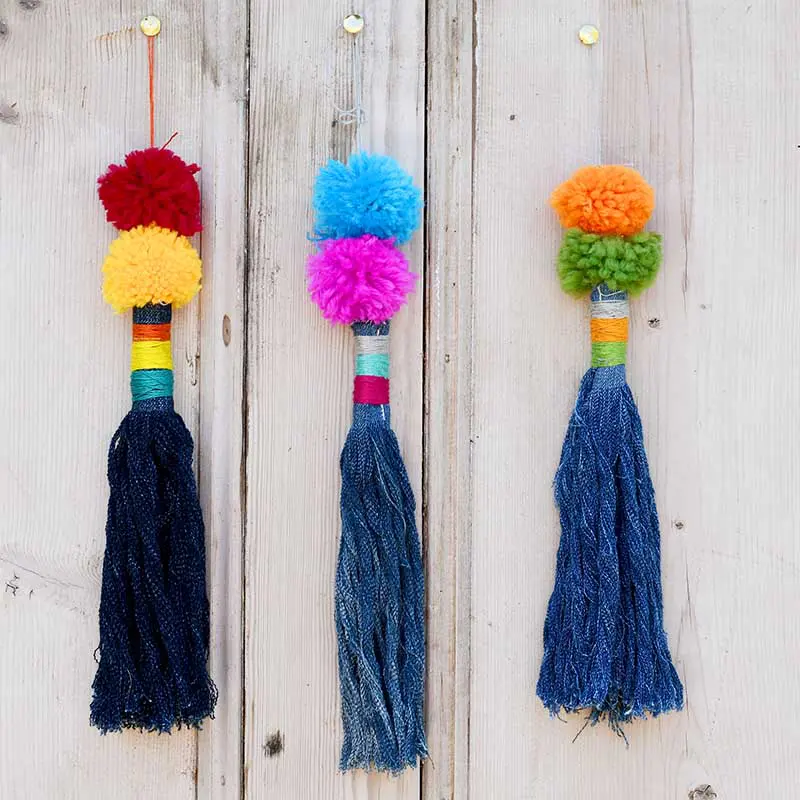 How To Use The Tassels
I added a small denim tassel to each corner to decorate my DIY Frida Kahlo cushion. I'm making more denim tassels to fringe the recycled sweater blanket I made. I also used them for these cool hanging embroidered heart denim decorations and these fabulous fabric star ornaments.
This round-up of leather craft ideas is a tutorial for a leather tassel, and there are some yarn tassels in this yarn craft round-up.
Other woven fabrics can be frayed, like denim. I've upcycled plaid and tartan to make DIY fabric feathers by fraying. I will use this fraying method to make colourful and patterned tassels with plaid and tartan scraps.
I used this fraying denim technique to give a Boho finish to a gorgeous stencilled denim table runner, and the leftover scraps were used to make some denim earrings.
Another fun decorative embellishment to make from denim scraps is these cute bows.