This post shows you how to make a paper mache bowl and decoupage it with fantastic vintage images.
My shopping weakness is not handbags or shoes but fancy plates. Especially if they have pictures of animals and flowers on them. I have quite a collection of Lou Rota Nature Table plates from Anthropologie and Rachel Kozlowski ones from West Elm.
Most people use these plates as decorations, especially the Anthropologie ones. Not me, though; I eat off them and use them every day. It may sound ridiculous, but the food tastes better off a fancy plate.
I also think that if you have lovely things, then enjoy them rather than saving them for special occasions. Life is too short to get the posh plates out several times a year!
My rather extensive fancy plate collection has built up over the years as I've treated myself to one when shopping in London. However, since lockdown, I haven't visited London since February.
That is why I decided to make my large paper mache bowl and decorate it to match my fancy plates. This decoupaged paper mache bowl can be used as a bread or fruit bowl to sit on the table.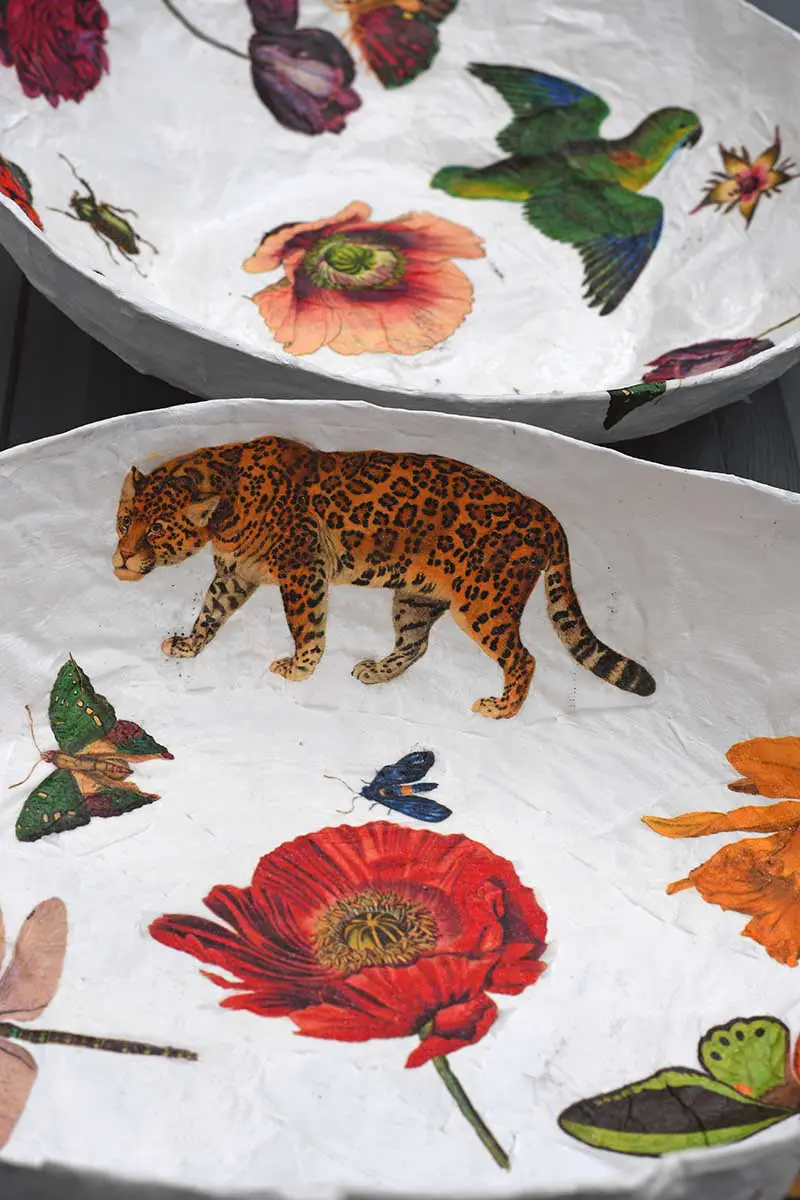 Not only do I show you how to make a paper mache bowl, but how to decorate it in the style of those lovely fancy plates from Anthropologie.
I gathered the vintage images from the natural history collections on Pictureboxblue.com. You can visit the site for thousands of free vintage images with the decoupage. For convenience, I have also provided the images I used for these paper mache bowls.
We're a participant in the Amazon Services LLC Associates Program, an affiliate advertising program designed to provide a means for us to earn fees by linking to Amazon.com and affiliated sites. As an Amazon Associate, I earn from qualifying purchases.
What You Need To Make Paper Mache Bowls
Large bowl to use as a mould. Plastic, ceramic and steel bowls will all work well.
Newspaper
Cling film/plastic wrap
White glue or flour
Plain white paper napkins
Masking tape
Printer paper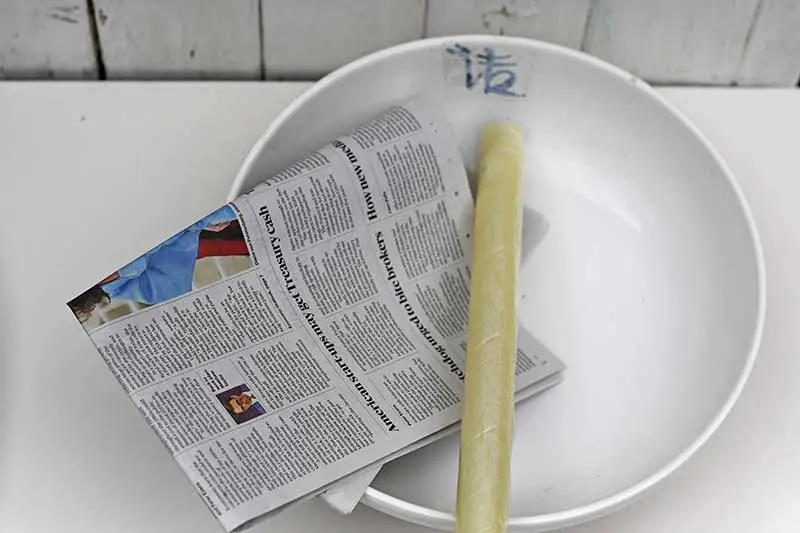 How To Make A Paper Mache Bowl
1. Preparing the Mould.
Decide on the bowl size you want to make, and then find an appropriate size for mould use. The bowl can be made of wood, ceramic, metal or plastic.
It just needs to be firm; also, you want a standard bowl shape. If the bowl is lipped and has an unusual shape or undulating, it may be hard to remove the paper mache afterwards.
Top tip: If making small bowls, you can use a balloon.
Decide whether or not you are going to paper mache the inside or outside of the bowl. I have done paper mache both ways, and they both work as well as each other.
For this particular craft, I paper mache the outside of the mould. First, I covered the bowl in cling film/plastic wrap. This is to stop the newspaper from sticking to the mould.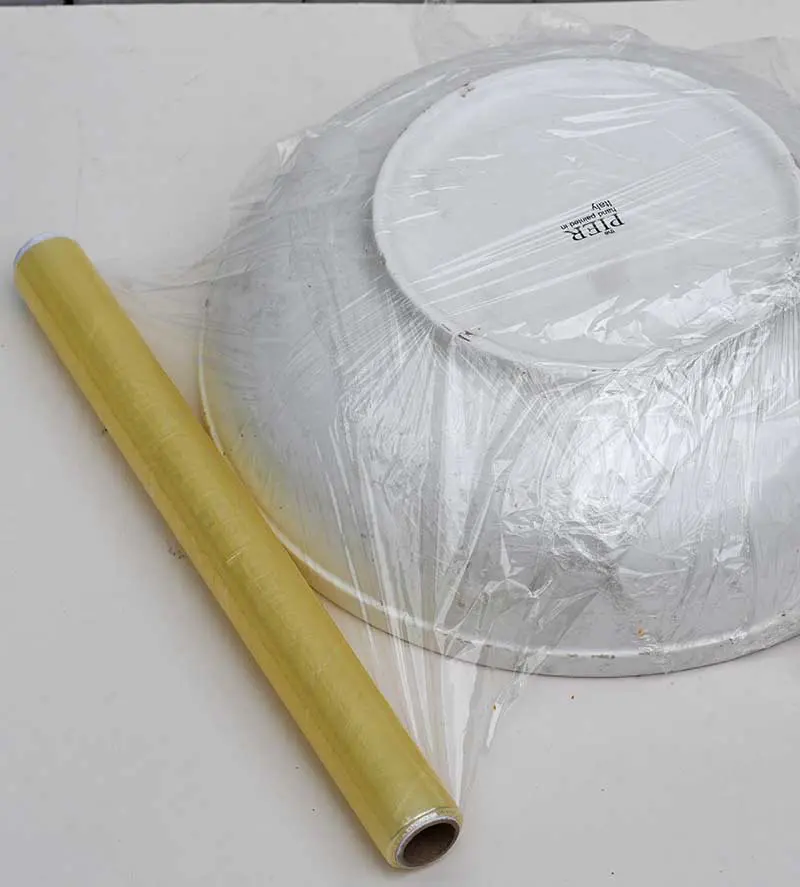 2. What Adhesive To Use For Paper Mache
To stick the newspaper layers to the mould, you can use various things as the adhesive.
50/50 mixture of flour and water
50/50 mix of white glue (PVA, wood glue or Mod Podge) and water
Diluted wallpaper paste
My personal preference is the diluted glue. The glue will strengthen the paper mache and is less likely to rot than the flour mixture.
3. How to Paper Mache The Bowl
Tear the newspaper into long strips, about 4cm wide and 12cm long. I used newspaper as it is a cheap, strong and absorbent paper, which makes it well-suited to paper mache. You can experiment with other papers for different effects.
Cover one side of the newspaper strip in the diluted glue mixture and lay it across the top of the bowl.
Top tip: Use smaller strips of newspaper for smaller bowls.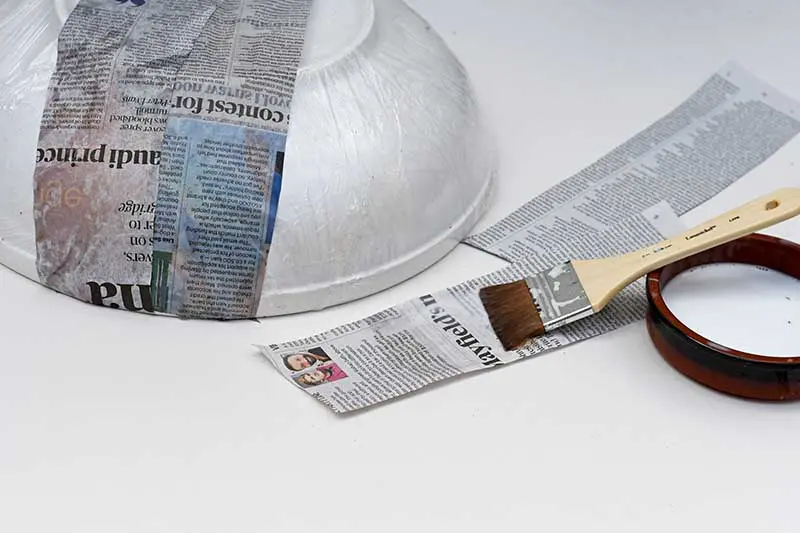 Add the newspaper strips until the whole bowl is covered in paper.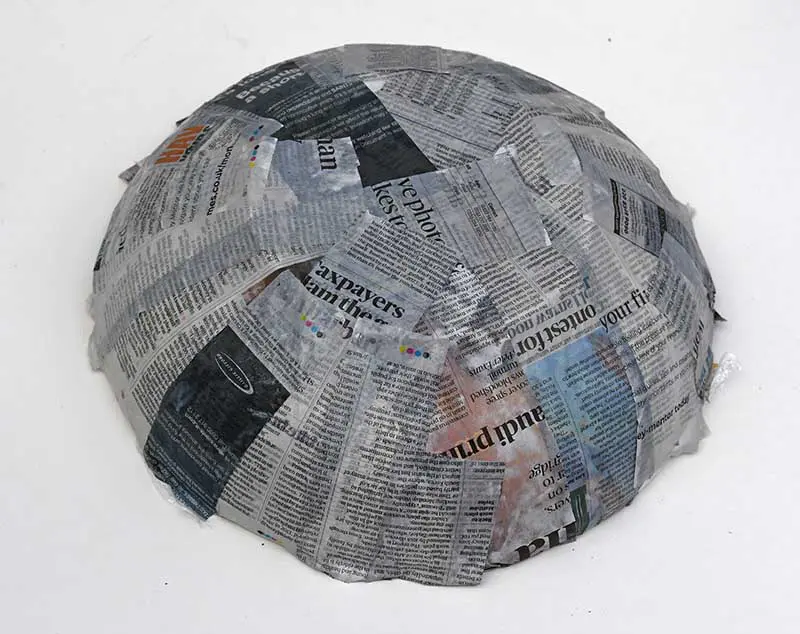 Leave the paper in a well-ventilated area to dry before adding another layer of newspaper. Paper mache can't be rushed; it takes time as you need to wait for the layers to dry.
I papered a total of six layers of newspaper. As for this particular craft, I wanted quite a sturdy decoupage paper mache bowl. The more layers of newspaper you add, the stronger the bowl.
4. Finishing off the Paper Mache Bowl
When the final layer of the newspaper had dried, I carefully removed the paper mache from the mould. Then, with scissors, I trimmed the edge of the bowl to make a neater edge.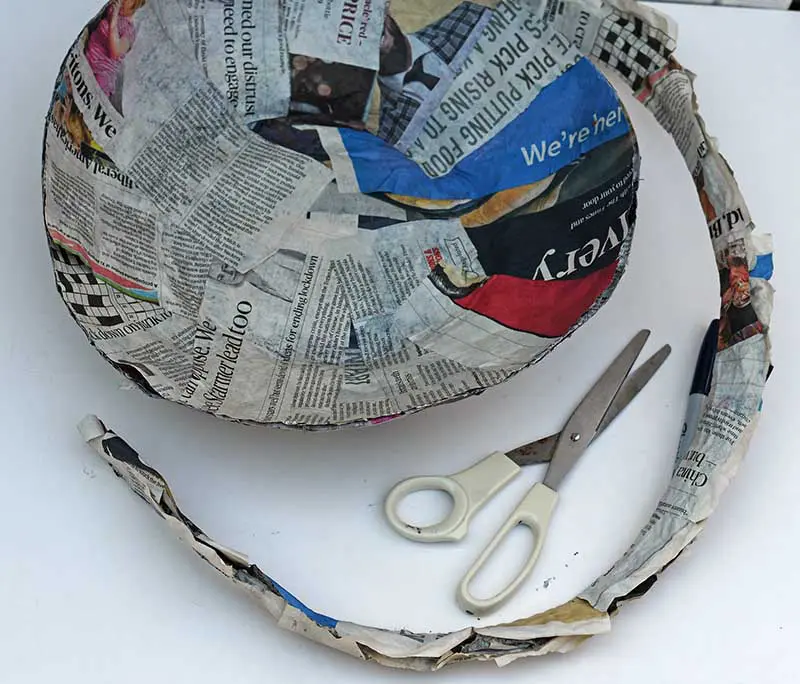 I paper mache one final layer of newspaper around the edge of the bowl. This was to smooth off the cut edge.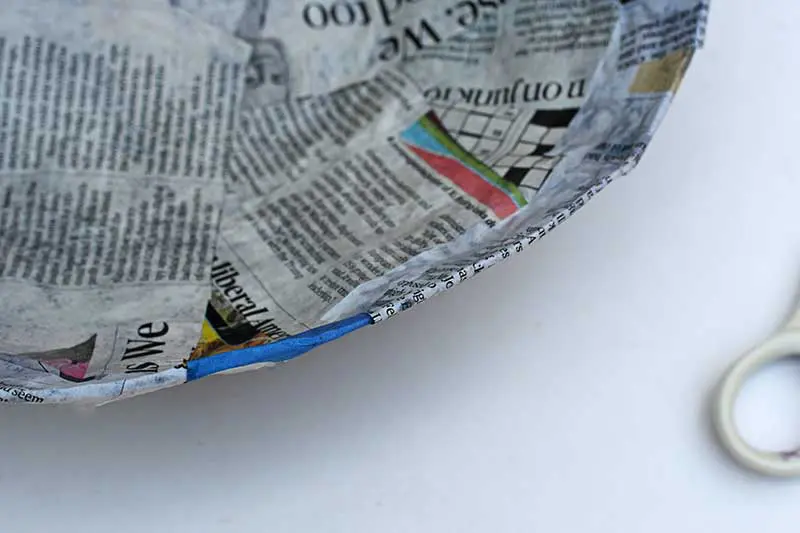 How To Decoupage The Bowl
Once all the paper mache had dried, I painted the bowl with white acrylic gesso paint. This was to hide the newspaper print.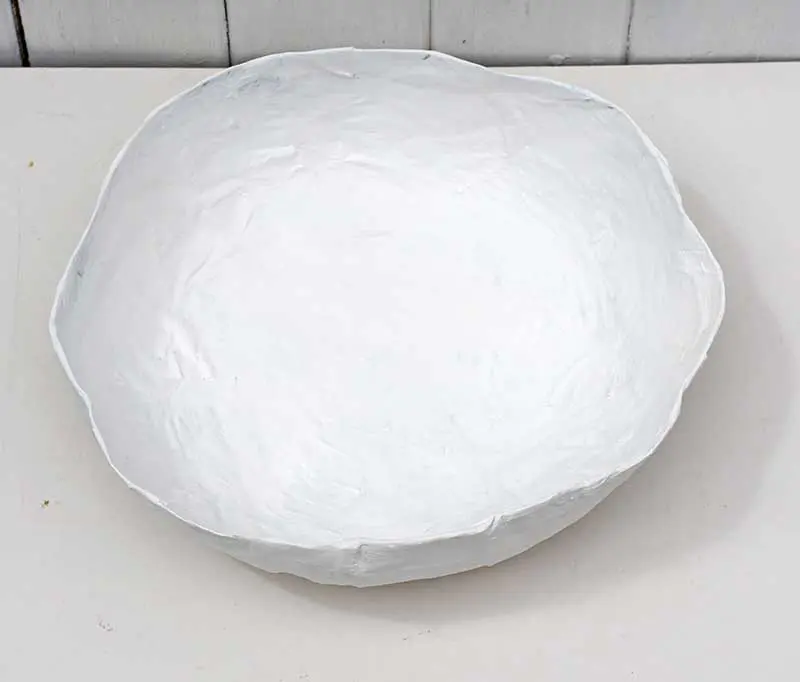 Use paper napkins to decoupage the bowl. You can print your own if you can't find paper napkins with the images you want. For full details of how to, check out the paper napkin decoupage post.
I selected the nature images I wanted and printed them onto paper napkins. If you're going to use the same images as me, click on the title above the collection you wish to use, and it should open as a new tab on your browser. If you right-click on the image, you can save it to your hard drive to print later.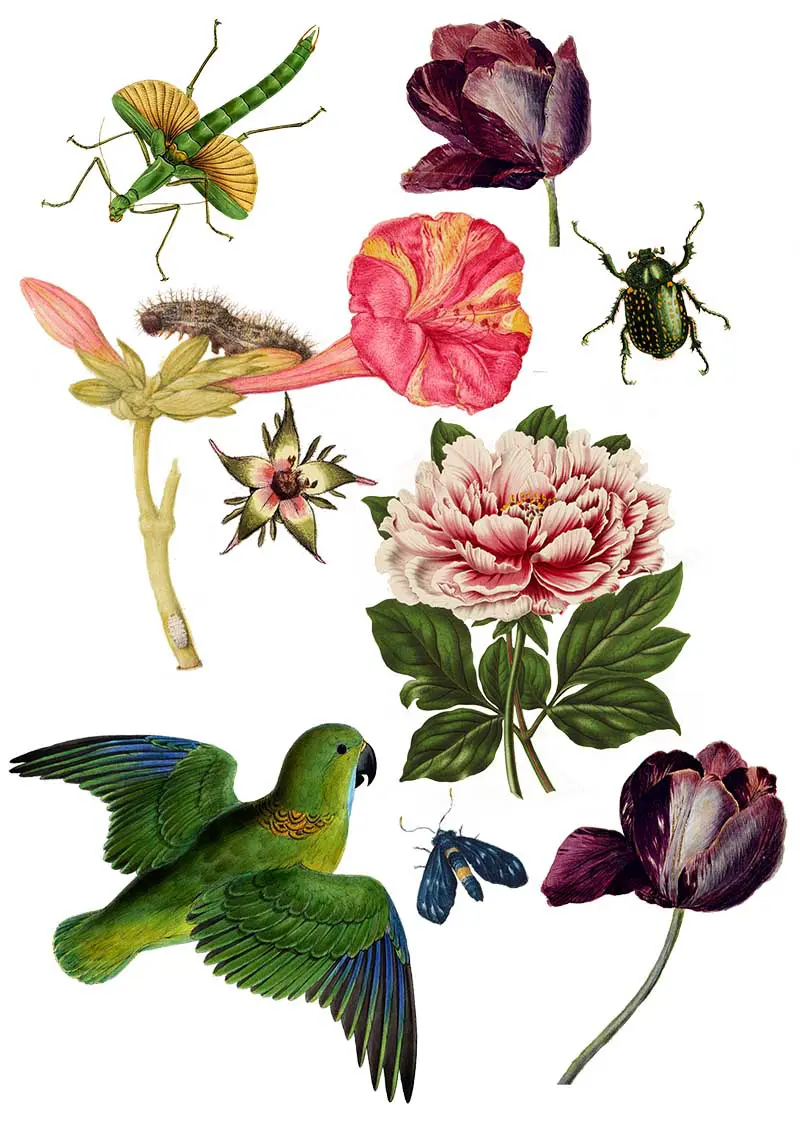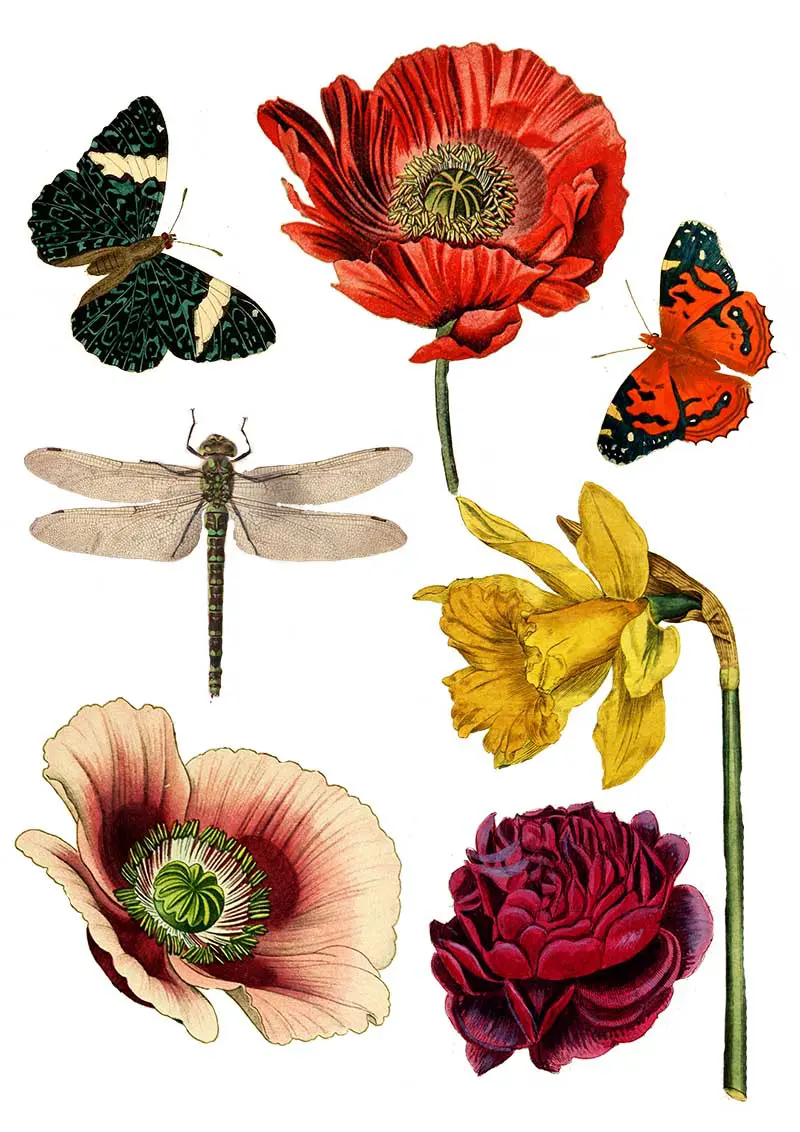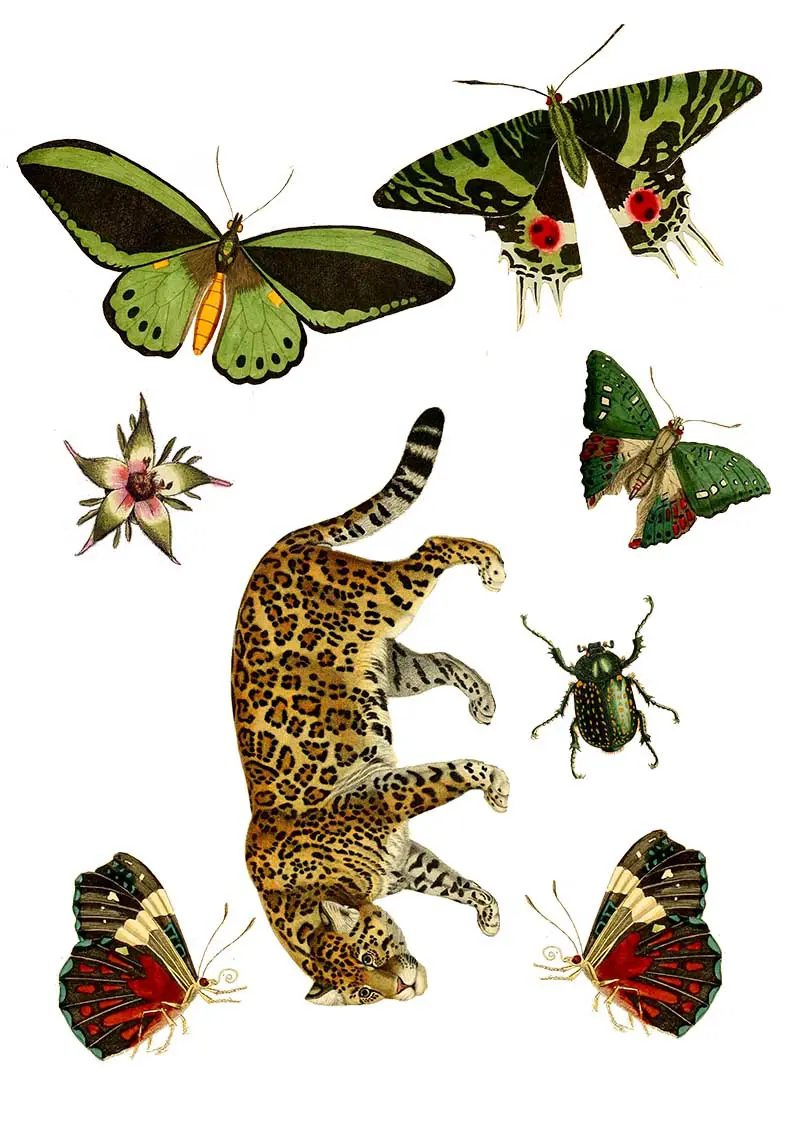 To decoupage the paper napkin images to the bowl, cut them out from the printed paper. Apply the decoupage glue to the bowl and not to the paper napkin. Then gently press the image onto the bowl.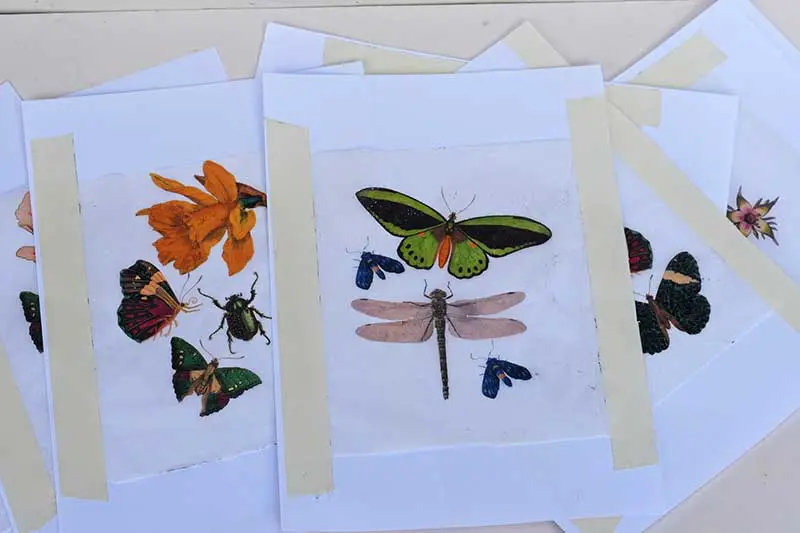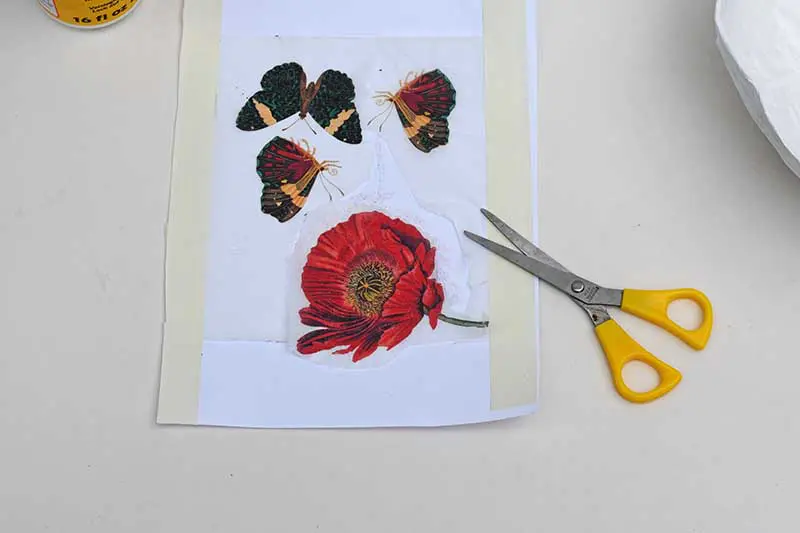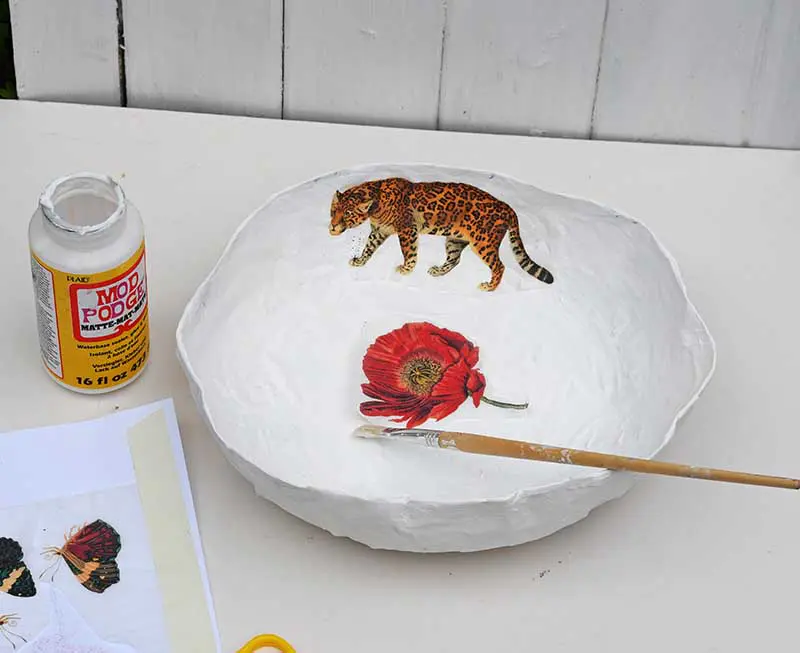 Try adding the images individually until you are happy with the design on the paper mache bowl. When you have finished adding all the images add a layer of Mod Podge. This will act as a sealer.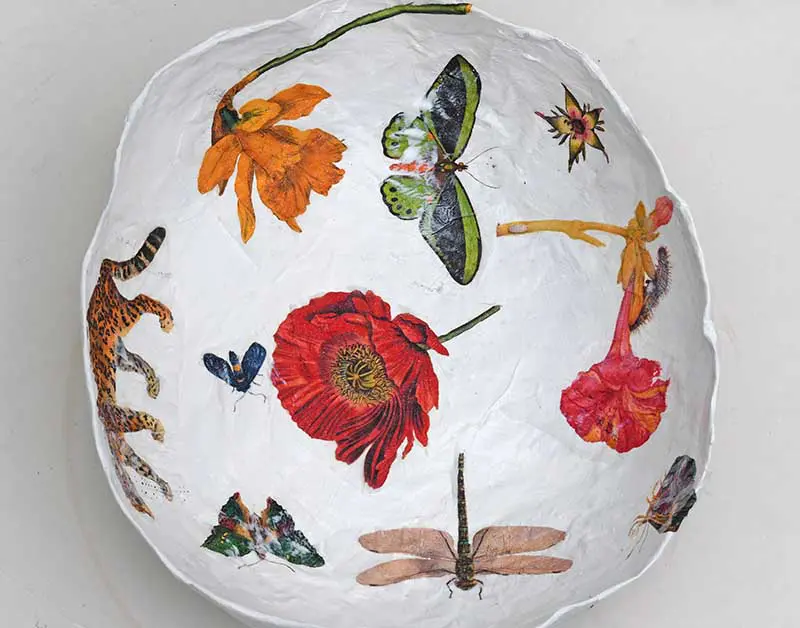 Once the Mod Podge has dried, seal the whole bowl inside and out with a spray of polyurethane varnish. Once the varnish has thoroughly dried and cured after several days, the bowl will be waterproof and food safe.
When I say waterproof, I don't mean you can put it in the dishwasher or a bowl of hot soapy water. However, you will be able to wipe it clean.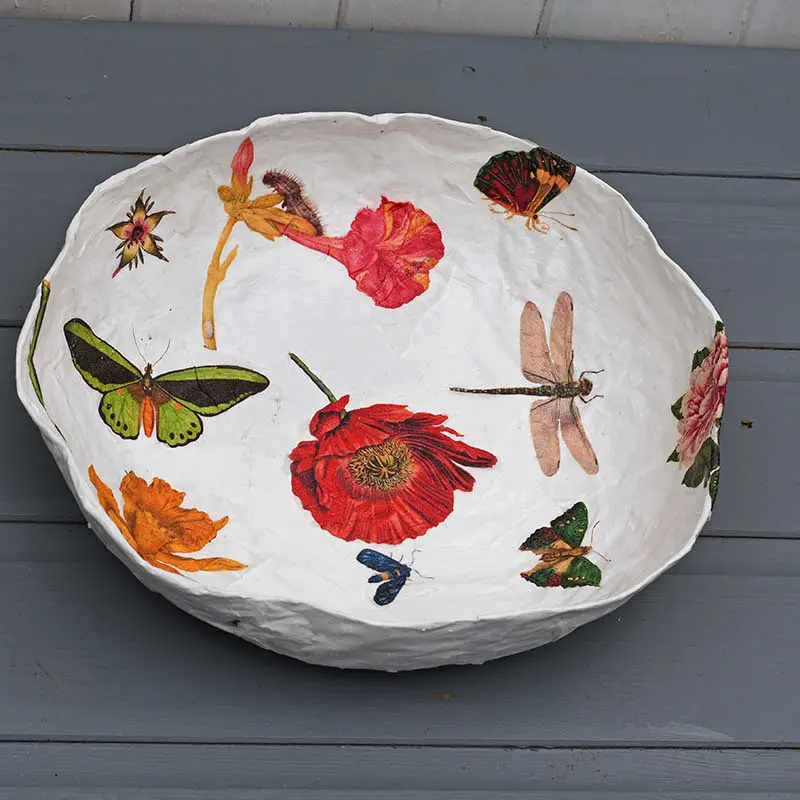 I loved my Anthropologie hack paper mache bowl so much that I made another one. They sit on my dining table as decoration. Sometimes I use them for bread at mealtimes.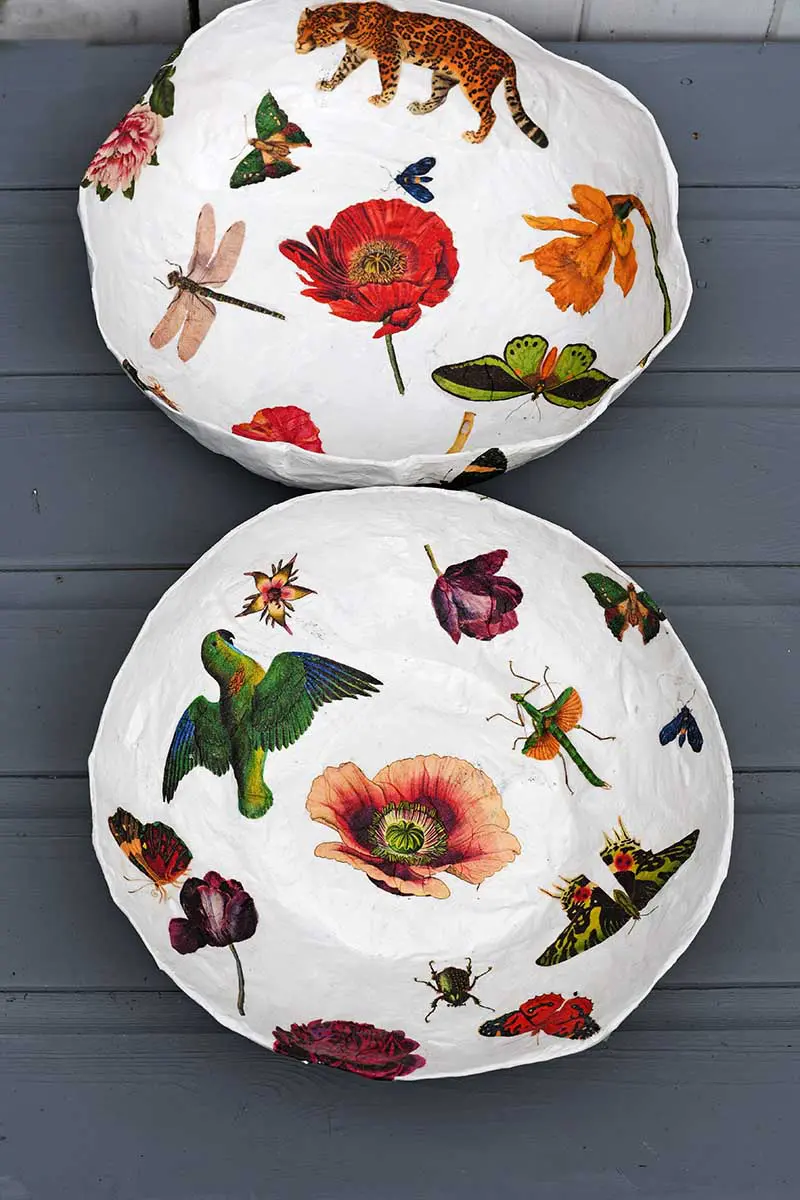 Now that you know how to make paper mache in a bowl, you can use the same technique to make some decorative Nature Table paper mache plates. These plates would be great to hang on a wall.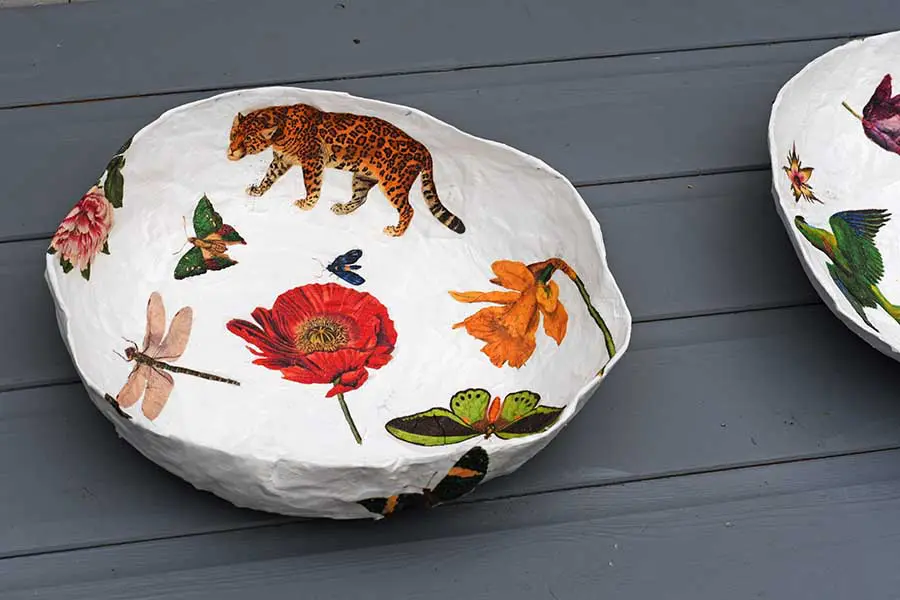 Paper Mache Bowl FAQs
Can I use any paper for paper mache?
Yes, you can use various paper types for paper mache, including newspaper, tissue, construction, or even recycled paper. However, thinner and more easily moldable papers tend to work best. Avoid using glossy or coated paper, as it also doesn't absorb the paste.
How long does it take for a paper mache bowl to dry?
The drying time for a paper mache bowl can vary depending on factors like the thickness of the layers, humidity levels, and airflow. Typically, it can take anywhere from 24 hours to a few days for the bowl to completely dry. It's essential to ensure that all layers are thoroughly dry before proceeding to the next step.
Can I speed up the drying process?
Yes, there are a few ways to speed up the drying process. You can place the paper mache bowl in a well-ventilated area with good airflow. Using a fan or a hairdryer on a low or cool setting can also help expedite drying. Just be careful not to use high heat, which may cause the paper to warp or distort.
How do I achieve a smooth finish on the paper mache bowl?
You can sand the surface after it has dried to achieve a smooth finish on your paper mache bowl. Use fine-grit sandpaper to smooth out any rough edges or bumps gently. Alternatively, you can apply a layer of primer or gesso to create an even surface before painting.
How durable is a paper mache bowl? Will it easily break?
While paper mache bowls are generally sturdy but not as durable as solid materials like ceramic or glass, they can be fragile and may break or crack if dropped or handled roughly. However, you can increase the durability by adding extra layers of paper mache or using a stronger adhesive in your paste recipe.
Are there any alternative methods to make a paper mache bowl?
Paper Mache Clay: Instead of paper strips, you can create a clay-like mixture using toilet paper, glue, and water. This mixture can be applied to a bowl-shaped form or directly sculpted into the desired shape. It offers a smoother finish and can be easier for certain designs.
Cardboard Base: Instead of using a balloon or another object as a base, you can cut and shape a bowl from cardboard. Once the form is ready, you can apply the paper mache layers. This method allows for more control over the shape and size of the bowl.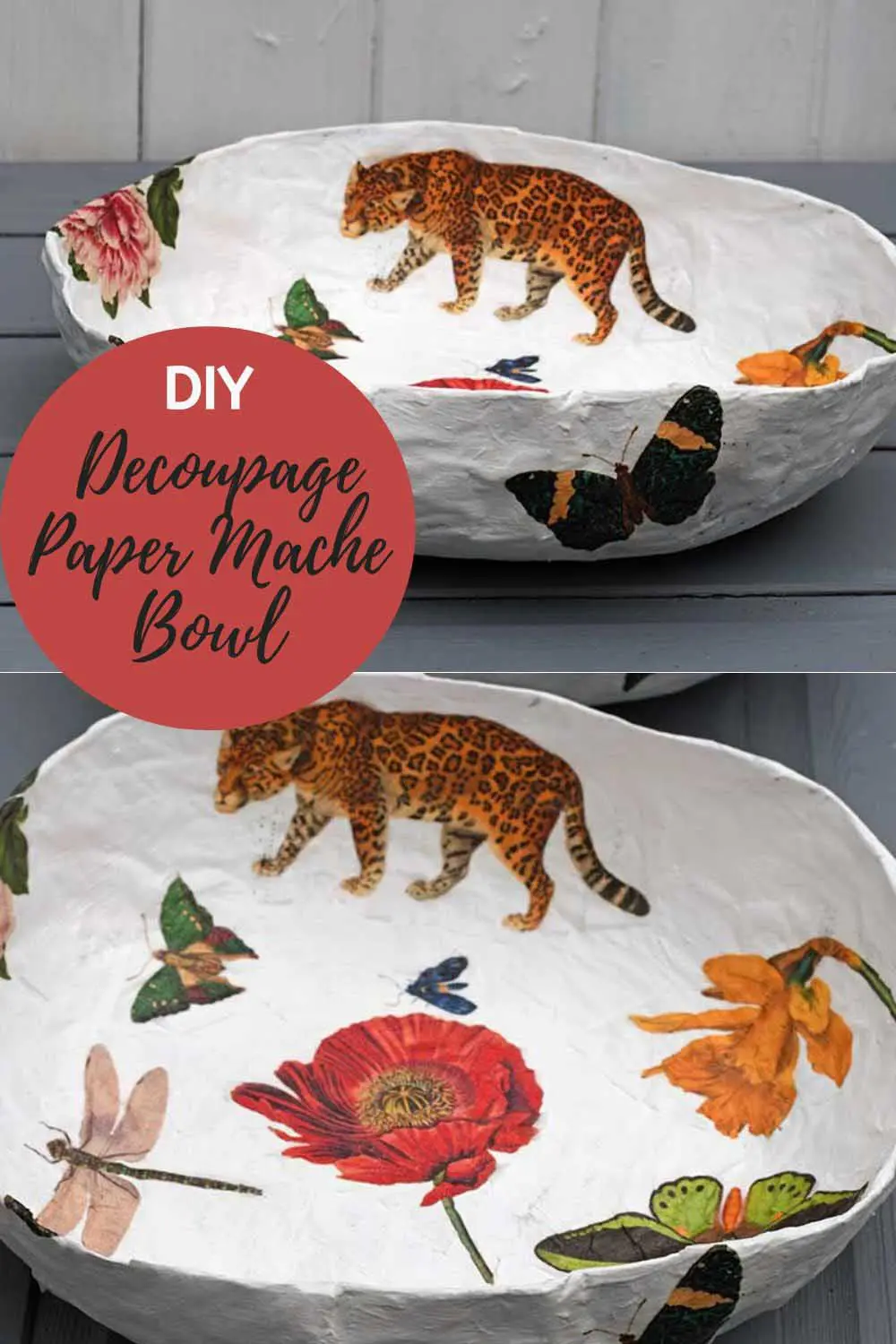 Did you know you can also use Paper Mache with thin fabric scraps to make fabric bowls?
Almost any shape can be paper mache, like these cute 3D watercolour heart decorations. I've made giant paper mache cacti before using a wireframe. I've paper mache soda bottles to make some fun Marimekko herb planters. These images would also look great on the paper mache teacups I made.
You can use the images provided here to make some hand embroidered paper dictionary art too.
Here is a collection of affordable paper mache crafts, other paper crafts for the home and adult craft ideas.
Yield: Large Decorated paper mache bowl
How To Paper Mache A Bowl and Decoupage It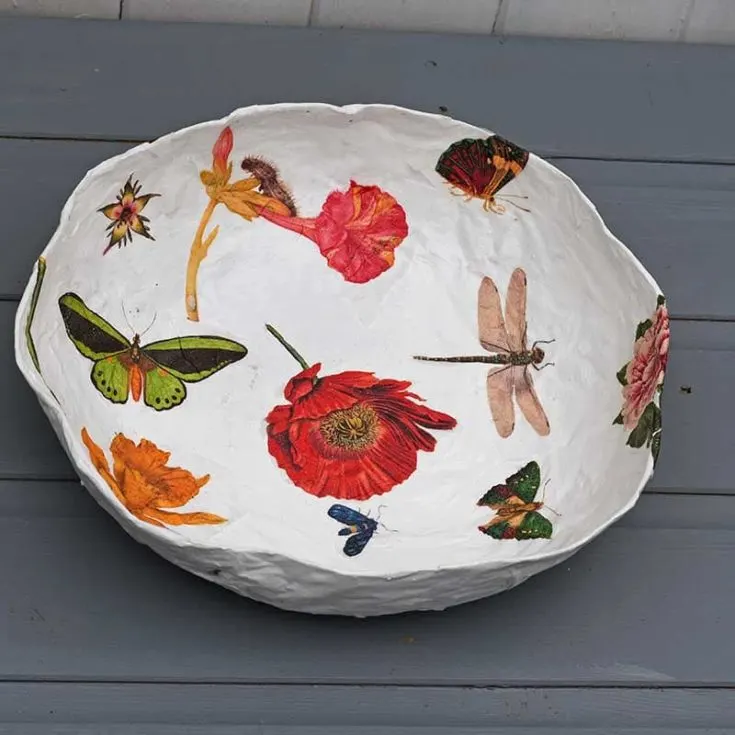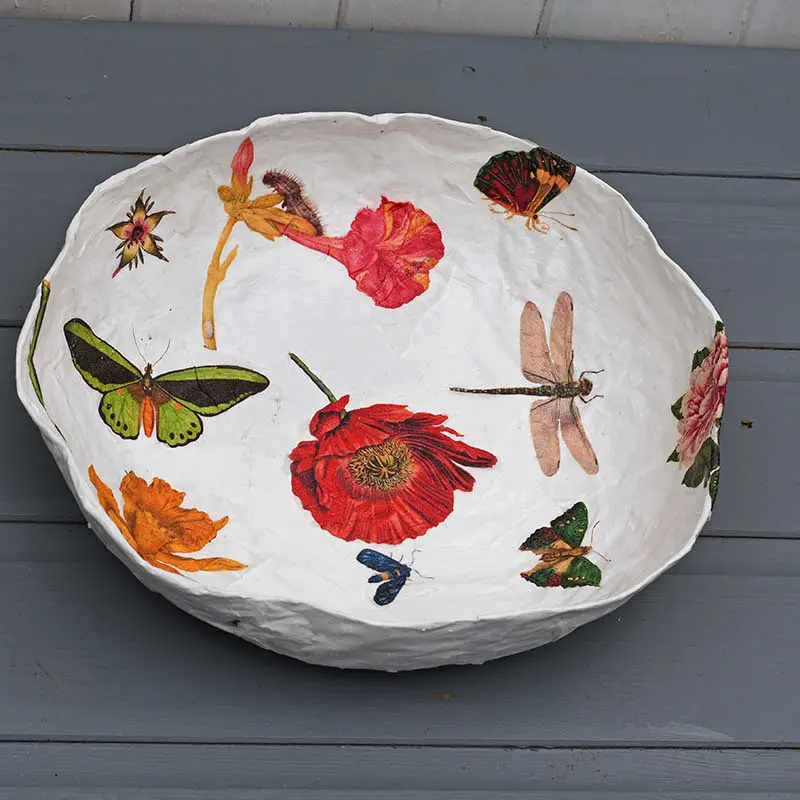 A fun craft that shows you how to make a large decorative paper mache bowl that is decorated with vintage images.
Total Time
11 hours
20 minutes
Materials
Large bowl to use as mould
Newspaper
Mod Podge
Vintage images free to download
Plain paper napkins
Cling film/plastic wrap
Spray acrylic varnish
Gesso acrylic paint
Instructions
Cover the outside of the bowl in clingfilm/plastic wrap.
Tear the newspaper into strips about 4cm wide and 20cm long.
Dilute the glue with water 50/50/
Brush the newspaper strips in the glue mixture and cover the outside of the bowl.
Leave to dry and then repeat at least 5 times. Until there are 5 layers of paper mache.
Once the final layer of paper mache has dried, carefully remove it from the mould.
With a pair of scissors trim the edge of the bowl.
Paper mache strips of paper over the edge of the bowl to neaten it up.
Paint the paper mache bowl with Gesso paint on both the inside and outside.
Print the vintage images on to paper napkins
Cut out the vintage images and decoupage them on to the bowl.
Once dried spray the bowl with the varnish both inside and out. This will protect the bowl and enable it to be wiped clean.
This newspaper craft featured in the A to Z of clever upcycling ideas.