Upcycling projects don't always have to be practical and functional they can also be fun and frivolous. That's especially true of this upcycled denim moth taxidermy.
I love to upcycle fabrics especially the little scraps that people often don't think are worth keeping. I have a big bag of colorful printed fabric scraps and bits of old jeans waiting to be transformed into something fun.
There are many cool adult craft ideas on the blog, where I've upcycled fabrics into fun things such as flowers, whole succulent gardens and beautifully crafted denim and tartan feathers. This is the first time though I've attempted insect taxidermy.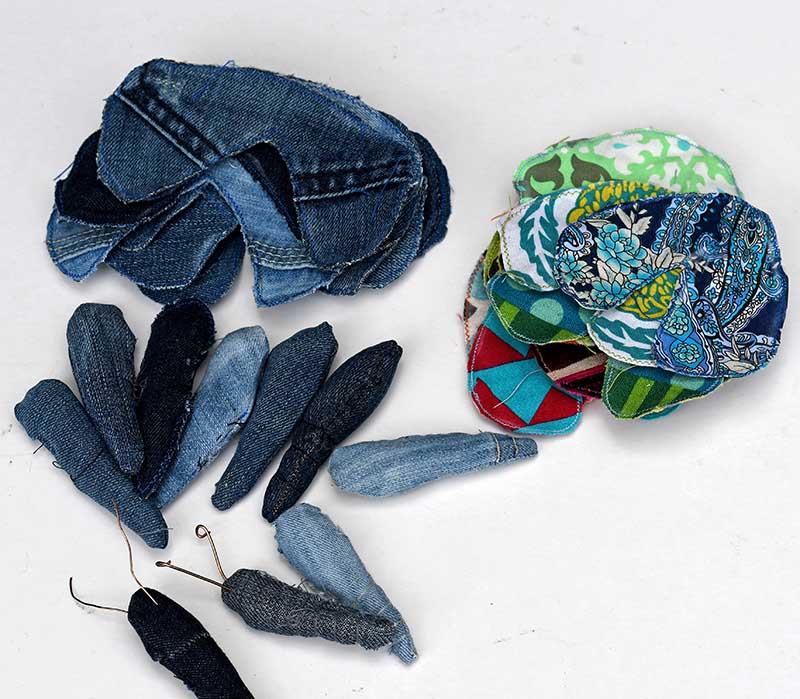 Fabric Butterflies and Fabric Moths
Originally, I had the idea to make denim butterflies but partway through I changed my mind. I decided to make moths instead. Both insects are very similar. Butterflies are very beautiful and the show-offs of the insect world, but I prefer the understated coolness of moths.
Moths, on the whole, are less pretty then butterflies and tend to be duller in colour. But some species of moth often have hidden flashes of beauty that only show when in flight.
I thought I could capture this with my fun moth taxidermy by creating two sets of wings for each moth. The top wings in denim and the bottom set in a more colourful patterned fabric.
These denim fabric moths were made using a sewing machine but they can easily be made as a no-sew upcycle project too. Instead of stitching the fabric wings together, they could be glued with fabric glue.
Creating a Moth Taxidermy Specimen Display
Once I started making these upcycled fabric moths I couldn't stop. Soon I had a bit of a collection of faux moth taxidermy. I just love upcycling denim and using scraps from several old pairs of jeans. It is a great way to show off the wonderful different shades of indigo denim that comes in.
Every fabric moth was made from a different shade of denim and patterned fabric. I thought a fun way to display these moths would be in a traditional insect display case.
The idea of displaying real insects in specimen cases these days as they did in the past, seems to be ethically and environmentally dodgy these days. However, I thought it would be OK with this faux taxidermy.
I even gave each of my upcycled denim moths a faux scientific Latin name to add to the effect. I mounted the fabric moths using the same insect pins that entomologists would use.
The denim moths featured in the alphabet of denim crafts, under the letter M.
We're a participant in the Amazon Services LLC Associates Program, an affiliate advertising program designed to provide a means for us to earn fees by linking to Amazon.com and affiliated sites. As an Amazon Associate, I earn from qualifying purchases.
What You Need To Make Fabric Moth Wall Art
Scraps of denim and fabric in various colours. When I say scraps I do mean scraps as you only need small pieces of fabric for each moth.
You might have a favourite old patterned shirt or blouse that you want to turn into a moth. Fabric swatch samples would also work well with this upcycle project. The more colourful the better.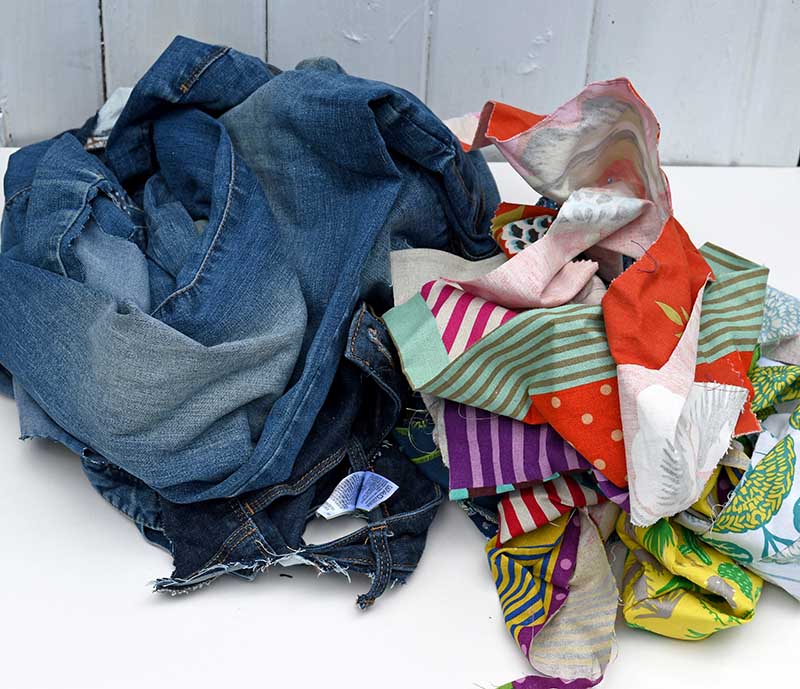 Frame for mounting the moth taxidermy
Sewing machine or fabric glue
Craft wire for the moth antennae
A small amount of fiberfill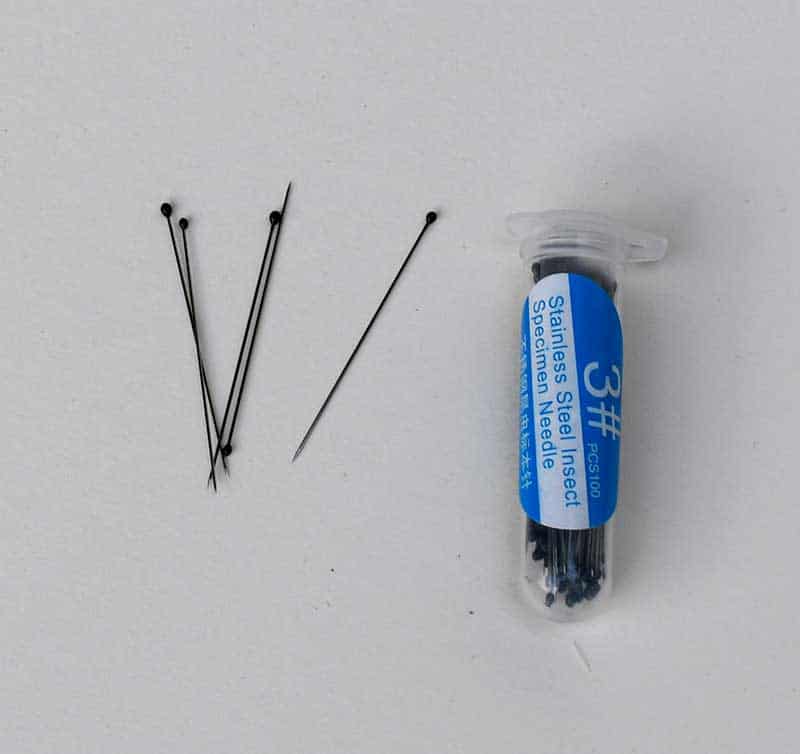 How To Make Fabric Moth Taxidermy
1.. First, print off the moth template and cut out the pattern pieces. There is a template for the top wings, one for the underwing and for the body.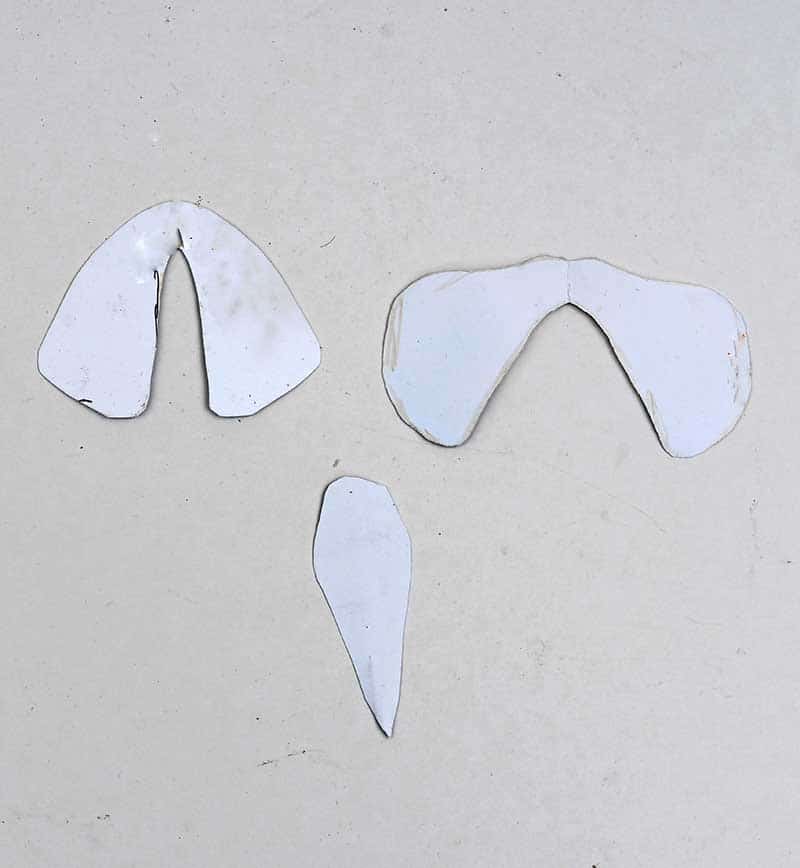 2. Fold over a piece of scrap denim so that is double thickness. Or use a denim pocket from a pair of jeans. Place the larger upper wing template on top of the denim right sides up and draw around with the tailor's chalk.
Do the same with the moth's body.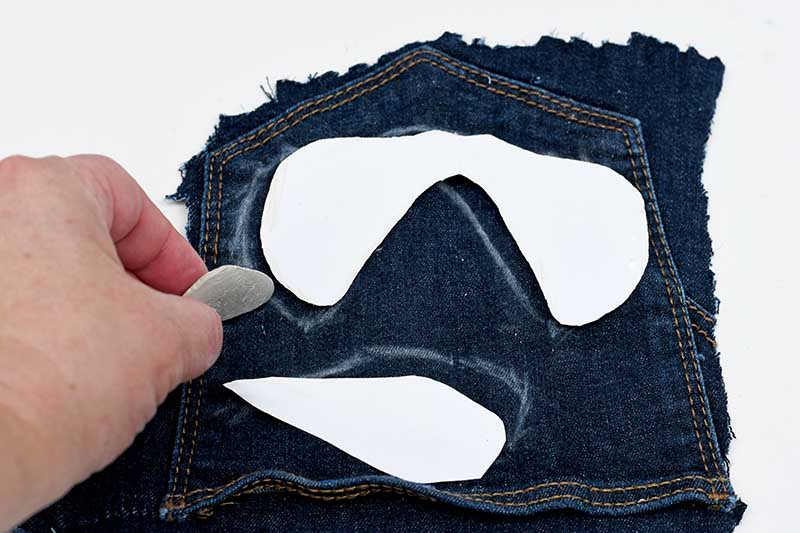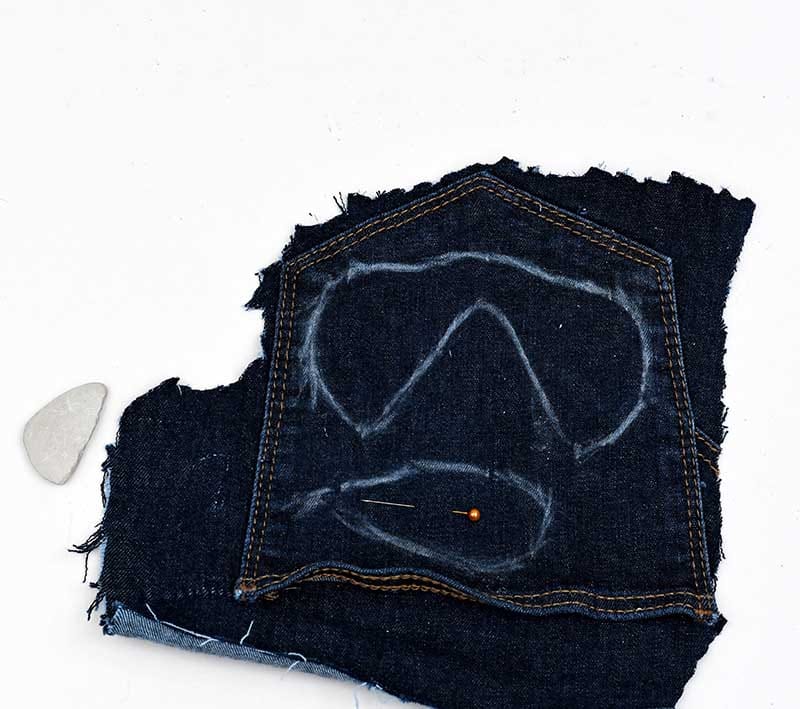 3. Next, using a sewing machine sew around the moth denim wing shape, following the chalk marks. I set my sewing machine to a small zigzag stitch setting.
Then cut out the wing shape as close to the stitching as you possibly can.
Top tip: If you don't have a sewing machine then you can stick the two pieces of fabric together with glue instead of stitching. Then cut the shape out following the chalk lines.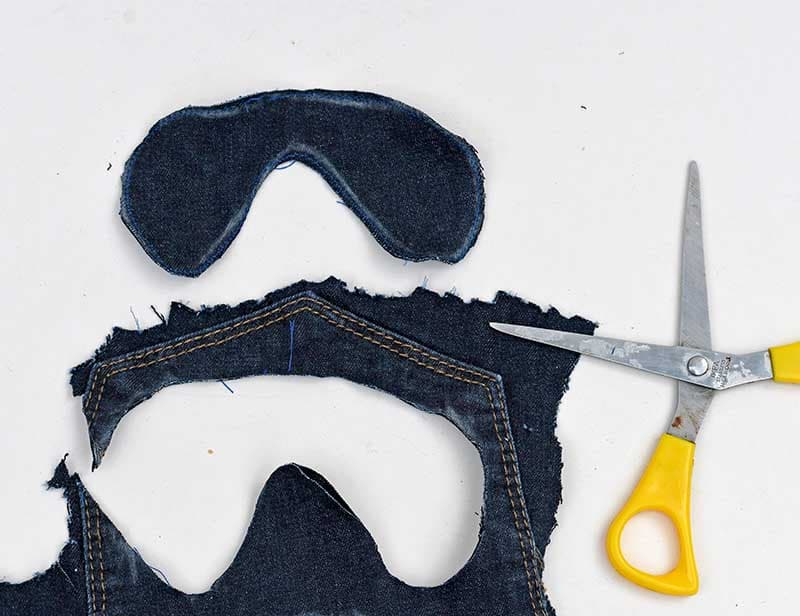 4. Cut out the two denim body pieces. Stitch them together leaving a small hole. Stuff the moth body with fiberfill and then stitch it shut. Cut two small wire antenna from the craft wire and stick them into the moth body head.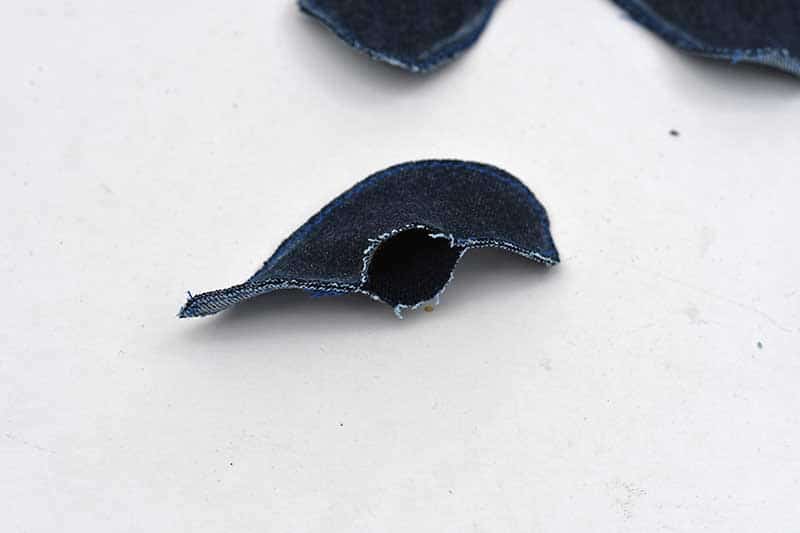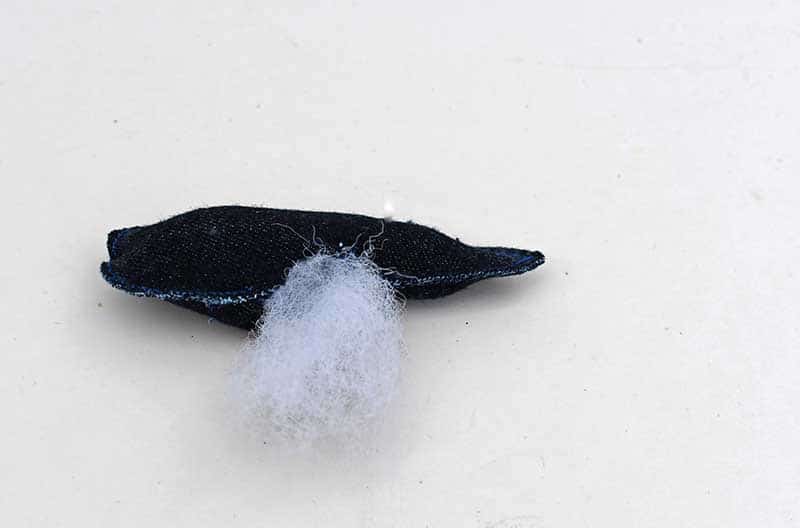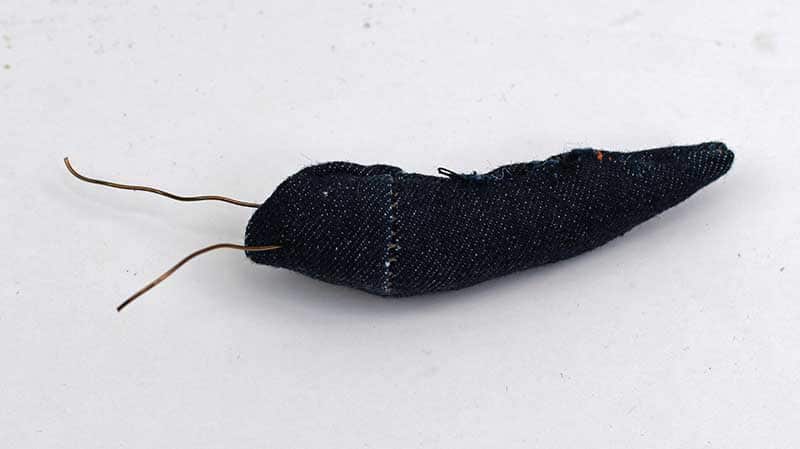 5. Next, make the colourful under-wings in the same way as the denim wings using the pattern for the smaller wings. But this time use the colourful scraps of patterned fabric.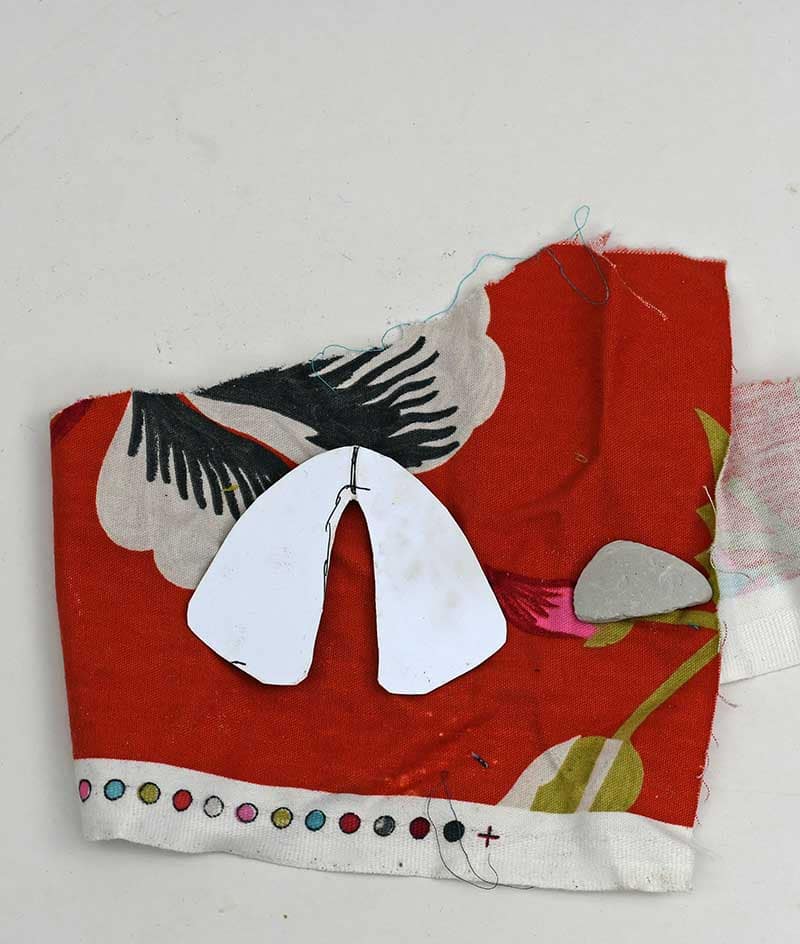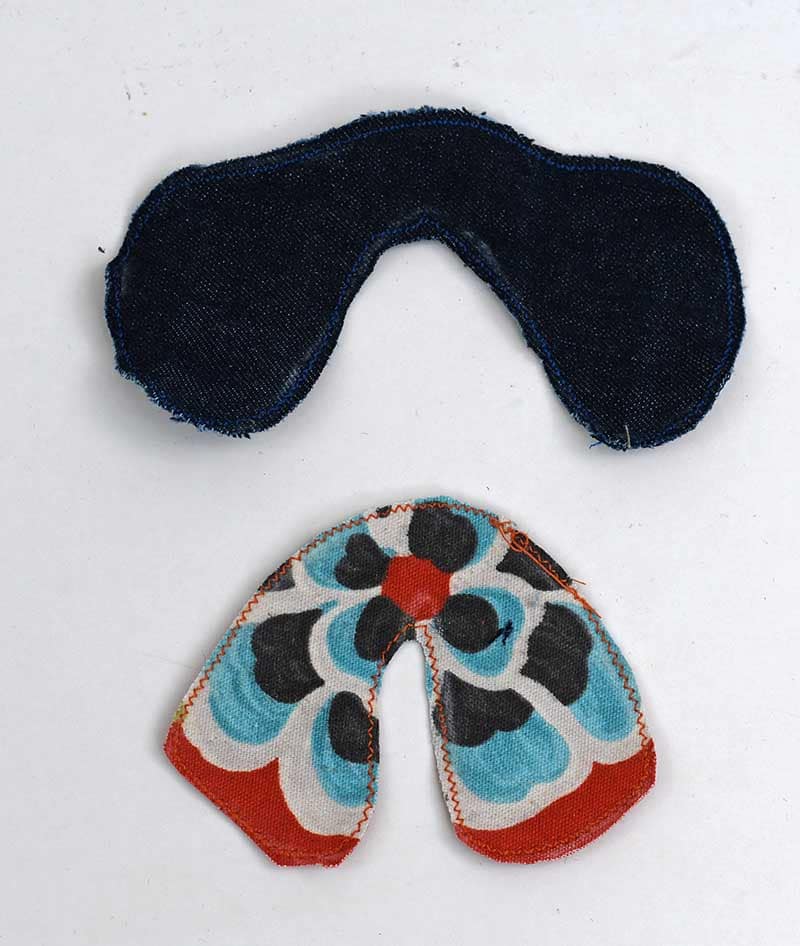 6. Carry on making the moth taxidermy body parts in different shades of denim and colours of fabric. I made enough to make 9 upcycled denim faux moths.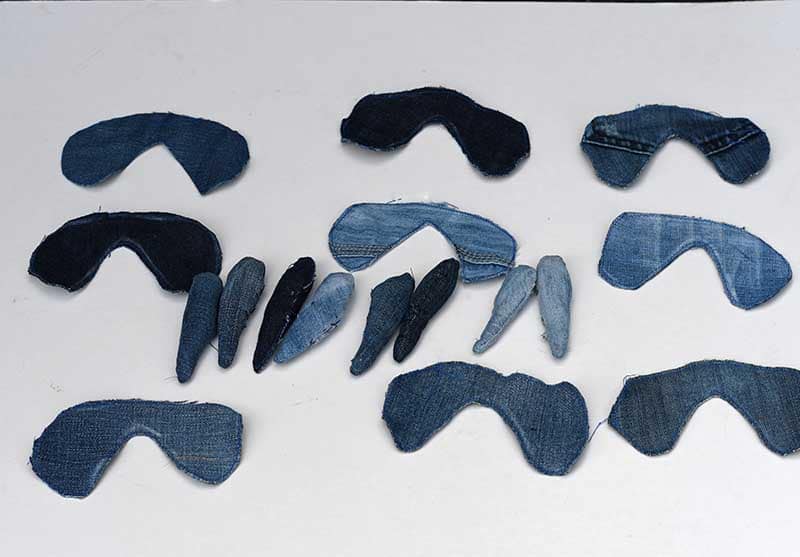 Putting the Upcycled Denim & Fabric Moths Together
7. Next, before putting the moths together pay around with the different combinations of upcycled denim wings and scrap fabric wings for each moth.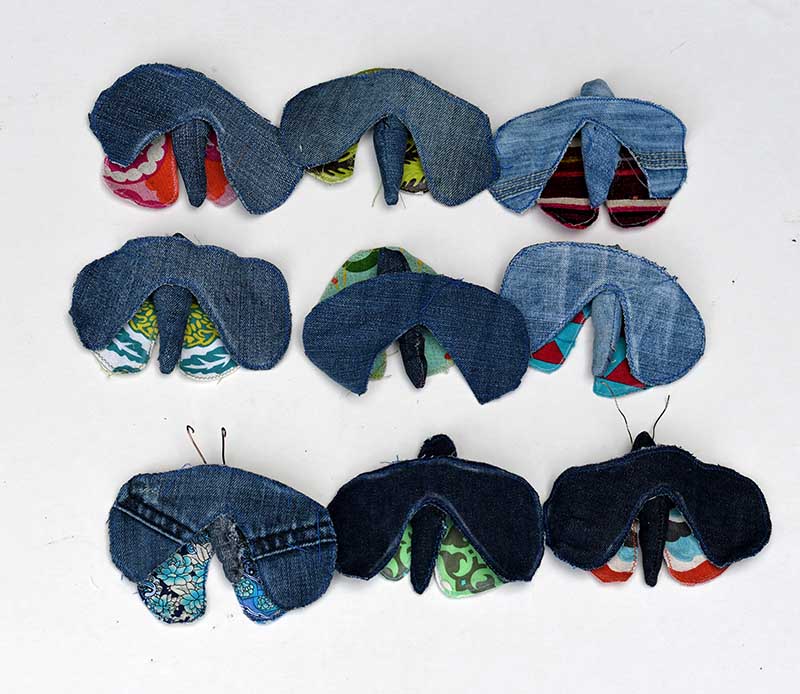 8. Once you have decided on the moth's wings, it's time to put them together. I used super glue gel with a brush for this. Firstly, I brushed the moth body sides with a small amount of glue.
Then I place the body on top of one of the scrap fabric wings and stuck the underwings to the body. Ideally, the wings should stick to the sides of the body so they are slightly raised.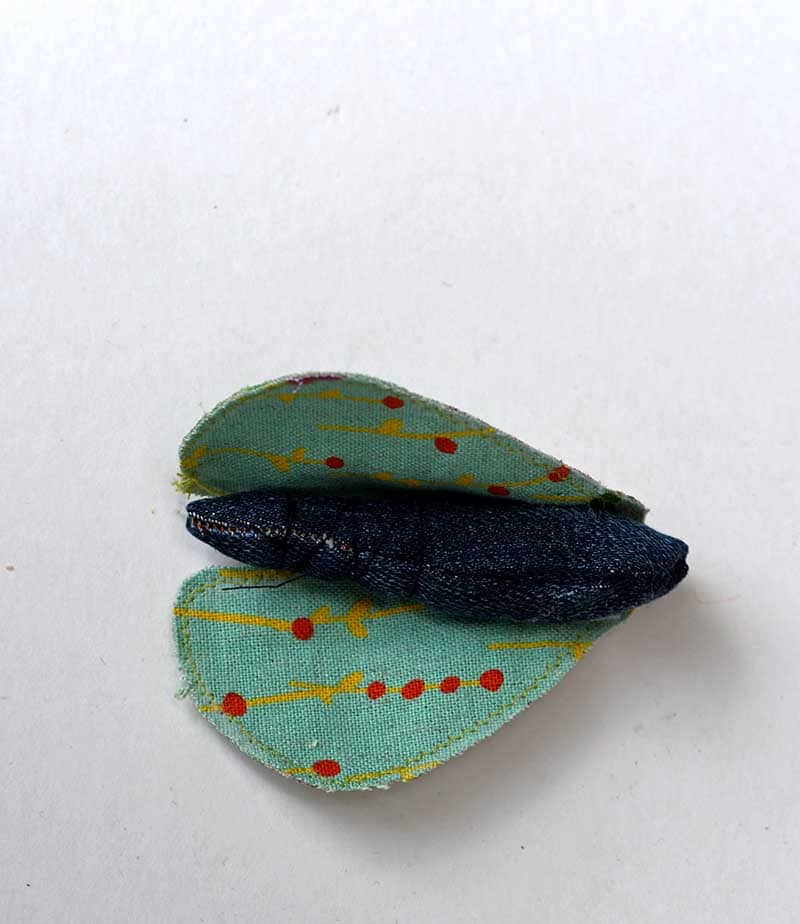 9. Again, using the super glue gel, stick the wings on to the top of the moth body. Don't forget to add wire antenna if you haven't already.
Carry on putting the moths together until all 9 are made.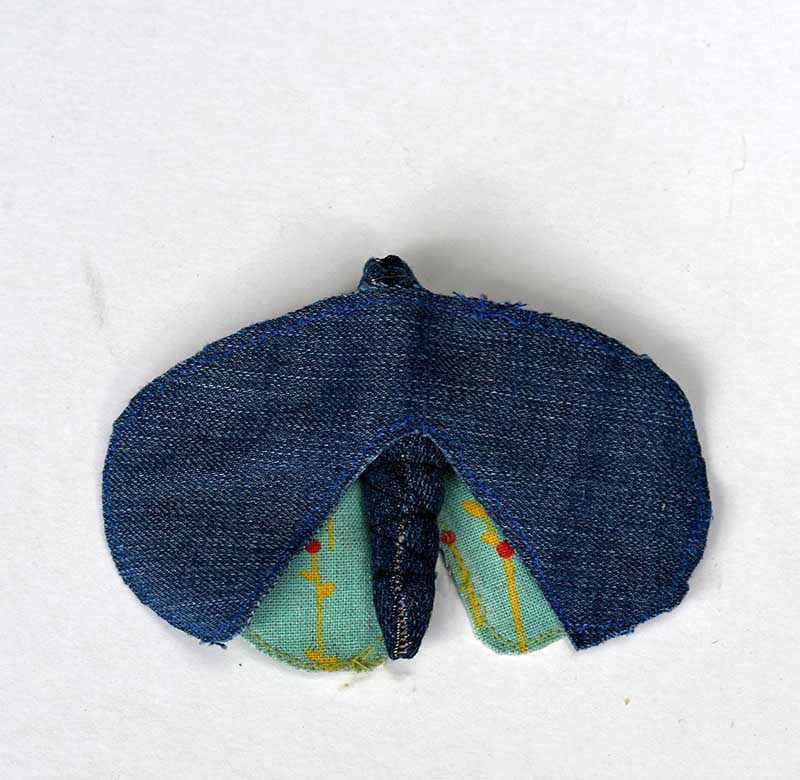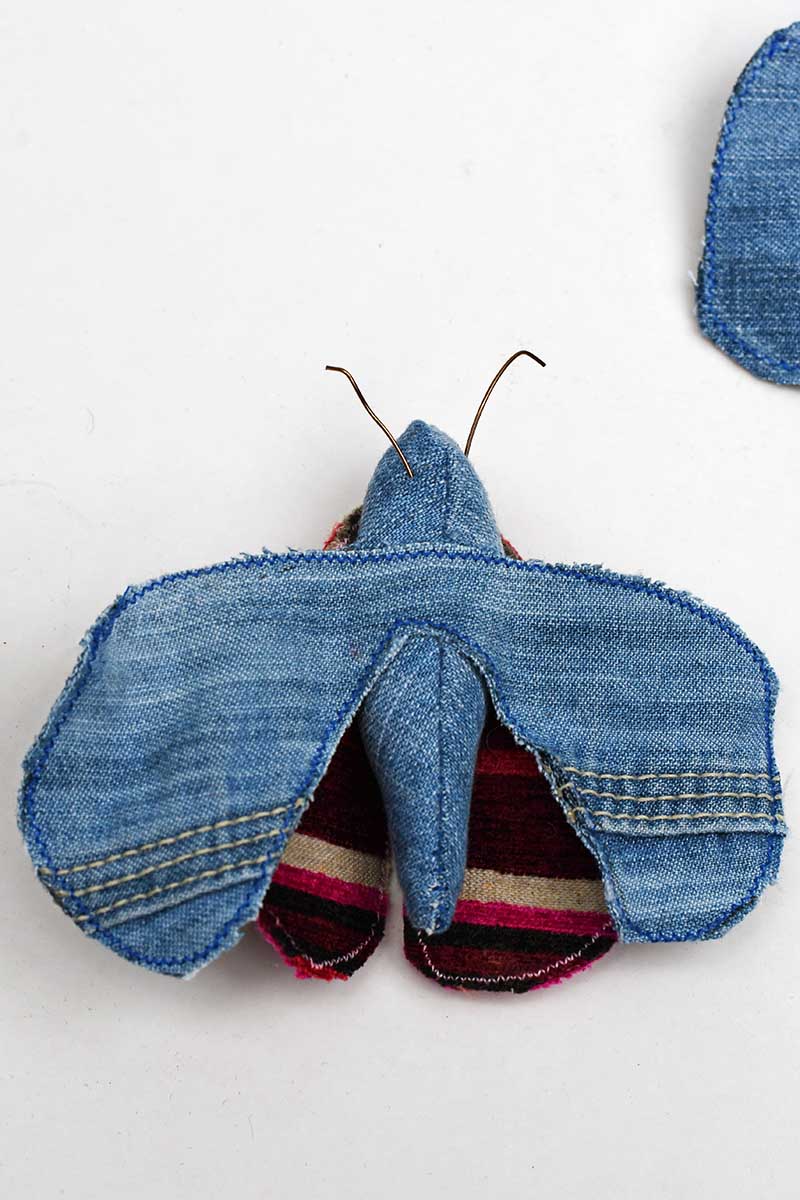 Putting the Mounted Moth Insect Display Together
10. I wanted to display these scrap fabric moths as a piece of wall art in the style of old fanshioned insect taxidermy. This involved using insect mounting pins. So that the pins what fix easily I cut foam board to fit the base of my frame.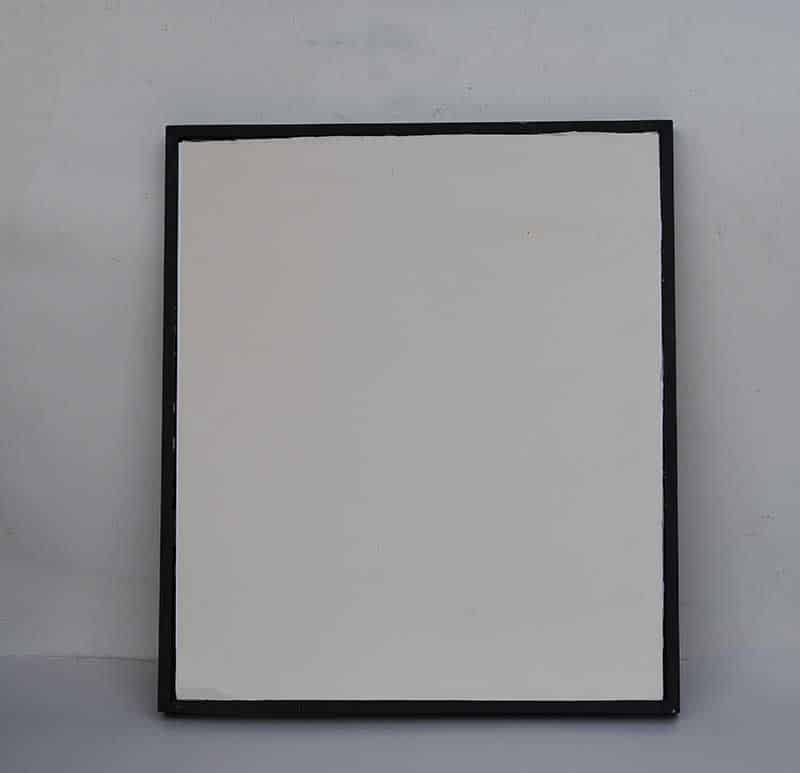 11. To add to that whole vintage insect display vibe, I even went as far as making labels for the faux moths. I found a vintage-style handwritten font called Tell Us. You can make your own moth names or download mine here.
To give the moth labels an aged look, I simply brushed them with diluted coffee.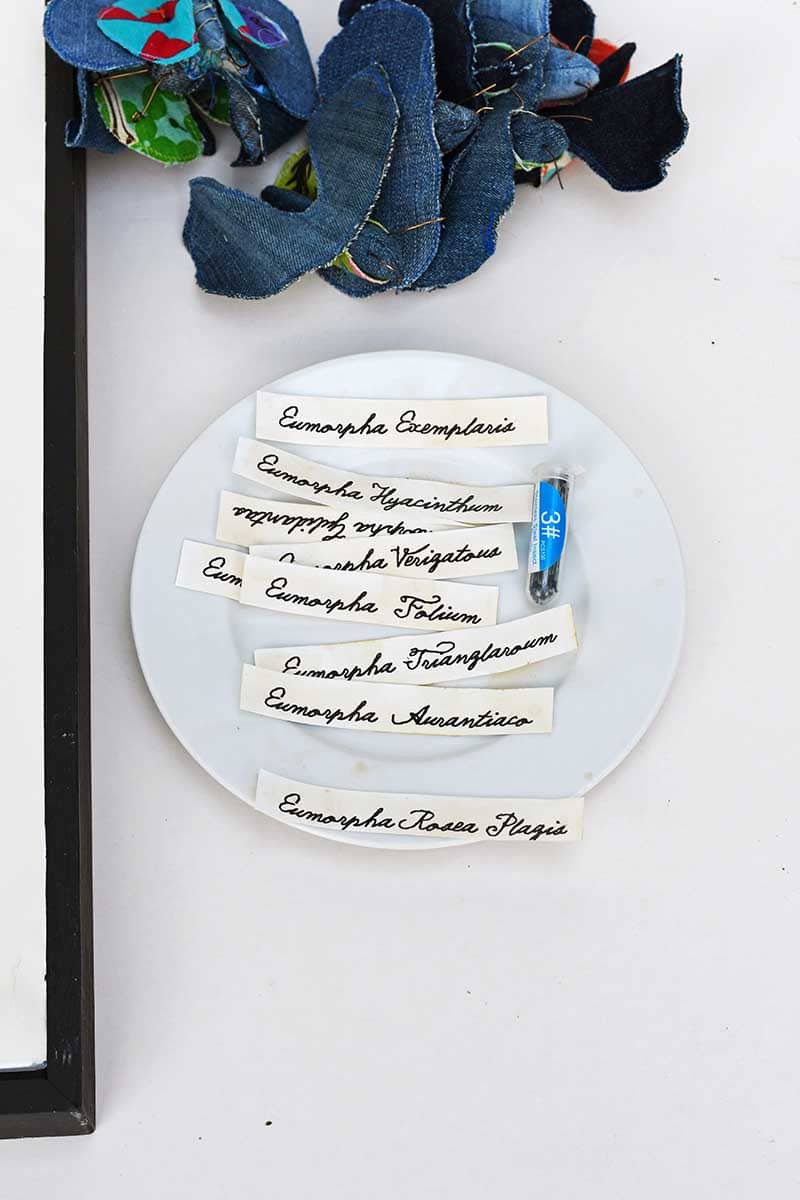 12. Next, play around with the moth display for how it best fits your frame. For the insect display frame, I decided to arrange my moths in a three by three layout.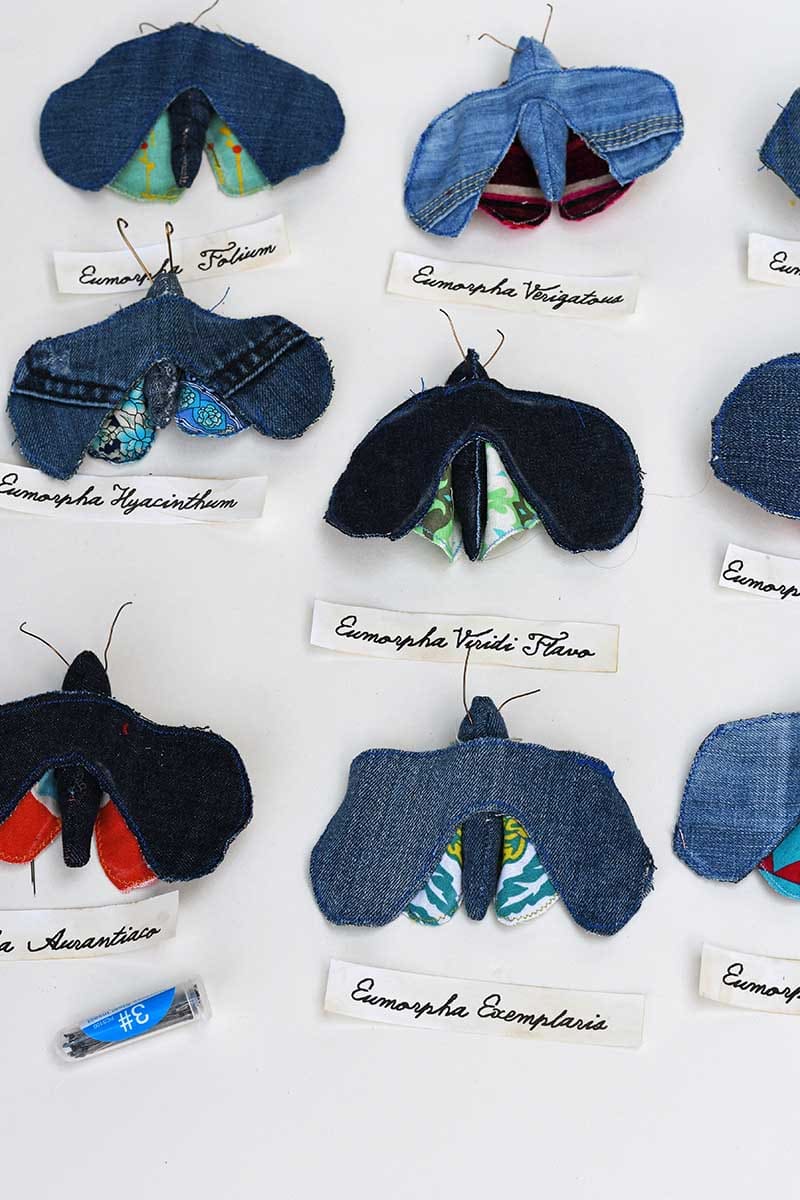 13. Once you are happy with the arrangement of the insect display, fix the moths in place. I used 3 insect specimen pins for each moth. One in the center of the body and one for each denim wing.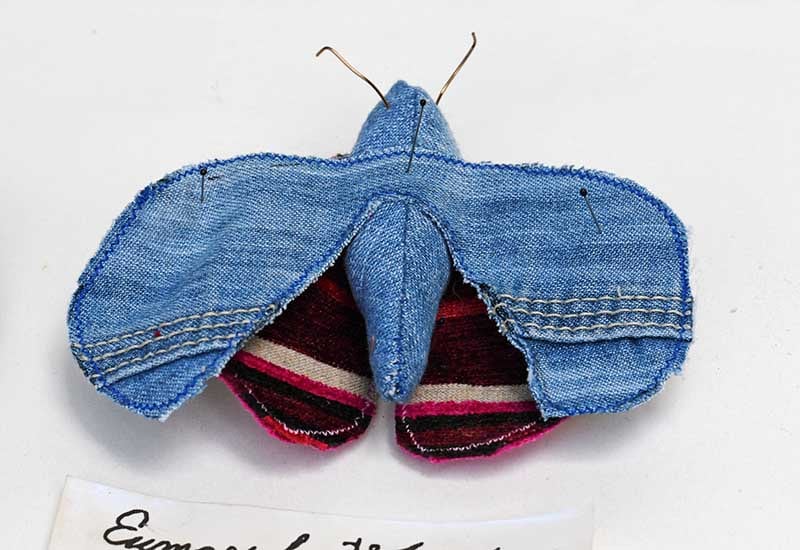 14. To finish off this fun faux insect display of moths, I glued the labels to the foam board. I just used a simple glue stick for this.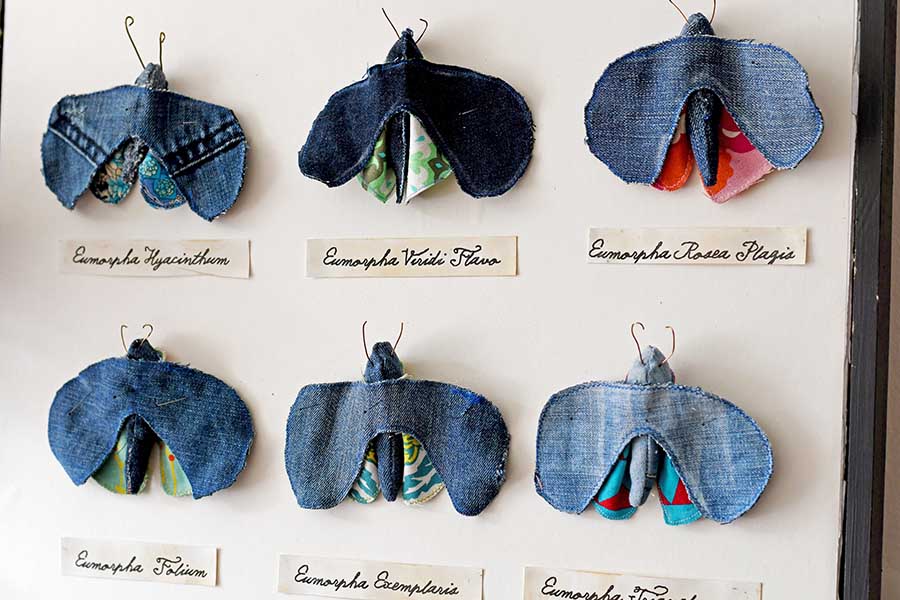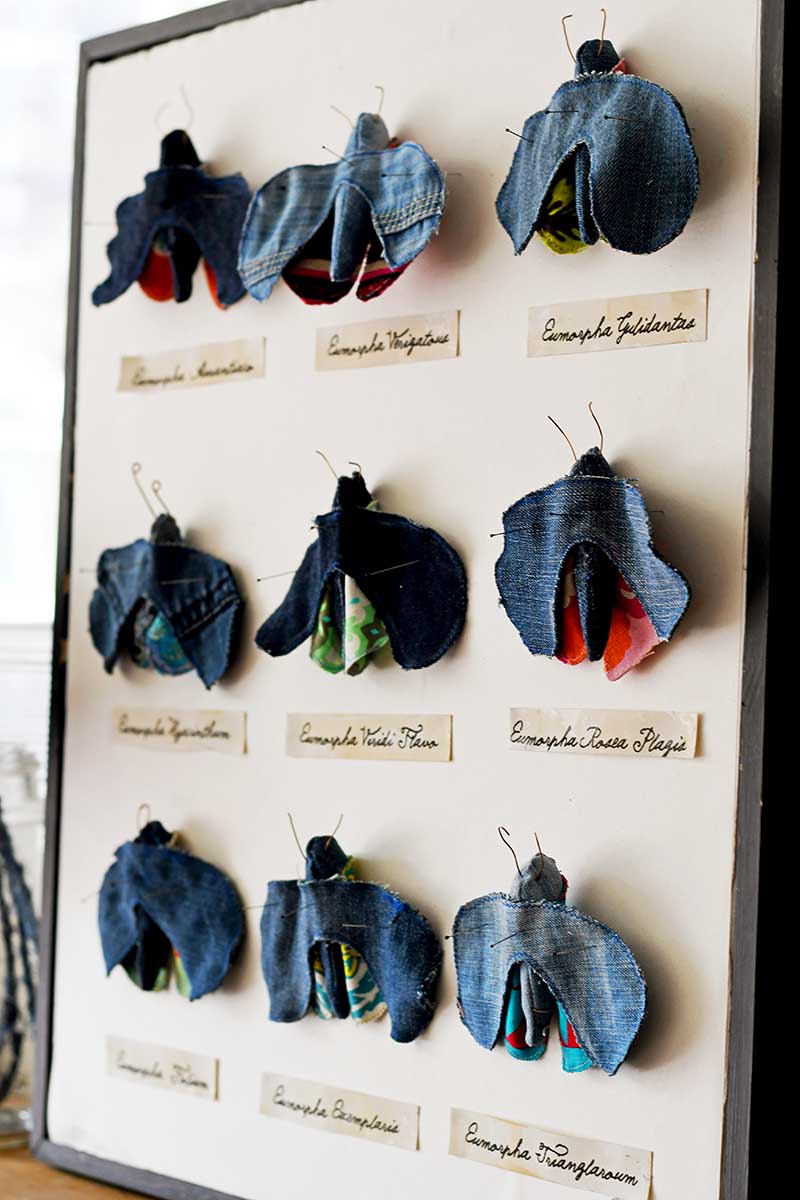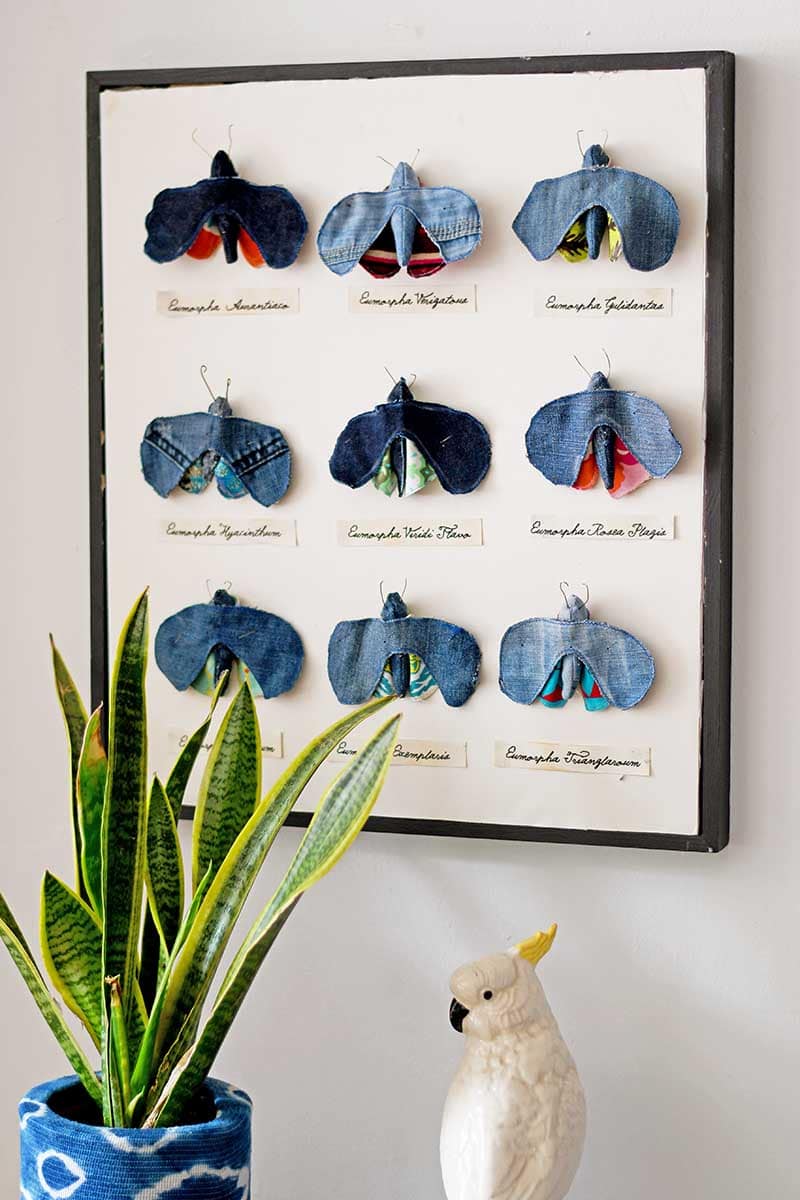 My whole nature-loving family loves this faux insect taxidermy moth display. It is now hanging in my lounge. There is a tutorial for the Shibori indigo plant holder in the photo here.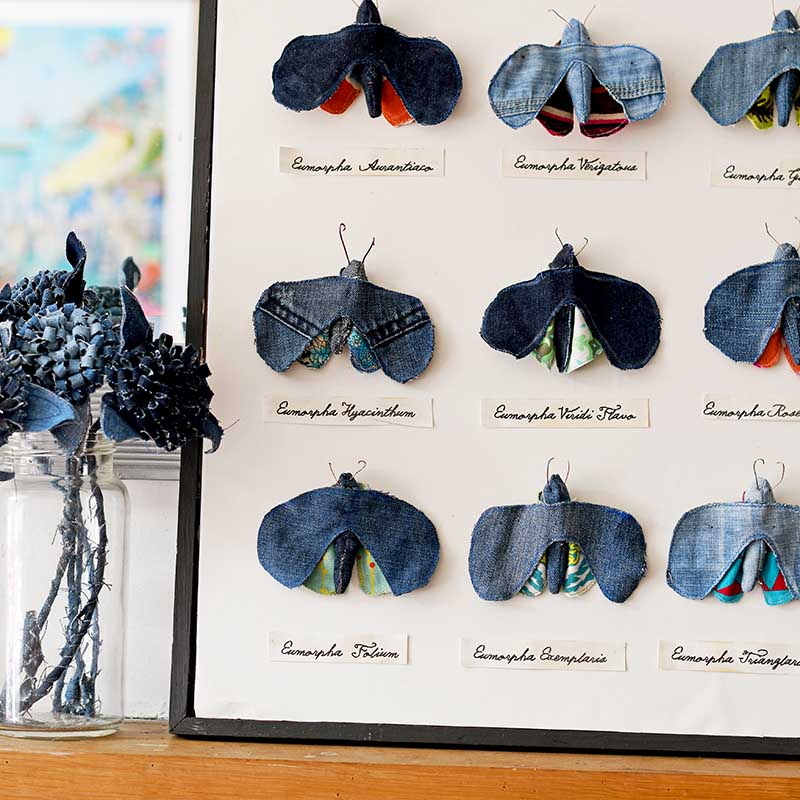 The moth display also looks really good next to the upcycled pom pom jeans flowers, denim bunny and the cute denim mushrooms, I have also made.
If you think it's even cruel to pin faux moths in a display you can of course set your moths free.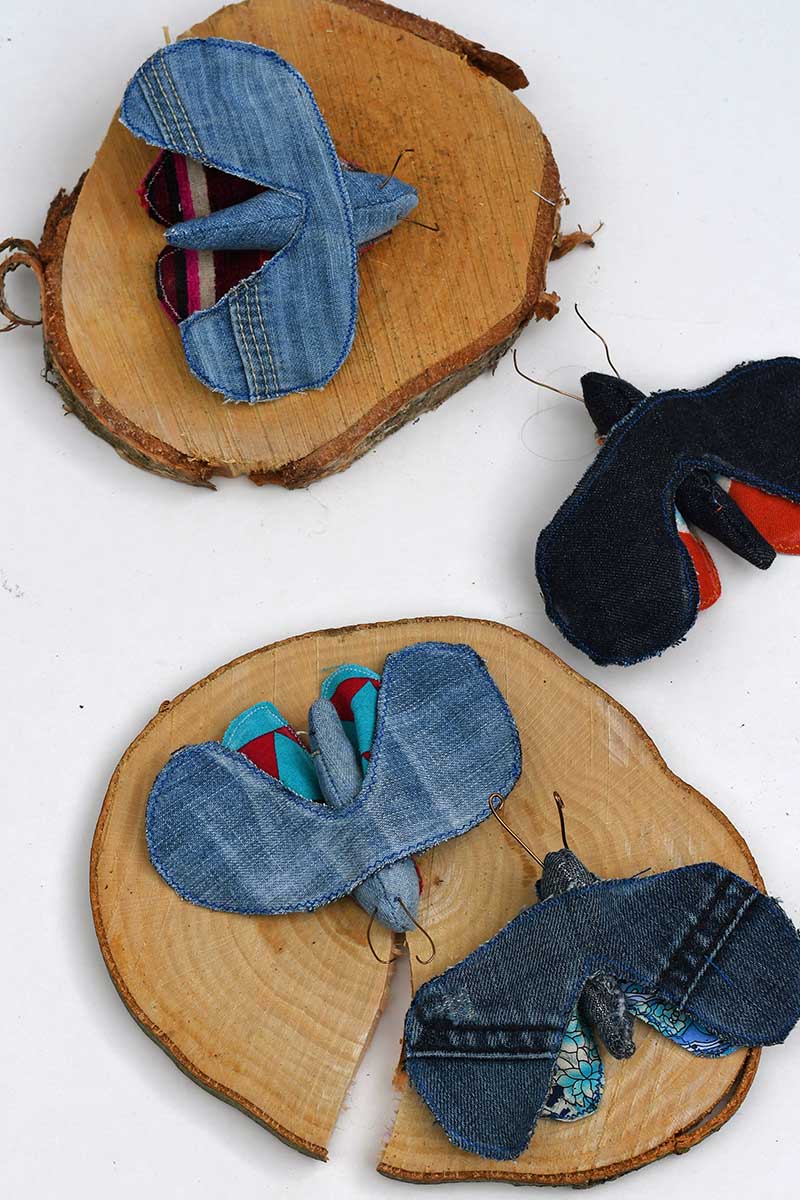 Yield: Denim and scrap fabric moths
Denim Moth Taxidermy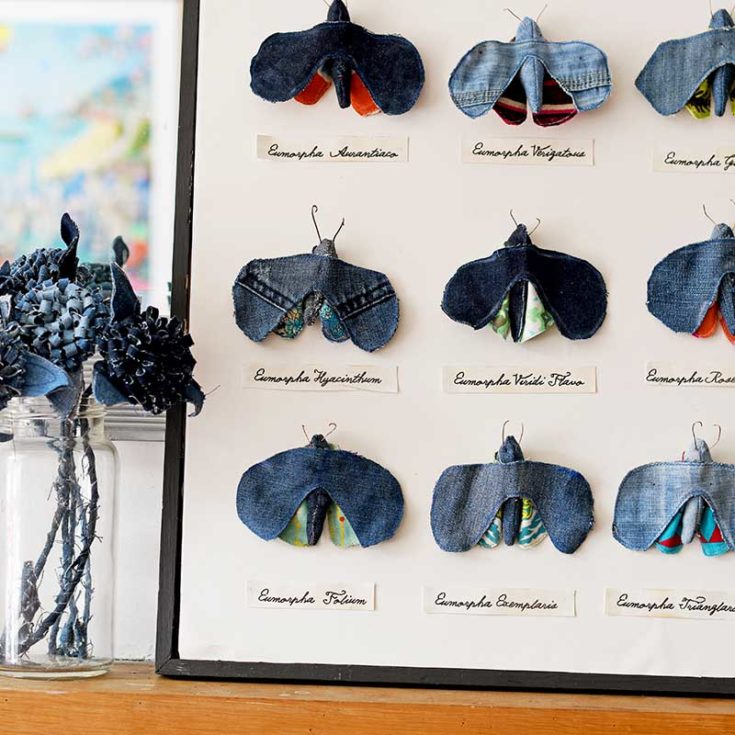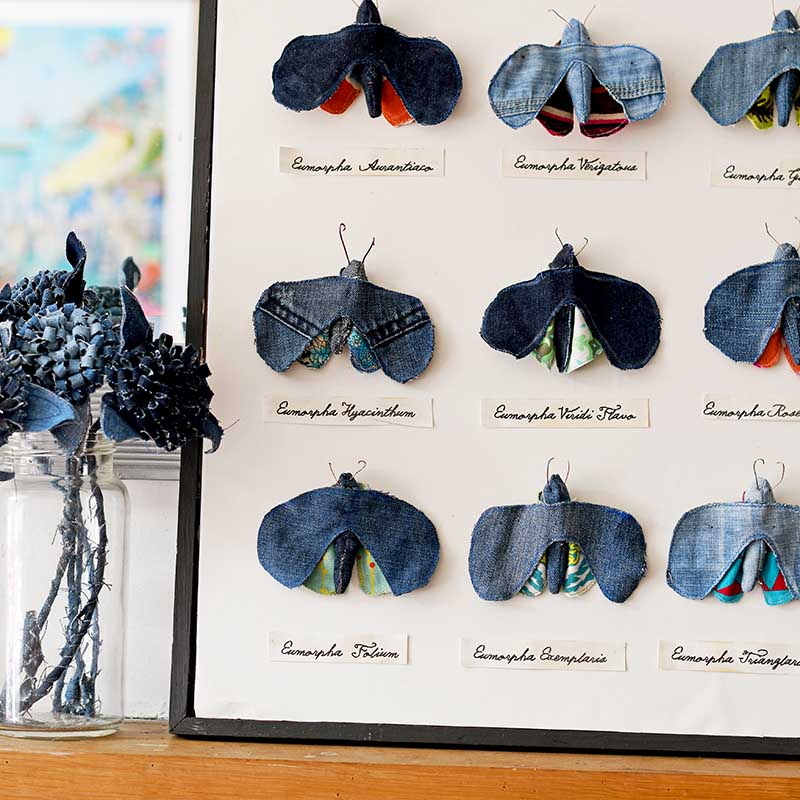 Make a fun piece of wall art inspired by vintage insect displays of the past. Use your denim and fabric scraps to make some cute faux moths and then frame them in an insect display box.
Materials
Scrap pieces of denim from old jeans
Colourful pieces of scrap fabric
Fiber fill
Moth pattern free to download from the site
Insect mounting pin
Frame and foam board
Super glue gel
Tailors Chalk
Thin craft wire
Instructions
Print and cut out the free moth template.
Place the large wings and body shape on doubled up denim scraps. Draw around the shapes with tailor's chalk.
Using a sewing machine stitch around the chalk mark. Use a small zig-zag stitch setting on the sewing machine.
Cut out the stitched wings and body pieces as close to the stitches as possible.
Repeat with the small wing on colourful fabric scraps.
Sew the two body pieces together. Leave a small hole for stuffing with fiberfill.
Stuff the moth body and then sew it shut. Make an antenna for the moth from the craft wire.
Glue the colourful small wings to the base of the moth body.
Then glue the denim wings to the top of the faux moth's body.
Repeat and make eight more moths in different combinations of fabric and denim.
Back a plain frame with foam board.
Print off Latin labels for the faux moths. Cut them out and age the labels with diluted coffee.
Using insect specimen pins, pin the moths to the foam board. Use three pins for each moth one in each wing and one in the body.
Glue the aged labels to the foam board, one under each moth.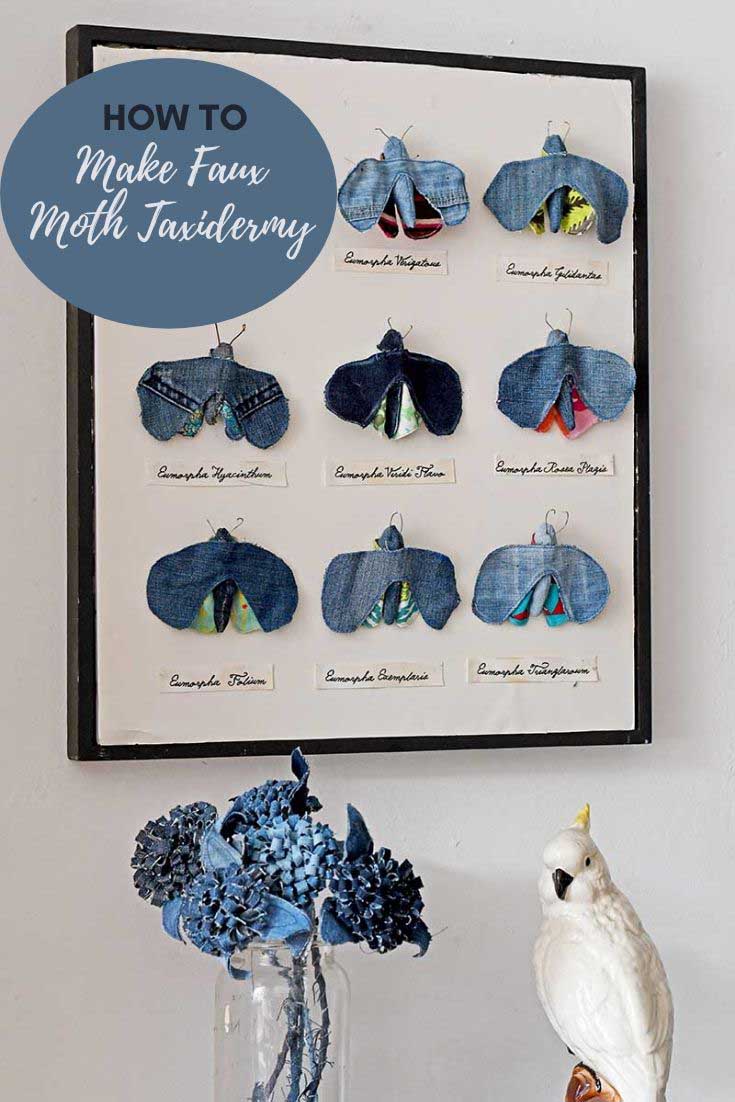 If faux nature-themed crafts are your thing then you should also check out my fabulous vintage fabric mushrooms art display. Plus I have a load more ideas of things to make with fabric scraps here.