Inside: Explore our diverse selection of over 60 Easter crafts for adults, featuring DIY projects to add a personalized, festive touch to your spring celebrations.
The days are getting longer and lighter as spring approaches. Decorating your home with fresh, bright decorations for the season is fun. With Easter as the main highlight of spring, it's cool to theme the crafts around that holiday.
Easter crafts and DIYs don't have to be just something the kids do at school; there are plenty of beautiful things adults and teens can make. And the subjects will be similar, from egg-themed decorations and spring flowers to bunny rabbits and chicks.
Easter Crafts Adults Are Going To Want To Make
Most of the cool adult spring ideas listed below are affordable as they use repurposed materials such as paper, cardboard, scrap fabric, and even denim.
With egg crafts, consider being more eco-friendly by using real eggs instead of plastic ones from the craft store. With a little practice, real eggs are easy to blow for crafting. And then you can make an omelette for lunch or cake for afternoon tea with the blown whites and yolks.
Many types of crafts are covered, from origami, crochet, decoupage, paper mache, embroidery, and sewing to simple painting, glueing, cutting and stitching.
Make cute spring-themed decorations for your mantle, garlands and wreaths to hang on doors and walls. Create vases full of spring flowers, napkins and centrepieces for the Easter table. Or craft Easter gifts for your friends and family.
Pin for later!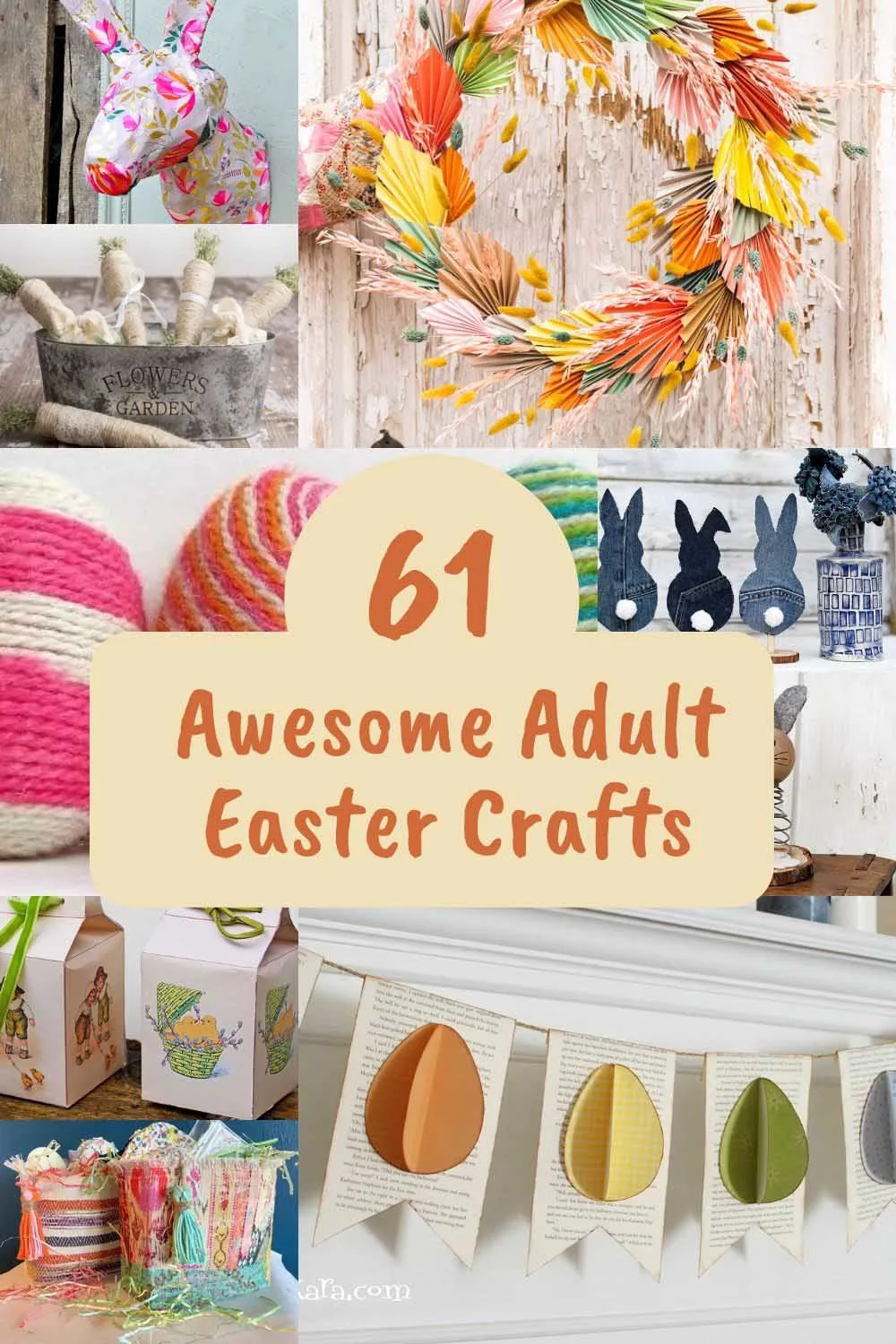 Easter crafting is not just for kids; there are lots of cute and festive decorations, and DIYs adults can make too. Here are 61 beautiful ideas, from wreaths, garlands, and baskets to decorations for the mantle and Easter table. Many of the crafts are very affordable and straightforward to make.
Other times of the year are also fun for crafting; check out my collection of Valentine's adult crafts and Christmas crafts for adults.
Check out these awesome craft ideas if you like making stuff all year round, no matter the holiday. And make sure you have all the crafting essentials before you begin.