Repurposed Jeans Into Indoor Herb Garden Planters
I'm not very good at growing herbs so I cheat and buy the pots of fresh herbs from the supermarket. This week I made vertical indoor herb garden planters out of denim for these pots of herbs.

The herbs now hang vertically next to the cooker so they are handy to reach when cooking. I love to just grab a handful of fresh coriander (cilantro) and bung it into a pot of freshly cooked curry.

As well as looking good, the herbs in these handmade planters last longer as they are double potted which allows for easier watering and drainage.

For now, I've made planters for 3 of my most used herbs, coriander (cilantro), flat-leaved parsley and basil. In the summer I will need to add another pot just for mint for all the pitchers of Pimms and Mojitos I love to drink when the suns shining.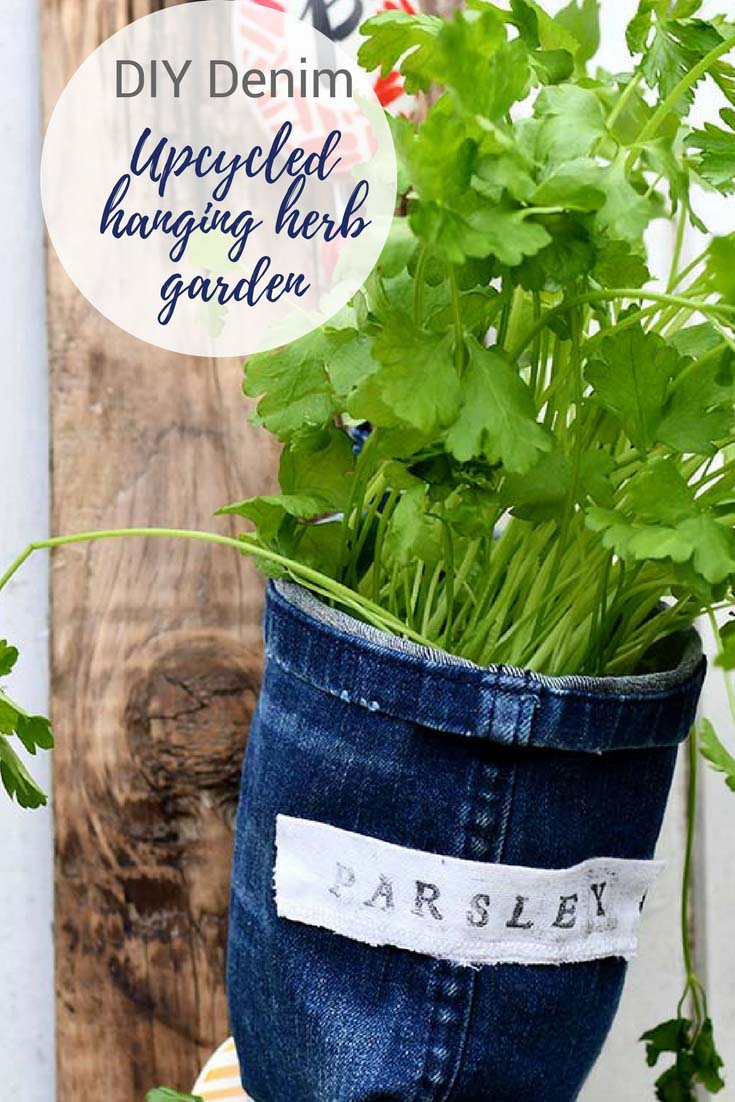 This post contains Amazon affiliate links for your convenience. Click here to see my disclosure policy.


What you need to make denim indoor herb garden planters
Denim legs – I made 3 planters so I used the bottom of three jeans legs.
3 denim belt loops, one for each herb planter
3 large plastic soda bottles






Needle and thread
A strip of white cotton fabric or ribbon
A strip of pallet wood and dark wood wax
Three hooks – I used some painted ceramic hooks that I already had.



How to make indoor herb garden planters
Using scissors cut the bottom off the soda bottles. So you end up with a cup approximately 15cm (6″) high.






Next to make the denim herb pockets. Cut the bottom off a jeans leg about an 1″ longer than the cut soda bottle. Turn this inside out. Cut the bottom corners to make it more rounded and then stitch up the bottom (this can be done by hand or even glued if you don't like sewing).

Turn the denim pouch right side out and then stitch a belt loop from the jeans to the back. Finally, place the soda bottle bottom into the pouch.




To add a bit more interest to the denim pouches I made some herb labels. I stamped the names of herbs onto a strip of white fabric. Then cut these labels out and glued them to the front of each denim pouch.




I then simply put the herb pots I bought from the supermarket inside the denim herb planters. As the pots sit in the soda bottles they can be easily watered and the excess water has somewhere to drain.




Finally, I made a simple hanging post for the indoor herb garden planters. I sanded and waxed a plank of old pallet wood. I then screwed 3 hooks into the wood one for each herb pot. This was verticle indoor herb garden was then simply screwed to the wall in my kitchen.








The only reason I hung my indoor herb garden planters vertically was that I had the perfect strip of wall for them in my kitchen, between the door and the cooker. It is so easy to turn the plank round and have a horizontal denim herb planters if that's what you need for your space.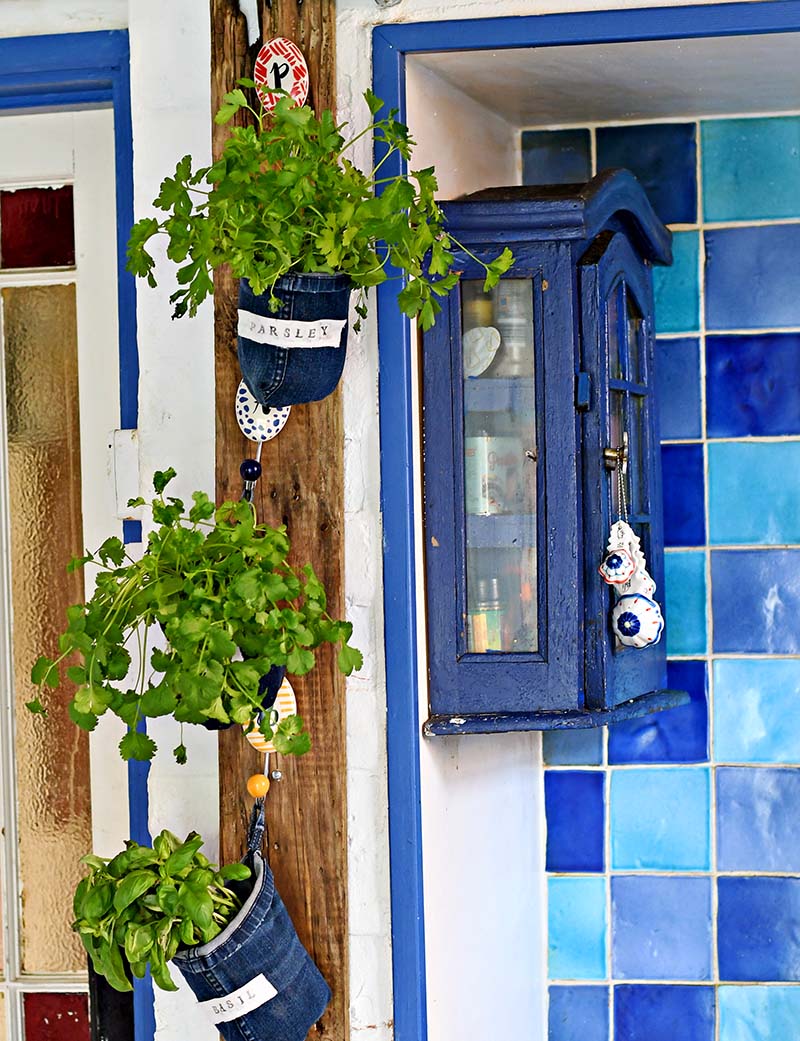 Whichever way you hang them, not only is it handy having the herbs to hand they do make the kitchen look more organic. Plus I find my supermarket potted herbs last that bit longer as they are now double potted which helps with the watering and drainage.

If you asked for cilantro over here in England most people wouldn't know what you were talking about. That's because we call it coriander. As far as I know, I think that's the only herb we have a different name for from the US, let me know if you think there is another one.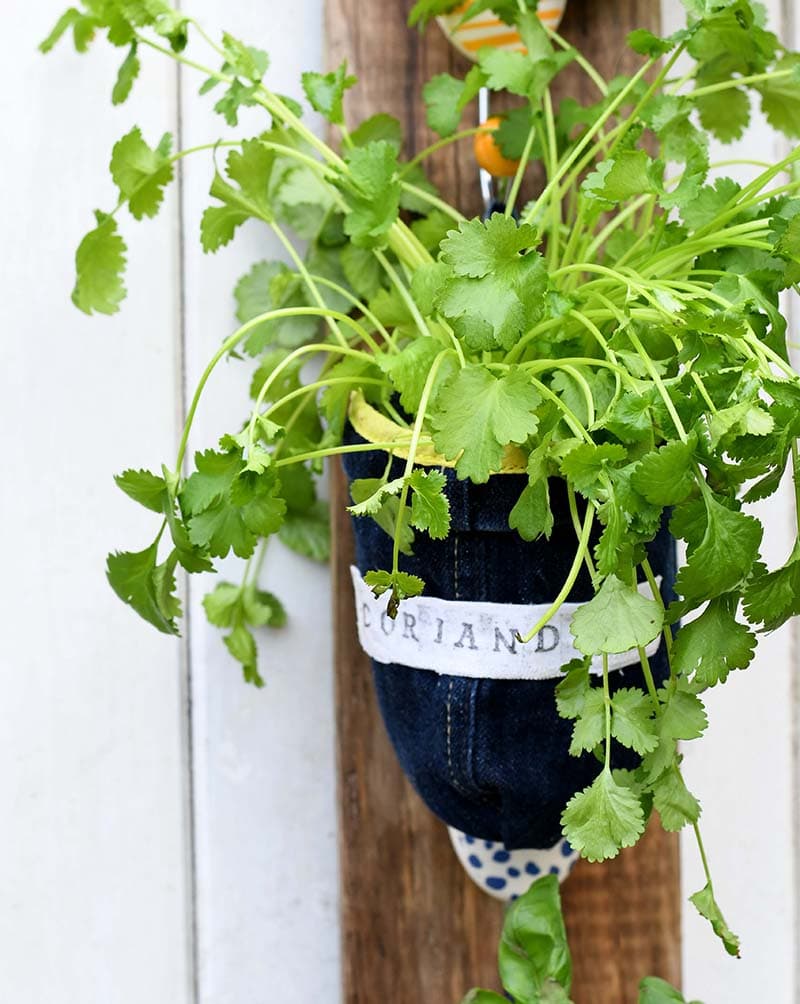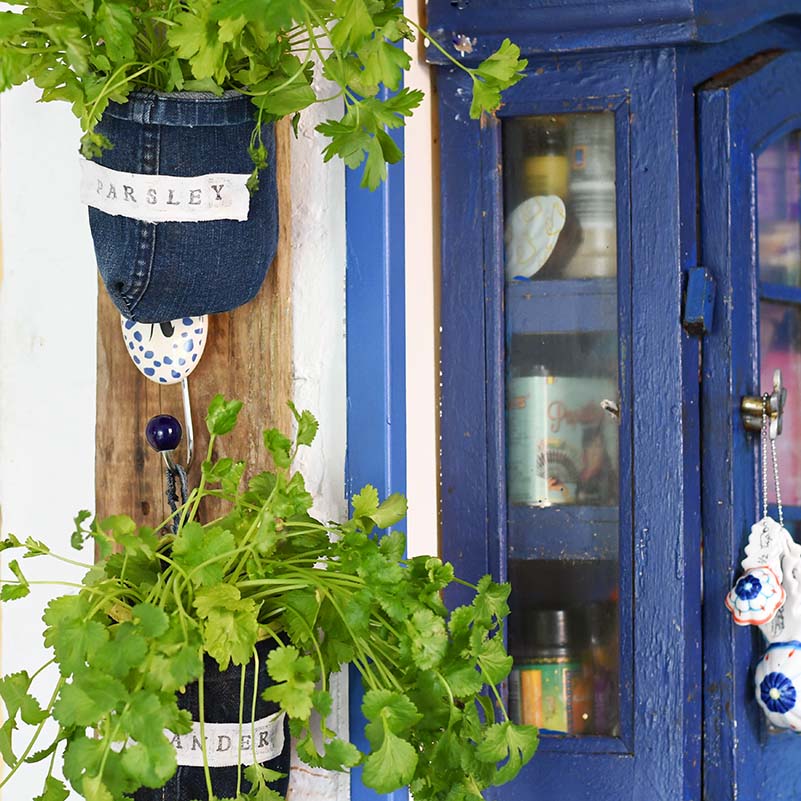 This isn't the only herb garden I've made. You might want to check out my upcycled window herb planter.

Or if you just love to upcycle denim, check out my repurposed denim page.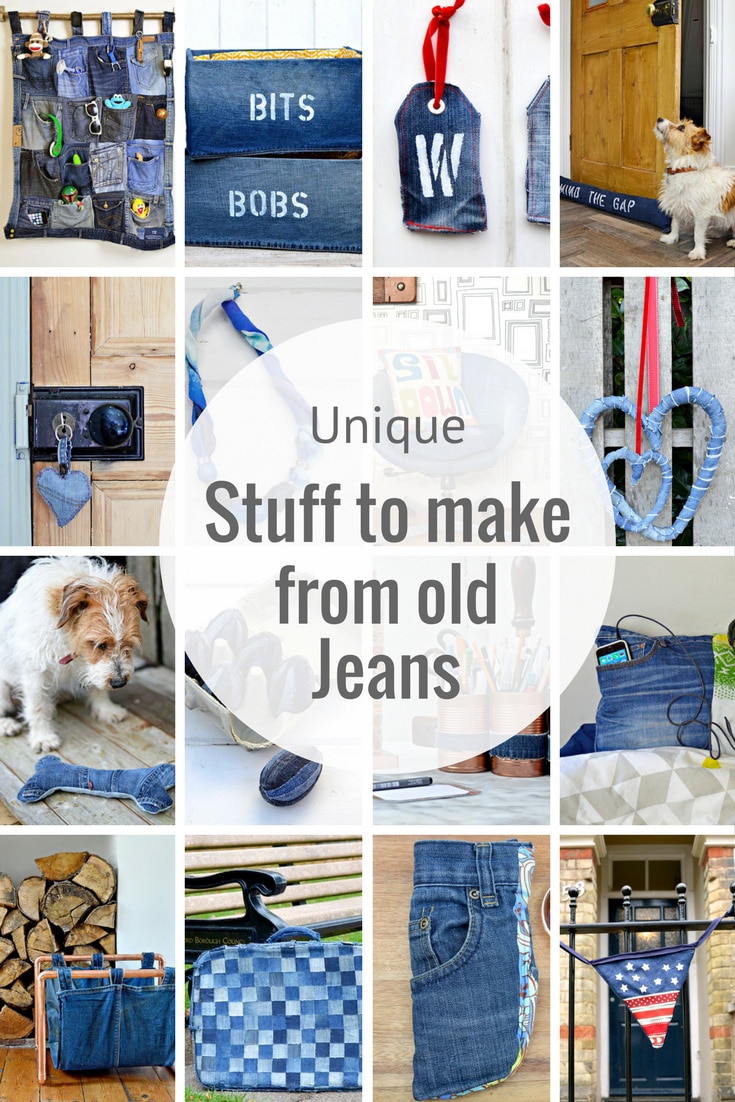 Or if you are looking for more ideas for the Kitchen there are some great tips on how to organize your pantry here.