There are so many ways to repurpose, recycle and upcycle old jeans and denim for the home. The only problem is that sometimes old denim can be a real pain to sew. That's why I've compiled this list of what to do with old jeans no-sew projects.
It's not the normal denim fabric that is hard to sew. It is the thick bits on a pair of jeans. Bits like the seams, waistbands, pockets, hems and belt loops can be difficult to stitch. Unless of course, you happen to have a heavy-duty sewing machine to hand.
Often these thick trims on a pair of jeans are the most interesting parts. They are what give upcycled denim projects that extra bit of character. No-sew upcycled jeans projects that use glue instead are great for these utilizing these bits.
Good fabric glue or a contact adhesive like Gorilla Glue Clear is great to use with no-sew jeans projects. Most of these glues are waterproof and washable (especially the Gorilla Clear Contact adhesive).
However, as nearly all of the old jeans no-sew projects I do are for home decoration crafts, I haven't had to wash them yet. Well, nothing more than a gentle wipe down, so I haven't been able to truly test how the glues hold out under those conditions.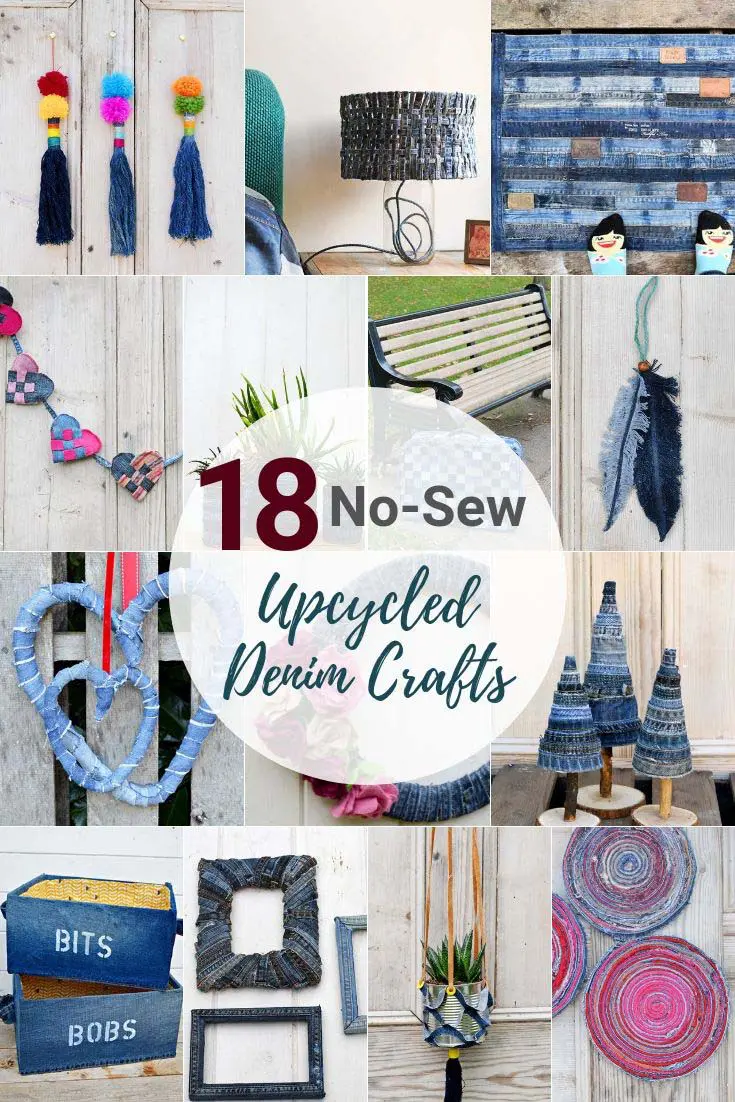 What To Do With Old Jeans No-Sew
The following list is a selection of ideas of what to do with old jeans no-sew. That is instead of a sewing machine or needle and thread, glue is used with these denim upcycles.
When your old jeans wear out instead of chucking them out, upcycle and repurpose them into something fun for your home.
Upcycling and repurposing old jeans is not only environmentally sound but denim is a great material to work with. It is strong and hardwearing and comes in lovely shades of indigo.
Also when you use an old favourite pair of jeans it can personalize a project. For example with the no-sew denim pocket advent calendar I put up every year, the family actually recognize some of there old jeans pockets.
Hopefully, you have found some inspiration for what to do with your old jeans that are no-sew. If you are still looking for more denim DIY's and crafts for the home, I have a great upcycled denim Pinterest board here that you can follow.
If you love to upcycle you might want to check out these other posts. These Jeans projects featured under the letter J in the A to Z of clever upcycling projects.