I have made some cool denim coasters, and I didn't need to use a sewing machine or needle and thread.
If you are a regular reader of Pillarboxblue, you will know that upcycling denim is my thing! Some might even call it an obsession. The Huffington Post even wrote an article about it.
Not only do I love looking for new and fun things to make from an old pair of jeans, but I also get a kick out of using the parts of jeans other upcyclers might forget. For example, the waistbands, seams, belt loops, and hems.
Along with the jeans pockets, these are the interesting elements on a pair of jeans. They give them character when used with an upcycle that character is carried across.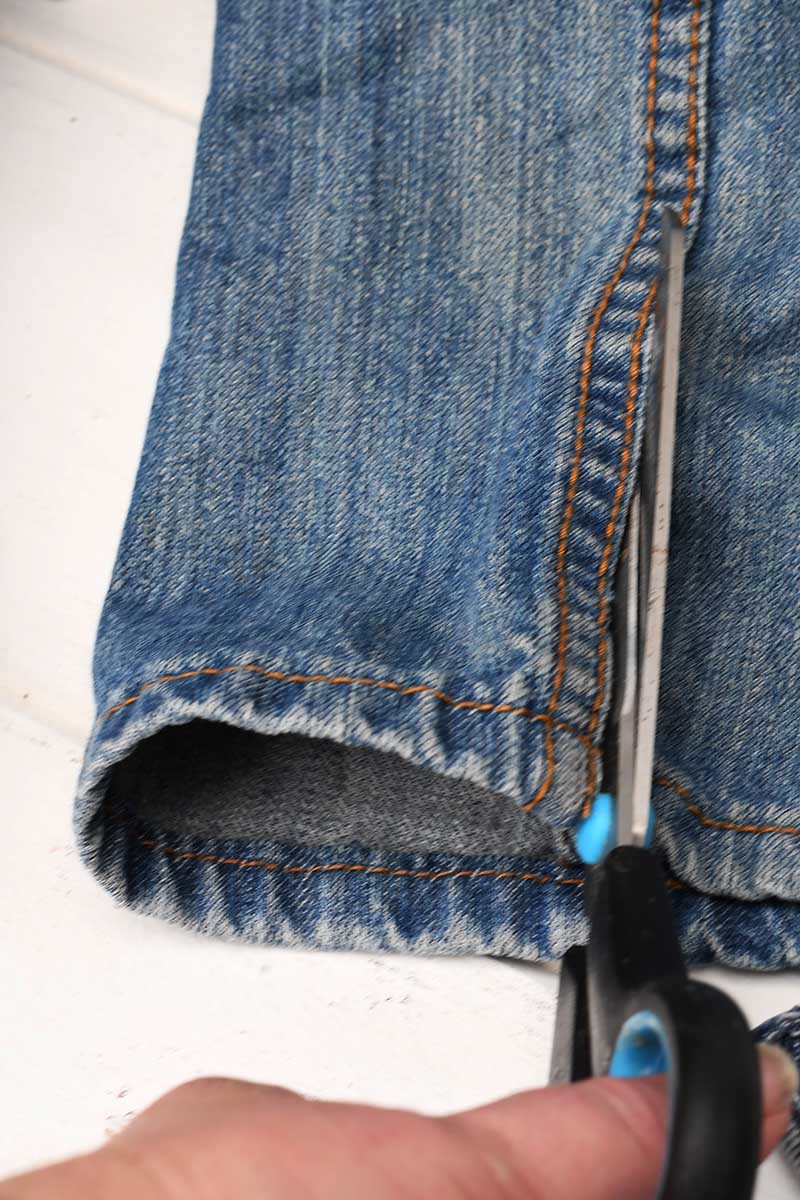 Upcycling Jeans Seams To Make Coasters
I have upcycled jeans' seams, and hems many times before. But this is the first time I've used them to make denim coasters.
Denim seams can be difficult to sew, which is why they often get forgotten when upcycling. It's hard for the average sewing machine to sew through thick denim. Even my solid steel Bernina sewing machine can't cope sometimes.
That is why I have designed a no-sew DIY for these upcycled denim coasters. I got the idea when I made my woven denim lampshade. I have made these coasters by weaving the seams together. Not only do these avoid sewing, but it also creates a cool pattern with the coasters.
You can extract seams from a pair of jeans in many places. Not all jeans are constructed the same, but on most jeans, the longest seam runs along the inside leg. Often this is double-stitched.
Then there are the hems at the bottom of the legs. Other double-stitched seams can often be found across the back of jeans, between the waistband and pockets. The belt loops are like mini short seams.
The coaster would make a lovely DIY gift for a man.
We're a participant in the Amazon Services LLC Associates Program, an affiliate advertising program designed to provide a means for us to earn fees by linking to Amazon.com and affiliated sites. As an Amazon Associate, I earn from qualifying purchases.
What You Need
The seams and hems from a couple of pairs of jeans. The denim coasters look great if made with denim in different shades of indigo.
Pins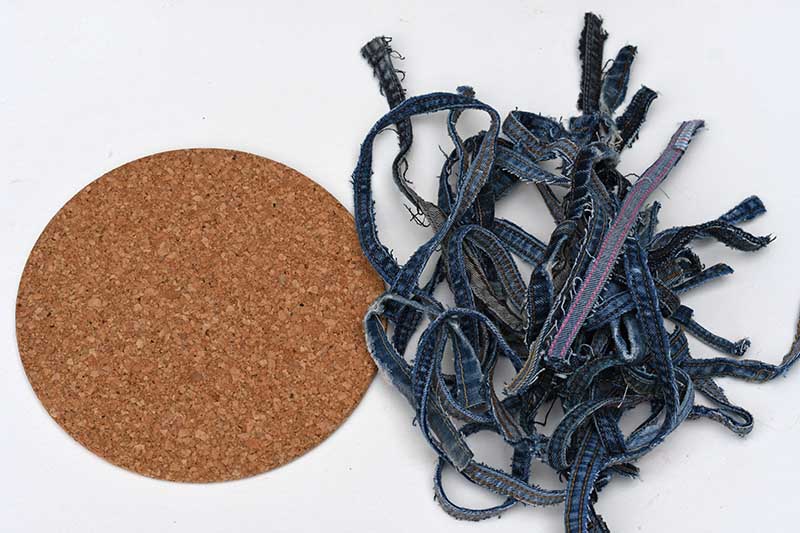 How To Make Denim Coasters
1.. First, gather together the denim seams and hems. Cut them so that they are between 18-20cm long. You will also need one long seam of about 35cm for the outside of the coaster.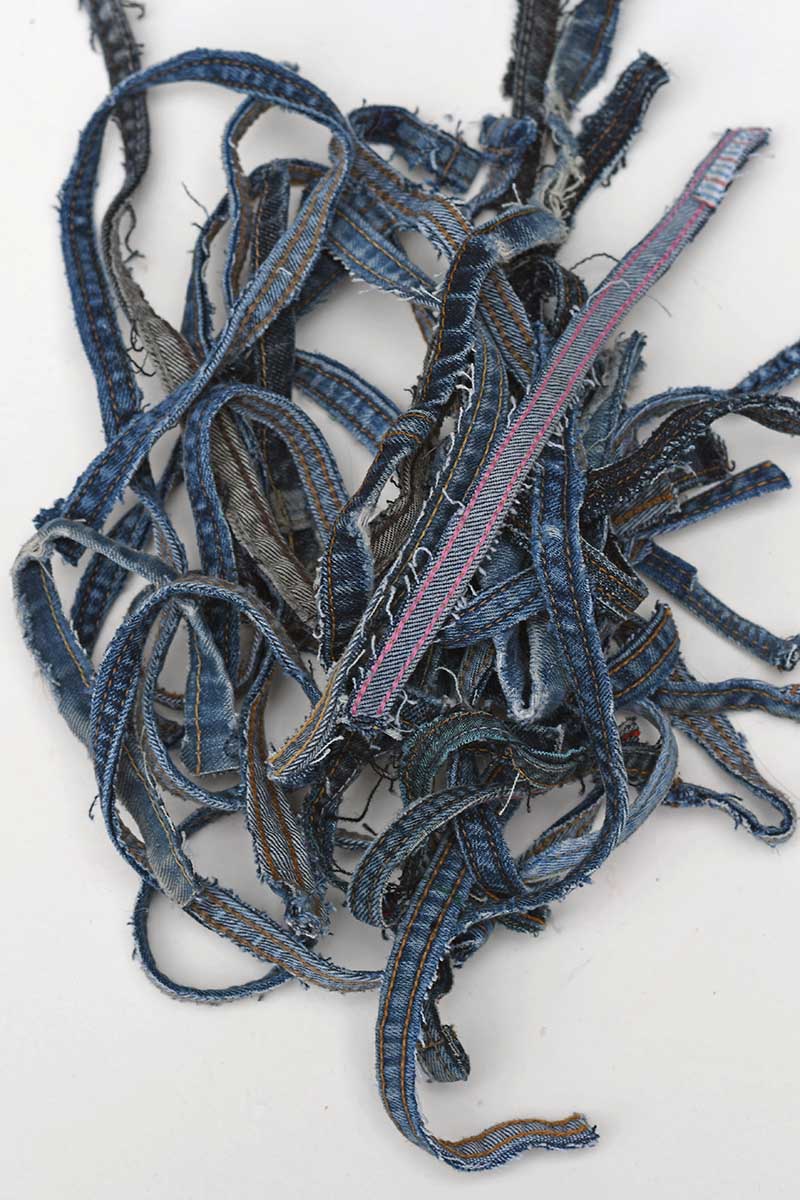 2. Next, pin the seams onto a large piece of cork or polystyrene. Depending on the width of the seams, you will need about nine side-by-side to cover the width of the cork coaster.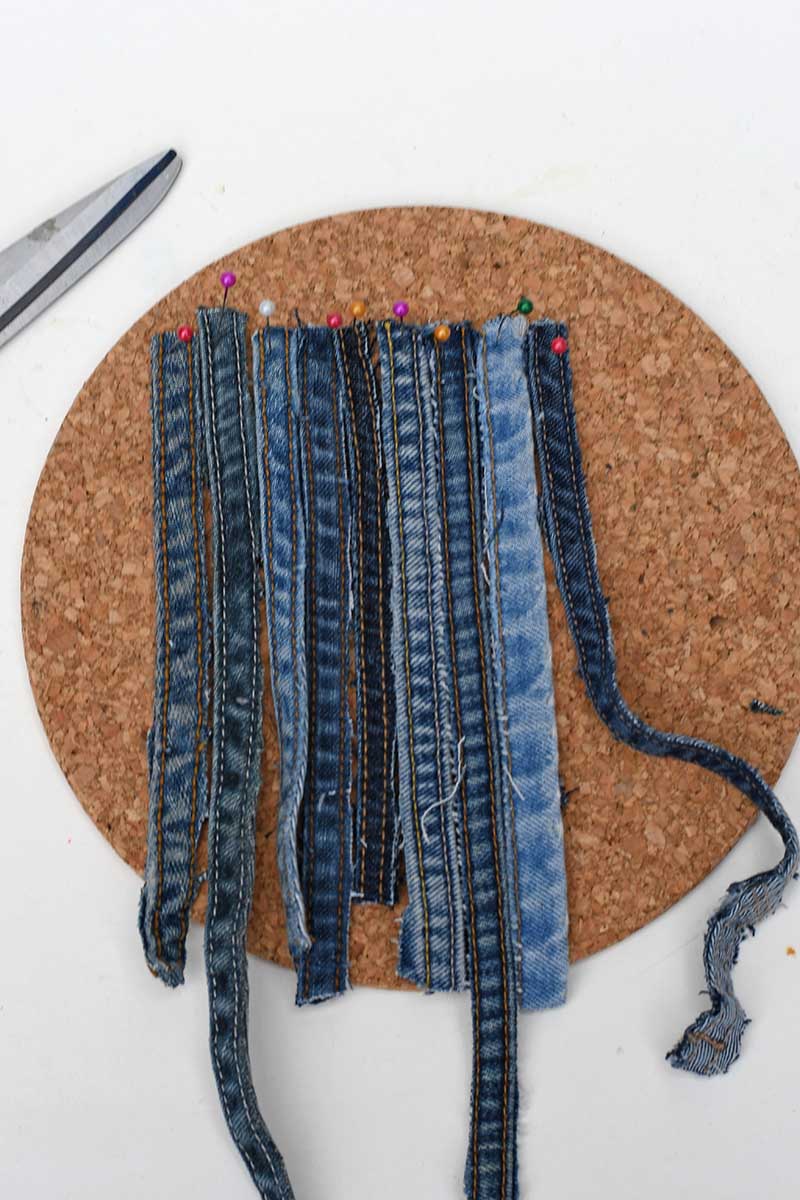 3. Then, weave another nine jeans seams one by one across. You should end up with a nice denim woven square slightly larger than the cork coasters.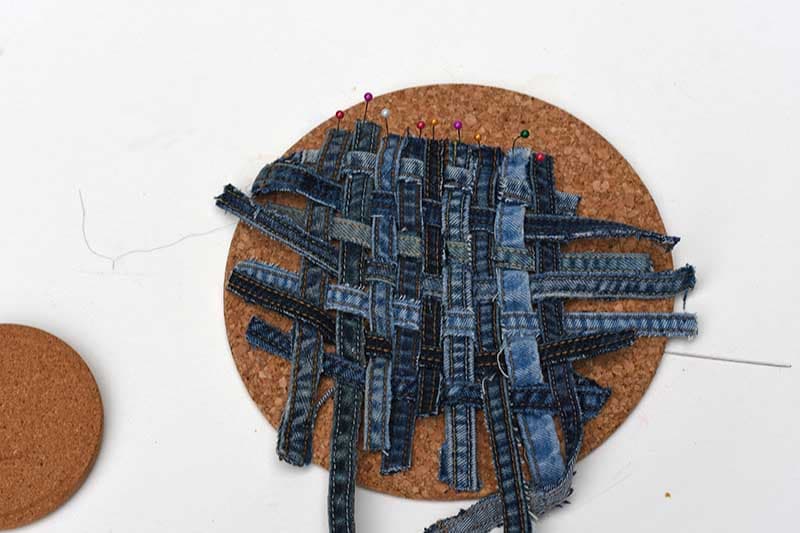 4. Cover a cork coaster in glue and carefully place the woven mat on top. Ensure all seams are next to one another and haven't come loose. Pin the denim to the coaster whilst the glue dries, or place a heavy object on top. This will make sure that there is good contact between the denim, glue, and cork.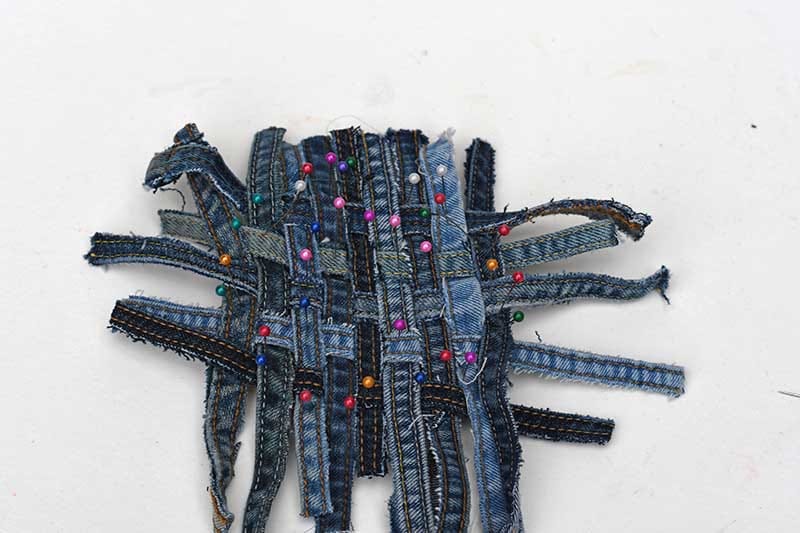 5. Once the glue has dried, turn the denim coaster over and with a pair of scissors trim the excess seams. Some of the end seams may need a little glue to keep them in place on the cork mat.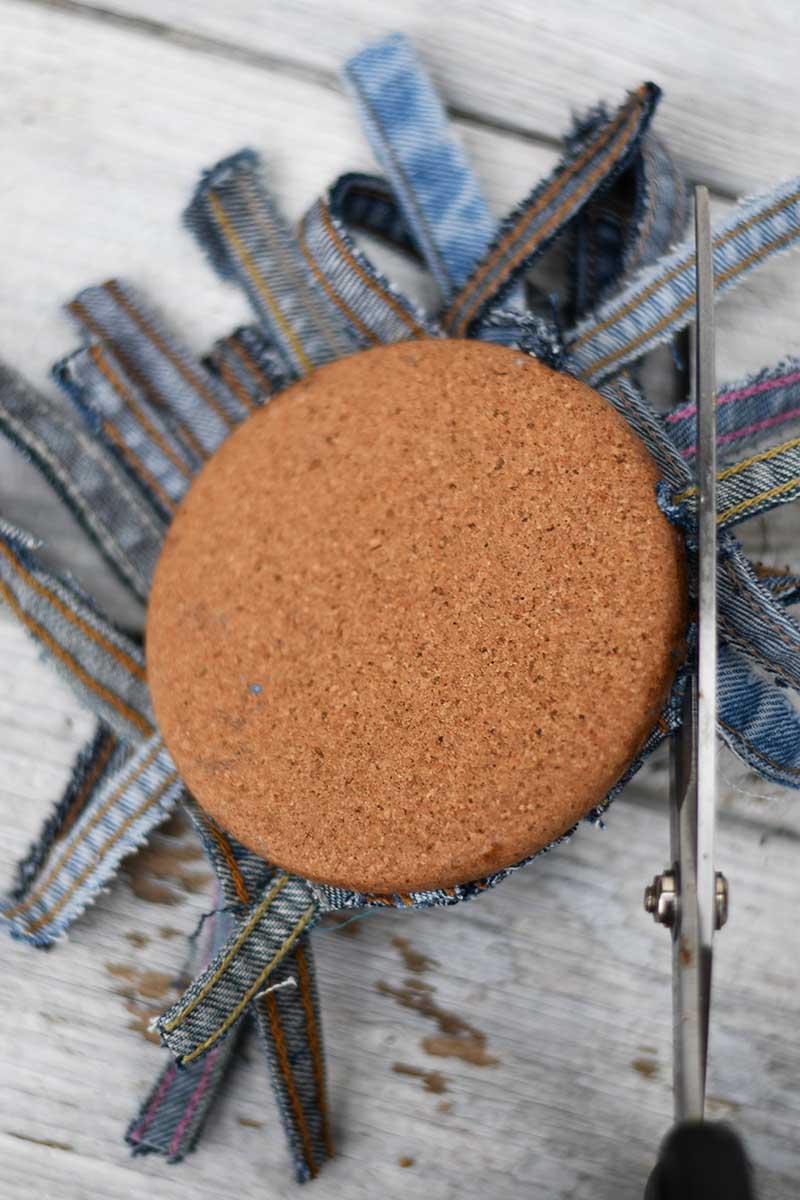 6. Finally, to neaten the edge of the denim coasters, glue the long seam around the edge of the cork. Use pins to keep it in place whilst the glue dries. I think the coasters look best when you use a seam in a shade of denim that is either markedly lighter or darker than the weave.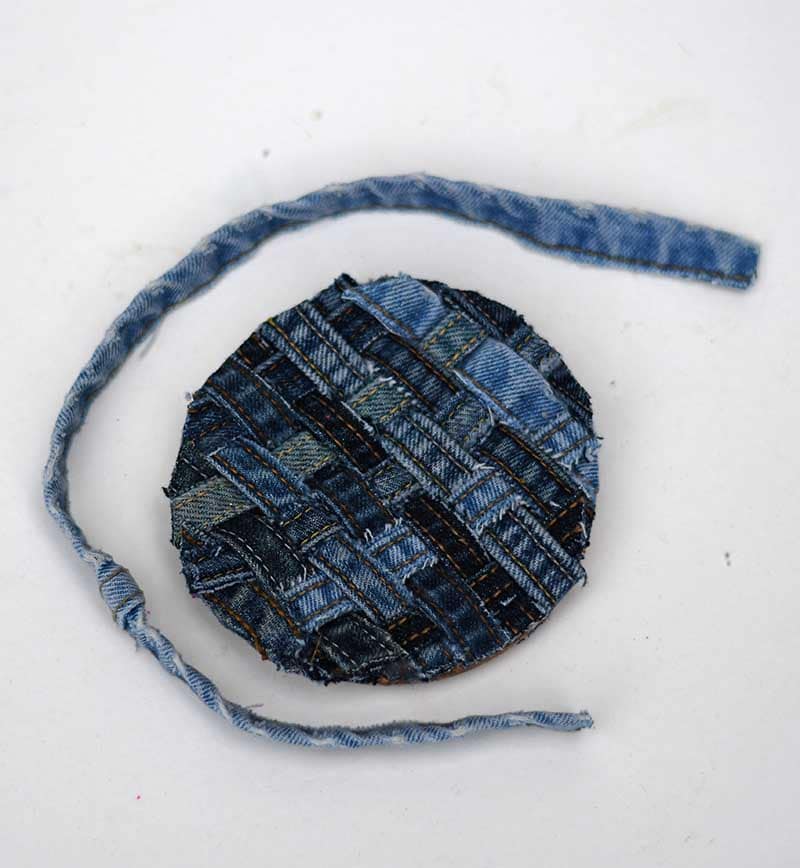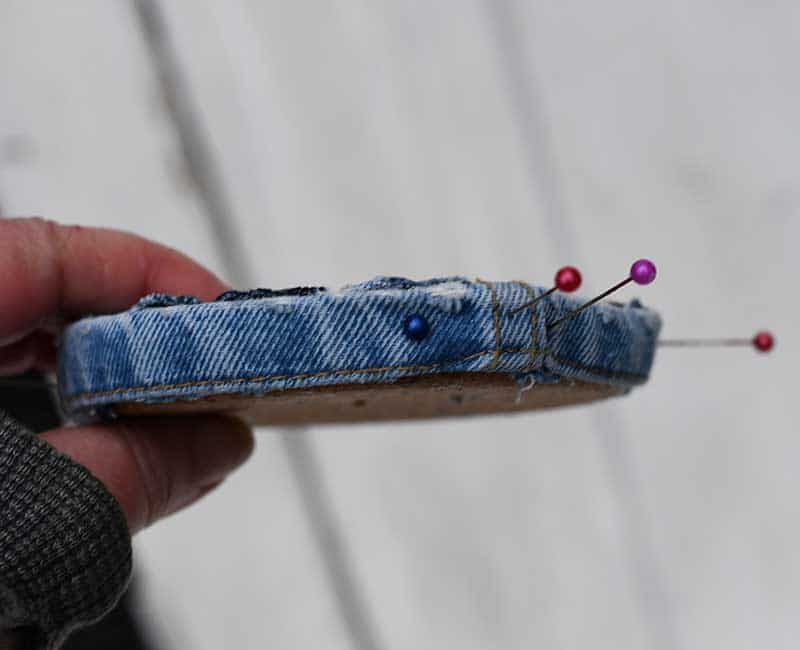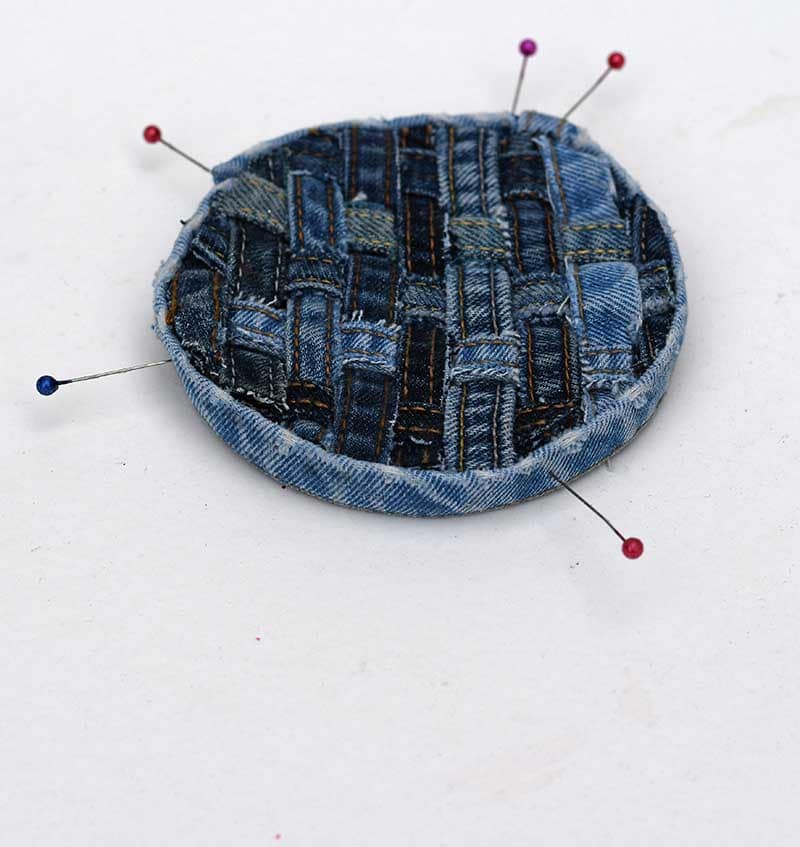 The Finished Denim Coasters
I love how these coasters have turned out and think they would make a lovely fathers day gift, especially if you used dads old jeans. My teenage son spotted these and nicked one to sit on his desk next to his computer.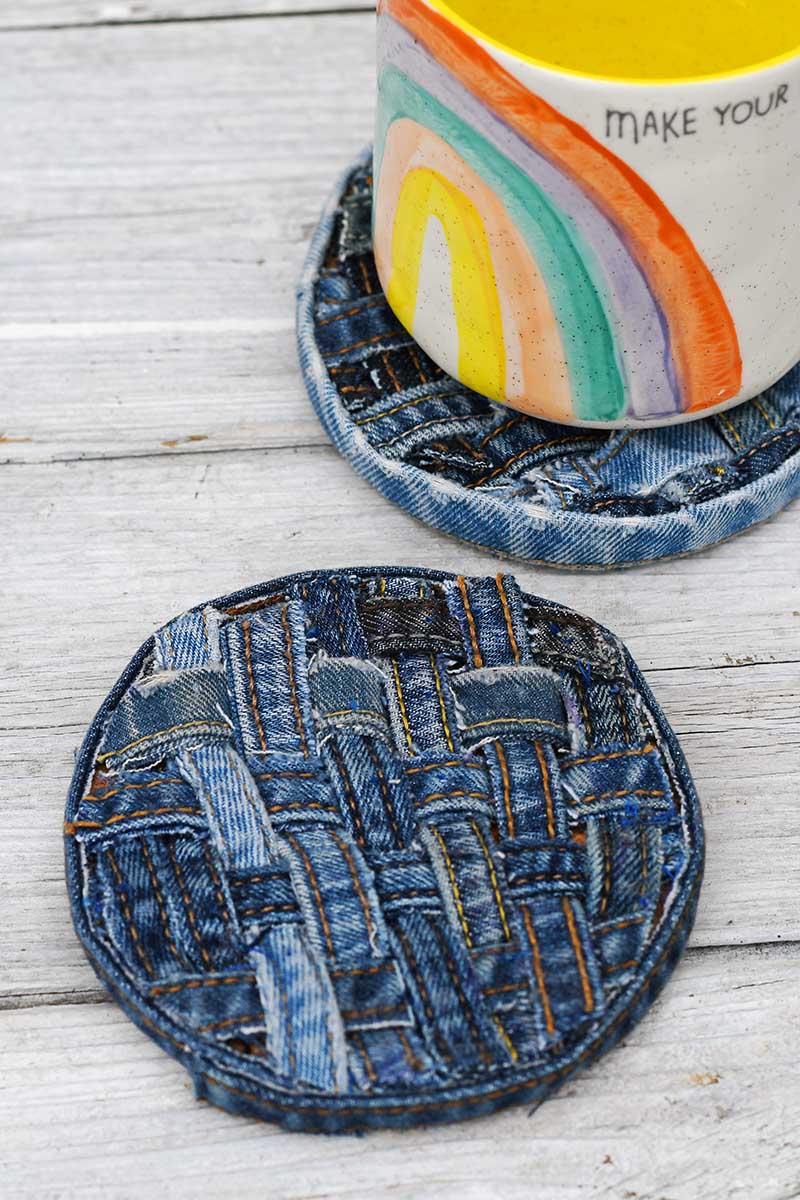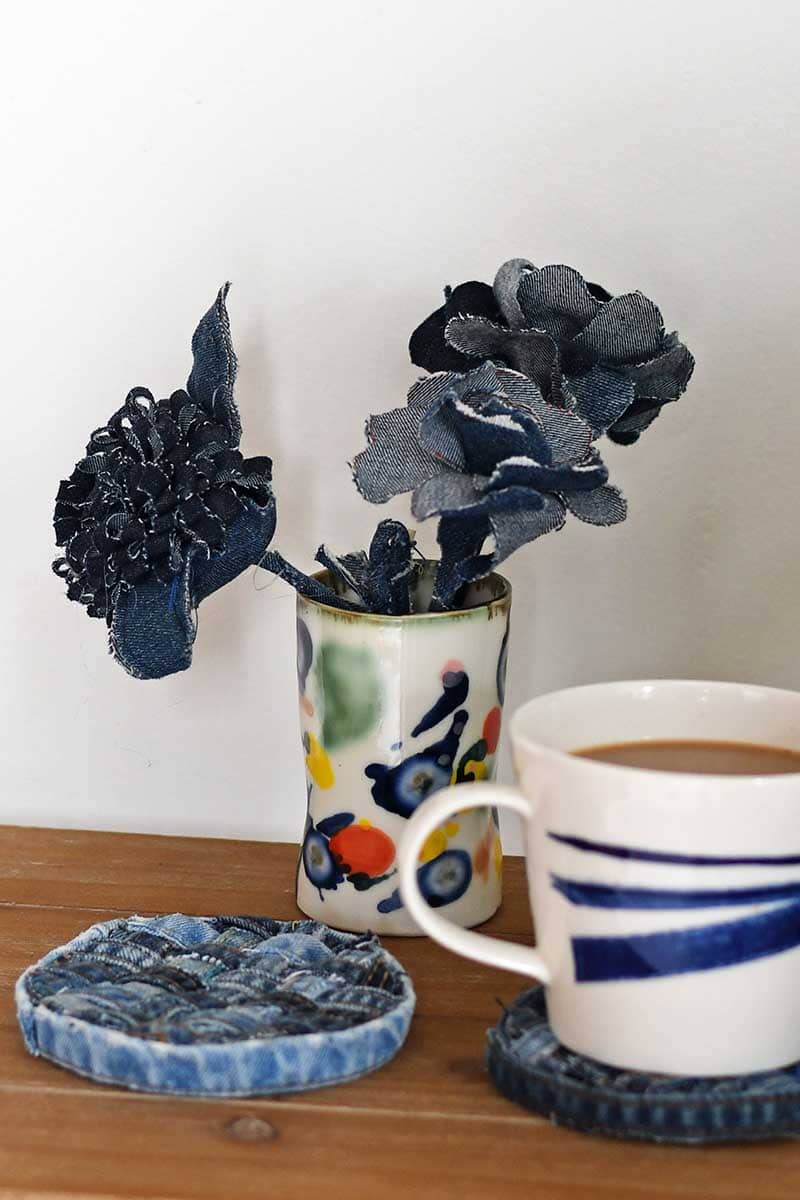 Another way to make denim coasters from old jeans seams is to coil them. Just like I did with the denim and fabric placemats I made, which were also a no-sew jeans craft.
Equally, using longer seams or several seams tacked together, you can make upcycled denim placemats in the same way. This could even be scaled up to a denim rug, but that would require a lot of seams from many pairs of jeans.
If you have just a few small lengths of denim seams left over, how about making a DIY denim bracelet with them?
If you are looking for other ideas to make with the fabric of the jeans, then check out my comprehensive guide to the A to Z of denim crafts and upcycling.