With a sewing machine and a sprinkle of creativity, I transformed some old denim scraps into stylish and functional denim pot holders, perfect for the festive season.
These DIY denim pot holders capture the essence of jeans upcycling and protect your hands against the hottest pots. The layers of insulation, achieved by sandwiching wadding between two denim pieces, ensure you're shielded from heat, all while adding a chic touch to your kitchen.
One of the standout features of these pot holders is the reverse applique decorative touch. With this added festive twist, they make a fun gift for friends and family or a unique Christmas craft to make and sell.
Remember, the charm of repurposed denim lies in its worn-out look, shades of blue, and texture. It adds a rustic yet chic feel to any item you create. It's a great way to repurpose your old, worn-out favourite pair of jeans.
We're a participant in the Amazon Services LLC Associates Program, an affiliate advertising program designed to provide a means for us to earn fees by linking to Amazon.com and affiliated sites. As an Amazon Associate, I earn from qualifying purchases.
Materials Needed
Old Jeans: The heart of our project. The more worn and loved, the better!
Wadding: To give our potholders the insulation they need. Use 1-2 oz wadding.
Decorative Scrap Fabric: The more colourful, the better. Think festive or any fun patterns you have lying around.
Christmas Cookie Cutter: This is for our applique. Of course, feel free to use any shape that tickles your fancy. If you don't have any Christmas cookie cutters, you can draw around the shapes I've provided in the template below.
Sewing Essentials: This includes thread, needles, scissors, and your trusty sewing machine.
How To Make A Denim Pot Holder
Step 1: Denim Selection: Dive into your denim stash and cut two equally sized squares. These will serve as the front piece and back piece of your potholder. The squares should be about 15cm (6 inches).
You will also need to unpick a belt loop from the jeans waistband to use as a hanging loop.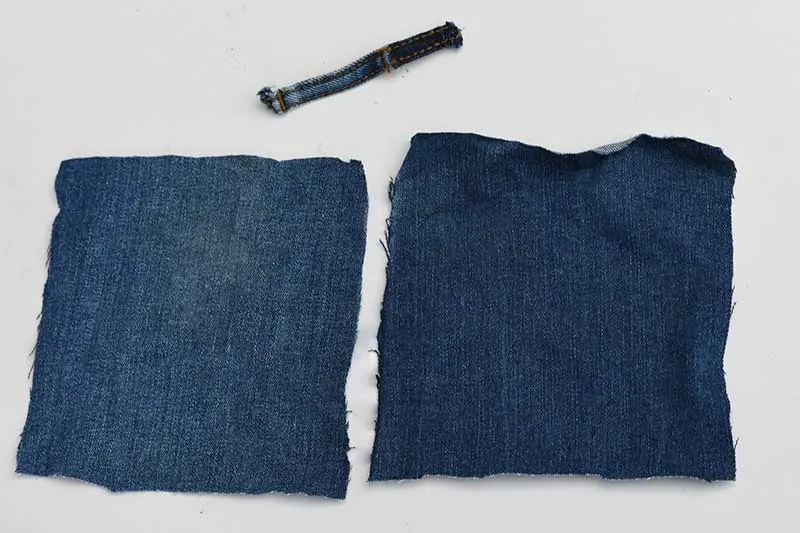 Reverse Applique Magic
Step 2: Place your chosen cookie cutter shape on the 'wrong side' of the top denim square and trace around it. Simple shapes work best; the festive ones I used were a bauble, a Christmas tree and angel wings.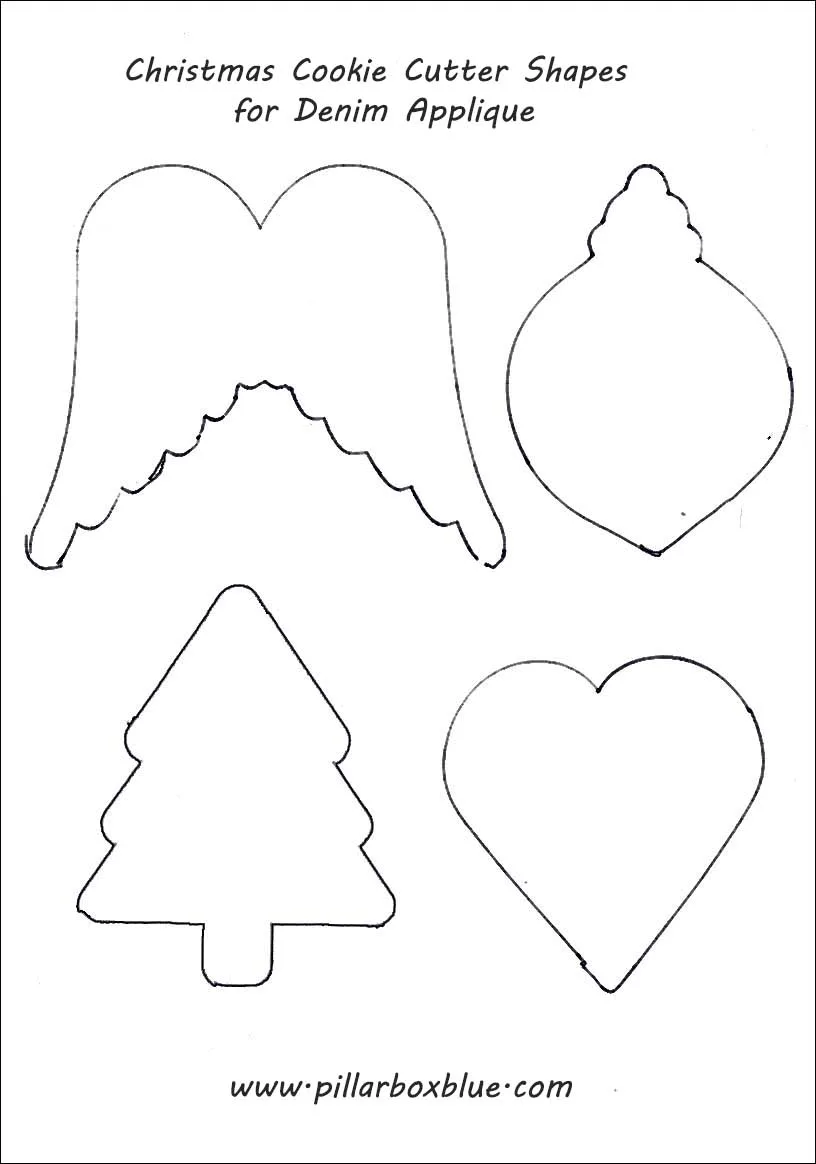 Hearts are also an excellent shape; check out these popular denim heart pockets to see how reverse applique works so well with a heart shape.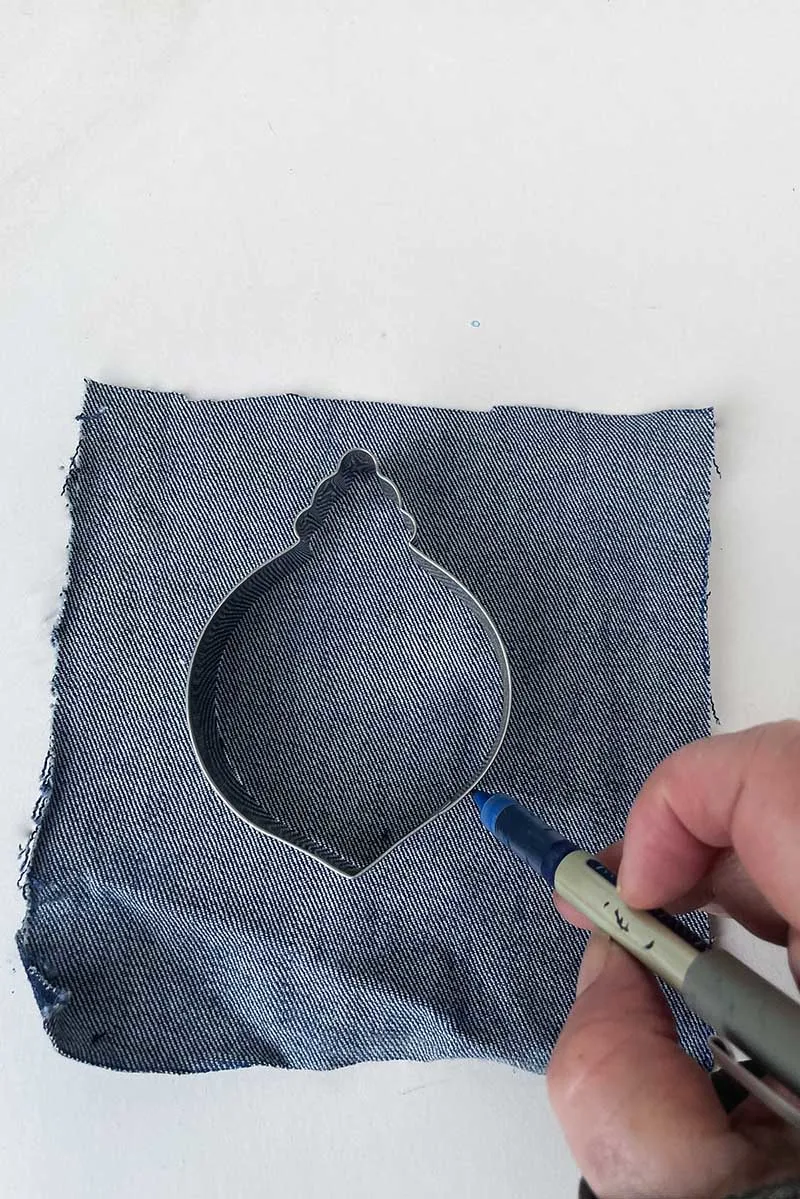 Step 3: Dab some fabric glue along the drawn outline to stop the denim from fraying when you cut it.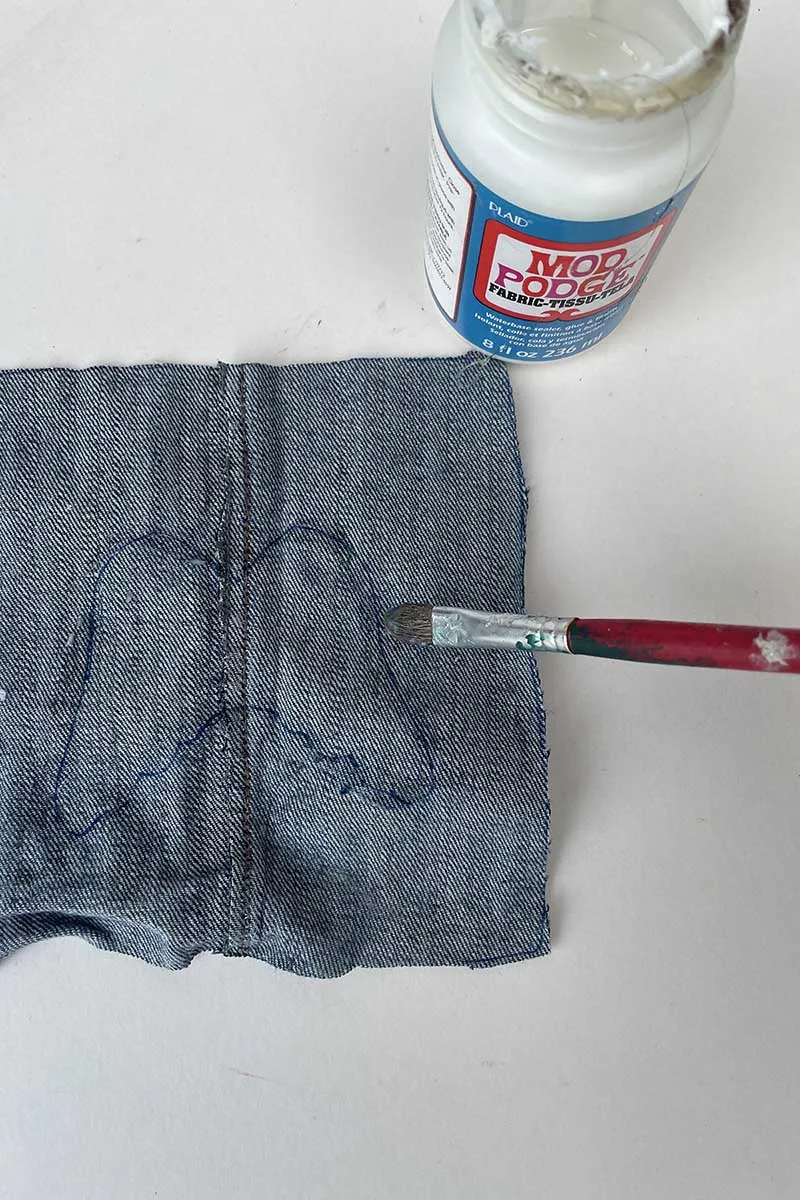 Step 4: Using small, sharp, pointy scissors, carefully cut out the shape. This will create a charming decorative hole.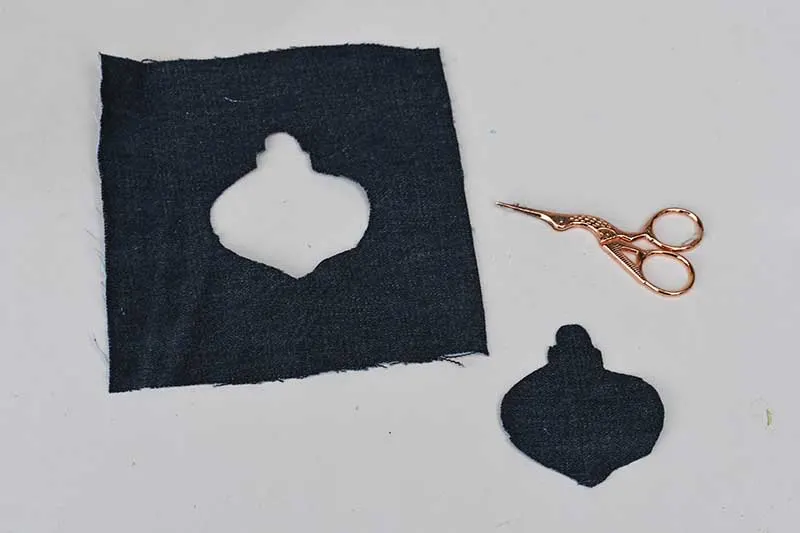 Step 5: Underneath the cutout, on the 'wrong side' of your denim, position and pin in place a piece of your decorative scrap fabric. This will peek through your cutout, adding a vibrant pop! Then, using colourful embroidery thread, secure the material to the denim using a decorative blanket stitch.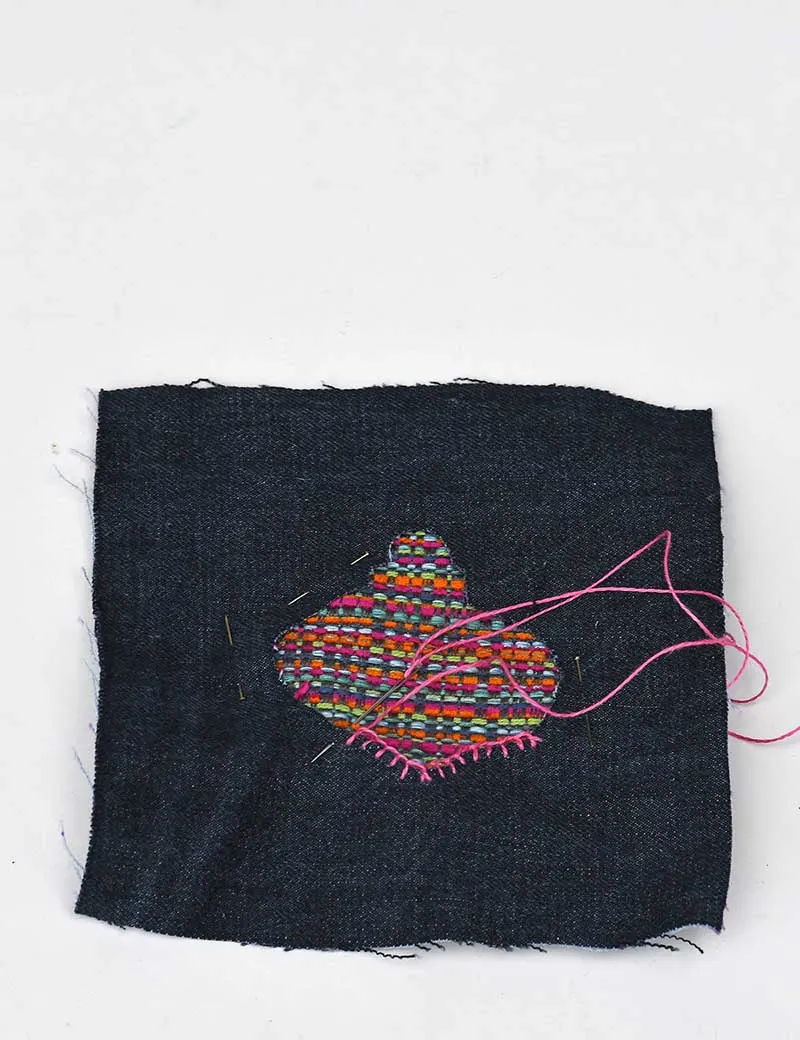 Making the Denim Pot Holder
Step 6: Cut a square piece of wadding the same size as the denim squares.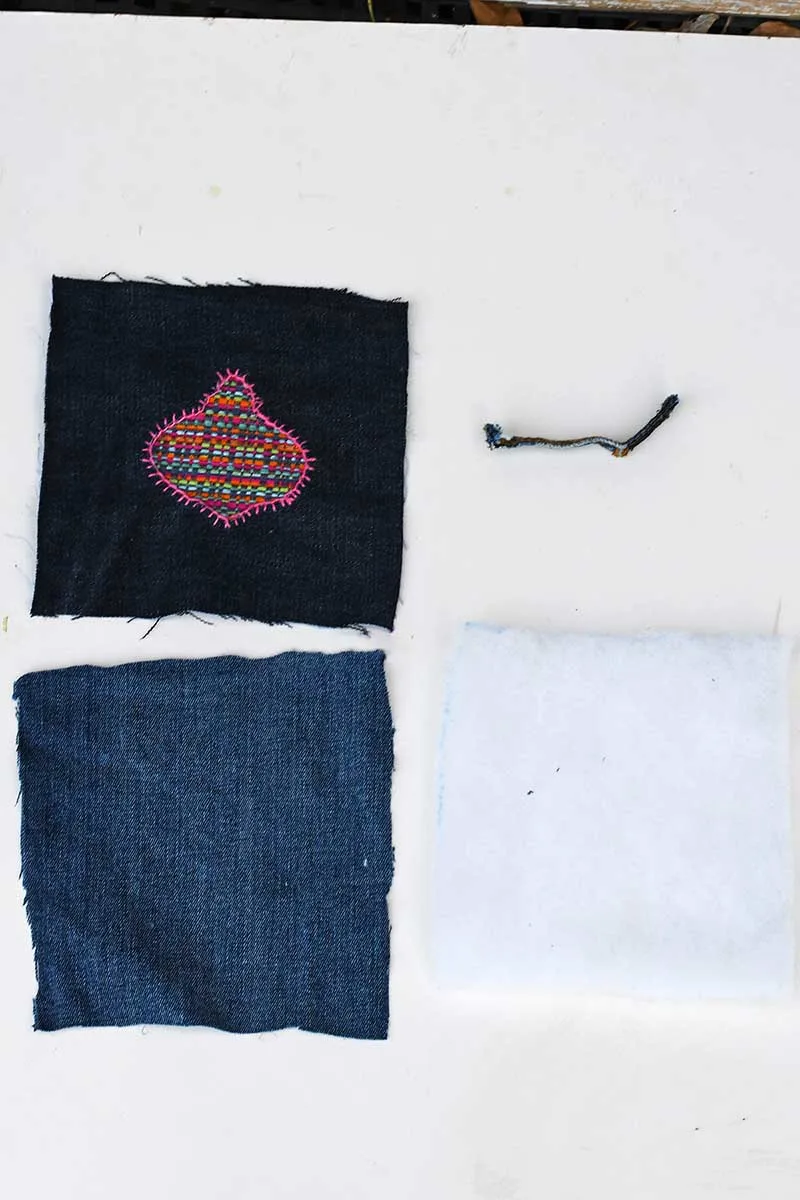 Step 7: Place the two denim squares 'right sides' together. Then, place the wadding square on the top and pin all three layers together.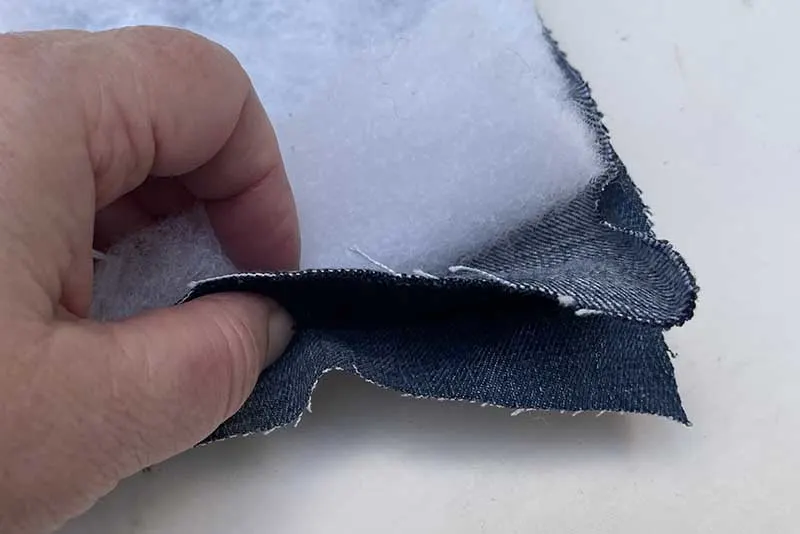 Step 8: Using a sewing machine, sew all the squares around the edge with a 5mm seam allowance. Leave a small gap at the top of about 2 inches.
Cut away the excess fabric at the corners, then turn the denim potholder right side out.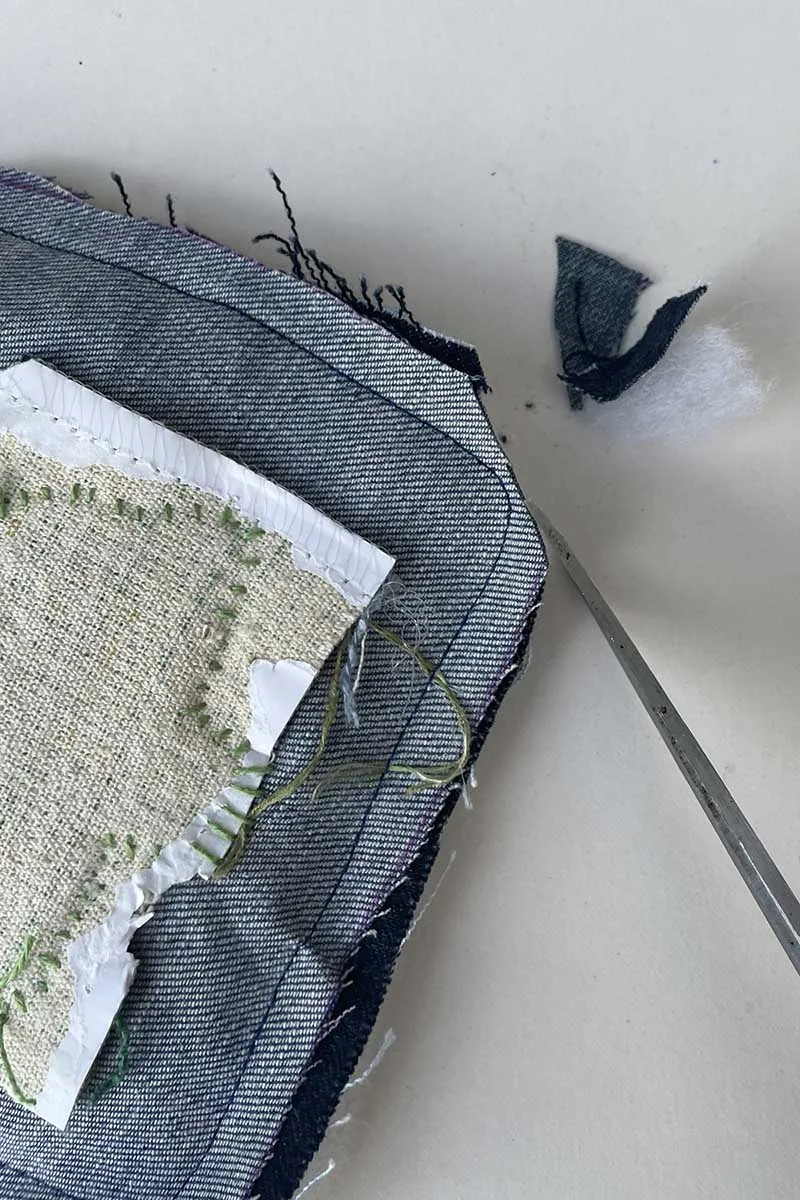 Step 9: Stitch the hole shut by hand, adding the hanging belt loop.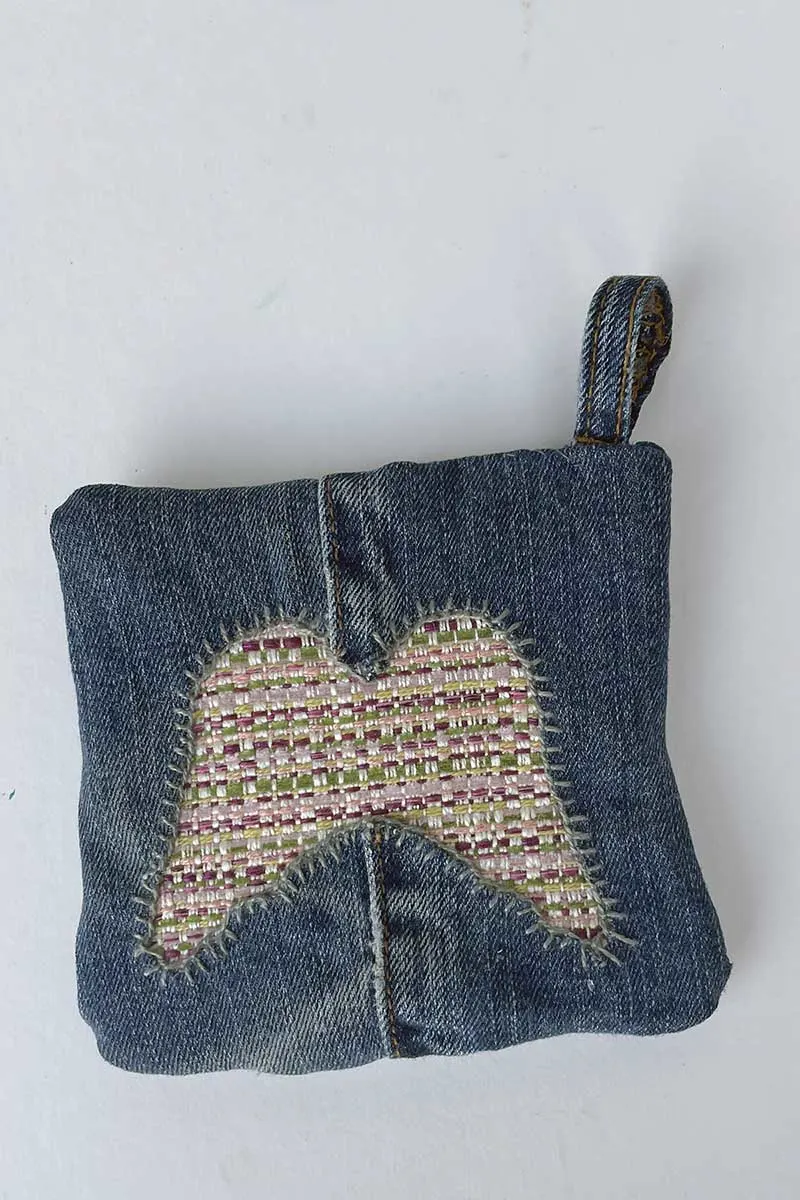 The Finished Pot Holders
These denim pot holders are great for handling hot dishes in the kitchen and double up as a festive decoration when hanging up.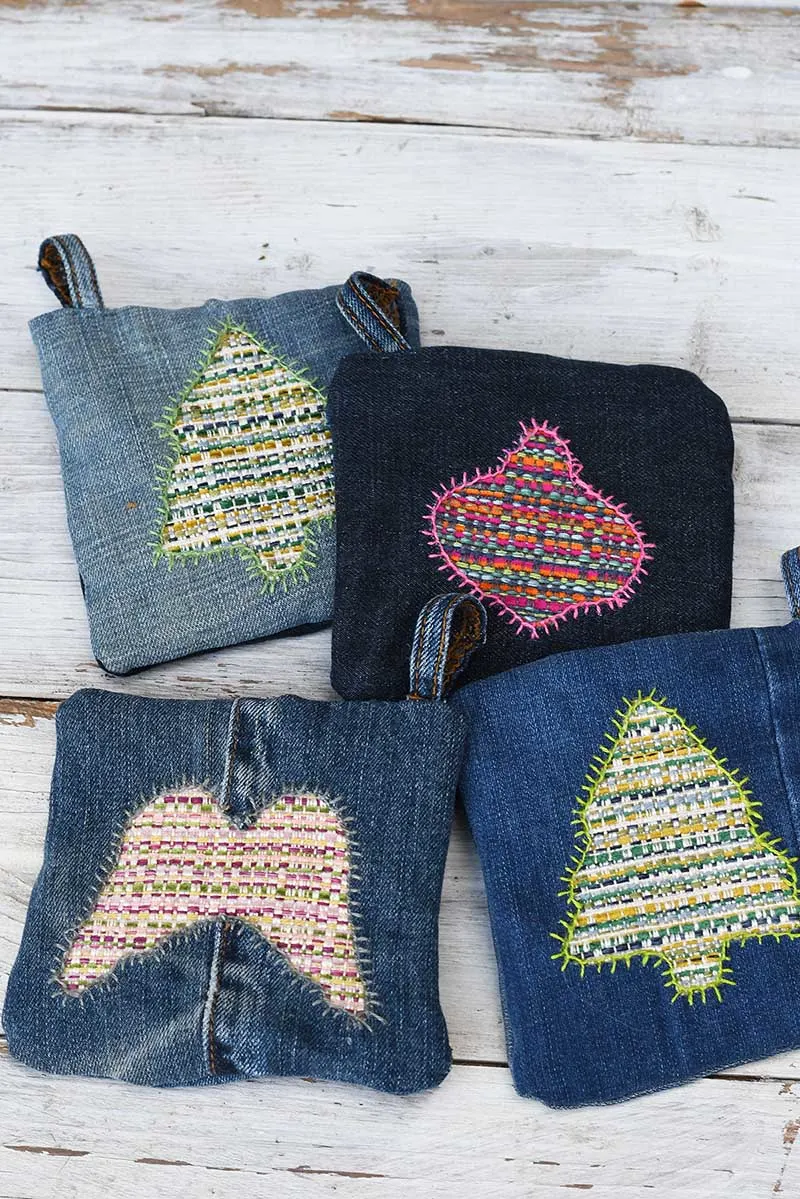 You can create a matching set for a more comprehensive kitchen look or gift bundle. For an added personal touch, embroider initials or embellishments to make it an extra special gift.
Or try out these other slight variations.
Use the back pocket of the jeans as the front of the pot holder. This adds a unique design element: a functional hand slot or pocket for recipe cards.
Make the pot holder larger as a trivet for hot dishes.
Don't add the wadding, and make the squares into coasters or placemats.
Instead of squares, cut the denim into shapes like circles, hearts, or even mittens for a fun twist.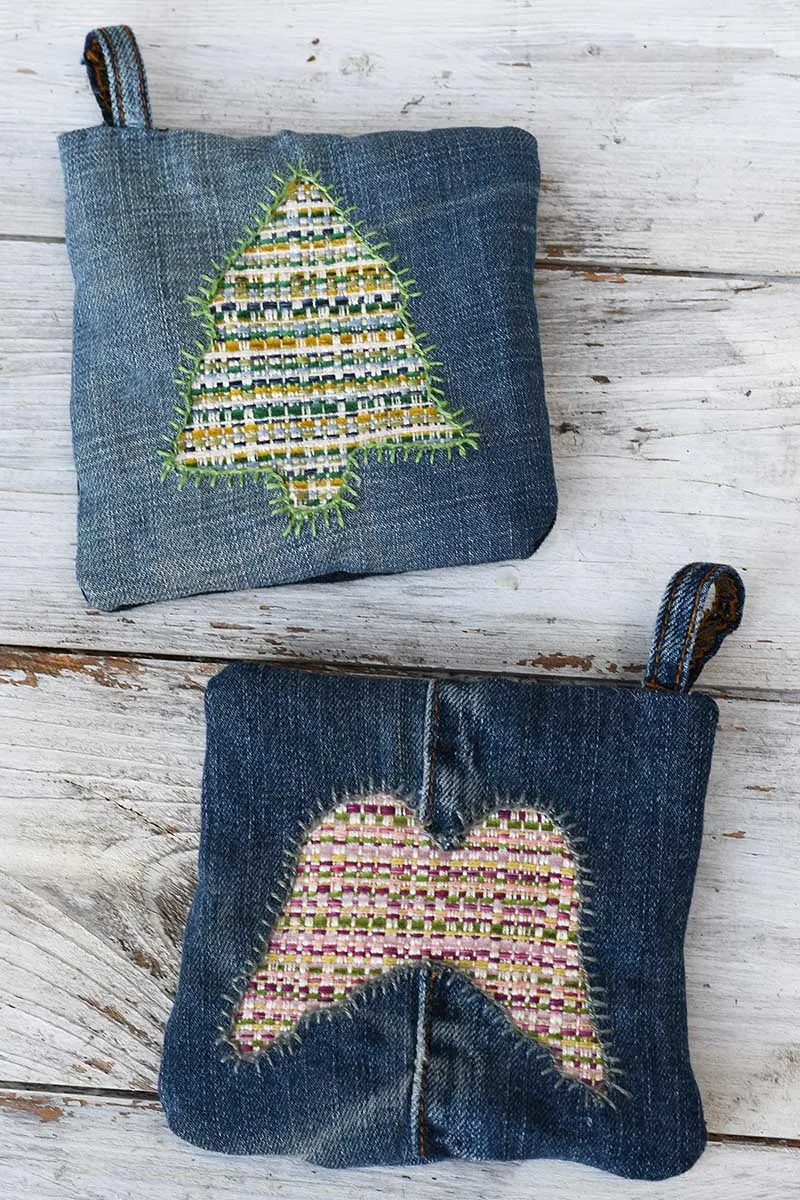 Check out all these other unique ideas for upcycling denim for Christmas and these other Christmas sewing projects.
The same templates were used for these Christmas Applique denim pockets.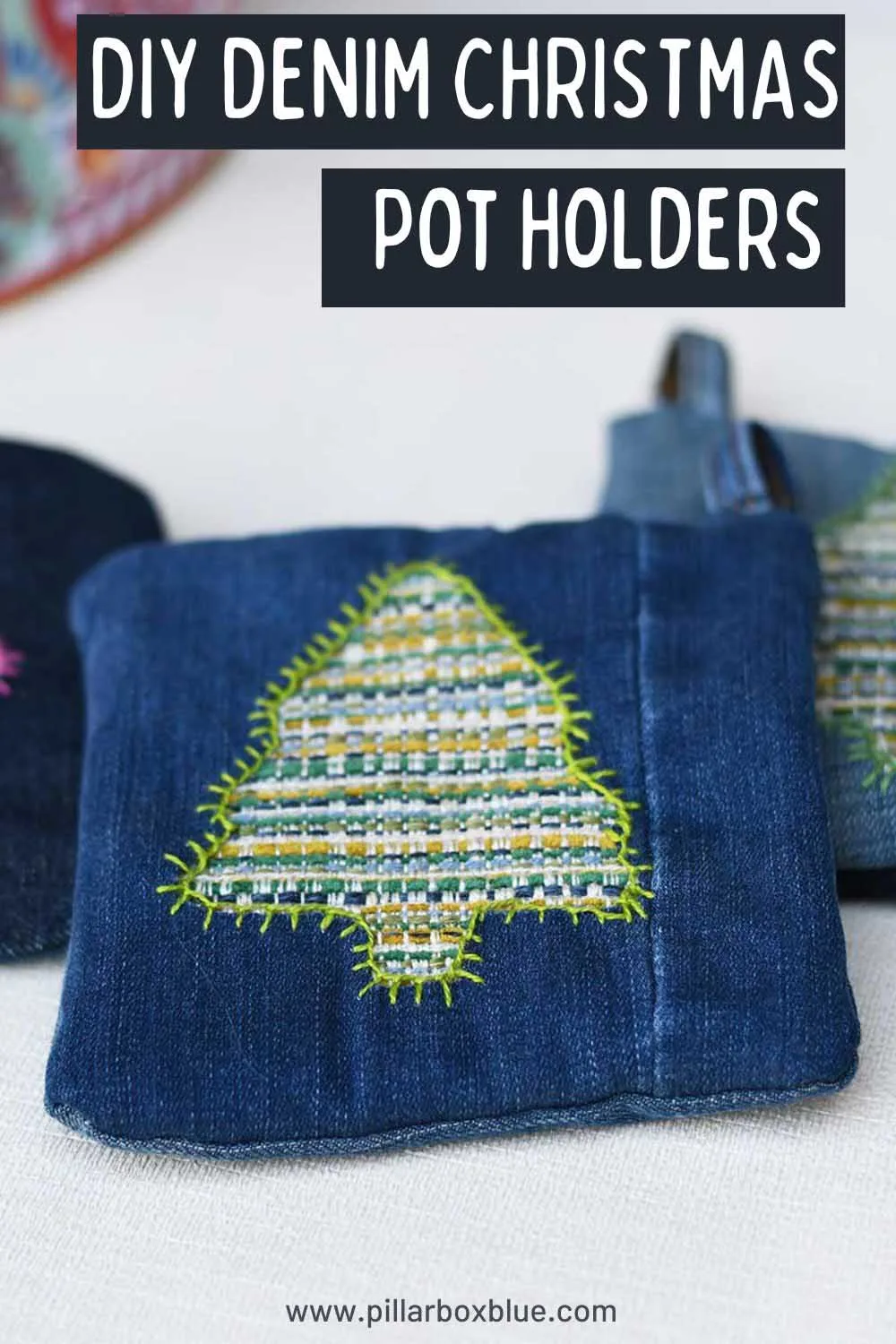 Other Uses for Repurposed Denim in the Kitchen
Using old denim in the kitchen is smart and stylish. It's tough and looks great. Plus, it's a great way to recycle and turn old jeans into helpful kitchen items. Just check out these fabulous ideas!
Another fun thing to make for the kitchen is this denim snake plant; it will last forever!