Oysters are a bit like "Marmite" either you "love them or hate them"! Personally, I love them and have repurposed some into a glamorous oyster shell ornament.
I say "glamorous" because I spray painted the oyster shells gold and added some shiny beads to the thread. Add a touch of gold and a bit of bling and the oyster shell ornament goes from plain to glam! To complete this fun oyster shell ornament, I used a small cream felt ball as a pearl.
My Christmas decorations usually consist of a plain simple DIY rustic Christmas tree adorned with bright colourful and often sometimes blingy ornaments. For me, the ornaments are the star of the show. I love to make new ones each year, such as my Frida Kahlo ornament.
How To Make A Glam Christmas Oyster Shell Ornament In 15 Mins
If you don't eat oysters maybe you know someone who does and you can ask them to save you some shells. My local fishmongers sell fresh oysters for £1 each and you will get 2 shells with each oyster. Or if you are lucky enough to live by the sea, you can comb your local beach for some shells. I have made scallop shell trinket dishes before as a handmade gift.
This is a very quick craft and only took about 15 minutes. It is one of my many Christmas nature craft ideas.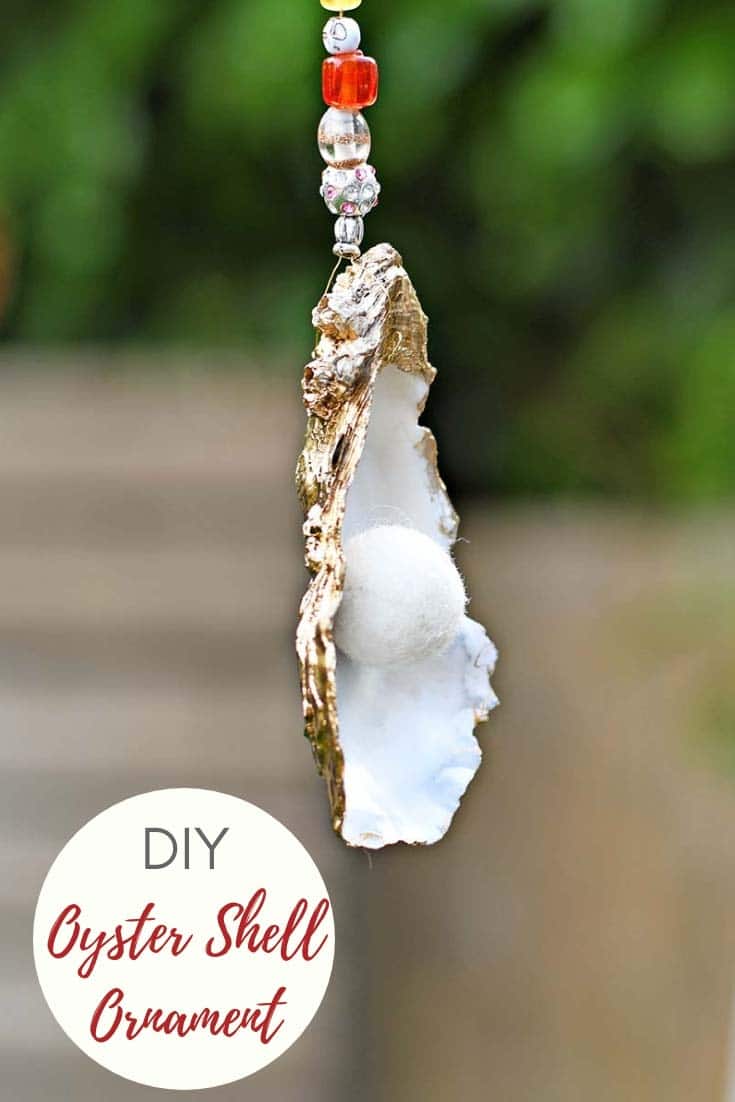 We're a participant in the Amazon Services LLC Associates Program, an affiliate advertising program designed to provide a means for us to earn fees by linking to Amazon.com and affiliated sites. As an Amazon Associate, I earn from qualifying purchases.
What you need to make an oyster shell ornament
Oyster shell – If you don't have any try your local fishmongers.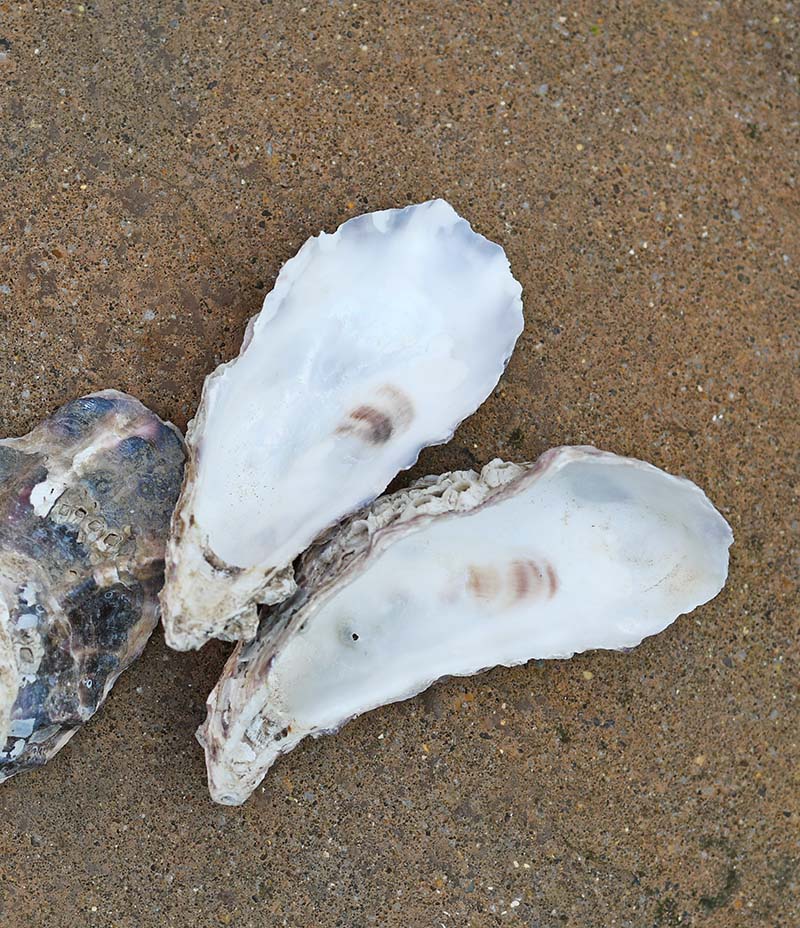 An assortment of small coloured beads. I keep the beads from old costume jewelry and delve into that stash for projects like this. Check out your local thrift store for an old beaded necklace. Or you can by a cheap bag of assorted beads.
Small rotary drill like a Dremel – I used a diamond-tipped drill bit as I had one. However, I think a normal stone drill be would have worked just as well.
How to Make a Christmas oyster shell ornament
First, using a rotary tool, drill a small hole into the top of the oyster shell.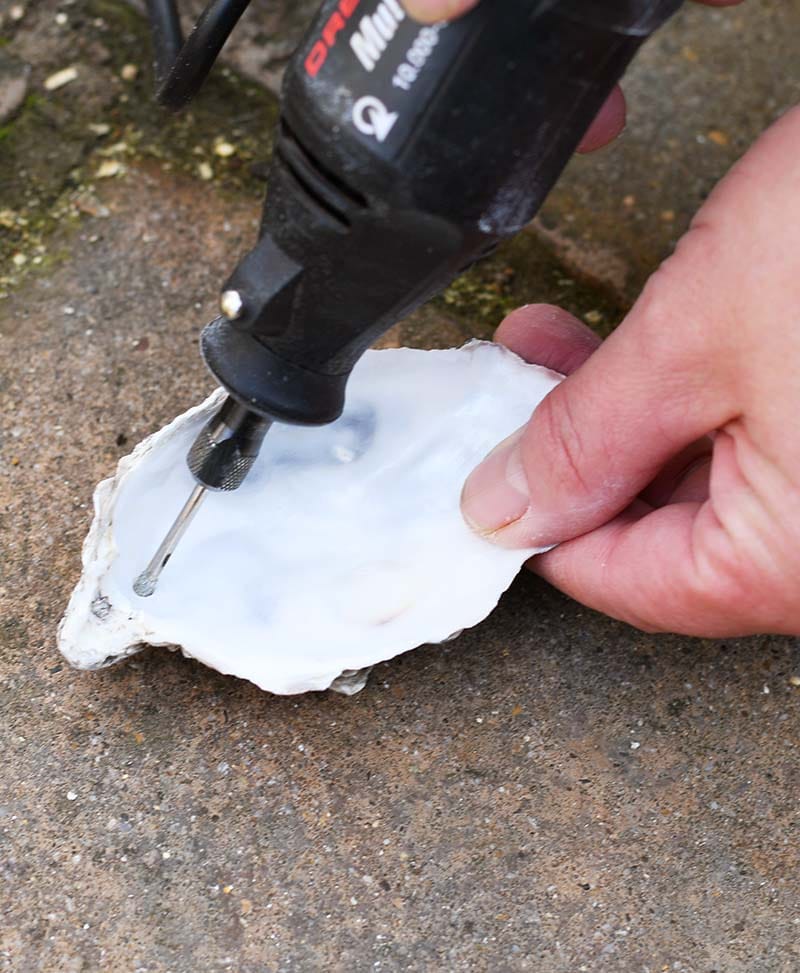 2. Next, spray paint the back of the oyster shell with gold paint. Also, dab a small amount of gold paint onto a brush and paint the top bit of the outer shell that is on the front of the oyster shell. I just create a small puddle of spray paint and dip the paintbrush in that.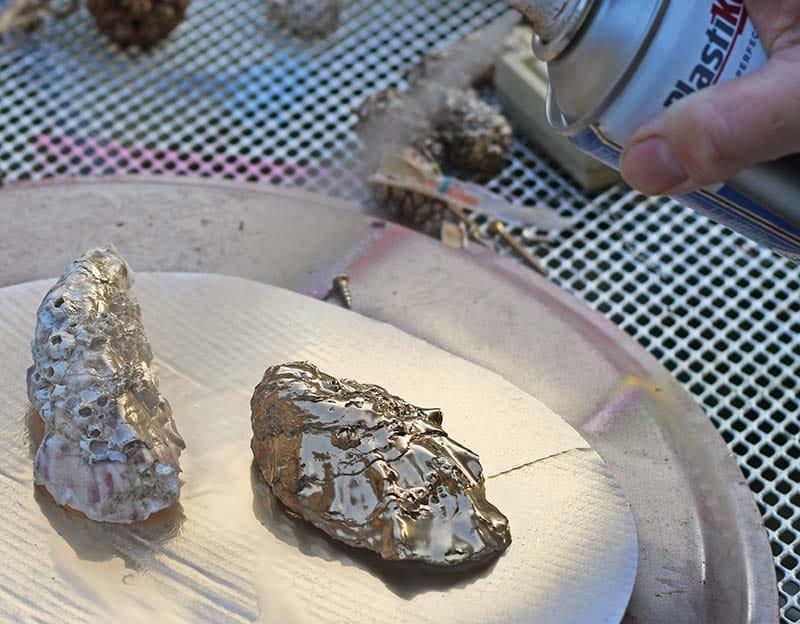 3. Not only did I use gold to add glamour to the oyster shell ornament, but I also used some glass beads. Thread about half a dozen small beads onto some gold beading wire.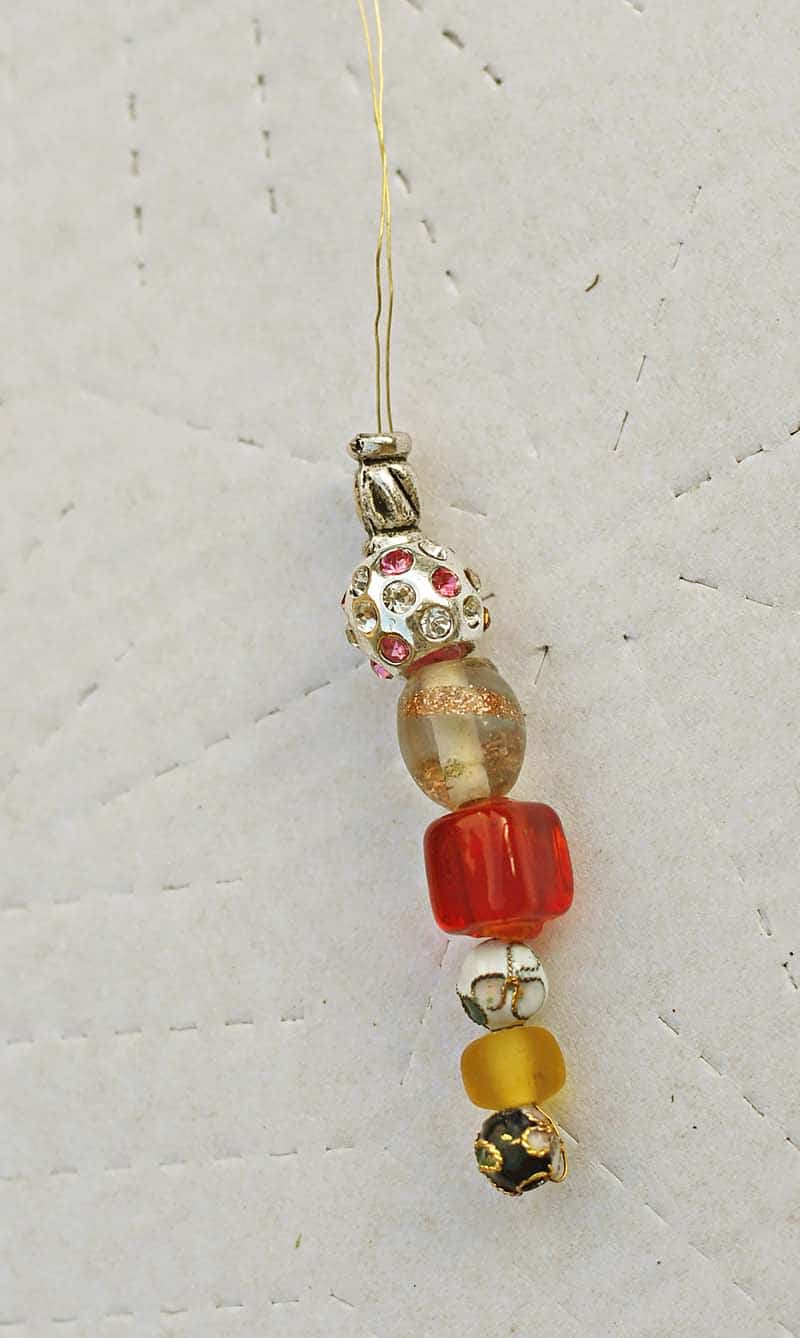 4. Attach the beaded wire to the oyster shell through the drilled hole. Then add a bit of red satin cord to hang the oyster shell ornament with. Finally, to finish off, no oyster is complete without a pearl. Glue the felt ball inside the shell to represent a large pearl.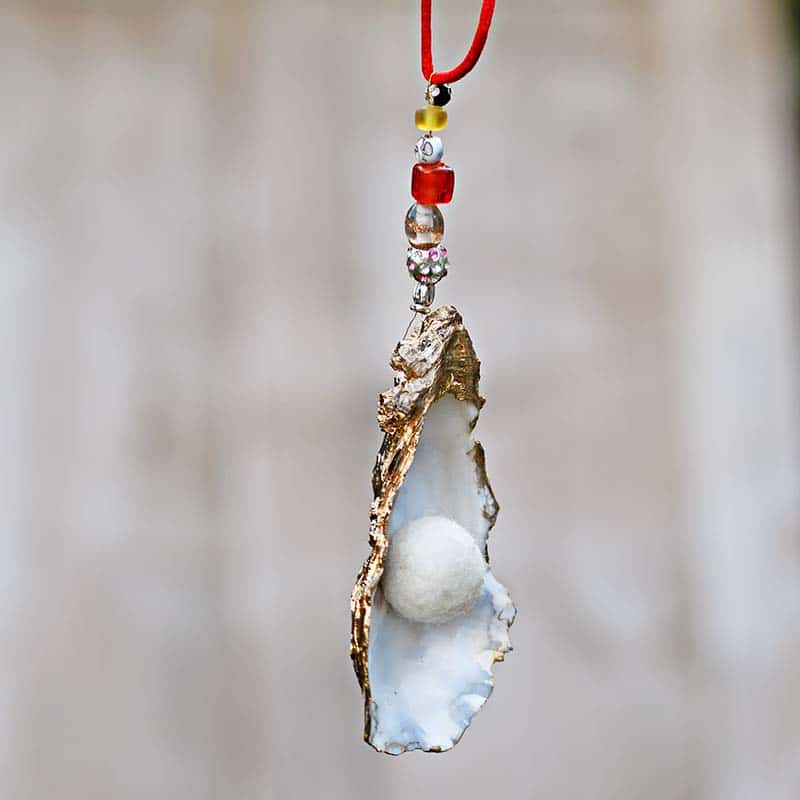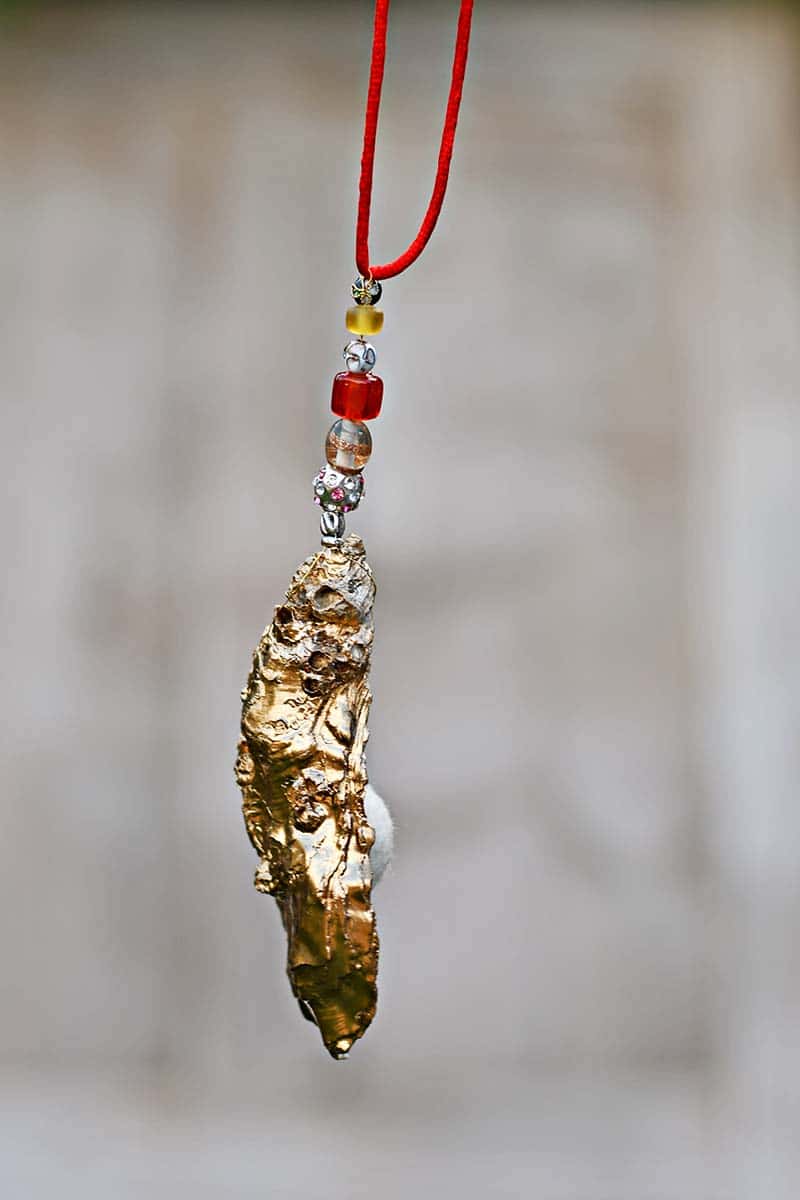 All that is left now is to hang the oyster shell Christmas ornament from the Christmas tree. I love how the old crusty shell looks all bling now that it has been sprayed gold. The ornament sparkles as it catches the light from the gold, the beads and the shiny mother of pearl on the inside of the shell. Perfect for Christmas!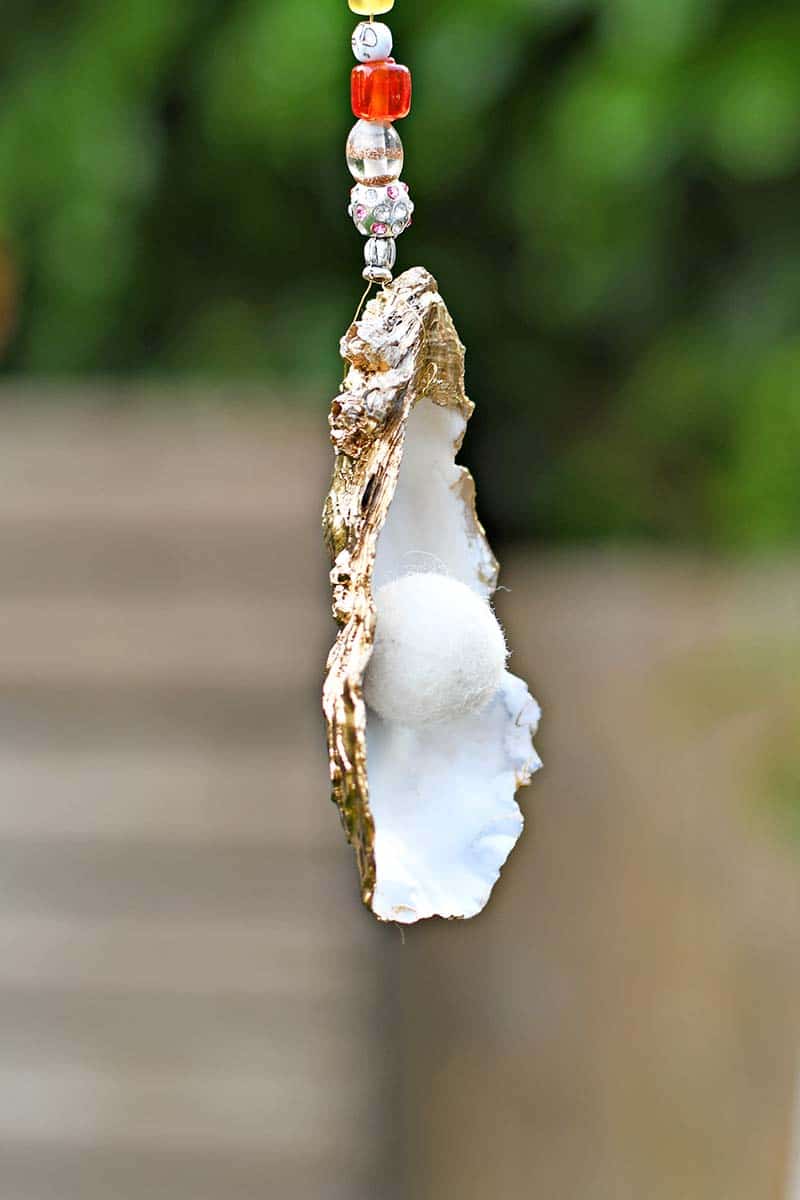 If you have any leftover oyster shells you can use them to make some fabulous oyster shell handmade candles gifts. Or even decoupage them with maps for a unique map seashell gift. There are many more upcycled Christmas ornament ideas here.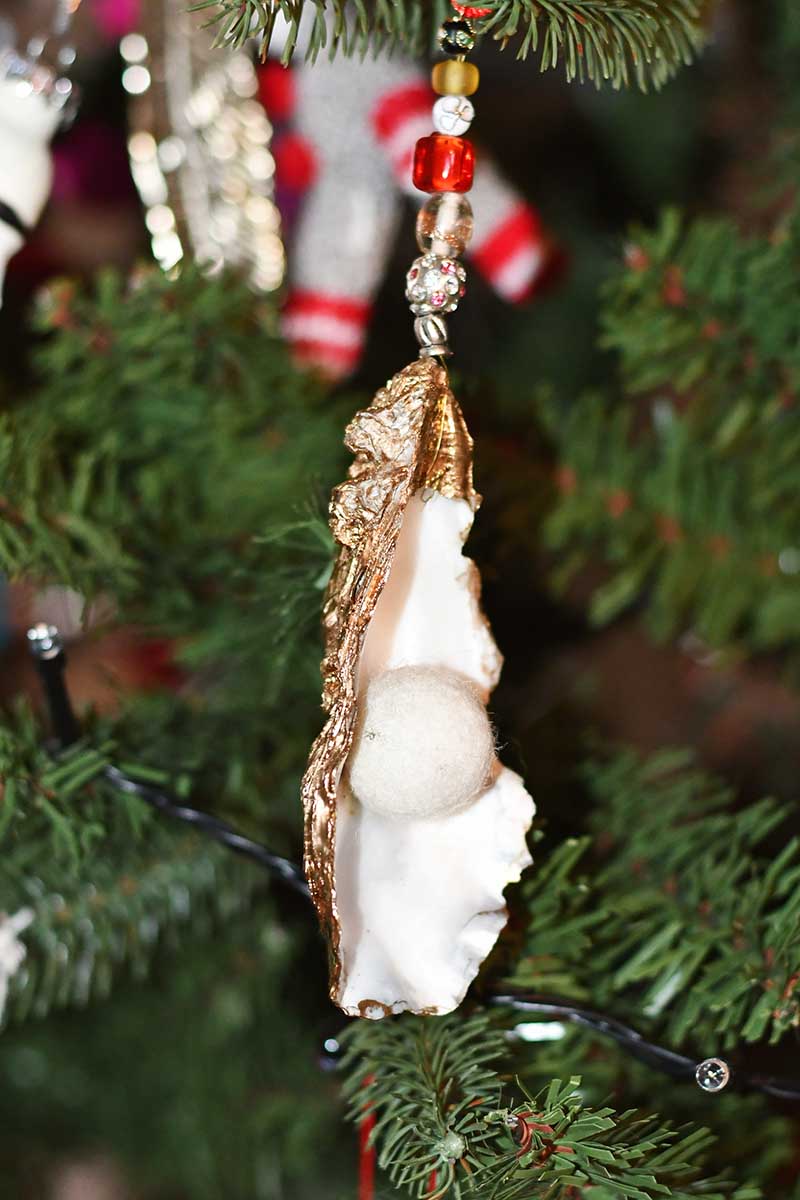 You should check out some of my other repurposed Christmas ornaments.
Cute Sweater Upcycled Christmas Ornaments
Handmade Felt Christmas Ornaments
Angel wings Christmas ornament


For more Christmas ornament ideas visit allfreechristmascrafts.com