I have a confession to make! I don't like real Christmas trees that's why I made a rustic Christmas tree!
That's not totally true, I do like real Christmas trees. I just don't like them in my house.
The dropped pine needles drive me mad. I have tried non-needle shedding pine trees but they still shed their needles.
Another thing I'm not keen on with real Christmas trees is the space the take-up. Not so much their height but their girth. With five adults and a dog, space can be a bit tight in my house.
I think if I lived in a really big spacious house with a cleaner to hoover up the dropped needles, I might soften my stance against real Christmas trees.
Upcycled Lampshades Into A Rustic Christmas Tree
In the meantime every year I love to make an upcycled and repurposed alternative Christmas tree. This year I made a wire rustic Christmas tree from old lampshades.
This rustic Christmas tree is so sparse and bare it's perfect for showing off your homemade Christmas ornaments. There are plenty of places to hang them, and they don't get lost amongst green foliage.
I have to admit I went a bit overboard with the decorating of this tree. It looks like it was dressed by a toddler on a sugar high after eating a tube of smarties.
This isn't a one-off, I do tend to decorate my Christmas trees like this every year. Growing up my mum would have themed orderly decorations for the Christmas tree, the kids weren't allowed to decorate it. Or if we did, my mum would carefully rearrange the ornaments when we weren't looking.
I decided that when I grew up my Christmas tree was going to be full of homemade decorations and a riot of colour. No matching baubles insight. So far this is one goal from my childhood I have managed to achieve!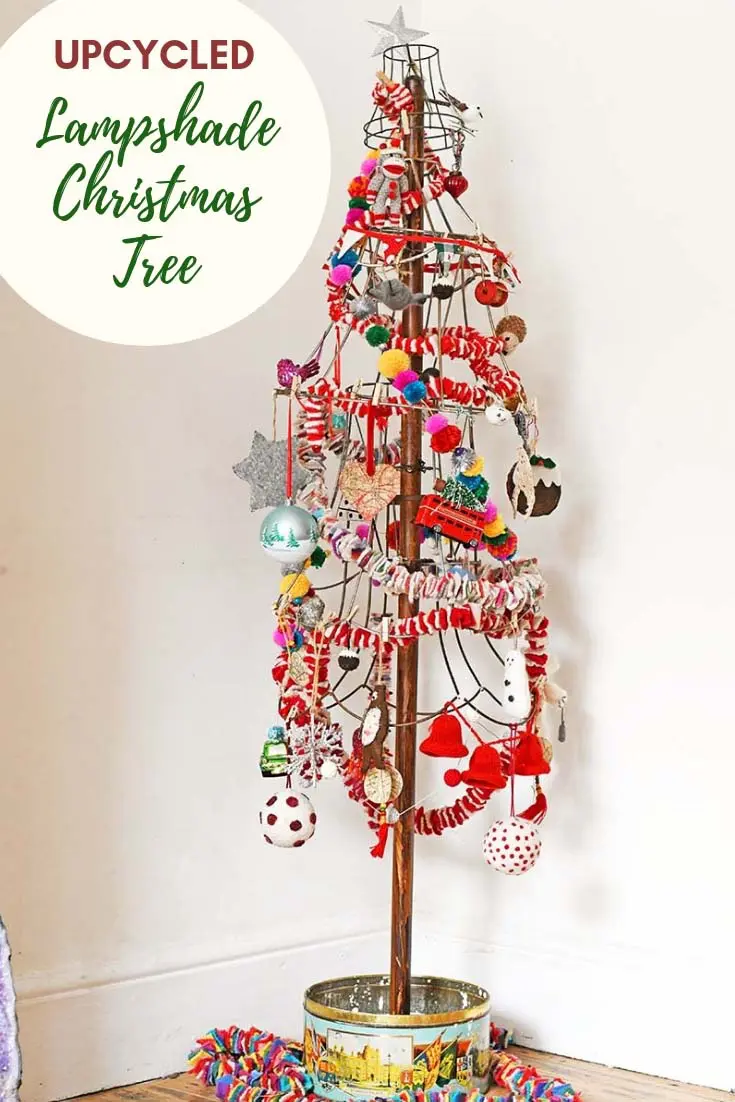 This post contains Amazon affiliate links for your convenience. Click here to see my disclosure policy.



What you need to make a wire rustic Christmas tree
A selection of old scalloped lampshades in various sizes. With or without the shades it doesn't matter its the wireframes you need.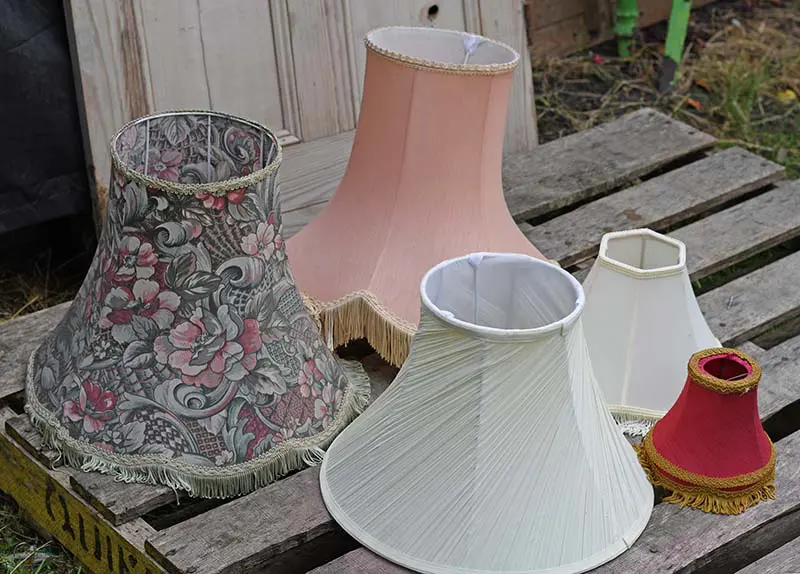 Old wooden broom handle or large wooden pole about 4ft in length.
Old round Christmas cookie tin approx 25-30cm in diameter (you don't need the lid).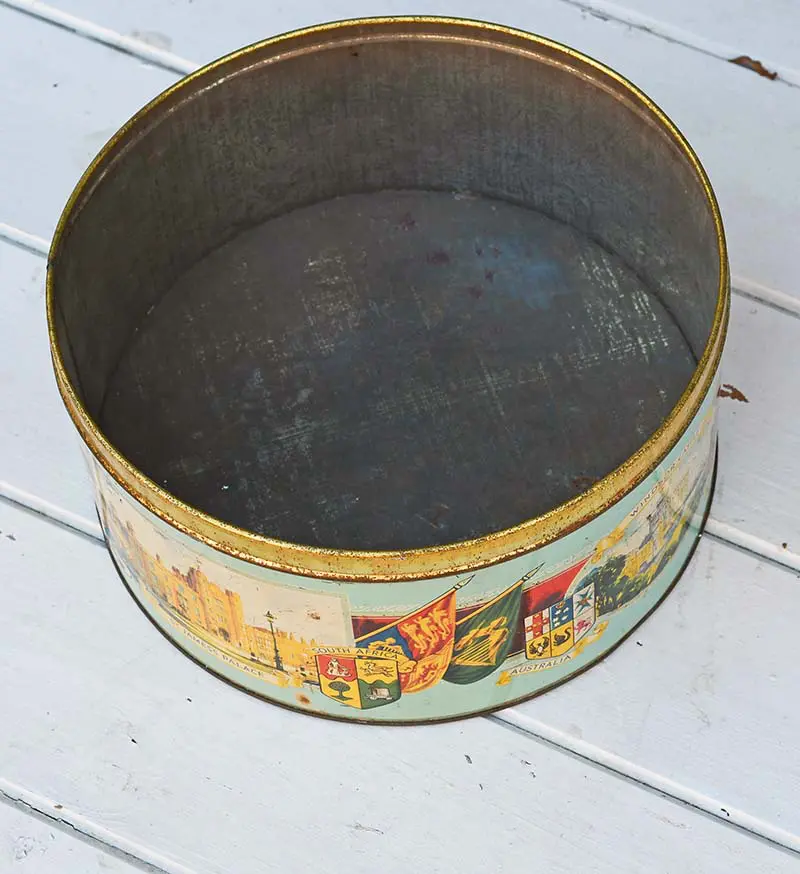 An assortment of old nails, hooks, and fixings.
How to Make a Wire Rustic Christmas Tree
First, strip all covers on the lampshades. You just want the bare wireframes.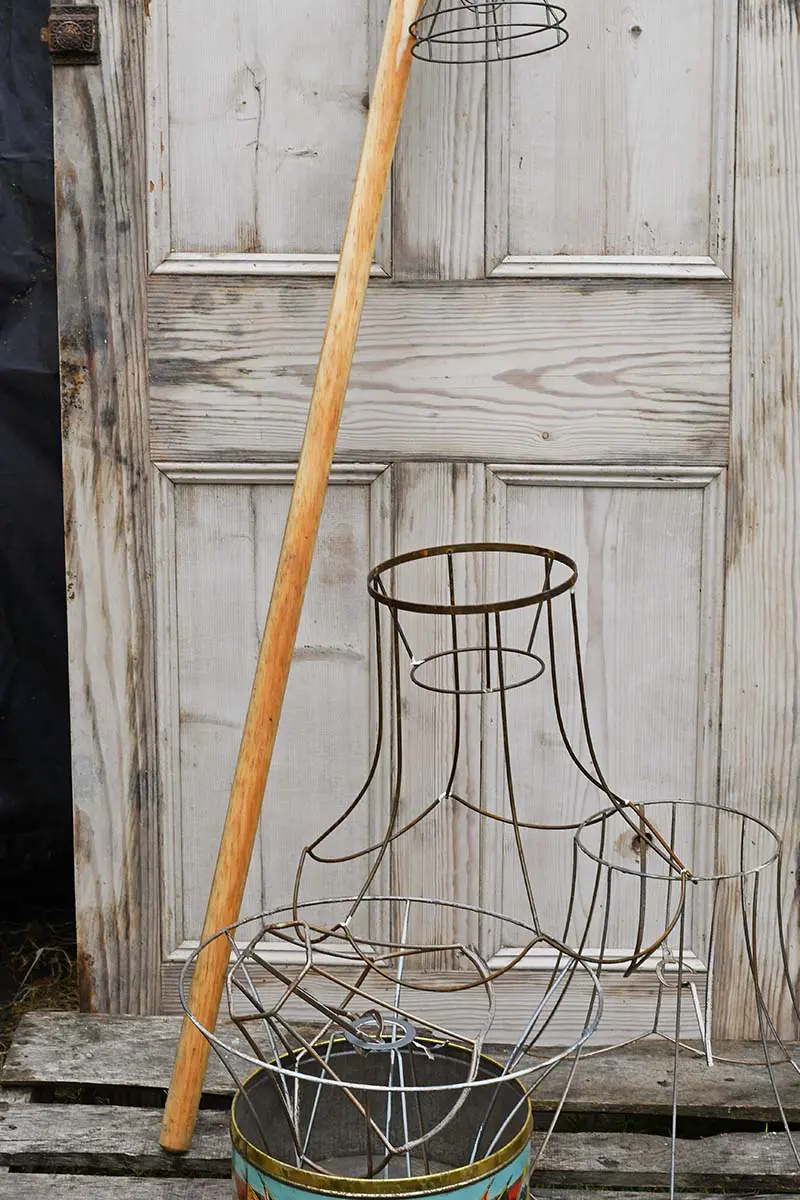 2. My wooden pole was a bit light in colour for my liking so I stained with some dark wood stain. I then placed the lampshades one by one on the pole starting with the widest lampshade at the bottom.
Top tip: It is easier if you stick the wooden pole in an umbrella stand to hold it upright whilst you attach the lampshade frames.
The wire fixings on each lampshade were different. I attached the lampshades to the pole by creating somewhere for the shades' inner wire to rest.
This involved hammering nails, hooks, and other fixings into the wooden pole. I used old fixings as I wanted to keep with the upcycled feel with this rustic Christmas tree DIY.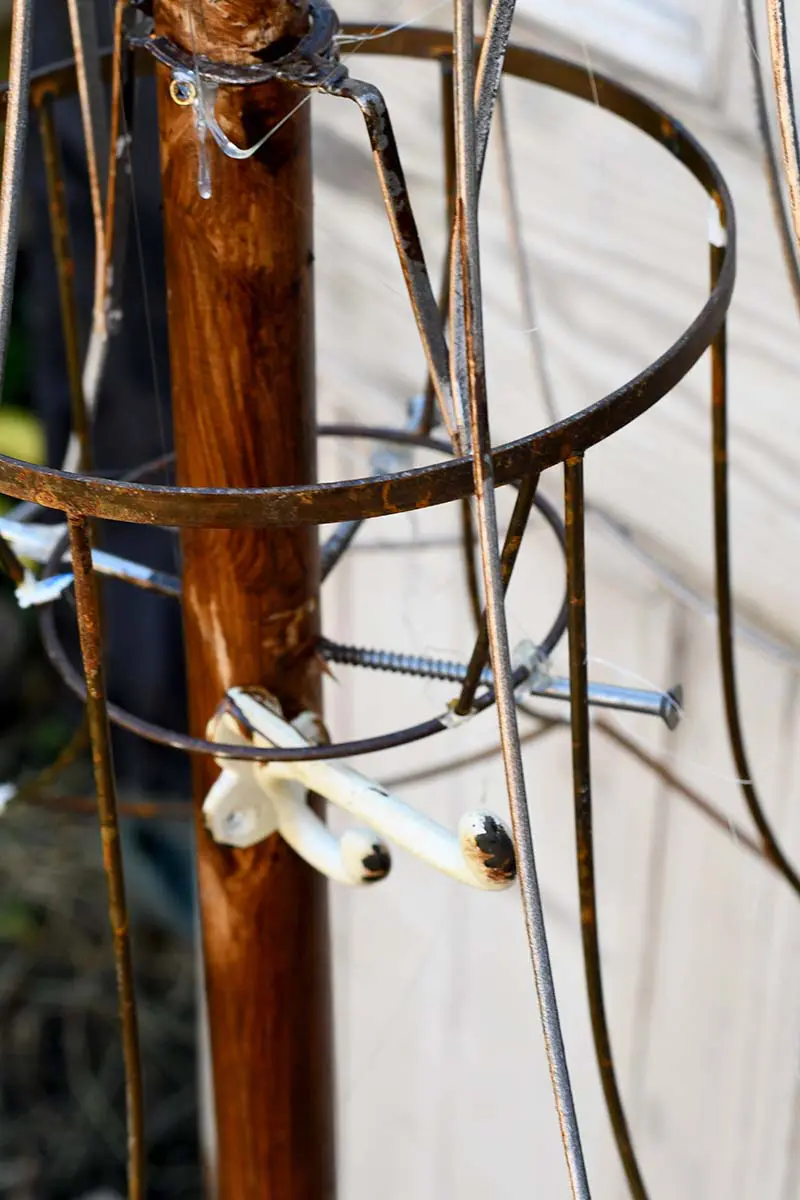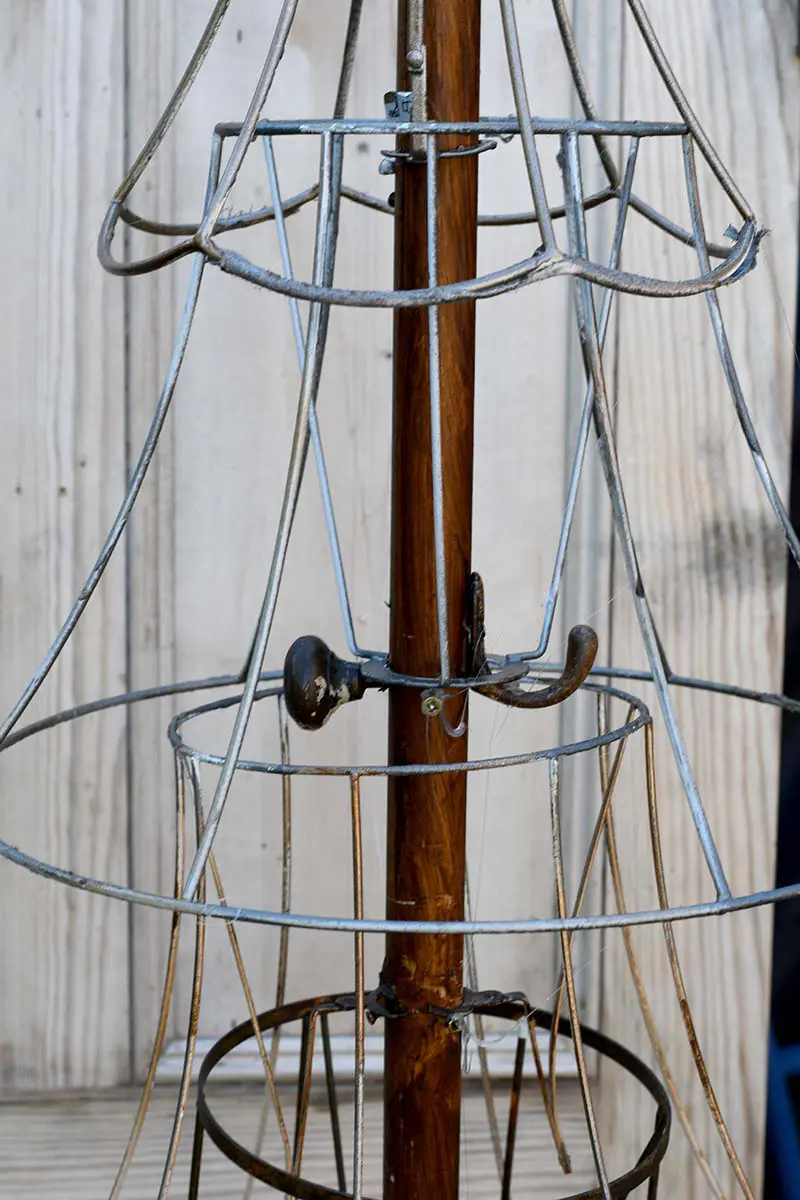 3. Once I was happy with the fixing of the lampshade wires, it was time to make a more permanent stand for the rustic Christmas tree. To do this I mixed up about 2.5kg of Plaster of Paris until it was the consistency of thick cream. (Approximately 750ml of water per 1kg of powder).
Make sure you always add the powder to the water and not the other way around.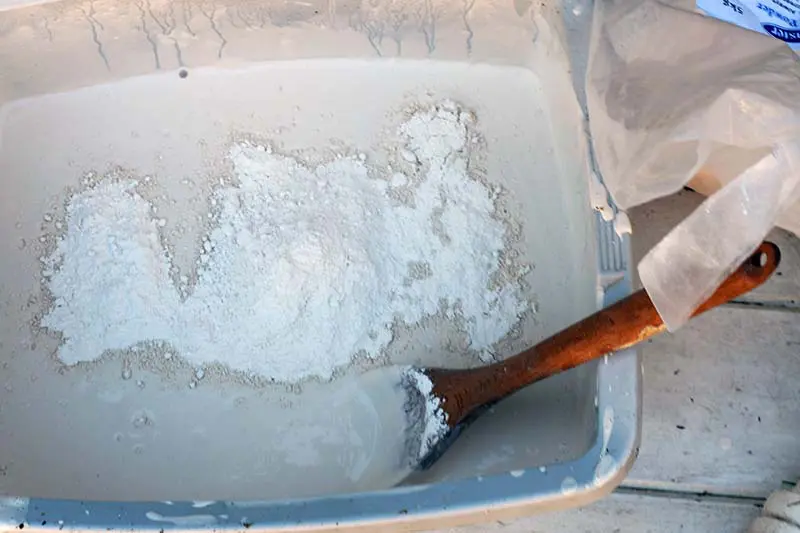 3. Working quickly, pour the plaster into the Christmas tin and then place the base of the wooden pole into the mixture. The plaster will start setting within 20mins.
Instead of standing there holding the pole upright whilst waiting for the plaster set, I wedged the tree between 2 chairs whilst it set.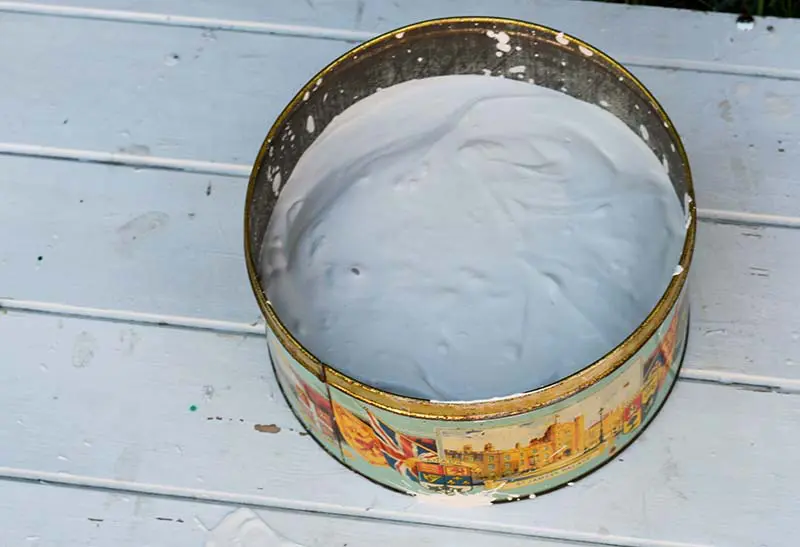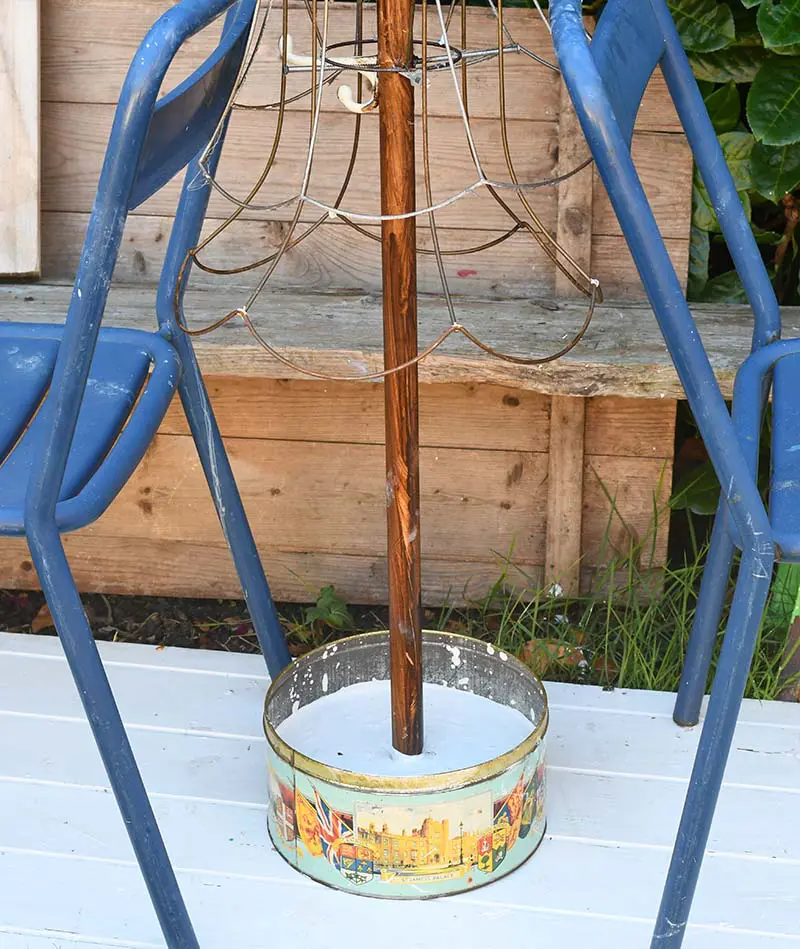 4. Once the plaster has set your tree is ready. You can either leave it undecorated if you are going for that industrial rustic simplistic vibe.
As you can see I went a bit mad with my decorations. So perhaps somewhere in between the 2 styles would be good.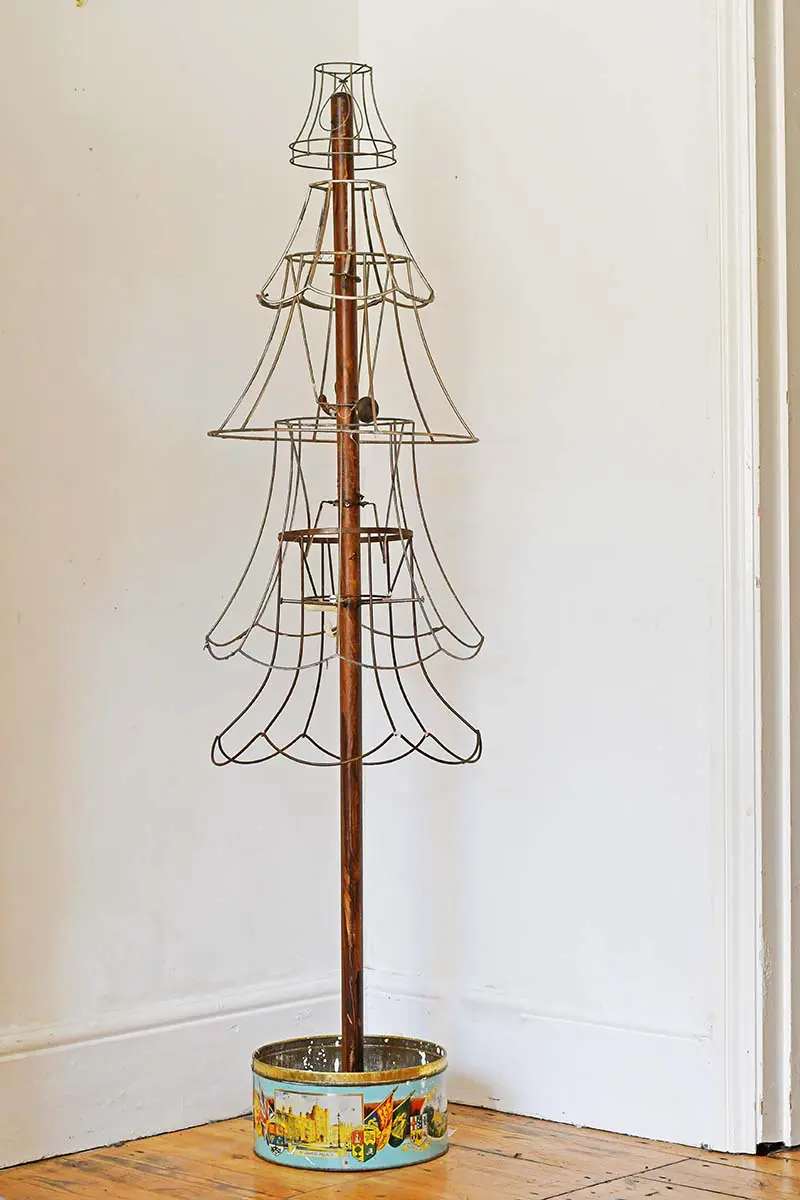 This wire Christmas tree is perfect for hanging decorations from and so it's so tempting to put them all on. It's a great showcase for all my homemade Christmas decorations. Such as the repurposed sweater felt garlands, Christmas pudding wood slice ornaments and my many heart map ornaments, to just name a few.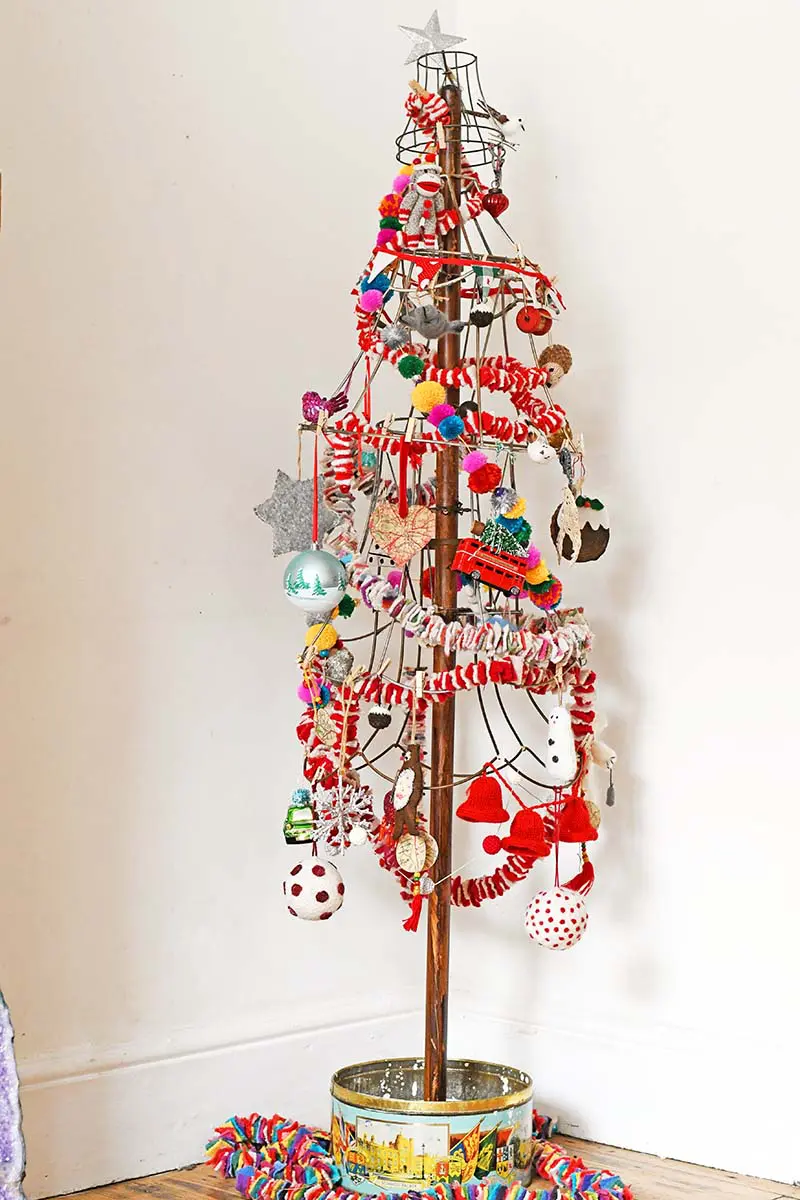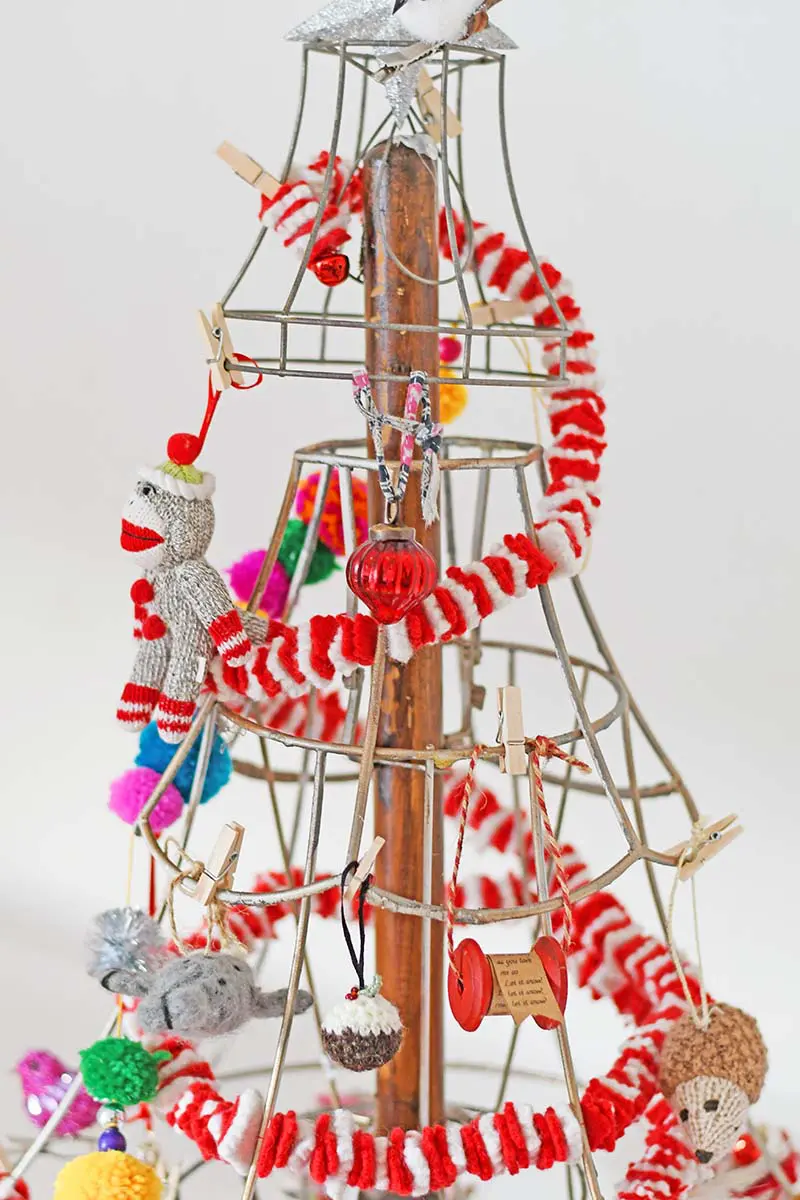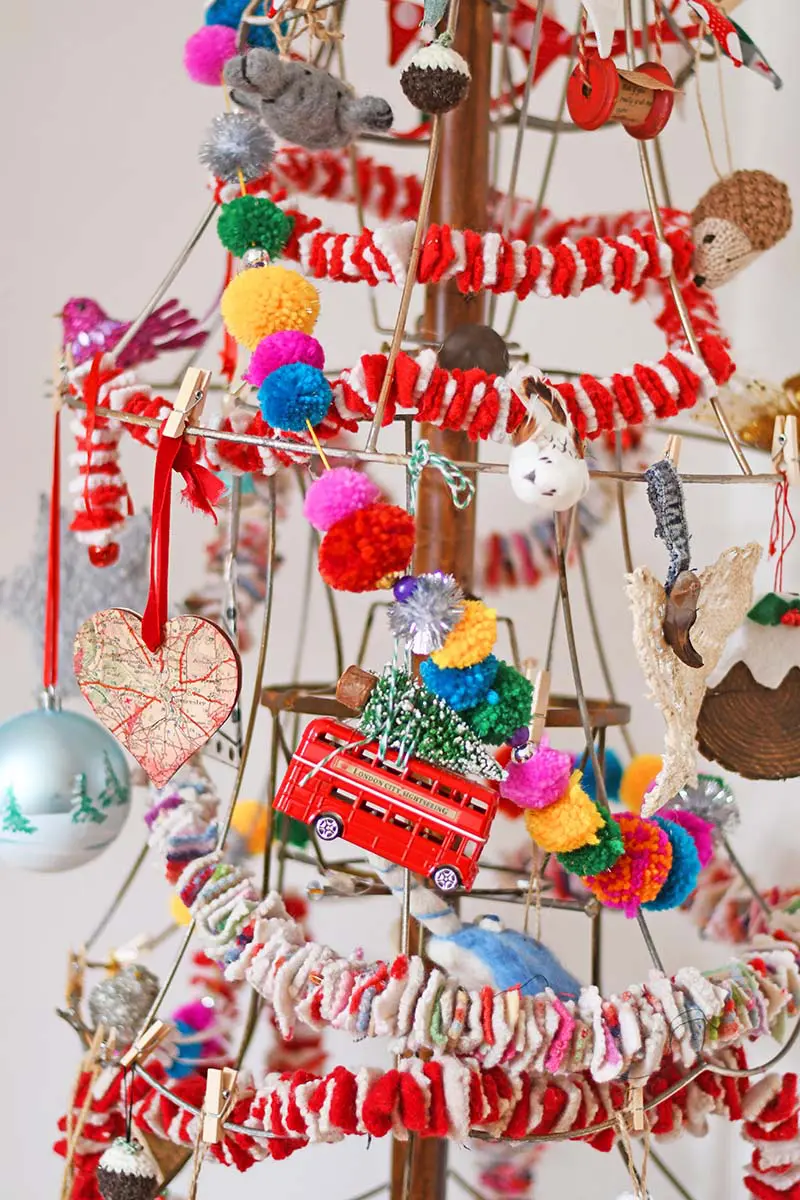 I think that this rustic Christmas tree would also look great decorated with Christmas cards. It would be easy to peg them to the wireframe. There is a collection of antique Scandinavian Christmas cards here which I think would look fabulous on this tree.
Yield: Lamshade Wire Christmas Tree
How To Make A Wire Rustic Christmas Tree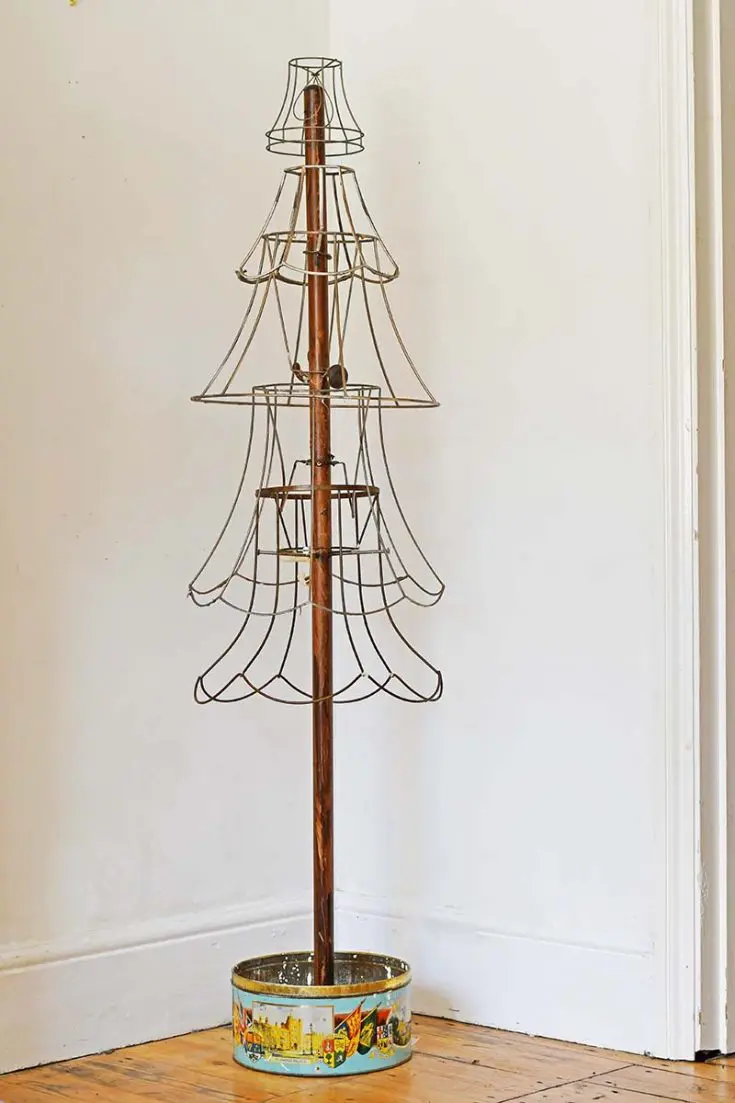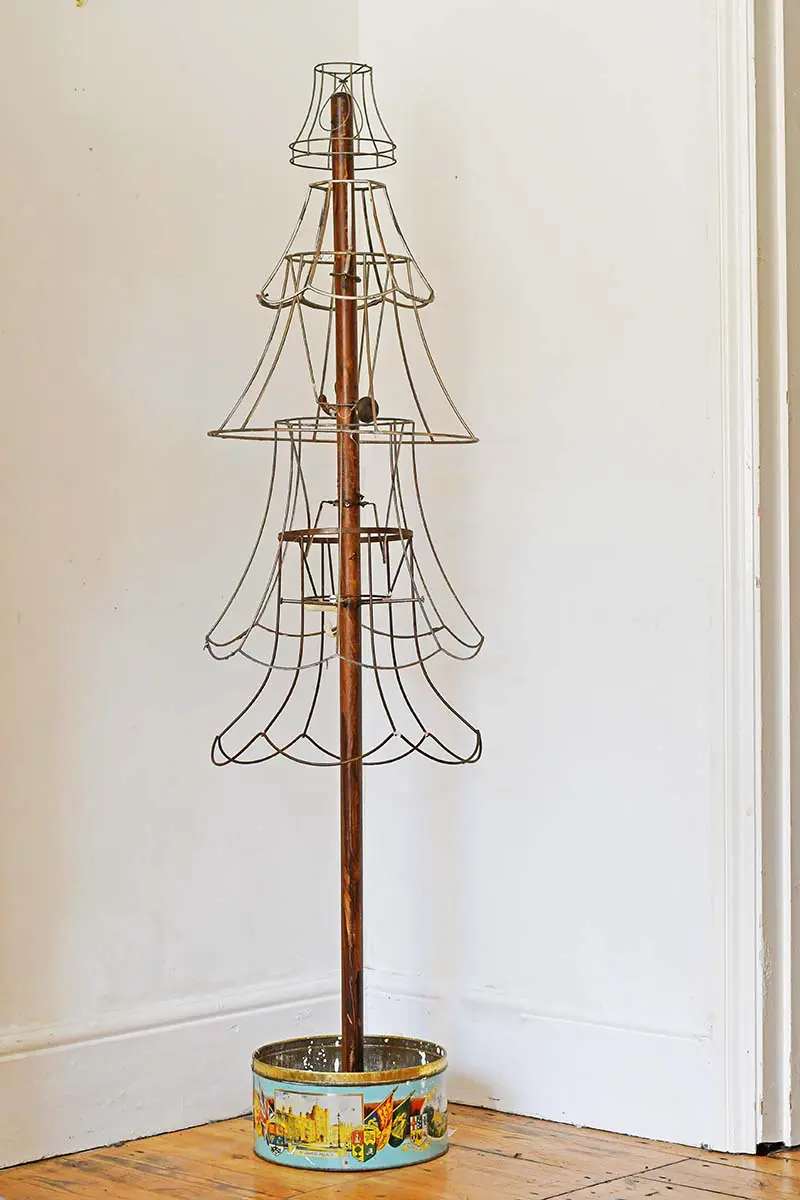 This upcycled wire rustic Christmas tree is so simple and cheap to make. It looks great bare for a minimalist farmhouse/industrial look. Or you can go made with decorations for a more colourful Boho vibe.
Total Time
1 hour
20 minutes
Materials
Old wire scalloped lampshdes in various sizes
Wooden broom handle
Wood stain
Cookie tin
Plaster of Paris
Screws and hooks
Instructions
Stain the broom handle a dark wood colour
Using screws and hooks attach the wire lampshades to the handle
Mix up the plaster of Paris in the cookie tin
Stand the broom handle in the plaster of Paris until it sets.
Notes
You can make this as big or as small as you like. It will all depend on the number and size of lampshades you use.
If you like to make your own upcycled Christmas trees then you should check out some of my other DIY Christmas trees.
This post featured in the A to Z of clever upcycling ideas and resources.