AD | This repurposed planters project is in collaboration with Gorilla Glue, but all opinions are my own.
I'm always on the lookout for creative ideas for upcycled planters. The things I've turned into planters before have included tin cans, pallets and crockery.
Last week I scoured my local junk and charity shops to collect a range of things to repurpose into succulent planters. (Car boot sales would be a good source, too!). I ended up with an eclectic mixture of candlesticks, glasses and bowls to make the DIY planters.
To make upcycled tall planters, I stuck candlesticks to bowls. This was a case of glueing various combinations of metal, glass and porcelain. For this task, I used Gorilla Contact Adhesive Clear.
I'm a big fan of rainbows in home decor; it was pride month. So this was the inspiration for the bright, colourful rainbow theme of the repurposed planters.
The hardest decision I had to make with this upcycle was deciding what succulents to plant. A visit to my local garden centre didn't help. The variety of gorgeous succulents was overwhelming; I wanted them all!
To justify buying more succulents, I will have to think of more creative ideas for plant containers.
Upcycled Succulent Planters Made From Junk Shop Finds
This is a speedy and easy craft. Not including drying time, the planters only take about 10 minutes to make. It's also very affordable. The junk shop items only cost a couple of pounds in total. You probably even have things at home that you can turn into planters.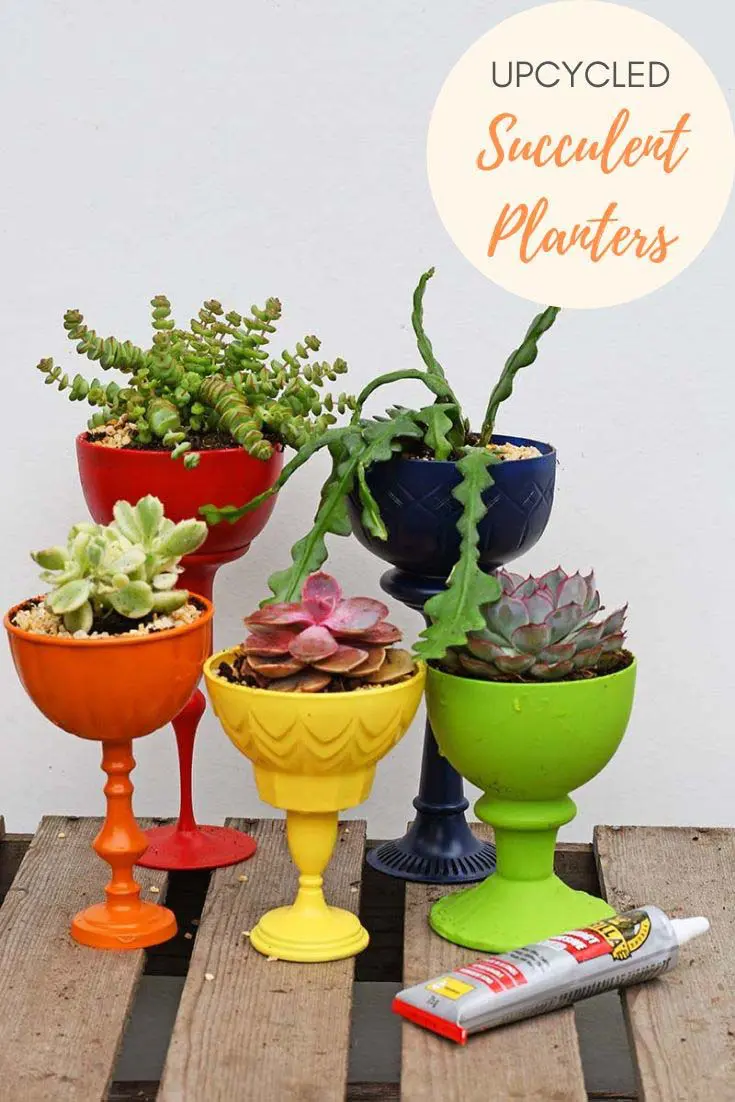 We're a participant in the Amazon Services LLC Associates Program, an affiliate advertising program designed to provide a means for us to earn fees by linking to Amazon.com and affiliated sites. As an Amazon Associate, I earn from qualifying purchases.
What You Need To Make Repurposed Planters
A mixture of candlesticks, bowls and glasses of various heights. Glass, porcelain, and metal items are all fine for these DIY planters.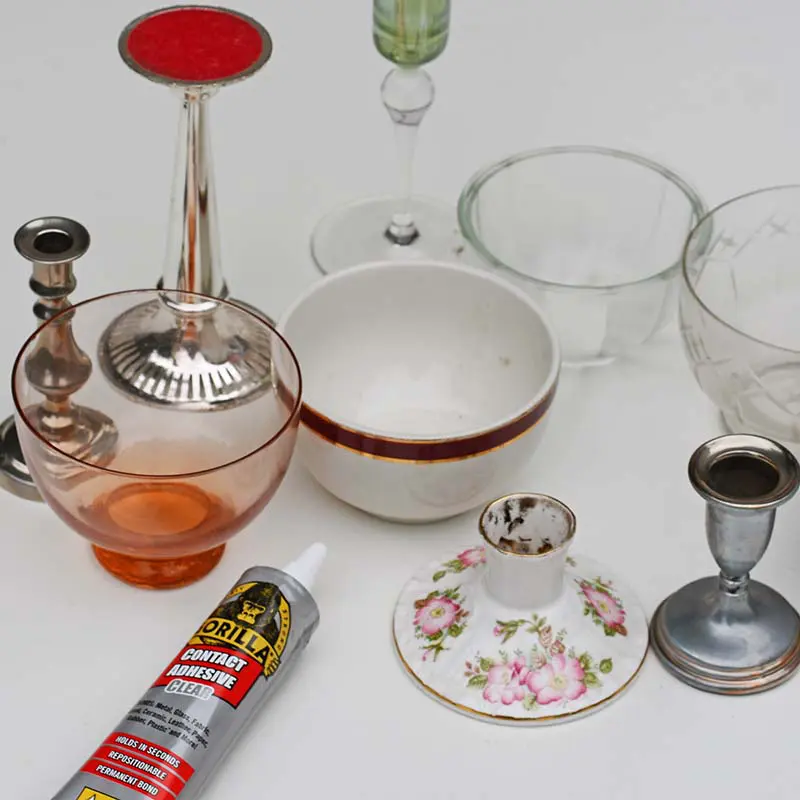 How To Make Upcycled Tall Planters
Step 1: The first thing to do is gather your collection of items and then arrange them into different combinations. Place bowls onto candlesticks. When you are happy with your designs, then move on to the next stage of glueing the items together.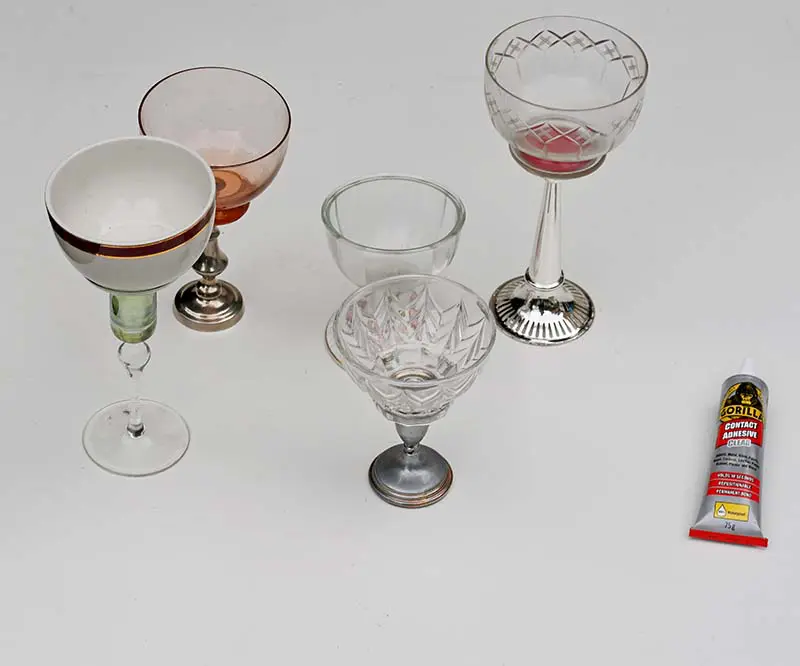 Step 2: Use Gorilla Contact Adhesive Clear to stick the items together. Apply the adhesive to each surface to be bonded. Wait a couple of minutes for the glue to dry partially, then press both surfaces firmly together. Next, leave the items for at least 24 hours for the adhesive to cure.
*Cure time may increase with lower temperatures and when used on non-porous surfaces.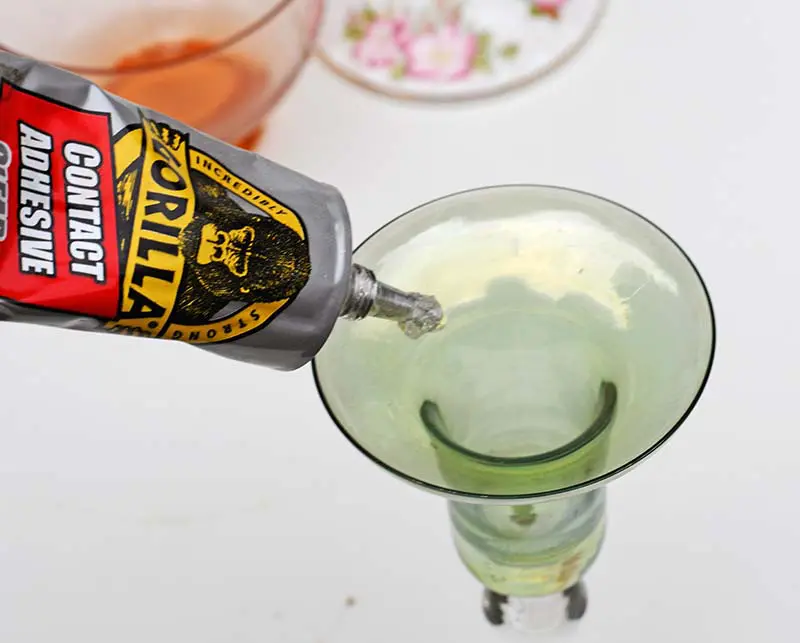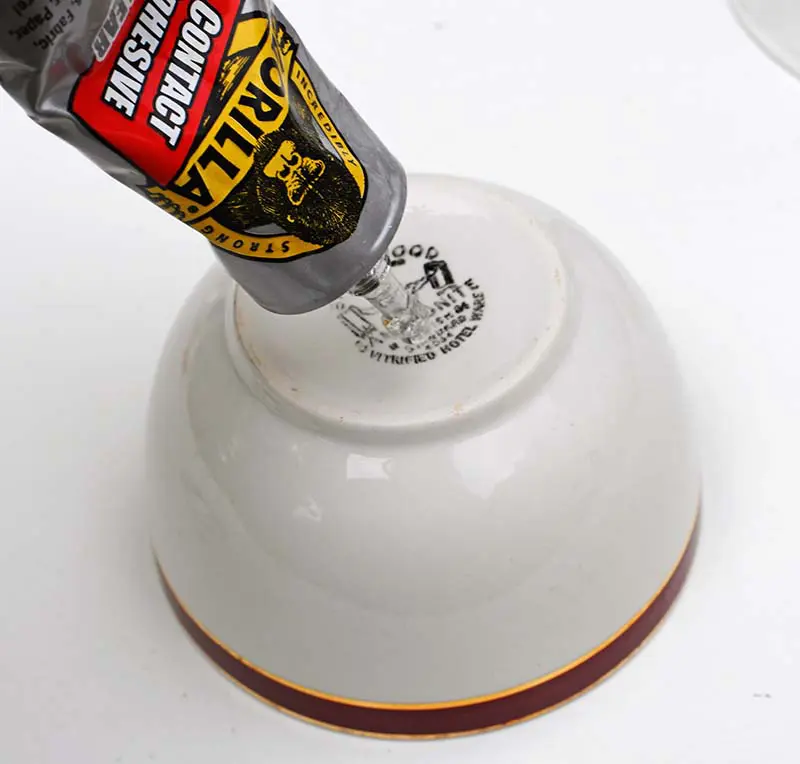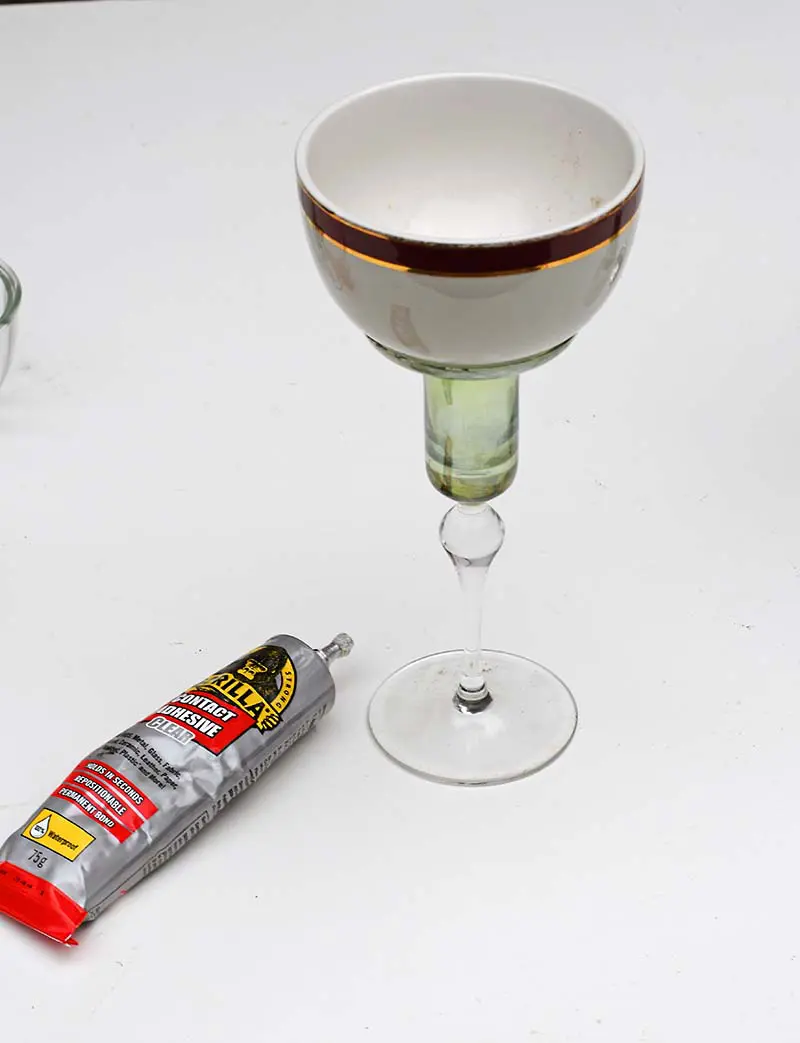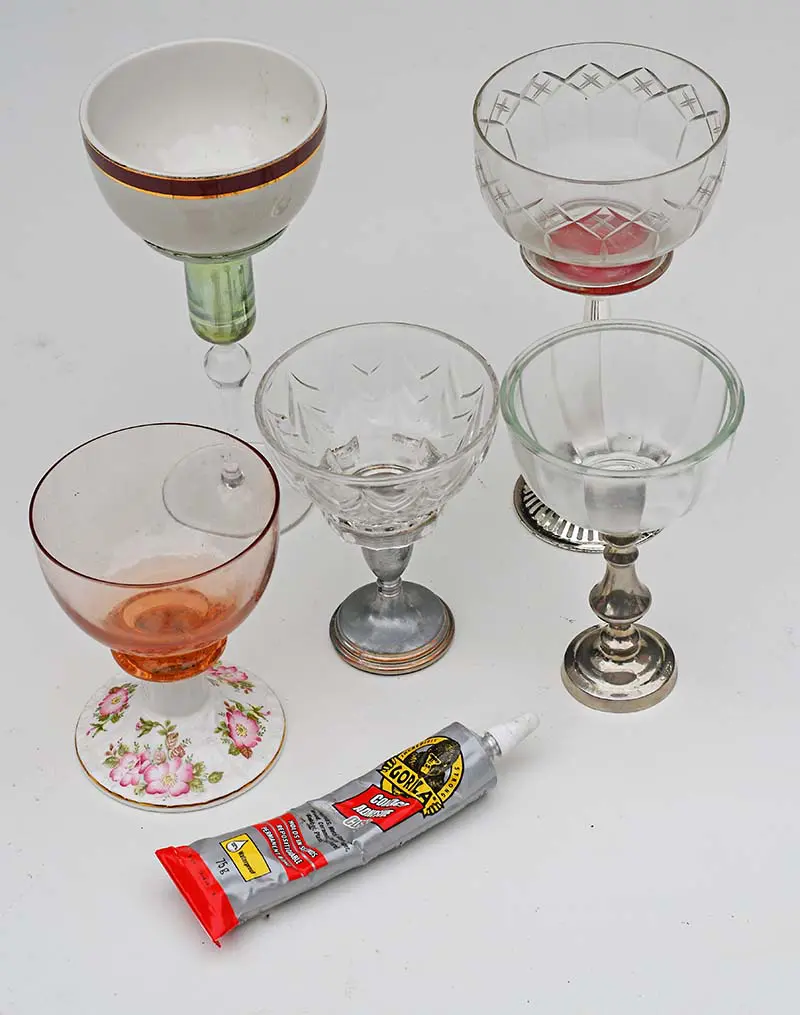 Step 3: Once the Gorilla Contact Adhesive Clear has had time to cure, you can move on to painting the repurposed planters. I made five DIY planters and used five different coloured spray paints to create a rainbow. I used red, orange, yellow, blue and green colours.
Both the outside and inside of each planter was spray painted. Remember, when spray painting, it is best to do this outside. You can also spray plastic bottles to make planters.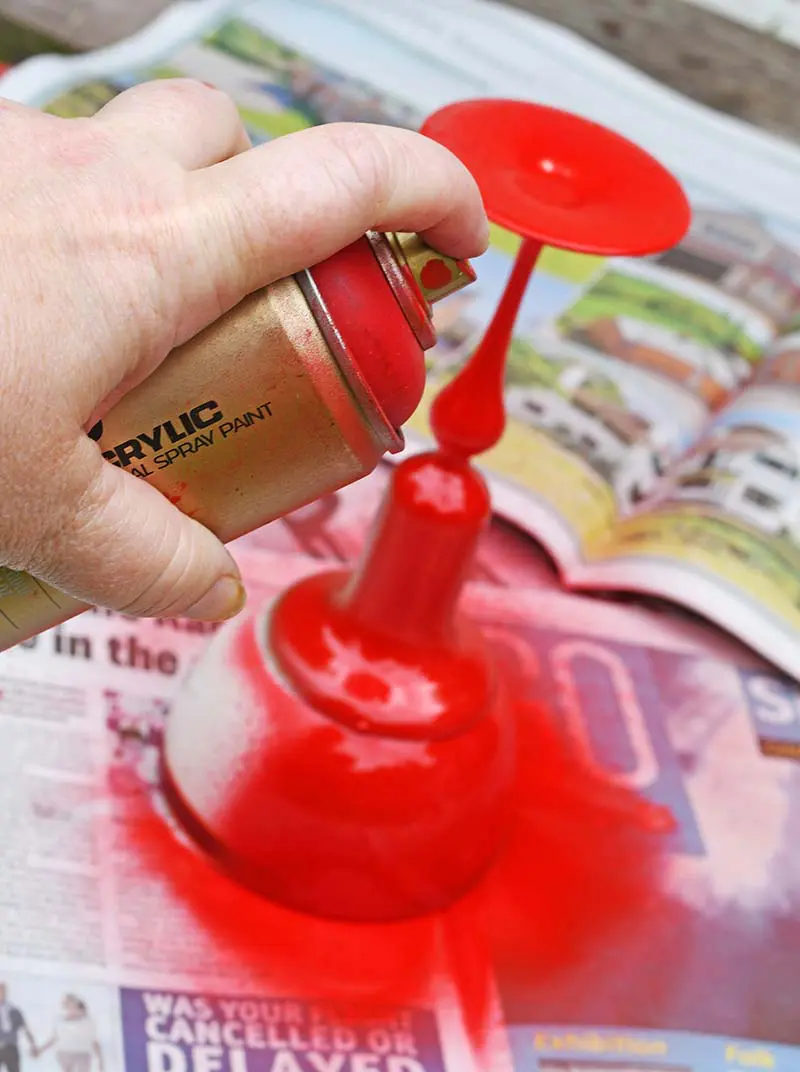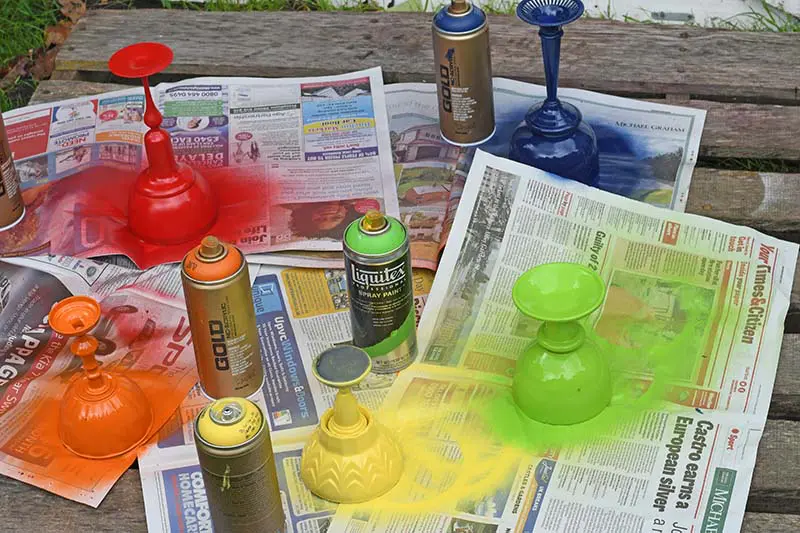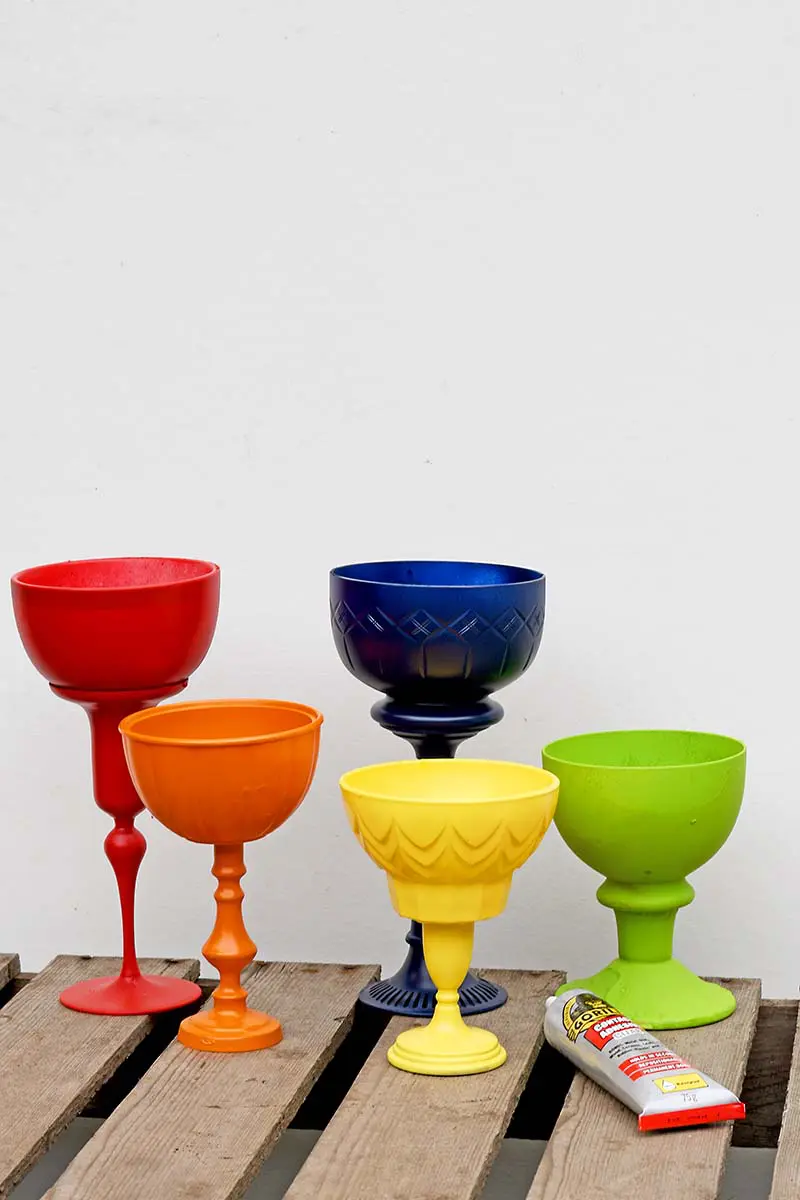 Step 4: Plant the succulents into the glasses once the paint has dried. There are no drainage holes with these repurposed planters, so I added a layer of gravel at the bottom of each planter. This will help with drainage. Just make sure you don't overwater the succulents.
Then add a succulent-specific compost before potting the succulent. There are some excellent tips for planting succulents in containers here.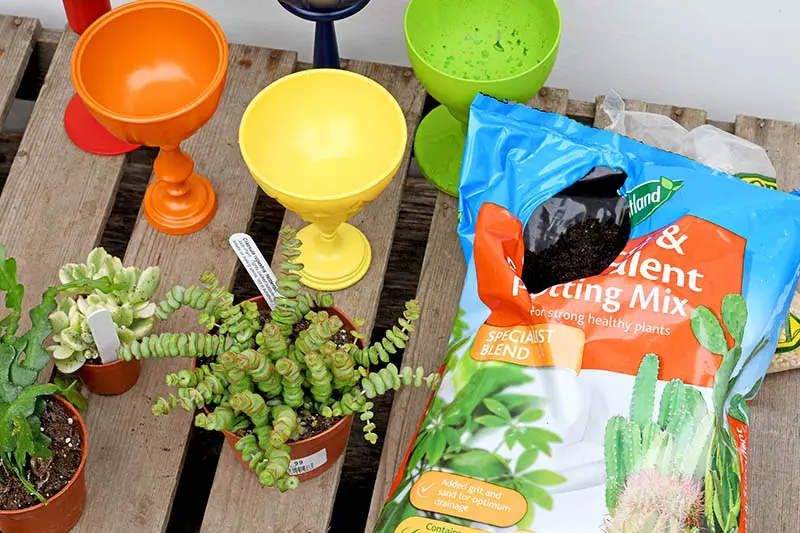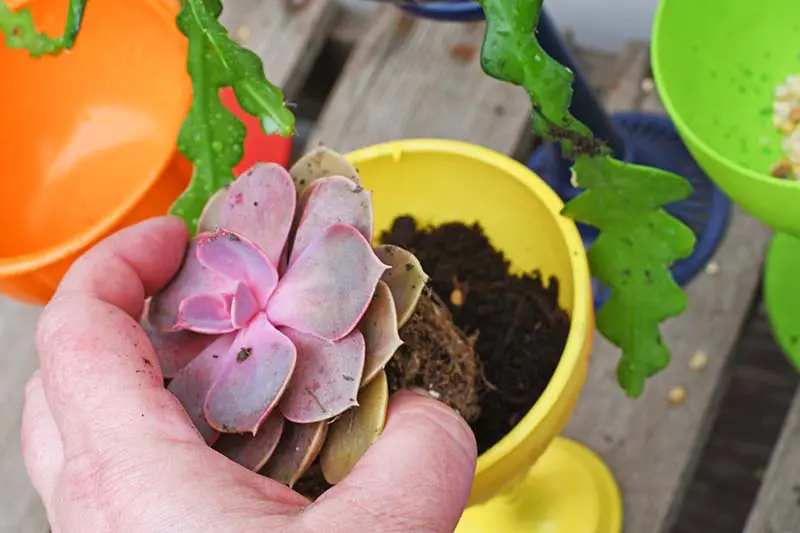 Choosing Succulents
As I mentioned initially, the most challenging thing about this craft was deciding what succulents to plant. For a fun display, I chose a different type of succulent for each planter. I potted succulents in the upcycled tall planters that overhang the edge of the repurposed containers.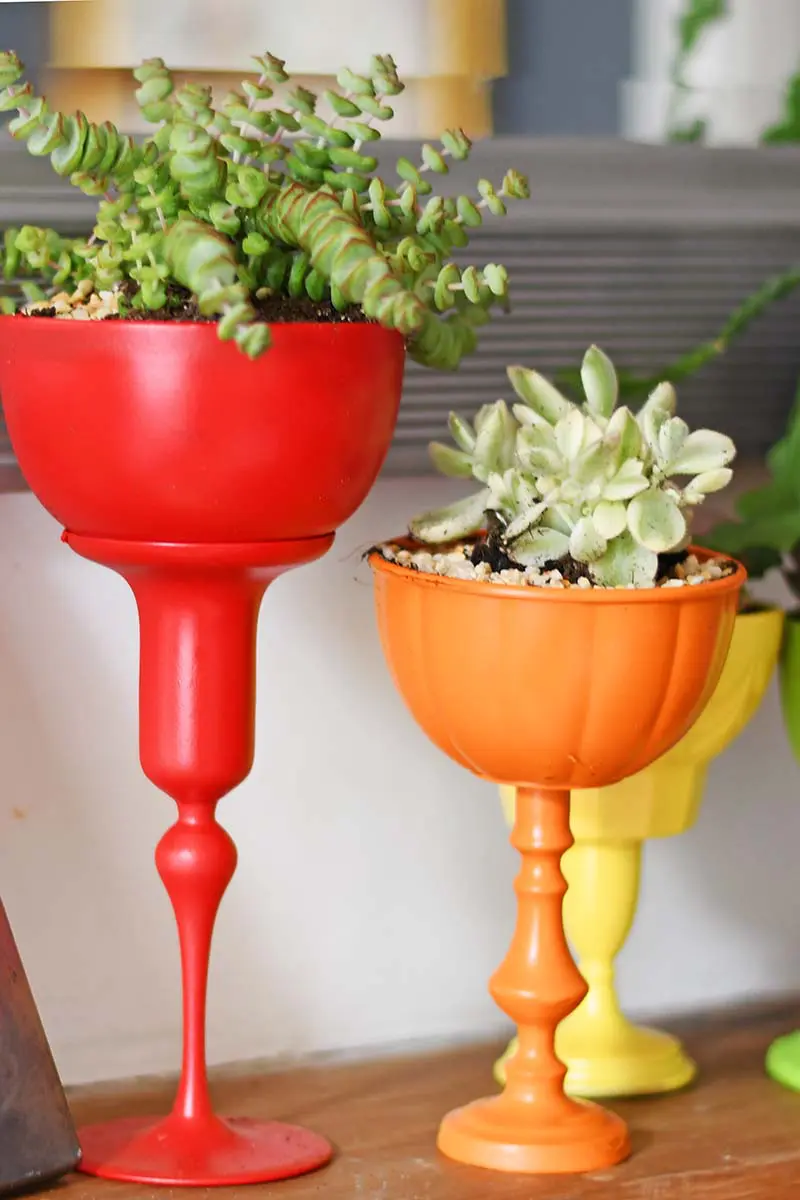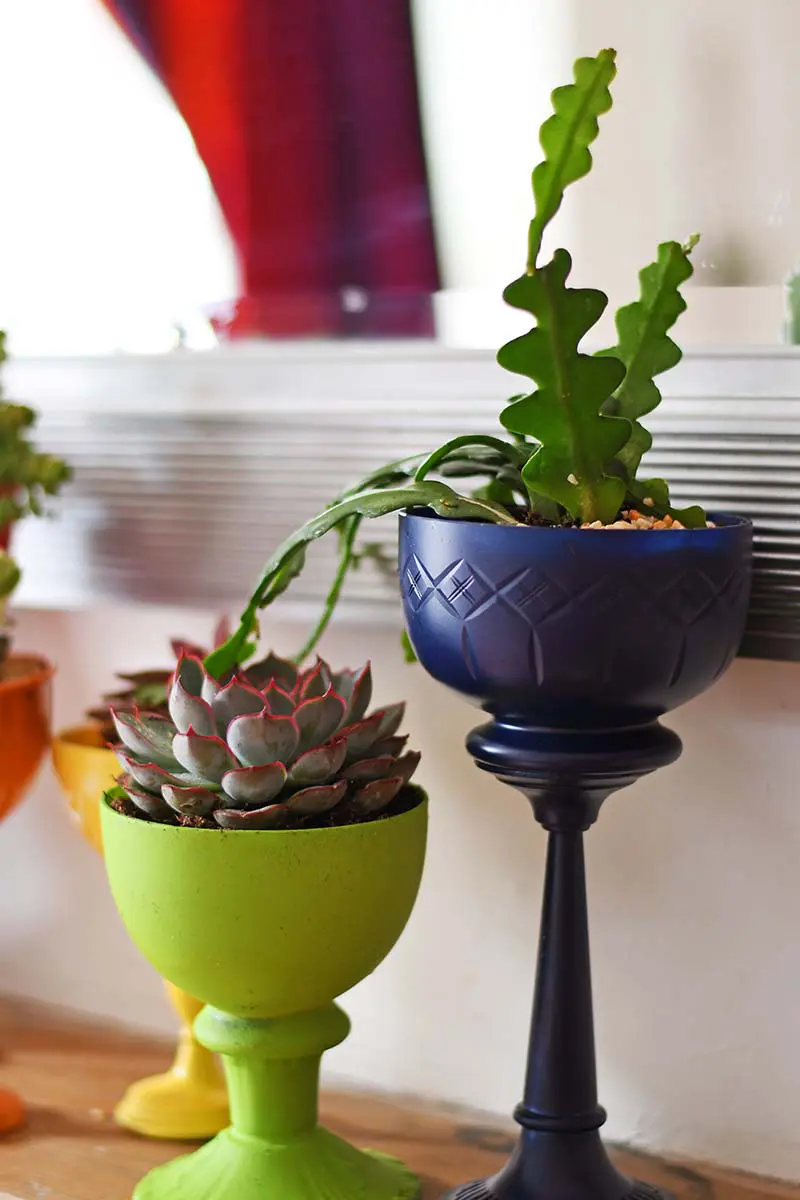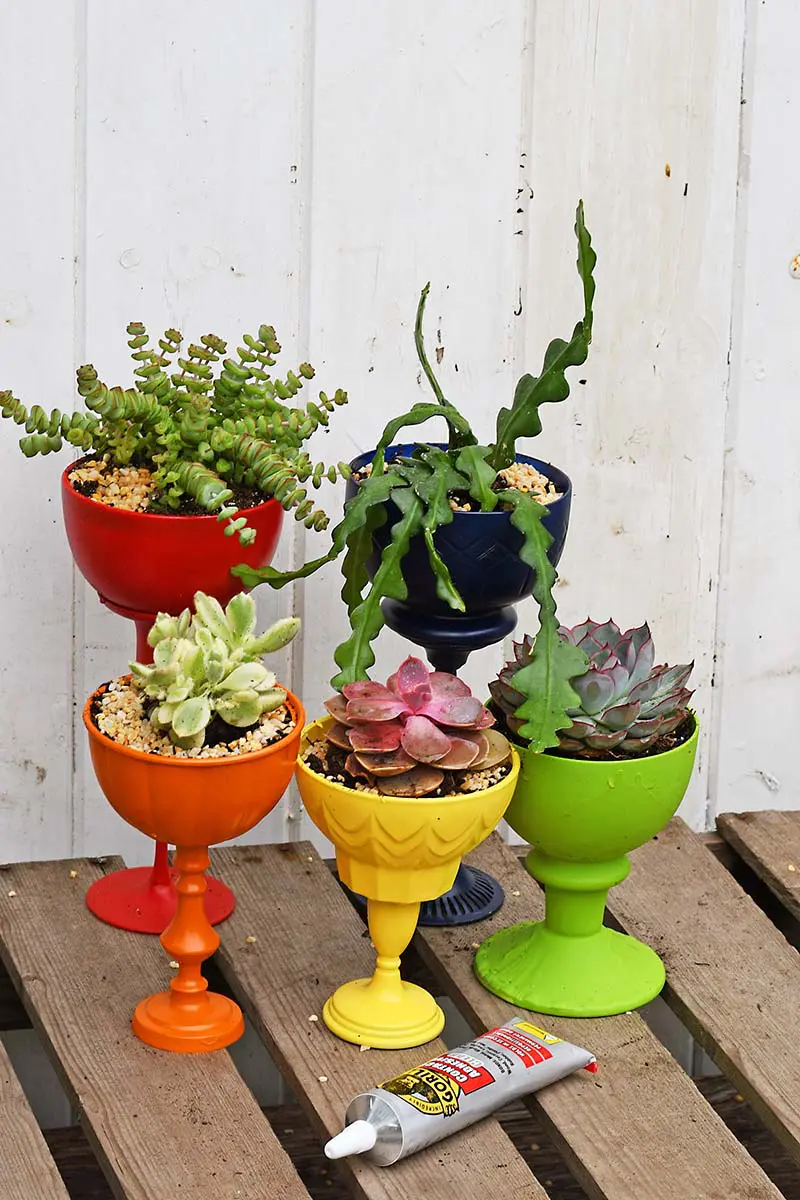 The rainbow of repurposed succulent planters has brightened up my mantle. Every time I visit my local charity shop, I'm on the lookout for more things I can turn into planters.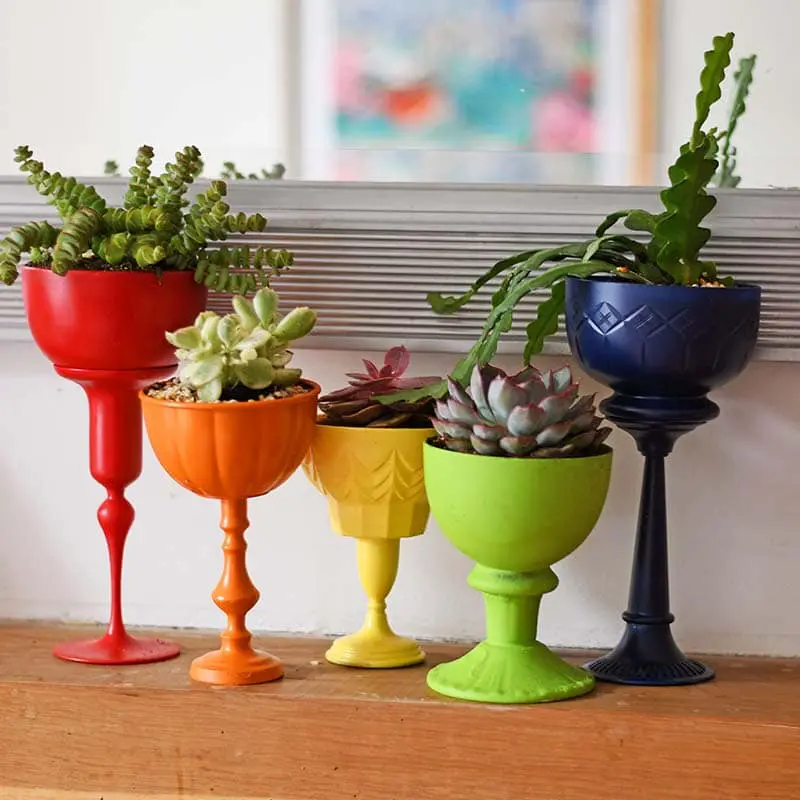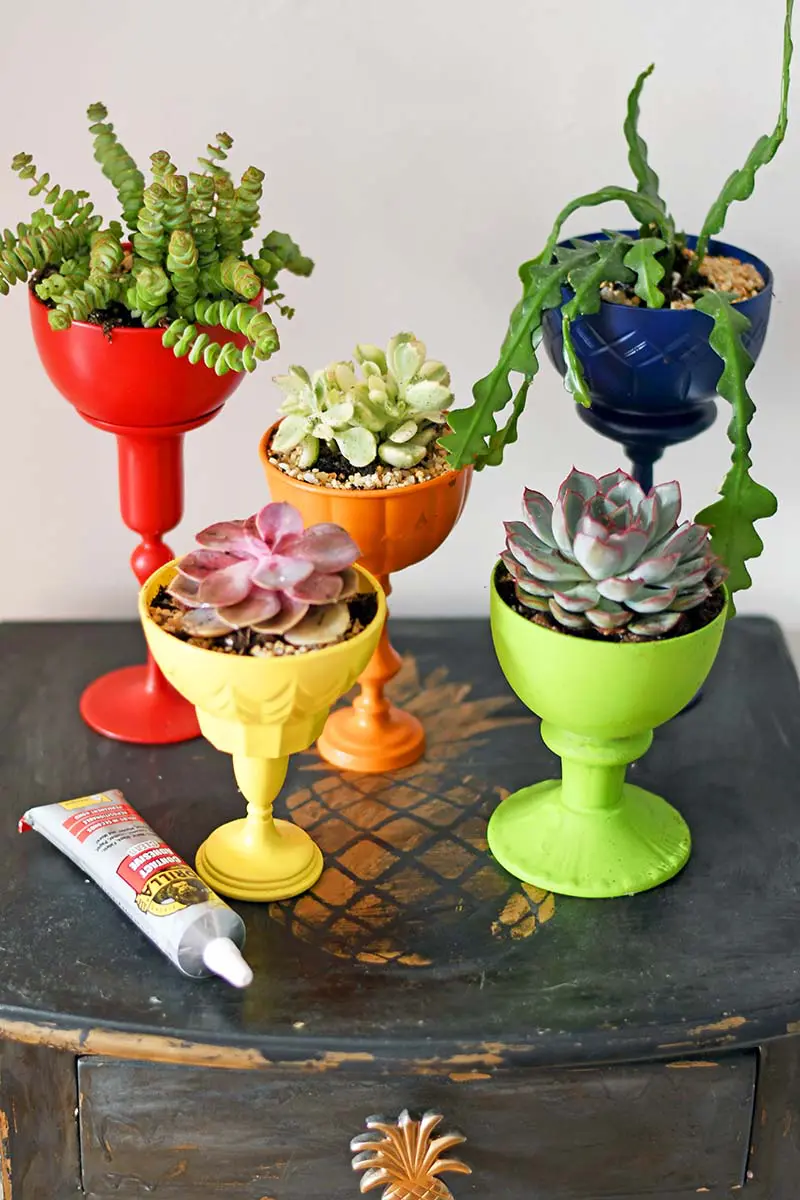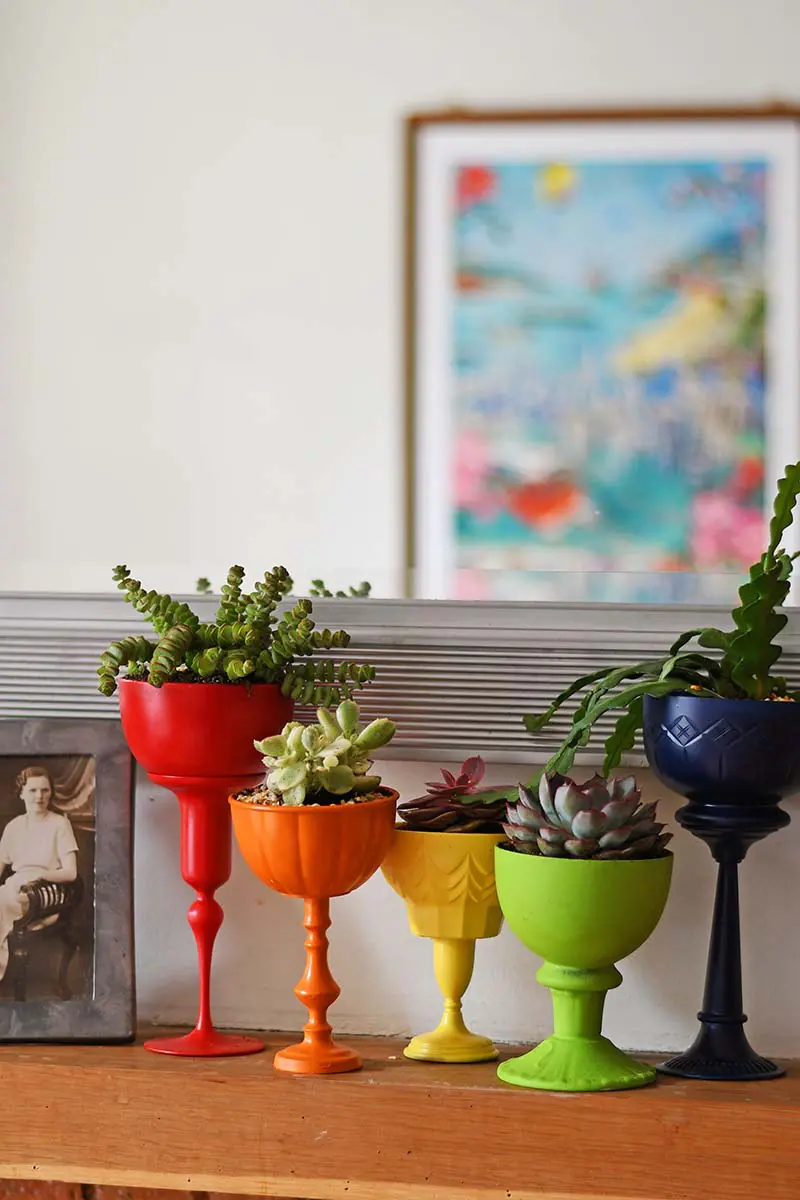 Yield: Tall Rainbow Succulent Planters
Make Upcycled Tall Succulent Planters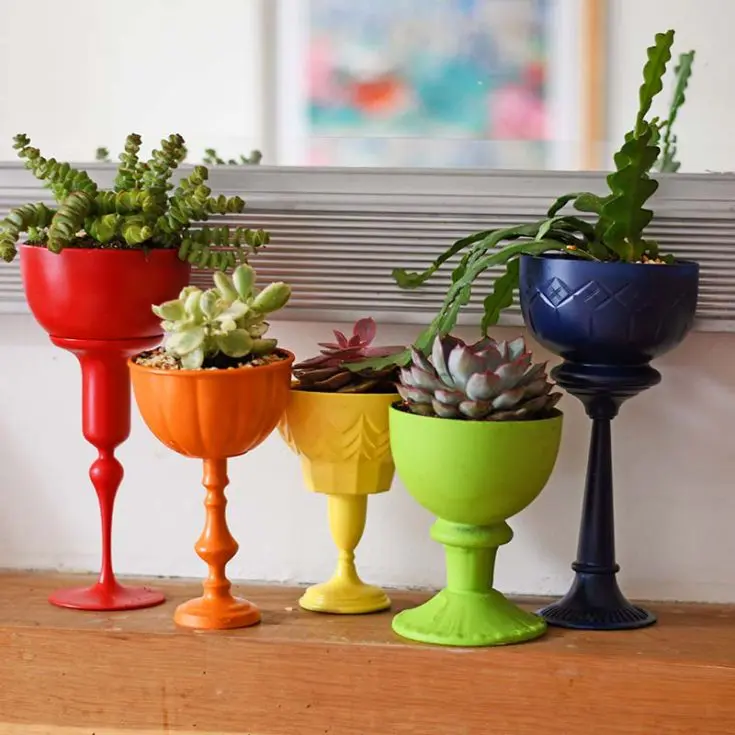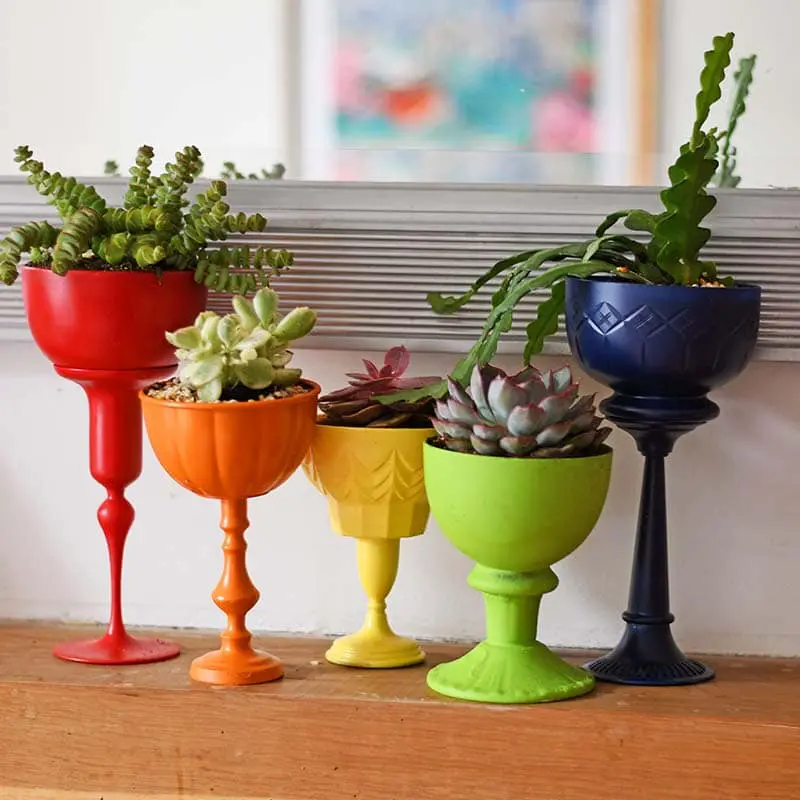 These gorgeous rainbow succulent planters are so easy to make and a great way to display different succulents. They look great on a mantle.
Total Time
2 hours
30 minutes
Materials
Old bowls, glasses and candlesticks
Gorilla Glue Contact Adhesive Clear
Coloured spray paint
Succulents, soil and pebbles
Instructions
Glue small bowls and cups to the top of candlesticks and glasses of various sizes
Spray paint each planter a different colour from the rainbow
Put a layer of pebbles in the bottom of each bowl.
Add soil and succulents.
Recommended Products
As an Amazon Associate and member of other affiliate programs, I earn from qualifying purchases.
Check out these fabulous rainbow thistle decorations if you are a fan of rainbows in home decor. You should check out these rainbow DIY pom-pom flowers and fabric flowers if you don't feel very green-fingered but like the colourful decor.
Or you might want to check out some of my other repurposed planter ideas.