Inside: The best tutorial and craft ideas for making handmade fabric flowers.
Walk into my dining room, and one of the first things you'll notice is the large jug of colour, fully poppy seed heads in the middle of the table.
They are gorgeous and make me smile.
But the best thing about them is that they look as good as when first made; they won't wilt and die.
Ok, they might not smell like fresh flowers, but there is no risk of any stinky flower water needing to be changed.
I shouldn't be comparing fresh flowers with faux flowers, as they are both beautiful, and I love them both.
A house full of flowers is a happy place!
Making Flowers Out of Cloth
The following DIY handmade flower patterns are a mixture of sewing and no-sewing crafts.
Most sewing tutorials are small hand-sewing projects, but a few can be speeded up by sewing with a machine.
Dig into your fabric stash and use the tiniest of fabric scraps. Making cloth flowers is a great way to repurpose fabrics from up-cycled denim, bedsheets, felted wool sweaters and even fabric swatches from furniture stores.
Manipulate synthetic materials with heat to make curved petals and singed edges when creating realistic-looking flowers.
The patterns below include popular flowers such as roses, poppies, tulips and daffodils.
Many generic fabric flower ideas are meant to look like flowers, not one species in particular.
How To Use Fabric Flowers
Fabric flowers are fun to make for yourself, but they also make a lovely handmade gift, especially for occasions like Mother's Day.
There are many ways to use fabric flowers.
Display them in vases and pots like natural flowers
Use them to make decorative door wreaths
Use them as decorative embellishments on pillows and lampshades.
Add them to your clothes, bags and shoes
Make them into brooches and corsages
Use them for handmade jewellery projects such as rings and necklaces.
Make pretty hairbands with fabric flowers.
Use them as gift toppers, where they also become part of the gift.
Make a gorgeous keepsake bridal bouquet.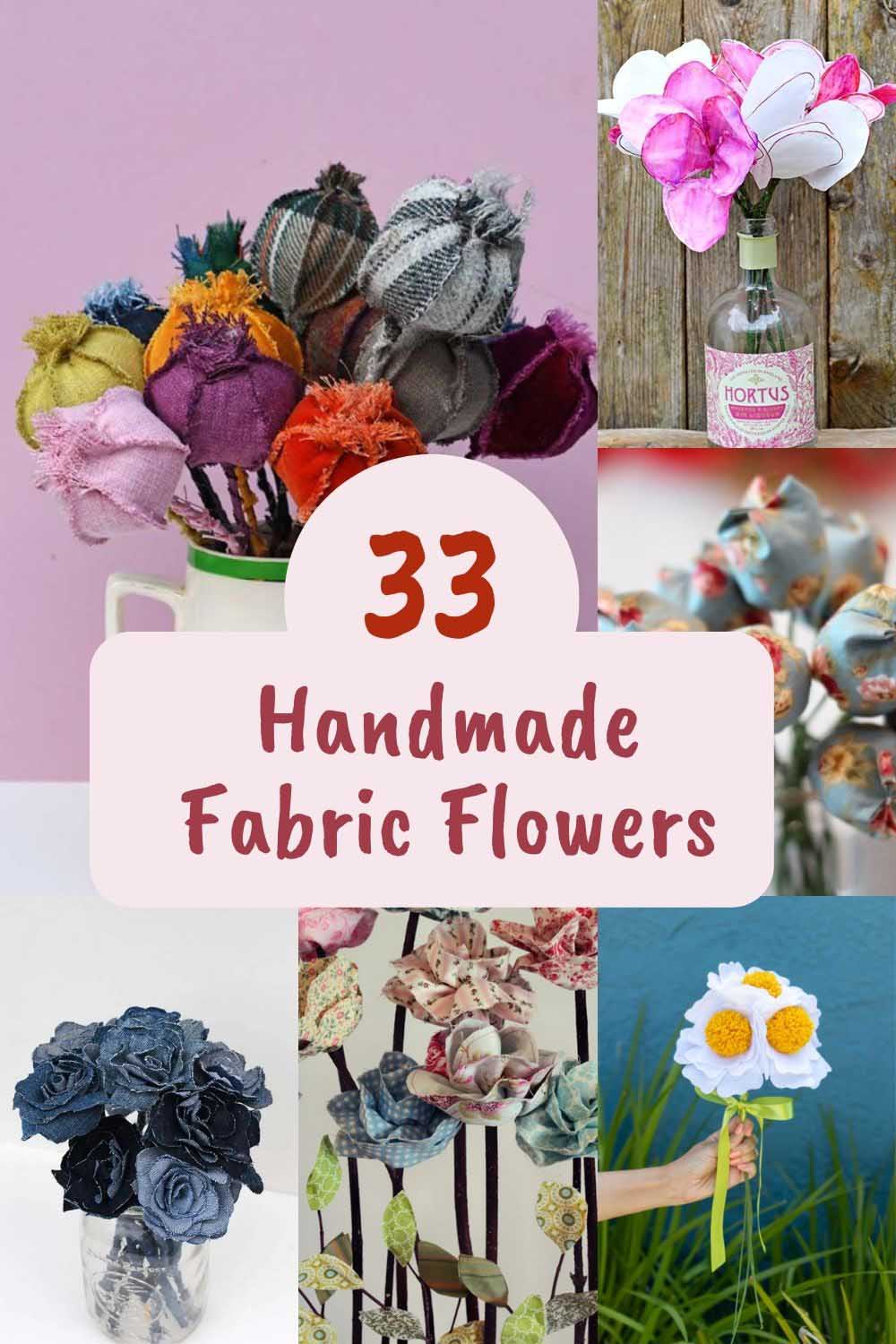 Handmade Fabric Flowers
Handmade fabric flowers won't wilt and die. From peonies to roses, here are the best tutorials and patterns for making cloth flowers.
Other Flower Posts
Fabric flowers are fun and versatile, but paper ones are great, too, some of which can look very realistic.
Check out this paper flower wall decoration with many different crepe paper flowers. Or even the giant paper flowers in this Boho leather vase.
Upcycled map roses make a lovely personalised gift that will last forever. And these rainbow pom pom flowers add a fun pop of colour to home decor.
Painted pinecone flowers can look realistic.
Other plants besides flowers can also be made from fabric; check out this gorgeous upcycled succulent garden and these fabulous DIY mushroom ideas.
More flower-themed crafts to check out on the site are the Frida Kahlo crafts and the fun Marimekko flower crafts, including poppy shaped pillows.
There is a fantastic collection of free vintage flower prints for flower lovers.