Discover the art of upcycling with our comprehensive guide to creating a stylish woven denim pillow from old jeans. It's eco-friendly and chic!
One of my favourite things to make for my home out of upcycled blue jeans, besides rugs is denim throw pillows. This is a tutorial for a woven denim pillow.
On Pillarboxblue, various tutorials show how to make different types of denim pillow covers. There is an iPhone denim pocket pillow, which I made for my son. A repurposed denim fish pillow I made for the outdoor sofa. Also a Boho jeans pillows, I made by combining denim and sari trim.
How To Make Woven Denim Pillows
I upcycled jeans to make a woven denim pillow for my latest project. Scraps of fabric from several pairs of old blue jeans made the throw pillow.
One of my favourite things about upcycling old blue jeans is all the different shades of indigo. And a woven pillow is a fabulous way to show this off. Also, it is a great way of using those leftover scrap pieces of denim that are too small for larger upcycles.
Another reason I made this woven denim pillow is because I think the frayed edges of the strips give the throw pillows a bit of a Boho look and feel. And I love a bit of Boho in my home.
Just as a side note and as an apology to my British readers. I know that a pillow is something you lay your head on at night in bed, and a cushion is something you put on your sofa. I'm so used to looking at American interior blogs and websites that I now call cushions pillows. I didn't notice until my friends pulled me up over it.
You should have seen the look I got the other day when I said burlap. My friends thought I was rude until I told them it's what the Americans call hessian.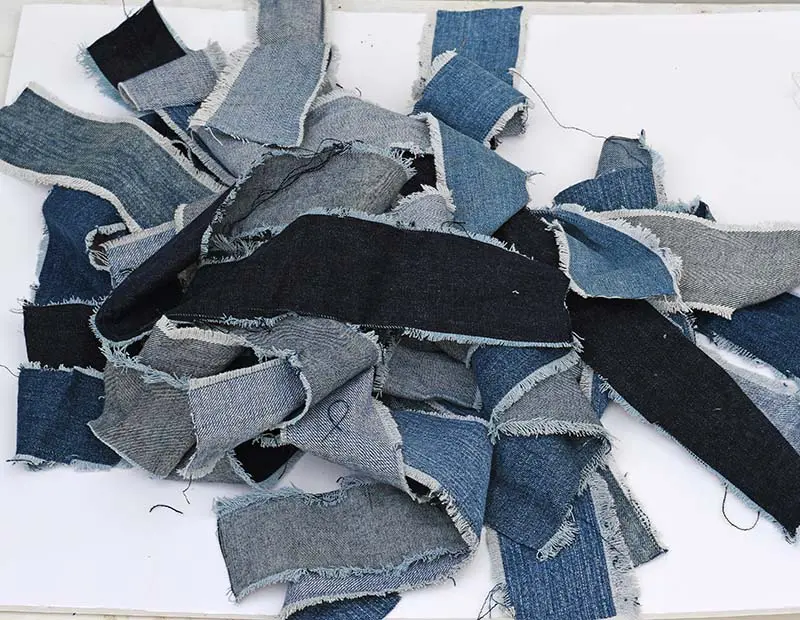 We're a participant in the Amazon Services LLC Associates Program, an affiliate advertising program designed to provide a means for us to earn fees by linking to Amazon.com and affiliated sites. As an Amazon Associate, I earn from qualifying purchases.
Materials Needed
A selection of denim scraps from old jeans in various shades of blue.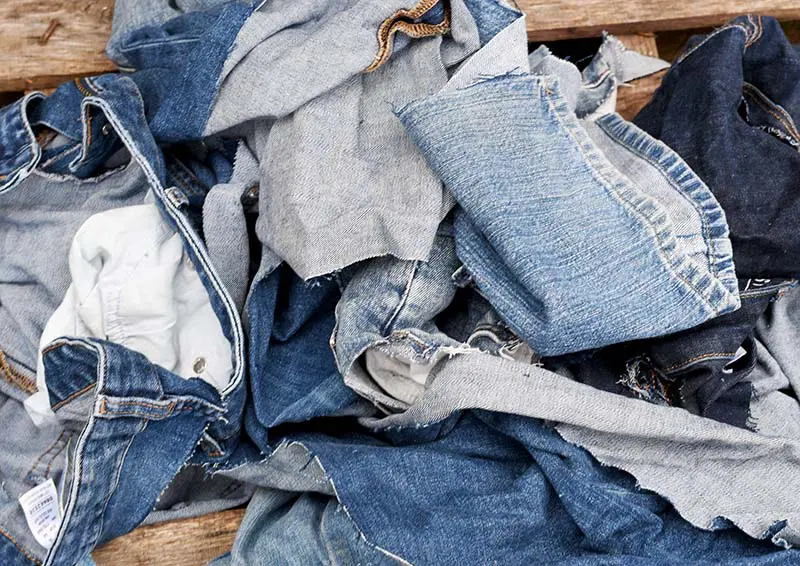 Piece of cardboard to make a template
Fabric for the back 2 pieces approx 52 cm x 40 cm
Foam board and thumbtacks
Sewing machine
Pins and needles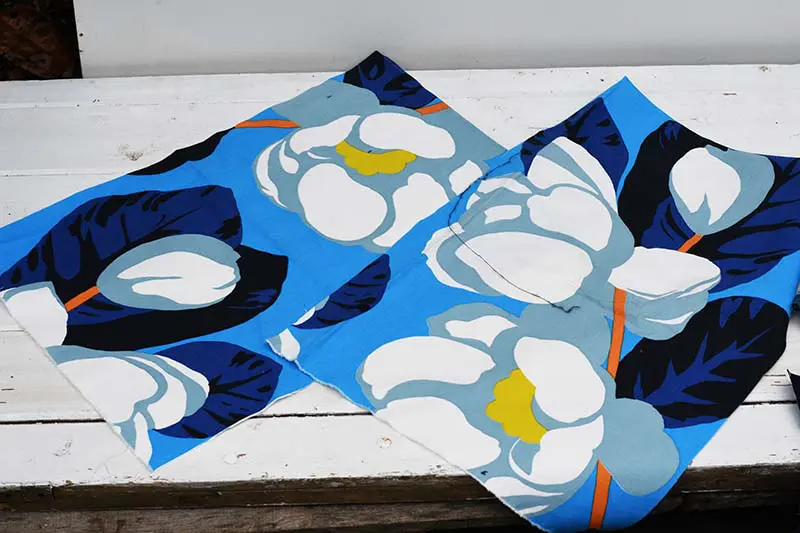 How To Make A Woven Denim Pillow
Step 1:First, make a template out of cardboard approximately 52cm long and 6cm wide.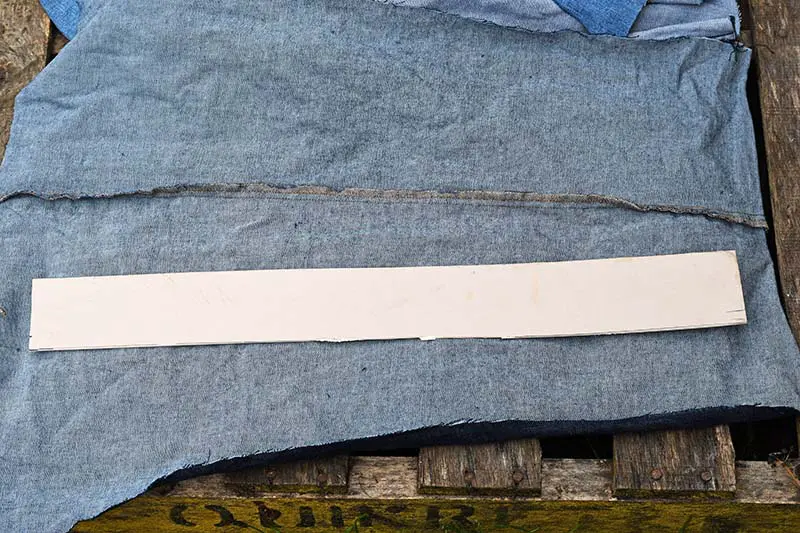 Step 2: Using this template and the rotary cutter, cut out 18 strips of denim fabric from the jeans. Using denim in various shades of indigo will look better for the finished woven denim pillow.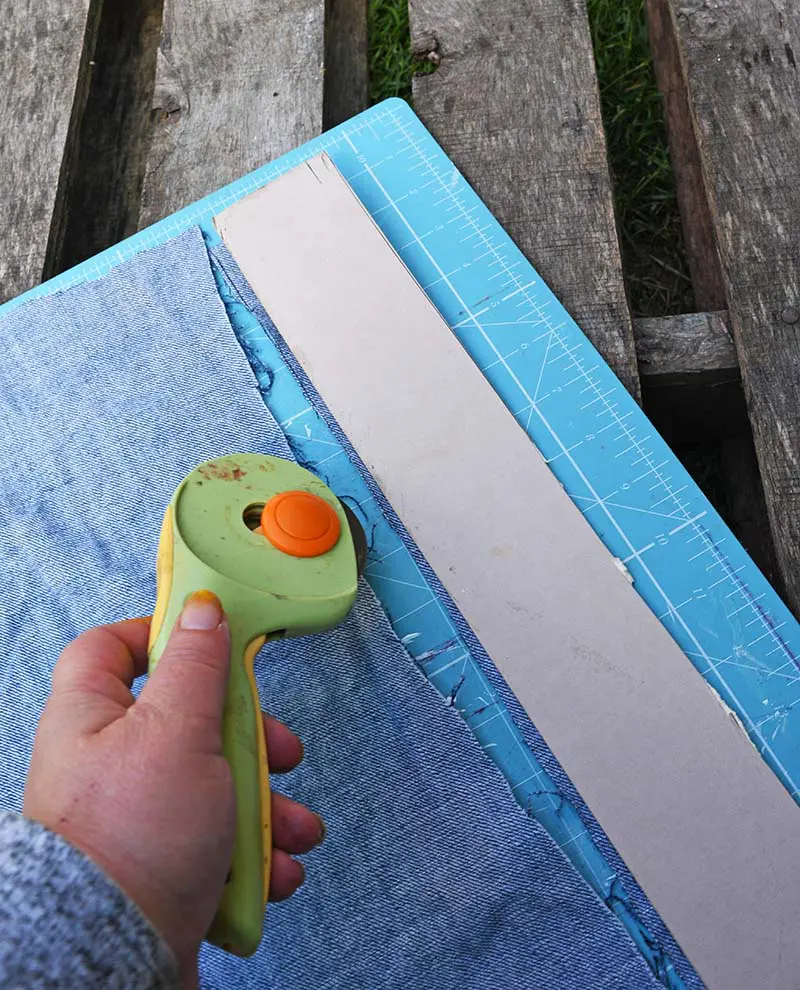 Step 3: Next, get hold of one of the strips of denim and fray the long edges. Do this by pulling out the threads at the edge one by one. This is the same method I used to make denim feathers. I pulled out at least three rows of threads on each side. Repeat with all the strips of denim.
This is easier to do with non-stretch denim fabric, but it can still be done with stretch denim; it's just a bit fiddlier.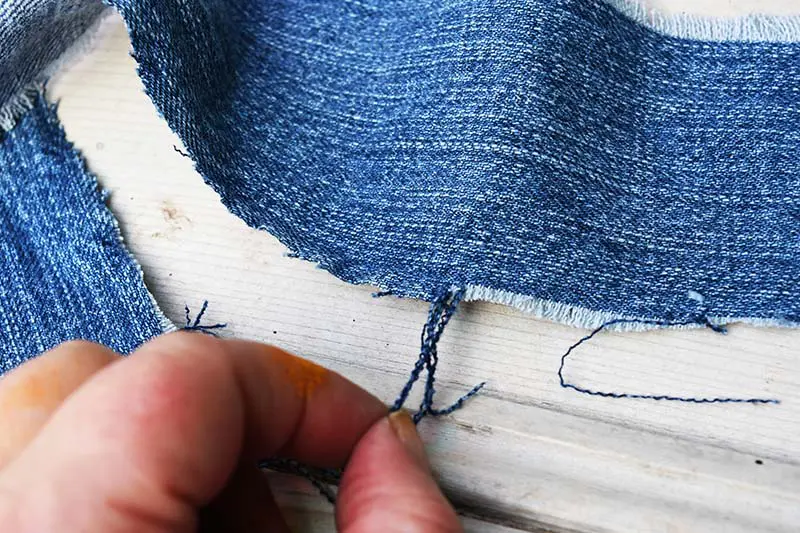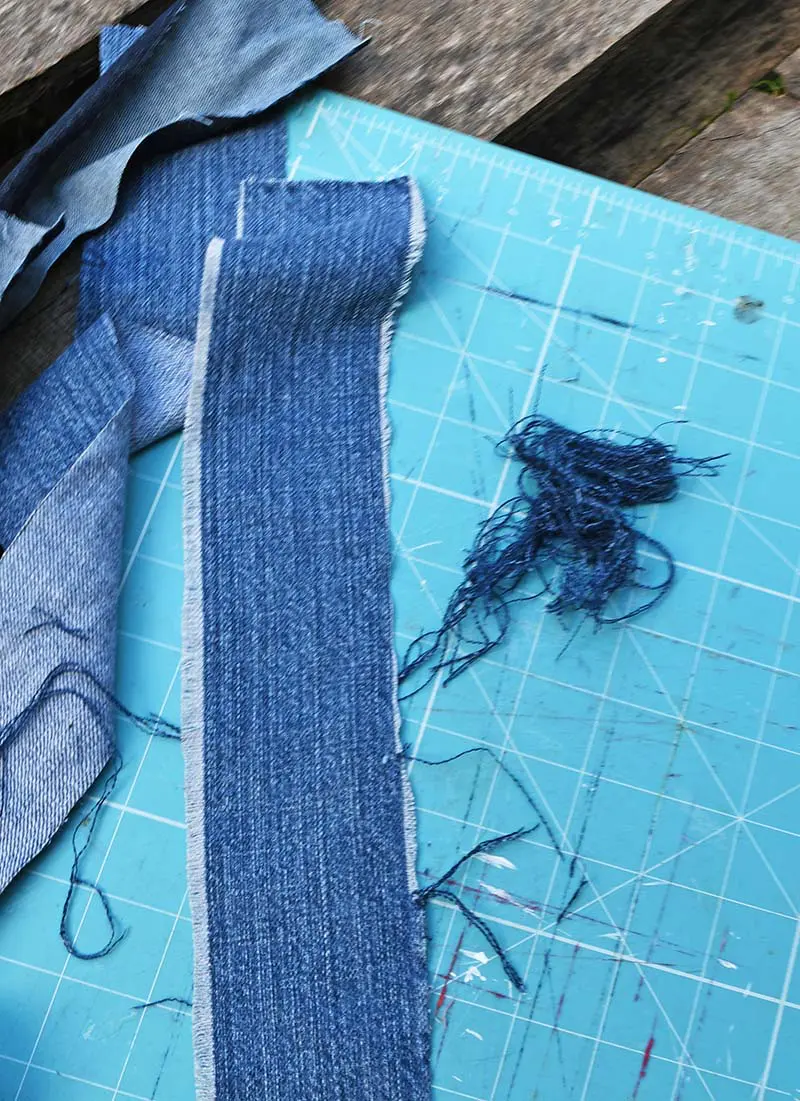 Step 4: Next, gather up all the frayed denim strips. Take half of the strips and pin the top of them to the foam board using the thumbtack. Pin them to lie next to each other and mix up the indigo shades.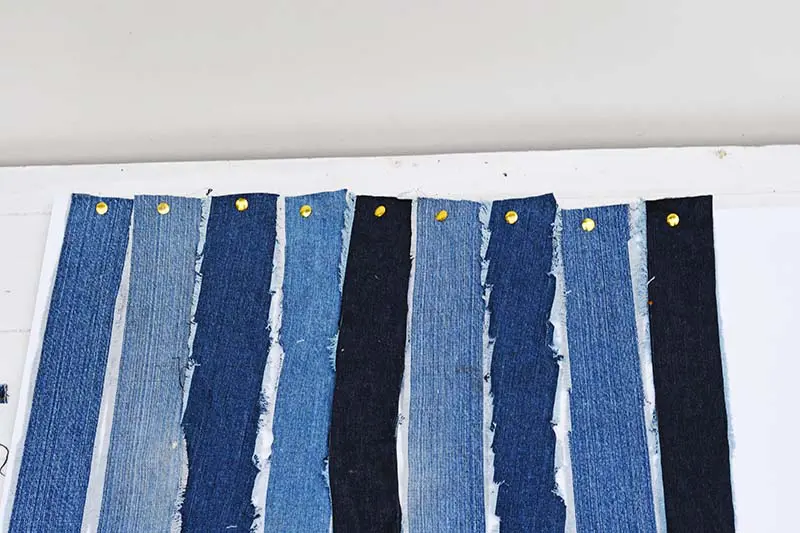 Step 5: Then weave one of the other strips across the rows of denim strips. Secure this denim strip in place with a thumbtack. Repeat with the other eight denim strips.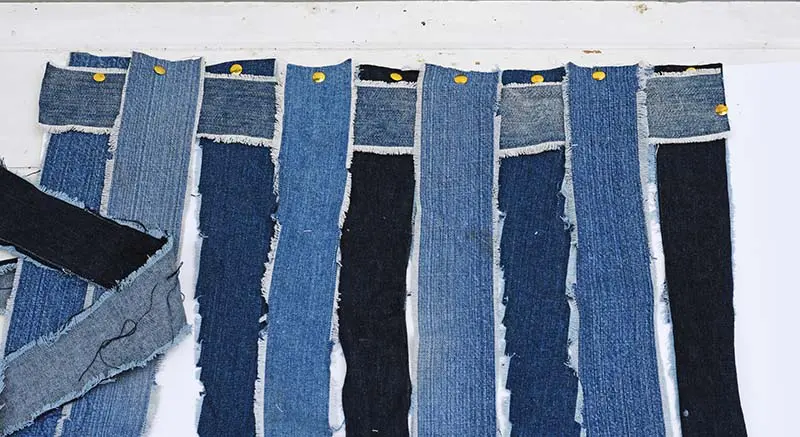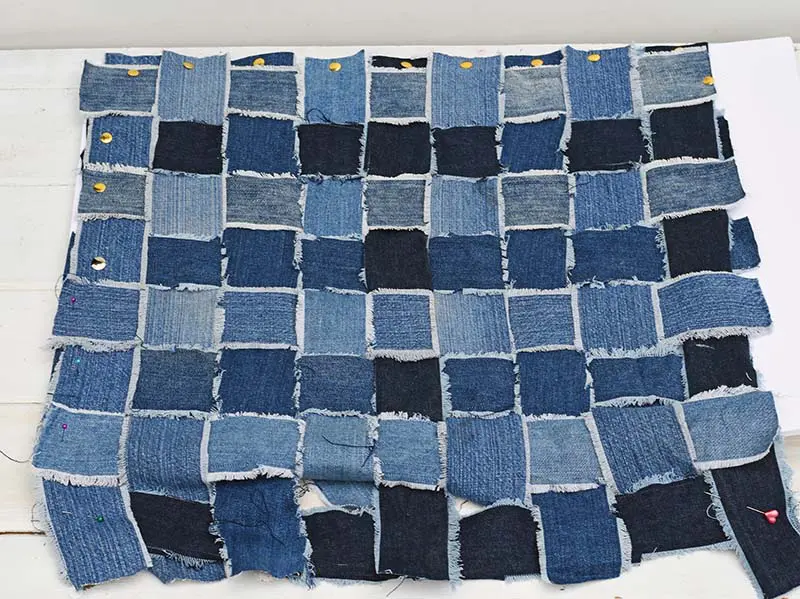 Step 6: I made my woven denim pillow without stitching across all the woven denim strips. This gave the pillow a nice relaxed woven look. However, if you want to keep the denim strips rigid, I suggest you stitch across them before making the back of the pillow.
Step 7: Next, prepare the back of the pillow. I made an envelope-style cover for this denim woven pillow. (If you prefer a zip cover, there is a tutorial here ).
I cut two pieces of fabric from my fabric stash into approximately 52 cm by 40 cm. I stitched a 5 mm hem along the 52 cm edge on one of these fabric pieces.
Then, I pinned the two pieces of backing fabric right sides together with the woven denim. The two pieces of backing fabric will overlap, so the hemmed edge will be the top edge of the pillow.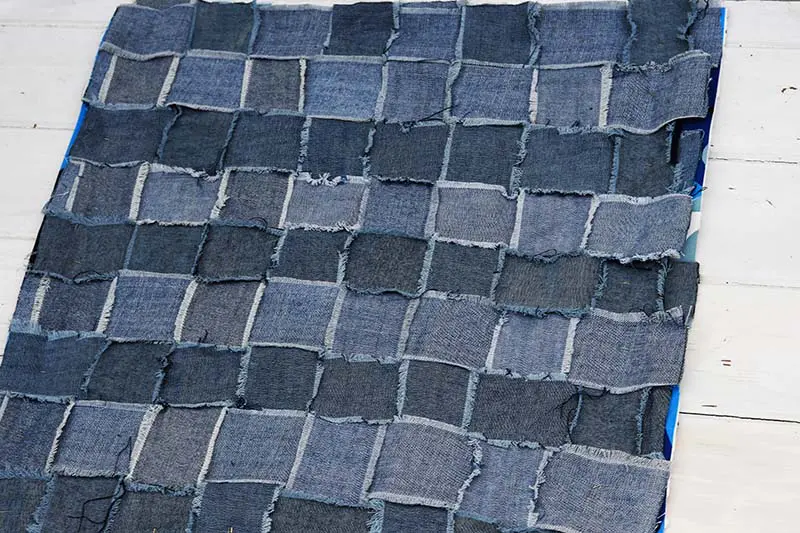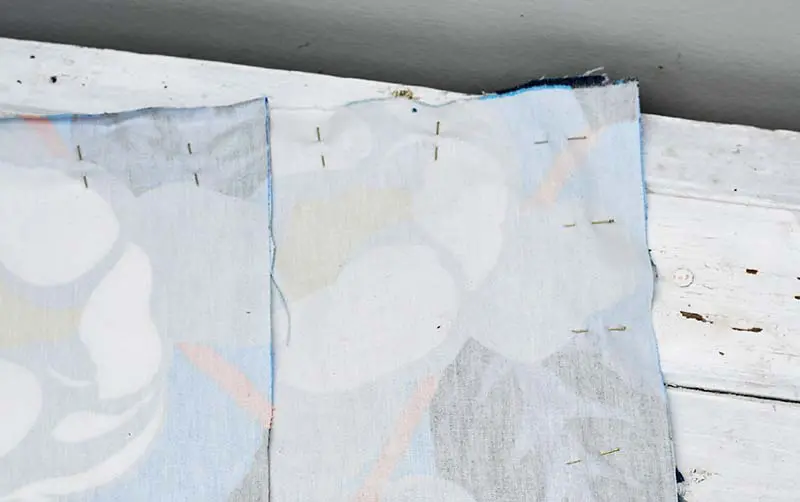 If you have not made an envelope pillow cover before, a tutorial here helps explain how to.
Step 8: Stitch up all sides on a sewing machine to finish the woven denim pillow cover. Then turn the envelope right sides out and pop in a cushion pad.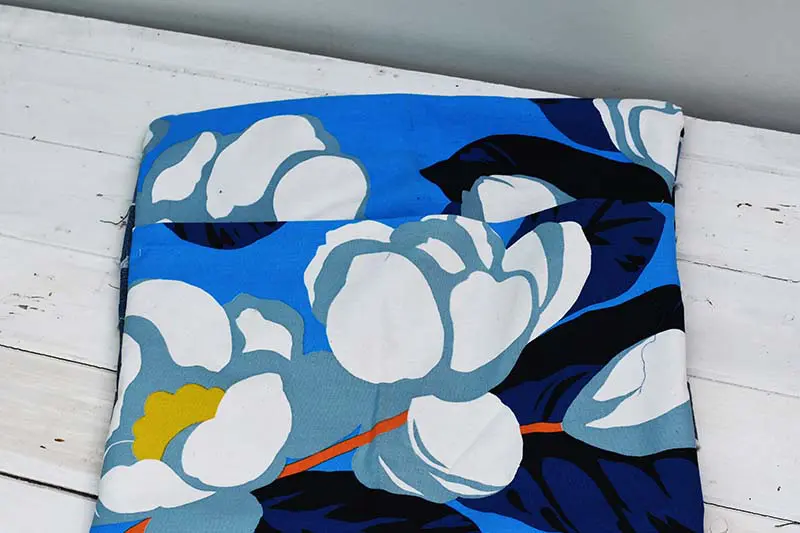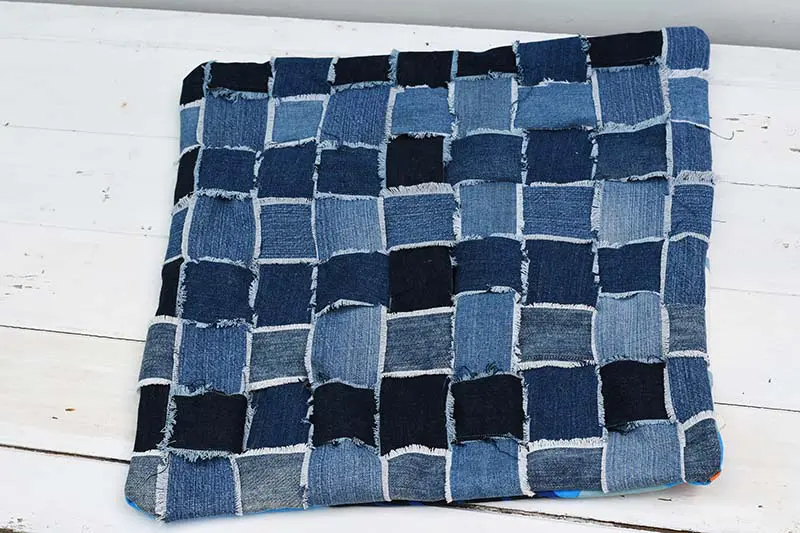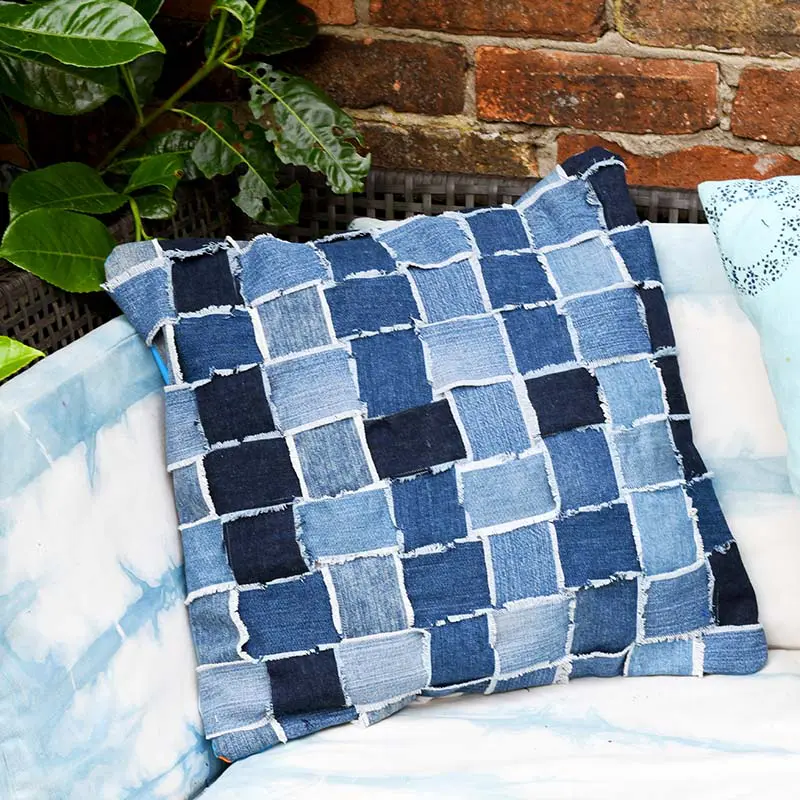 The woven denim pillow looks great on my shibori-dyed sofa in the garden. Weaving the different coloured denim strips gives the blue jean throw pillow a chequerboard look.
I used the same backing fabric on these woven pillows with my patchwork denim placemats. They both look great together.
There is also a tutorial for making woven denim coasters and woven denim lampshades; the difference is that these crafts use the seams and hems of old jeans and are a no-sew denim upcycle.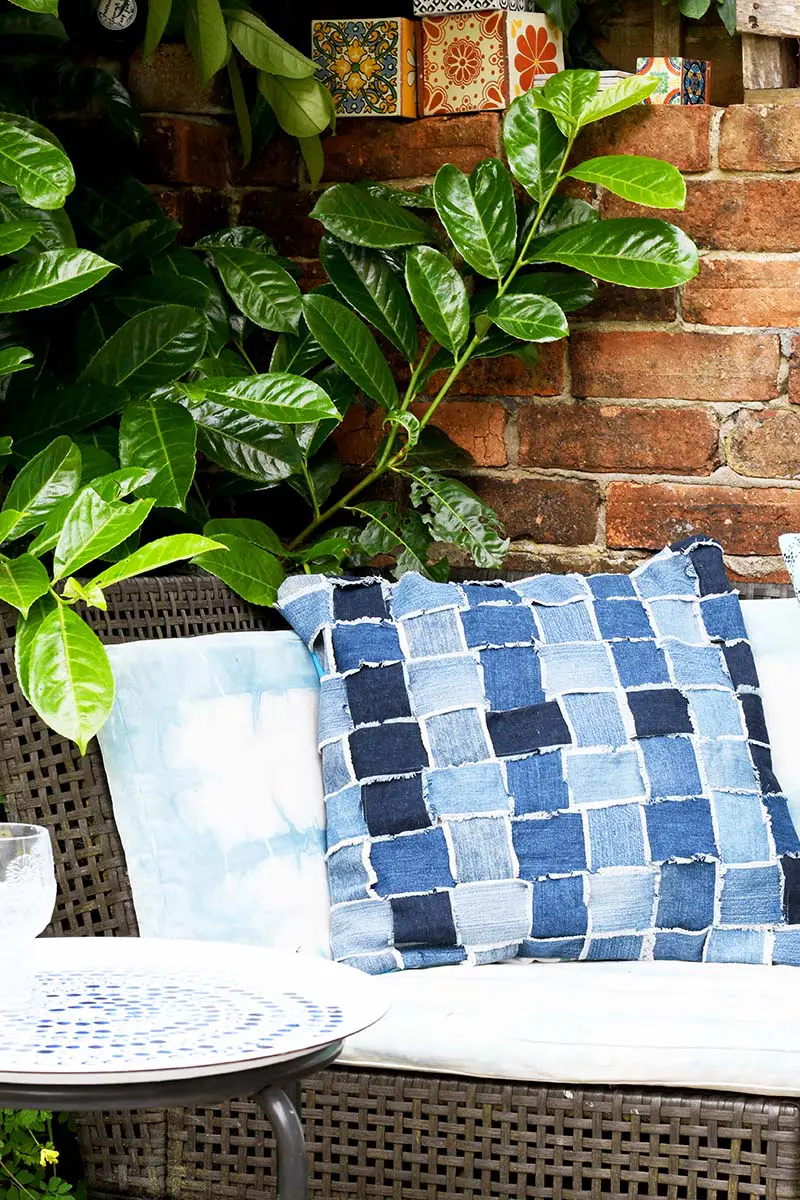 Yield: Woven Denim Pillow
How To Make An Upcycled Woven Denim Pillow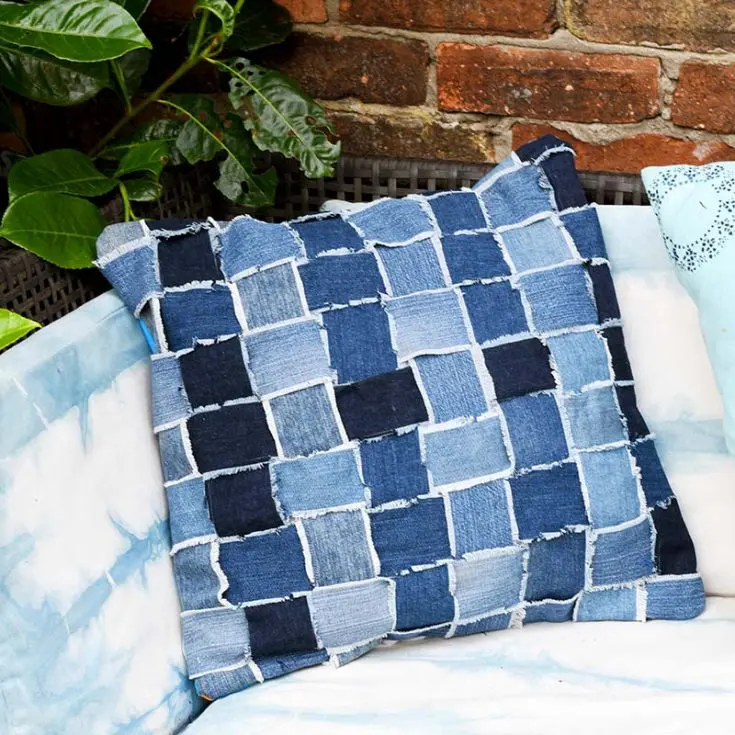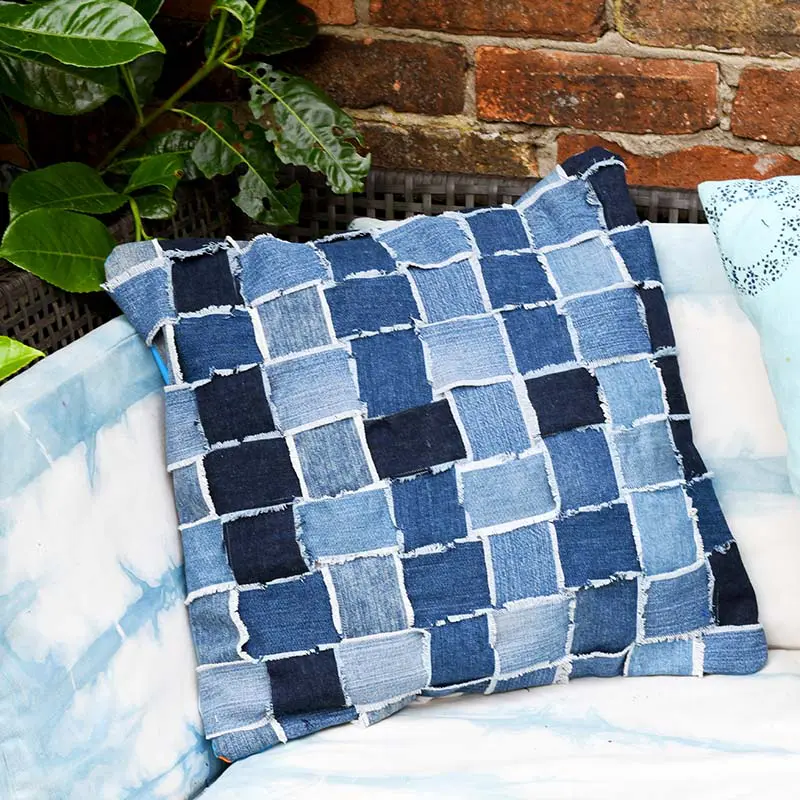 A tutorial for a chequered board looking woven denim pillow from old jeans.
Total Time
2 hours
30 minutes
Materials
Scraps denim from a variety of old blue jeans
Backing fabric of your choice 2 pieces 52 cm by 40 cm
Cardboard
Tools
Rotary cutter and mat
Sewing machine
Thumbtacks
Foamboard
Instructions
Make a cardboard template 52 cm x 6 cm
Using the template cut 18 strips of denim in various shades of indigo
Pin half the strips side by side onto foam board using thumbtacks
Weave the remaining 9 denim strips across the pinned denim strips
With spare fabric make an envelope pillow back
Pin the fabric back and woven denim right sides together
Stitch the two pieces together all around the edges
Turn the pillow cover right sides out and insert filler cushion.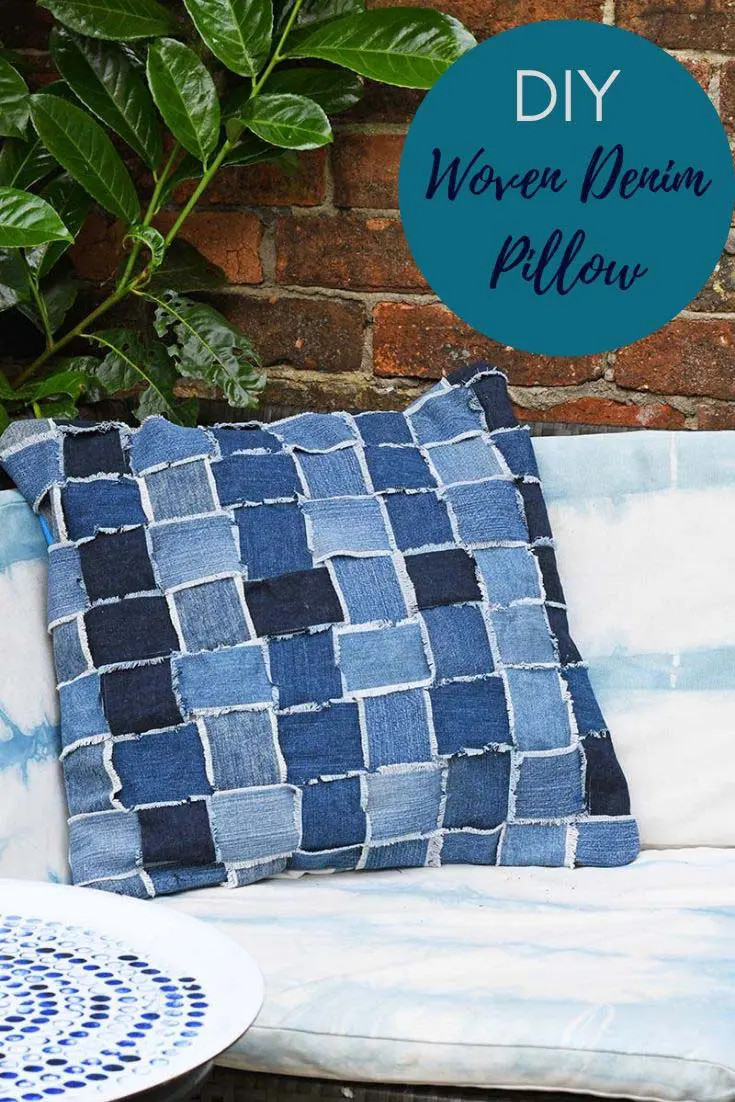 Check out these other DIY pillow ideas, and If you liked this post, you might want to check out some of my other popular denim home projects.
For more denim sewing projects, visit allfreesewing.com