Let me tell you a secret these DIY plant shelves don't have to be used to display plants. They are a handy set of mini-tiered wood slice shelves that can be used to display all sorts of things like trophies or fun ornaments.
However, these natural wood shelves with bark just look fabulous with plants on them. It's a great match for the live edge of the bark with a live plant.
Whatever you decide to put on these DIY plant shelves they are handy storage/display solutions for small spaces.
DIY Three-tier natural wood shelves
The wood slice shelves are tall and skinny. They are great for small alcoves or narrow wall spaces.
I live in an old Victorian house, I have lots of narrow strips of the wall where these vertical tiered shelves will fit perfectly. These dead skinny wall spaces can now become a feature, with the DIY plant shelves.
I actually got the idea for these shelves after I scored a big stash of large wood slices.
A few months ago I was invited to the Ryobi Tools UK conference as a member of the press. It was a great event where I got to try out loads of Ryobi tools. At the end of the day, there was a huge pile of wood slices from everyone having a go with the chainsaw.
Not wanting to see anything go to waste I managed to walk away with a bag full of these wood slices.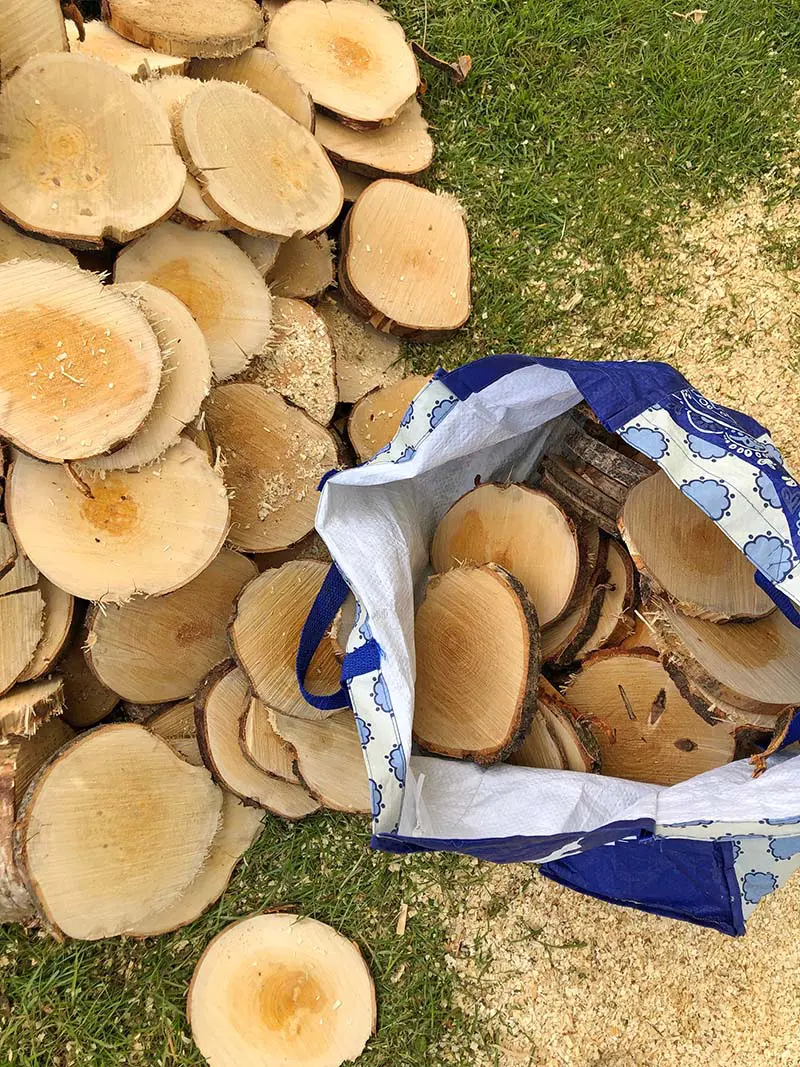 We're a participant in the Amazon Services LLC Associates Program, an affiliate advertising program designed to provide a means for us to earn fees by linking to Amazon.com and affiliated sites. As an Amazon Associate, I earn from qualifying purchases.
What You Need To Make DIY Plant Shelves
An old strip of wood (approx 12 cm x 90 cm) – I used a piece of old pine floorboard. I piece of pallet wood would work just as well.
Three large wood slices (approx 13 – 15 cm in diameter) – If you have a chainsaw you can cut your own, otherwise they tend to be available to buy online or in craft stores.
Saw and an electrical sander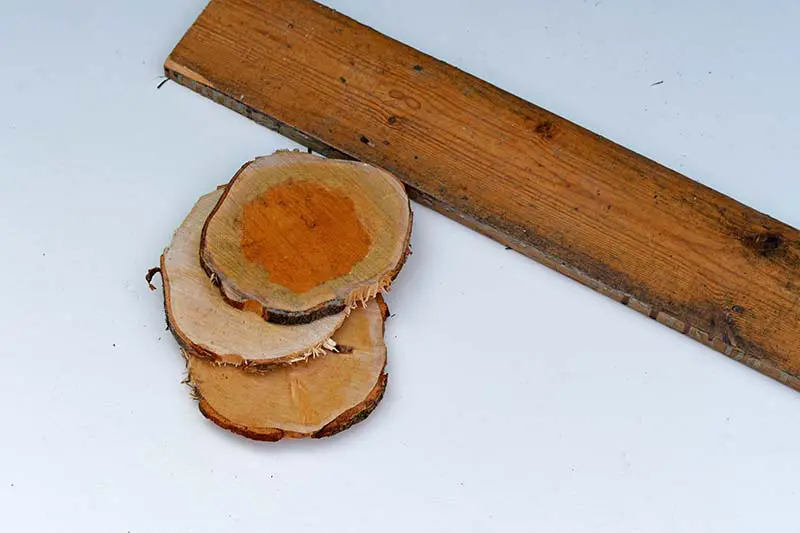 How To Make DIY Plant Shelves
1. The first thing I did was saw about a third off each wood slice. I wanted a flat edge one side and round bark edge the other, for these natural wood shelves.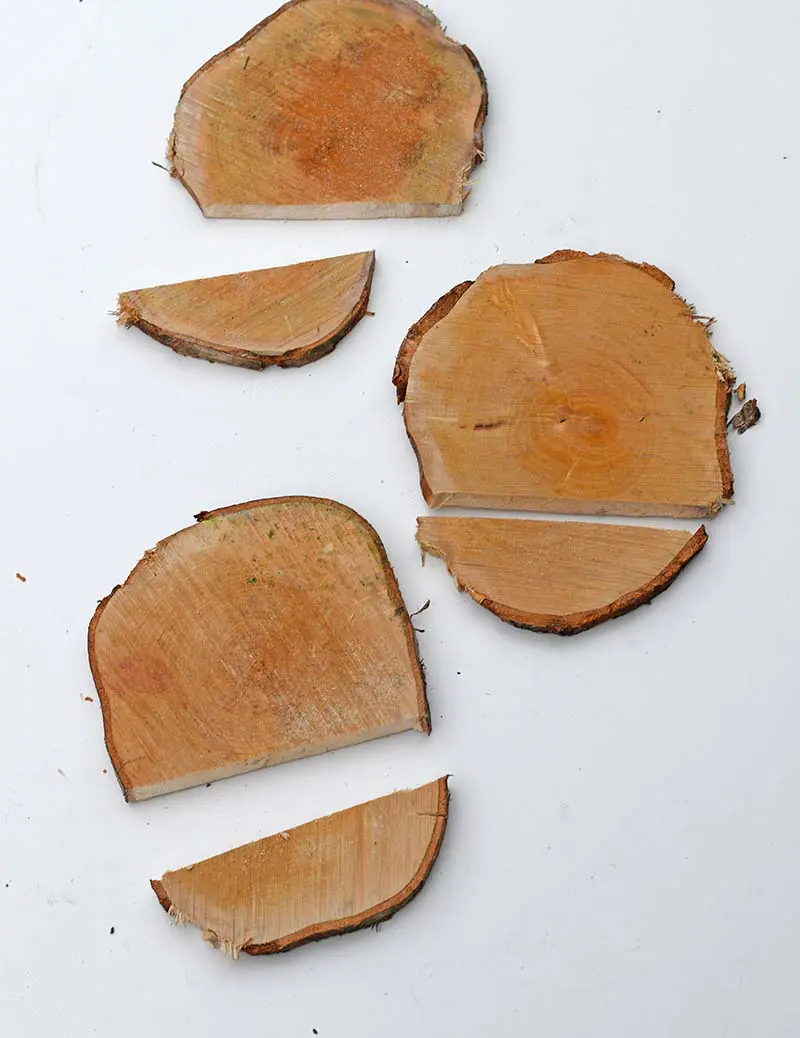 2. Next, sand the flat surfaces of the wood slices. Make sure to protect the bark. That will ensure that you'll get a live wood edge shelf.
Also, sand the floorboard and smooth off the edges with an electrical sander.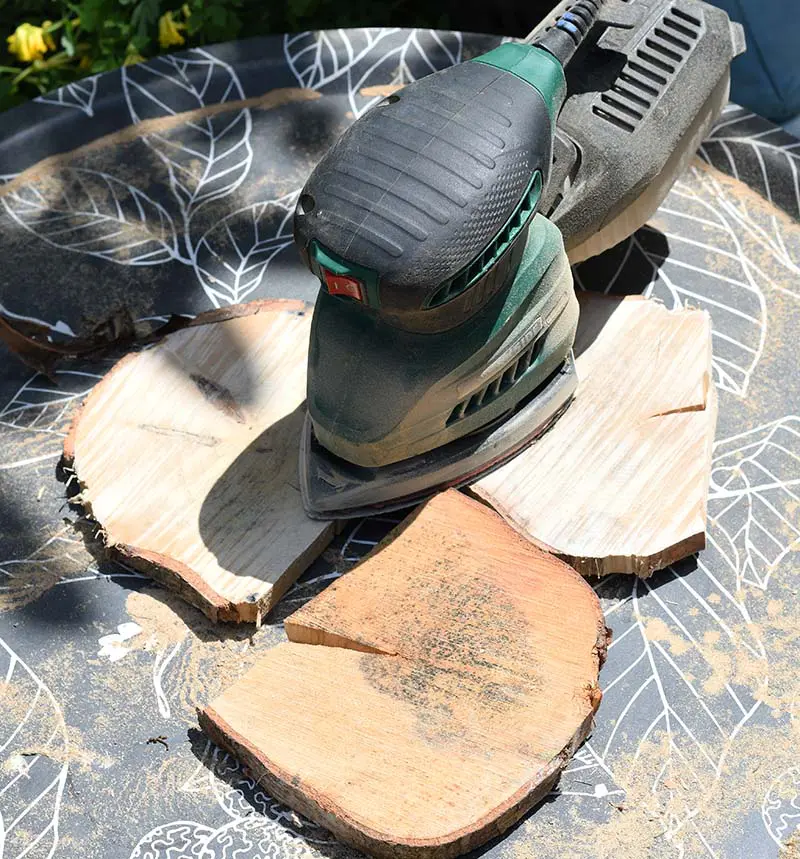 3. Next, to give the sanded wood a lovely finish rub on some clear wood wax. This will also protect the wood a bit from water spills on your DIY plant shelves.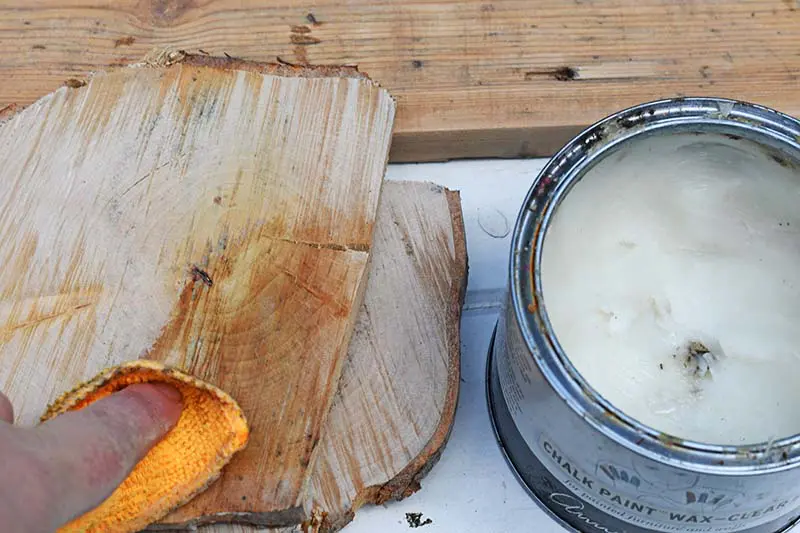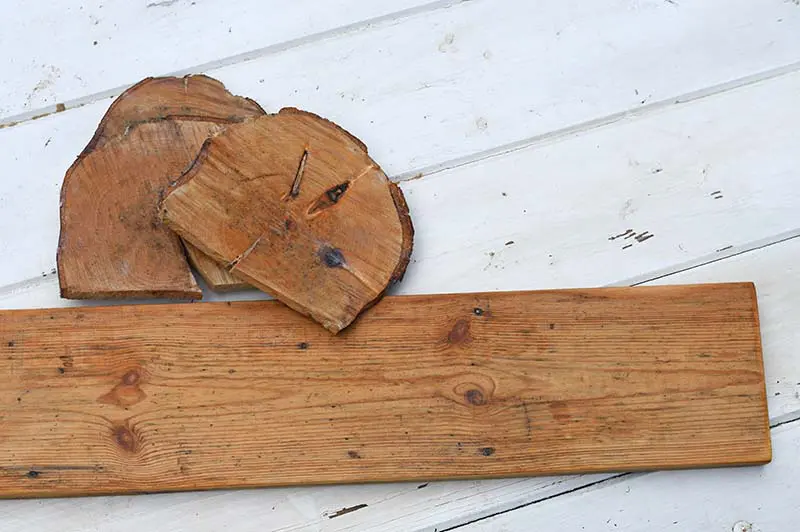 4. Next, this step is optional. I could only find silver angle brackets. I spray-painted mine copper for a better look with the natural wood shelves.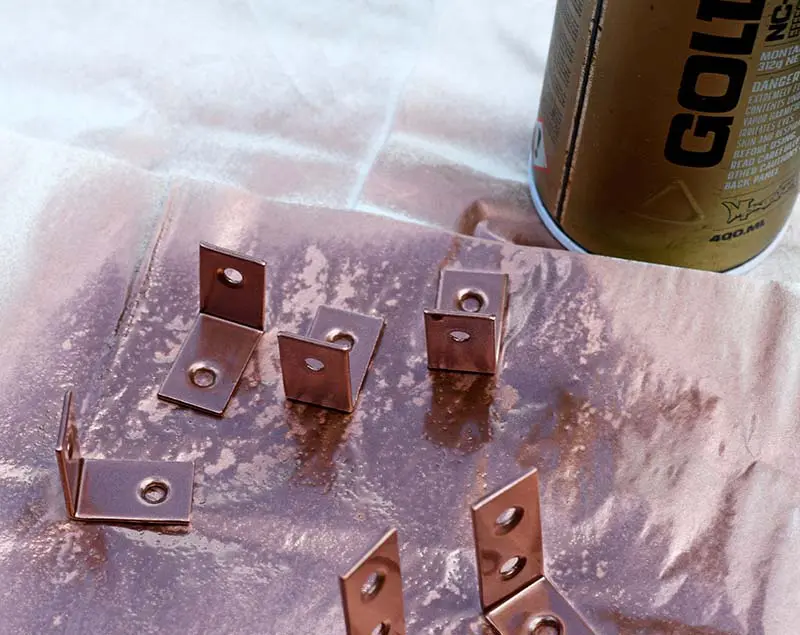 5. Then, use the painted brackets to attach the shelves to the wooden floorboard. Space them out evenly. Leave a bit of exposed wood at both the bottom and the top of the DIY plant shelves.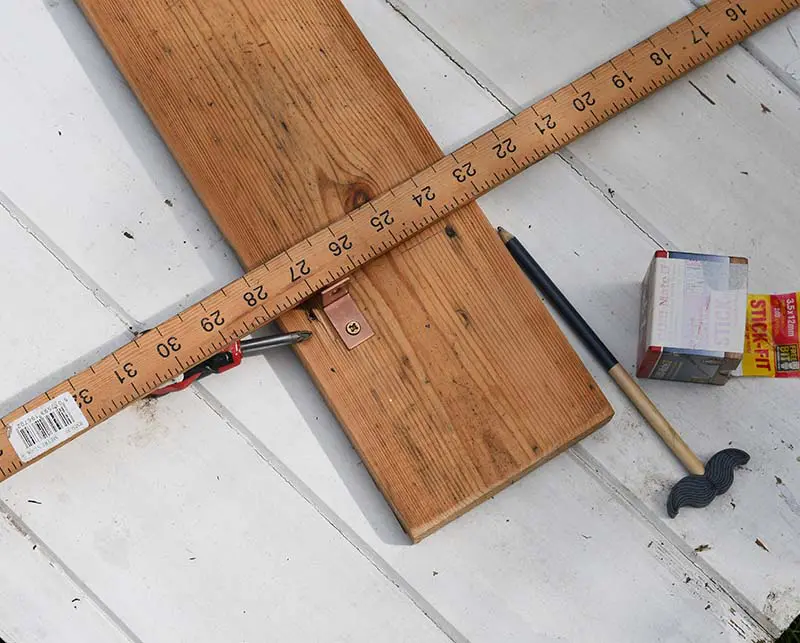 I used 2 angle brackets to hold up each wood slice shelf.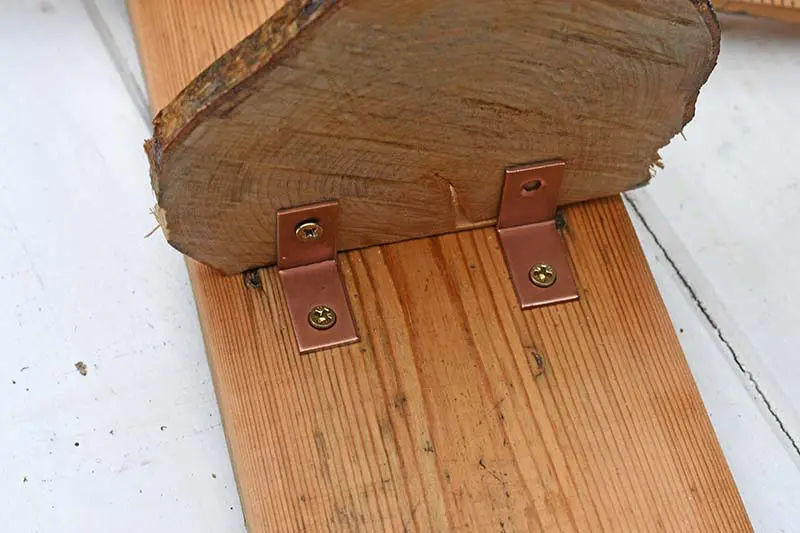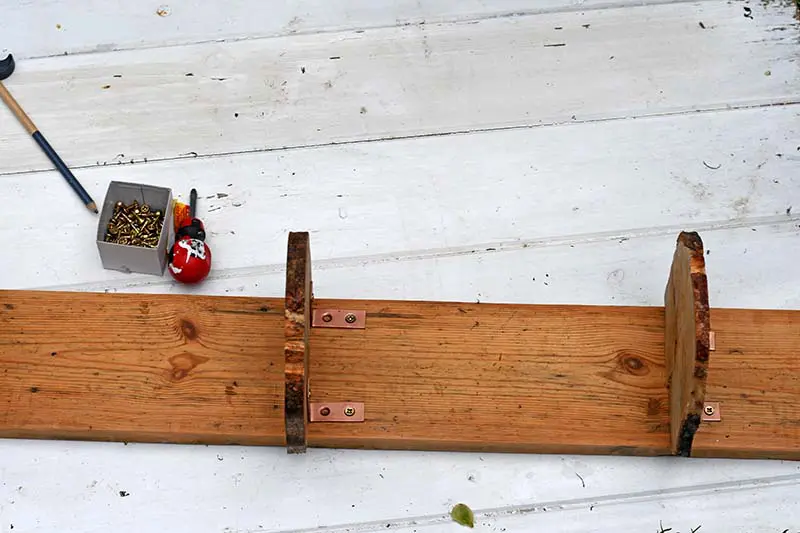 6. Finally, all that is left to do is to hang these DIY plant shelves and add plants. To hang the shelf unit simply drill a hole into the top and bottom of the floorboard base. Then screw the board into the wall.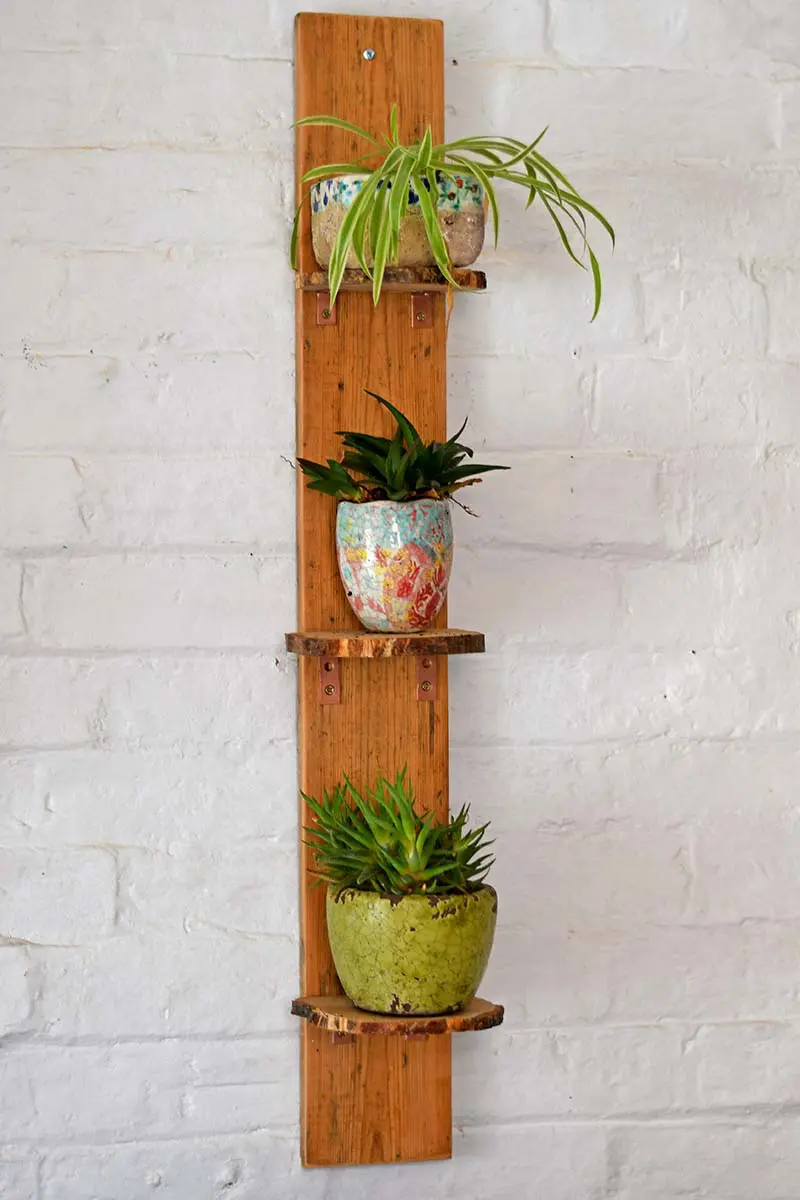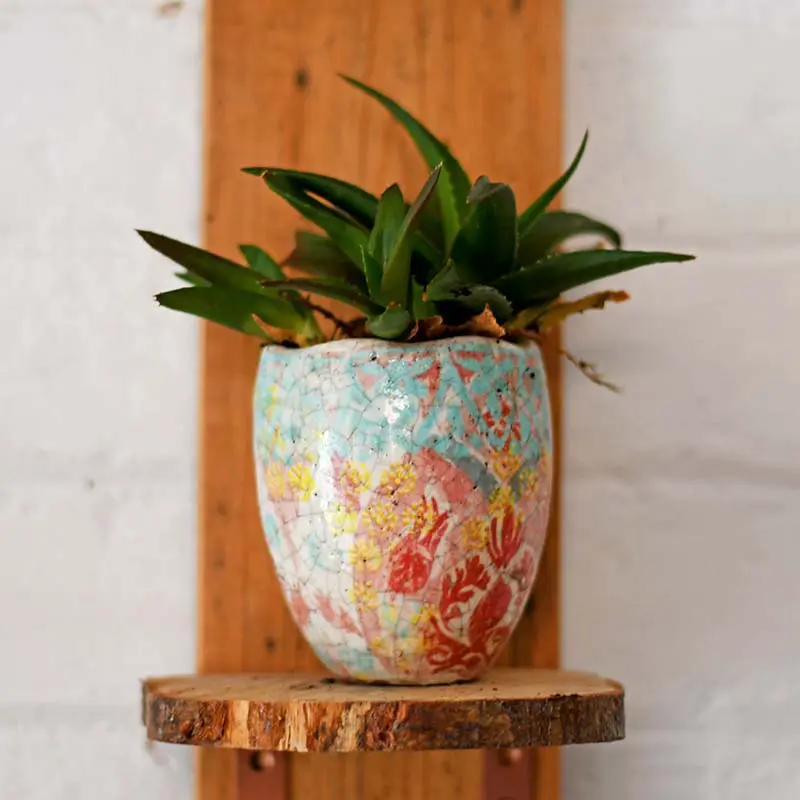 I know I've said these are DIY plant shelves as I feel that the plants match the natural wood edge of the shelf. However, you can use the shelves for whatever you want. I think they would make a great trophy stand too in an office or den.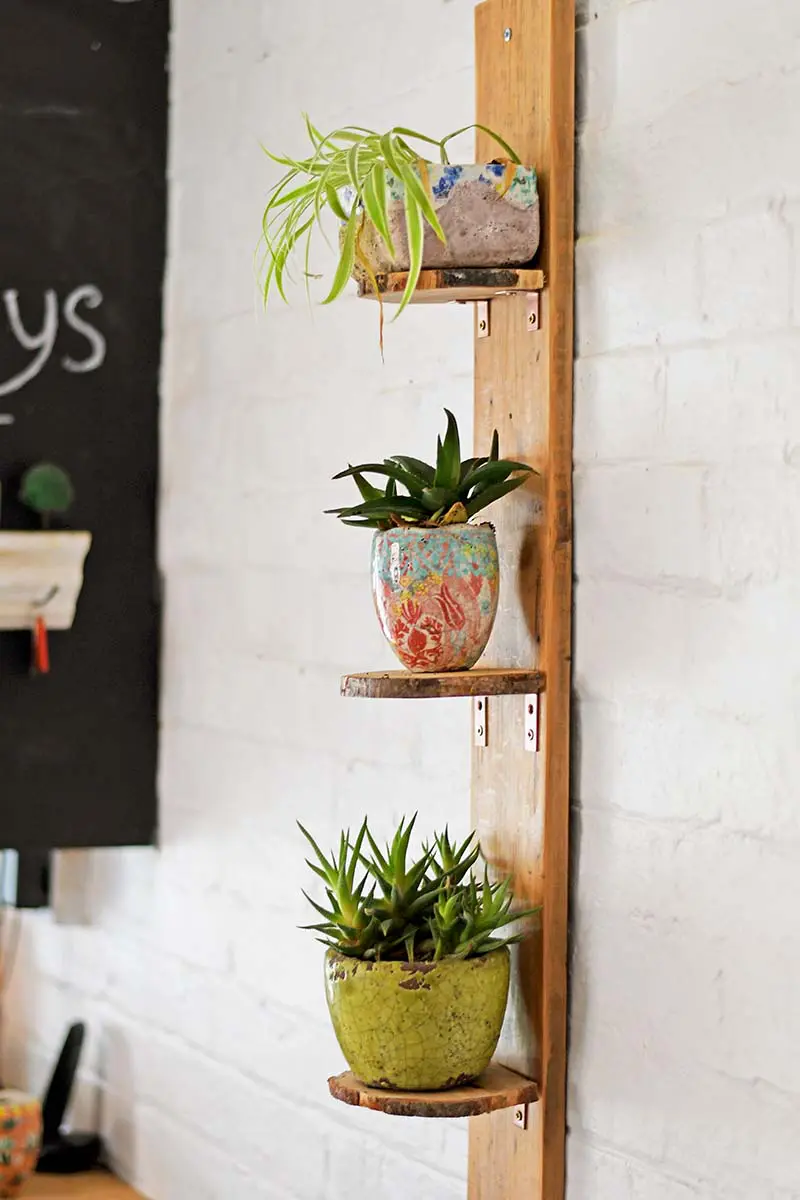 They are great for tall thin spaces where you wouldn't normally have room for any shelving.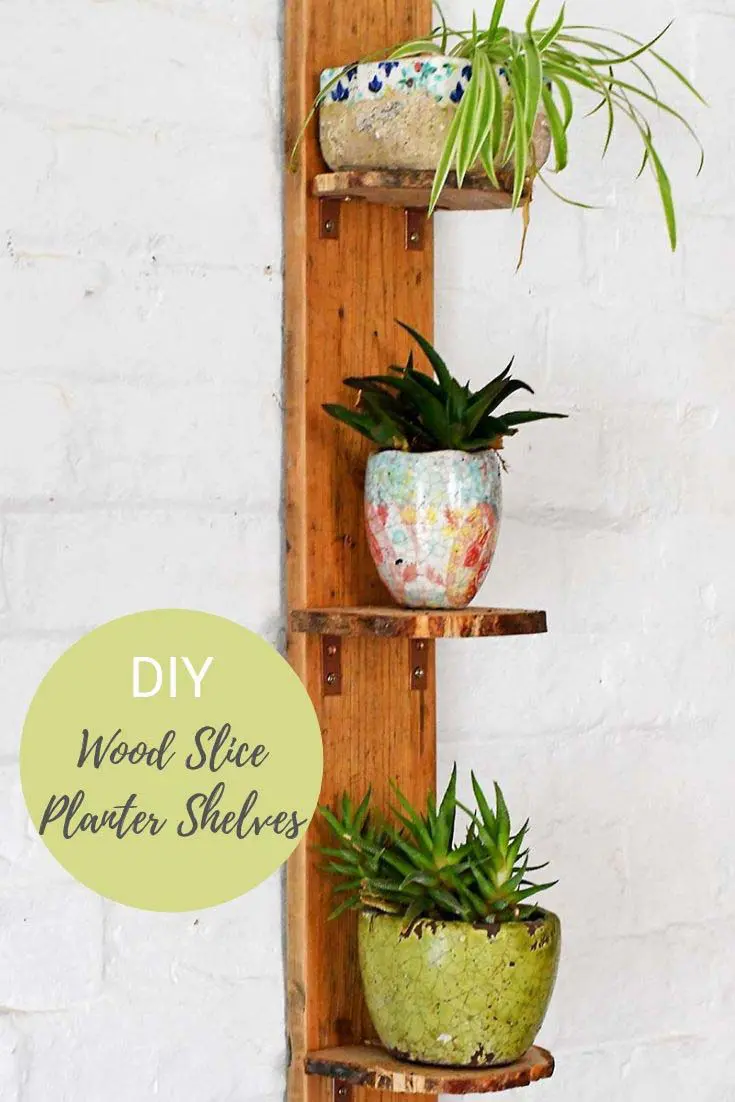 Yield: 3 tier planter shelf unit
DIY Planter Shelves From Wood Slices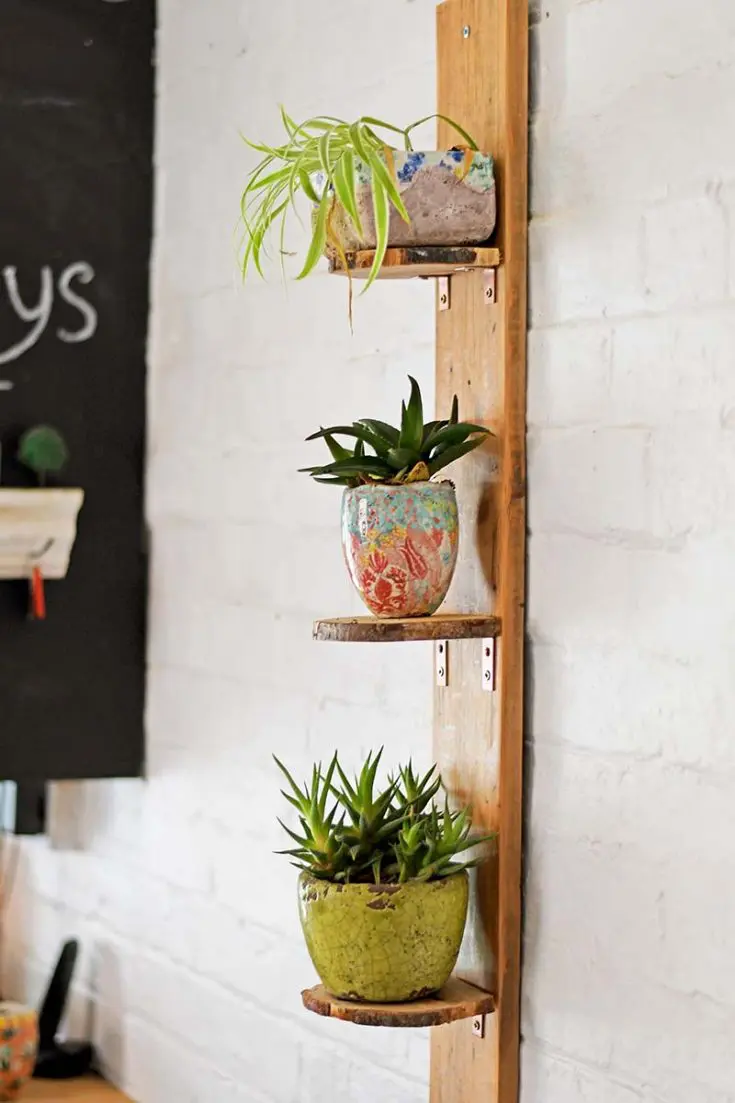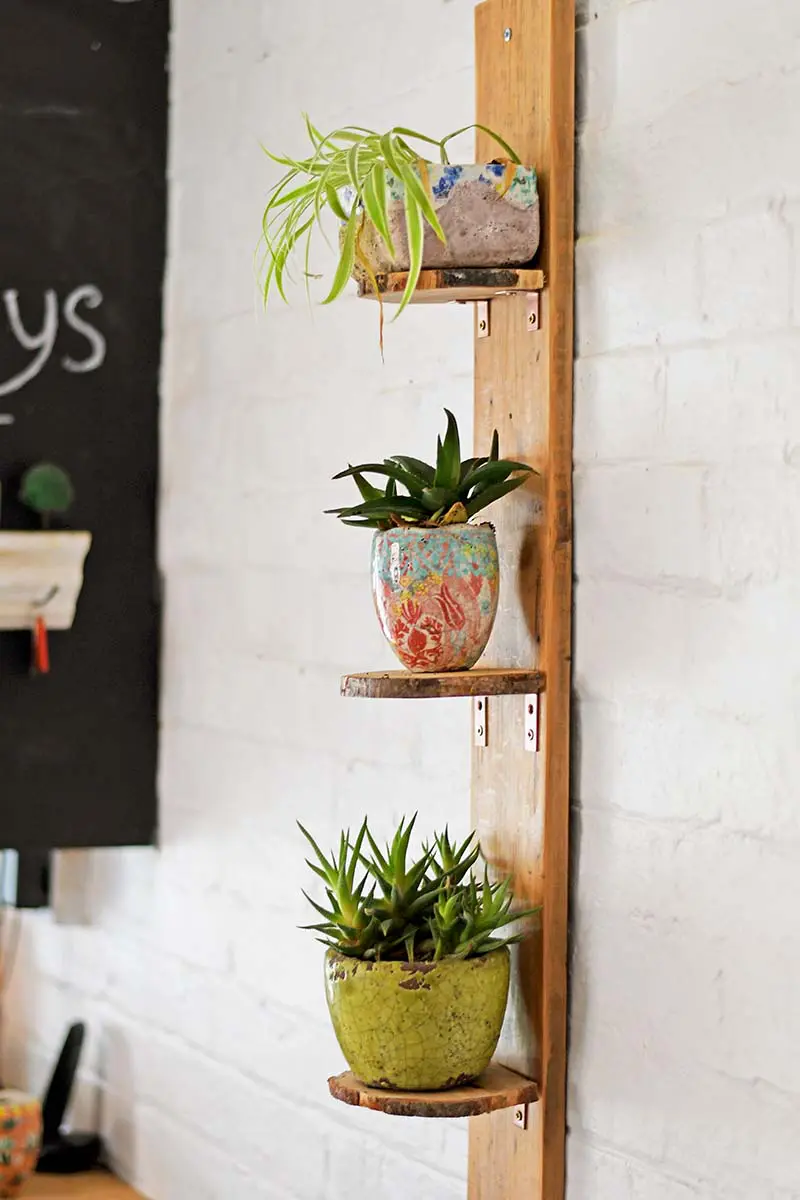 This is a handy shelf unit for tall narrow spaces. The natural wood edges of the shelves look cool with plants on them.
Materials
Large wood slices
Plank of wood such as a piece of old floorboard
Angle brackets
Screws
Wood wax
Tools
Electrical sander
saw
screw driver
Instructions
Saw the wood slices about 1/3 across
Sand and wax all the wood
Use angle brackets to attach the wood slices to the plank
Hang using screws, add plants
If you like hanging plants then check out these upcycled bed slats plant shelves and this embroidered hanging plant canvas.
I still have a ton of wood slices left so there will be some more wood slice upcycles to come. I'm open to any suggestions. In the meantime, you might want to check out some of my other wood slice crafts.
These plant shelves are featured in the A to Z of clever upcycling ideas and resources.
If you are looking for some fun and unique DIY planter ideas for your natural wood shelves, check out these posts.