Inside: A tutorial on how to use tin cans of various sizes into cute upcycled Easter baskets/buckets.
Before I even opened my Birthday gifts, I was oohing and ahhing! The gift wrap was gorgeous!
So instead of tearing it to find what was inside quickly, I carefully removed the sellotape and unfolded the paper. I wanted to preserve as much of the paper as possible for crafting.
The paper had spring vibes with bright colours and simple patterns. It made it perfect for making these cute Easter tin can buckets. But they would also make pretty spring tin can planters.
DIY Upcycled Easter Baskets
This is a very affordable upcycle made from repurposed household waste materials. It only takes a few minutes to complete each Easter bucket.
Fill them with your favourite Easter treats, or use them for buckets on an Easter egg hunt.
We're a participant in the Amazon Services LLC Associates Program, an affiliate advertising program designed to provide a means for us to earn fees by linking to Amazon.com and affiliated sites. As an Amazon Associate, I earn from qualifying purchases.
Materials Used
Tin cans – Small shorter tin cans work best. You don't want the upcycled Easter baskets to be too tall.
Spring gift wrap or other paper. My gift wrap was from a local company Cambridge Imprint. Check your local gift and bookstores for lovely printed gift wraps.
Rotary paper cutter and mat.
Spray paint in spring colours.
Wine corks or wooden cotton reel spools.
Garden wire or the wire from an old coat hanger.
Awl with a wooden handle for piercing holes into the tin cans.
Pliers
Matte Mod Podge and a foam brush.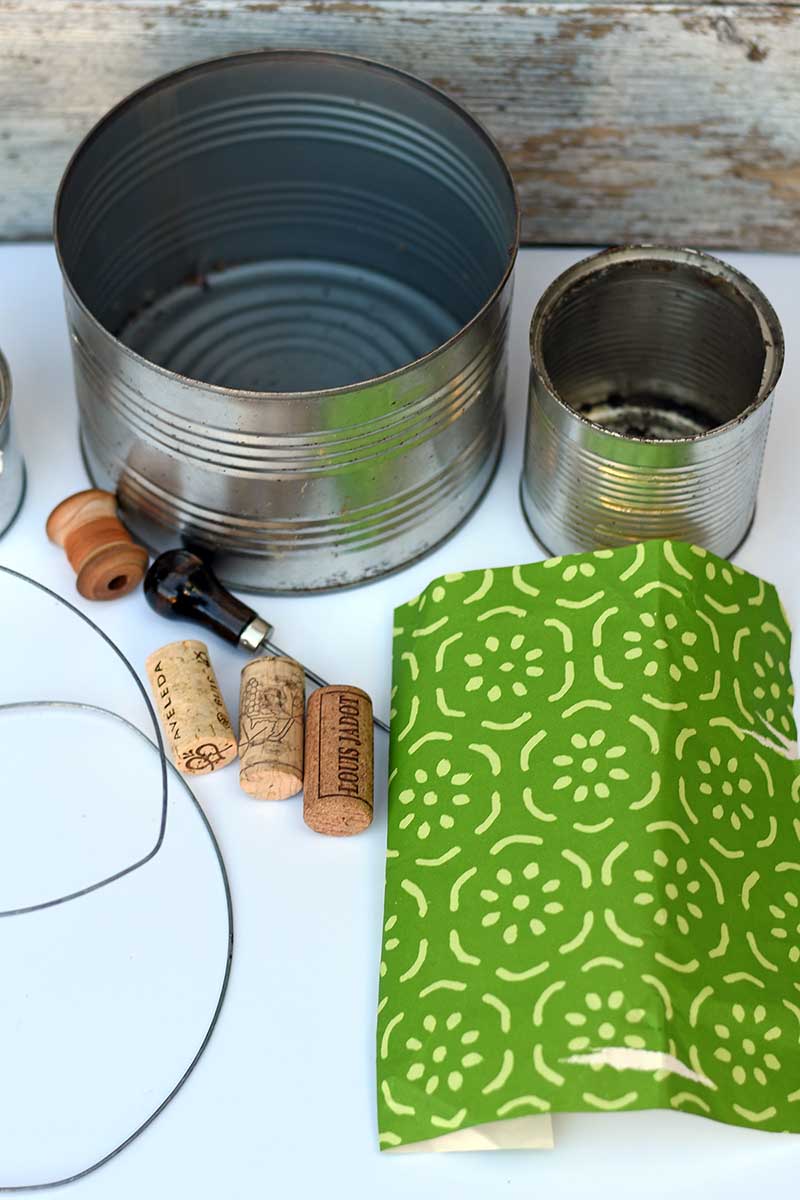 How To Make The Tin Can Buckets
Step 1: Wash the tin cans in hot soapy water and remove any residual labels. Then dry them and spray paint the inside of the cans to match your gift wrap.
Top tip: I use a box outside to spray paint small objects like tin cans.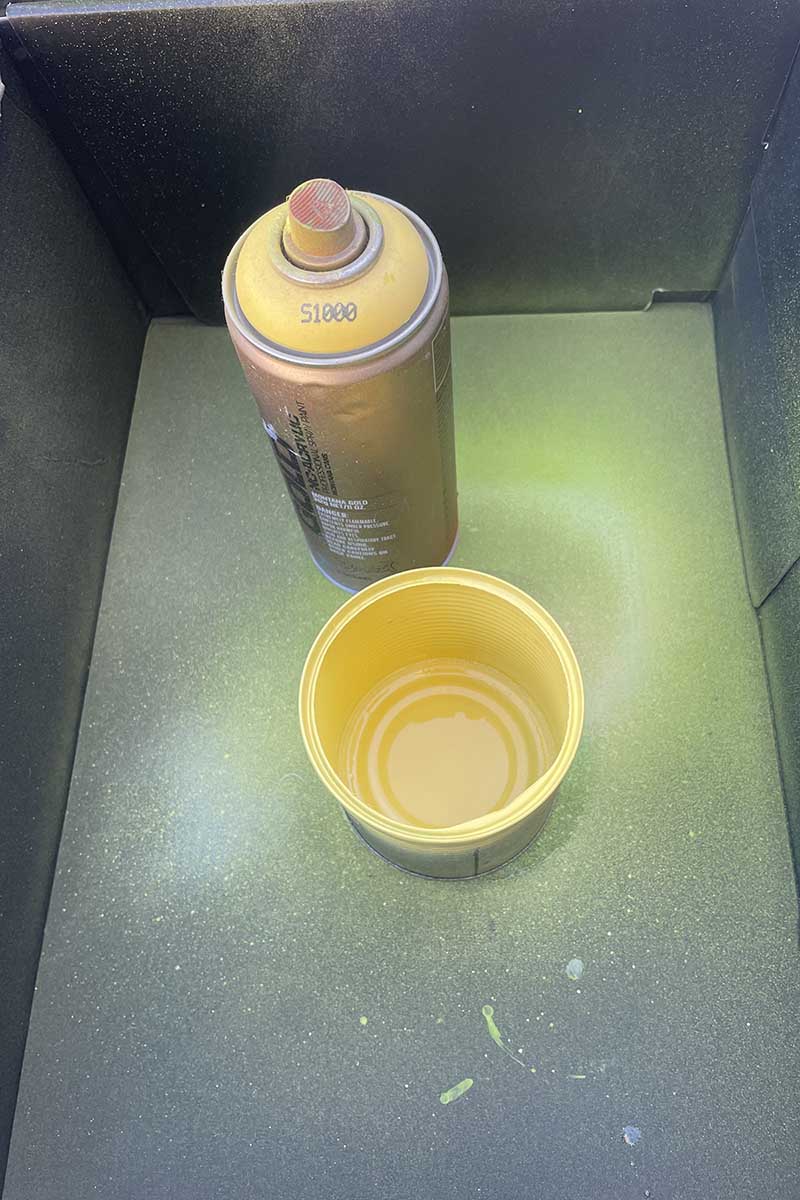 Step 2: Measure the circumference and height of the tin can.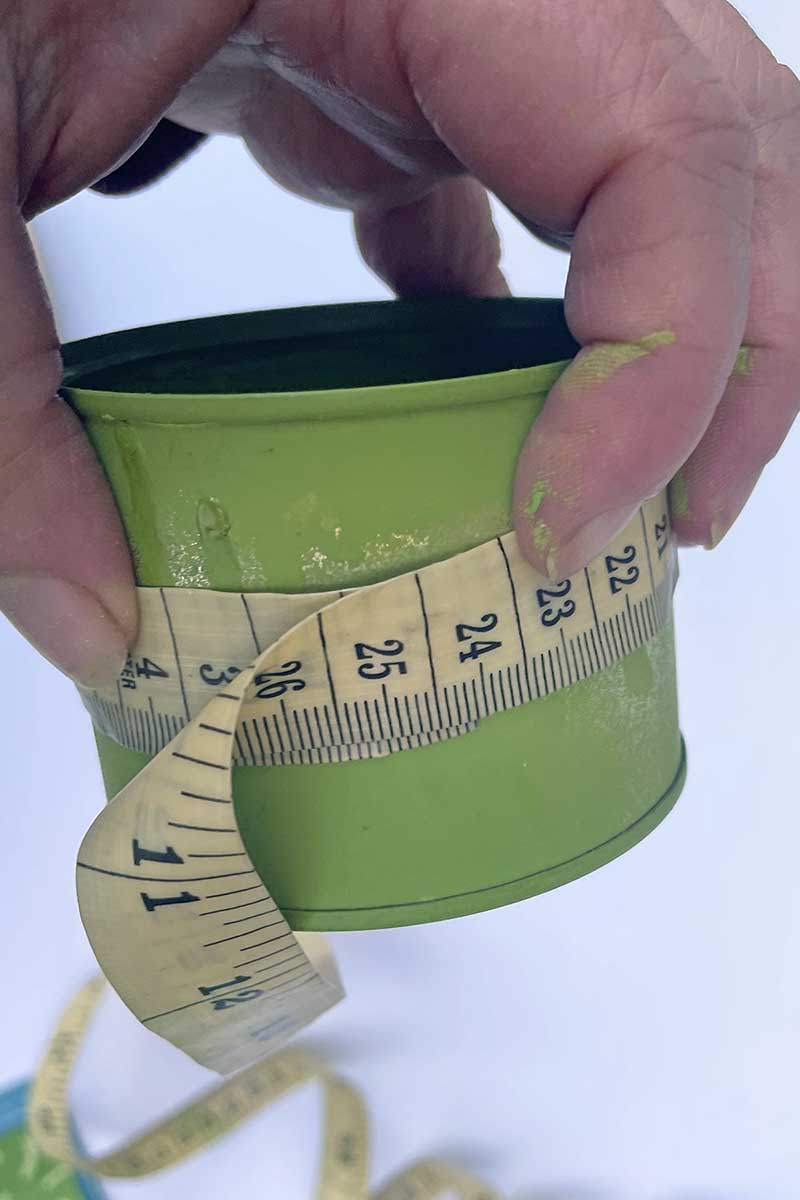 Step 3: Cut the gift wrap paper to these measurements. And then, using decoupage glue, stick it to the outside of the tin cans.
Top Tip: Add another Mod Podge layer to the decoupage's top to protect the paper on the tin cans. The glue will dry clear and act as a protective varnish.
If you don't have any spring paper, another option is to use paper napkins to decoupage the tin cans.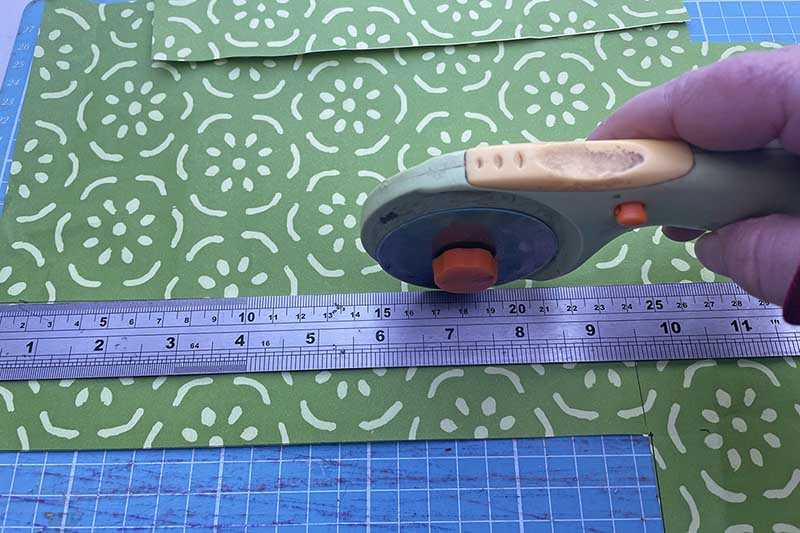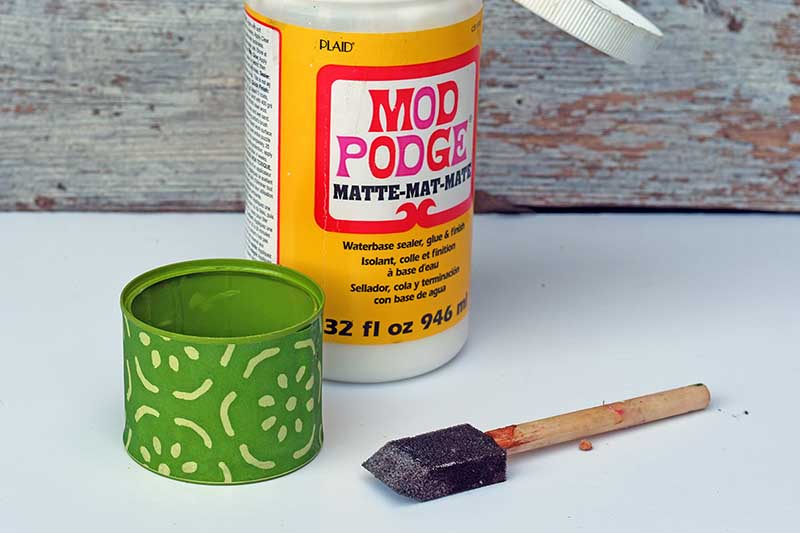 Step 4: Add a wire handle to turn the decorated tin can into an upcycled Easter basket. First, use the awl two to punch holes into the side of the tin can.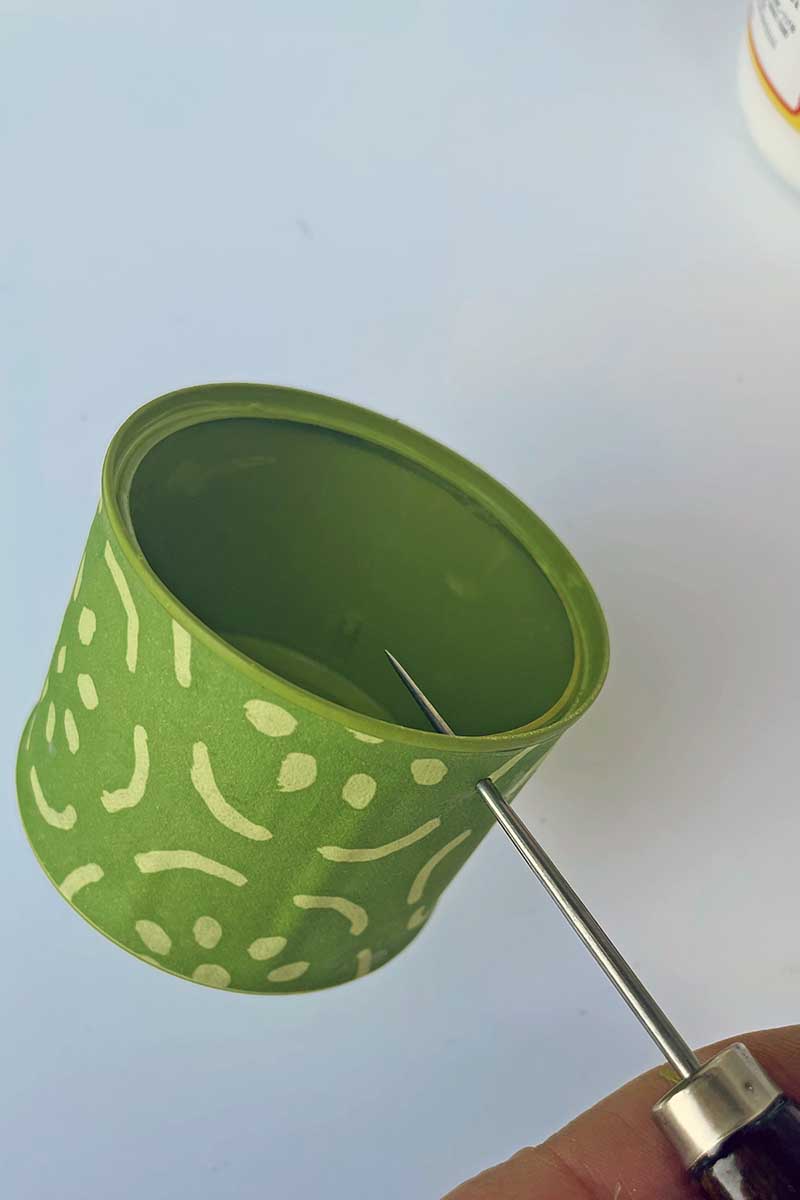 Step 5: Make a hole through the centre of the wine cork using the awl. Then cut a length of wire long enough for a handle. Thread the cork onto the wire.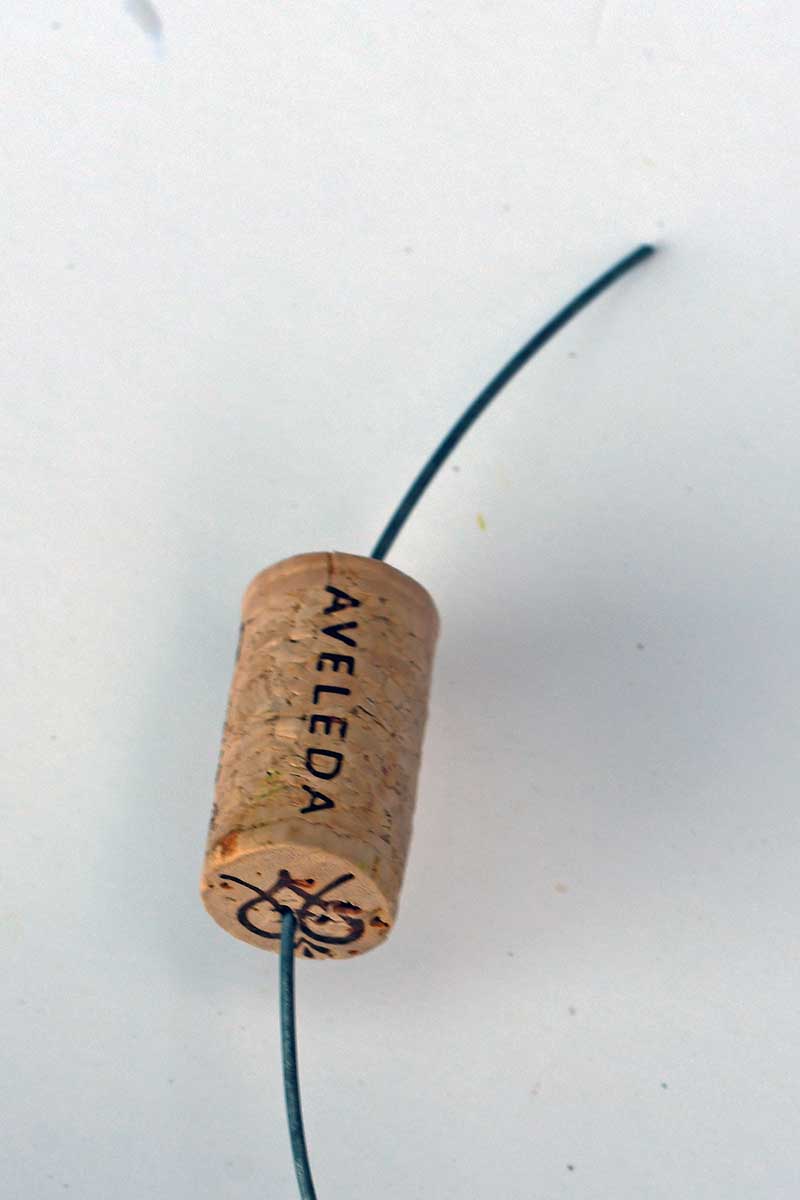 Step 6: Finish off by attaching the wire to the tin cans through the holes. Use the pliers to twist the ends of the wire to secure them.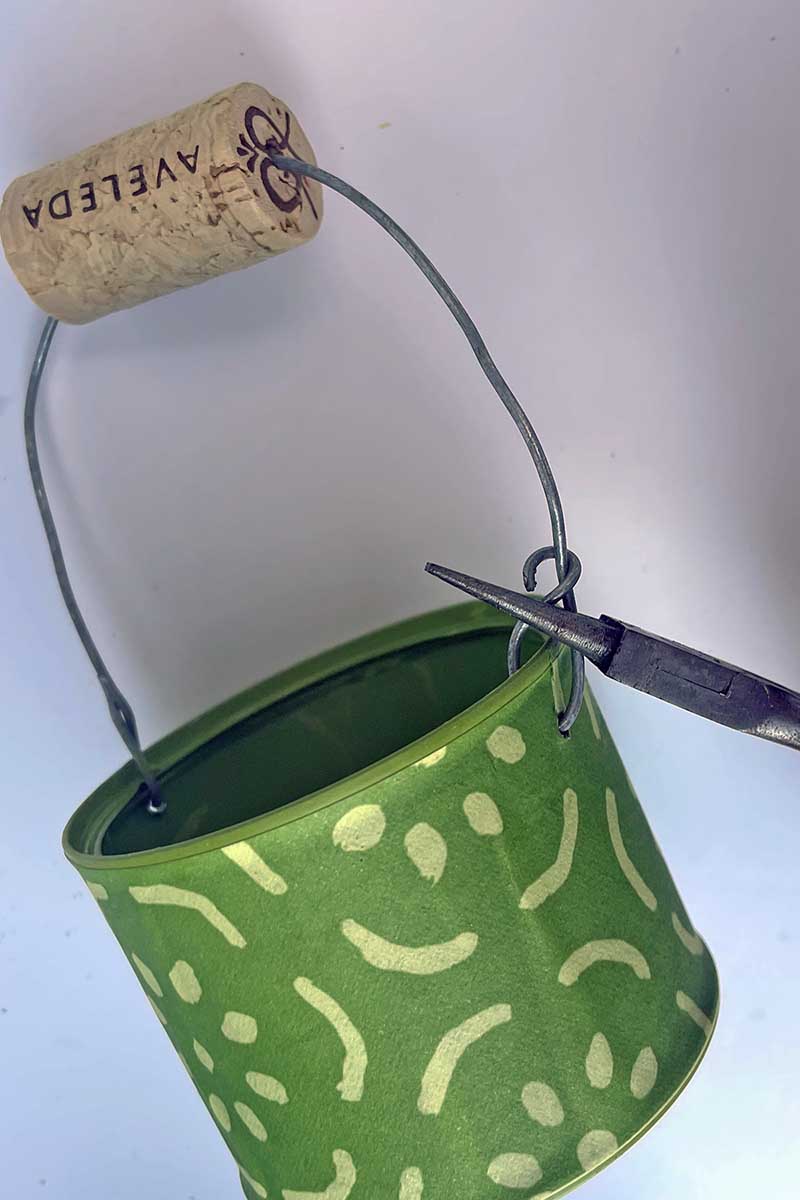 The Finished Upcycled Easter Baskets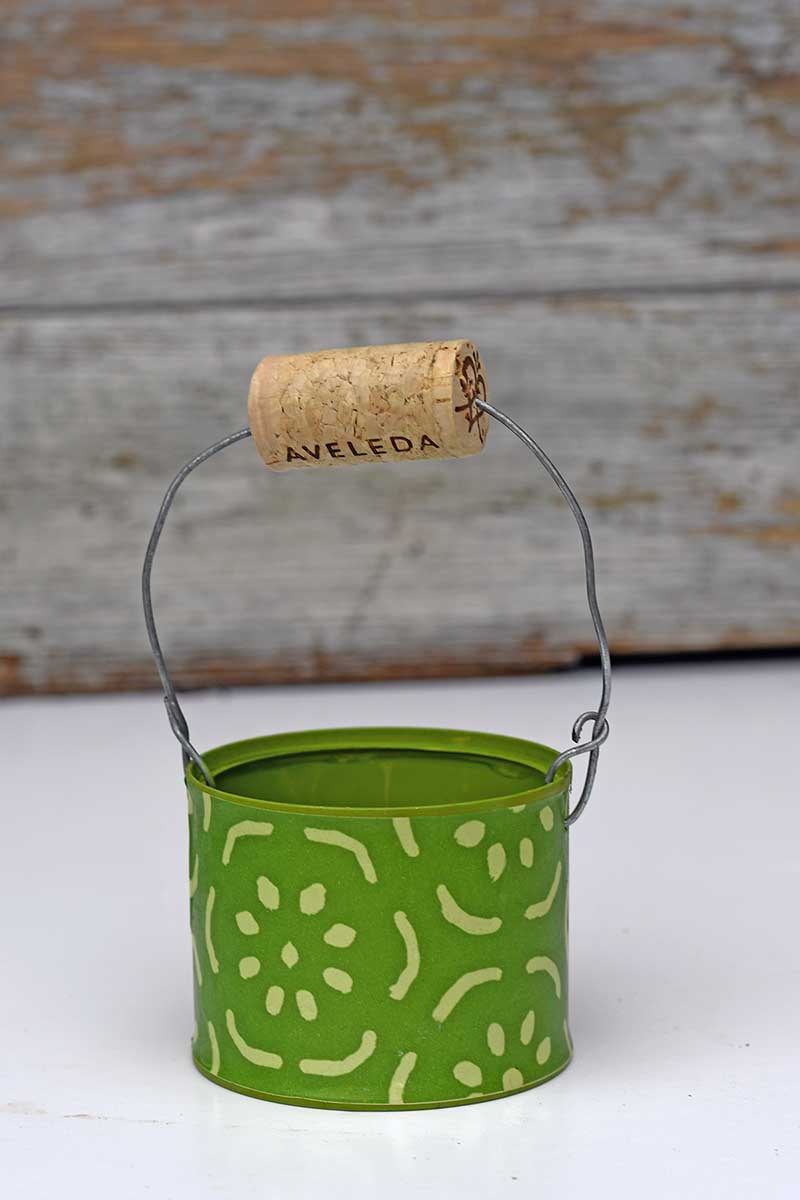 I made a collection of these Easter baskets in various sizes and colours. For some of the tin can bucket handles, I used a wooden cotton reel spool for the handles instead of an old wine cork.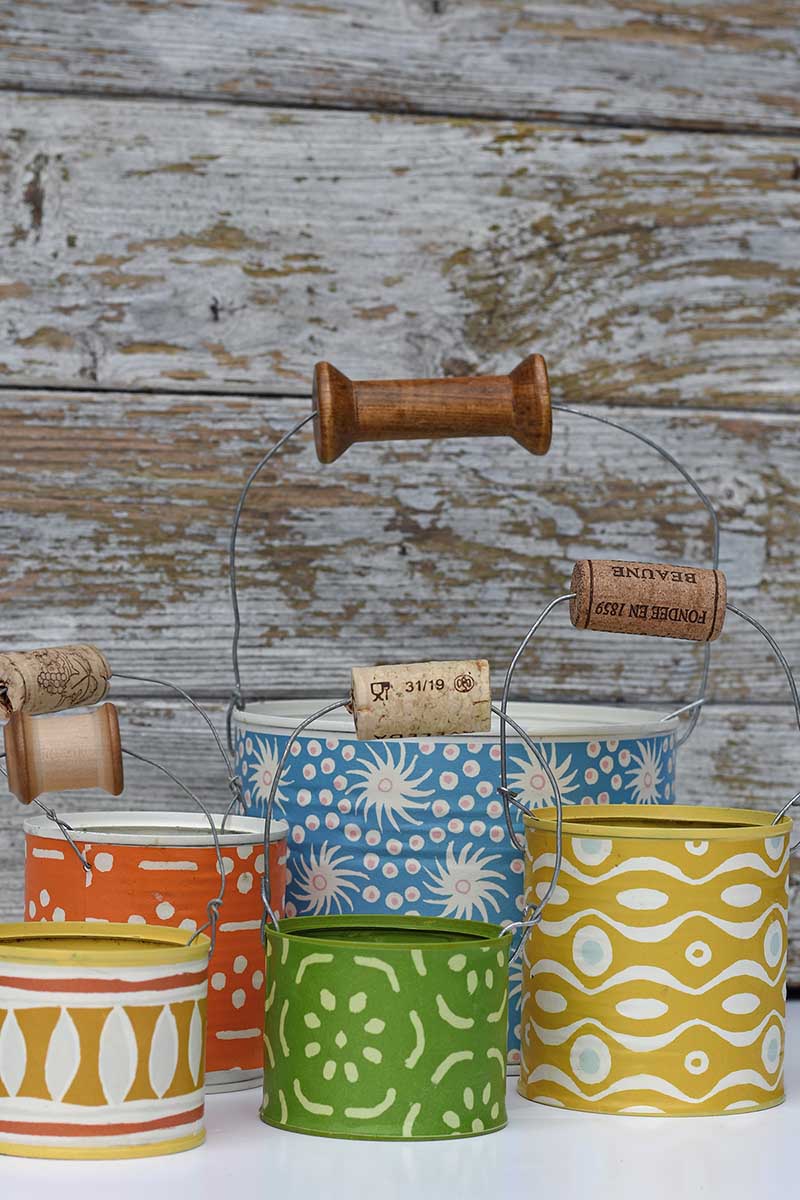 Fill them with Easter treats or flowers.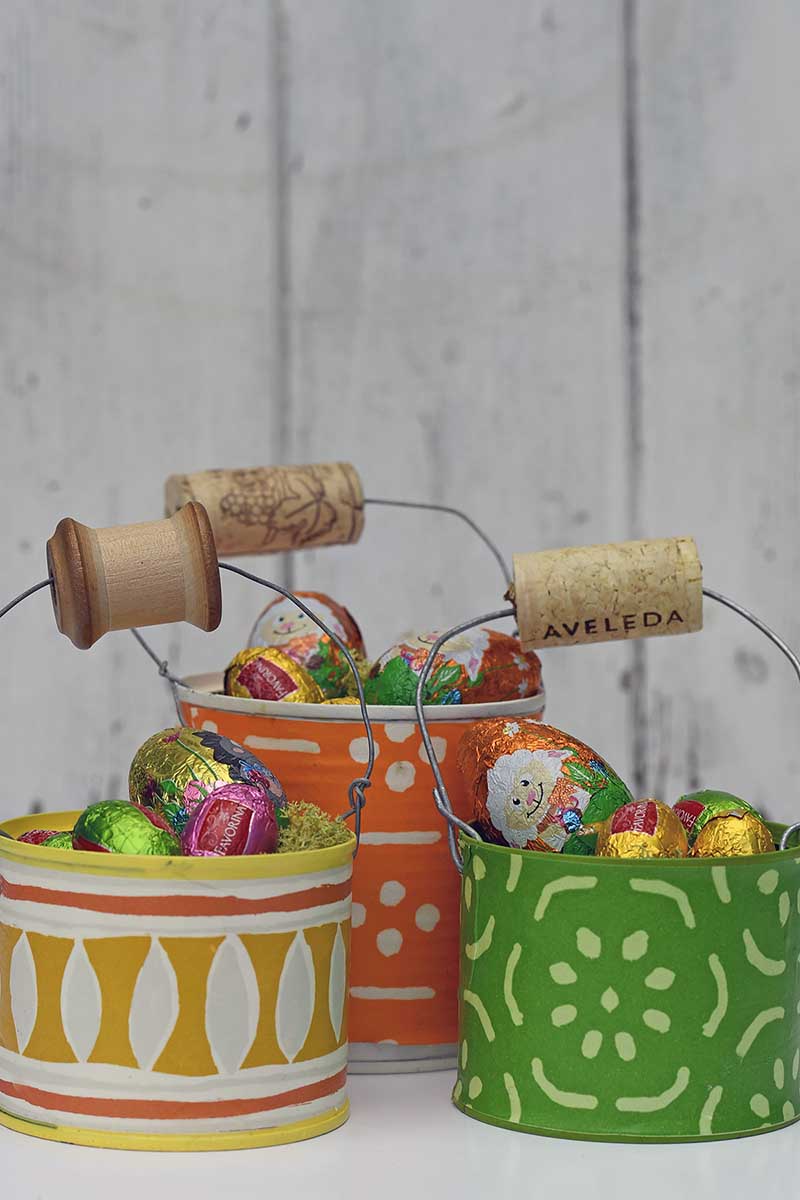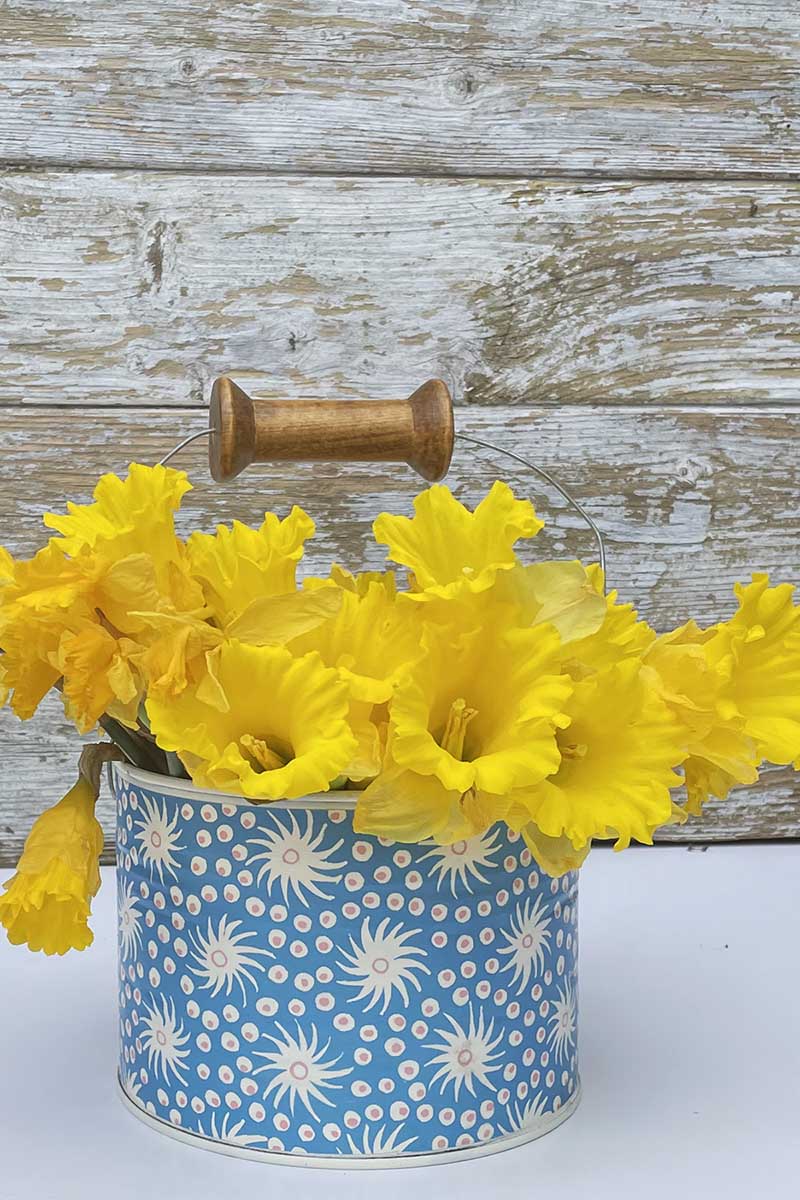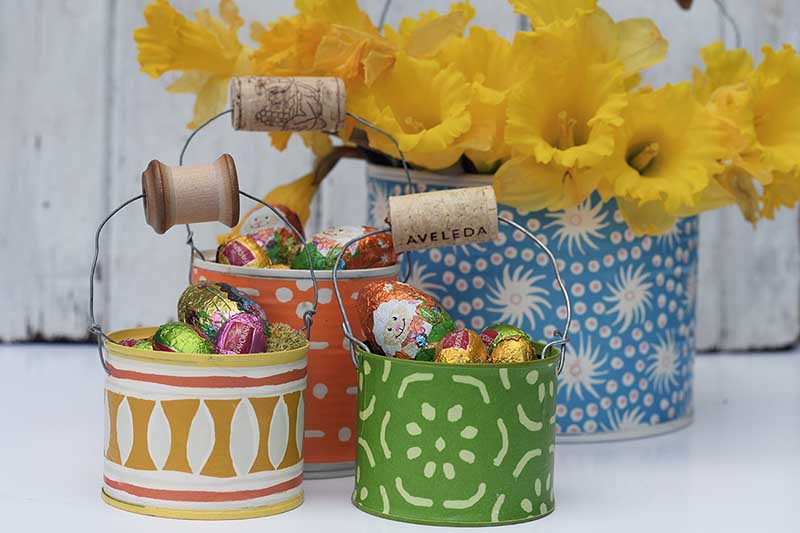 Other Tin Can & Easter Crafts
You'll find more awesome Easter craft ideas for adults and more decoupage crafts here.
For a slightly different look, there is a collection of vintage Easter bunny images you could use for this craft.
Other spring tin can craft ideas include making a beautiful songbird wind chime or these colourful Marimekko decorative tin can planters to brighten the garden. Or these hanging tin can planters for the front porch.
Cans can also be upcycled for Christmas; check out these tin can Christmas crafts.
Pin for later!