Inside: How to make book page leaf embroidery and use it to make a beautiful fall paper decoration for the mantle or wall.
My first cup of coffee of the day is under an oak tree in my local park, which has been a bit precarious lately because the squirrels have been busy harvesting the acorns. I got hit by a stray acorn twice last week, but it is fun to watch them.
I've gathered some of the fallen acorns before to make painted fall garlands, but I decided to leave them all to the squirrels this time. Instead, for this year's fall paper craft, I've taken inspiration from the leaves on the tree by embroidering oak leaves made out of book pages.
I call this a couch craft, as the embroidery is quickly done whilst watching TV. Perfect for fall evenings when you want to snuggle up with a good box set.
We're a participant in the Amazon Services LLC Associates Program, an affiliate advertising program designed to provide a means for us to earn fees by linking to Amazon.com and affiliated sites. As an Amazon Associate, I earn from qualifying purchases.
How To Make The Fall Paper Leaves
What you need
Old book – I used an out-of-date Pears Cyclopedia. Old dictionaries are a good option and can often be bought for pennies at a thrift store if you don't have any at home.
Muslin/cheesecloth – This is the same cloth you use for straining fruit etc when making jams.
Leaf template – I used real leaves from that park oak tree. But if you don't have an oak tree, you can find one with my map leaf wreath tutorial.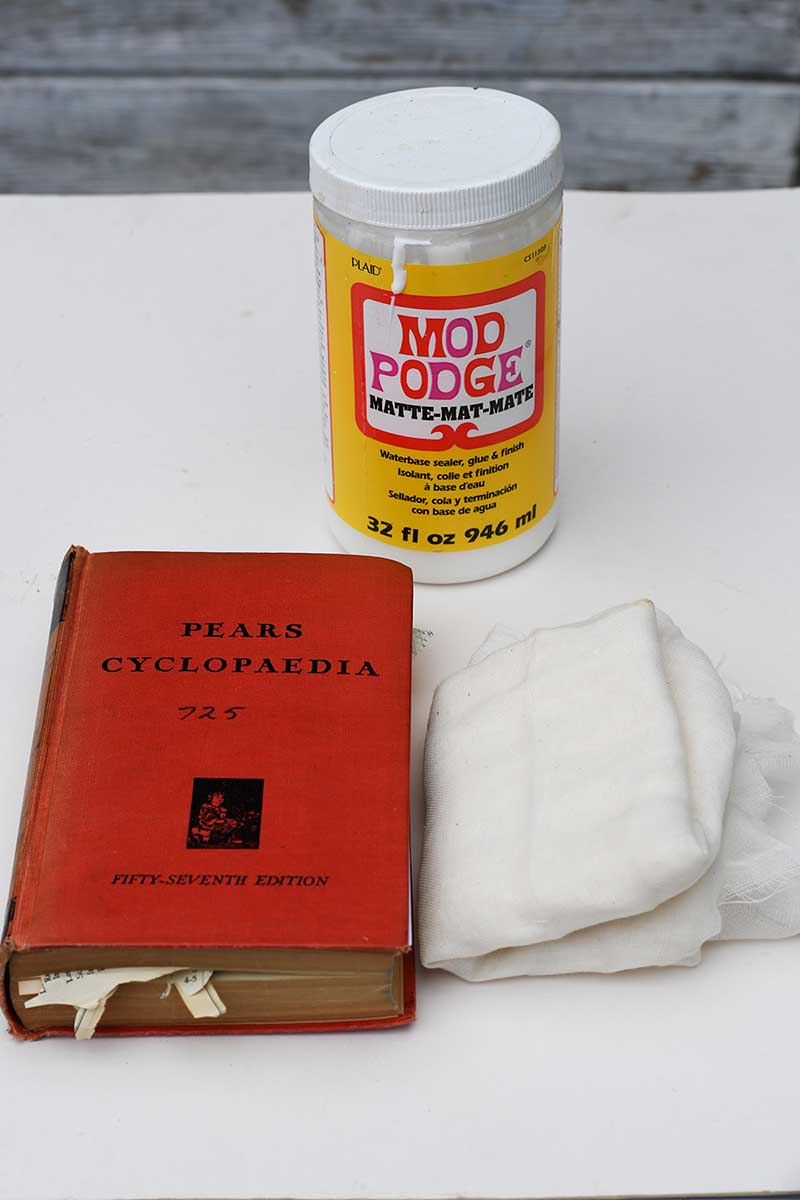 Step 1: Before embroidering the book paper leaves, you will need to strengthen them. The vintage paper is too thin and will tear easily. All you need to do is to stick the page to some muslin/cheesecloth.
First, tear a few pages out of the old book. If using a dictionary, you might want to select pages with words relevant to this fall paper craft, such as autumn, acorn, leaf etc.
Step 2: Cut muslin cloth just slightly larger than the book pages. Press the fabric if it is crinkled. Then paste one side of the book page with Mod Podge and stick it to the muslin cloth. I wanted the embroidered leaf to be double-sided, so I glued a second book page to the other side of the muslin cloth.
You can use this method of glueing paper to muslin/cheesecloth with any thin paper to make fabric paper suitable for stitching on the machine or by hand.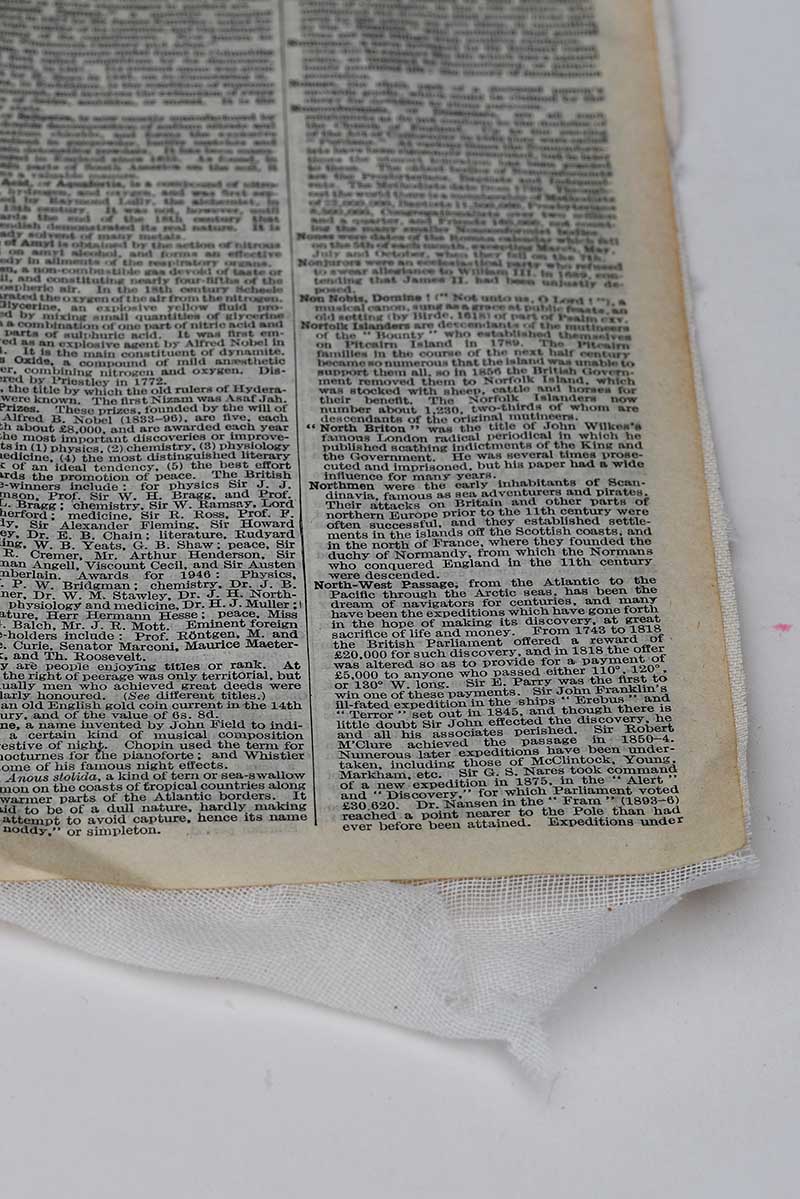 Step 3: Once the glue has dried, take an oak leaf, place it on the book page, and draw around it. I used leaves in various sizes and managed to fit four on a book page.
The book page was slightly larger than A5.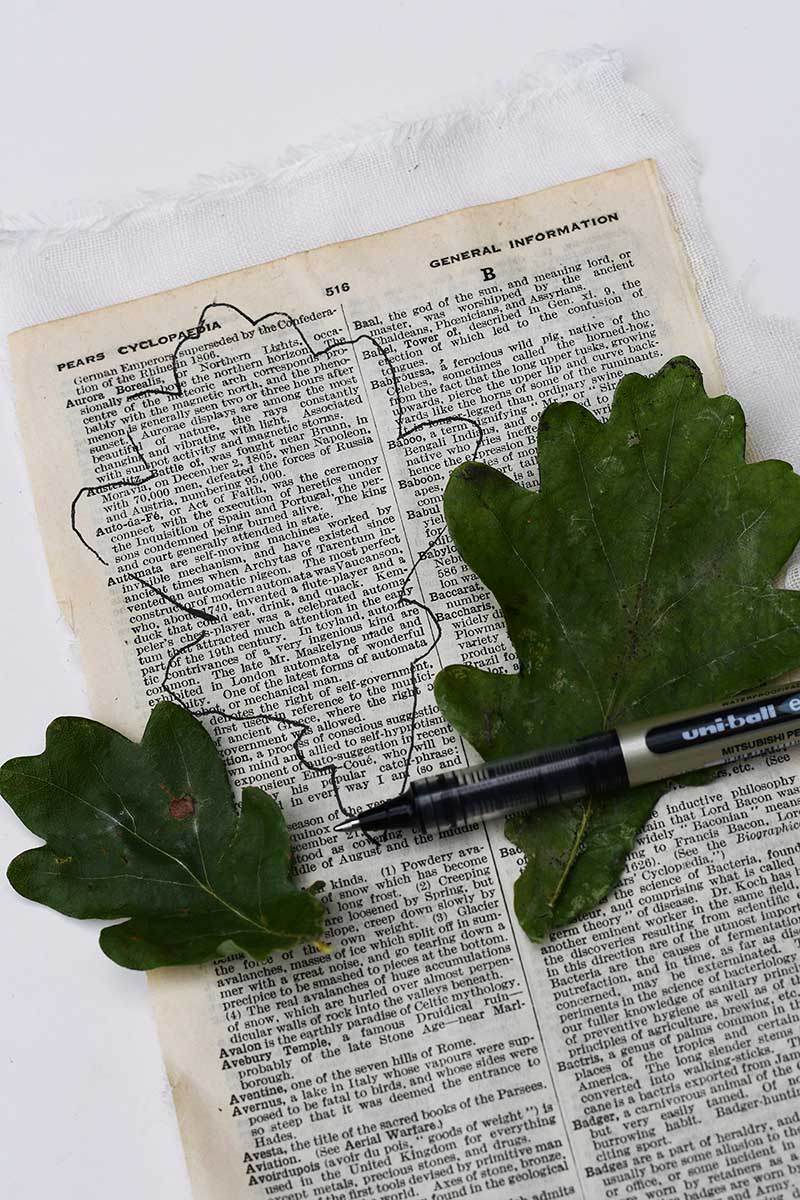 Step 4: Cut out the leaves; you will need five embroidered leaves for the fall paper mantle display.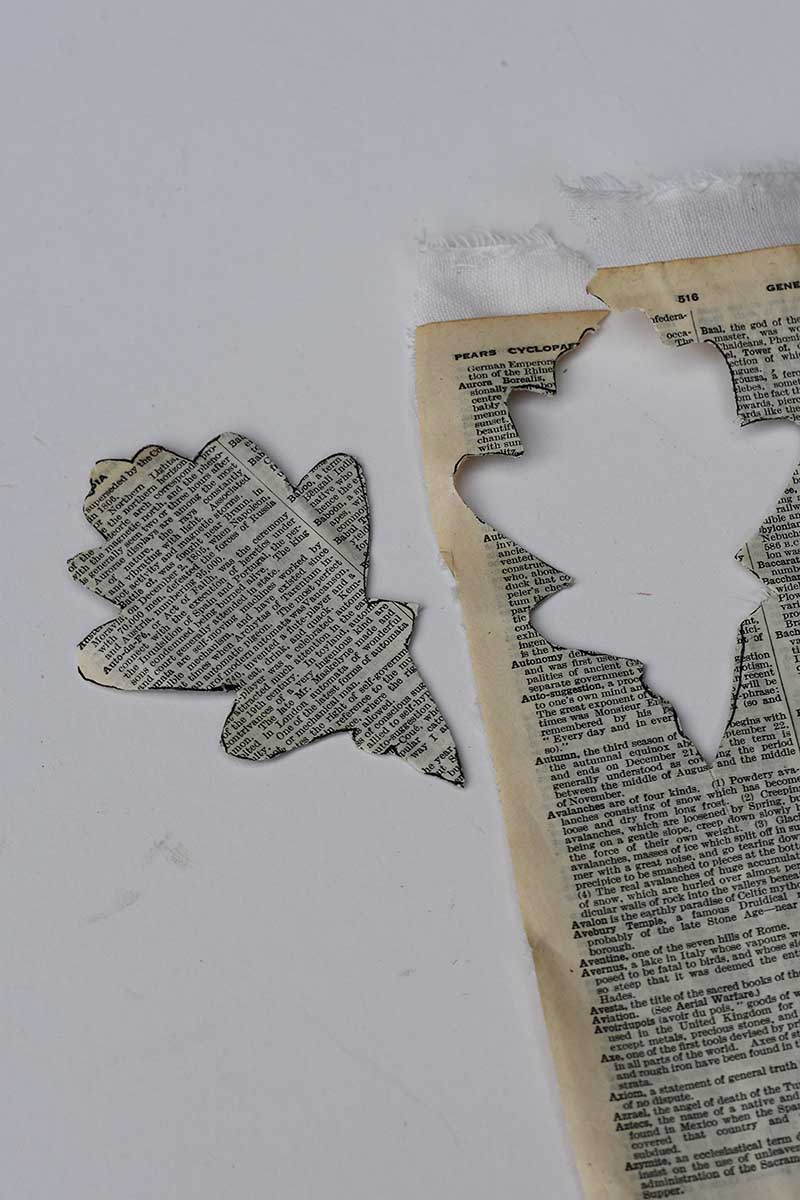 The Paper Leaf Embroidery
Step 5: Use a sharp embroidery needle; the balance is to use one with an eye that is easy enough to thread but so large that it makes big holes in the paper. With this in mind, it's best to use a thread that is not too thick.
Using standard embroidery floss, use 2-3 threads to stitch with. I use a fine linen thread for my embroidery, such as the vintage Davidson & Co Swedish flax threads.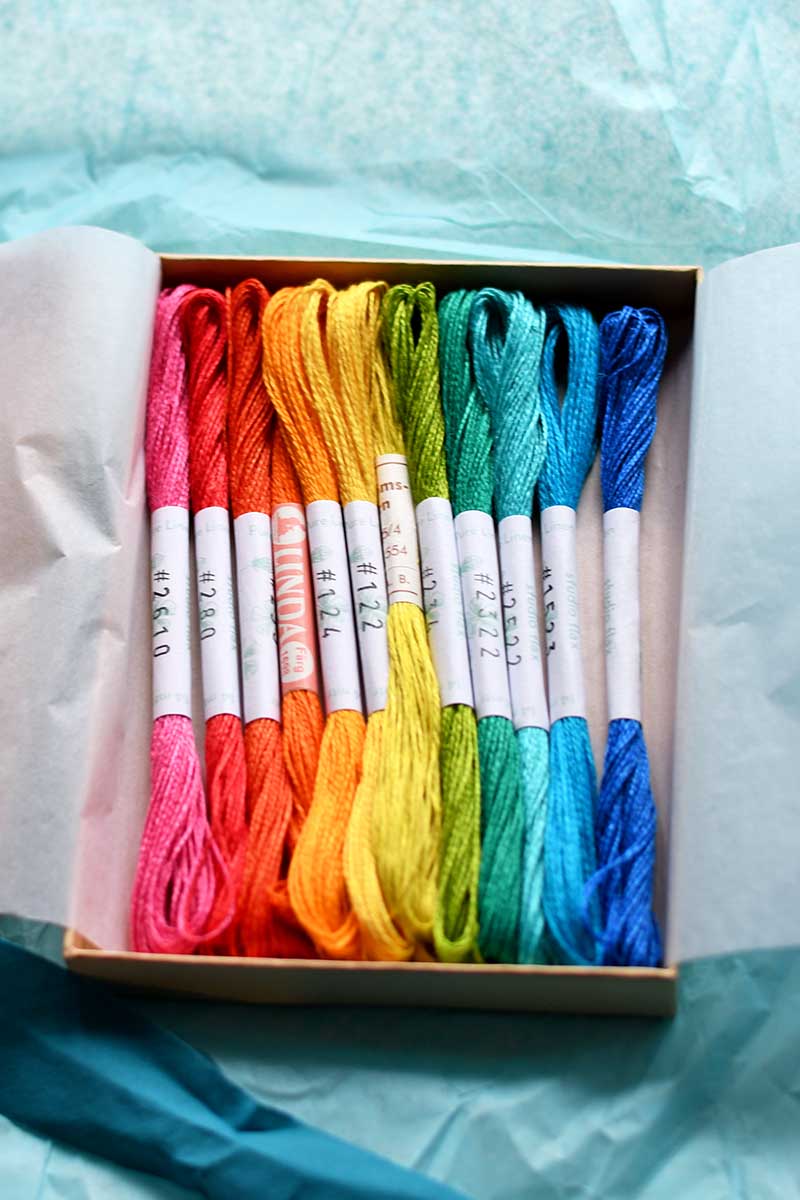 Keep the leaf embroidery simple. First, edge the paper leaves with a simple blanket stitch.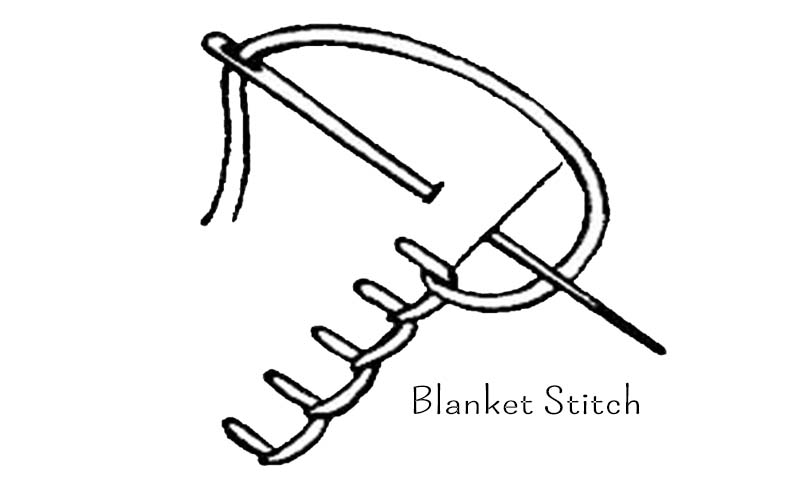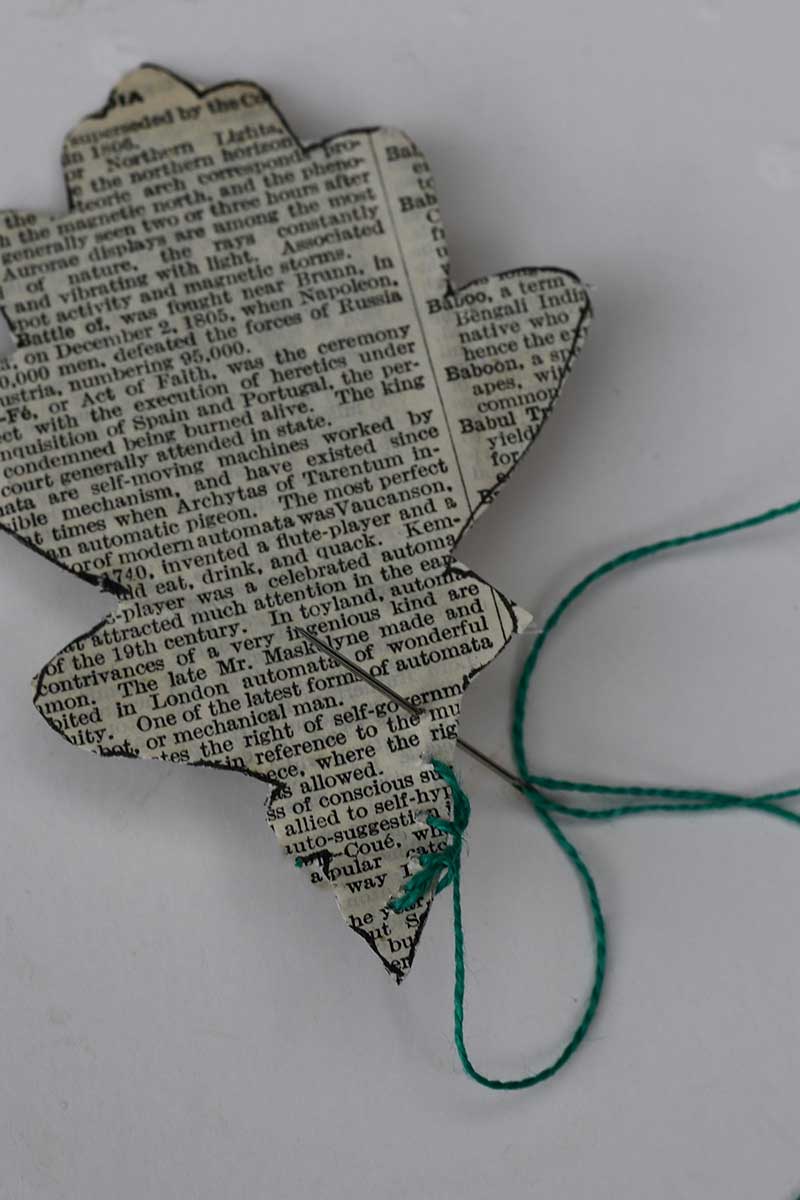 Step 6: Continue the leaf embroidery with the same colour thread and stitch in the veins of each leaf. I used a simple backstitch for this.
It only took about five minutes to embroider each of the paper leaves.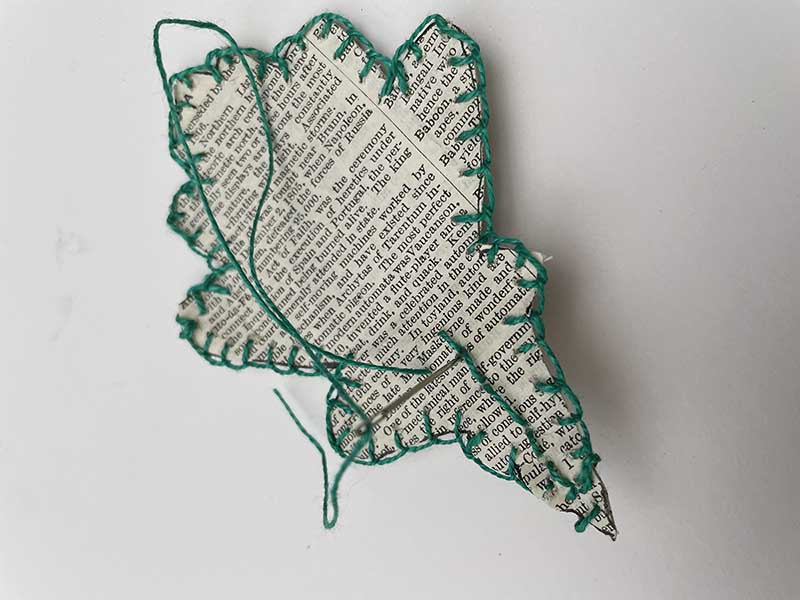 How To Display The Fall Paper Craft
What you need
Small branch stump / or wooden cotton thread spool
Drill (if using a branch stump)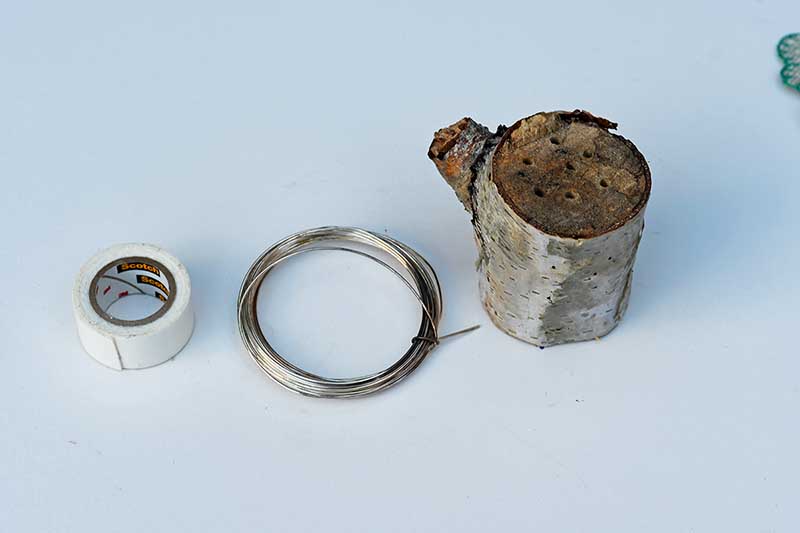 You could hang the leaf embroidery from a branch similarly to my denim feather wall hanging. But I wanted to display this fall paper decoration on my mantle, so I used a tree branch stump instead. A cotton reel spool would work just as well.
Step 7: First, drill holes into the branch's top, one for each book page leaf.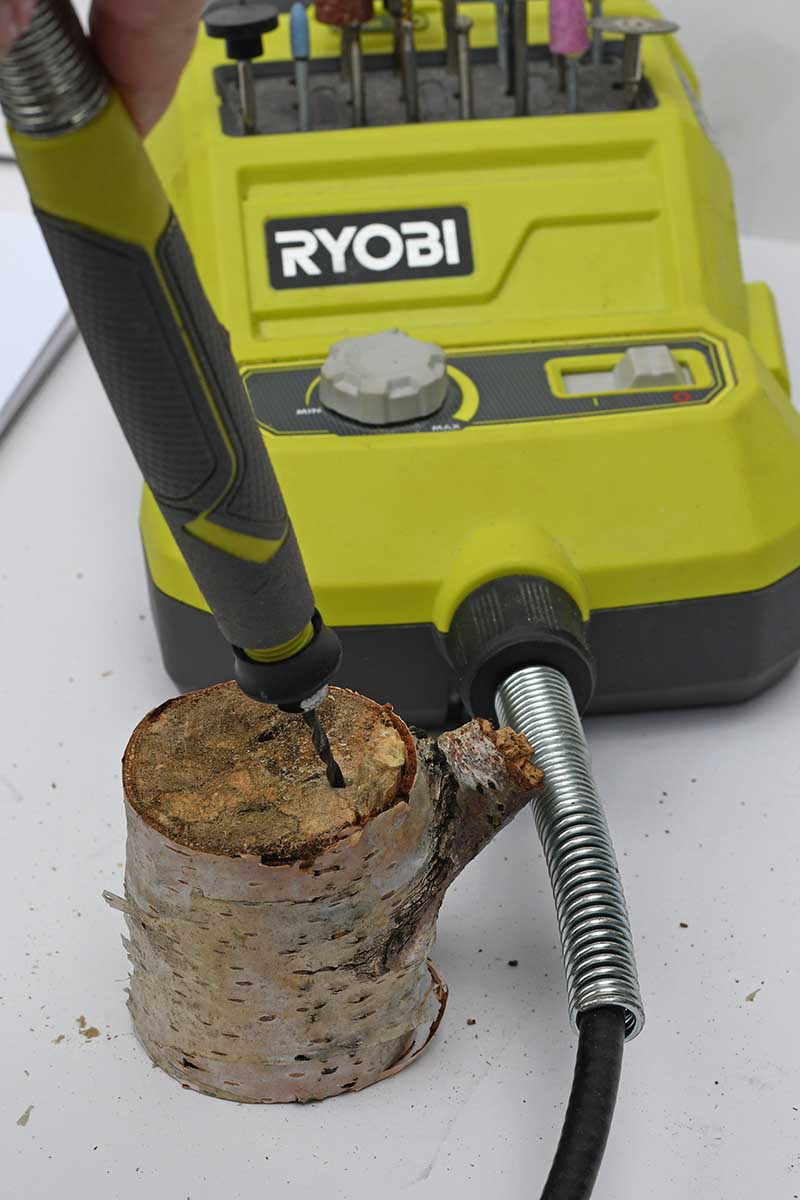 Step 8: Cut the craft wire from 6-12cm in length, one for each paper leaf. Then attach the wire to the back of the embroidered leaves using double-sided sticky tape.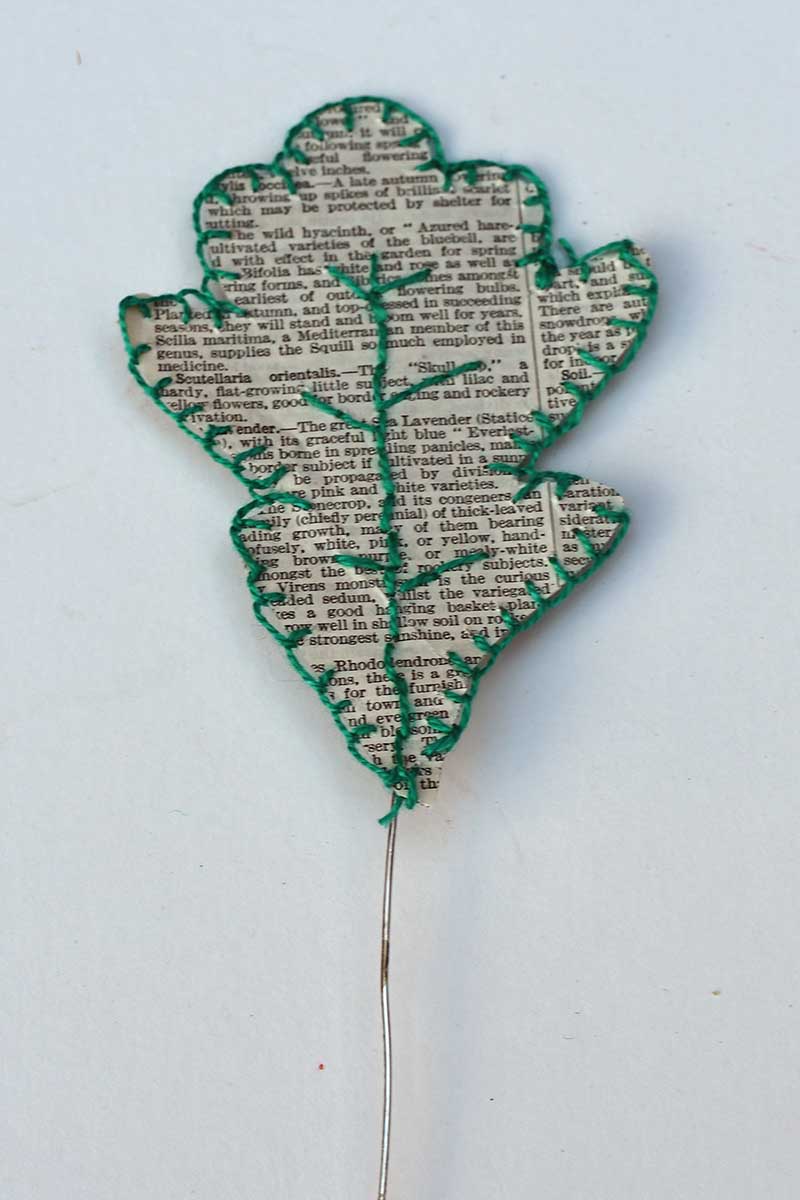 Step 9: Stick the wire ends into the stump holes individually, and arrange them how you wish. A top tip is to put a small ball of white tack on the end of the wire before placing it in the hole to stop it from moving around.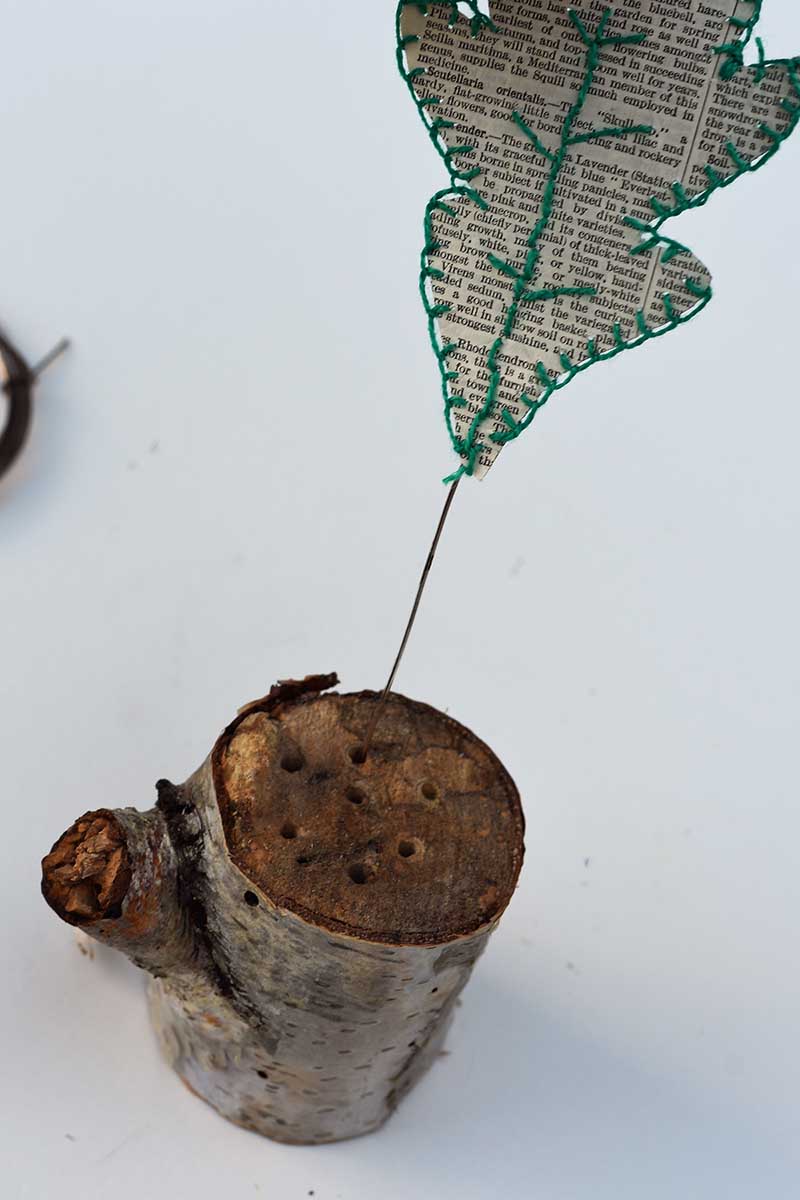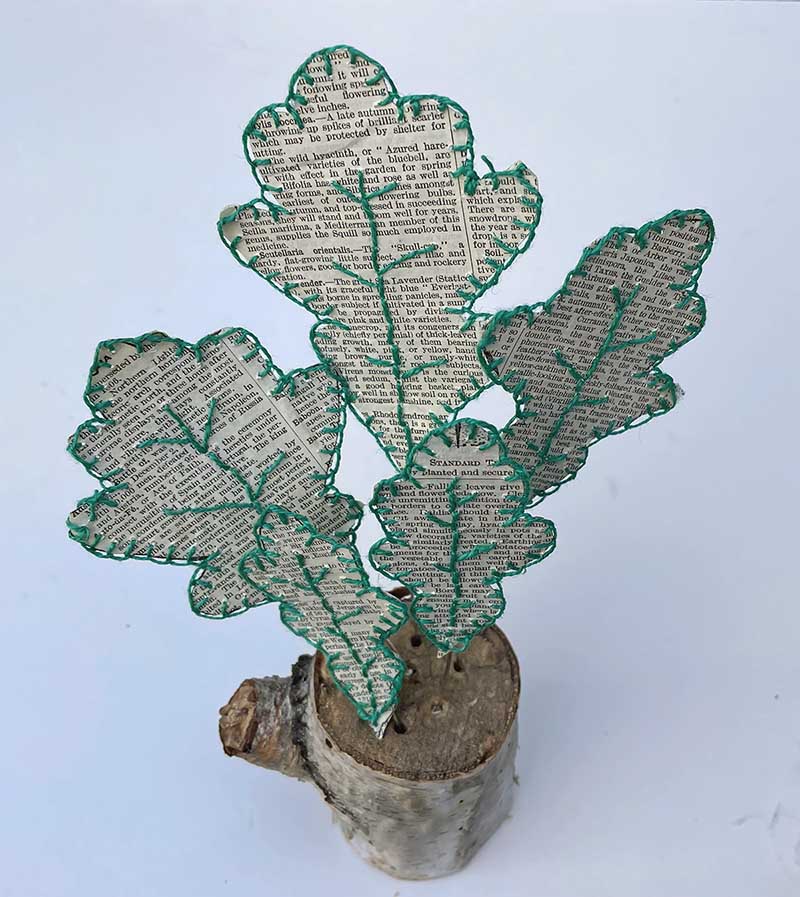 I enjoyed making this fall paper craft, and I'm currently stitching more leaves so I have enough to string a garland along the mantle. The decoration goes well with the acorn and oak leaf pillows I have on the sofa.
If you make enough of these leaves, you can use them for a wreath like this map leaf wreath.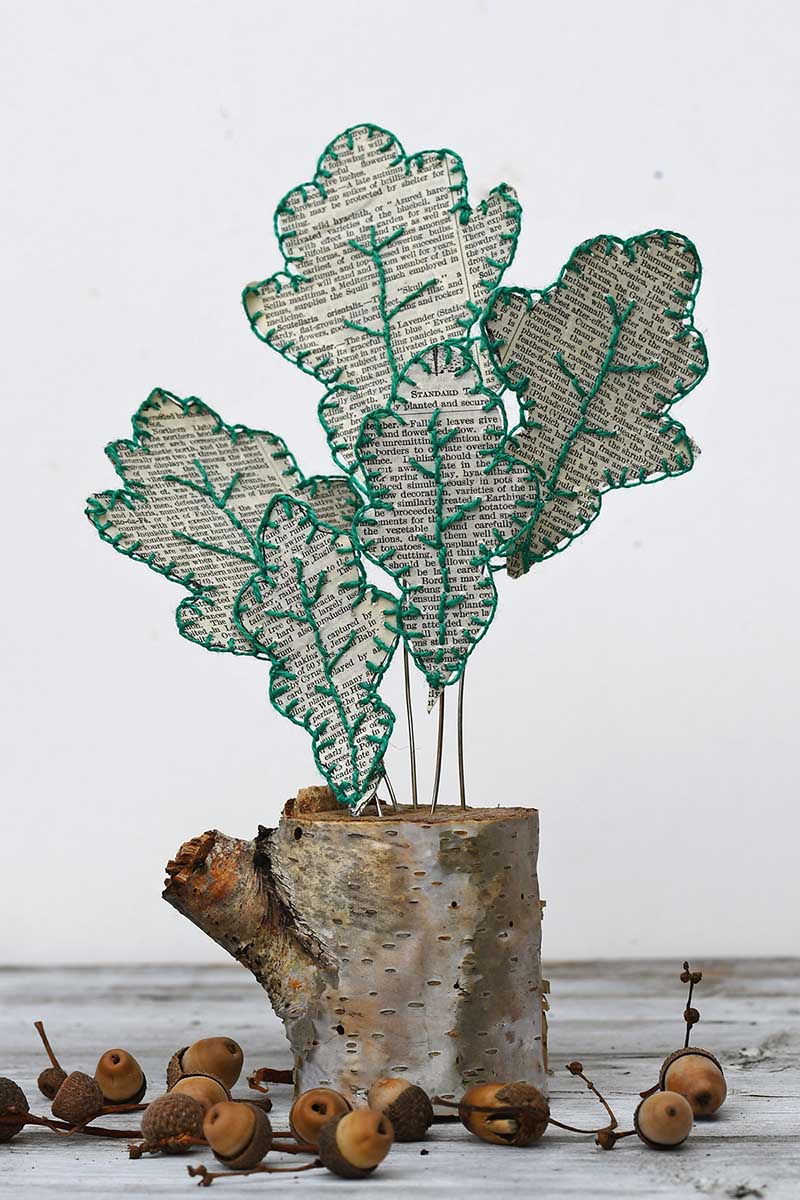 Yield: A whimiscal fall paper leaf decoration for the mantle.
How To Make Paper Leaf Embroidery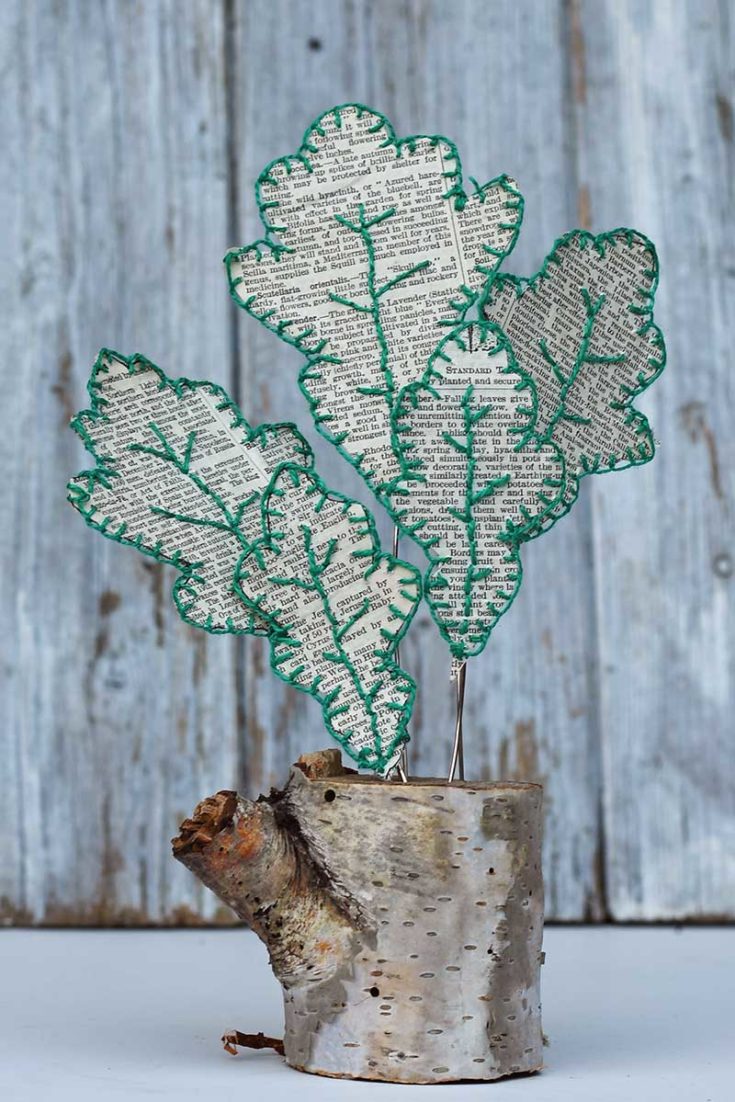 Learn how to turn book pages into a piece of fabric and then make leaves from the paper fabric. Embroider the paper leaves to make a unique fall decoration for the mantle or wall.
Additional Time
15 minutes
Materials
Old book such as an out of date encyclopedia or dictionary
Muslin/cheesecloth the thin stuff used for straining
Mod Podge
Craft wire 20 gauge
Tree branch stump
Double-sided sticky tape
Instructions
First, make the paper fabric by glueing the book pages to either side of a piece of muslin cloth. Use Mod Podge for this.
Once the glue is dry, place oak leaves onto the paper and draw around them.
Cut out the leaves; you should get about 4 to a page.
Thread an embroidery needle with floss and blanket stitch around the edge of each paper leaf.
Then use a blanket stitch to sew some veins into the leaves.
Drill holes into the top of the branch stump, one for each leaf.
Cut the craft wire into lengths between 6-12 cm. Stick one piece of wire to the back of each embroidered leaf with double-sided sticky tape.
Place the leaves into the holes and arrange them into a pleasing vignette. You can use a small amount of white tac on the end of each wire to keep it in place.
Other Embroidery Craft Ideas
You could use other leaf shapes; check out these autumn leaf charts for some more leaf template ideas. It is even possible to stitch real leaves if you add a stabilizer.
I have an excellent guide for stitching on paper by hand or machine and a good example of stitched dictionary pages.
For other whimsical embroidery decorations, check out these Halloween skulls, embroidered felt baubles and these beautiful Scandinavian trees.