Learn to embroider jeans pockets with our free Halloween designs! Turn them into delightful treat bags for a unique Halloween craft.
With Halloween swiftly approaching, it's time to delve into some DIY fun! Instead of the usual store-bought bags, how about crafting fun treat bags from embroidered jeans pockets? I've got some spellbinding designs to help you along the way.
Why Jeans Pockets?
Everyone has that pair of old jeans gathering dust in the wardrobe. Instead of letting them go to waste, transform them! The denim pockets offer just the right space for Halloween treats and are the perfect canvas for embroidery.
The Halloween Embroidery Patterns
Choose from these three enchanting patterns:
Jack-O-Lantern: That classic Halloween grin, shining bright against the denim backdrop—Orange & black embroidery thread.
Ghastly Ghost: A friendly phantom floating amidst a starry night. White & black embroidery thread.
Spider & Web: A crawling critter and intricate web that'll send shivers down your spine. White & black embroidery thread.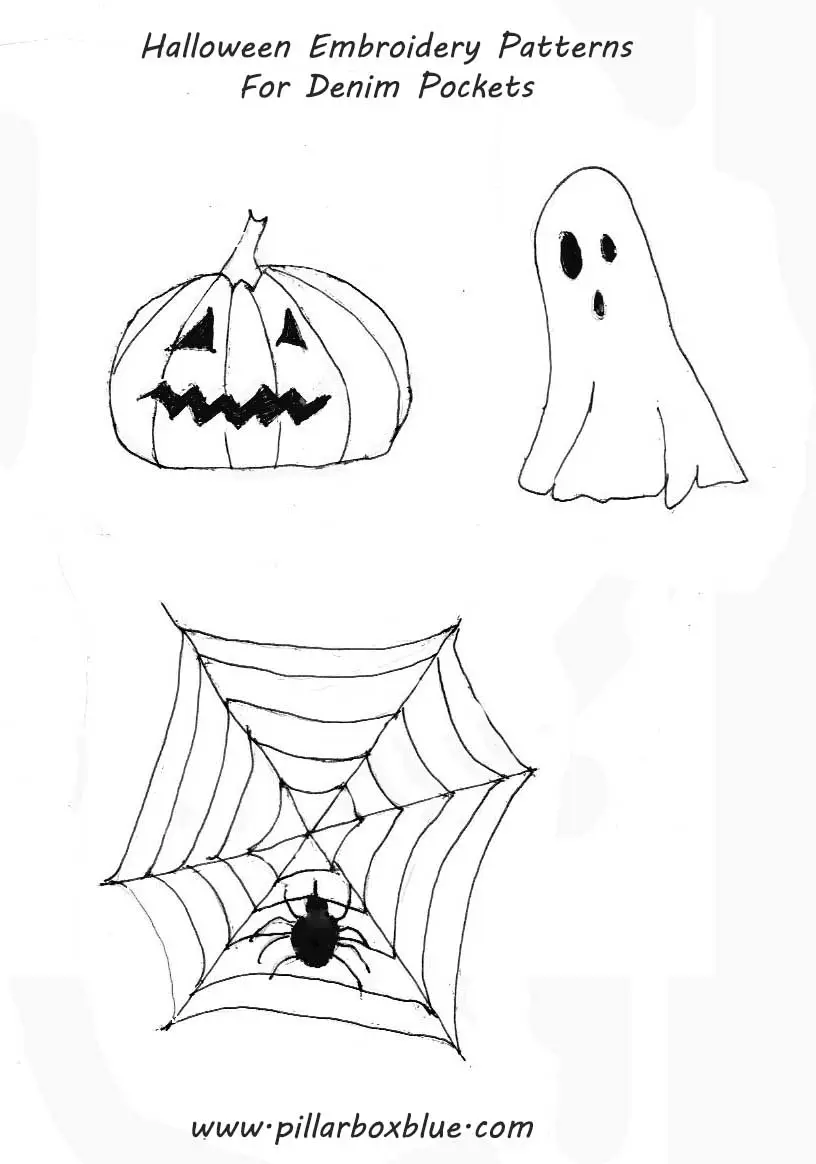 You'll find more free Halloween embroidery patterns here.
We're a participant in the Amazon Services LLC Associates Program, an affiliate advertising program designed to provide a means for us to earn fees by linking to Amazon.com and affiliated sites. As an Amazon Associate, I earn from qualifying purchases.
Crafting Your Embroidered Halloween Treat Bags
Materials:
Embroidering Jeans Pockets
Step 1: Preparation, using scissors, cut out the back pockets from a pair of jeans. Then, using the seam ripper, open up the pocket to stitch through the front without going through to the back.
Should you wish to embroider pockets on jeans you're still sporting, use a seam ripper to delicately detach the front of the pocket by removing the stitches.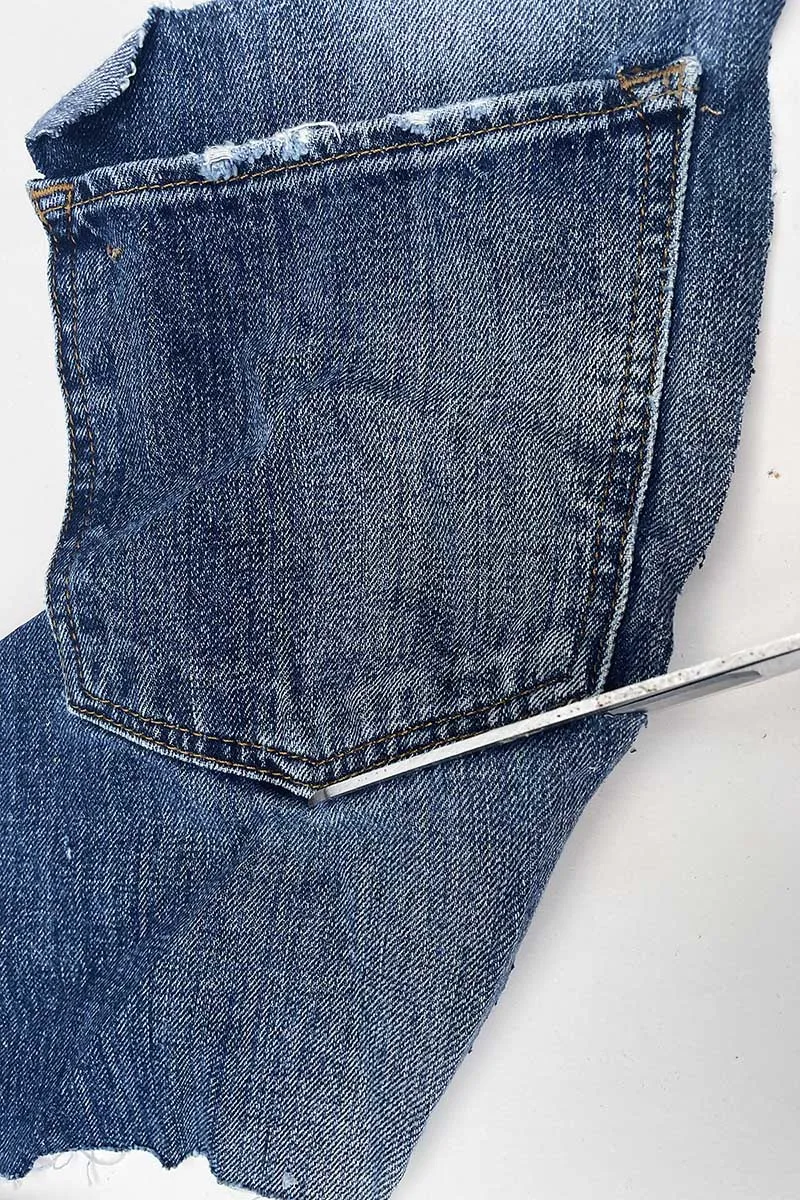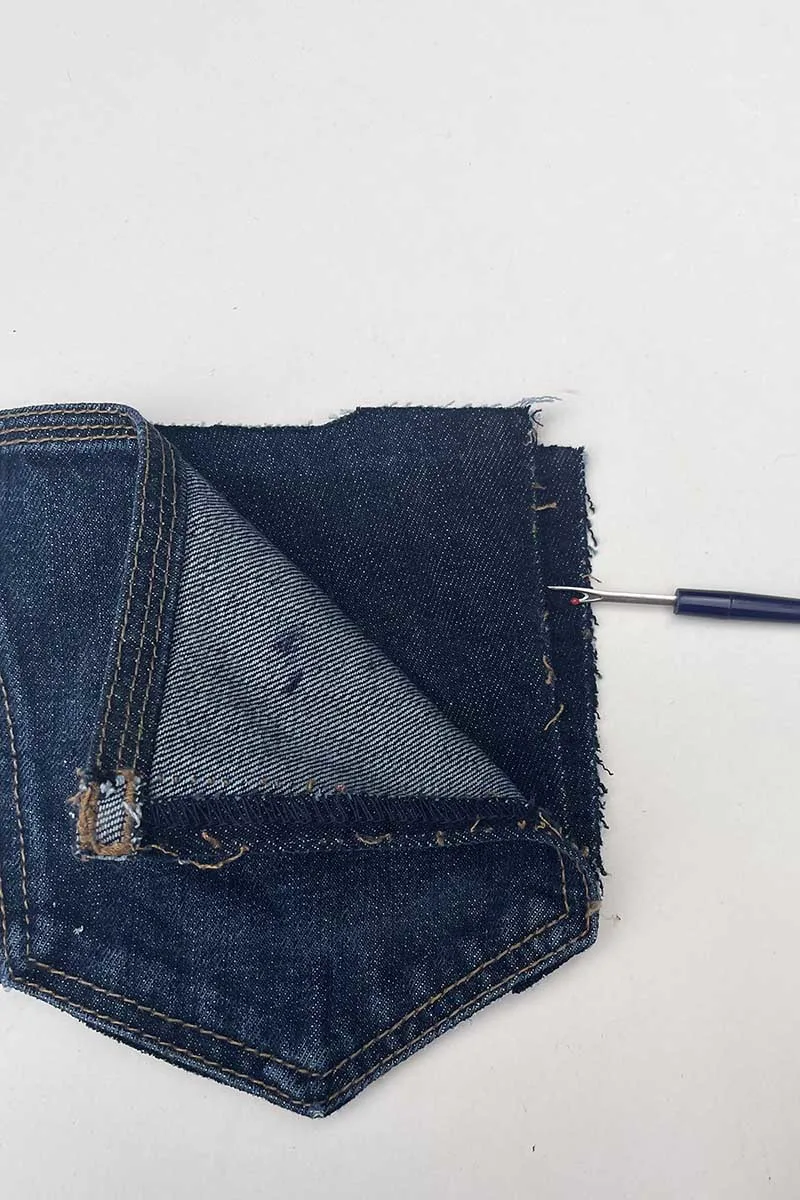 Step 2: Trace your chosen Halloween embroidery pattern onto the water-soluble embroidery paper. Position the paper onto the pocket and secure it (using pins and an embroidery hoop).
Water-soluble embroidery paper is perfect for projects on darker fabrics like denim. Its high-contrast visibility ensures the patterns stand out clearly on such textiles. After embroidery, a simple dampening dissolves the paper, leaving only the stitched design.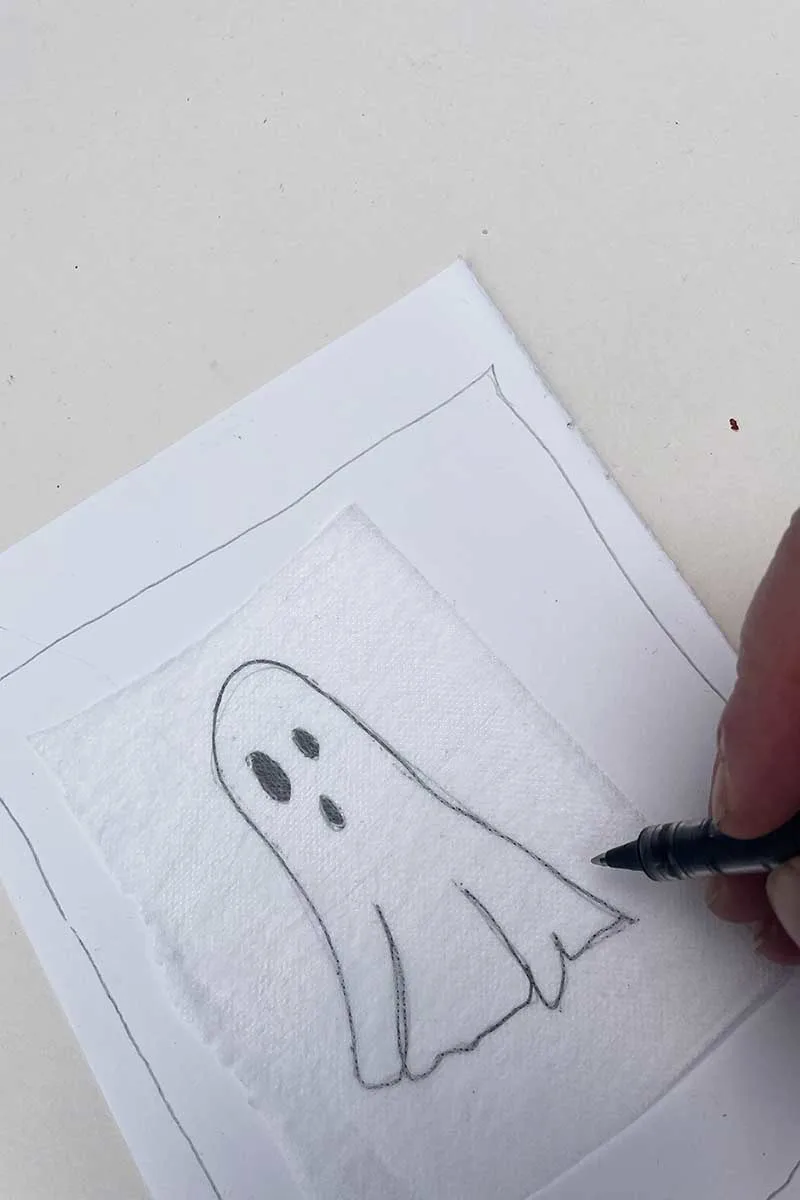 Step 3: Pin the embroidery design onto the front of the pocket and then secure it with an embroidery hoop.
You can use sticky embroidery paper instead of pins to secure the design, but I wouldn't say I like to use these as they can leave a residue.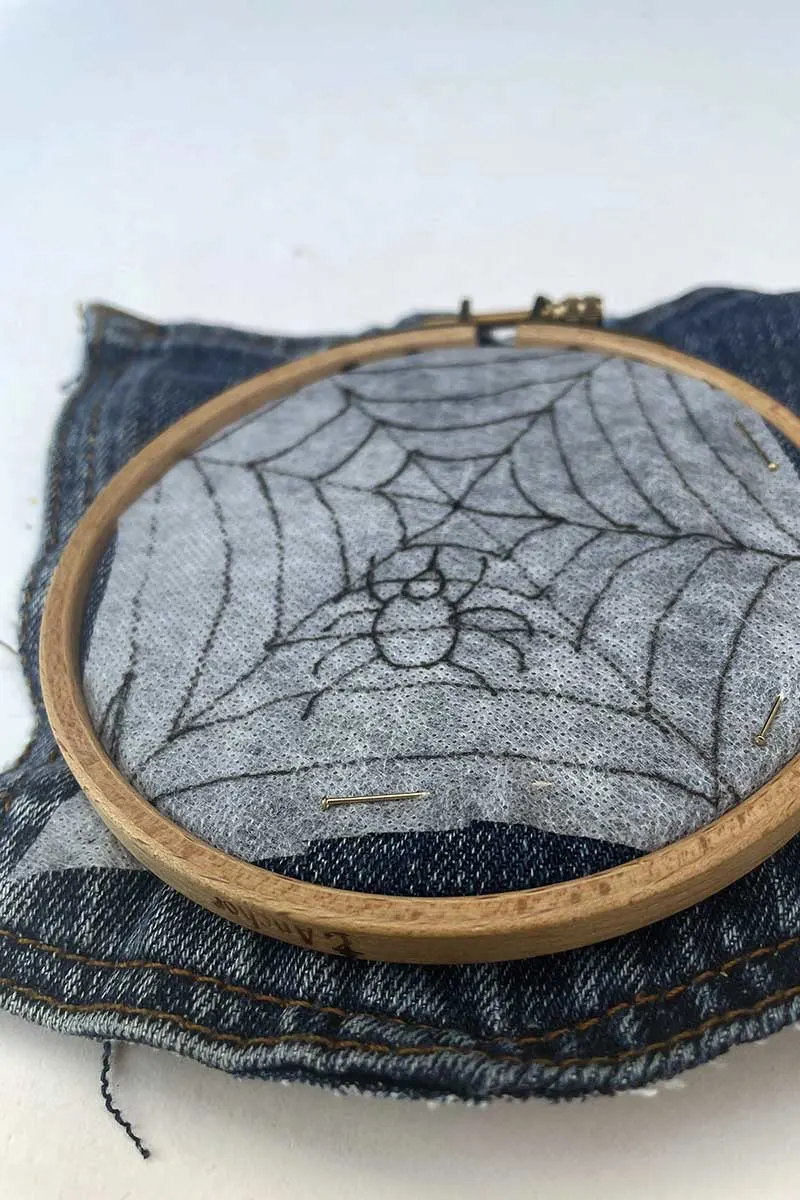 Step 4: Start the embroidery.
Jack-O-Lantern – First embroider outline in black with a simple split stitch (see here). Then, fill in the eyes and mouth with a satin stitch in black. The pumpkin was then finished with orange thread and a satin stitch.
Ghost – Outline in black split stitch, face with satin stitch and then fill with white long and short stitches.
Web & Spider: Use a split stitch in white for the web. Use a combination of split and satin stitches in black for the spider.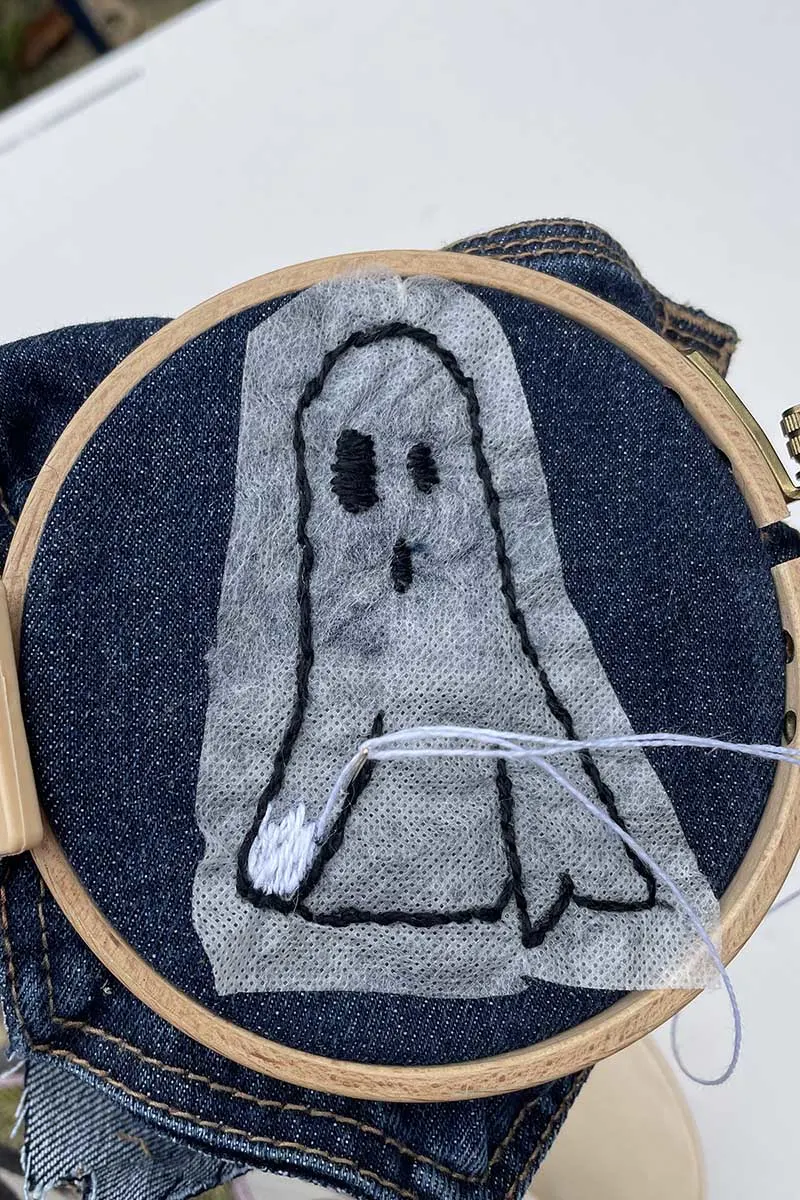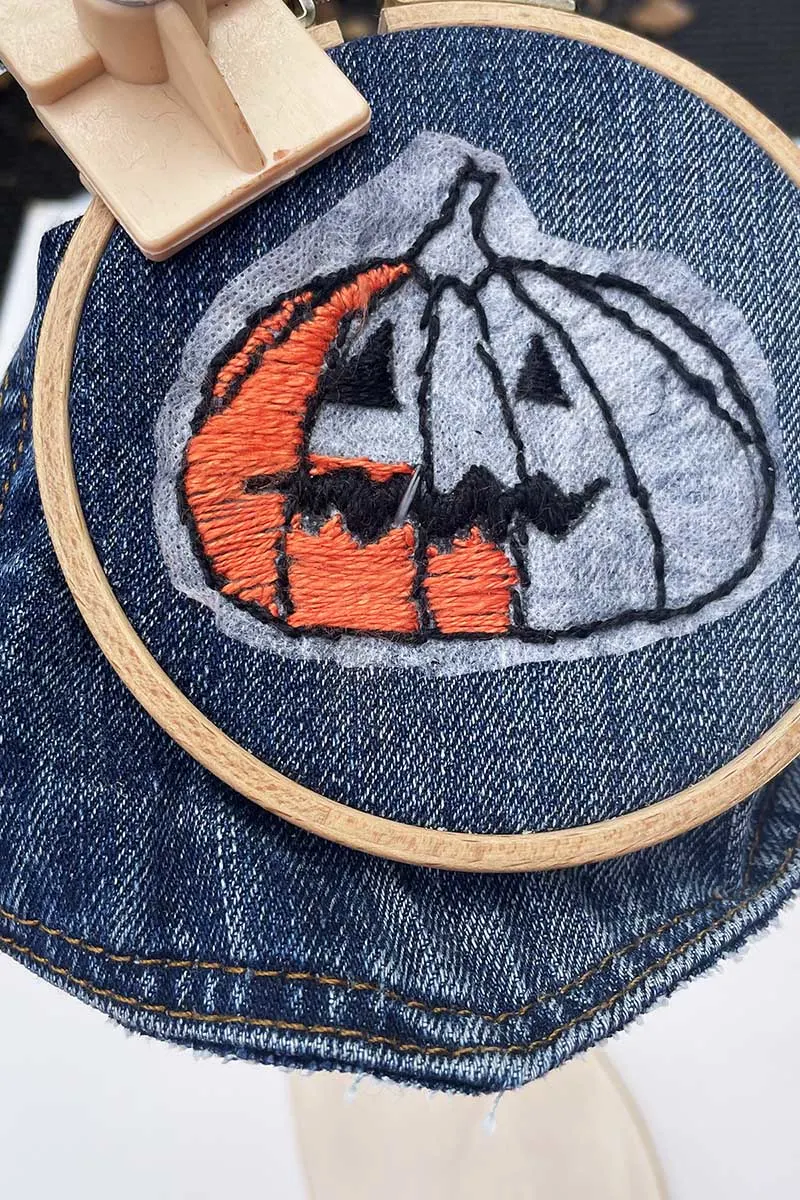 Step 5: Dissolve the Paper: Once you've embroidered the entire design, dampen the water-soluble paper, and it'll dissolve away, revealing your flawless design on the denim.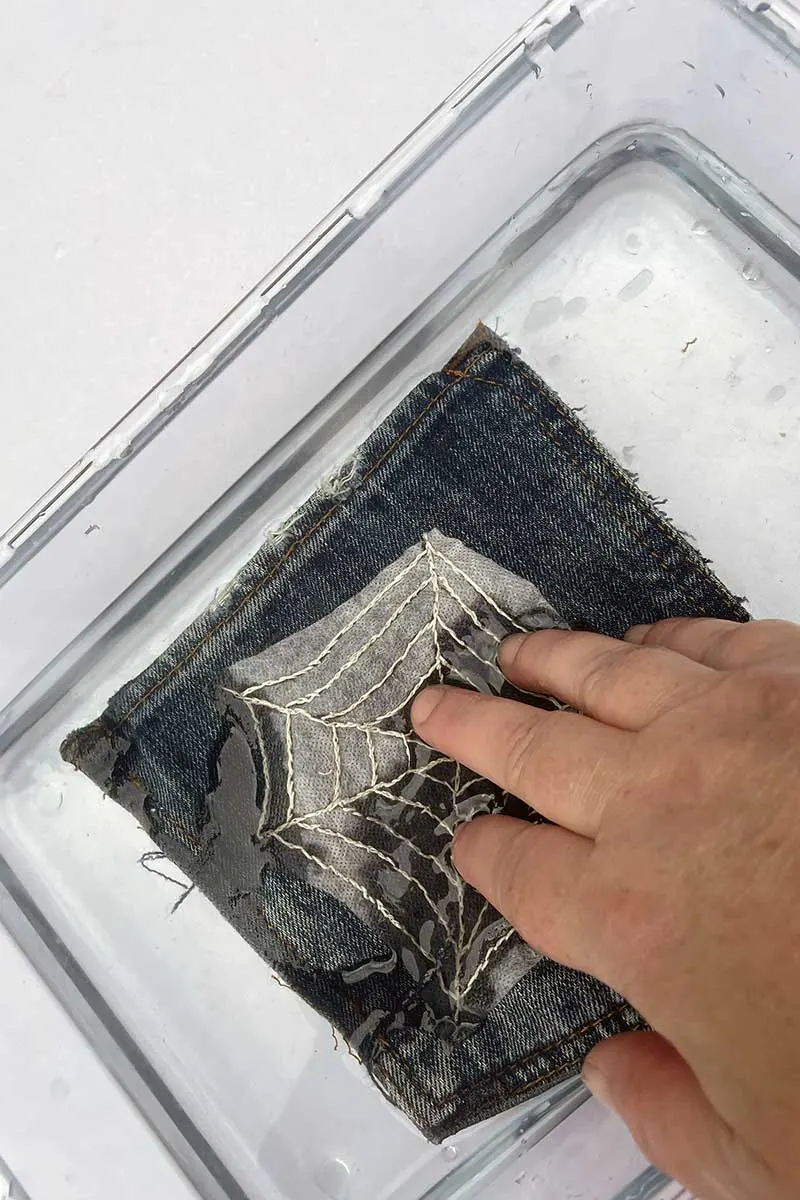 Making the Hanging Halloween Treat Pockets
Step 6: Restitch (or glue) the front of the pocket to the back. Then, add a hanging loop to the top of the pocket. I used the jeans hems for this, just like I did with my painted denim pockets.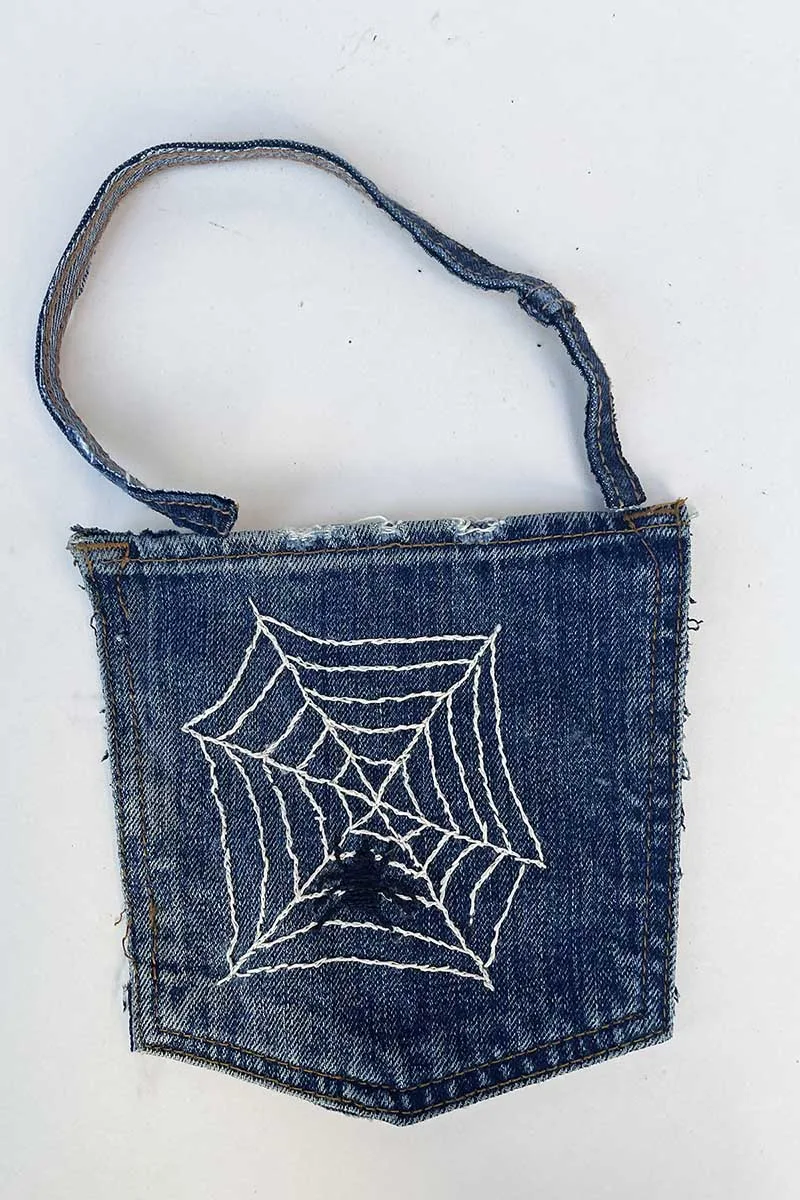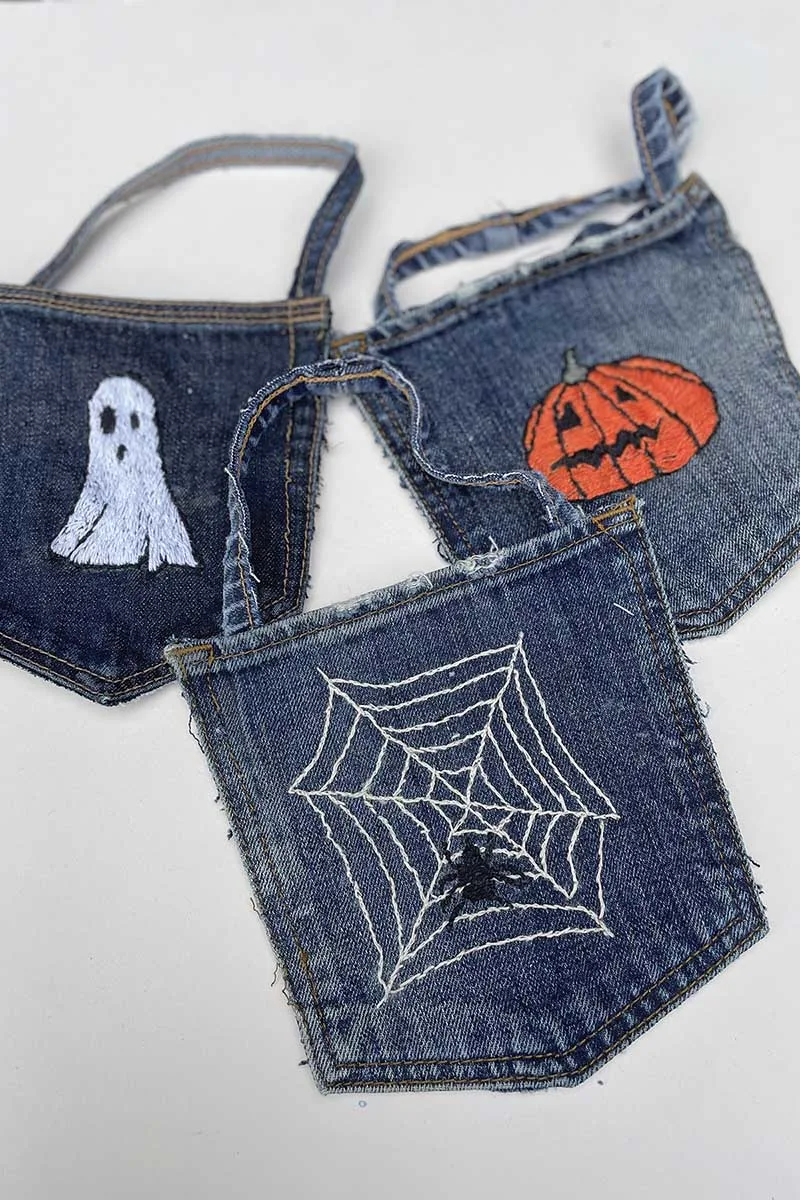 Step 7: Celebrate: Fill your crafted bags with goodies, candies, or small toys, and revel in the festive Halloween spirit.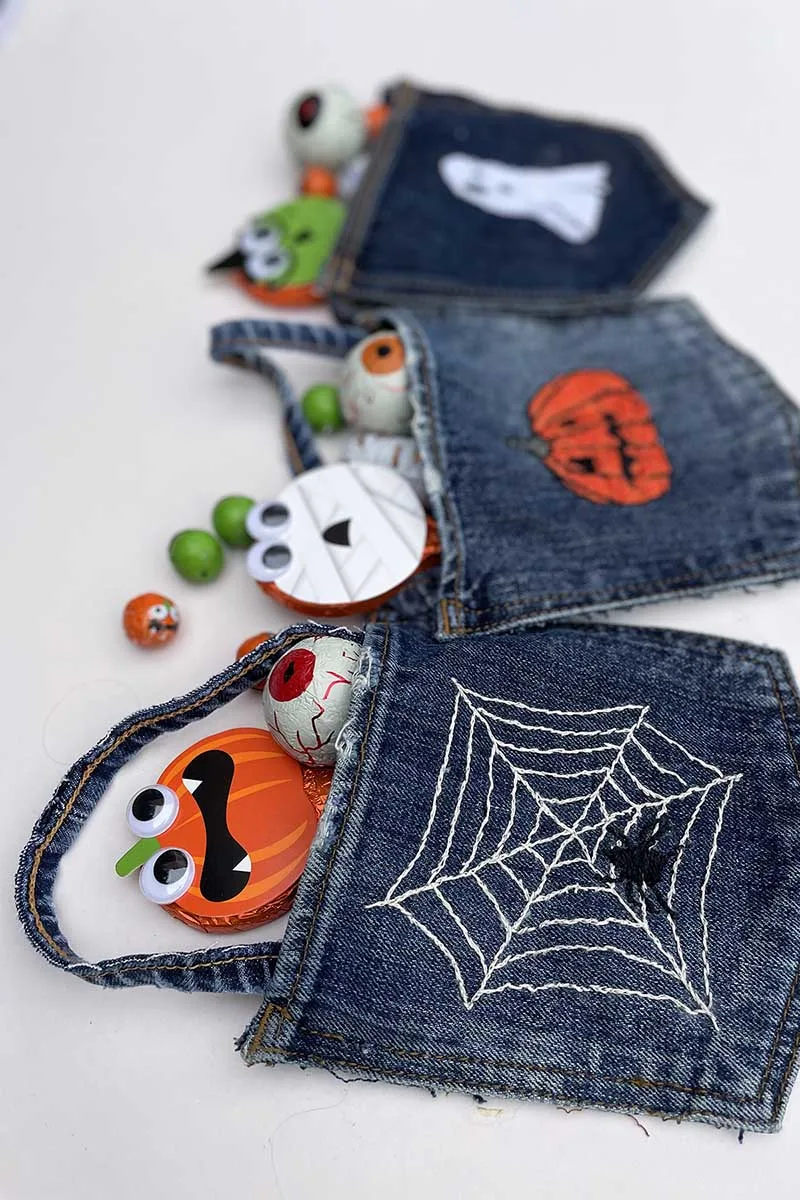 These Halloween embroidered jeans pockets are great mini treat bags and can be hung as part of your Halloween decorations.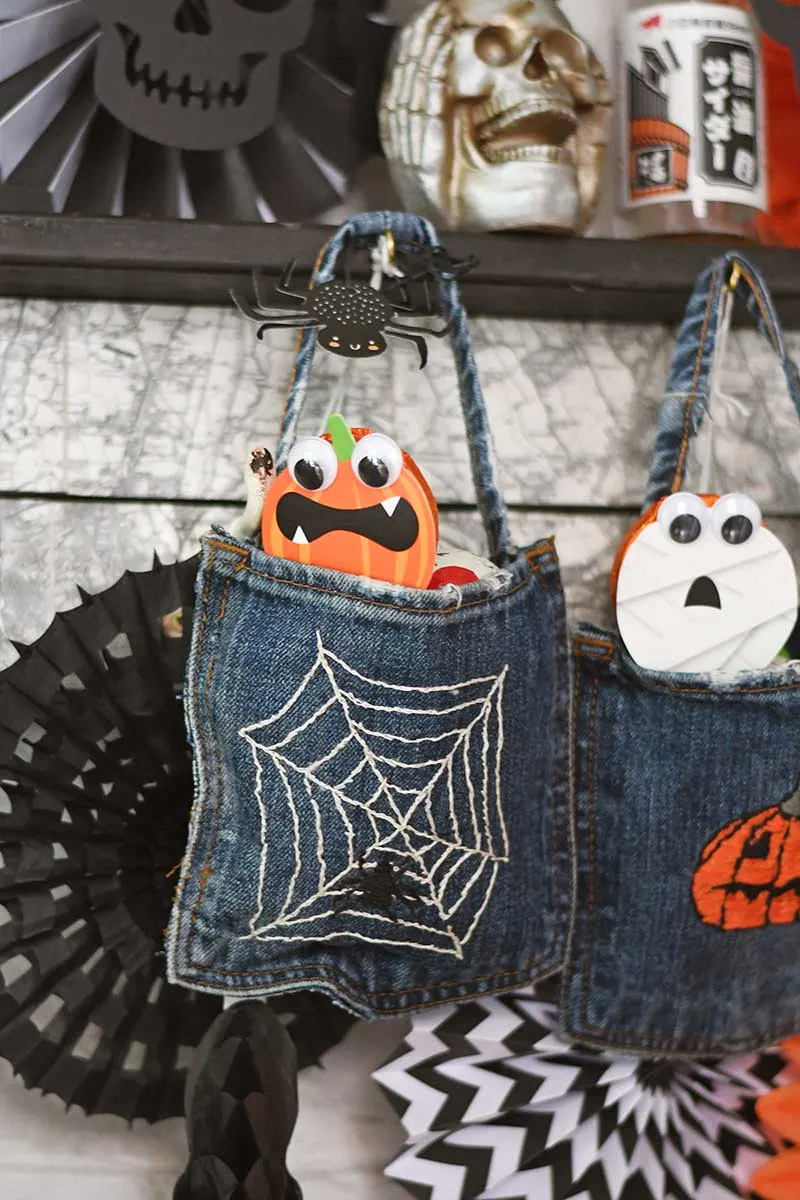 Other Denim Pocket and Halloween Ideas
If you love repurposing jeans, check out my other upcycled denim projects. You'll find some handy ideas of what you can make from the rest of the jeans.
I have upcycled jeans pockets for other holidays, such as these Christmas applique and denim Christmas decorations. You'll find more denim treat bags in my collection of Valentine's denim ideas with my popular applique heart pockets. I also have a group of embroidered denim pockets in my craft room.
If you want to make Christmas versions of these pockets, check out these free Christmas embroidery patterns.
The blog also has a great collection of upcycled Halloween decorations, including stylish embroidered skulls and stitched paper treat bags.
Yield: Three different embroidered Halloween denim treat pockets
Embroidered Halloween Jean Pocket Bags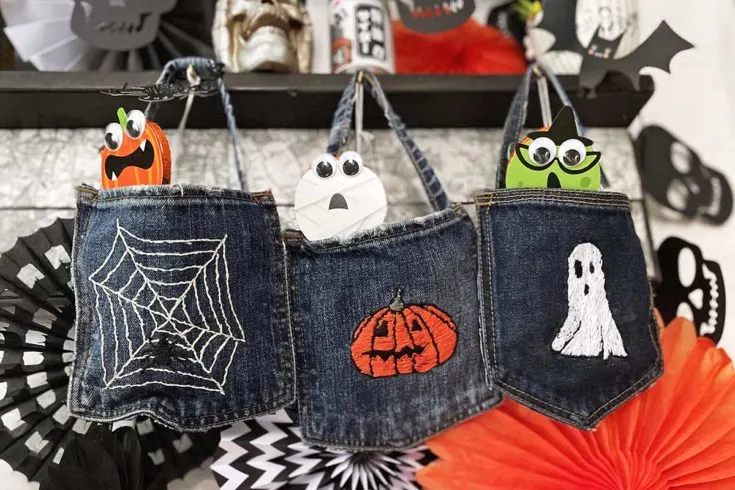 Revamp your old jeans into Halloween magic. Our step-by-step guide shows you how to embroider and create the perfect hanging treat pockets.
Total Time
2 hours
10 minutes
Materials
Old jeans with back pockets intact
Embroidery threads in white, orange and black shades
Water-soluble embroidery paper
Tools
Embroidery needle
Small scissors and seam ripper
Embroidery hoop (optional but helpful)
Instructions
Cut the pocket off the back of an old pair of jeans. Then, carefully open the pocket using a seam ripper down one side. This is so you can embroider the front of the pocket without going through to the back.
Print out the free Halloween embroidery designs; there are three to choose from. Place the water-soluble paper over the design and trace the outline with a pen.
Pin the paper pattern to the front of the pocket and put the pocket in an embroidery hoop.
Embroider the pattern using black thread with a split stitch for the outline. Then, fill in with colour using either a satin stitch for small areas or a long and short stitch for larger ones.
Place the denim pocket in water to dissolve the paper when the embroidery is finished.
Sew or glue up the back of the pocket where you had used the seam ripper in step 1.
Cut the hem off the jeans and use this to make a hanging strap for the embroidered jeans pockets. Sew the strap in place.
Fill your denim Halloween pockets with treats and toys!