Inside: 25 of the best repurposed and upcycled Halloween decorations and crafts for an eco-friendly holiday.
When the kids were younger, my husband made a room of doom. He got a bit carried away with the decorations; it was spooky; the kids were too scared to enter it!
Luckily we made most of the Halloween decorations by upcycling and repurposing stuff we already had. Not only was it spooktacular, but it was eco-friendly too.
There is no need to spend money on tacky cheap plastic Halloween decorations. With imagination, you can make spooky and unique decorations by upcycling household trash.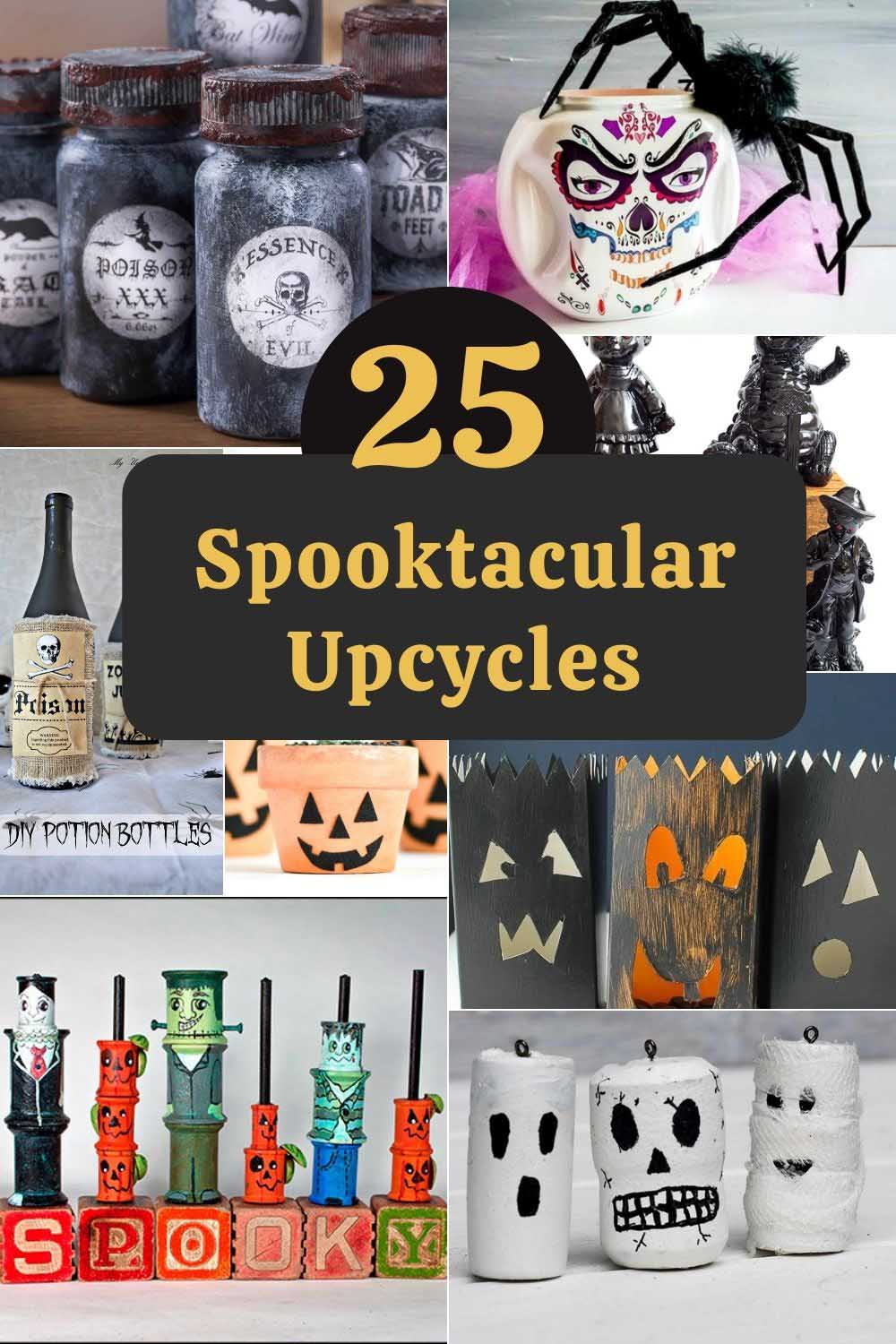 The Spooktacular DIY Halloween Crafts
There are many ideas for upcycled Halloween crafts that use everyday objects such as bottles, milk cartons, cardboard boxes, jars and tin cans.
You should find something on this list to ensure a more sustainable and affordable Halloween. They cover all the usual spooky themes of skeletons, ghosts and ghouls, Jack-o-Lanterns, mummies and other creepy characters.
If you already make your own eco-friendly Halloween decorations, I'd love to hear about them!
Even though the room of doom spooked the kids, the adults loved it. It became an annual tradition, and we became known in the street for our homemade Halloween decorations. My kids have grown up, but I'm just waiting until I have grandchildren to spook.
If you are looking for some free Halloween images for your upcycled decorations, check out these free vintage Halloween postcards and skeletons.
Upcycled Decorations For Other Holidays
You can also be eco-friendly when decorating for other holidays and seasons, using upcycled materials or repurposing nature. Pine cones and acorns are free resources to use for fall decorations and crafts.
Wood slices, wine corks, cardboard packaging and even denim can be crafted into many upcycled Christmas ornaments and decorations.