Discover the joy of upcycling with this DIY Christmas Tree Shaped Pillow from an old sweater. Perfect for adding a cosy, festive touch to your holiday décor!
When I saw this green jumper in my junk trunk (yes, I have a chest full of old sweaters and jeans waiting to be upcycled), it screamed, " Christmas tree"!
A Christmas Tree Shaped Pillow / Cushion
The holiday season is here, and the air is filled with the scent of gingerbread and pine. What better way to embrace the festive spirit than crafting a cosy Christmas Tree Shaped Pillow using an upcycled old sweater?
This Christmas sewing project is environmentally friendly and adds a personal touch to your holiday decorations.
I'd made cute sweater mountain pillows and acorn-shaped pillows before, so it wasn't a huge leap to Christmas tree pillows. Just a different colour, with a few decorations! This pillow was simple to make. Upcycling sweaters for Christmas is one of my favourite crafts.
Pom poms were the perfect decorations for my Christmas tree pillow as they look like colourful baubles. And who doesn't like a pom pom?
It also helped me use up some of my embarrassingly large yarn stashes. However, I need to make a whole forest of Christmas tree pillows to make a real dent.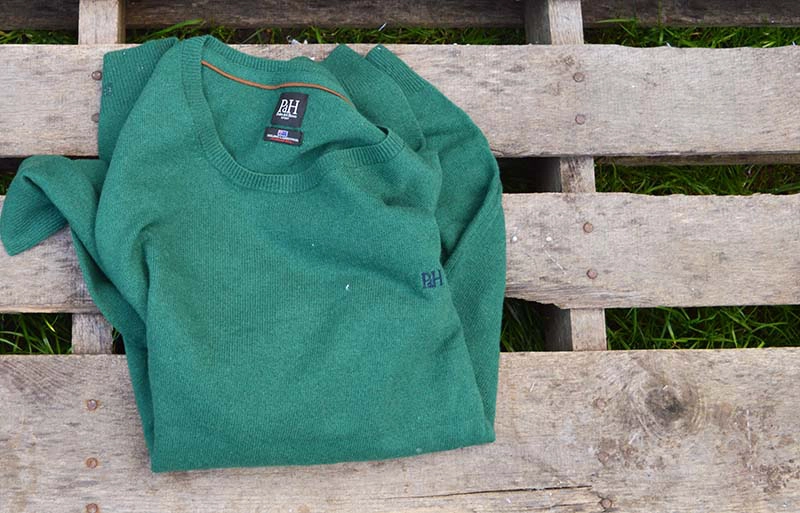 We're a participant in the Amazon Services LLC Associates Program, an affiliate advertising program designed to provide a means for us to earn fees by linking to Amazon.com and affiliated sites. As an Amazon Associate, I earn from qualifying purchases.
Materials Needed To Make Pillow
Old wool green sweater – (Needs to be at least 70% wool to felt.) You can use a green sweatshirt to make the pillow and miss out on the felting stage, but it would be as fluffy.
Some brown felt (can be from a sleeve of a wool sweater)
White Chalk
Scissors
Needle & thread
How to Make A Christmas Tree Shaped Pillow
Step 1: Felt your sweater in a hot wash in the washing machine. You have probably done this by accident, where you shrink your favourite sweater to a size only fit for a toddler. (If you want more felting details, you can find them here)
Felting the wool sweater stops the yarn from unravelling when you cut it. If you use an old sweatshirt or a non-wool sweater, you can still make a Christmas tree shaped pillow with it. Just miss out on felting.
Step 2: Next, lay your felted sweater out flat. Using the chalk, mark out the biggest triangle shape the sweater will allow.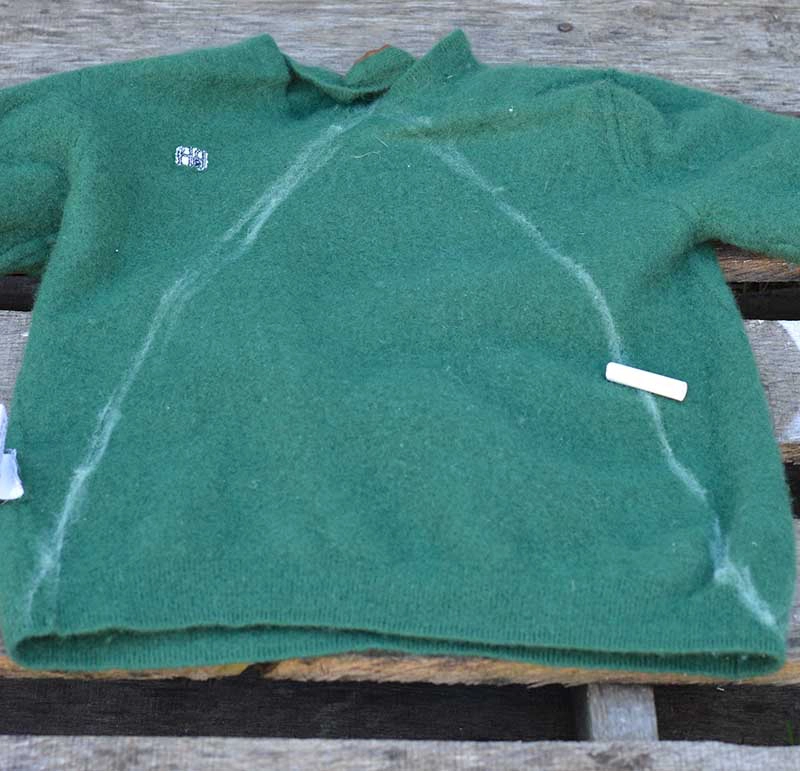 Step 3: Cut out the triangle shape. You can cut out a trunk for your tree if you have a brown felted sweater.
Pin and sew up the cushion outline, the right sides together, leaving a gap at the bottom.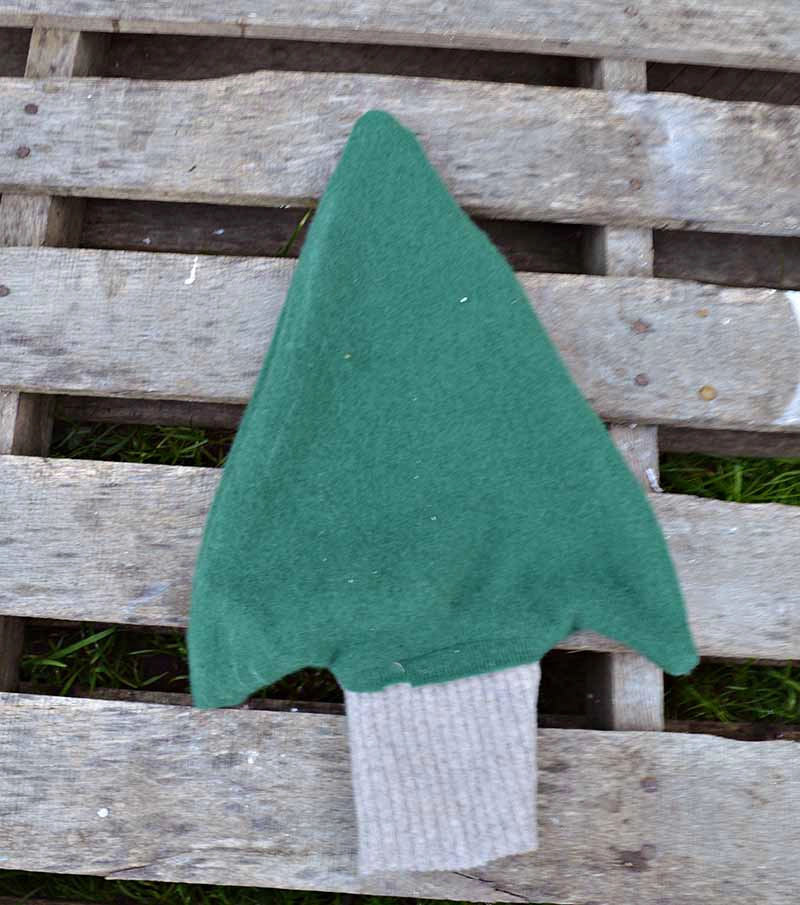 Step 4: Turn the pillow, right sides out and stuff it with fiberfill before sewing up the bottom. There is not a lot of sewing, so it can be stitched by hand if you don't have a machine.
Step 5: Finally, using the pom-pom maker, make the decorations in various colours and sew them to your tree. I made ten pom poms to adorn my repurposed sweater Christmas tree. Or use buttons, ribbons, or any decorative materials to decorate your Christmas tree pillow.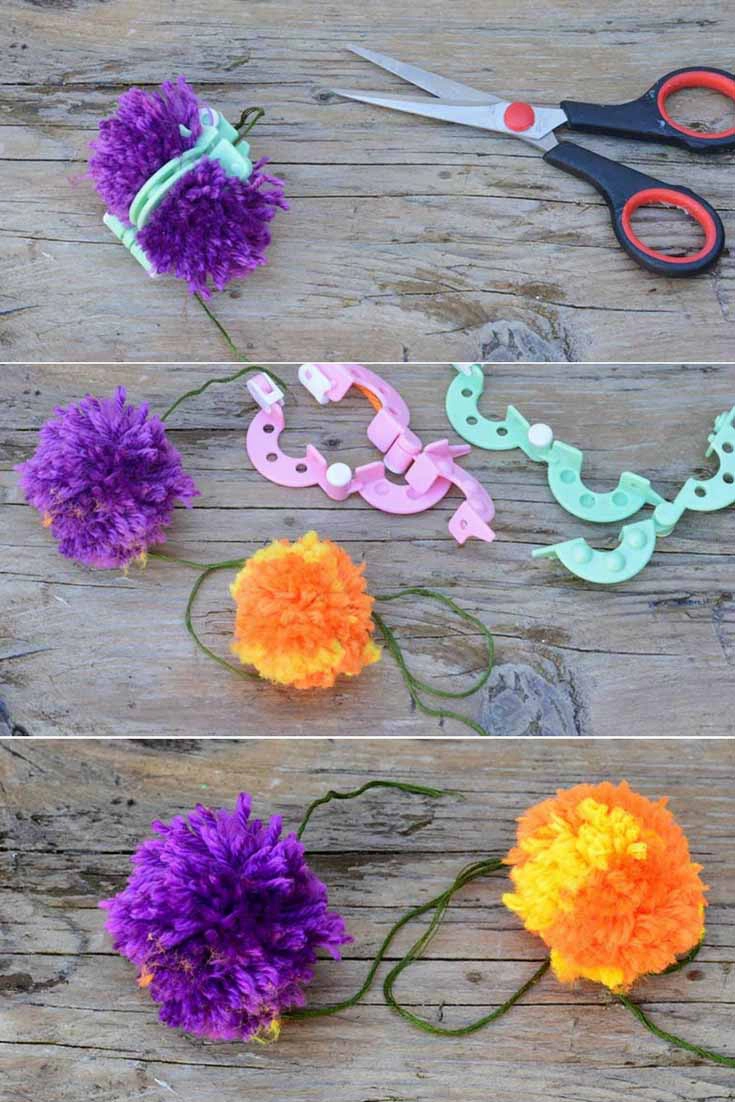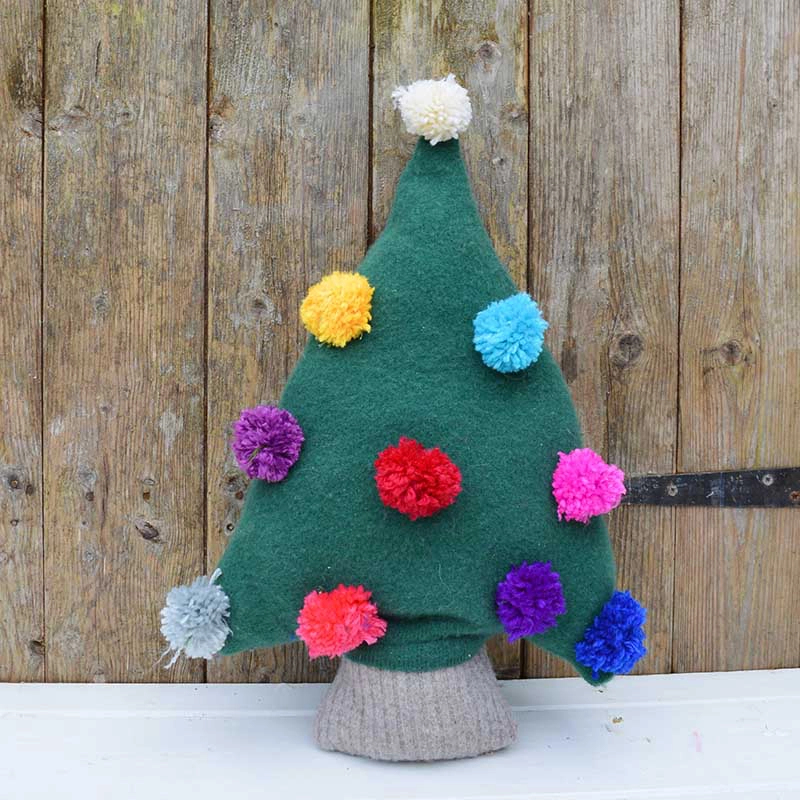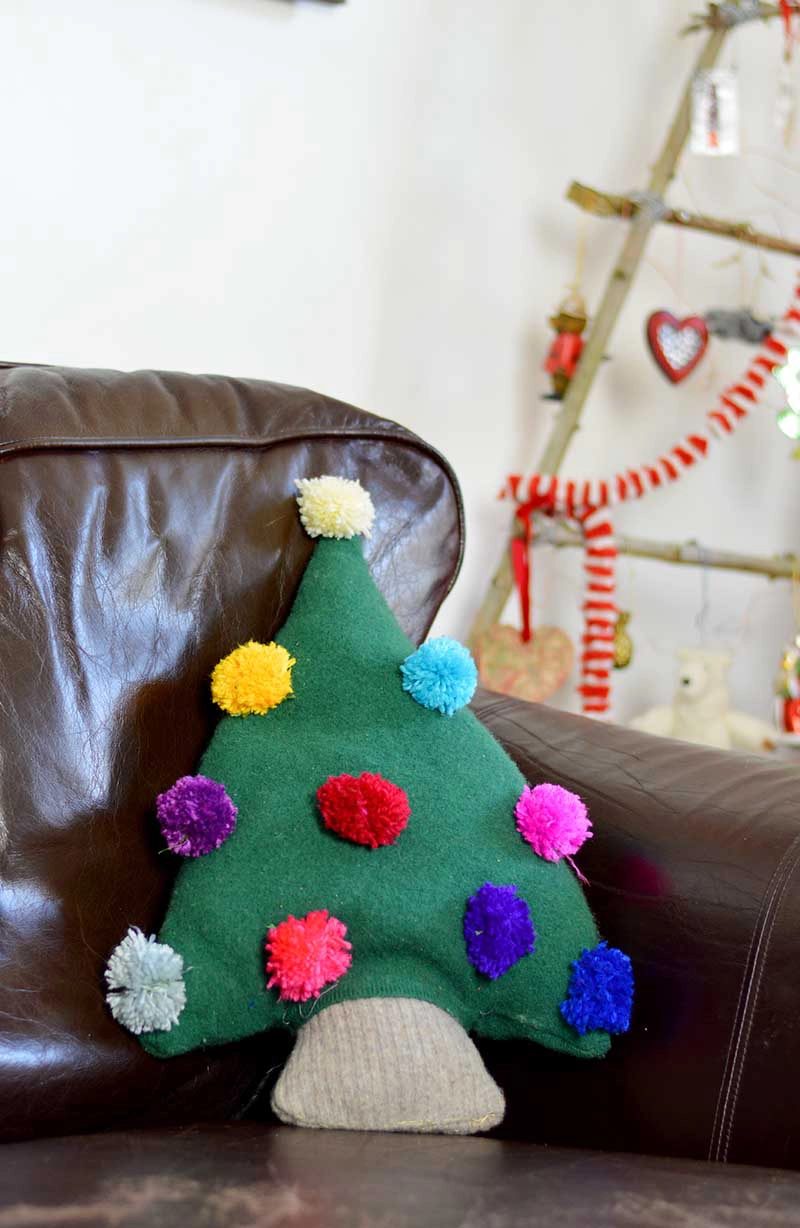 I'm always making pillows from repurposed old sweaters and have one for other seasons, such as this bunny pillow for Easter. Check out all these homemade pillow design ideas.
Don't forget to keep the sweater scraps for other Christmas crafts, such as these repurposed sweater balls and funky felt garlands.
Pom poms are also a great way to use up scraps of yarn. Colours can be combined to make multicoloured pom poms. I combined different coloured yarns into one pom-pom when making Marimekko-styled pom-pom flowers. I even made a Christmas tree entirely out of pom poms.