Inside: How to make upcycled sweater pillows with 12 unique designs.
Are you seeking a creative and sustainable way to spruce your living space? Look no further than recycled sweater pillows! They are a fantastic way to upcycle those beloved sweaters you no longer wear and add a cosy and unique touch to any room.
I'll guide you through turning old sweaters into charming pillows that will bring warmth and style to your home. Before giving you 12 different ideas for upcycled sweater pillows.
This is a sustainable way to reuse un-donatable clothes.
How To Make A Pillow From A Sweater
Old wool sweaters are great for crafting as they are perfect for transforming into lovely soft, cosy pillows (cushions).
Gather materials: old sweaters, scissors, sewing machine or needle and thread, pillow stuffing or inserts, and optional embellishments.
Prep and cut sweaters into desired shapes.
Sew the pillow covers, leaving one side open for stuffing. (There are some no-sew patterns below).
Fill the covers with stuffing or inserts.
Close the open side of the pillow cover.
Optional: Add personal touches like buttons or decorative stitching.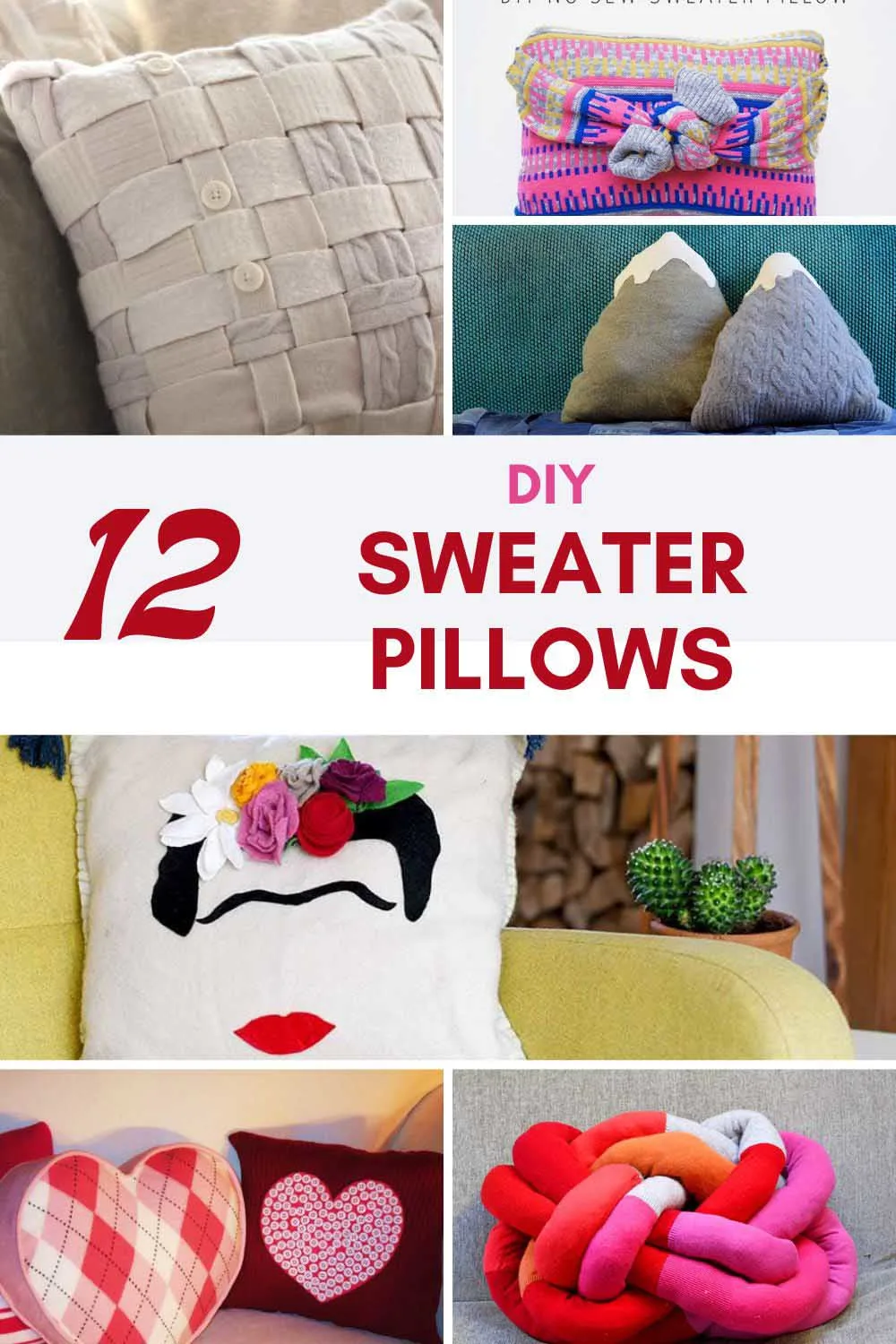 How To Felt Old Sweaters
If the wool sweater you are upcycling is machine knitted rather than hand-knitted, there is no need to felt the sweater first as long as the sweater doesn't unravel when cut. But if it is at least 80% natural wool, then you may want to felt it before crafting with the material.
For lazy sewers like me, felt is the perfect fabric. Unlike other fabrics, felt doesn't fray, which is excellent as there is no need for seams, and the material can easily be glued. It is also a dream to hand sew.
Felting sweaters is ridiculously simple, and I do it all the time, mostly by accident, Like when I mistakenly put my (often favourite) sweater in a hot wash, and it shrinks to a toddler size.
Put the sweater in the washing machine.
Add detergent
Set the wash programme to hot
The wool fibres should shrink and mat with the heat and agitation
Dry the sweater in a tumble dryer to further mat and shrink the wool.
Fabulous Upcycled Sweater Pillow Ideas
With their soft textures and varied patterns, sweaters offer endless possibilities for crafting one-of-a-kind pillows that will make a statement in any room. Here are 12 delightful and innovative ways to transform old sweaters into stylish, personalized pillows. Unleash your imagination and give your home decor a cosy, eco-friendly makeover!
Other Upcycled Pillow Ideas
Denim is another excellent fabric to repurpose into pillows. Check out all these denim pillow ideas, including these unique fish-shaped pillows and denim pocket pillows that combine old sweaters and jeans.
Ugly Christmas sweaters make for great Christmas pillows.
You can make many more things for the home out of old sweaters, such as a felt rug, sweater upcycled Christmas ornaments, a patchwork sweater blanket, and even a repurposed felt succulent garden.
Wool sweaters are only one of any upcycling fabrics that can be used for home DIYs and crafts.