Having a rummage through the scrap box at my local junk shop I came across a set of spoons for a £1. That's when I got the idea for making an upcycled Christmas wind chime ornament.
There are certain words I associate with Christmas and only Christmas. My favourite of these is jingle, fa la la and rum pum pum pum.
I have an upcycled old Christmas window with the word Jingle on it, I put on my mantle every Christmas. I hang beneath it Fa La La in homemade giant felt letters. Last year I even decorated a printers tray for Christmas which included the words rum pum pum pum.
I thought these Christmas words would be great to use with this upcycled Christmas wind chime ornament. Especially, jingle as it did seem an appropriate word for a wind chime.
I did, however, dismiss rum pum pum pum with this Christmas upcycled craft as I didn't have that many matching spoons.
Hang this Christmas wind chime ornament on the front porch if you have one or on the front door. The clanging of the spoons along with the little bells on the end of the spoons makes quite a pleasant sound.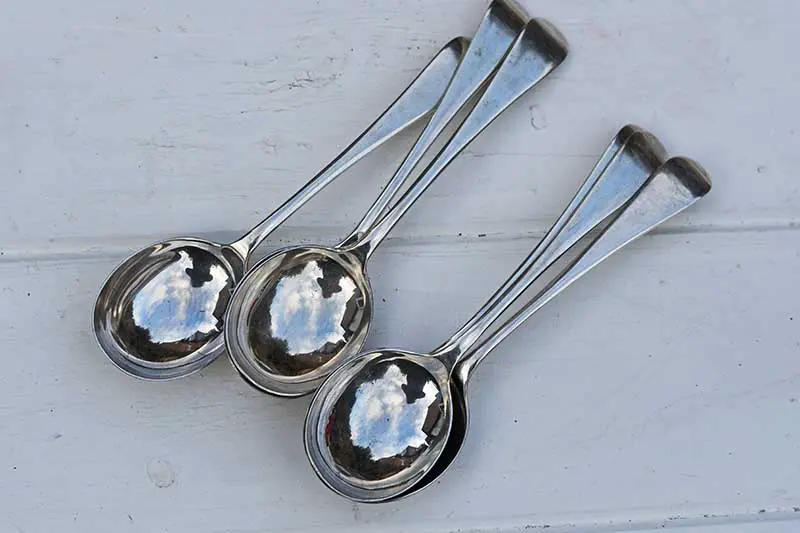 We're a participant in the Amazon Services LLC Associates Program, an affiliate advertising program designed to provide a means for us to earn fees by linking to Amazon.com and affiliated sites. As an Amazon Associate, I earn from qualifying purchases.
What You Need To Make A Spoons Wind Chime
Six old metal spoons – preferably all the same size. If you don't happen to have any, they can normally be picked up very cheaply in charity/thrift shops.
Red and cream chalk paint. Sample pots will do.
Scrap piece of wood to hang the spoons from.
Jump rings used for jewelry making or wire
Drill and small drill bit for drilling into metal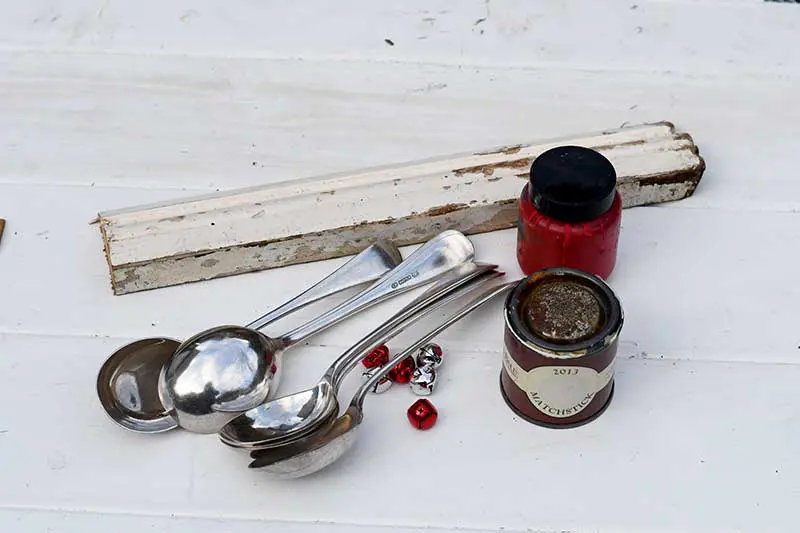 How To Make A Christmas Wind Chime
1. First, drill two small holes into each spoon. One in the handle and one at the tip. If you use a small drill bit suitable for metal than this should be pretty easy to do.
I used the same versatile Ryobi rotary tool that I used for the china plate Christmas trees to drill the holes.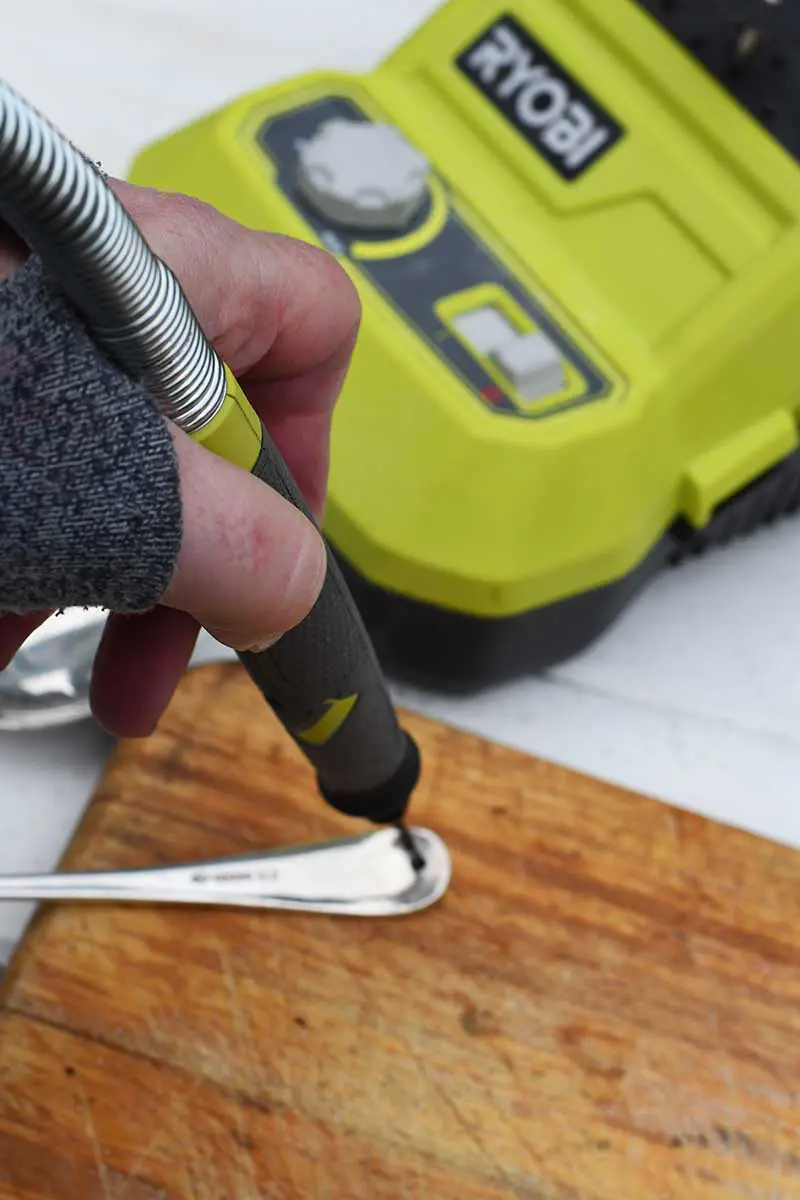 2. Next paint three of the spoons cream and the other three red. At the same time paint the scrap piece of wood that you are going to hang them from.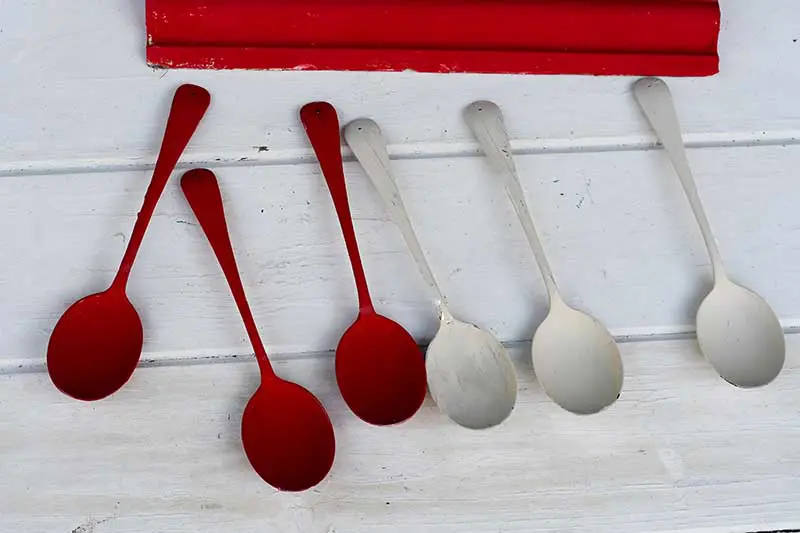 3. Next, paint a letter on each spoon so that when they are placed together they spell the word jingle. Or any other word you prefer, just make sure you have enough spoons for the word you want.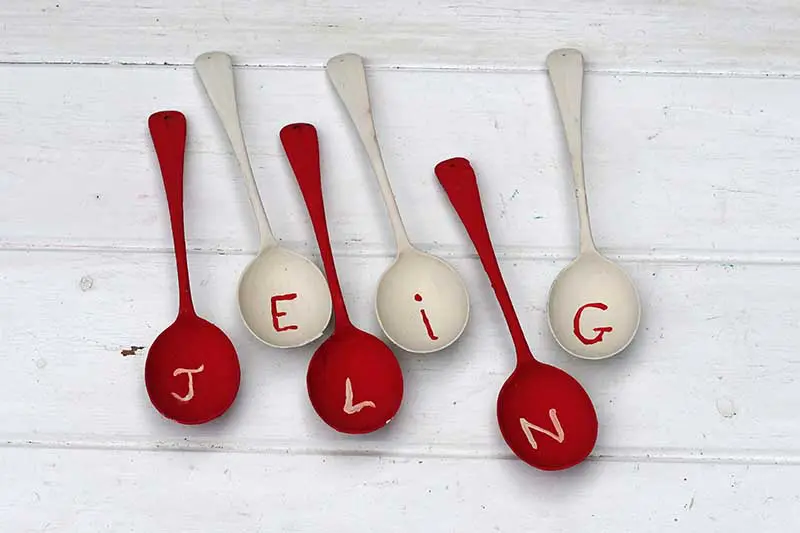 4. Screw the cup holder hooks into the scrap piece of wood and an even distance apart. Then place a jump ring into the hole at the top of each spoon.
5. Finally, attach a craft bell to the tip of each spoon using another jump ring. Then hang the spoons from the hooks so that they spell the word Jingle on your Christmas wind chime.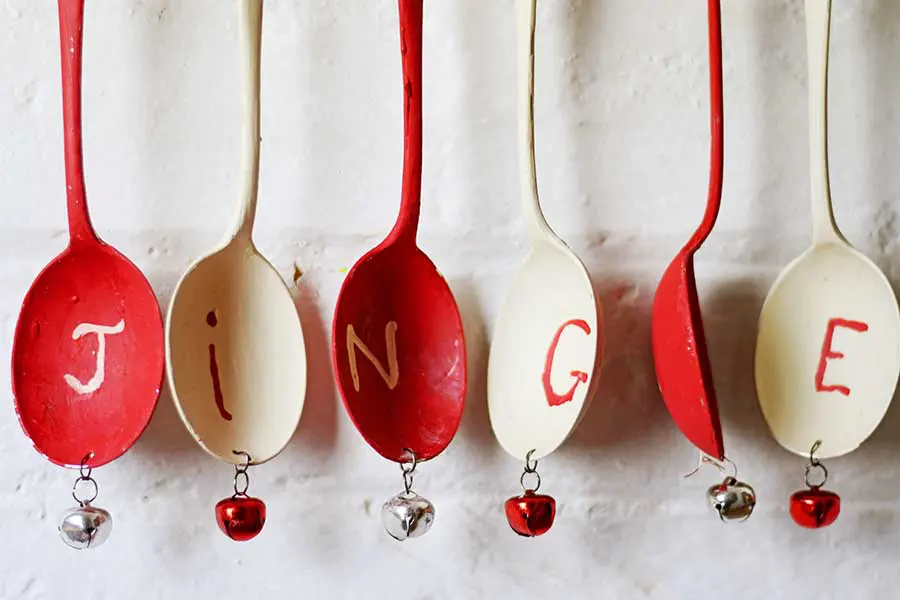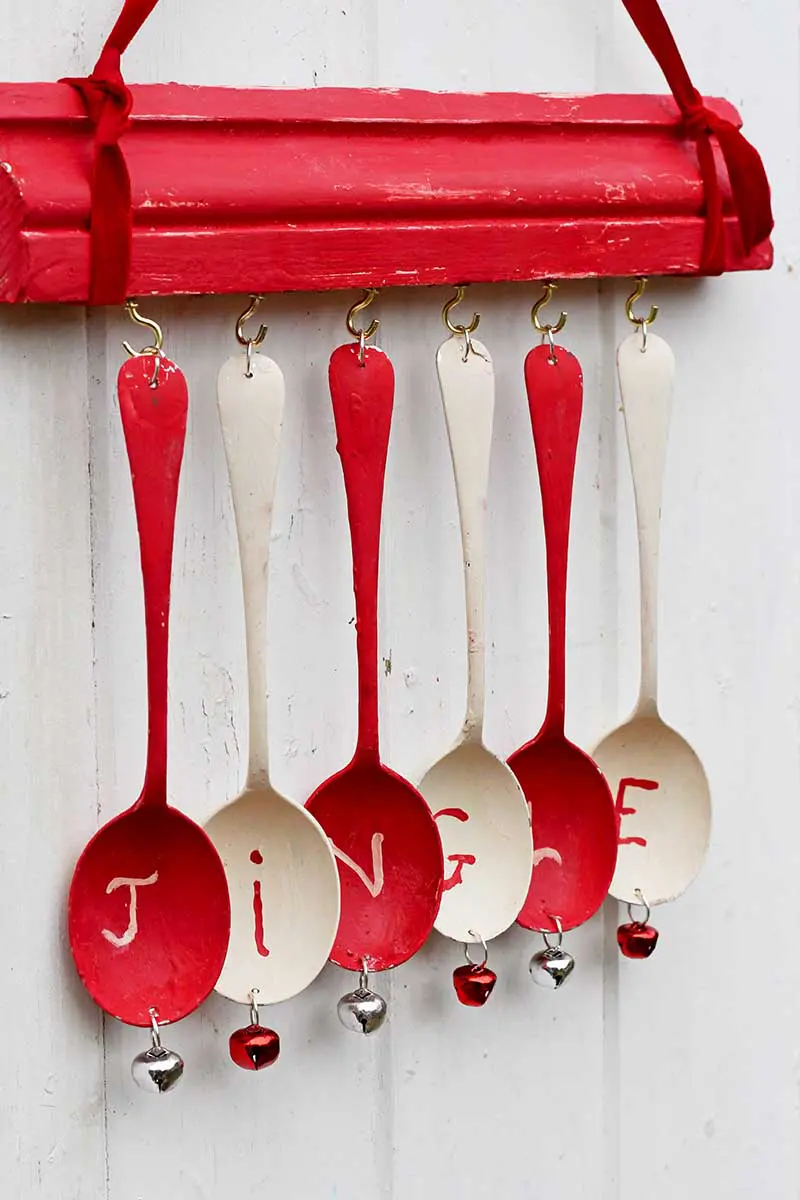 I liked this upcycled Christmas wind chime ornament so much I decided to make another one. This time I used smaller spoons and the words Fa La La.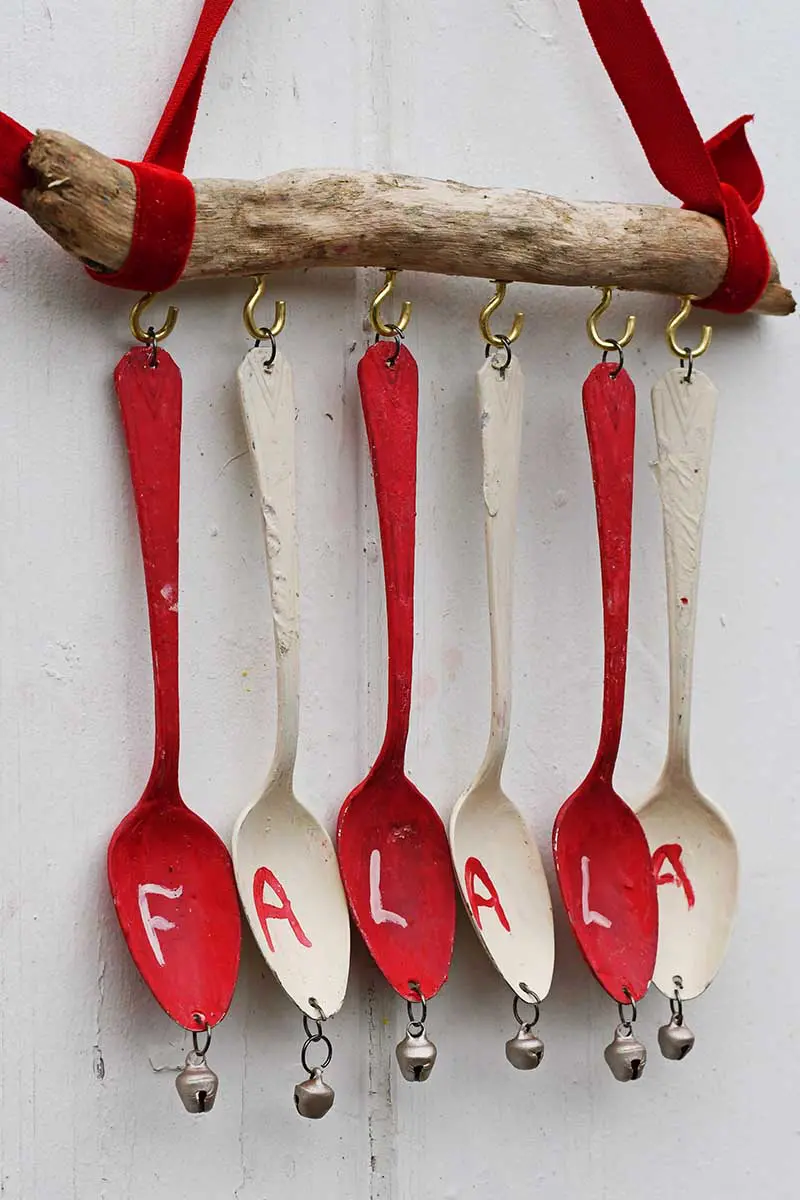 I know this upcycled windchime is a Christmas ornament, but you could easily make it as a wind chime for all year round. Just paint the spoons another colour and change the word.
If your house has a name then you can use the spoons to spell that name. Or even just use your family name, as long as it's not too long, otherwise, you will need a lot of spoons.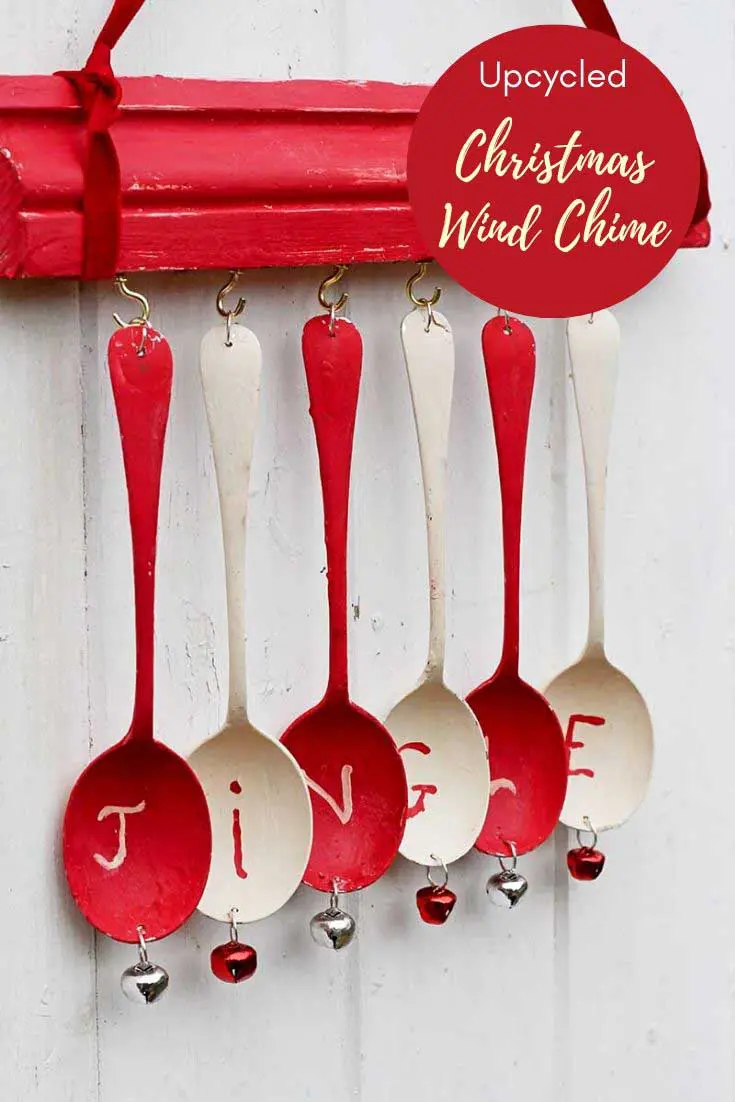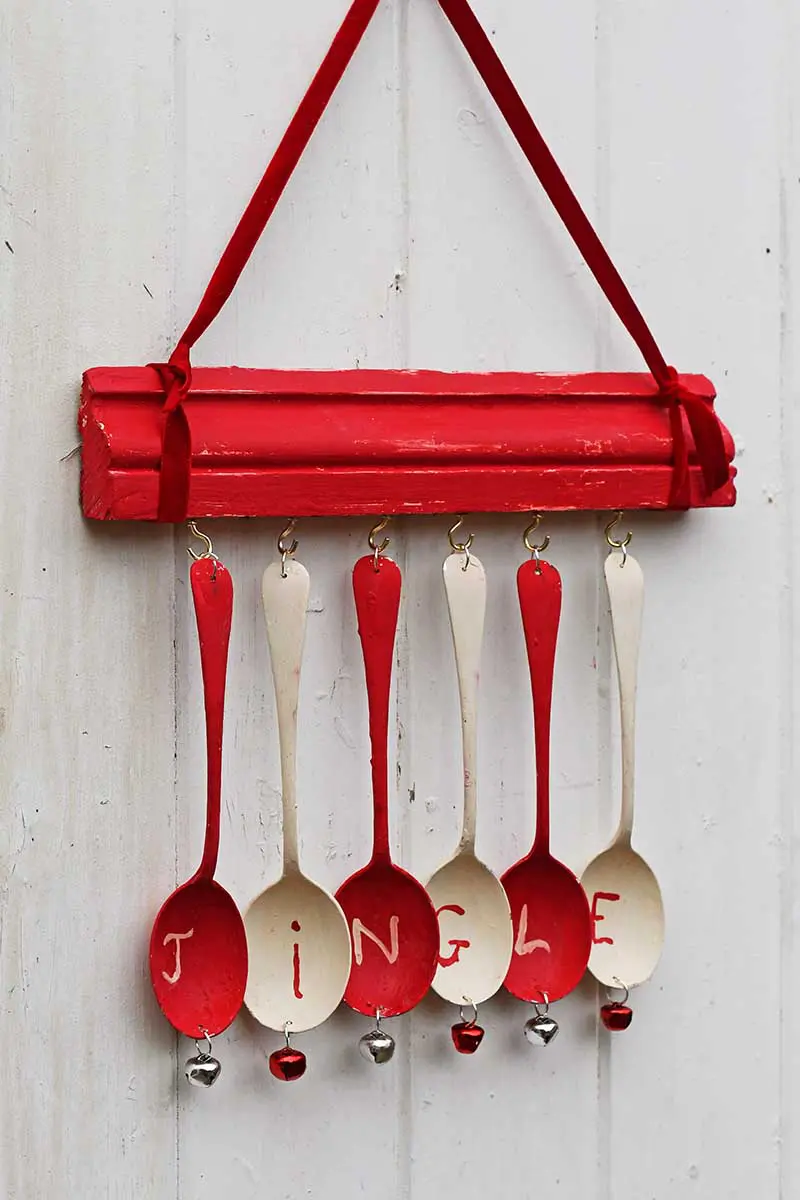 If you liked this upcycled Christmas wind chime made from spoons then you might like this spring songbird tin can wind chime.
Don't forget to check out these other upcycled Christmas crafts.
For more thrifty Christmas decorations ideas visit cheapthriftyliving.com