Inside: A tutorial on how to make denim flowers (roses).
One of my favourite ways to decorate my home is with flowers, real and faux. I'm also a huge fan of repurposing my old jeans for the home. I managed to combine both passions with these upcycled denim flowers.
Real flowers are gorgeous and can't be beaten, but I only get them a couple of times a year. I'm lucky if they last a week or two. At the same time, all the fabric flowers I make are everlasting.
In the past, I've made giant paper flowers, beautiful map roses, Scandi doodle flower decorations, and even old bedsheet flowers. However, I've never made denim flowers until now.
DIY Repurposed Denim Roses
I have thought about making denim flowers but didn't get around to it. Then when I did have a go, I tried various methods and decided that the best flowers to make out of old jeans were denim roses.
These denim roses are made similarly to my map roses but use old jeans instead of old road maps.
Making denim roses was enjoyable. So much so that and ended up making enough for a denim bouquet. Old jeans in shades of indigo were repurposed to make my denim rose bouquet look more attractive.
I made so many denim roses that I even had some leftovers to turn into lovely napkin holders.
These denim flowers look great in a gin bottle vase. Well, that was the excuse I used for finishing off the gin.
I had a pleasant evening making repurposed denim roses while sipping gin and tonics.
Be warned too many gins whilst using a hot glue gun is not always the best idea!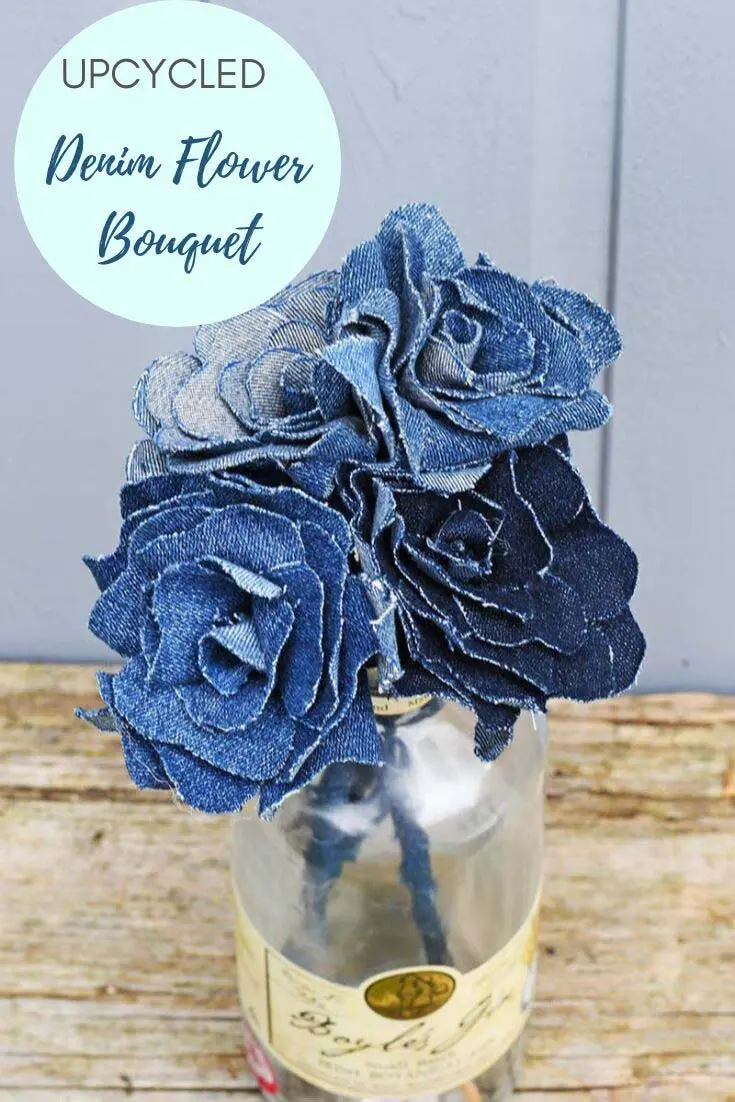 We're a participant in the Amazon Services LLC Associates Program, an affiliate advertising program designed to provide a means for us to earn fees by linking to Amazon.com and affiliated sites. As an Amazon Associate, I earn from qualifying purchases.
What You Need To Make A Denim Flowers Bouquet
Scraps of denim from old jeans in various shades of indigo
Garden wire (for napkin holders)
Scissors and pen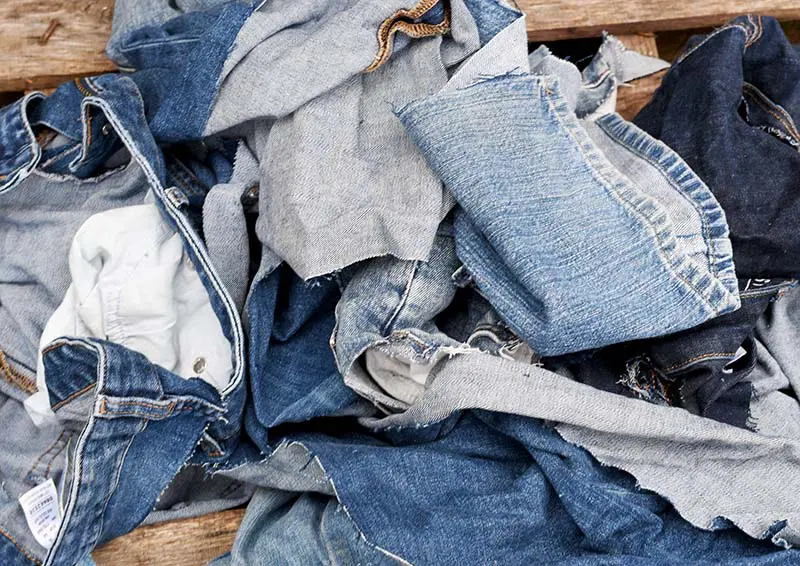 How To Make Denim Flowers
Step 1: The first thing to do is to download the rose petal template and print it out. Or, if you are confident enough, draw your petal shapes. You will need petals in 3 different sizes.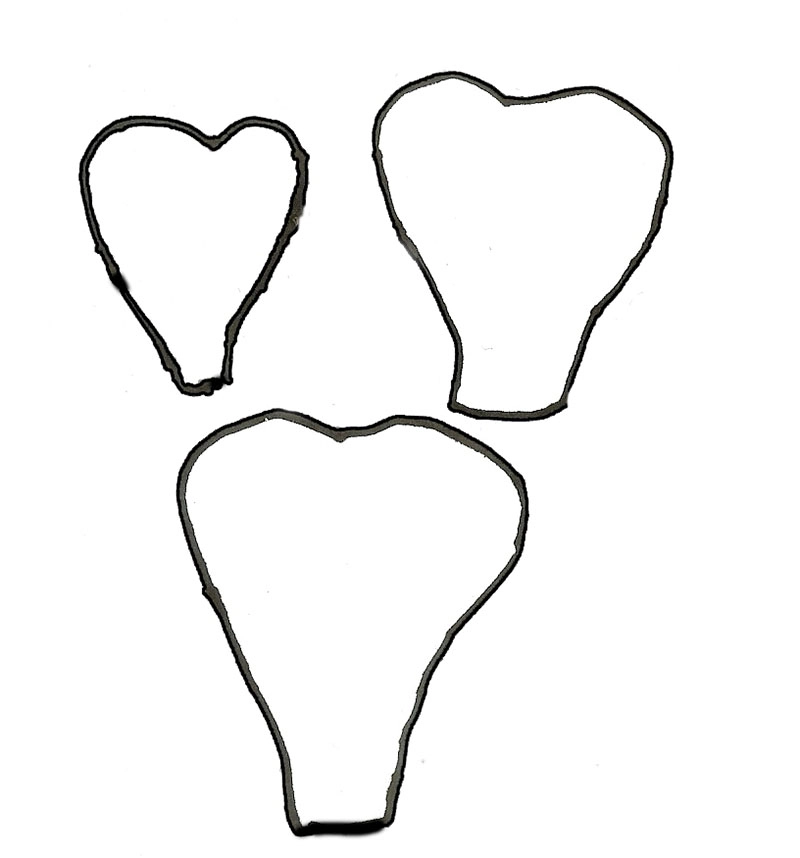 Step 2: Place the small petal template onto a scrap piece of denim, draw around it, and cut out the shape. Repeat with the other petal sizes.
I used six small petals, five medium and five large petals for each rose. If you want a bigger rose, you can add more petals.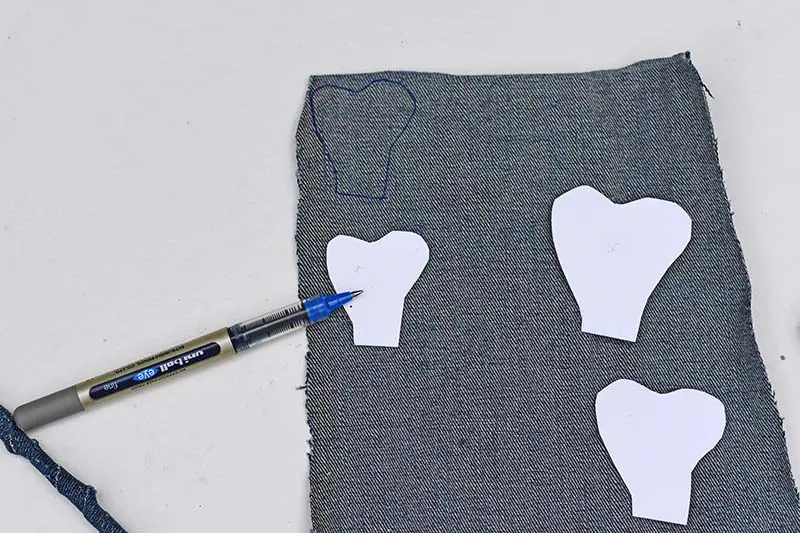 Step 3: Next, cut out two leaf shapes for each rose. I like to use a slightly different shade of denim for the petals for the leaves so they stand out more.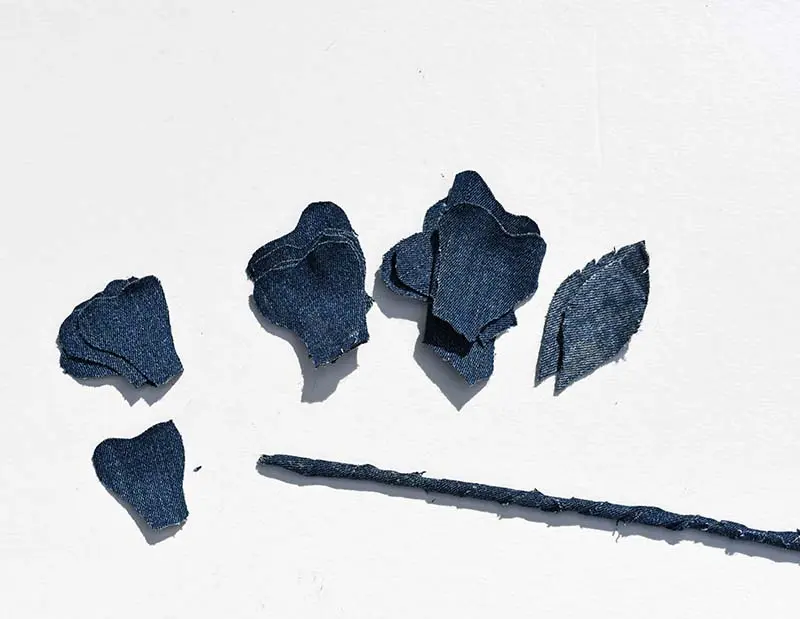 Step 4: Before putting the denim flowers together, prepare a stem. Do this by cutting a long thin strip of denim about 1-2cm wide and about 30cm long.
Then, glue stick one end of the denim strip to the tip of the wooden skewer. Wrap the rest of the denim around the whole skewer, securing it in places with glue as you go.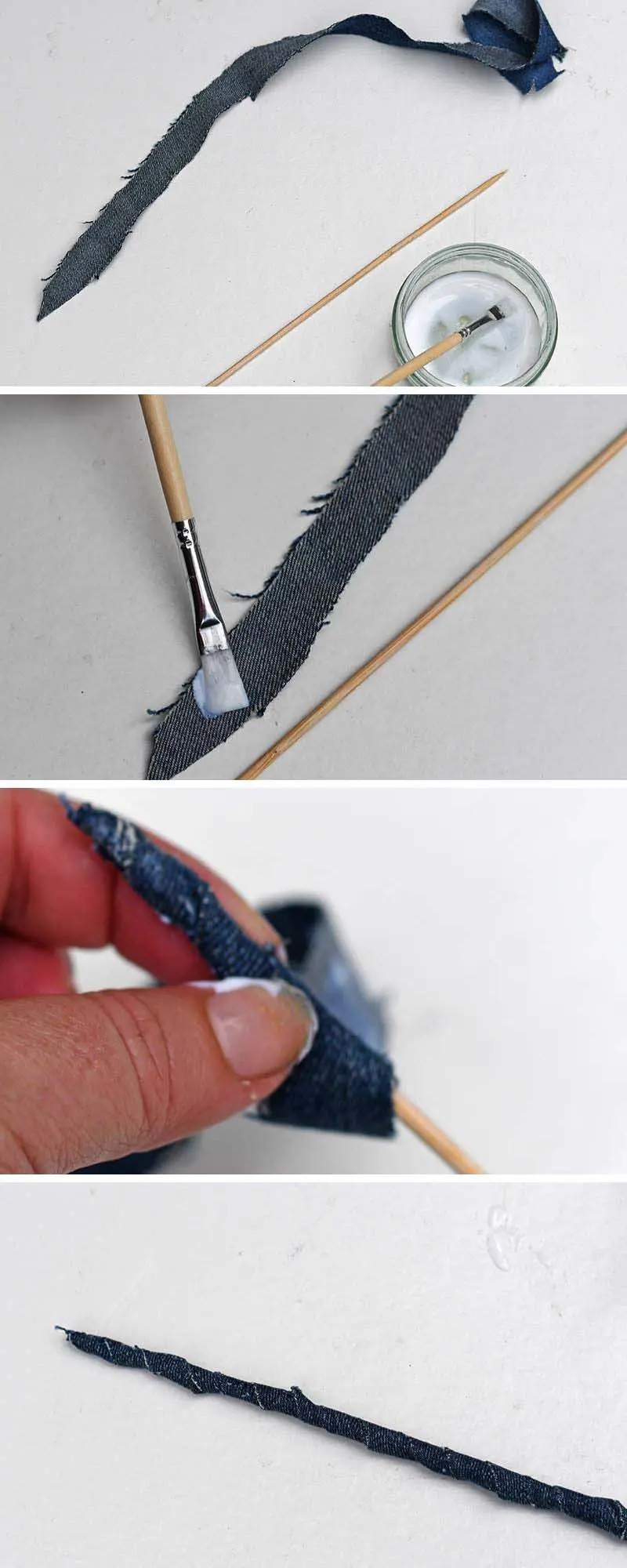 Step 5: Glue the denim petals to the stem with the hot glue gun. Start with one small petal and wrap it around the tip of the denim step. Then glue the other five small petals around the stem.
Next, glue the five medium petals around the stem. Make sure they are evenly spaced and overlap the gaps between the small petals. Repeat the process with the five large petals.
Finally, glue the two denim leaves to the base of the roses.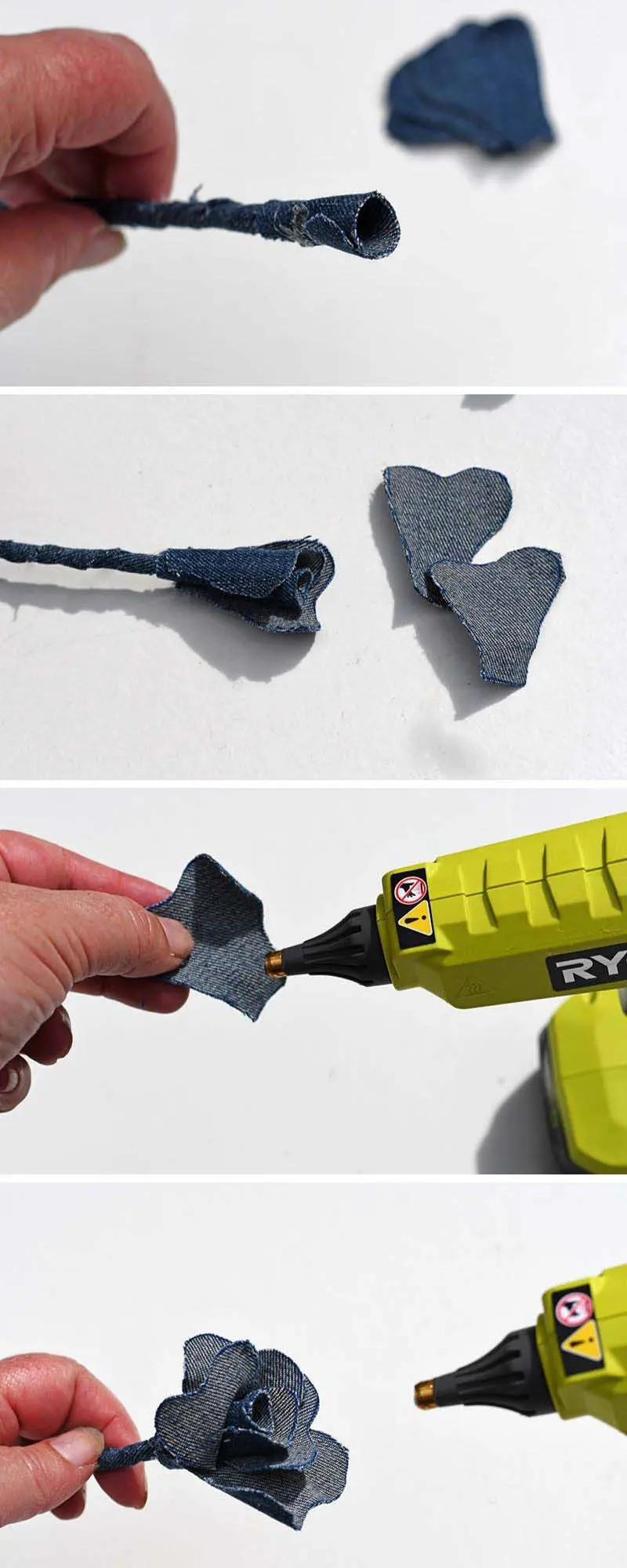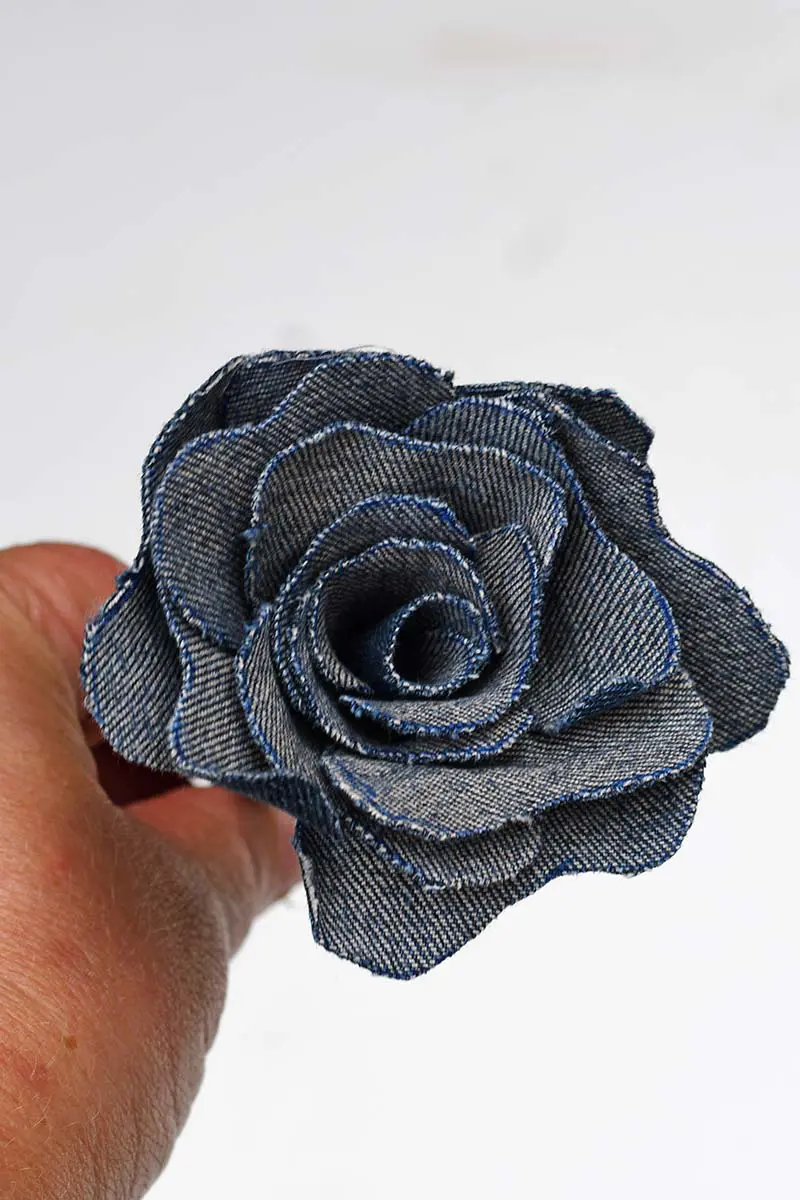 Tips For Making Denim Flowers
The denim roses I made were soft and floppy as I upcycled denim from well-worn jeans. However, if you want a stiffer denim flower, I suggest you cover each petal with fabric glue beforehand. Once the fabric glue has dried, the petals will become more rigid.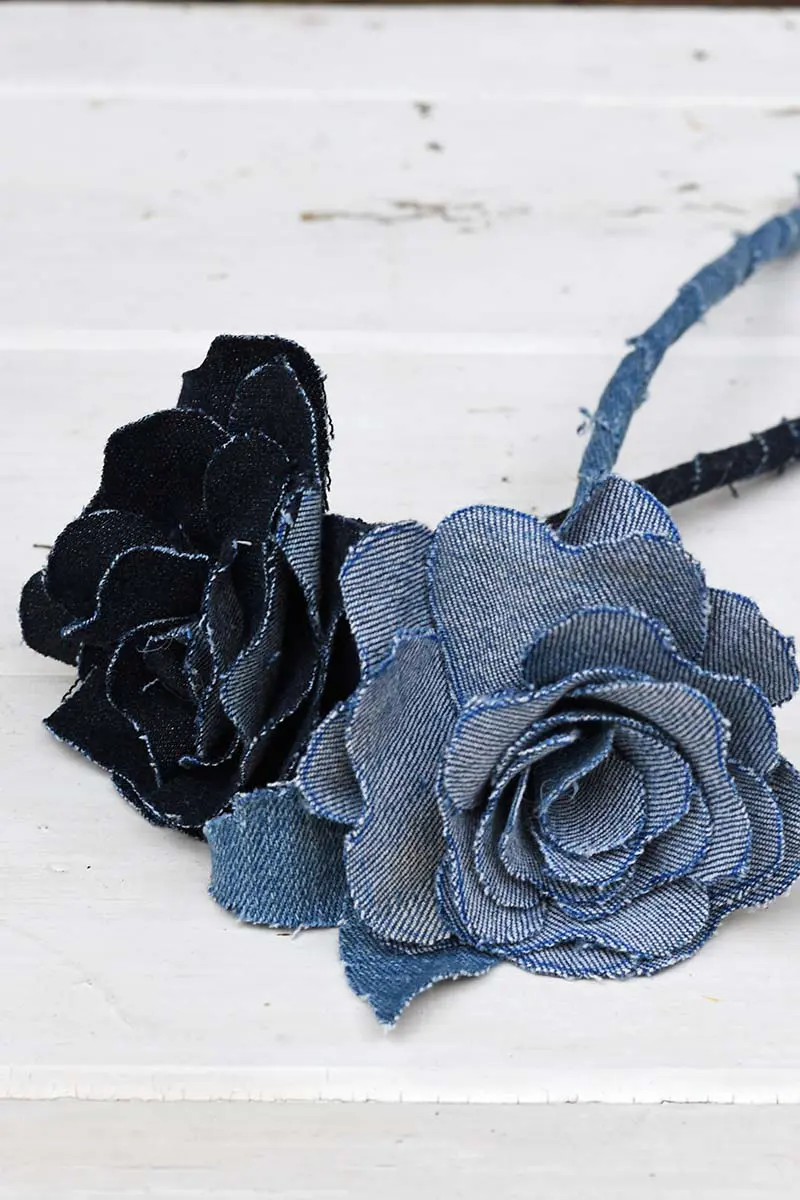 Create roses of 2 different colours using the same pair of jeans. The colour will depend on which way round you glue the petals. For darker roses, glue the petals on the wrong side of the denim; for lighter denim flowers, glue the petals the other way around.
Making A Denim Rose Napkin Ring
Use some thick garden wire to make a denim napkin ring instead of a wooden skewer for the stem of the denim flower.
Once the denim rose is made, twist the wire into a loop to hold a rolled-up napkin. There is another DIY napkin ring idea here.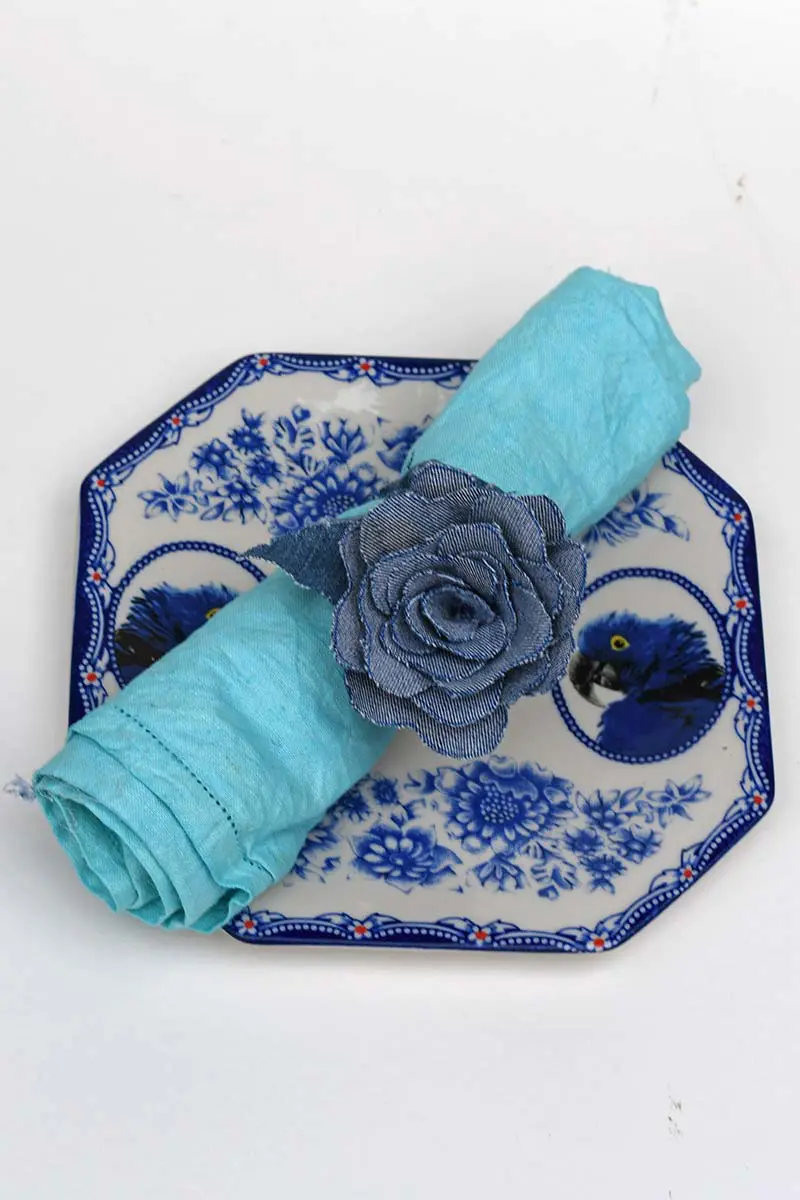 Making a Denim Flower Bouquet
You can make a lovely denim bouquet if you make denim flowers from scraps from different pairs of jeans. With the long wooden stems, displaying the denim flower bouquet in a mason jar or gin bottle vase is easy.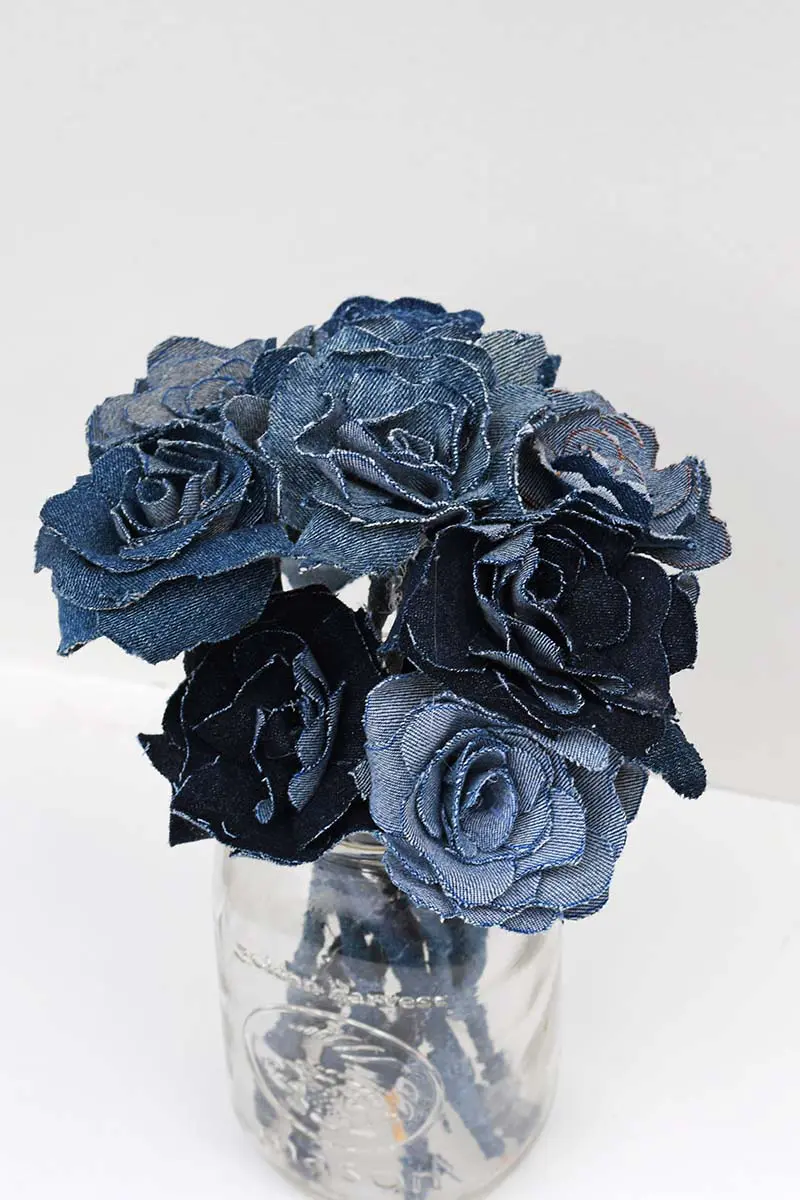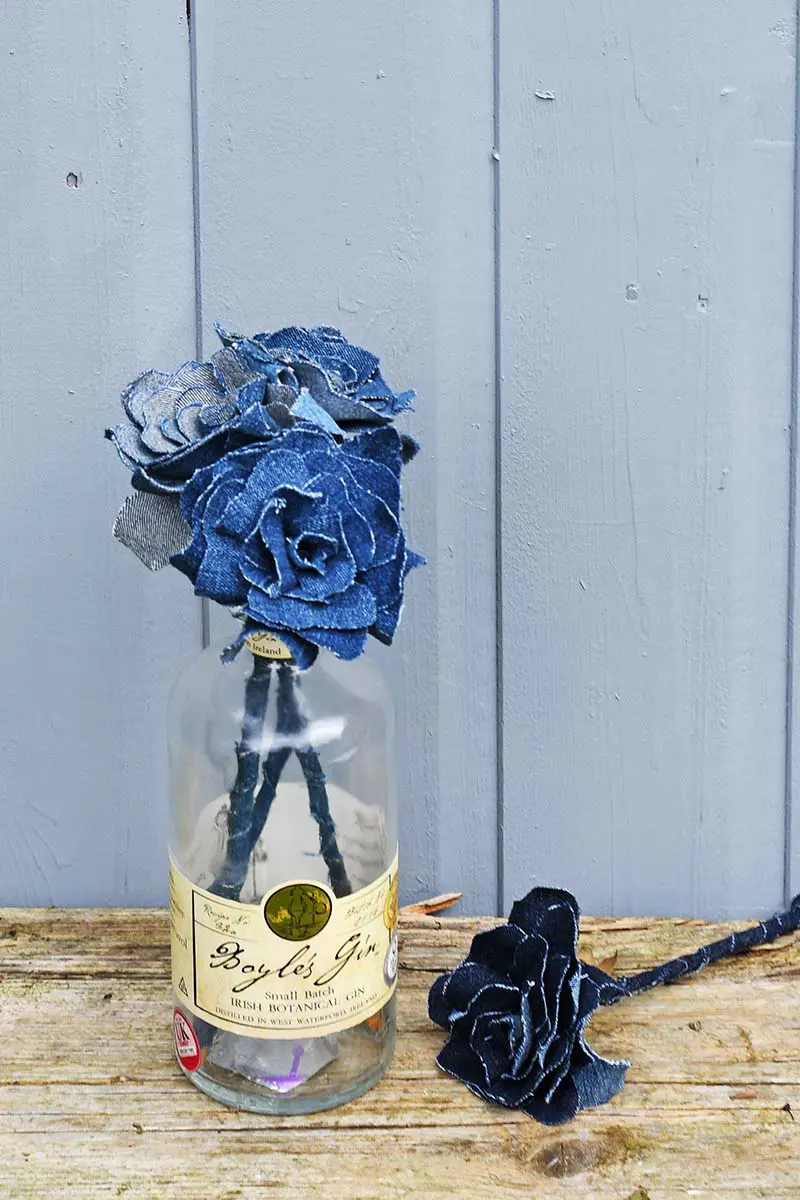 I warn you that making these denim roses is an addictive craft. I spent one Saturday evening making a load of the denim flowers whilst drinking gin and tonic, so I had some lovely gin bottle vases for them.
Since making these denim roses, I have made some other repurposed jeans flowers. These jean's pom pom flowers look more like thistles. You can also make Chrysanthemum flowers out of denim.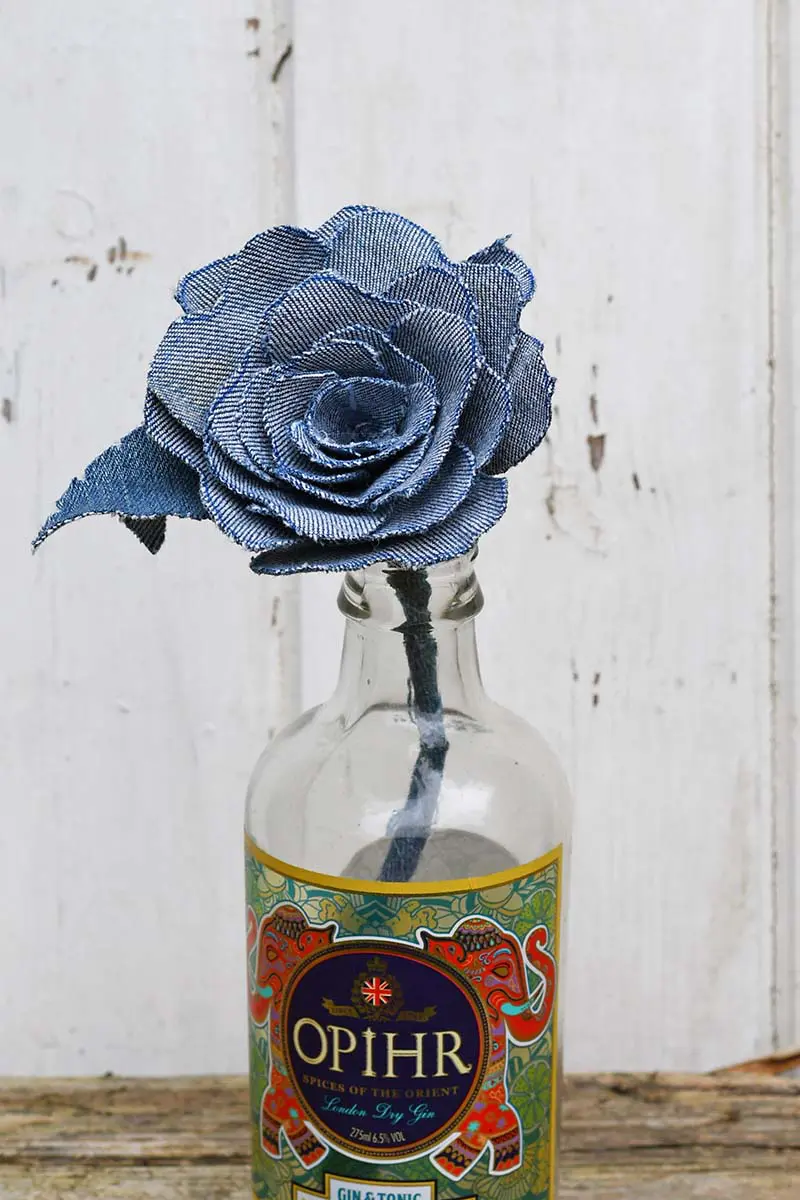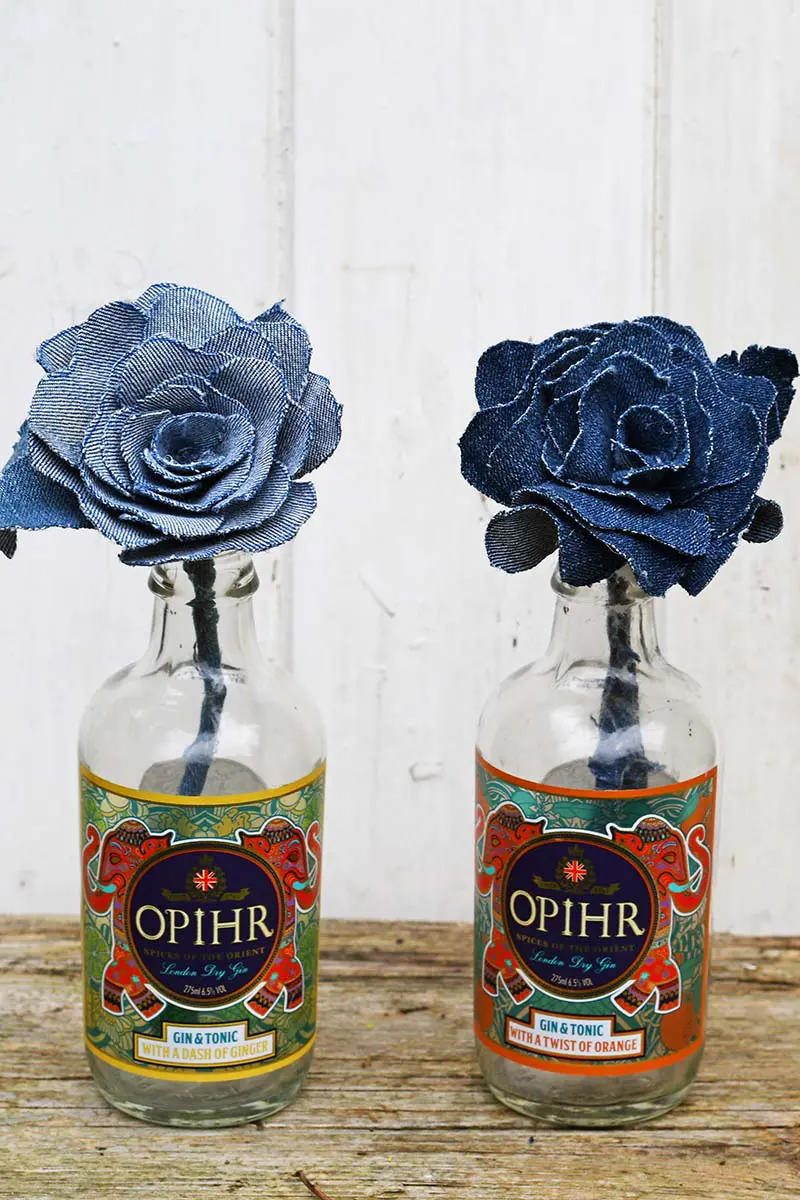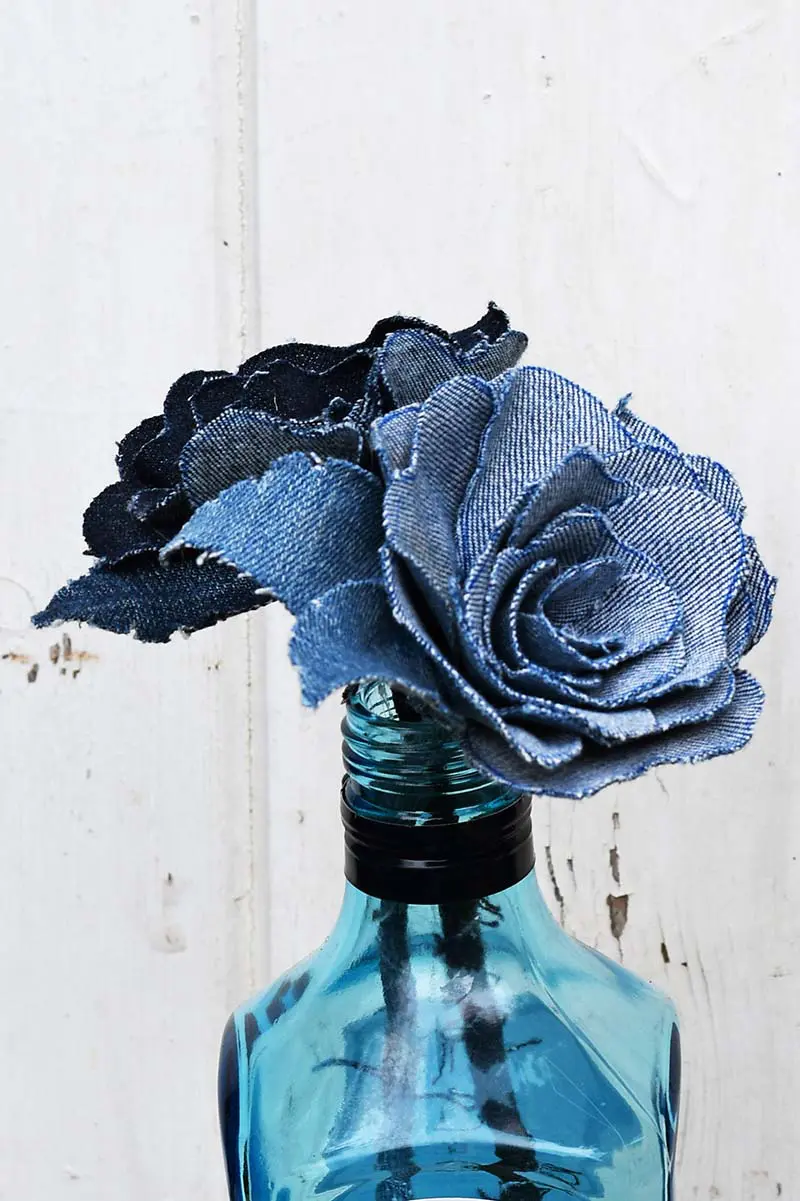 Yield: denim roses, denim flower napkin ring
How To Make Denim Flowers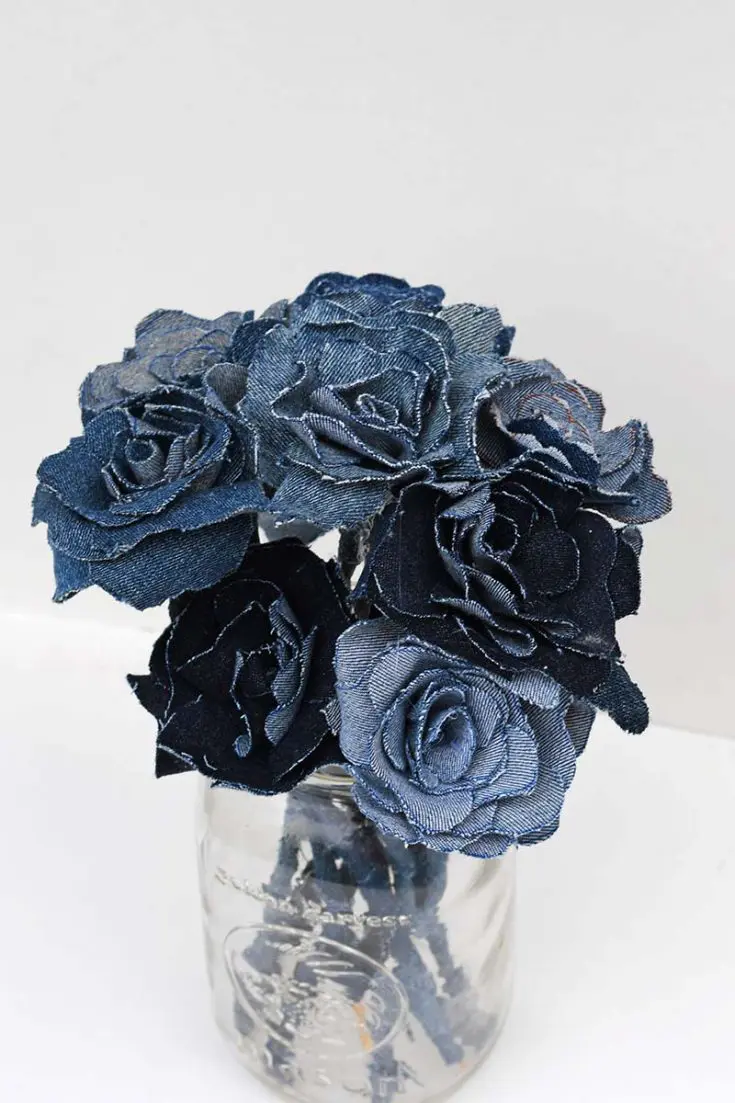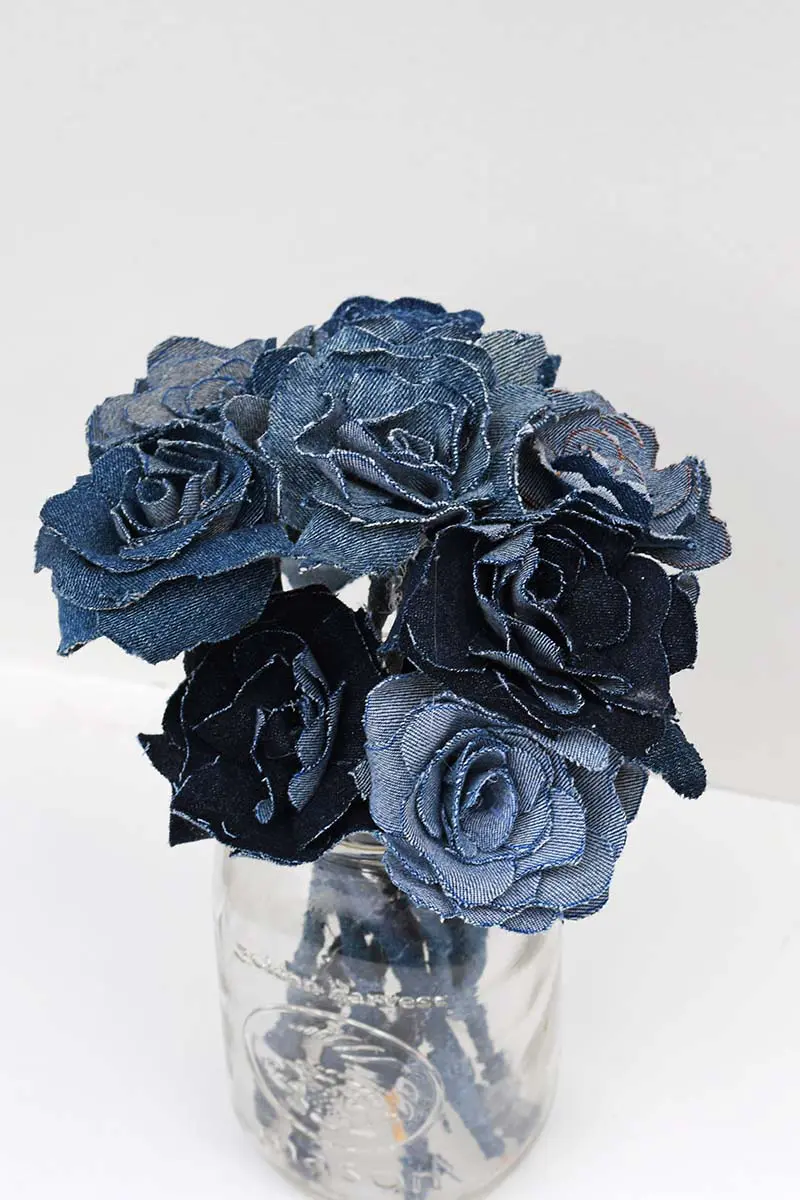 These gorgeous upcycled denim flowers are made from scraps of fabric from old jeans. You can create a lovely bouquet of denim roses by using jeans of different shades of indigo. Single denim flowers can also be made into gorgeous napkin rings. This is a no-sew denim upcycle.
Materials
Denim Scraps
Petal Template
Wooden skewers for the bouquet
Garden wire for napkin rings
Glue
Tools
hot glue gun
Scissors
Pen
Instructions
1. Cut out the petal template
Use the template to cut petals in 3 different sizes, 6 small, 5 medium and 5 large.
Cut out 2 leaves in denim of a different shade.
Cut a strip of denim 1-2cm by 30cm wrap around the wooden skewer and use glue to hold it in place.
Starting with the small petals glue them one by one to the top of the skewer.
Once all the petals are glued to the stem then glue the 2 leaves to the base.
Notes
To make the denim flower napkin ring use garden wire for the stem rather than a wooden skewer. That way the stem can be bent around.
Since making these denim roses, I have also made a cute sunflower denim corsage. There are many other crafts where you can use denim as your material. I've even made fake snake plants out of old jeans.
Check out this flower fabric pattern for poppy seed heads, where I have made denim ones.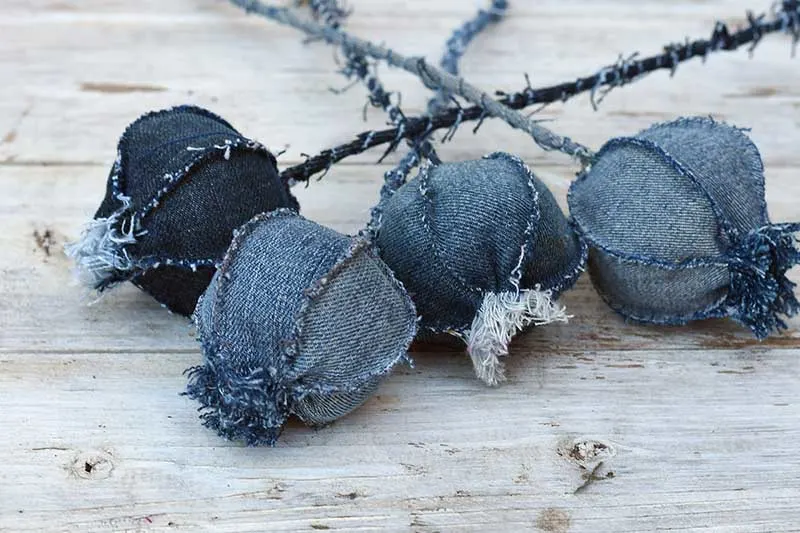 These denim roses are featured in the A to Z of repurposed denim crafts and the alphabet of unique upcycling ideas.
If you liked these upcycled denim flowers, you would probably like some of my other scrap no-sew denim projects.
I even made a colourful Kaffe Fassett fabric decoupage vase for all my denim flower blooms.