Inside: Amazing collection of easy paper and crocheted cloth doily crafts.
The abundance of dollies made Sunday tea at my Grandma's house feel like a special occasion. It was the standard Northern English fare of cucumber sandwiches, tinned salmon, scones and homemade jam. Not particularly special until laid out on top of fancy lace crocheted doilies.
Of course, my grandma's doilies were handmade. Some by her and others handed down from my great-grandmother. In simpler times, she would spend the evenings crocheting while watching her favourite TV quiz programme.
The only other time the dollies appeared was for celebration meals, such as Birthdays and Christmas. My mum carried on the doily tradition but went the easy route and used paper doilies.
Difference Between A Cloth and Paper Doily
Cloth doilies can be crocheted, tatted or knitted out of cotton or linen thread. You'll find the pattern for these in old craft books. They can be oval, round, square and even heart-shaped. The main thing is the fancy lace border.
Fabric doilies are washable and designed to be used over and over again. Often kept in the family for generations and handed down, along with the fancy china.
If you don't have inherited cloth doilies, they can be bought for a few pennies/cents in thrift and charity shops.
Paper doilies still have the same intricate lace patterns starting from the centre and working outwards, but these are made from cut paper and are disposable. They're found in kitchen and craft stores.
Both kinds of doilies come in many shapes, colours and sizes.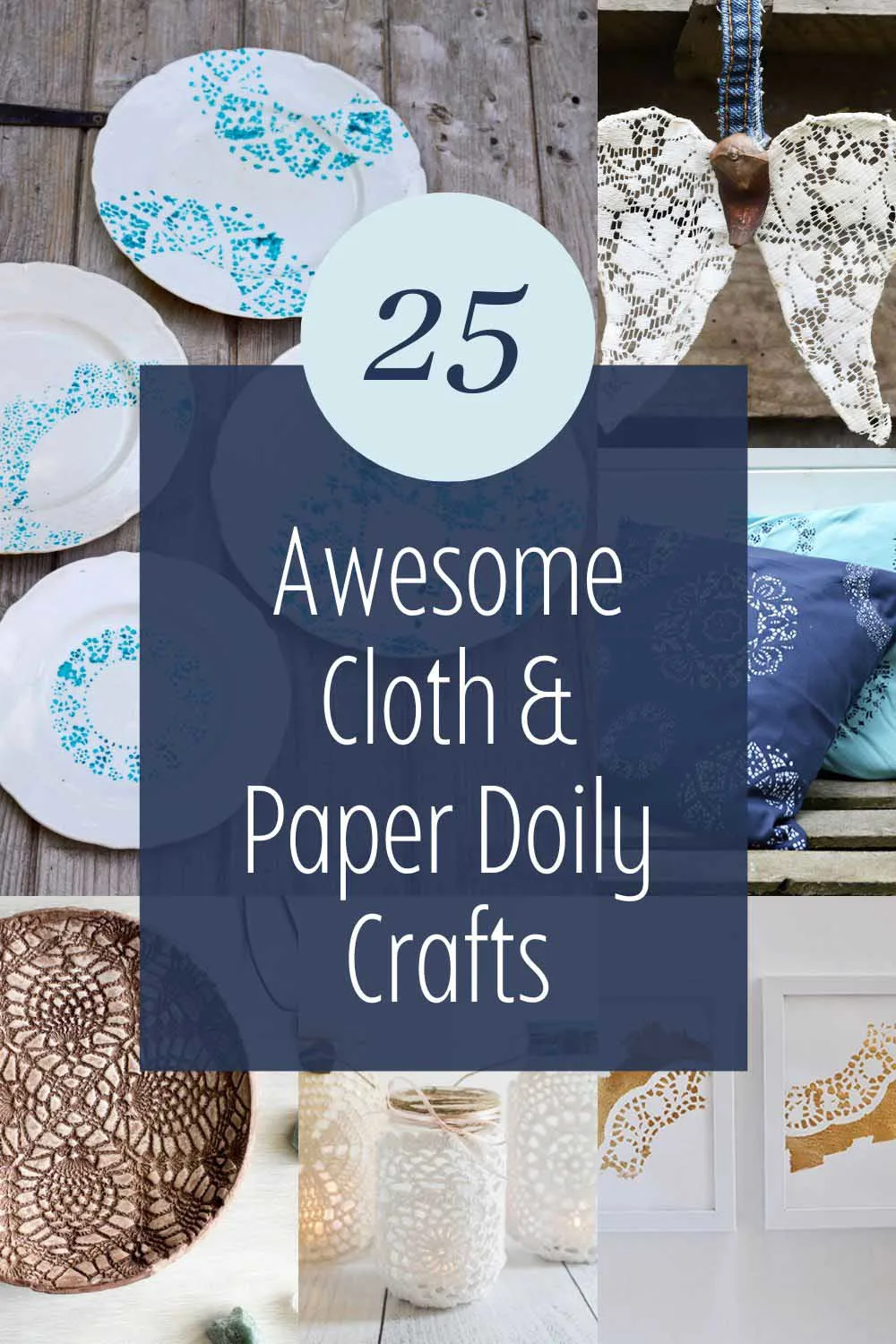 We're a participant in the Amazon Services LLC Associates Program, an affiliate advertising program designed to provide a means for us to earn fees by linking to Amazon.com and affiliated sites. As an Amazon Associate, I earn from qualifying purchases.
Why Craft with Doilies
It doesn't matter whether the doily is paper or fabric. Both are affordable craft materials. You can buy packs of assorted paper doilies very cheaply.
They have many crafting uses, from making pretty decorations for the home, scrapbookers using them to layout frames, and card makers using them as vintage embellishments. A doily can make any papercraft look pretty.
Doilies are popular at weddings, not just for the buffet but with crafted decorations such as fancy menus and chandeliers.
You can even buy heart-shaped paper doilies, which are especially good for wedding and Valentine's crafts. It's incredible how something plain and straightforward can transform into something pretty and cute with the addition of a doily.
Like with these simple ice cream cones, wrap a plain cone in a doily, and suddenly, it looks fancy!
The crafty appeal of doilies is their vintage lacy patterns, which can vary from doily to doily. These patterns make great affordable stencils, especially with paper ones.
The paper used to make these doilies is a bit more robust than standard paper, as its original design was to be placed under food.
Doilies can be cut, dyed, appliqued, stitched and stiffened into shapes. Some are so lovely they can be framed, as they are into beautiful wall art.
I've combined the craft ideas for paper and cloth doilies, as many are interchangeable.
The Amazing Doily Craft Ideas
A delightful collection of excellent cloth and paper doily craft ideas. From decor crafts, wedding crafts, gift crafts and many more.
Check out this doily plate upcycled into a clock if you like doily decorations.
If you liked these doily craft ideas, don't forget to check out many more of my cool adult crafts, including map crafts and cardboard Christmas crafts.