I have a jar of wine and champagne corks in my craft cupboard, waiting for a repurposed wine cork craft. I thought I might eventually upcycle them into something useful, such as a notice board or trivet. Instead, I've had fun with them with this Halloween kid's craft.
A lot more corks would have been needed for a noticeboard. However, I'm more of a beer drinker than a wine drinker, so it would have taken me a while to collect them. I only used nine with this wine cork craft.
Collecting wine corks for upcycling is not just a simple case of drinking more wine. Many bottles of wine these days have a screw top or even plastic corks.
The declining use of wine corks was evident when I visited my parents in Portugal this summer. Portugal is the large harvester of cork in the world, and it is a vital industry for the country.
Over the last few years, the Portuguese have found other uses for cork besides as a wine stopper to maintain their cork production. In my parents' town, many shops sell a range of goods made from cork. Such as cork bags, hats, and shoes to coasters and table mats.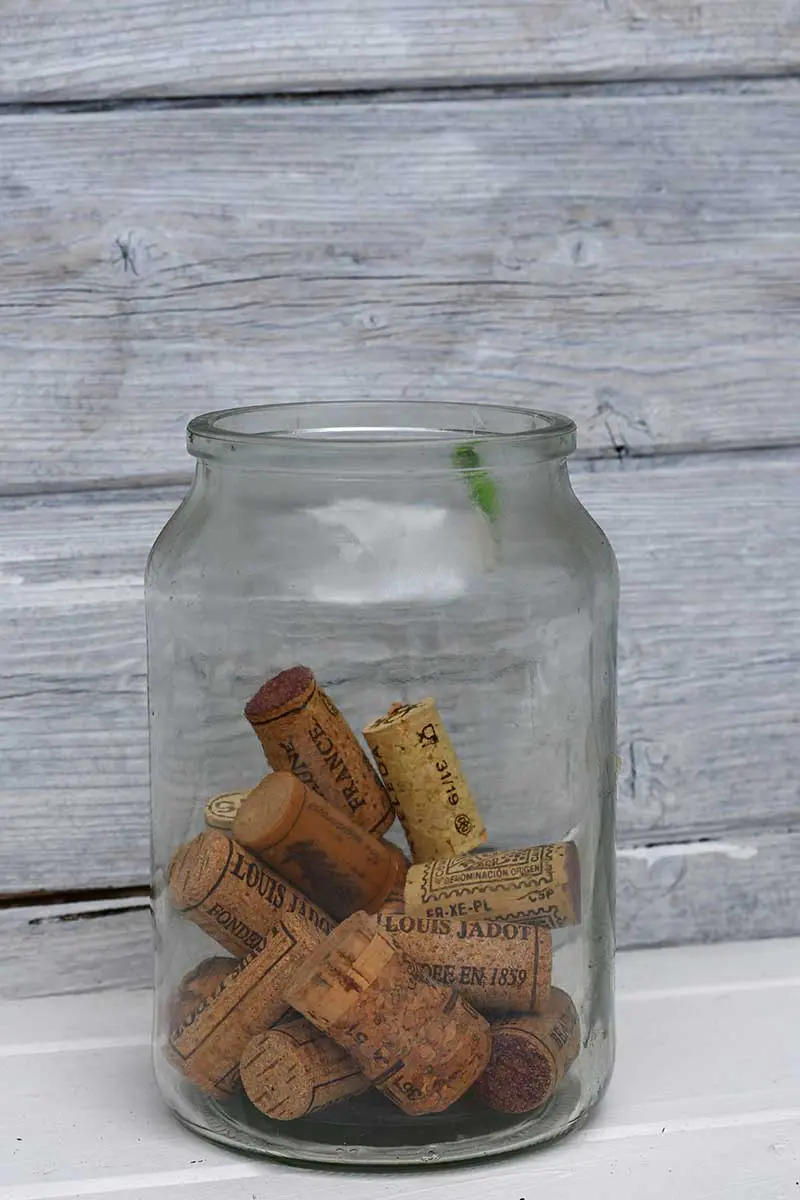 The Halloween Wine Cork Craft
I have upcycled wine bottles into Halloween lights before; this time, I focused on the corks.
It was fun creating this rogues gallery of Halloween figures from a mixture of upcycled wine and Champagne corks. They look like a rightly motley band of Halloween villains. I think they are more on the cute side of Halloween rather than spooky.
The Halloween wine cork gang was first designed on paper. Then the designs were translated onto the corks using paint and sharpies. You can use my array of Halloween characters or even create some of your own.
My collection included Frankenstein, a ghost, a pumpkin head skeleton, a skeleton nightmare, a skull, a mummy, Dracula, a bat, and Jack O'lantern. I strung them all together to make a fun Halloween wine cork garland.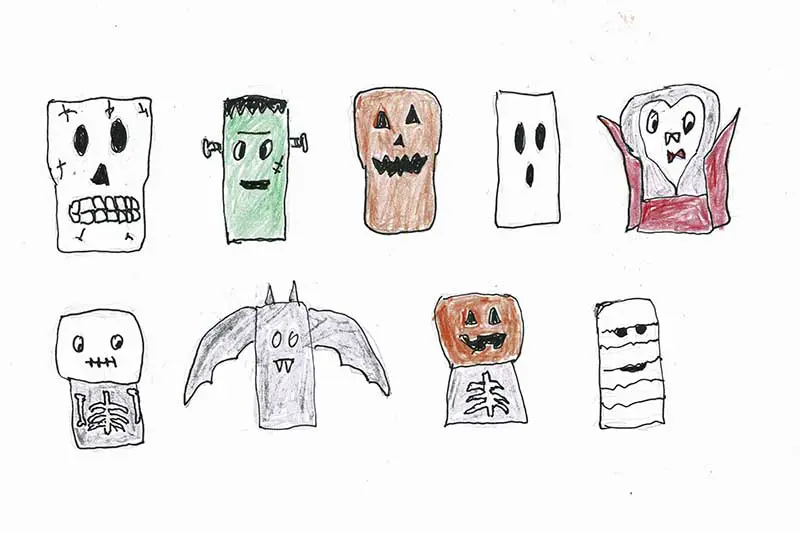 We're a participant in the Amazon Services LLC Associates Program, an affiliate advertising program designed to provide a means for us to earn fees by linking to Amazon.com and affiliated sites. As an Amazon Associate, I earn from qualifying purchases.
What You Need
A mixture of wine and champagne corks. If you don't have your collection of old wine corks for upcycling, many craft shops sell them for crafting.
White paint – I used some white latex paint I had leftover from decorating.
Sharpies in Halloween colours of black, orange and green or paint in those colours.
Old bandage or strip of muslin cloth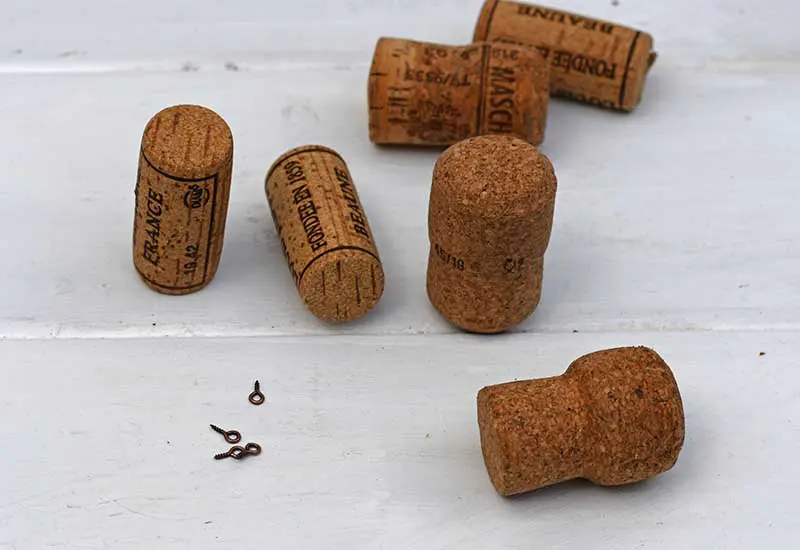 The Halloween Wine Cork Characters
Before starting the Halloween figures, screw an eyelet into the top of each cork. Then using string, dip them in diluted white paint and hang them out to dry. It is easier to draw on the corks if they are white. Also, the paint helps seal the corks, which makes them easier to decorate.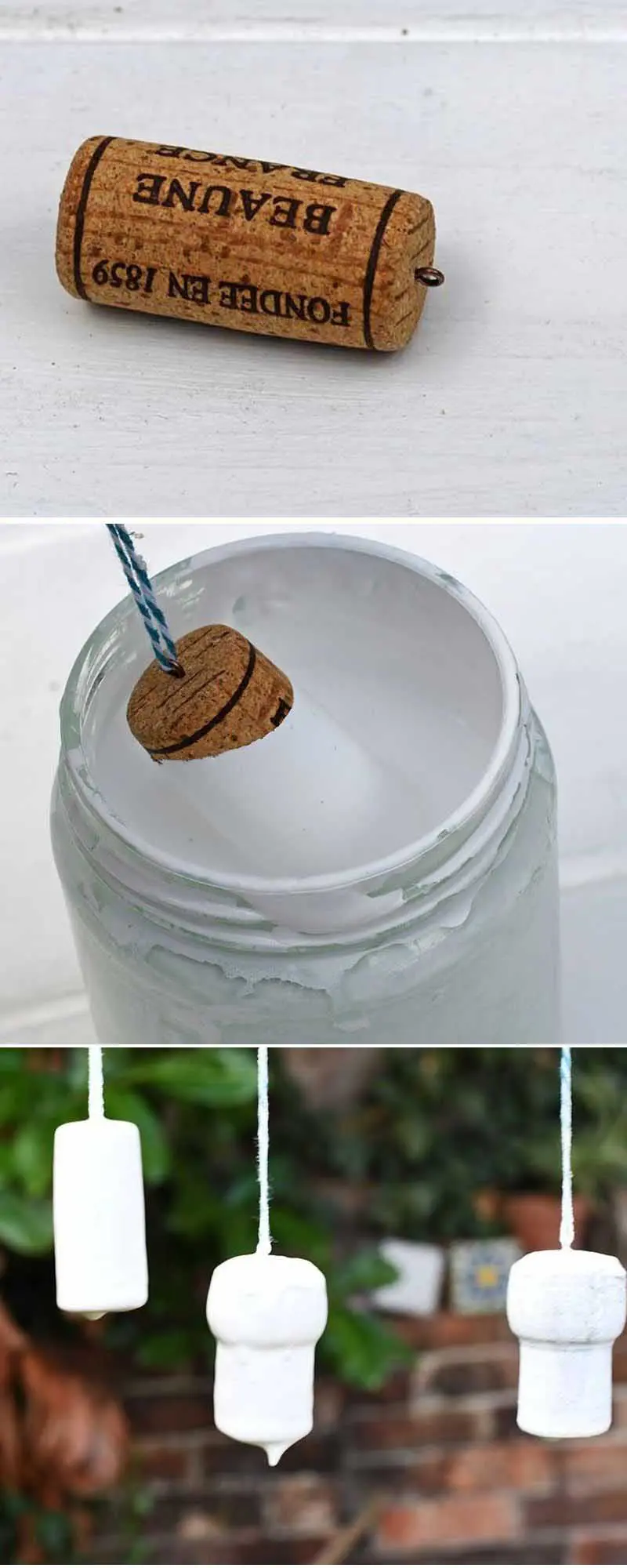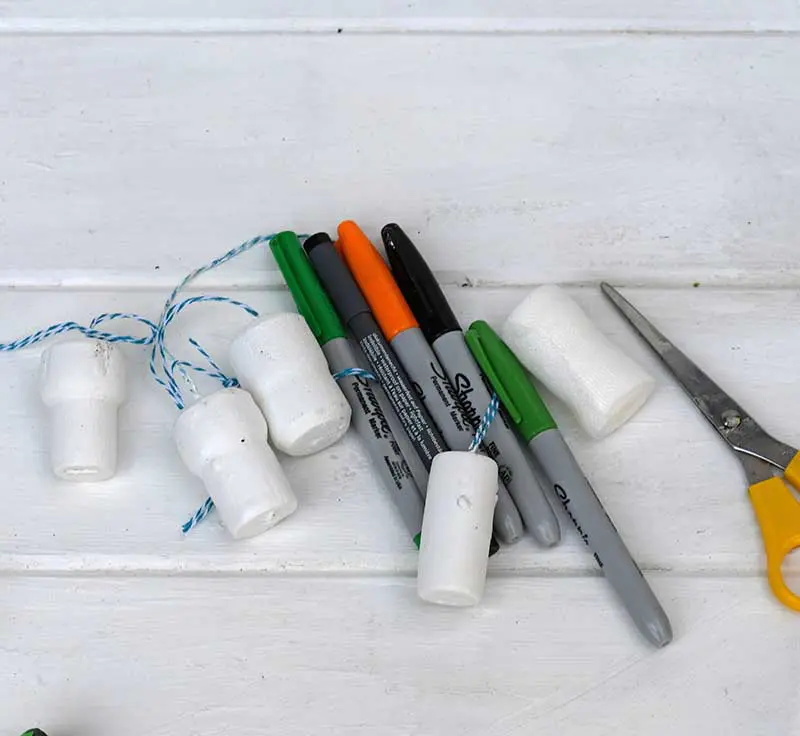 1. The Ghost Wine Cork
This is the simplest of decorated wine cork crafts. All you need to do is draw a ghost face onto the painted cork with a black sharpie.
I've made paper Halloween ghost treat bags, which are also super cute.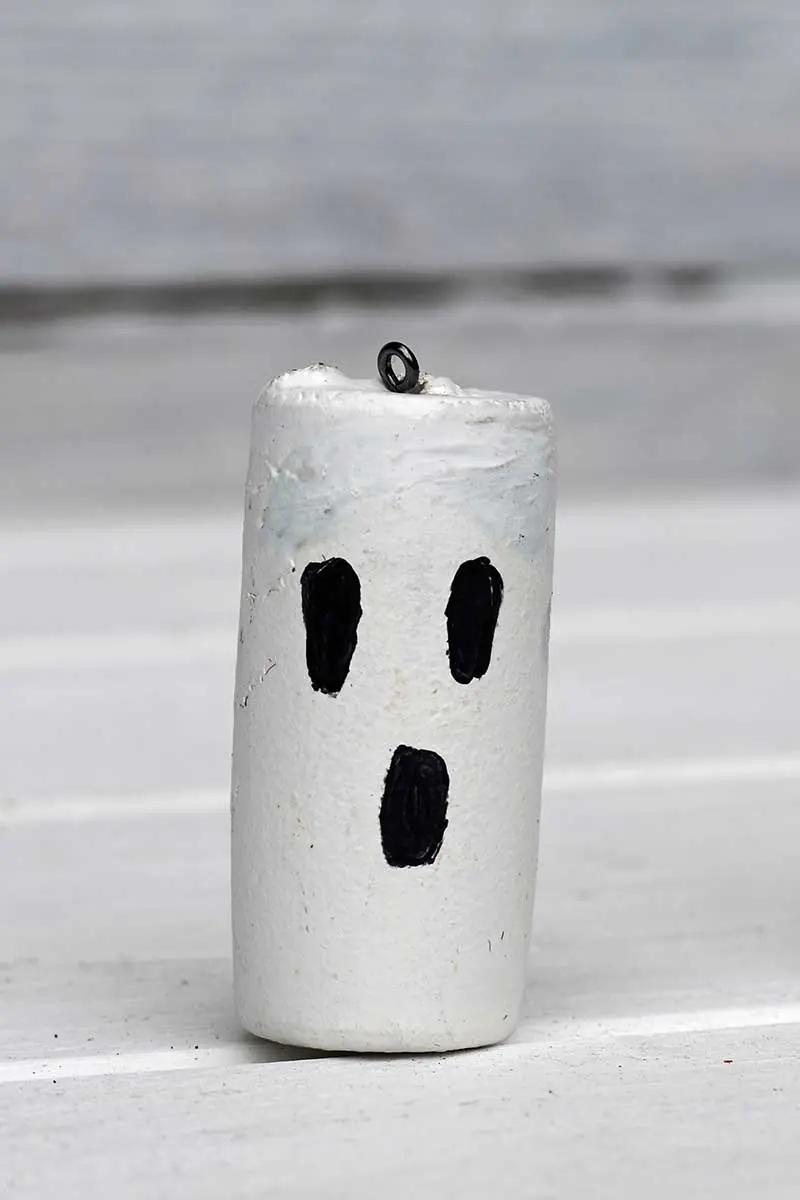 2. The Mummy
This Halloween cork is based on the classic Egyptian mummy. It's an upgrade of the Ghost above with the addition of bandages.
Make a Ghost wine cork, cut a bandage into small strips, and wrap it around the cork. Make sure the eyes are still visible.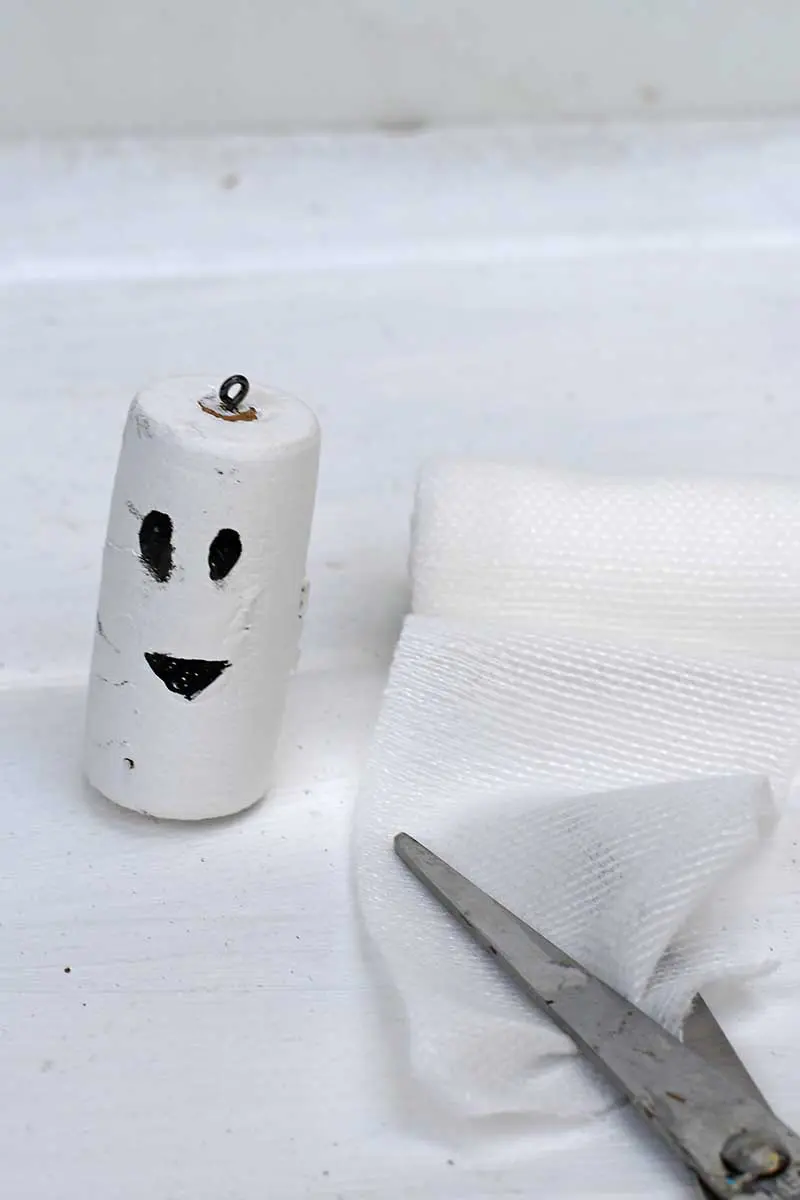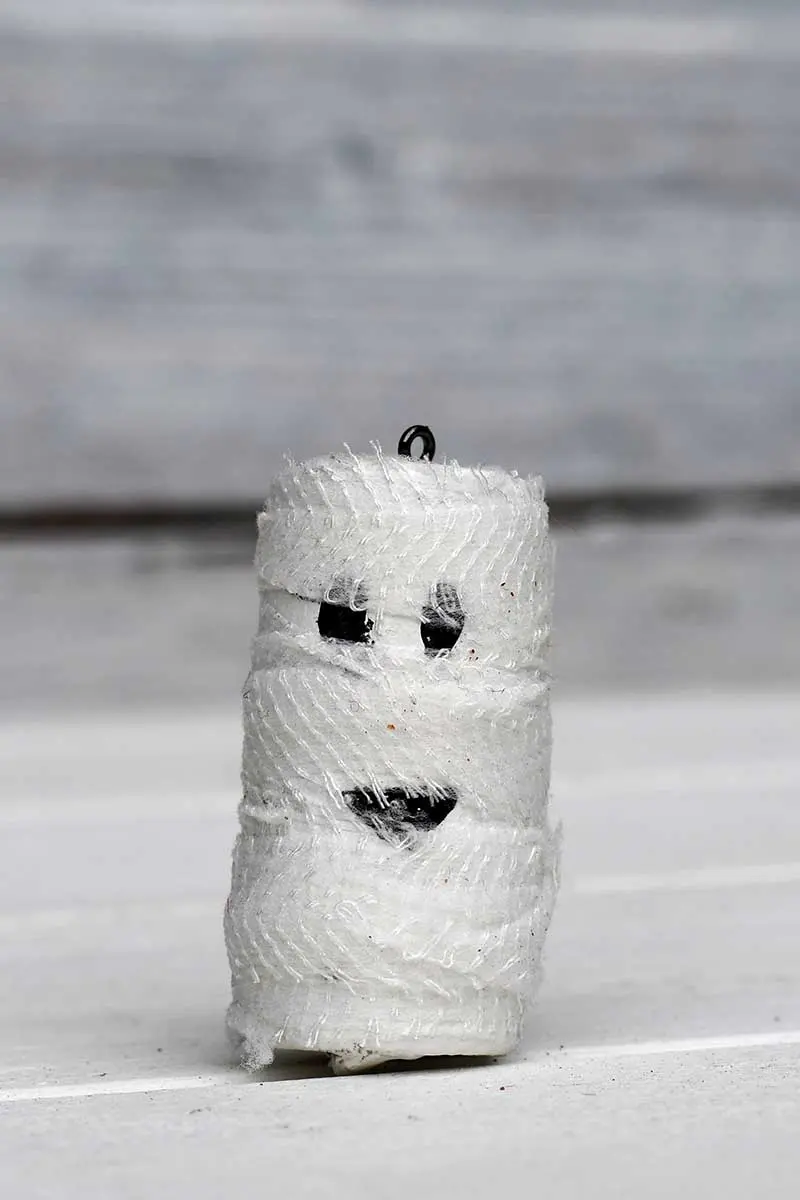 3. Frankenstiens Monster
For this wine cork craft, colour the whole cork green with a sharpie or paint. Then draw on the hair and face details with a black sharpie.
To give Franenstiens monster the finishing touch, add small screws to the side of the cork.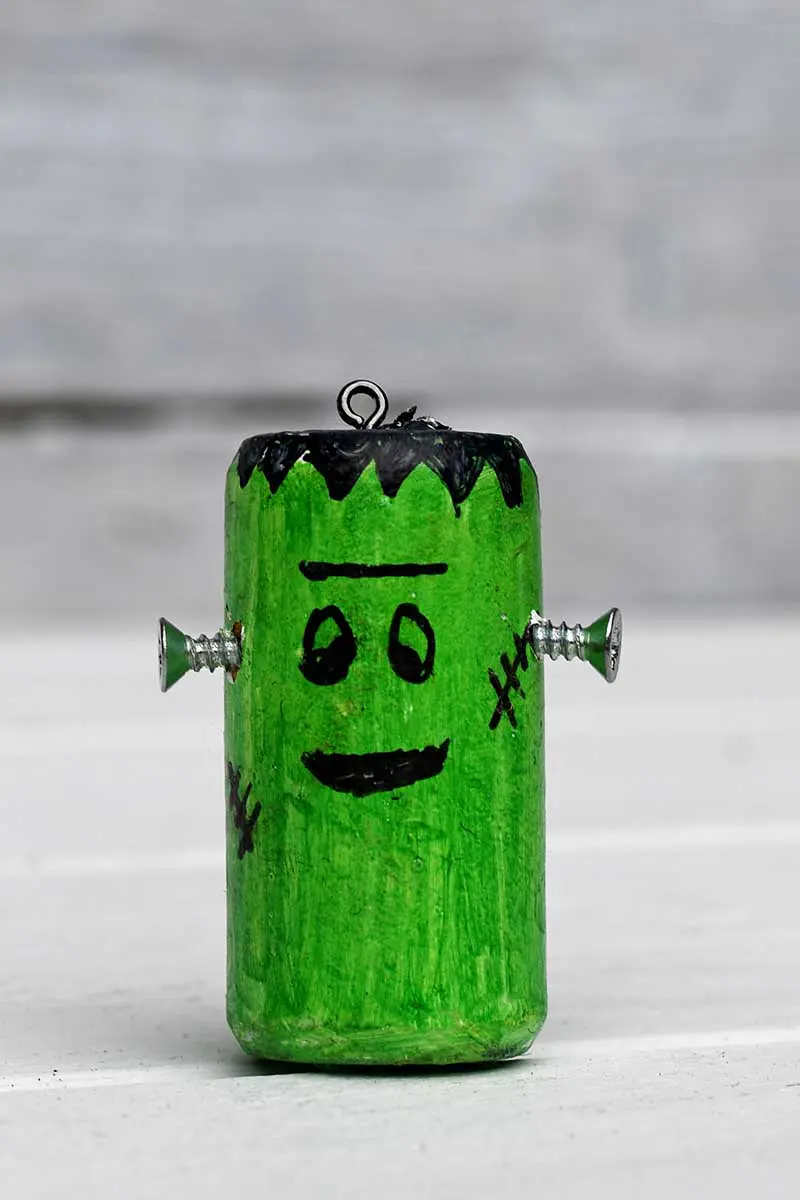 4. Pumpkin Head Champagne Cork
For this upcycled Halloween craft, I used a Champagne cork instead of a wine cork. The top of the head was painted orange. Then, a Jack O'Lantern face was drawn on in a black sharpie.
The body of the cork was coloured with a black sharpie. Then, skeleton ribs were added using white paint.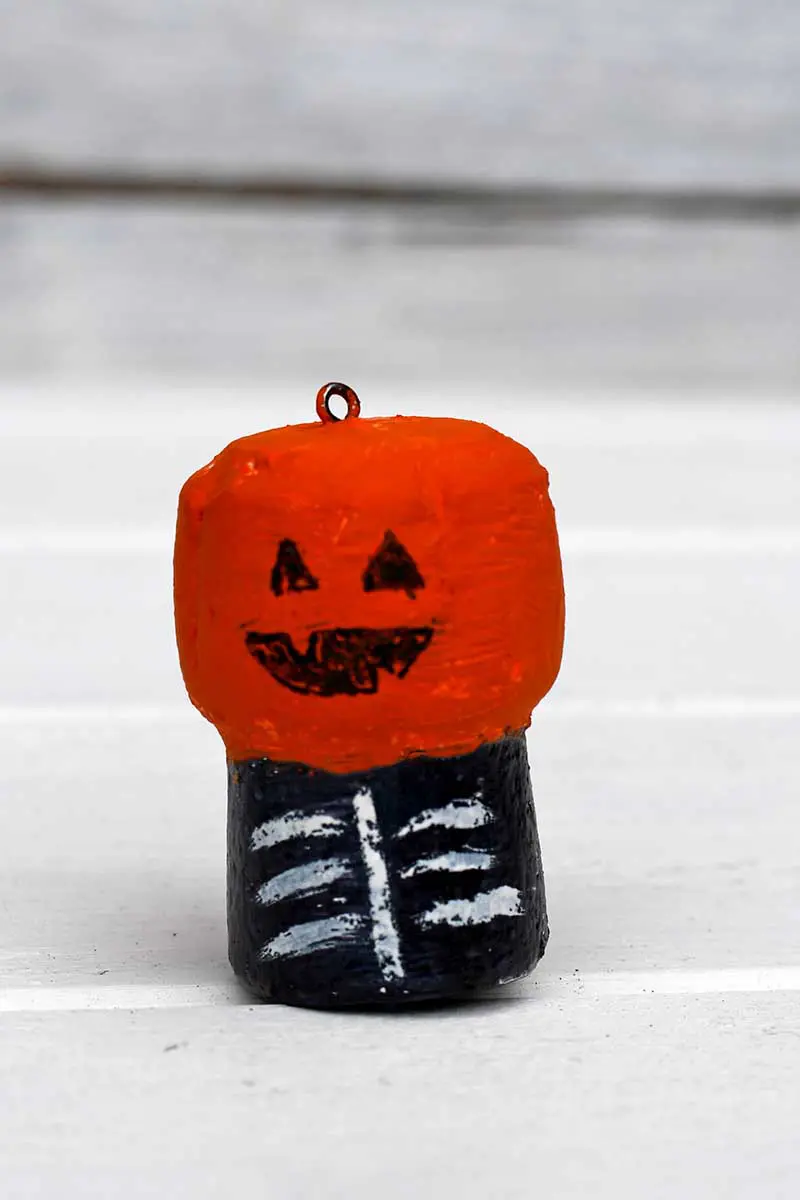 5. Skull Champagne Cork
Another upcycled Champagne cork, this time into a skull. You only need a black sharpie to draw the skull face onto a white-painted Champagne cork.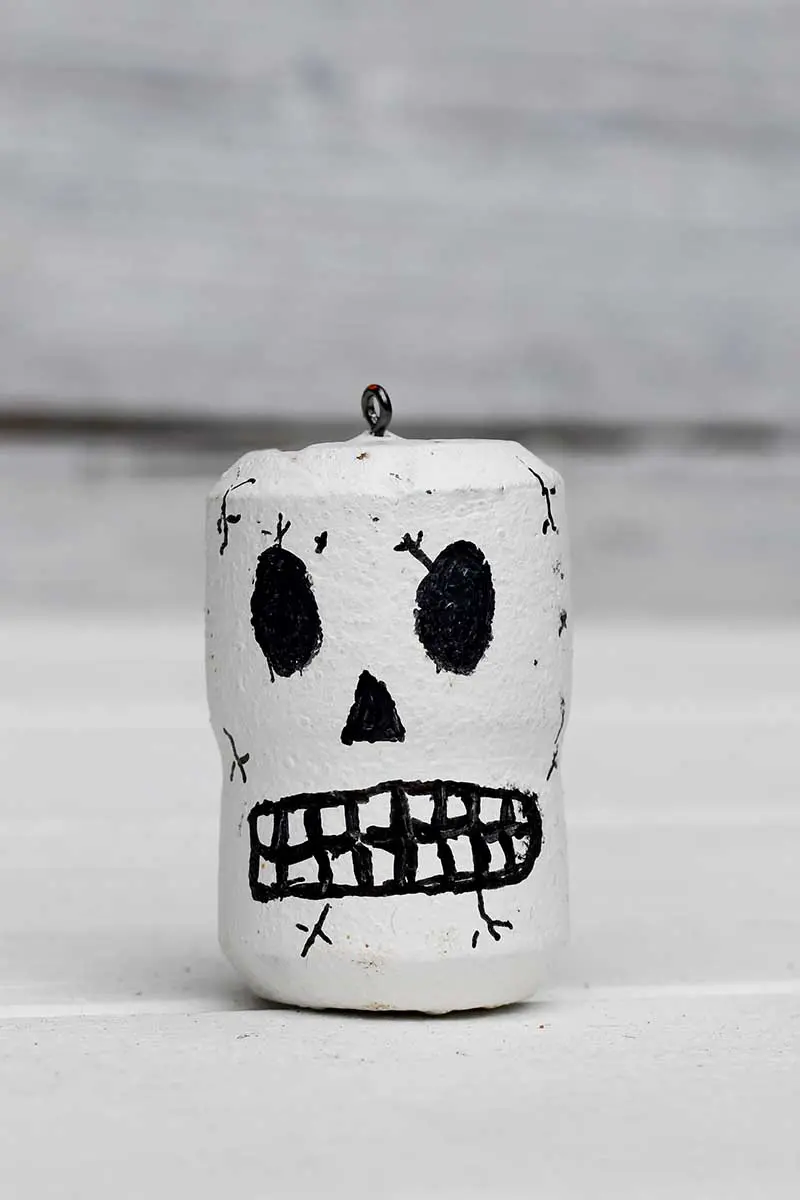 6. Nightmare Skeleton
This skeleton champagne cork was inspired by the spooky Tim Burton film The Nightmare Before Christmas. All you need for this cork craft is a black sharpie and white paint.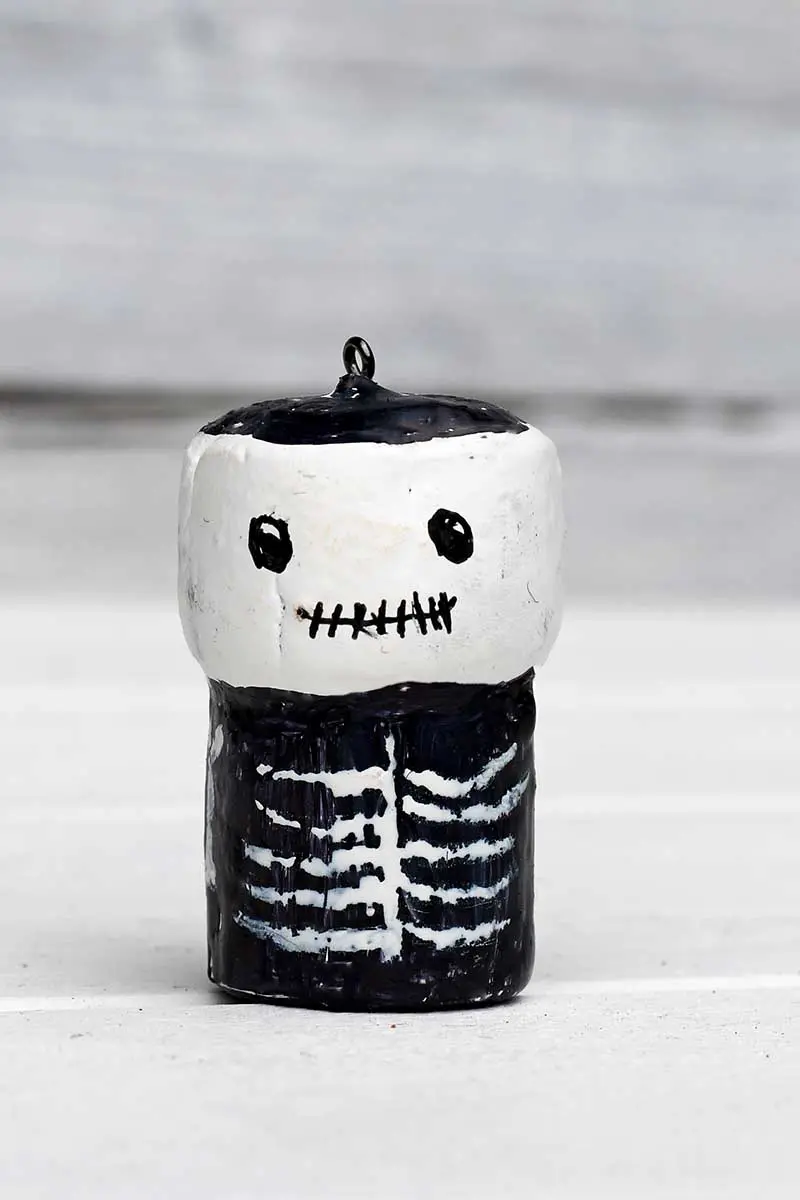 7. Jack O'Lantern
All you need for this champagne cork figure is orange paint (or sharpie) and a black sharpie for the face.
Jack O'Lanterns are a classic Halloween character; last year, I made an upcycled illuminated Jack O'Lantern, from an old chopping board.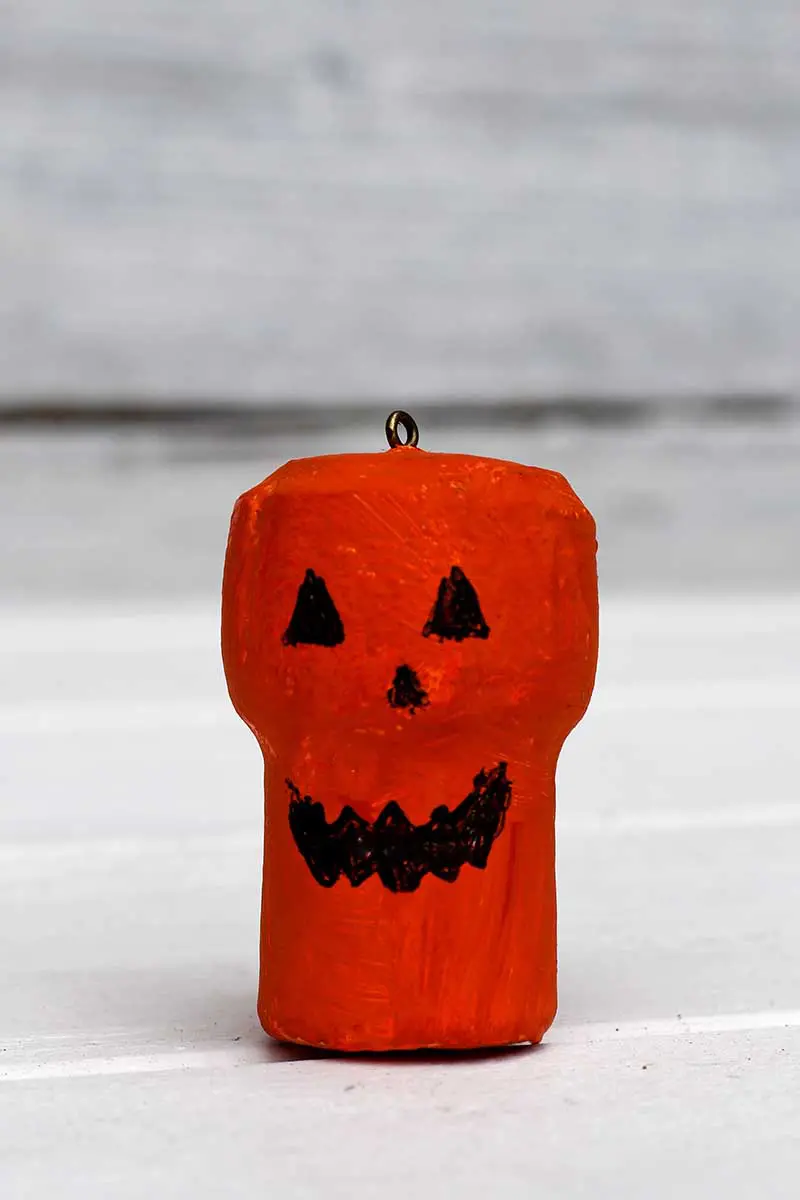 8. Dracula
Another classic spooky character. As well as colouring the Champagne cork with sharpies, I made it a red cape out of felt.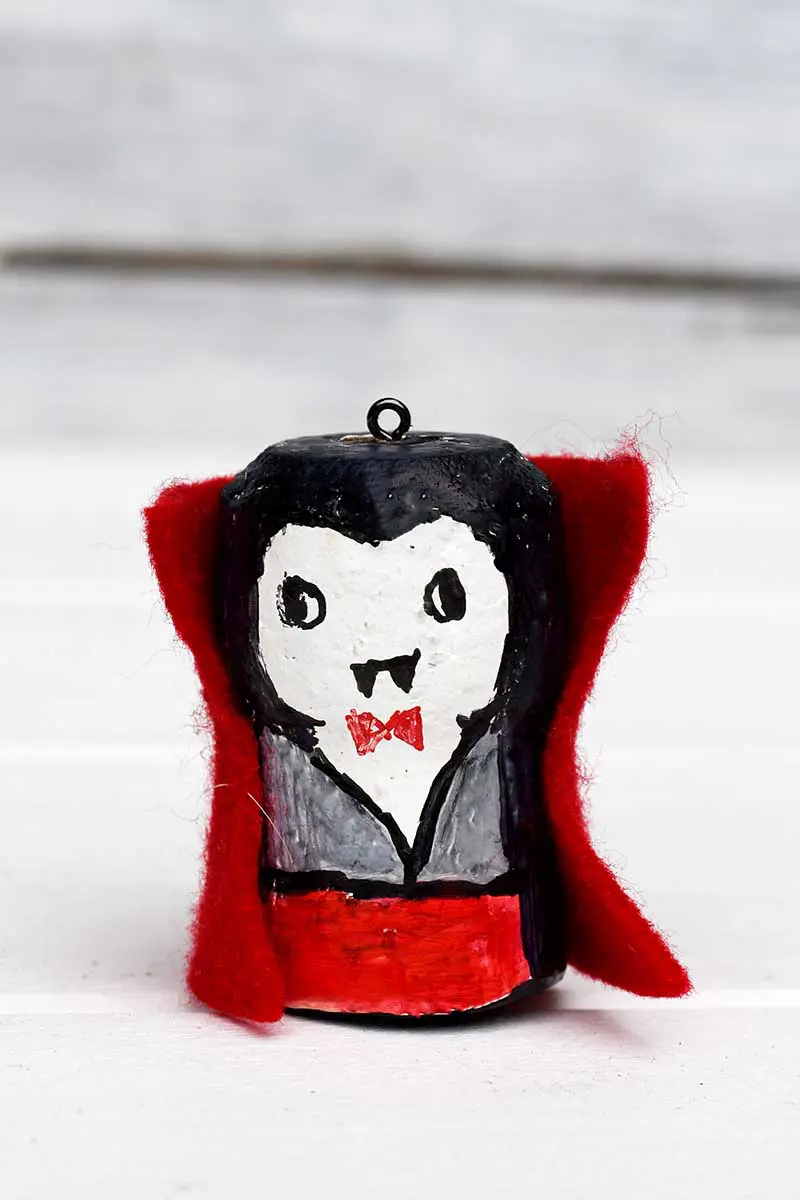 9. Bat Wine Cork
Bats are associated with Halloween, probably due to their links with Vampires. The bat wings and ears were made from craft felt.
There are some excellent vintage bat images on Pictureboxblue.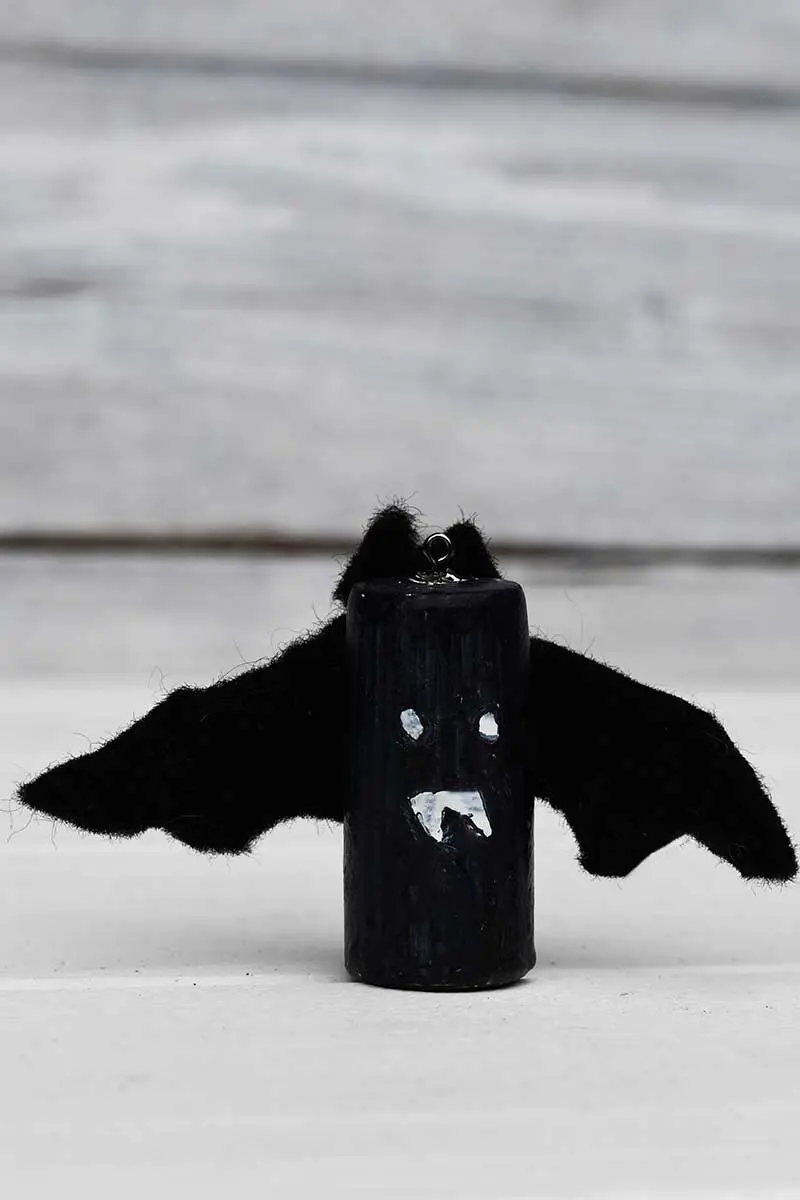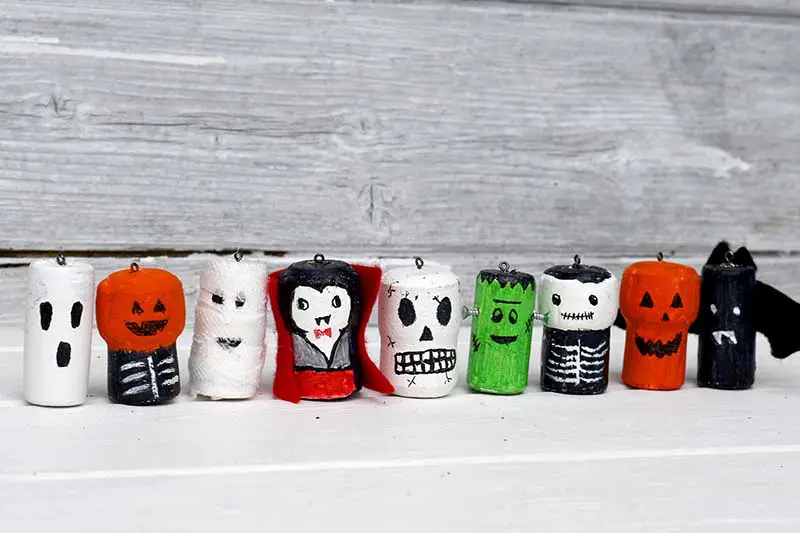 The whole collection of wine-cork-crafted figures is an exciting array of bizarre characters. If you put orange twine through the eyelets, they can be hung as a Halloween garland.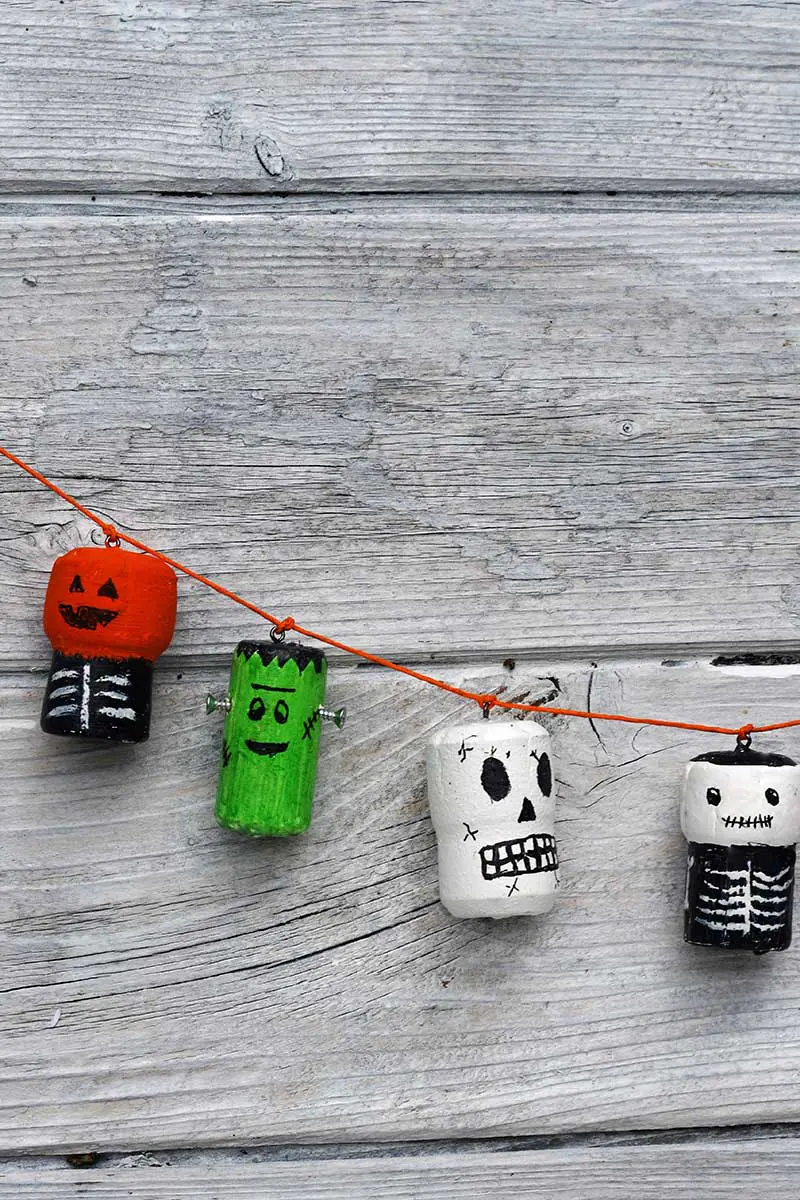 There are a few wine corks left in the jar to craft with. Perhaps I could make some more Halloween decorations to add to the collection, such as witches and wizards like my Halloween Gnomes.
I also have a fun collection of Christmas wine cork craft figures and many other wine cork Christmas crafts.
Check out these Scandinavian DIY Halloween felt decorations for more cute Halloween crafts.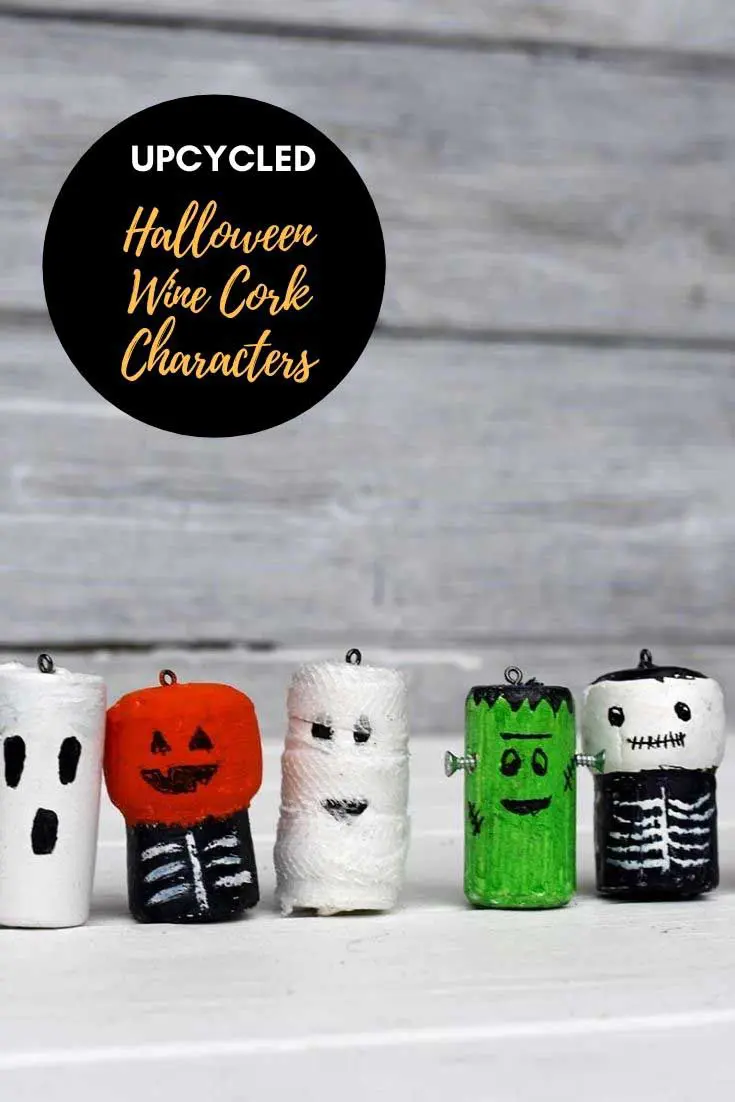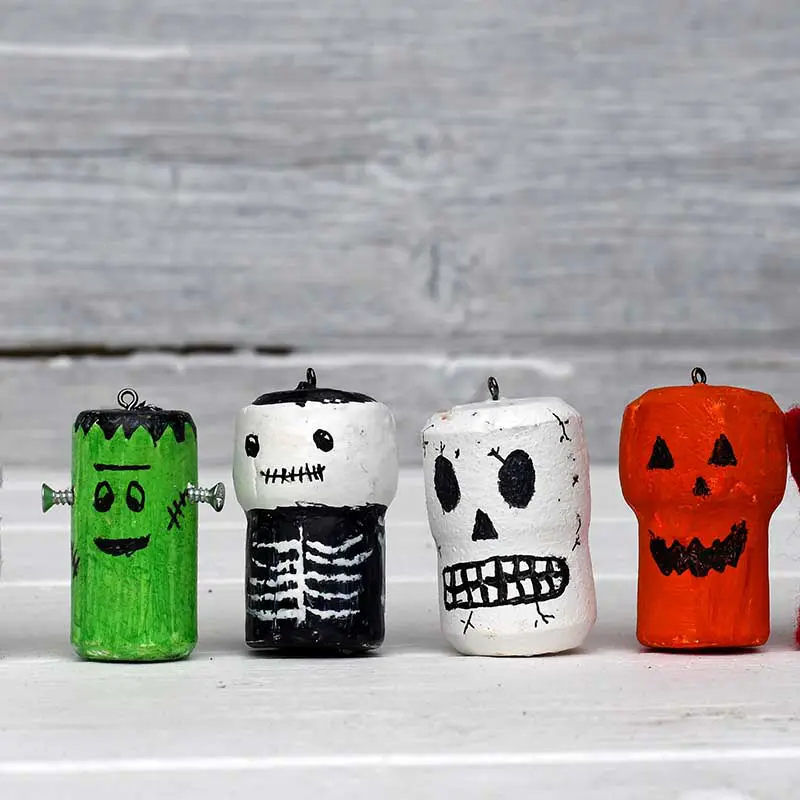 There are more Halloween crafts on allfreeholidaycrafts.