How to make a fabric pin board out of denim scraps: Pin boards are so handy, somewhere to store concert tickets, shopping list reminders and appointment cards.
Basically pin boards are a great place to keep something safe like a ticket, while still having it on show so you don't forget about it!
They are also a lovely place to show a favourite holiday snap or your child's cute art work.
I like my bulletin boards to be fun rather than just a plain corkboard, so I tend to make my own. In the past, I've made my travel-loving son a map magnetic notice board.
For my youngest son, his pin board had a fun old toys frame and is used to display his sports medals.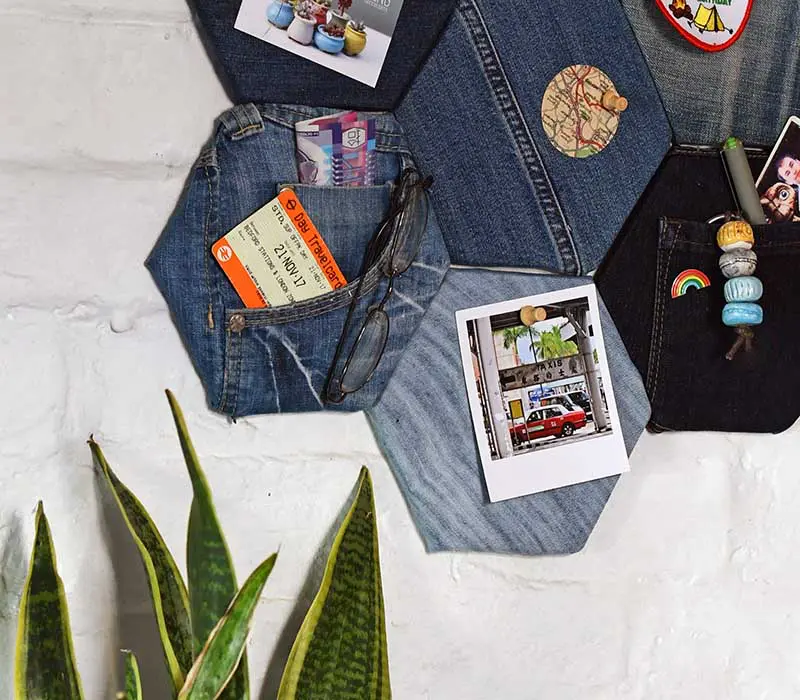 Using Upcycled Denim To Make A Fabric Bulletin Board
With this fabric pin board I used my favourite fabric to upcycle which is old jeans. The patchwork look of this bulletin board was a cool way to show off the different shades of indigo that jeans come in.
I know that denim can be a difficult fabric to sew with, but don't worry this was a no-sew jeans project. Fabrics other than denim could be used with this DIY.
There are two unique features with this DIY fabric pin board which makes it a bit cooler than your standard fabric notice board.
Firstly, the use of a couple of jeans pockets adds another dimension to the board. The pockets can be used to store things like glasses, membership cards and pens.
Secondly, as well as looking good, the hexagon denim patchwork the shape of the fabric bulletin board can easily be rearranged. The board is actually a collection of 8 mini hexagon pin boards combined together into one big pin board. Hexagons are such a great shape for crafts as they can be arranged in so many cool ways.
I think this DIY would work just as well with printed fabrics such as those of my favourite, Marimekko. However, the printed fabric may look good but you would miss out on the fun unique pockets element of this upcycle. So perhaps a mixture of denim and printed fabrics would be a good compromise.
We're a participant in the Amazon Services LLC Associates Program, an affiliate advertising program designed to provide a means for us to earn fees by linking to Amazon.com and affiliated sites. As an Amazon Associate, I earn from qualifying purchases.
What You Need
A variety of denim scraps from old jeans including a couple of pockets. A combination of indigo denim in a range of shades, from light to dark works really well with this fabric bulletin board.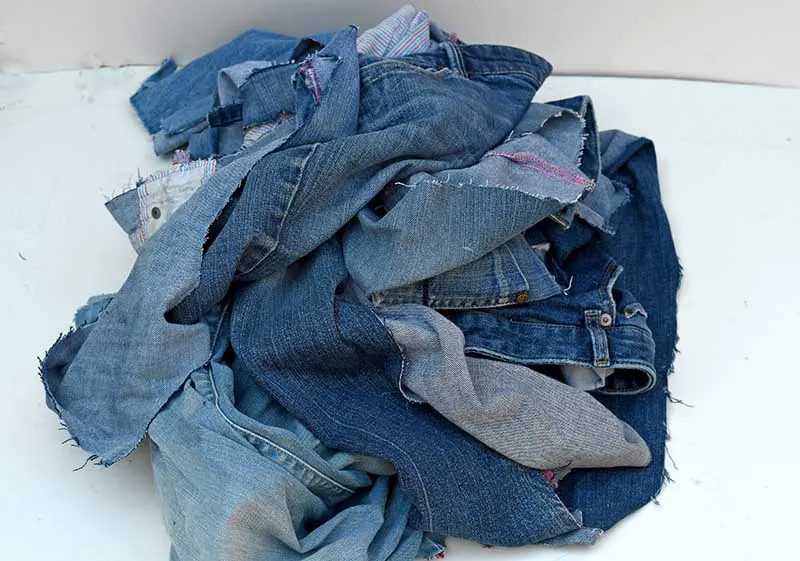 Eight plywood hexagons – These were 15-17 cm (6″-7″) in size and 3mm thick. They can be bought from Amazon, eBay, or good craft stores.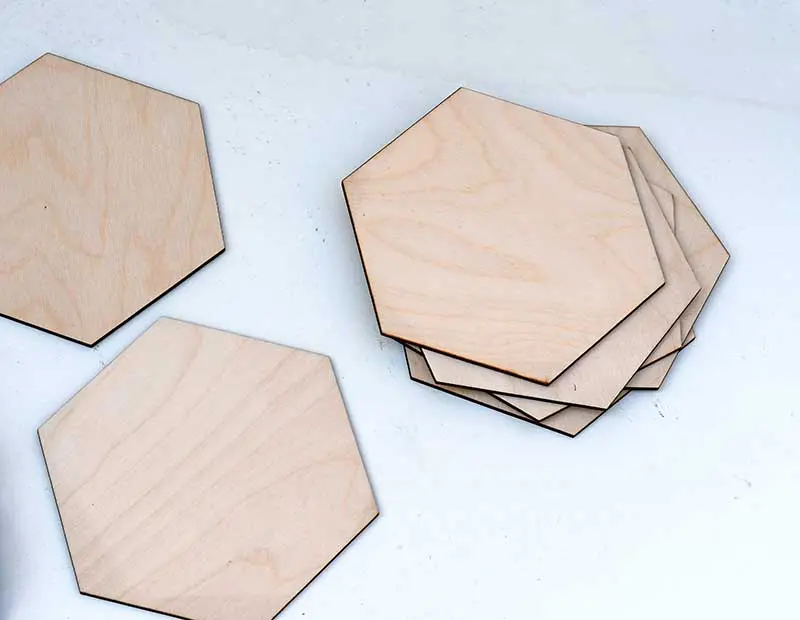 Foam board at least 3mm thick. Enough foam board to cover the eight hexagons.
How To Make A Hexagon Fabric Pin Board
1.. First, place one of the hexagons on the foam board and draw around it. Then using a rotary cutter and mat, cut out the foam hexagon.
Then glue the foam hexagon on top of the wood hexagon. Repeat with all eight hexagons. This will make it easier to use push pins with the finished notice board.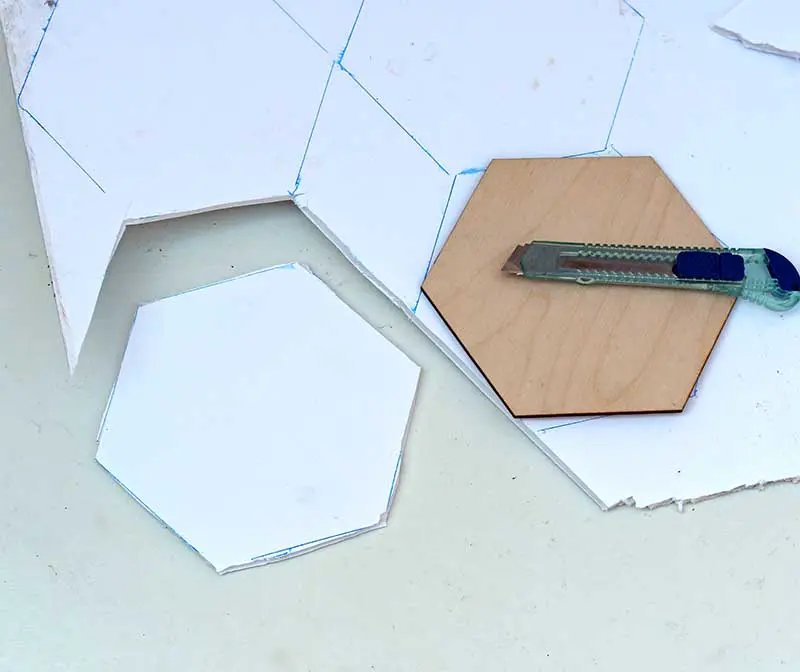 2. Next, place the hexagons onto the denim and draw around them. This time allow for a margin of approximately 2cm all around. Then using a metal ruler and rotary cutter cut out the denim hexagon.
You will need eight denim hexagons in total. For a couple of the denim hexagons cut around a jeans pocket. I used both front and back jeans pockets with this project.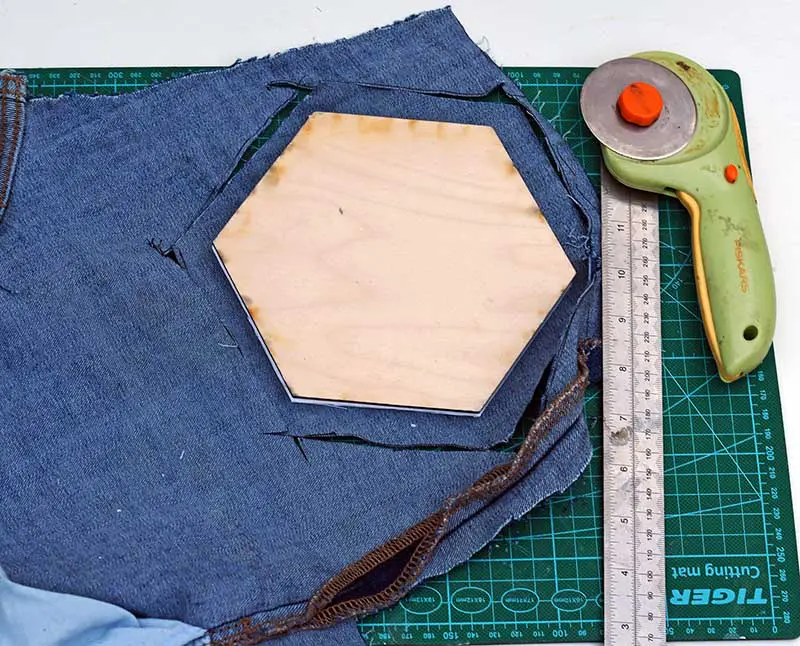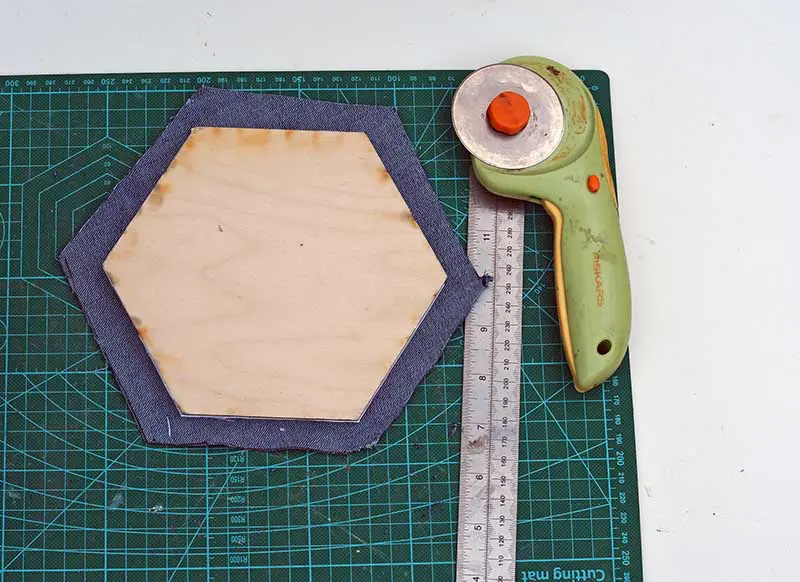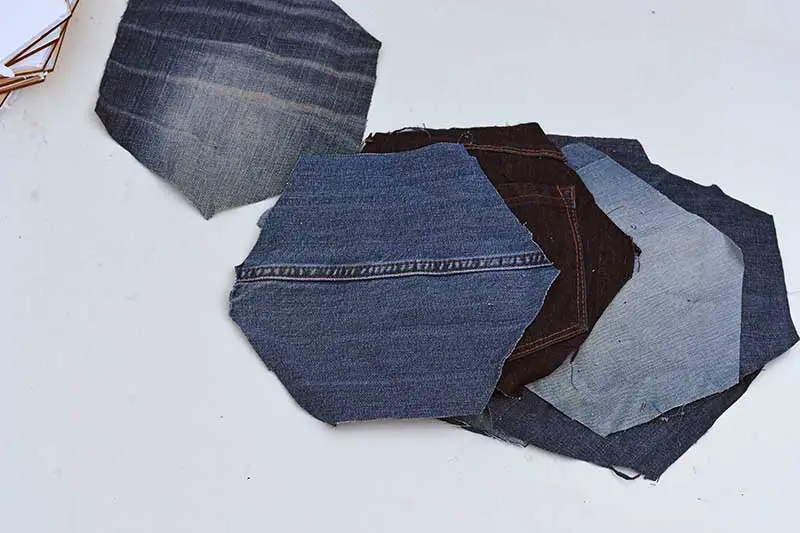 3. Next, use a staple gun to attach the denim pieces to the hexagon. Lay the hexagon foam side down onto a denim hexagon. Then, staple the denim overlap to the wood.
Start by stapling opposite sides of the hexagon. When all the sides are stapled, then fold the denim corners in on themselves before stapling to the wood.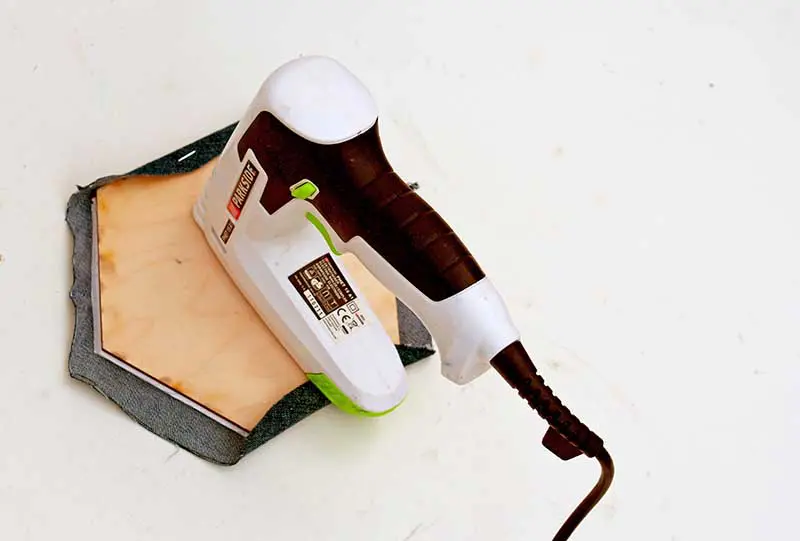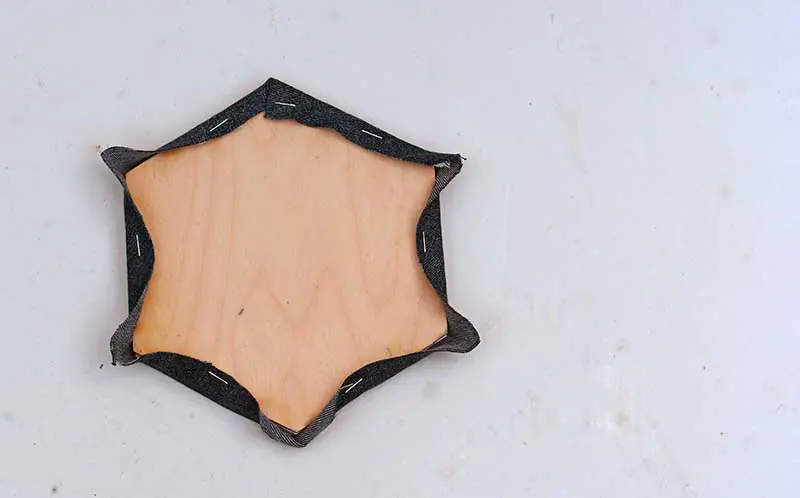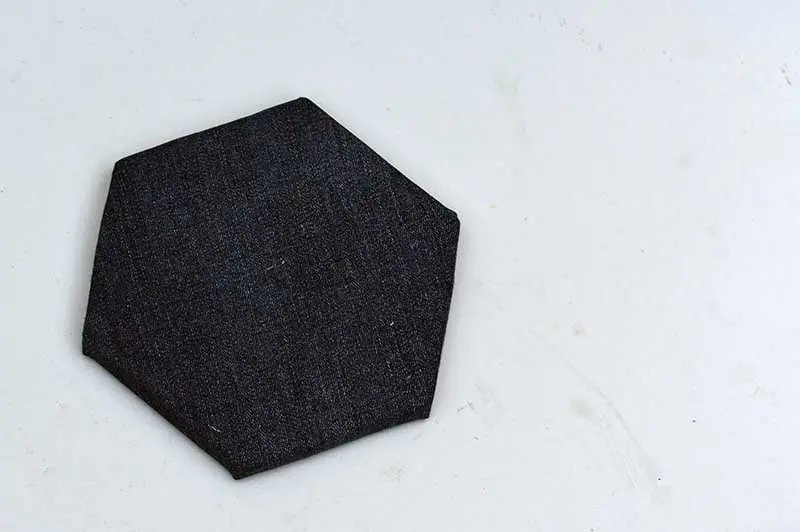 4. Finally, all that is left to do is to play around with the pattern and arrangement of the DIY fabric pin board. Once you are happy with design use the Velcro hanging strip to mount them onto the wall.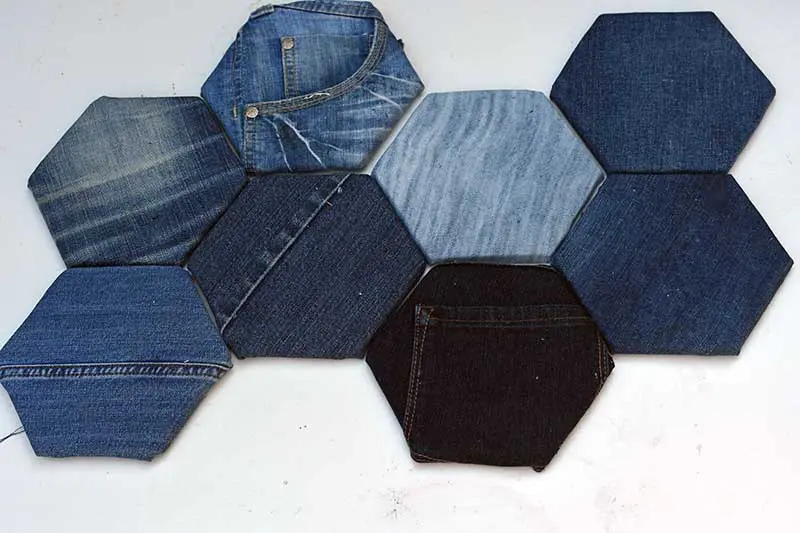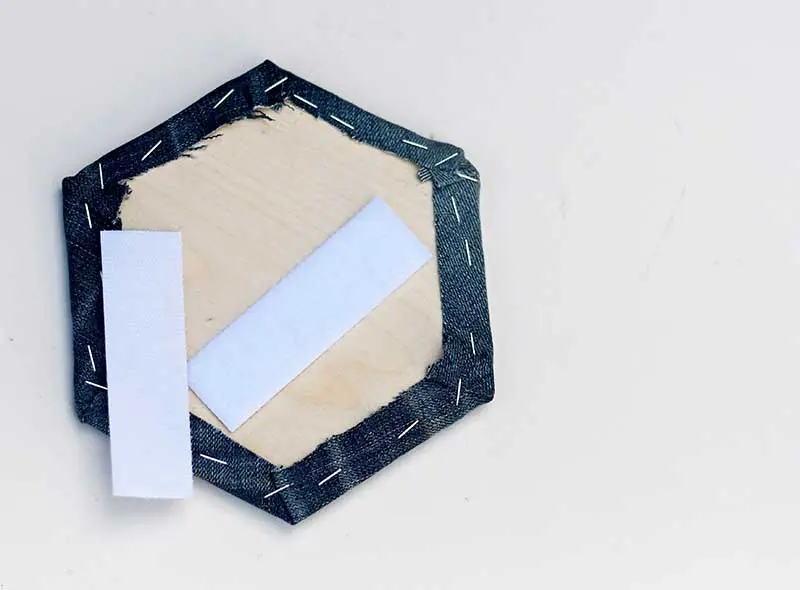 The good thing about the Velcro hanging strips it is easy to play around with the arrangement of the fabric pin board. You can also add more hexagons if you want a larger notice board.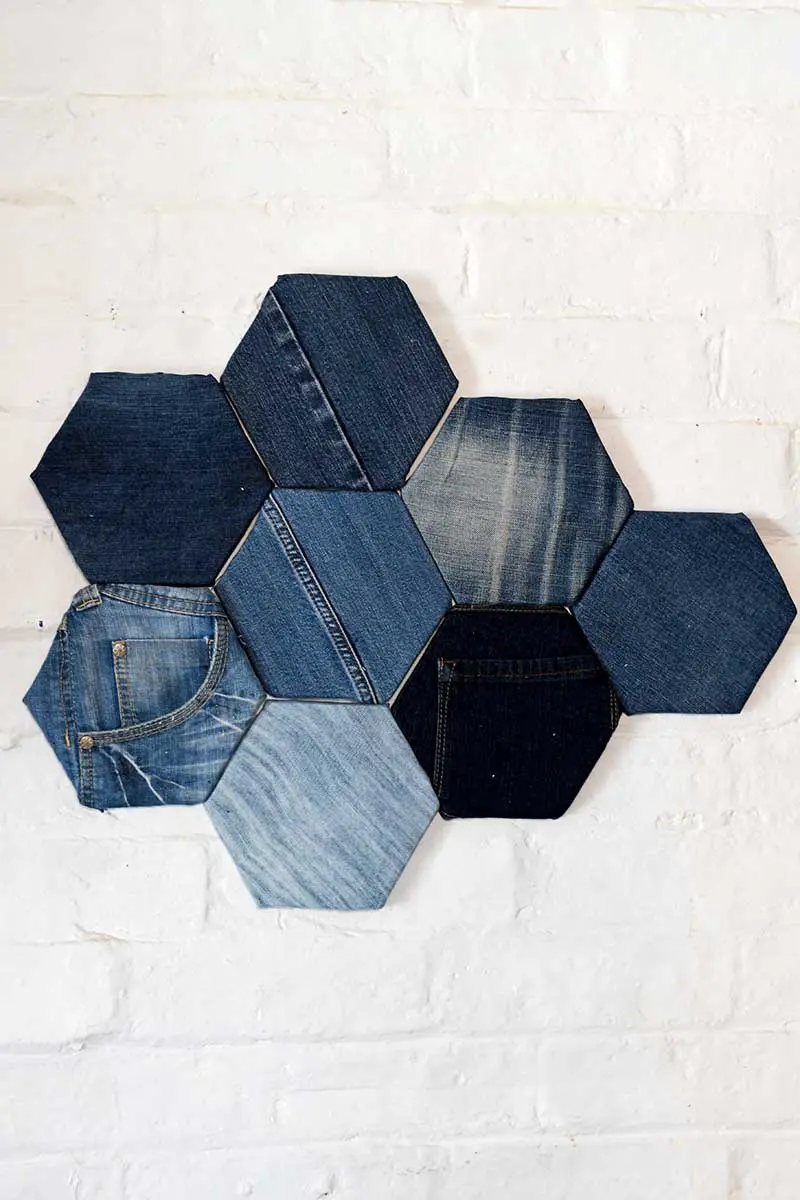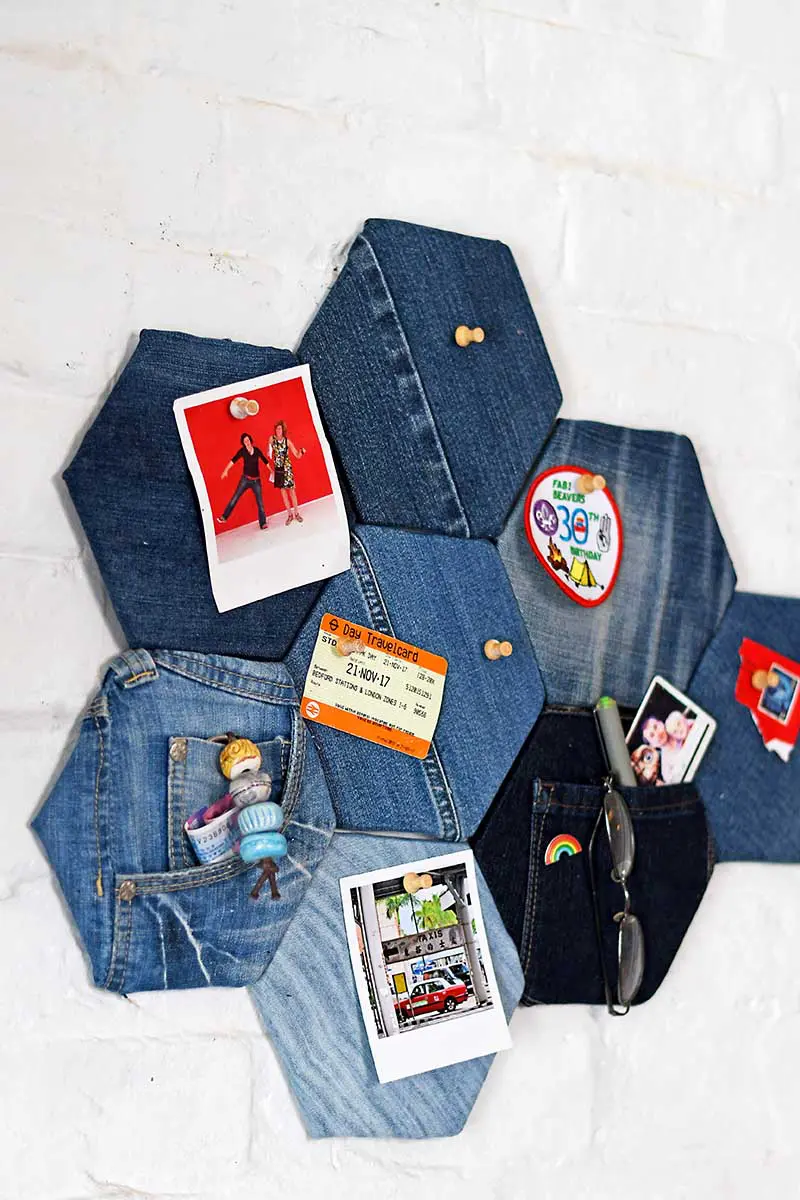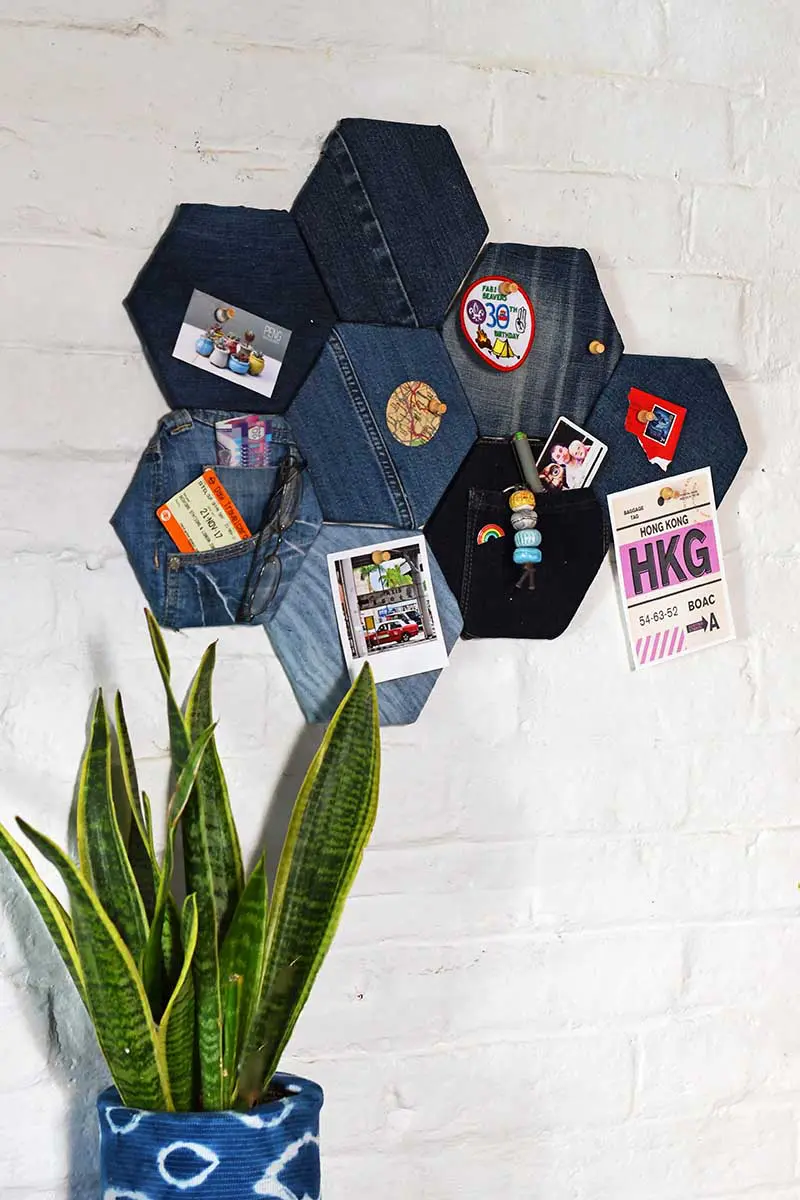 What I love most about this denim fabric pinboard are the hexagon shapes. You can use other fabrics instead of denim to mix it up a bit. Just like I did with my denim patchwork chairs, where I snuck in the odd coloured fabric hexagon. I've also made some hexagon patchwork denim placemats.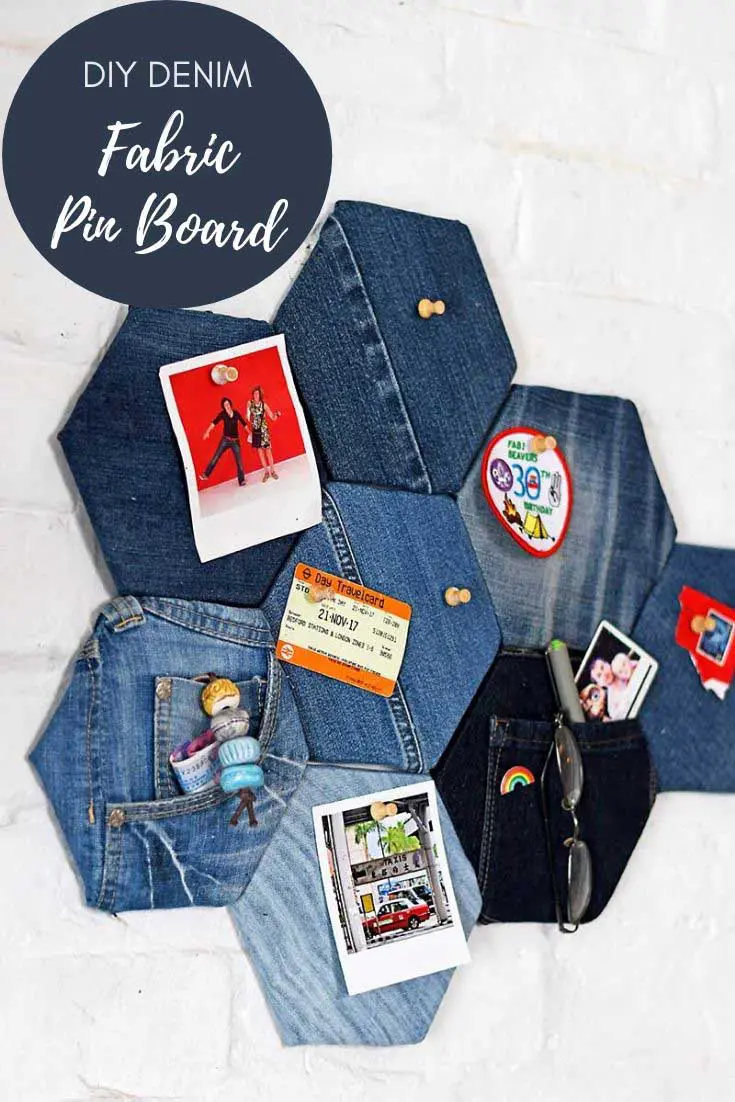 If you liked this denim pin board then you should check out some of my other upcycled denim storage ideas, including the very popular denim pocket organizer.
I think the fabric pin board would look great in a den or teen bedroom you could even make an upcycled blue jean rug to match or some denim pillows.
You could even go the whole hog and cover the desk chair in denim to complete the look.
There is a personalized map version of this cork board here that uses hexagonal cork tiles.
For more denim wall decor ideas visit DIYIdeaCenter.com.