Free Pattern For Fun DIY Flower Pillows
If you follow my blog you probably have noticed that I have a few crafting obsessions such as denim, maps and Marimekko. It is because of my Marimekko obsession that I designed and made these DIY flower pillows.
For those of you who don't know Marimekko is a Finish textile, homewares and fashion design company. They are famed for their bold colourful simple prints.
One of the company's most iconic prints is the Unikko (poppy). The Unikko poppy floral was designed in 1964 and comes in loads of fabulous colourways. The print is still very prominent with Marimekko products today and my personal favourite.
I actually have an impressive collection of Marimekko Unikko paper napkins.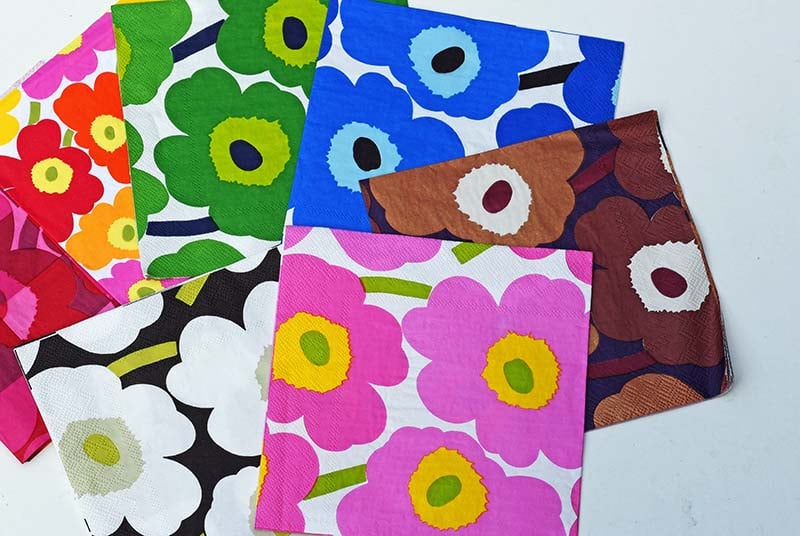 My love of the Unikko pattern led me to wallpaper my stairs in the print. I just love the simple squashed poppy design. It inspired me to make these DIY flower pillows. The pillows were designed to look like the Unikko squashed poppies.
This is a simple, fun whimsical sewing craft. The pillows remind me of some I made as a child.
When I was 12 years old at school, I took a sewing class. Whilst everyone else was busy doing sensible things like learning how to hem skirts, I was making pillows/cushions that looked like fried eggs.
For some reason, I thought fried egg pillows would look cool. I haven't changed, I still don't know what's cool! And these DIY flower pillows don't look too dissimilar to those fried eggs. Except, of course, you don't get pink fried eggs.
These Marimekko pillows were all made by hand-sewing. You can sew the pillows up on a machine to speed things up. However, it actually didn't take that long to hand stitch the pillows. I enjoyed the slow crafting whilst watching Wimbledon on the telly.
We are a participant in the Amazon Services LLC Associates Program, an affiliate advertising program designed to provide a means for us to earn fees by linking to Amazon.com and affiliated sites. As an Amazon Associate, I earn from qualifying purchases.
What You Need To Make DIY Marimekko Flower Pillows
Fabric in the colourways of your choice. For the DIY flowers, I wanted to make them in a pink colourway, similar to these Marimekko napkins. I used soft babycord fabric as it relatively cheap (on eBay) and comes in lots of colours. You need less than half a meter of fabric for the main body of the pillow and then scrap pieces for the center of the flower.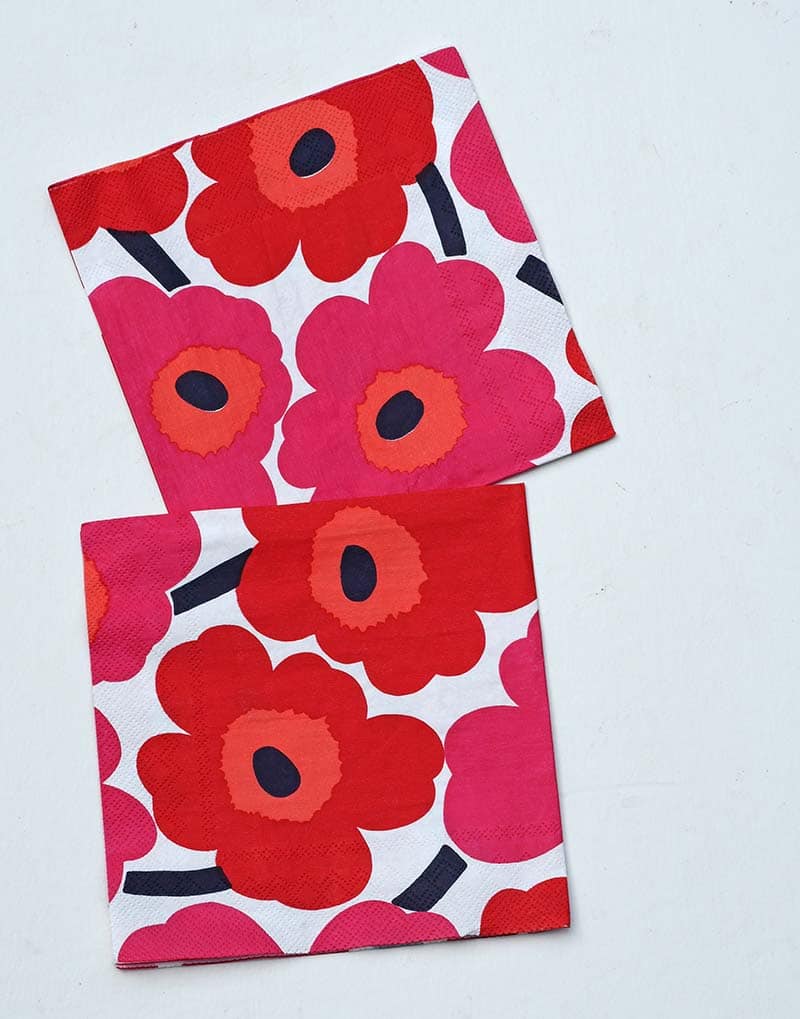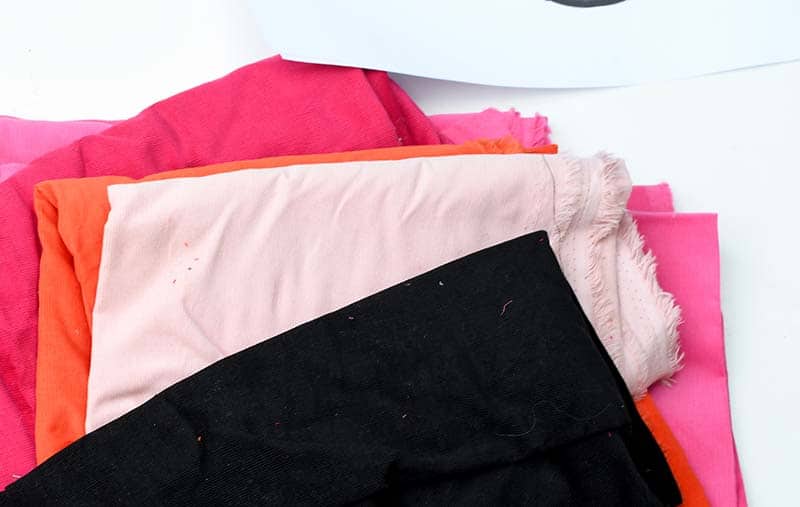 Cotton threads matching the fabric colours.
Small piece of thin quilters wadding/batting.
Fabric glue
Pins, needle and thread
Fiberfill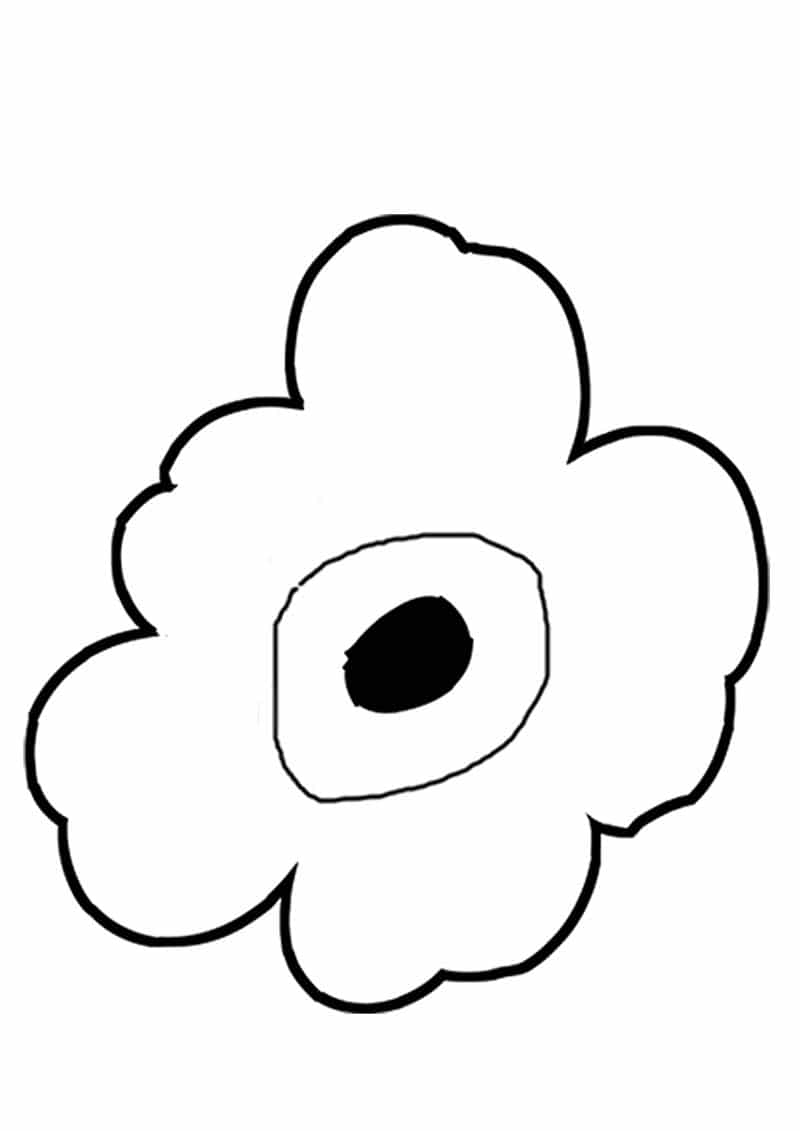 How To Make DIY Flower Pillows
1. First print out the DIY Flower pattern (link above). For the cushions I printed the PDF pattern over 2 A3 sizes of paper and then selotaped them together. If you only have a standard A4 printer then you will need to print the pattern over 4 sheets of paper.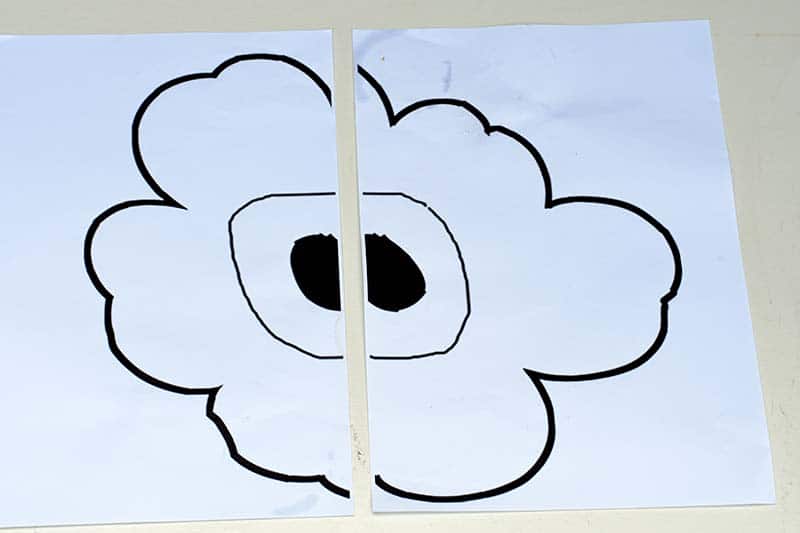 2. Next, cut out the DIY flower pillow pattern and place it on top of the fabric. Draw around the large flower (allowing for a 1cm seam allowance) on the fabric. Then, cut out the flower shape.
Then flip over the pattern and repeat. You should now have 2 pieces of fabric (a back and a front) in the large poppy flower shape.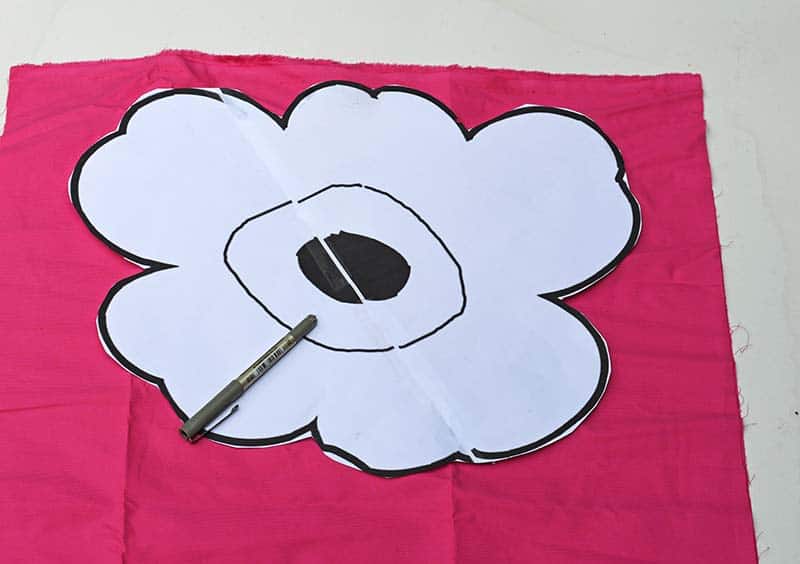 3. Next, cut out the centerpieces of the flower pattern. Use them to cut out a small black centerpiece and the other in a contrasting fabric.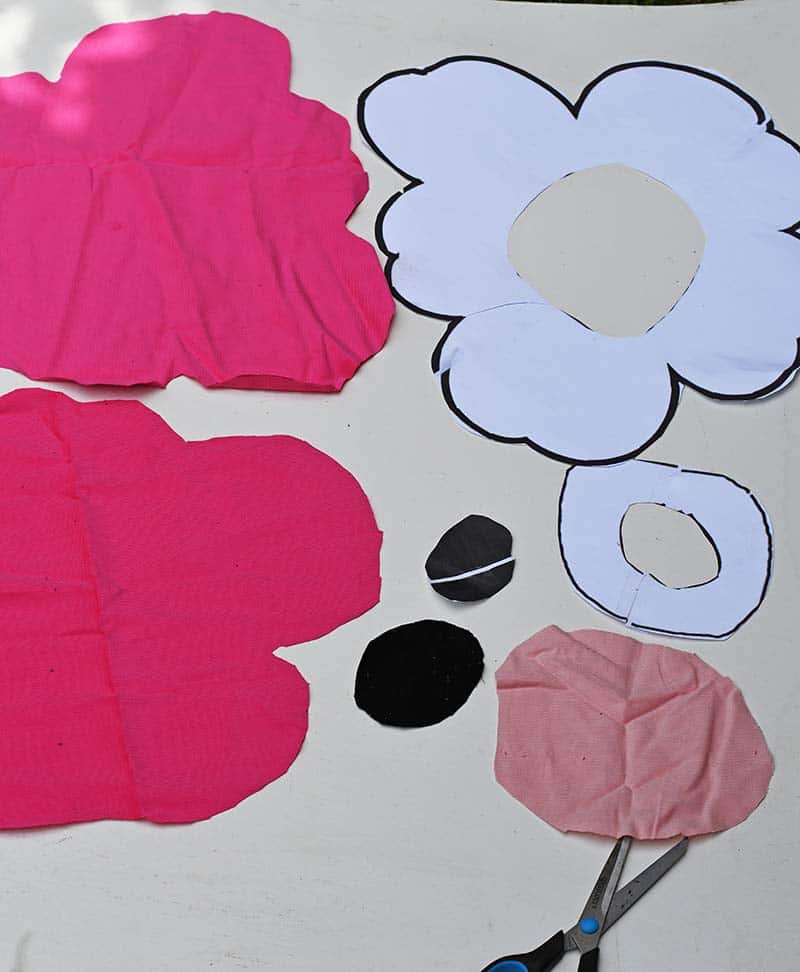 3. For the next stage, hand-stitch the small black flower fabric to the center of the lighter coloured middle piece of fabric. Use a simple running stitch in a black thread so that the stitches were almost invisible.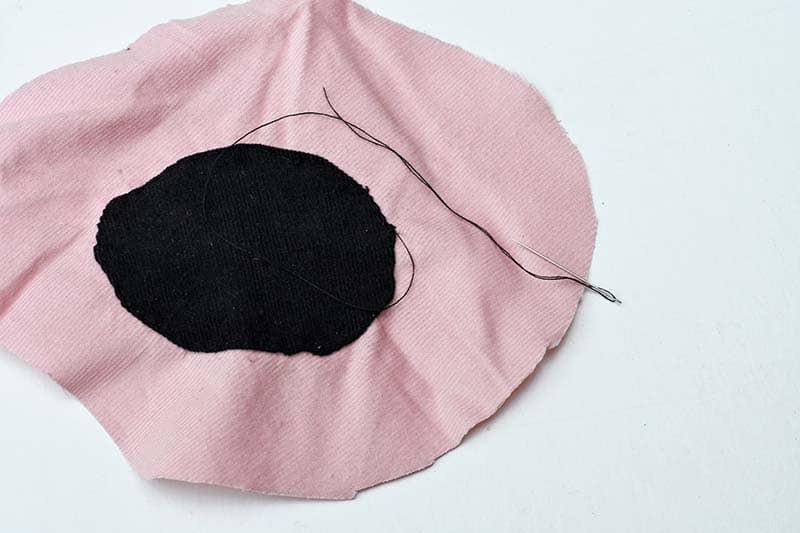 4. To give the center of the flower pillow a raised look, cut a piece of wadding slightly smaller than the pink centerpiece. Then wrap the pink fabric around the wadding. Use fabric glue to hold it in place.
Next, hand-stitch the flower center to the front of the pillow. Again, using cotton in the same colour as the fabric to hide the stitching.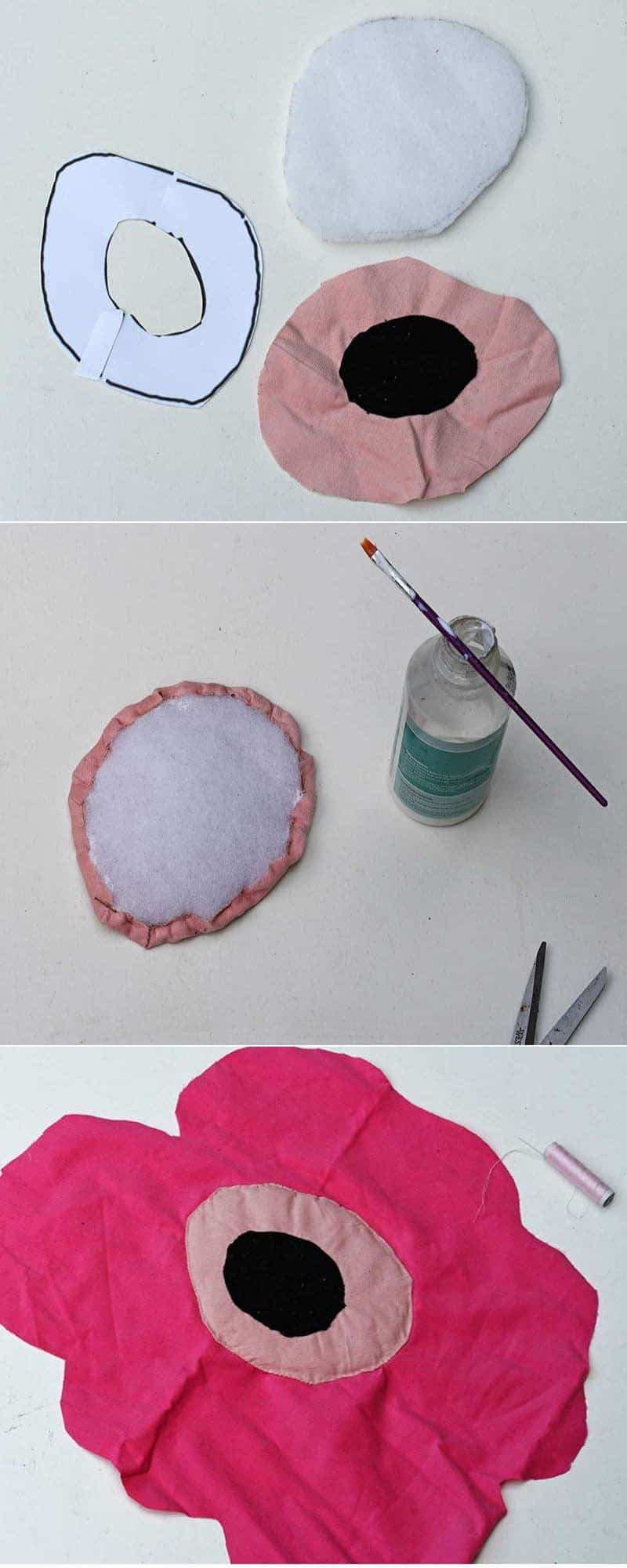 5. Finally, pin both sides of the DIY flower pillow right sides and then stitch them together. Leave a small gap for stuffing the pillow. I hand stitched the pillow, but it can just as easily be sewn on a machine.
Turn the pillow right side out through the hole that you left. Then, stuff the pillow with fiberfill. ( I use the filling from old bed pillows for this). Finish off by sewing up the hole.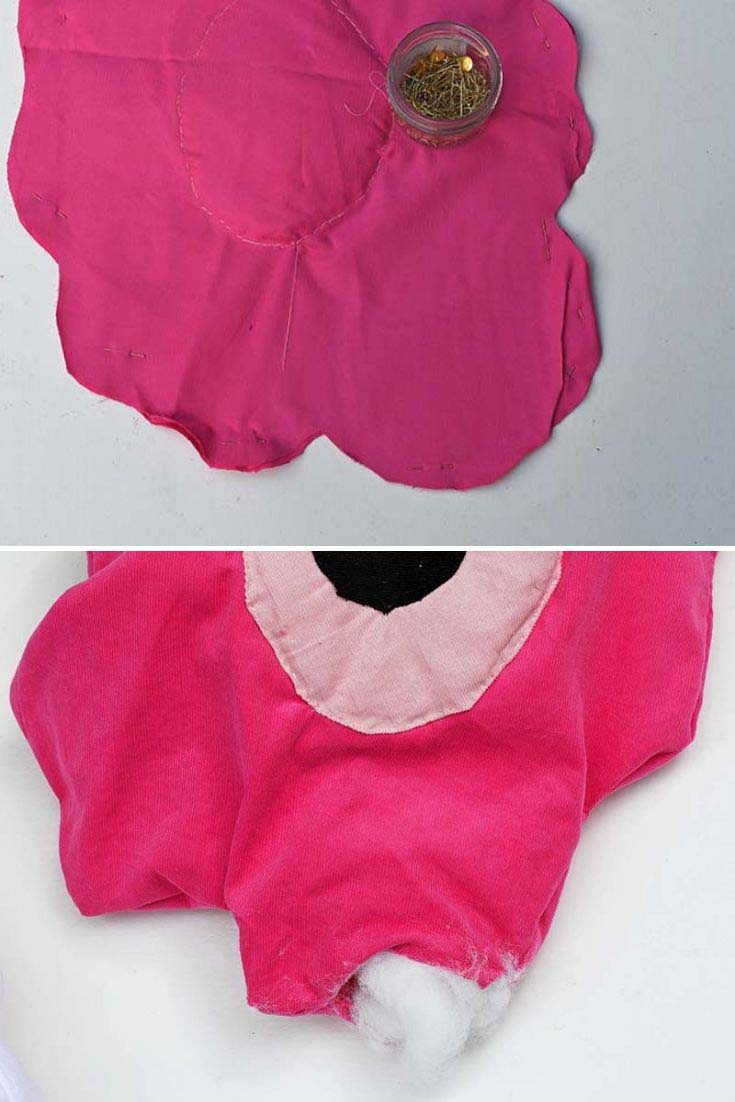 I made two of these DIY flower pillows in two similar but slightly different colourways just like the Marimekko Unikko paper napkins.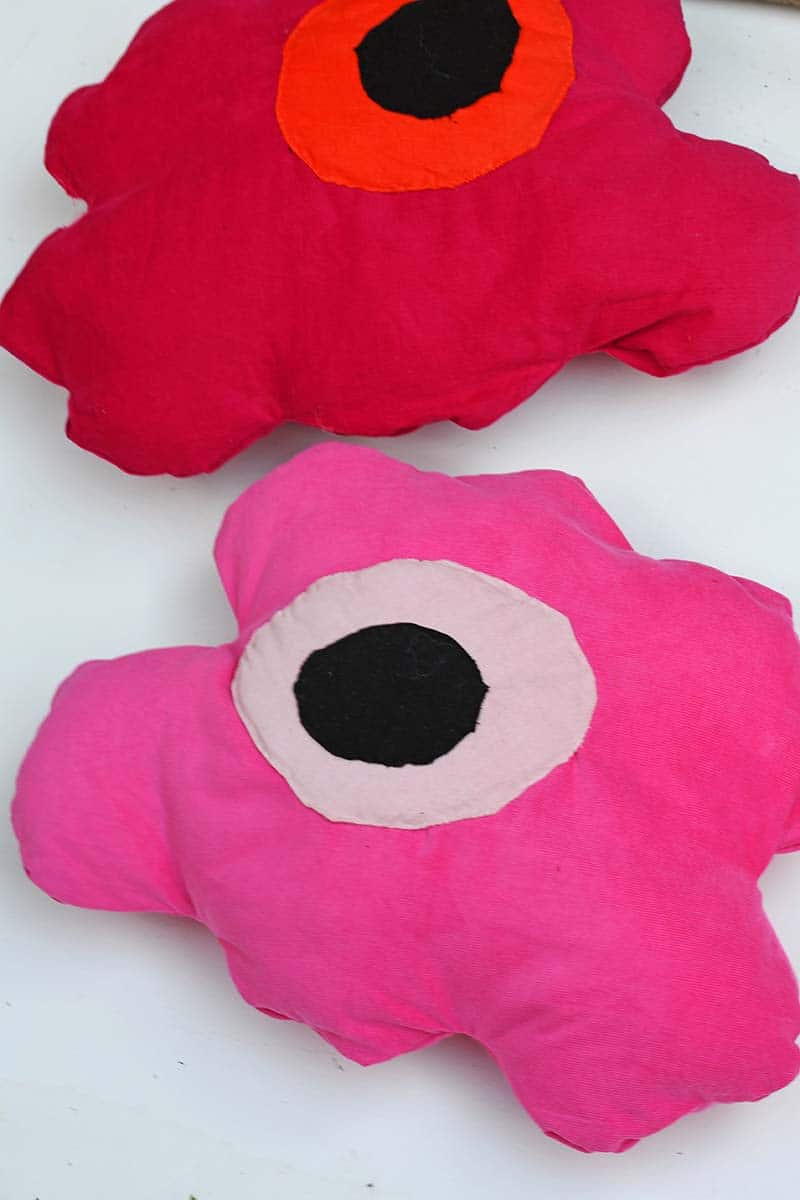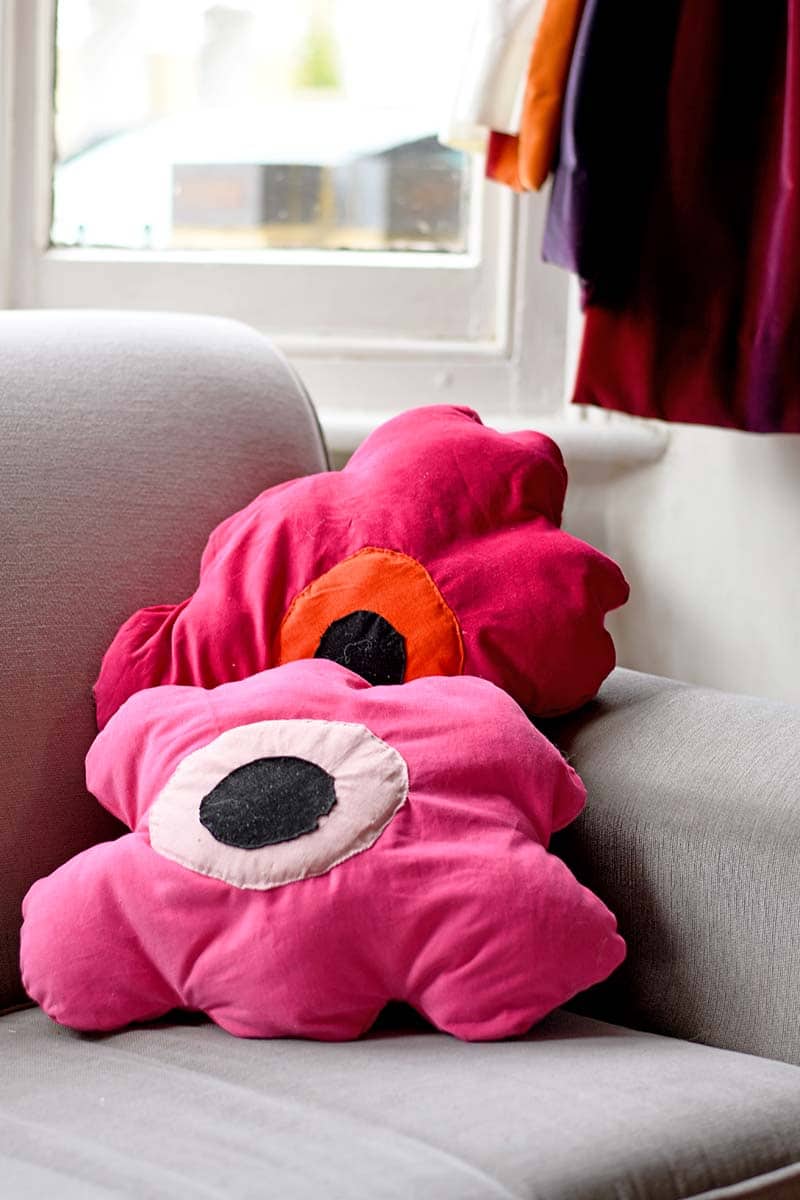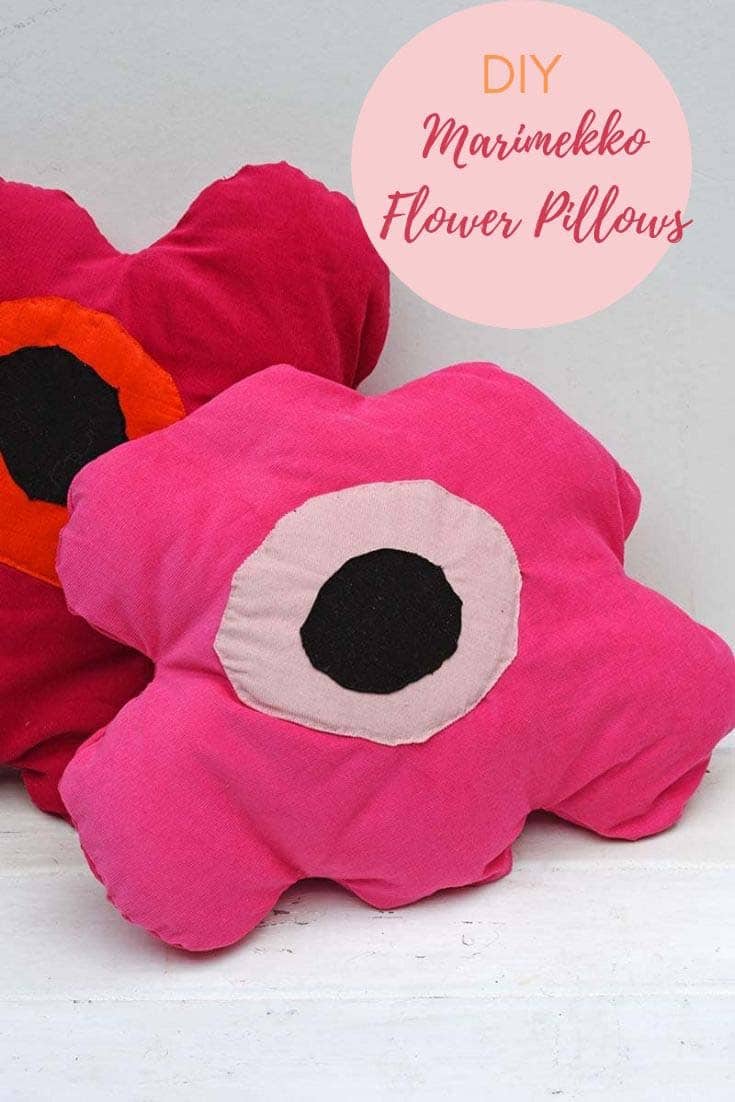 Yield: DIY flower Pillows
Marimekko Poppy Flower Pillows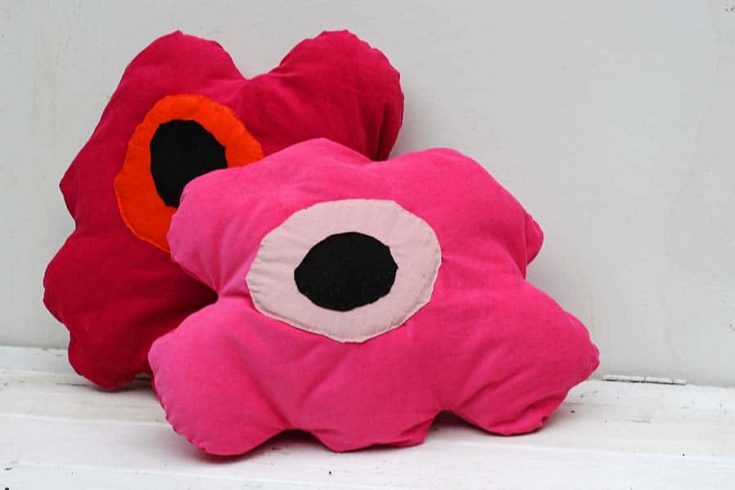 DIY flower pillows inspired by the Marimekko Unikko poppy design
Total Time
2 hours
30 minutes
Materials
Babycord in 3 colourways
Needle and thread in matching colours
Wadding
Fabric glue
Fiberfill
Tools
Needle or sewing machine (can be hand sewn)
Scissors
Instructions
Download, print and cut out the free pattern
Cut out fabric using the pattern with a seam allowance
Sew the black center of the poppy to the middle
Cut wadding to fit the center panel and cover with material
Sew this to the main poppy cutout
Stitch both sides of pillow right sides together leaving a small hole for stuffing.
Turn right sides out. Stuff pillow and stitch the hole closed.
If you liked this post then check out some of my other Marimekko and DIY pillow craft projects.
For more sewing pillow projects visit allfreesewing.com