I always seem to have a pocket full of pine cones. Almost every day, I go for a coffee in my local park where I can't help picking up pretty dropped pine cones. I used some of my collection to craft a gorgeous painted pine cone decoration for my gallery wall.
Not only do I have a thing about painted pine cone crafts but I also love to craft angel wings. I've created map angel wings and I have even crafted upcycled shuttlecock angel ornaments.
I mashed these two crafting themes together to make a lovely pair of pine cone angel wings for my gallery wall.
This pine cone craft involved using lots of pine cones of different sizes. Then cutting them to look like flowers before painting them.
After the pine cone angel tutorial, there is a round-up of some other wonderful pine cone craft ideas.
There are more Christmas nature crafts here.
How To Paint Pine Cones For Crafting
There are several different ways to paint a pine cone, by hand, with spray paints or dipping in the paint.
Personally, I like to bleach my pine cones before painting. This lightens them a bit but it doesn't make them go white. All I do is put the pine cones in a large jar with 50/50 diluted bleach and leave them for 24 hours.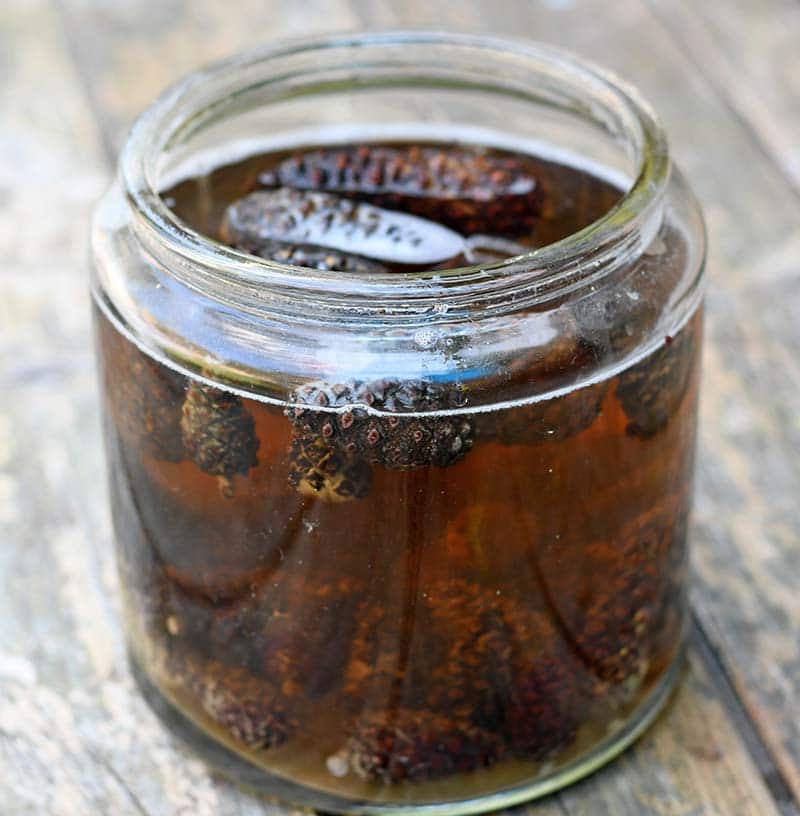 The pine cones will close up whilst soaking in the bleach. Just remove the pine cones from the jar and rinse off the bleach. Then leave them to dry, either in the sun or a warm place. As the pine cones dry they will open up again.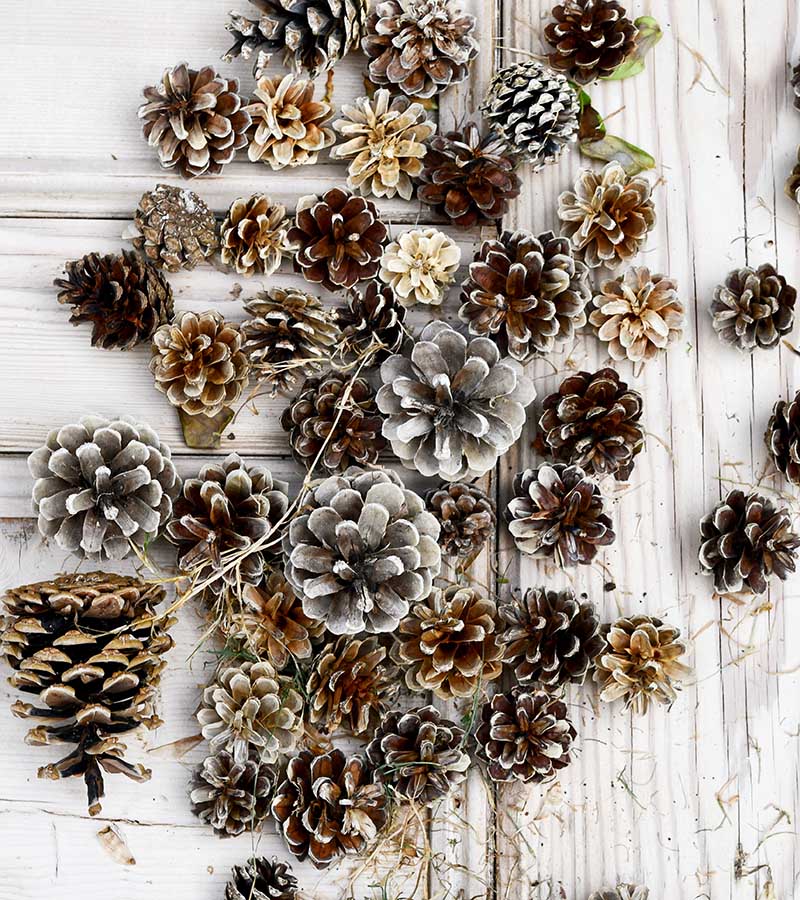 Painting by hand
Bleached pine cones are easily painted by hand using a small paintbrush and craft acrylic paint. This works well when you want to paint them
For example, when creating pine cone flowers, the center can be a different colour to the outer scales (petals). Also, the edge of the scales can be lightened with paint.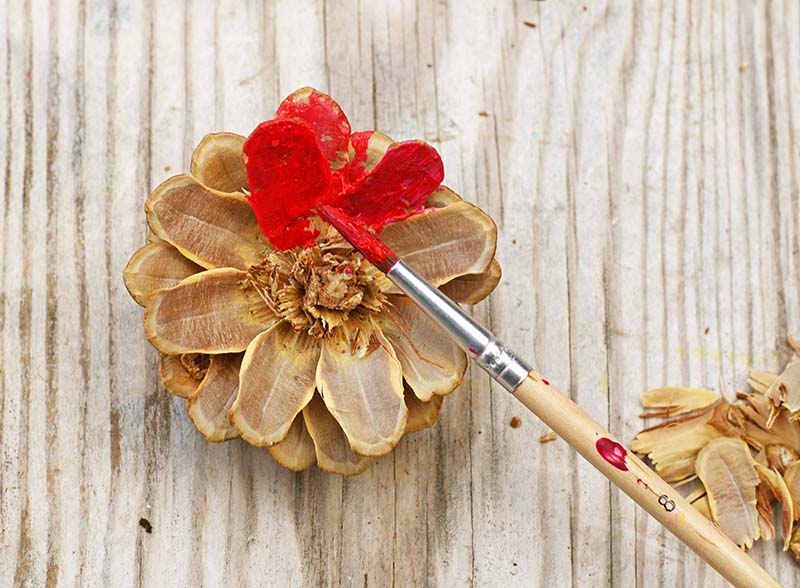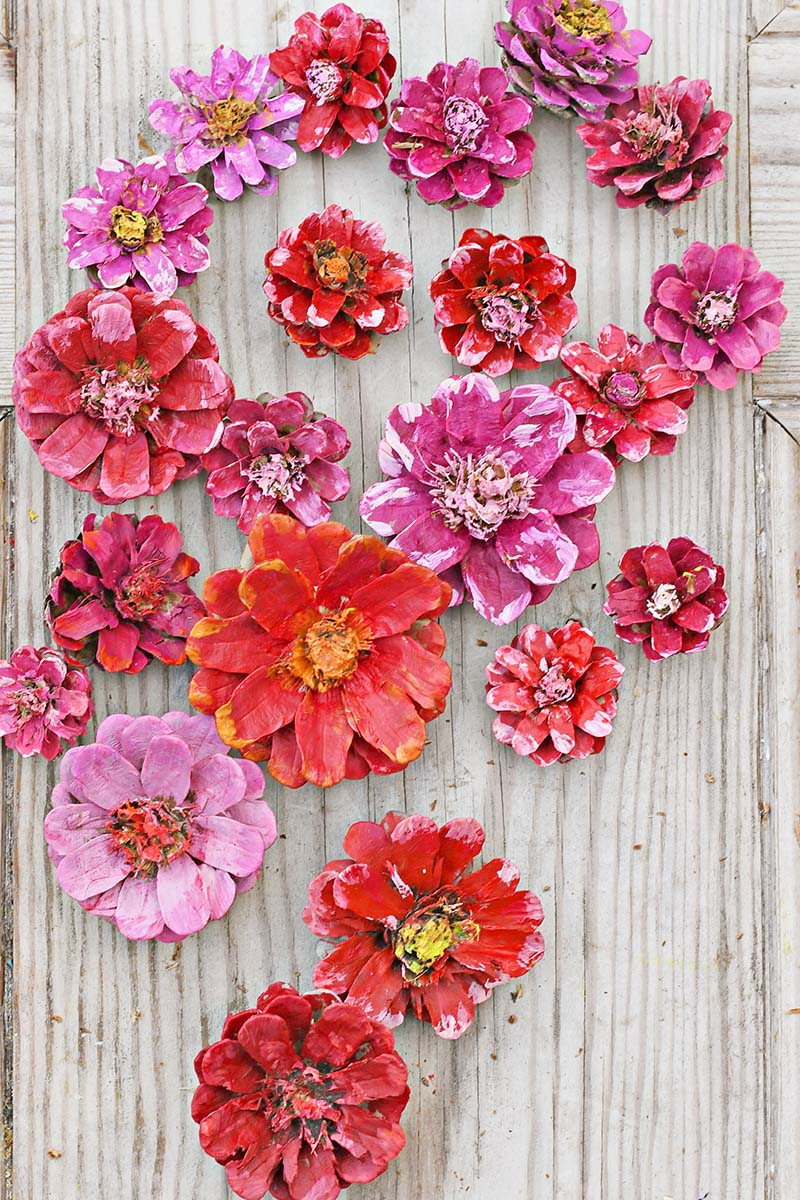 Spraying Pine Cones
If you just want to change the pine cone to one colour than the easy option is to spray paint them. This ensures a more even coverage.
Quick-drying spray paints are advantageous over other paints as the pine cones won't get too wet. If pine cones get too wet and don't dry quickly they will start to close up again.
I've spray painted pine cones gold before to make fall mason jar decorations. I've also spray painted them green before making mini pine cone Christmas trees.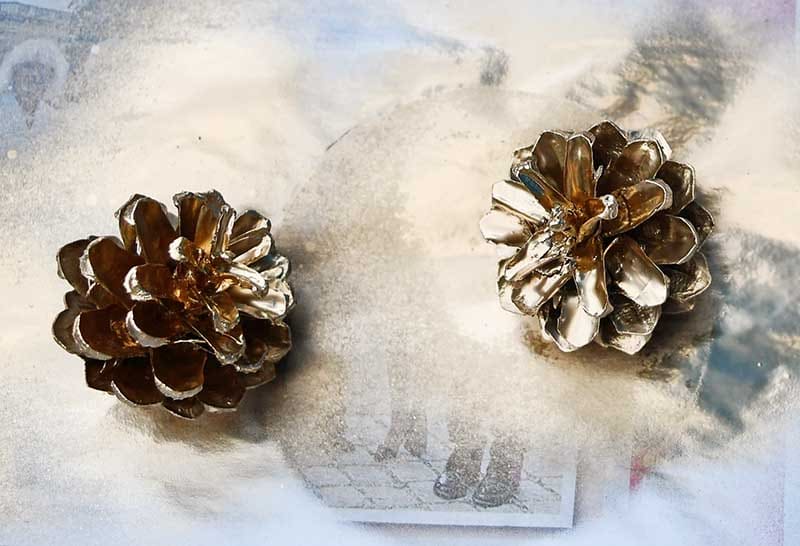 Dipping Pine Cones
This is the method I used for the crafted pine cone angel wings. I hooked wire around the pine cone and then dipped it into a pot of leftover diluted latex wall paint. The pine cone was then left in the sun to drip dry.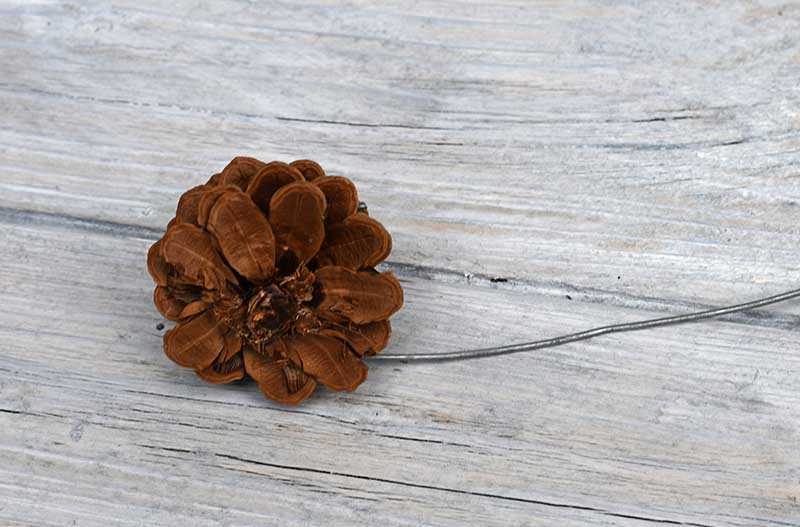 I used diluted paint as this is quicker to dry than thick paint and thus there is less chance of the pine cones closing up. Also, it helps to do this on a sunny day so that they can dry quickly.
I recommend using wire around the pine cones and not string. Pine cones are light, the wire can be used to push them into the pot of paint. If the pine cones were just on a string they are likely to float on the top and not get covered.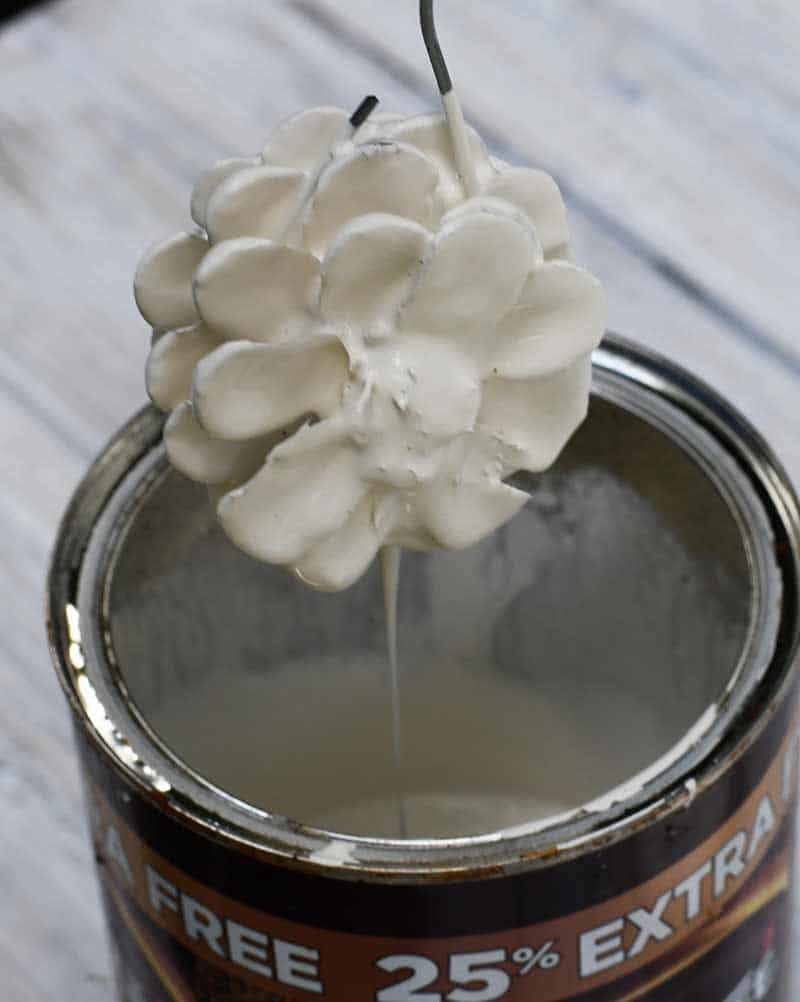 Even though this method is a bit messy, the pine cones do get covered entirely and I like the way they look.
We're a participant in the Amazon Services LLC Associates Program, an affiliate advertising program designed to provide a means for us to earn fees by linking to Amazon.com and affiliated sites. As an Amazon Associate, I earn from qualifying purchases.
How To Make The Angel Wings
What you need
First, cut the top 2-3 rows of pine cone scales to make them look more like flowers. I use a pair of garden secateurs for this.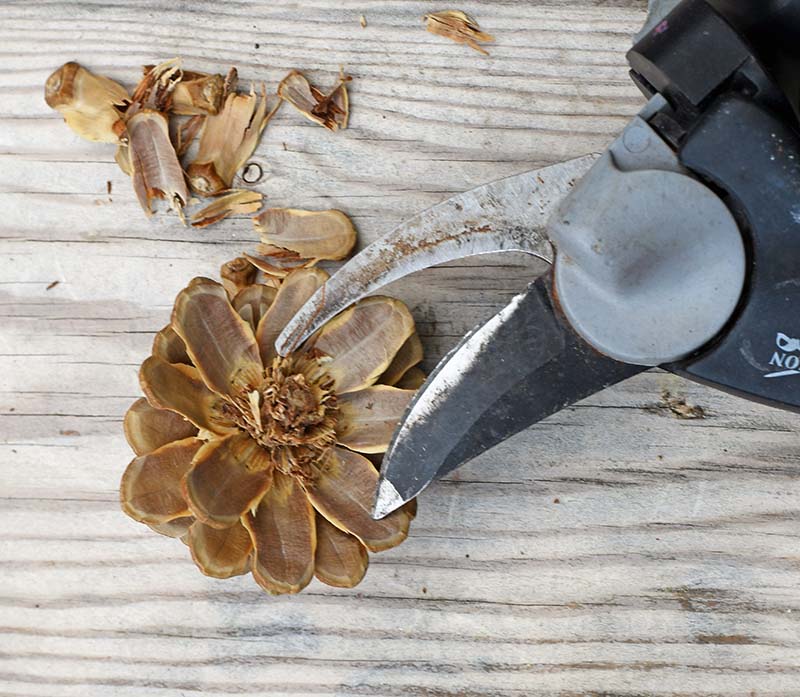 2. Next, paint all the pine cones using one of the methods above. I dipped my pine cones and left them hanging in the sun to dry.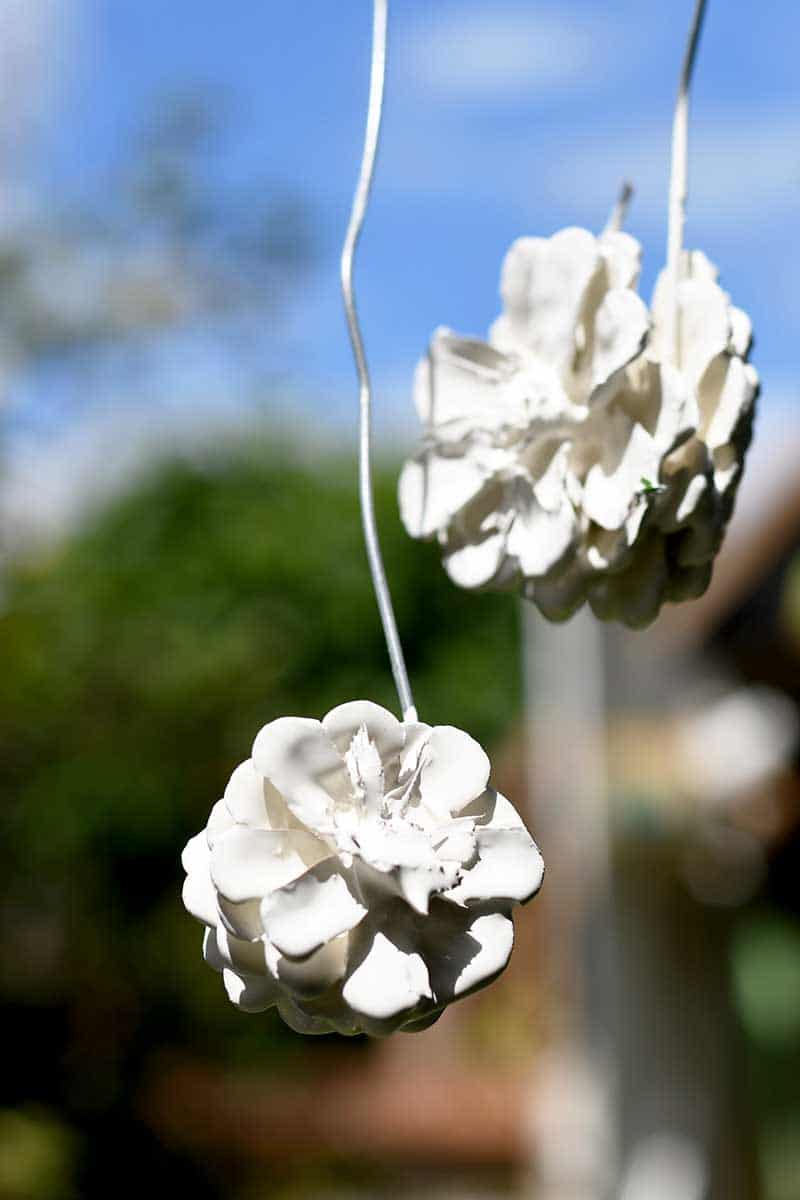 3. Next, either draw your own angel wings on cardboard and cut them out or use my template. Then place the cut-out angel wing on the center of the picture frame and draw around it with a white pencil.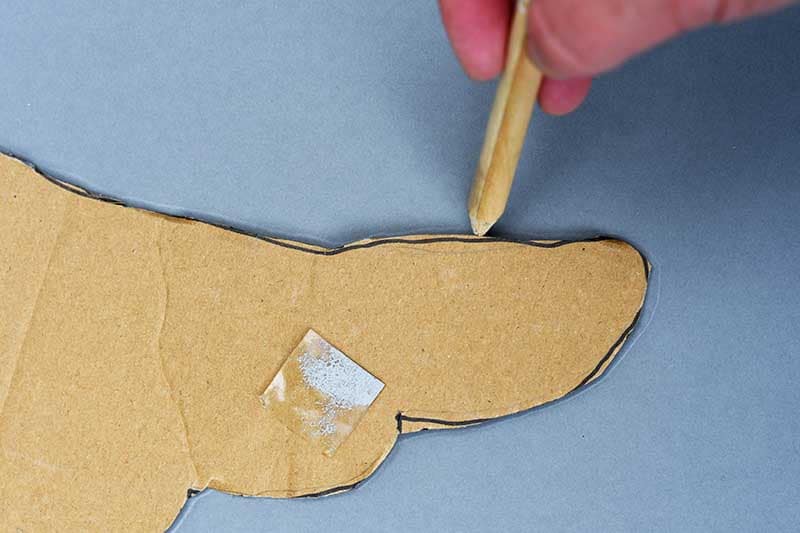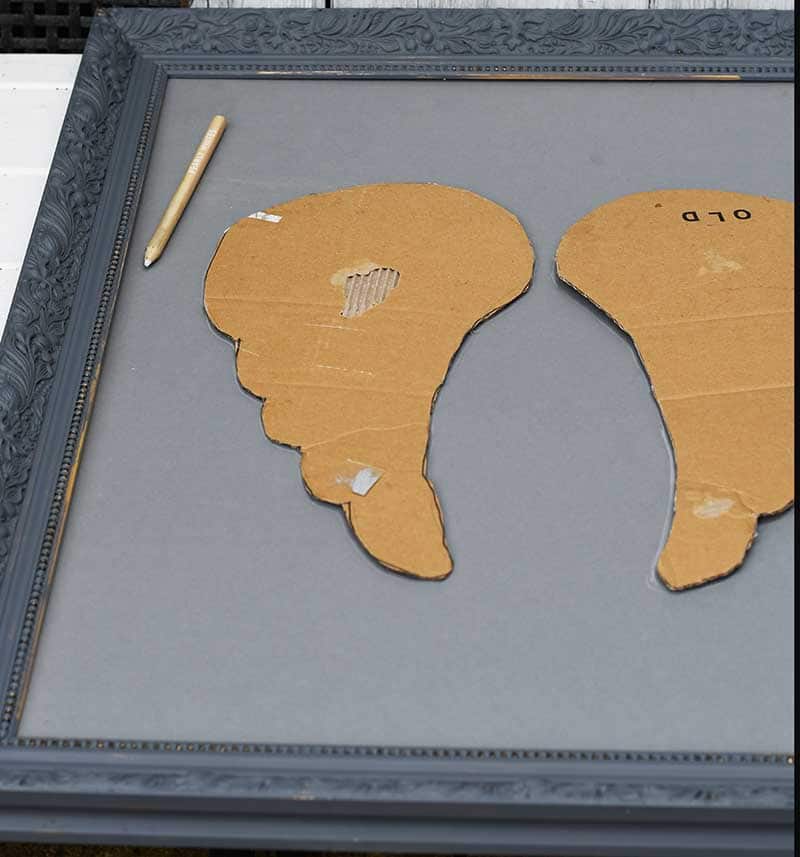 4. Then, paint the drawn out angel wings the same colour as the pine cones.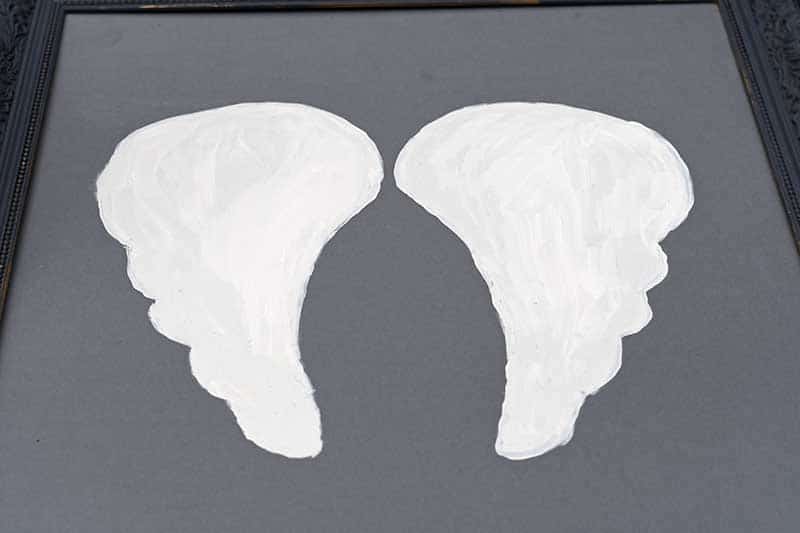 5. Gather up all the painted pine cones and start laying them onto the angel wings. Play around with the arrangement. I tend to put the larger pine cones at the top of the wings and the small pine cones on the tips.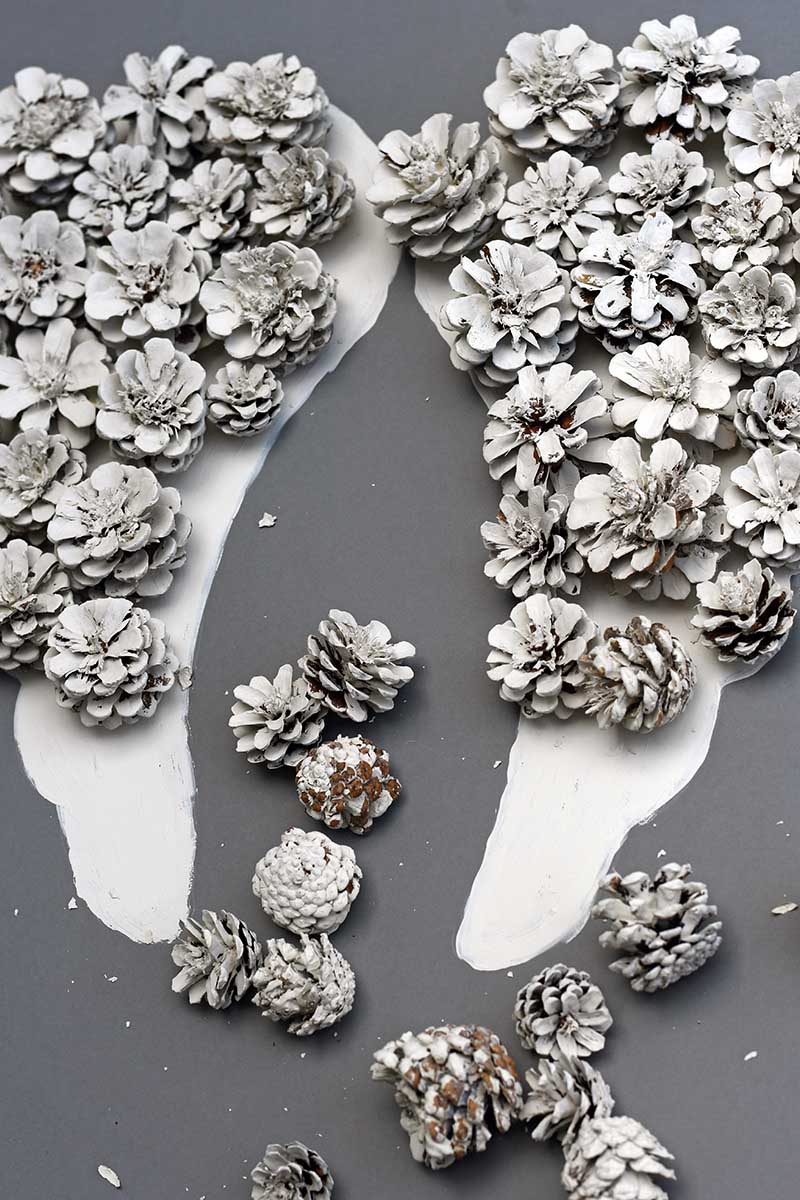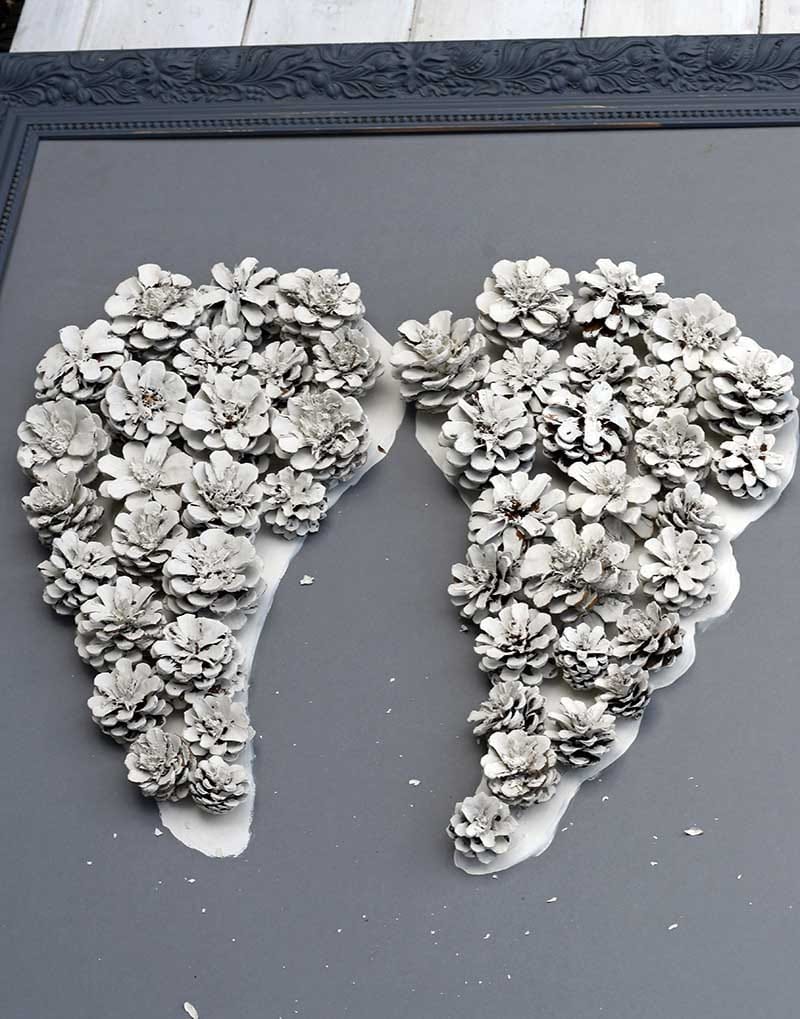 6. When you are happy with the arrangement of the pine cones, stick them to the board using a hot glue gun. Lift up the pine cones one by one, cover the base of the cone with hot glue and then stick them to the board.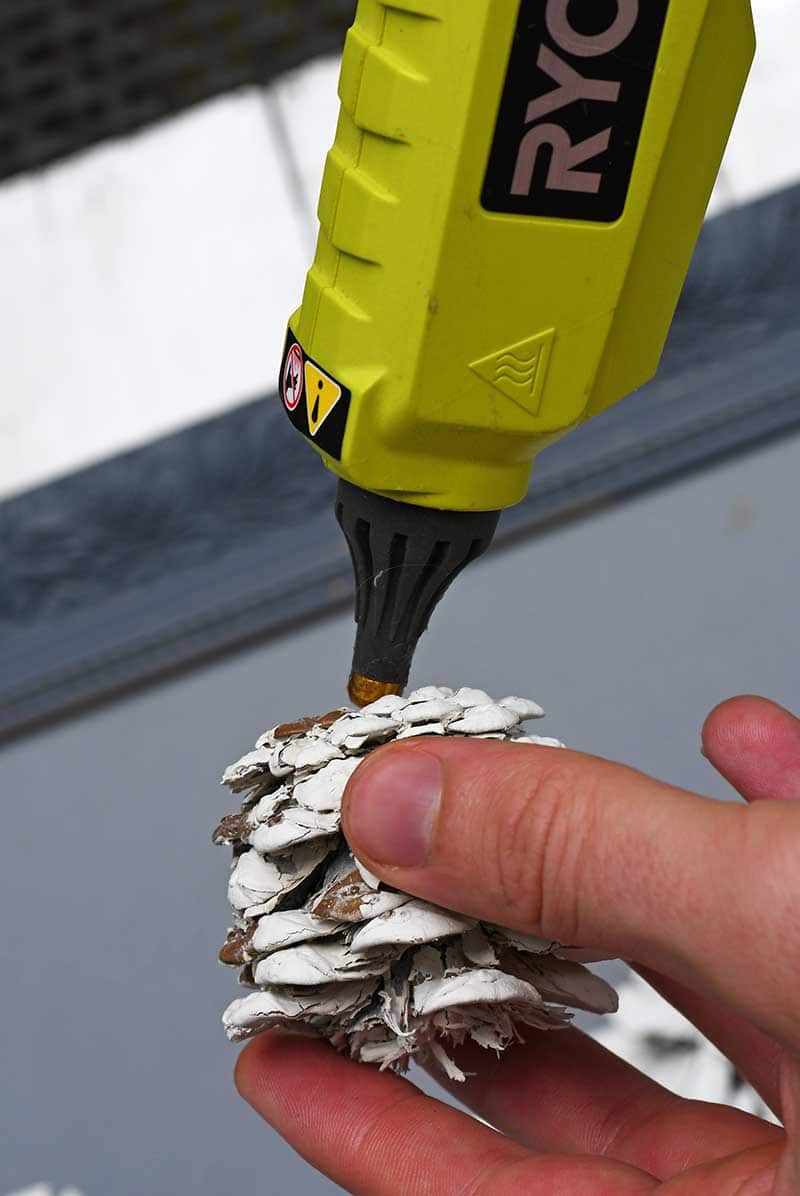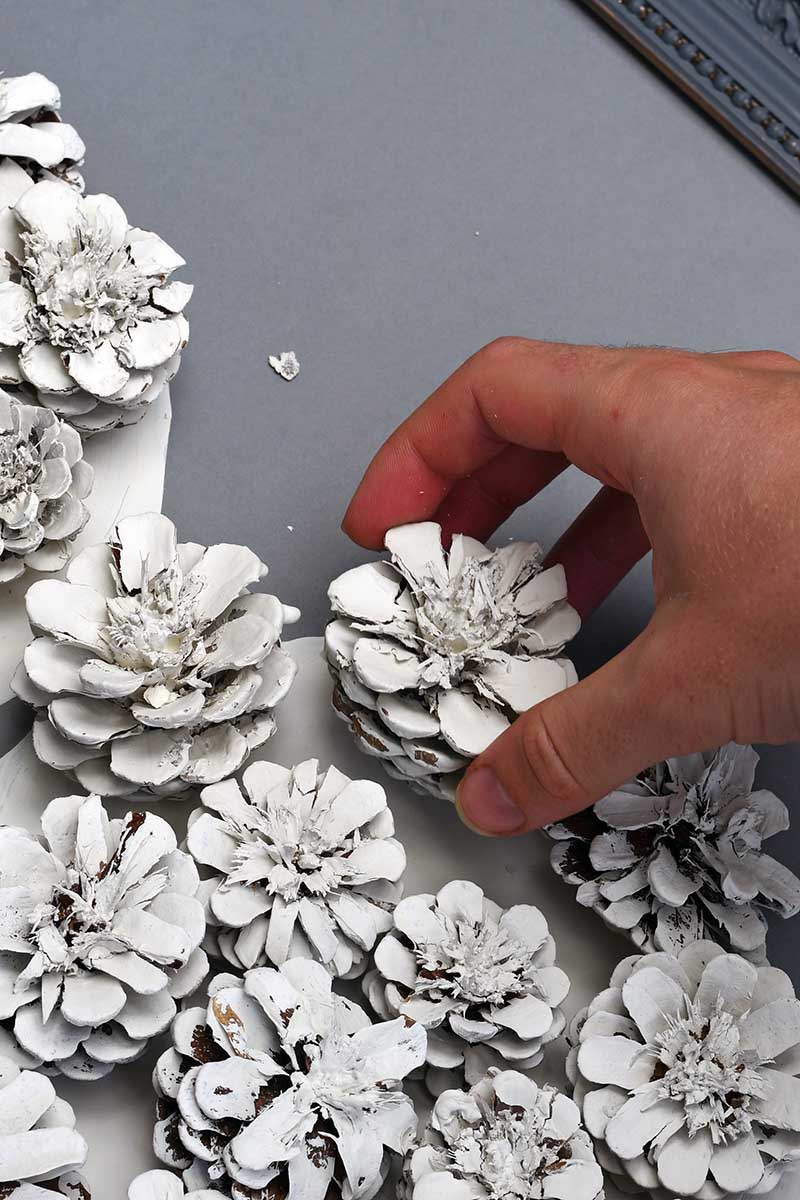 All that is left to do now is to hang up the pine cone angel wings. As there is no glass on the frame, the picture is surprisingly light, as pine cones are very light.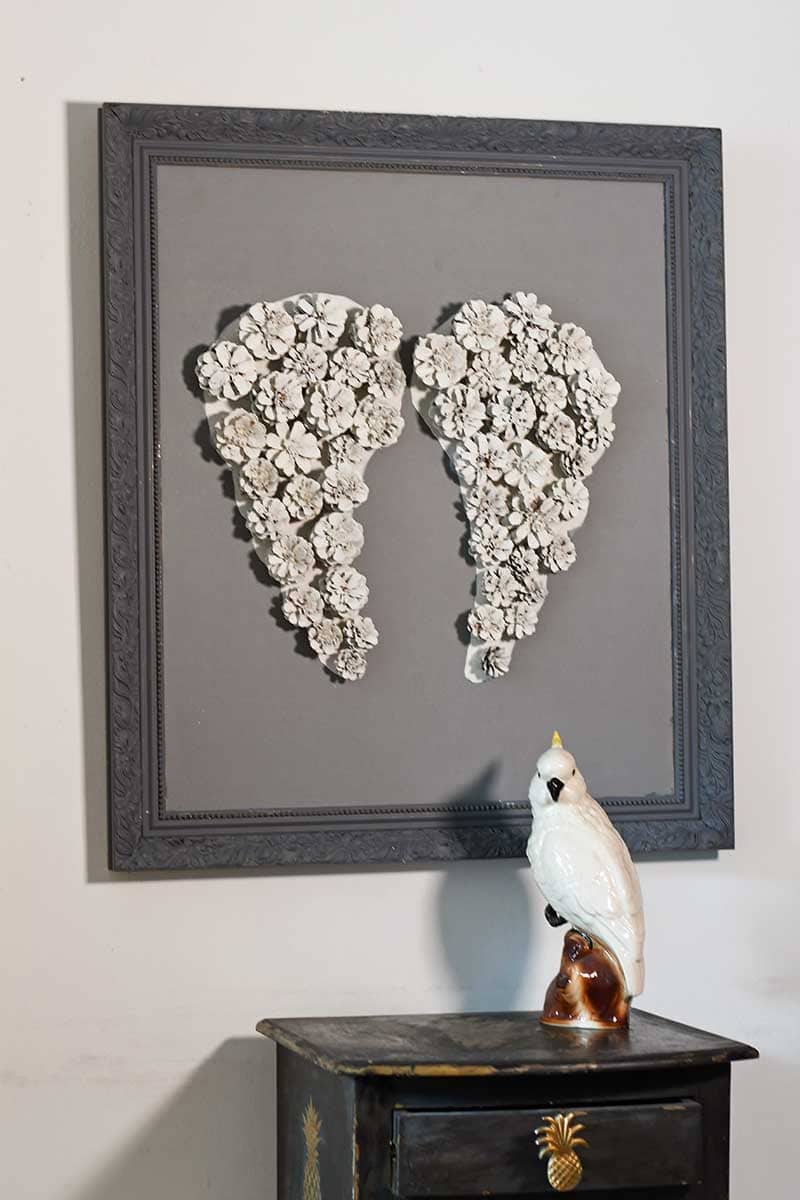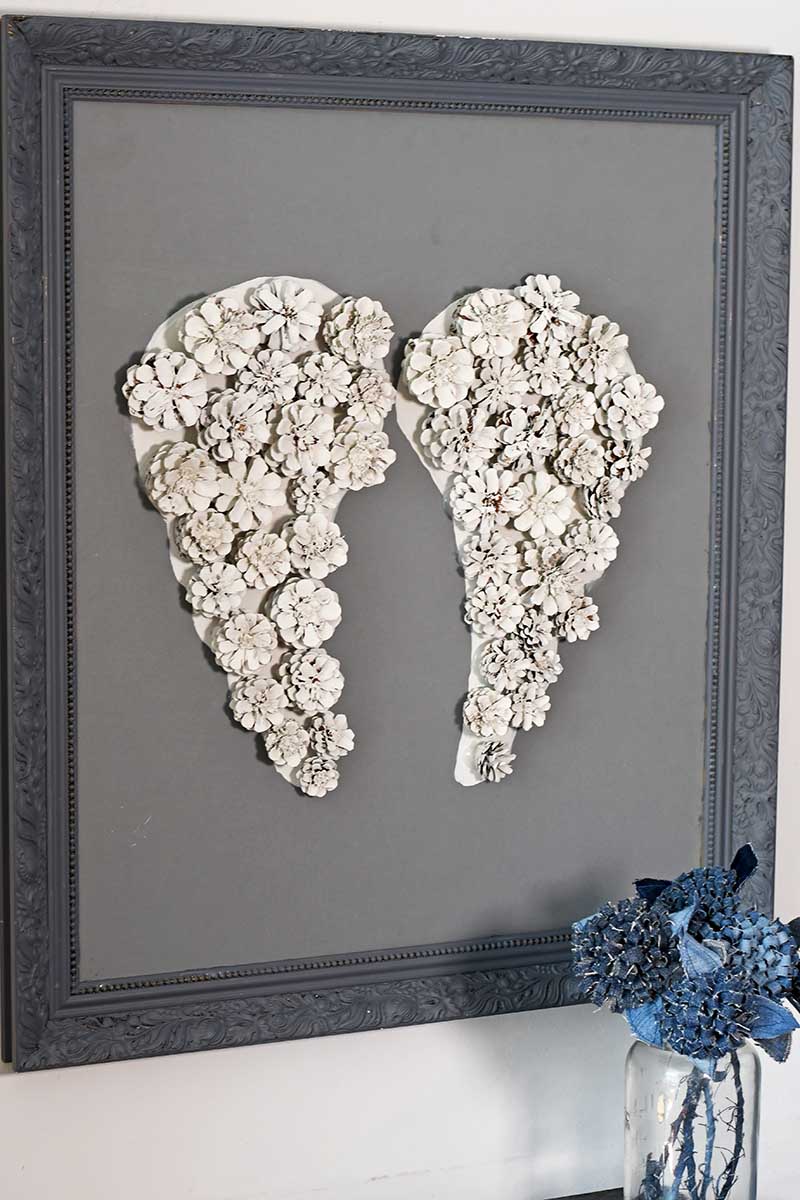 If like me you love pine cones, there are some wonderful vintage pine cone illustrations on Pictureboxblue. These would also look fabulous framed on the gallery wall.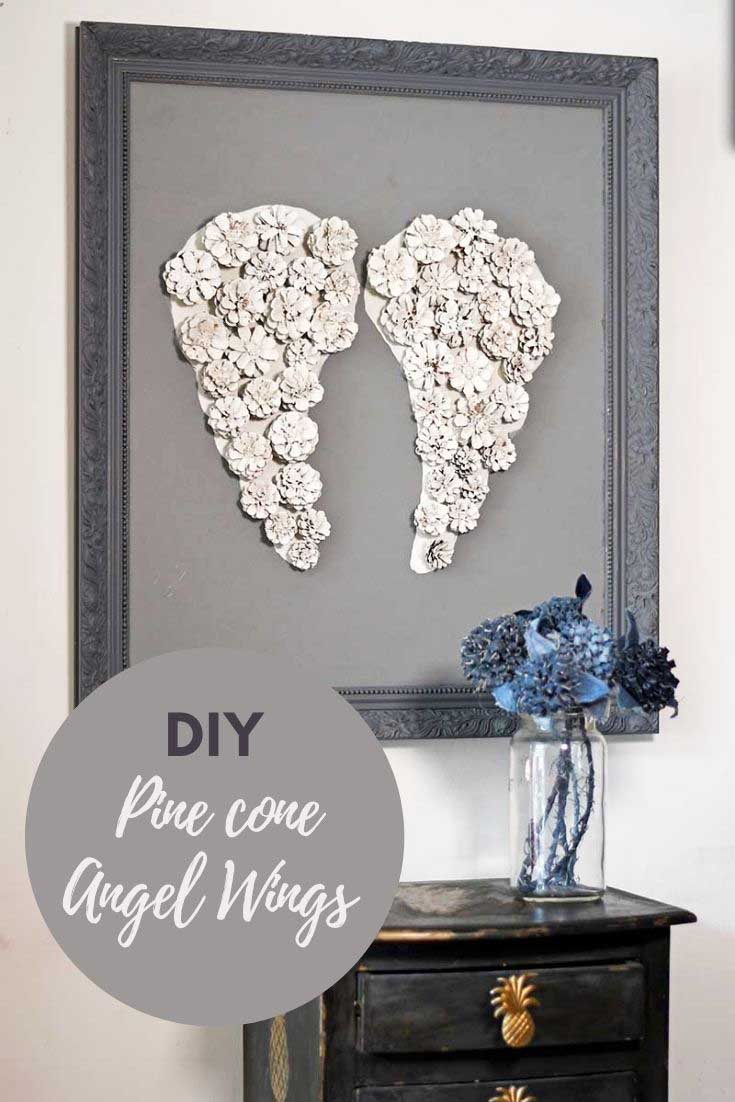 Painted Pine Cone Crafts
A collection of fabulous crafts and DIYs that use painted pine cones.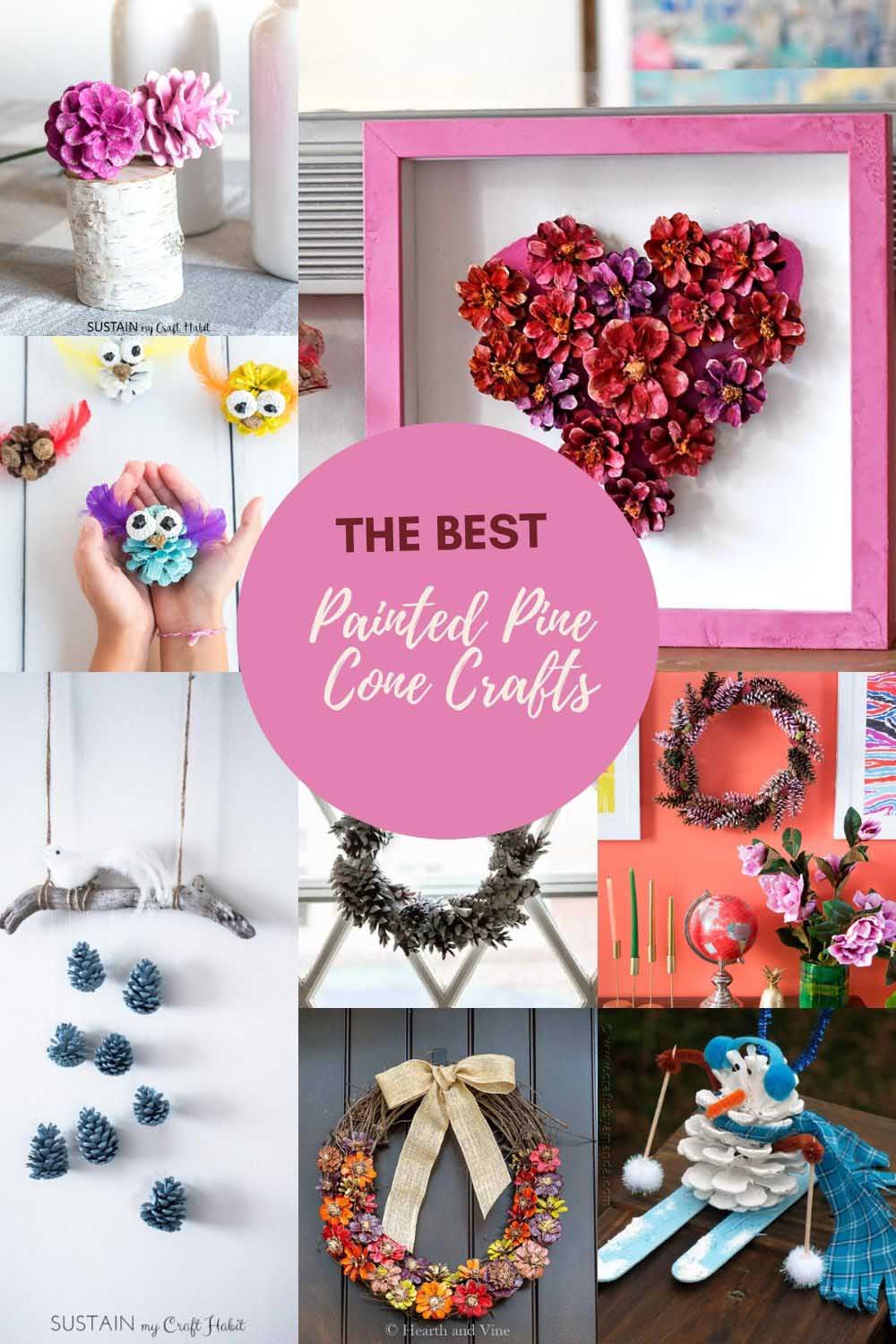 I also collect the fallen acorns in my local park and paint them for crafts too.
If you are looking for more craft ideas don't forget to check out my collection of cool craft ideas for adults. There are also more pine cone craft ideas here.