It happens eventually, there comes a time when you have to kiss your beloved jeans goodbye as they are beyond repair. But don't chuck them out yet, repurpose the denim. There are many cool things you can make for your home out of old jeans and you can use them for denim upholstery projects.
Denim as a repurposed fabric has a lot going for it. As long as you like blue! Mind you, some denim does come in other colours. So all your upcycled denim projects don't all necessarily have to be blue.
Personally, indigo blue is one of my favourite colours, hence the name of my blog (Pillar Box Blue). Old jeans tend to come in a wonderful array of different shades of indigo blue. I currently have about 30 pairs of old jeans in my stash waiting to be upcycled. I think every one of them is a different shade of indigo.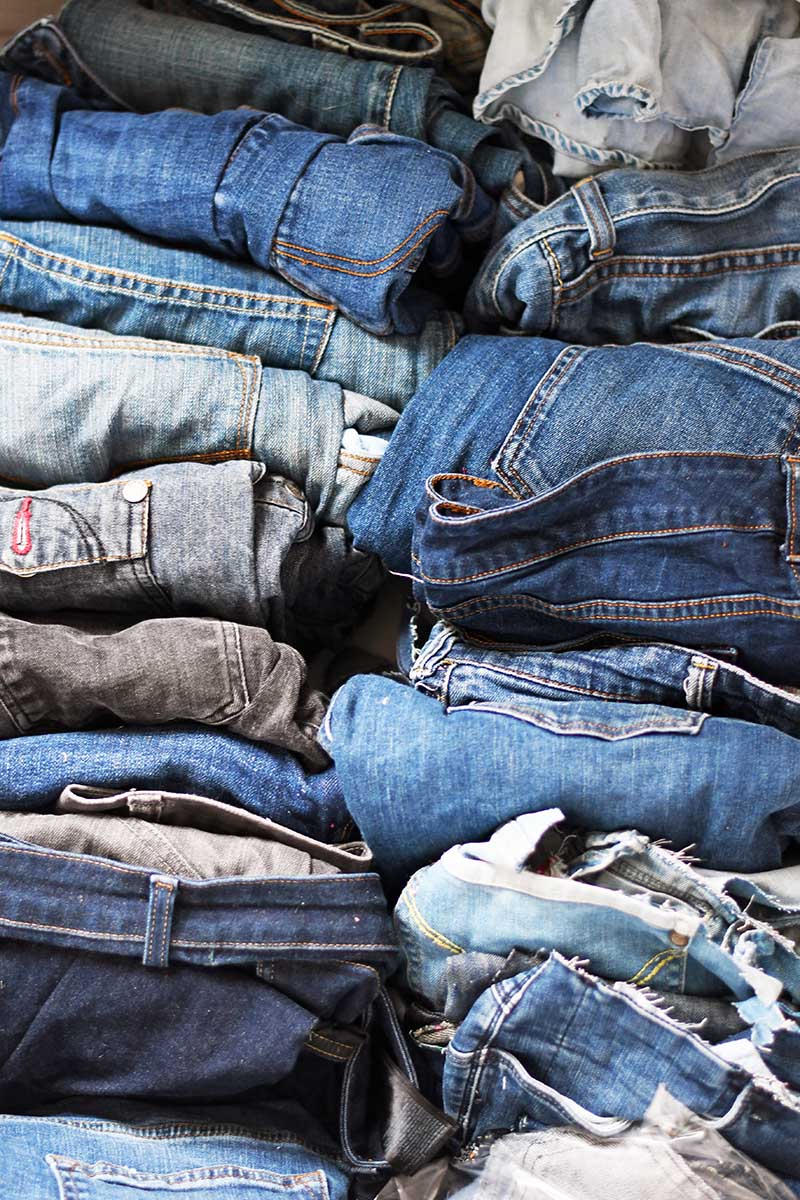 We're a participant in the Amazon Services LLC Associates Program, an affiliate advertising program designed to provide a means for us to earn fees by linking to Amazon.com and affiliated sites. As an Amazon Associate, I earn from qualifying purchases.
What Makes Upcycled Denim A Good Upholstery Fabric
There are many good reasons for using repurposed denim for upholstery projects in the home. Firstly, it is a tough and durable long-lasting fabric that has a strong tear resistance. That is why it is also a good fabric to use to make denim floor rugs.
The denim from old jeans is a natural fabric and is soft and comfortable. That's why I live in jeans, they feel so good. A chair or sofa covered in denim will feel great too.
Also, using old jeans as your upholstery material makes the project very affordable. As you are repurposing and not paying anything for the fabric. It is more environmentally friendly too, you are saving the old fabric from landfills.
But the best reason for denim upholstery is that if done right it can actually be very stylish and attractive. By using old jeans to cover the furniture you can bring a bit of rock and roll coolness into your home.
Old jeans have many elements to them besides the denim fabric. There are the jeans pockets, hems and seams, waistbands, and labels which can all be used in the upholstery. This will give your furniture makeover character and personality.
How To Upholster With Old Jeans
One of the disadvantages of using old jeans to upholster is that it doesn't come in big continuous lengths of fabric.
A solution is to either just upholster smaller pieces of furniture such as chair seats and poufs. Or to use lots of pairs of jeans and stitch them together to make large swaths of fabric suitable for upholstery.
Obviously, some larger upholstery projects such as sofas (couches) need a lot of fabric. To get the biggest continuous piece of fabric from one pair of jeans is to cut up the inside seam on the legs and spread the fabric out.
You can then sew the legs together to make a large long piece of fabric. Just like I did with my denim table runner.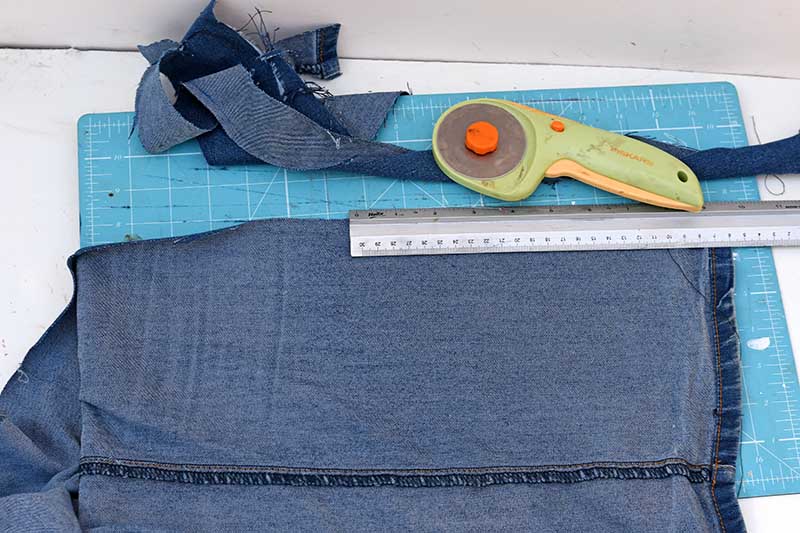 By combining the denim from several pairs of jeans in different shades of indigo, you can make some denim upholstery, like this one-of-a-kind denim patchwork upholstered sofa.
The pockets have been included to make a unique feature of the sofa and somewhere handy to stash the remote whilst lounging. I've even seen upholstery that has just used the jeans pockets.
Patchwork denim upholstery doesn't have to be so haphazard. It can also be neat and uniform whilst still showing off its wonderful shades of indigo. Just take a look at these denim patchwork chairs.
This method is more time consuming but the results are well worth it.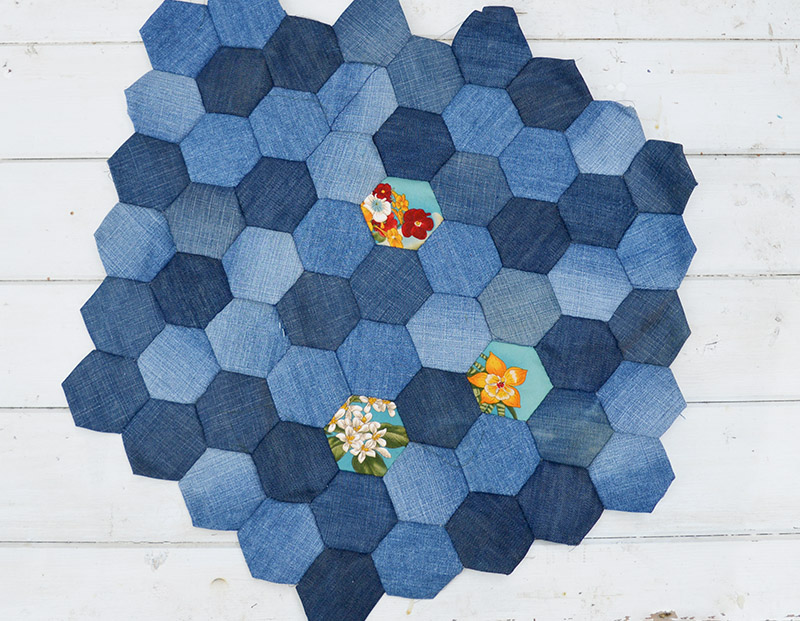 When upholstering furniture I make a paper pattern first then cut and sew my denim fabric to fit. If covering a small item of furniture such as a footstool, this can be done with one piece of fabric.
With larger items of furniture, I make a paper pattern for different elements, such as the arms, seats, and back. Then I stitch them all together and attach them to the chair of the sofa with either a staple gun or upholstery tacks.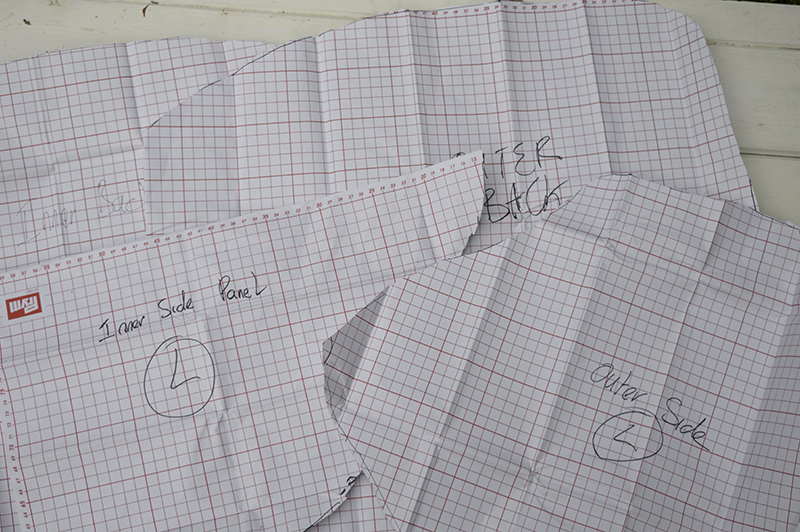 By the way if you want to cheat, you can actually buy amazing digital printed denim fabric. The fabric looks really cool as it incorporates all the interesting bits on a pair of jeans such as the pockets and waistbands.
Tools For Jeans Upholstery
Denim can be difficult to sew, make sure if using a sewing machine you use a heavy-duty needle. When sewing some of the thicker parts of jeans such as waistbands and seams, it can be easier to do this by hand. Just make sure you use a strong upholstery needle.
Denim trims such as waistbands can also be added to the furniture using a good fabric glue, like with these denim fabric placemats.
When upholstering in denim, a good electric staple gun is your friend. After sewing several pairs of jeans together, I used a staple gun to cover my IKEA office chair.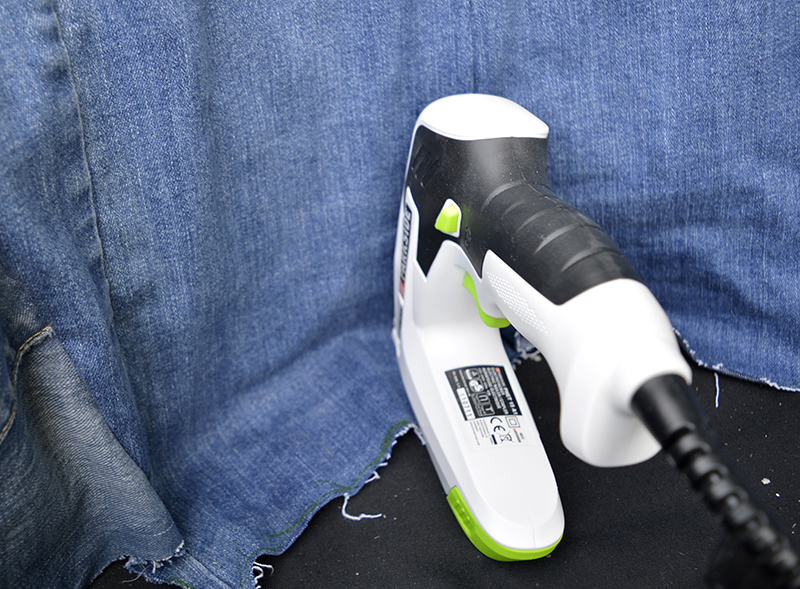 Staple guns are good to use when the staples are going to be hidden, such as underneath a chair seat. However, if you can't hide the staples then use upholstery pins and make them a feature.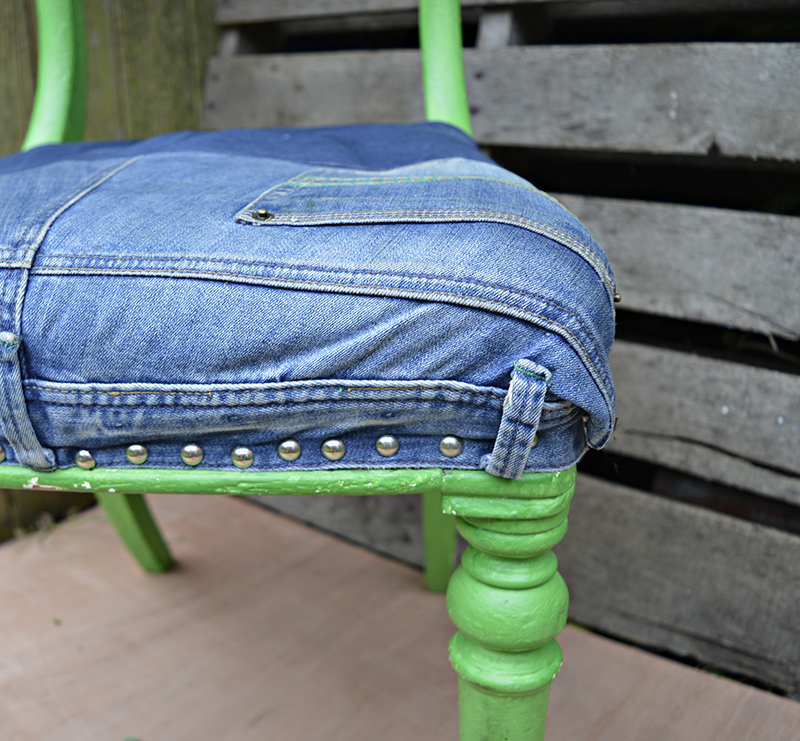 Examples And Tutorials For Denim Upholstery
There are lots of pictures of wonderful couches, chairs and footstools upholstered in denim on the internet. But there aren't that many tutorials. Here are the few denim upholstery projects with instructions that I have found.
Hopefully, there is something in this collection that will inspire you to bring life back into an old piece of furniture and recover it in denim. I have a few upholstered denim pieces in my home and I love them.
The jeans fabric looks great and really adds personality to an upcycled chair. Denim chairs are also lovely to sit in.
Denim upholstery featured in the A to Z of denim upcycles.
I have lots of denim pillows and cushions ideas to match your denim furniture. Including some Boho jeans pillows combined with vintage sari material. Or if you want to add more denim to your home decor there is a tutorial for an upcycled denim lampshade and a denim magazine rack.
Also, don't throw away any of the denim scraps as you can use them to make decorations such as feathers, tassels and even beautiful denim flowers.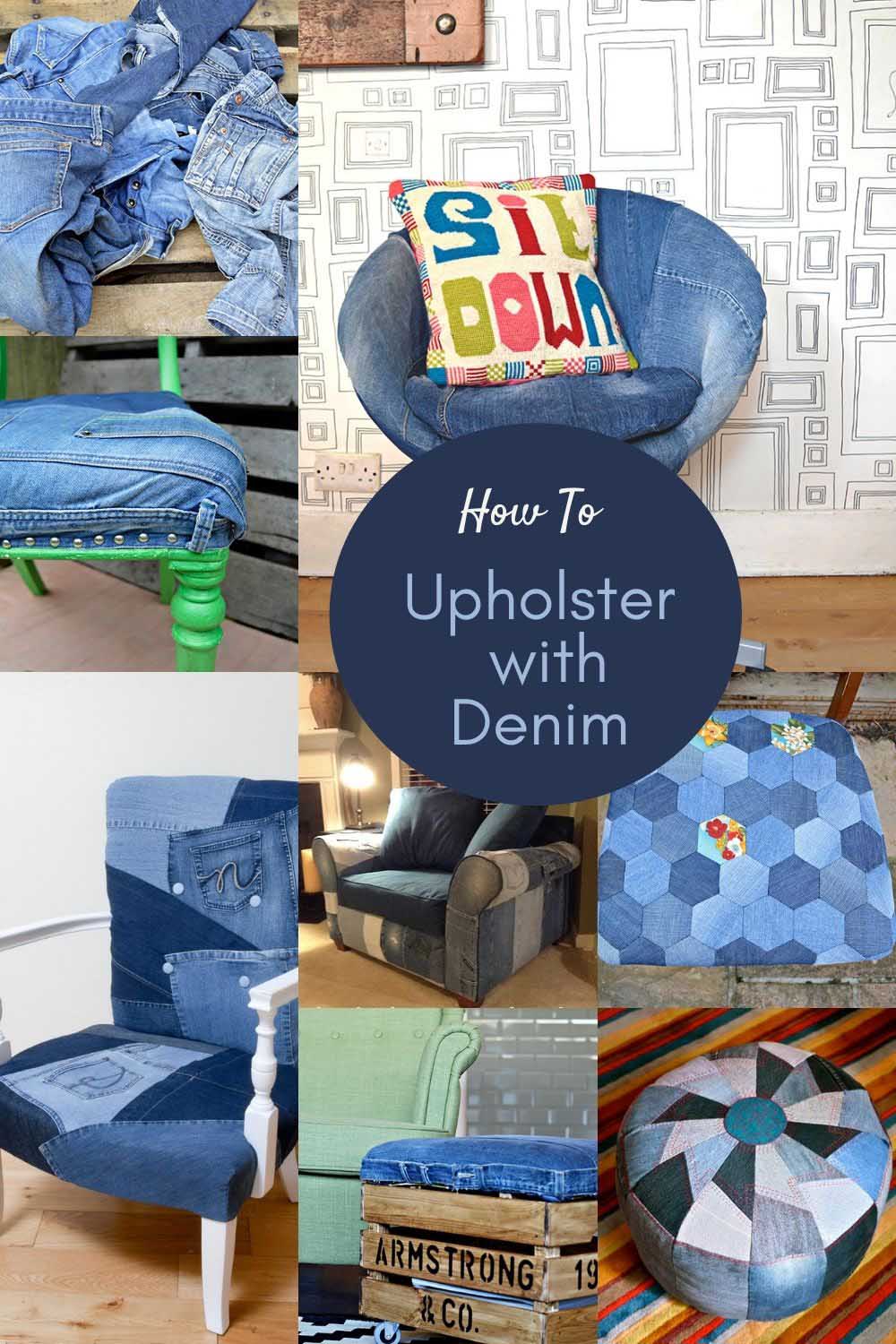 These upholstery ideas for old jeans featured in the alphabet of upcycling resources and ideas.