These unique denim fabric key fobs are easy to make and can be personalized. They would make a great upcycled handmade gift for men.
I love to upcycle old clothes, especially the family's jeans. Besides the fabric, a pair of jeans has so many wonderful, interesting elements. I love to incorporate the jean seams, waistbands, and pockets on a pair of jeans in my upcycles. They add so much character to any denim craft.
I used the seams from an old pair of jeans a couple of weeks ago to make some fun denim coasters. This time I used the waistbands from an old pair of jeans to make some cool fabric key fobs.
Making Upcycled Denim Key Fobs
Like with the coasters, this jeans upcycle doesn't require any sewing. This is just as well, as jeans' waistbands are thick and difficult to stitch. Each fabric key fob only takes a couple of minutes to make. Each can be personalized by stencilling an initial or number onto the fabric.
The key fobs were so easy to make that I made four in under an hour. I made one for each of my boys and one for my husband. I have a big stash of old jeans for upcycling, so I used the waistbands from a few pairs of jeans. However, you can make three to four of these fabric key fobs from the waistband of one pair of jeans.
We're a participant in the Amazon Services LLC Associates Program, an affiliate advertising program designed to provide a means for us to earn fees by linking to Amazon.com and affiliated sites. As an Amazon Associate, I earn from qualifying purchases.
What You Need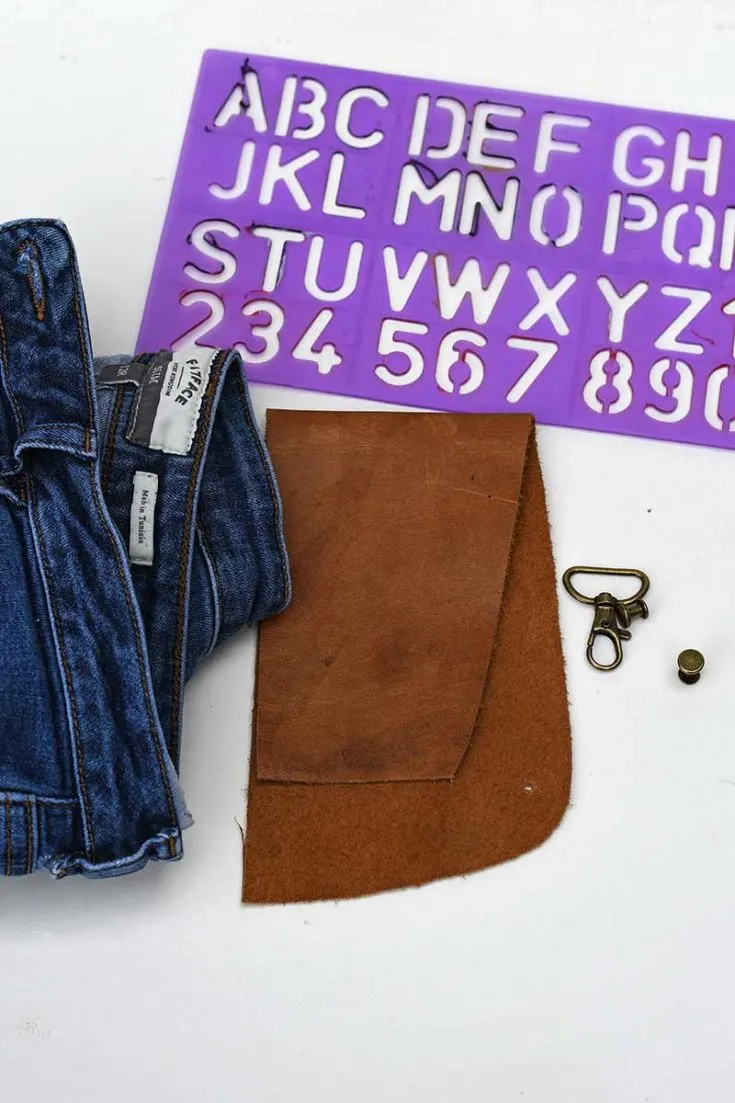 How To Make Denim Key Fobs
Step 1: Cut the denim waistband from the pair of jeans. Use scissors to cut as close to the waistband seams as possible.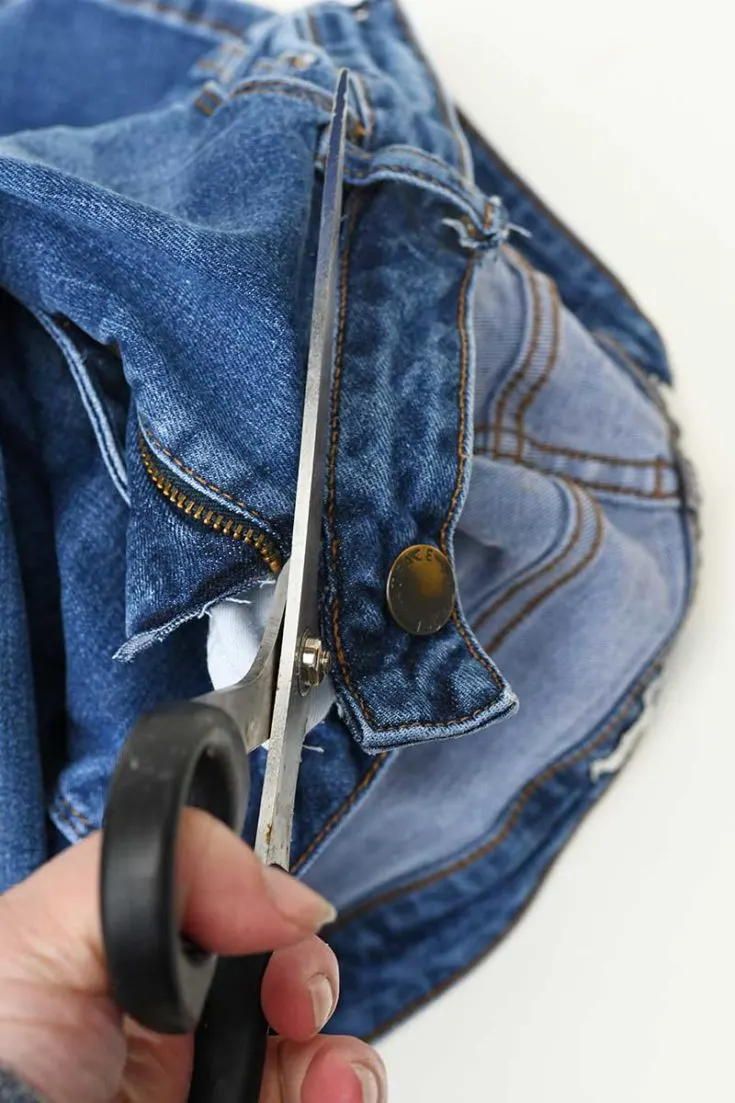 Step 2: Next, cut a piece from the waistband that is about 20cm in length. I ensured the jeans button was included in the waistband piece to add extra interest to the denim fabric key fob.
If the jeans waistband has a nice label, consider including this. Remove any belt loops on the waistband piece using a seam ripper.
Also, cut a small piece of leather the same width as the denim waistband and about 4 cm long.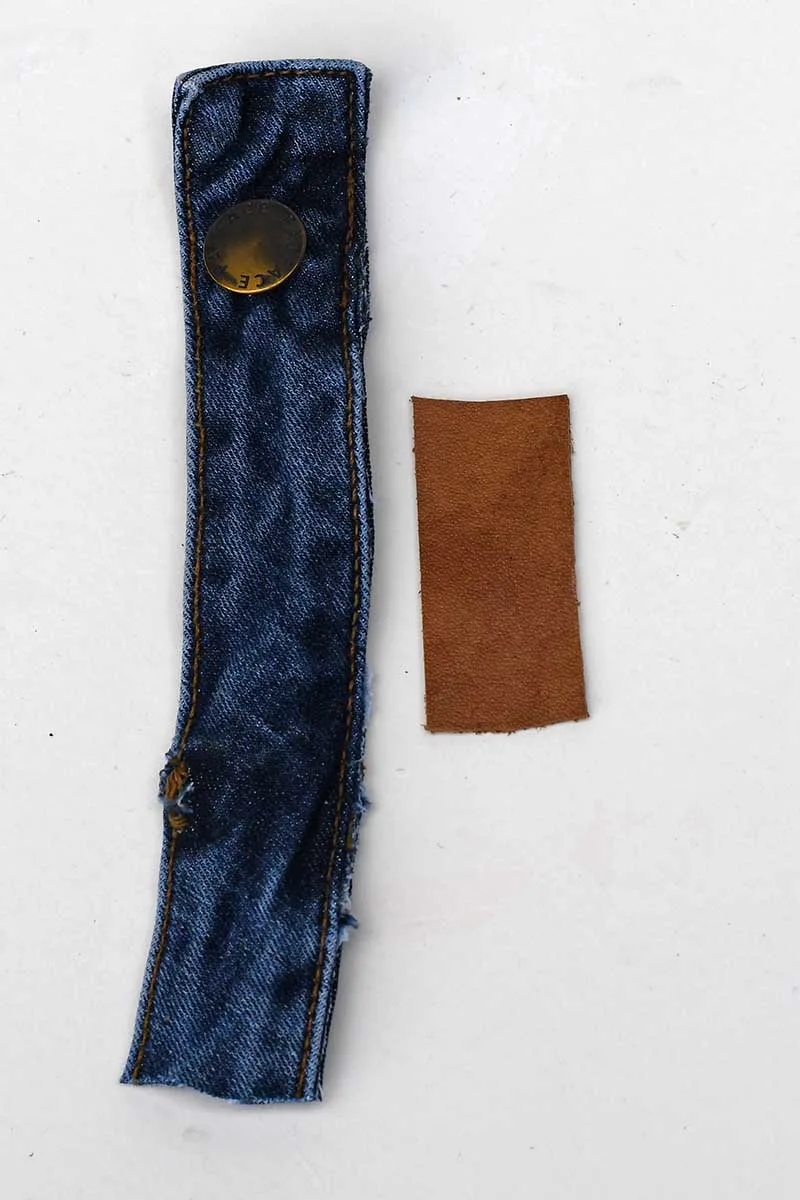 Step 3: Stencil an initial or number on the right side of the denim waistband. Stencil the figure just below the button on the waistband. I used a stencil ruler for this with a white acrylic paint pen.
I used acrylic paint pens before when stencilling my denim Dala horse ornaments. For my key fobs, I choose my son's initial for the fabric key fob. You may want to stencil a house number instead.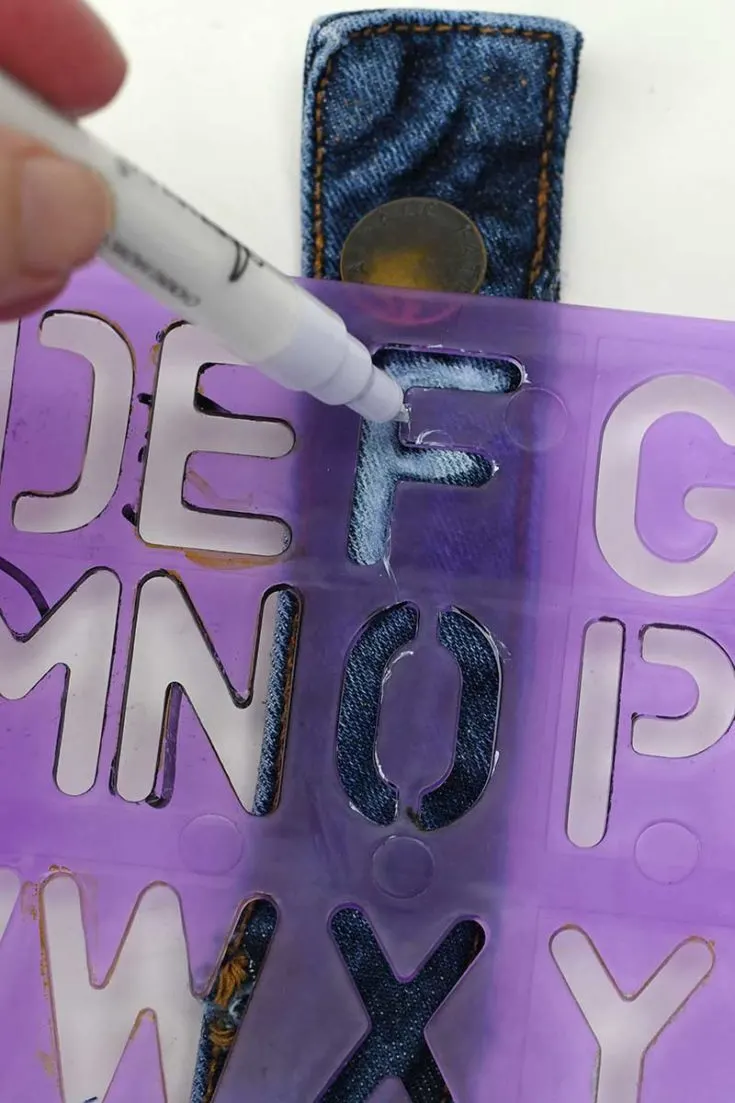 Step 4: Punch two holes into each end of the denim waistband. When the waistband is folded in half, these holes should match up.
Then punch two holes into each end of the leather strip. These holes should correspond to the holes in the denim so that when the leather strip is folded over the end of the denim waistband, all the holes match up.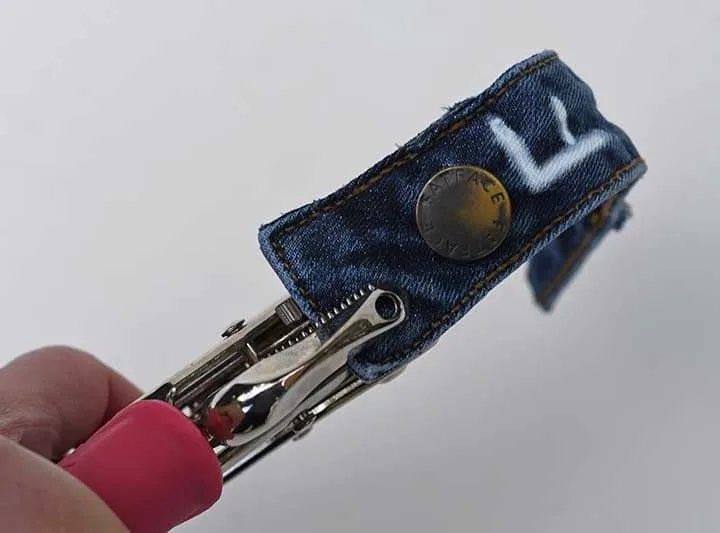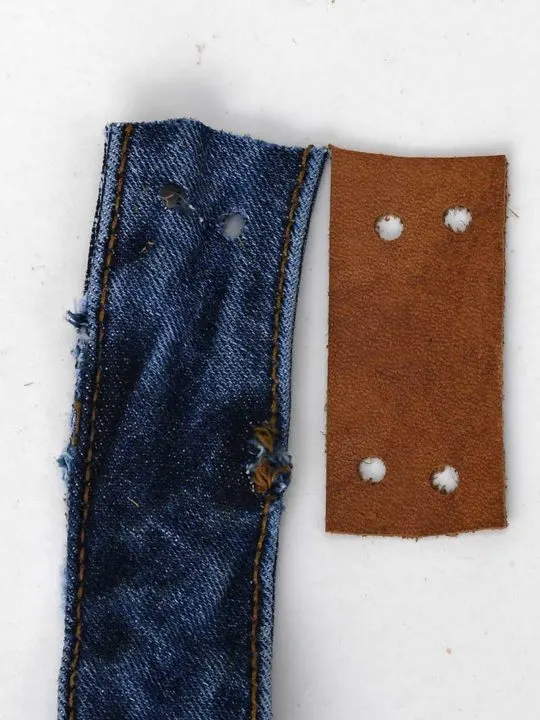 Step 5: Next, pass the leather strip through the D-ring clasp and fold it over the ends of the folded waistband. Then, use two Chicago screws to hold the leather strip in place.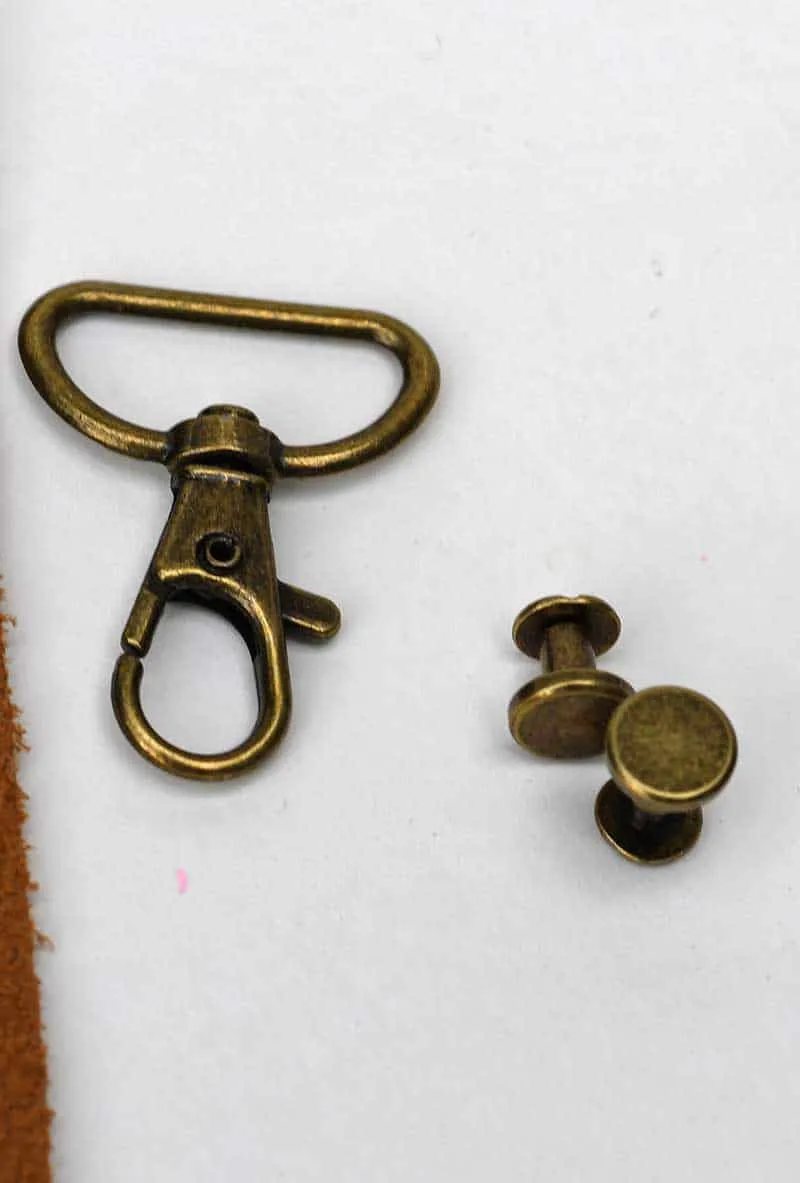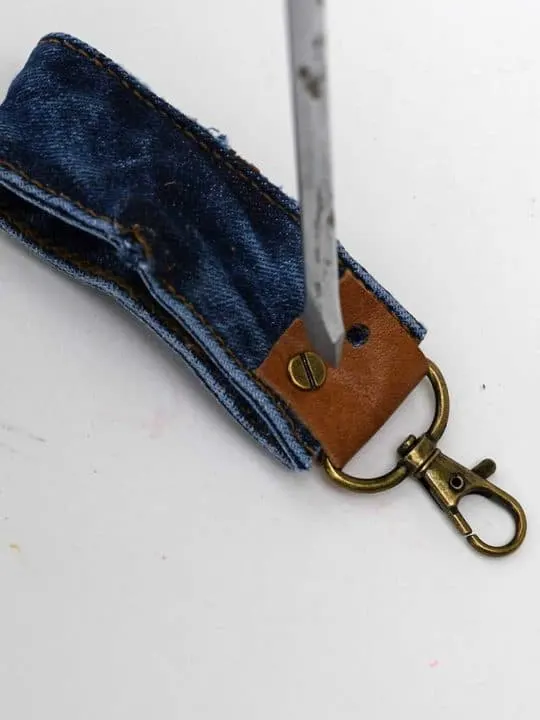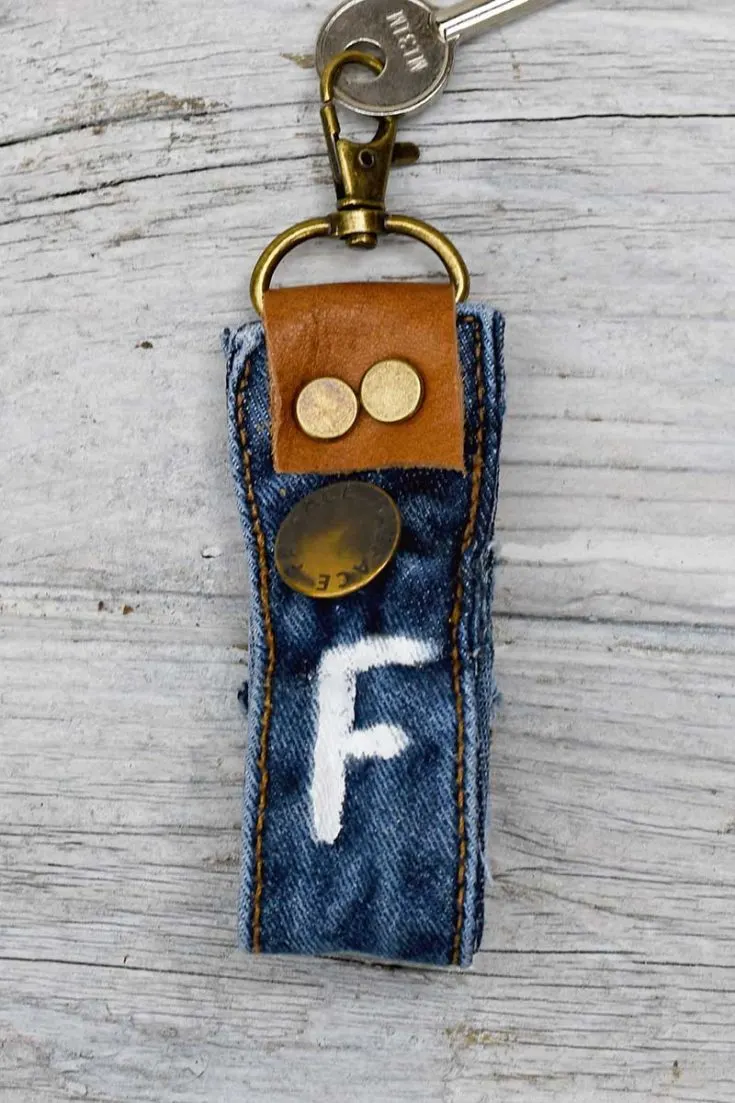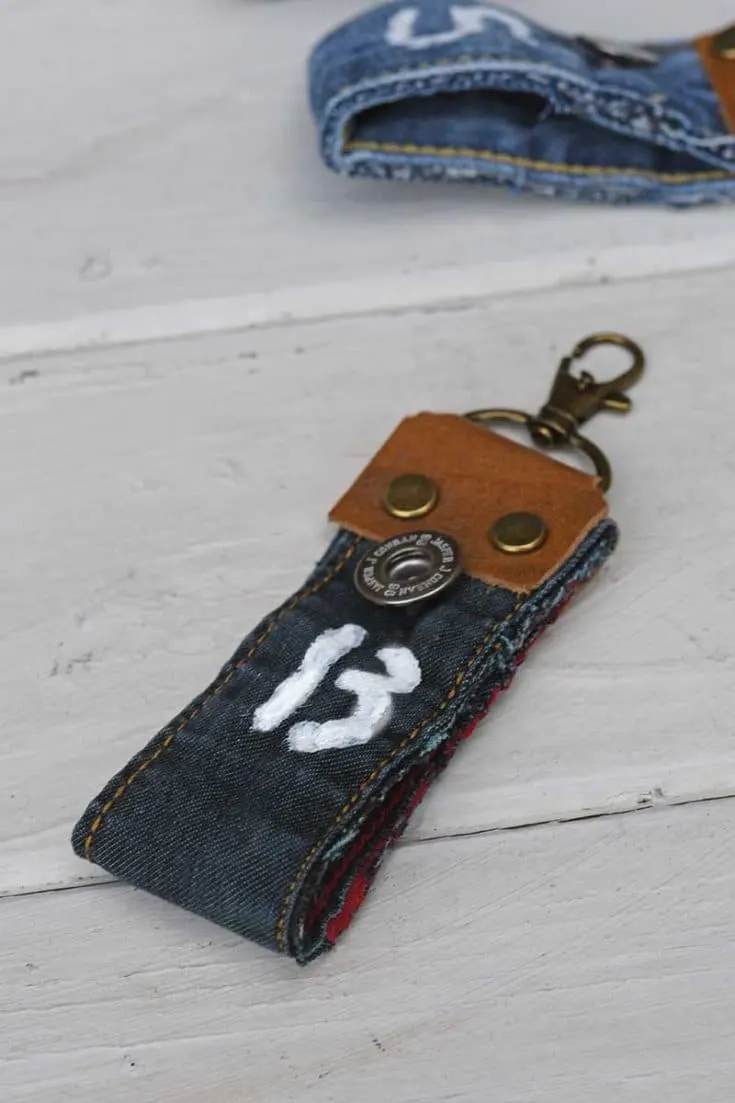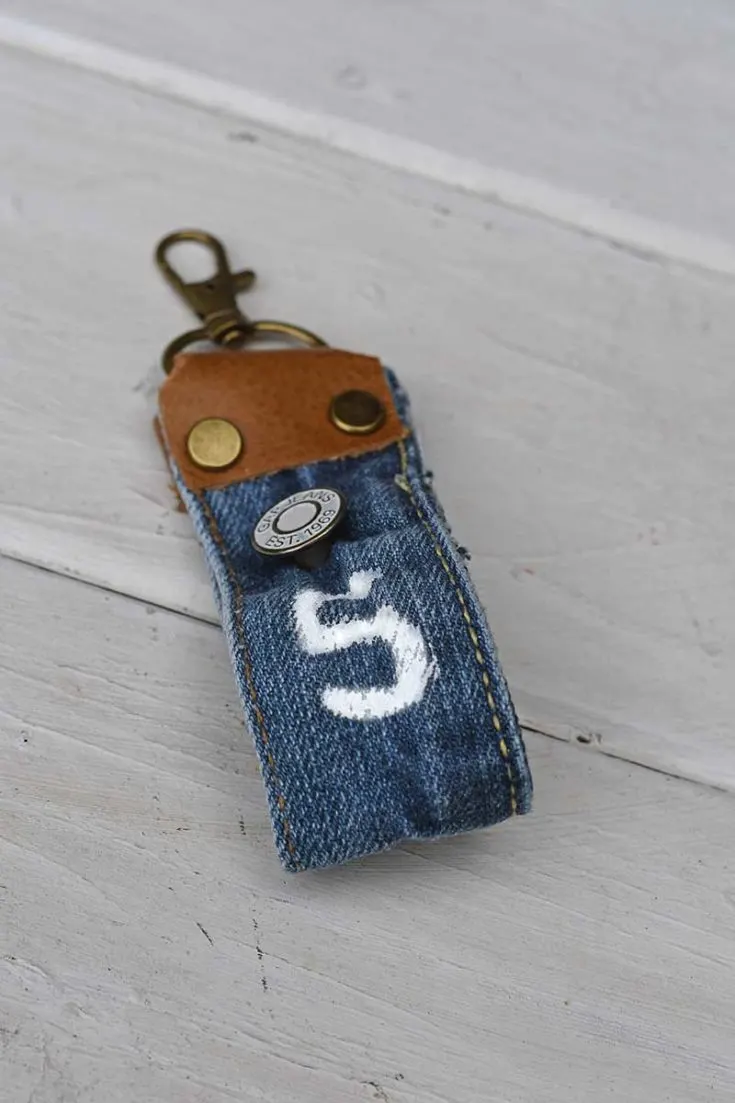 Other Suggestions For Denim Key Fob
Check out this post for more ideas and tips on painting denim.
These fabric key fobs were so easy to make I made four in total, one for all the boys in my family. As I mentioned at the beginning, you could incorporate the jeans label onto the key fob to add character.
I stencilled the initials onto the denim; however, if you have more patience and time, embroidering the initials onto the fabric would look even better. I have embroidered letters onto denim pockets before, which looked good. Next time I make these denim key fobs as a handmade gift, I will embroider the initial on them to make them that extra special.
Another way to make them different is to use different coloured leather strips on the top of the key fobs.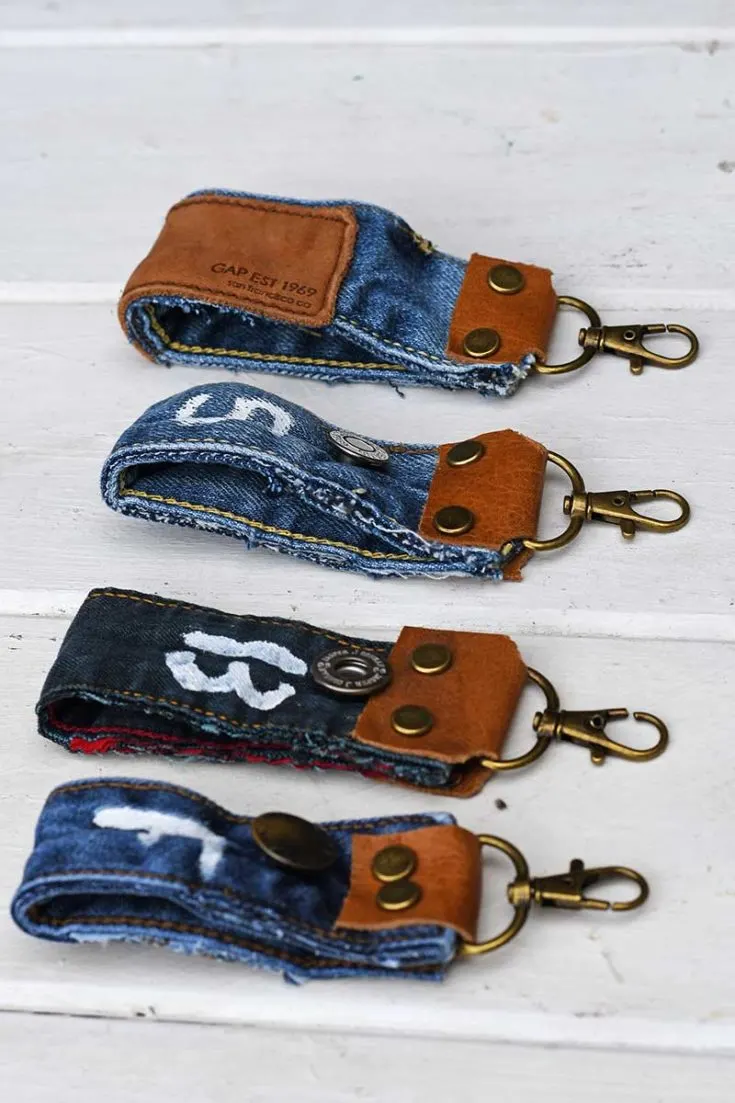 I have used the waistband of several pairs of jeans before to make a cool denim rug, and I've also used them to edge a repurposed sweater blanket. There is also a fun idea for a denim waistband pillow here.
For many more wonderful denim ideas, you should check out my complete A to Z guide to denim crafts and my A to Z of clever upcycling ideas. These denim key fobs are just one of the many upcycles you can make from a single pair of old jeans.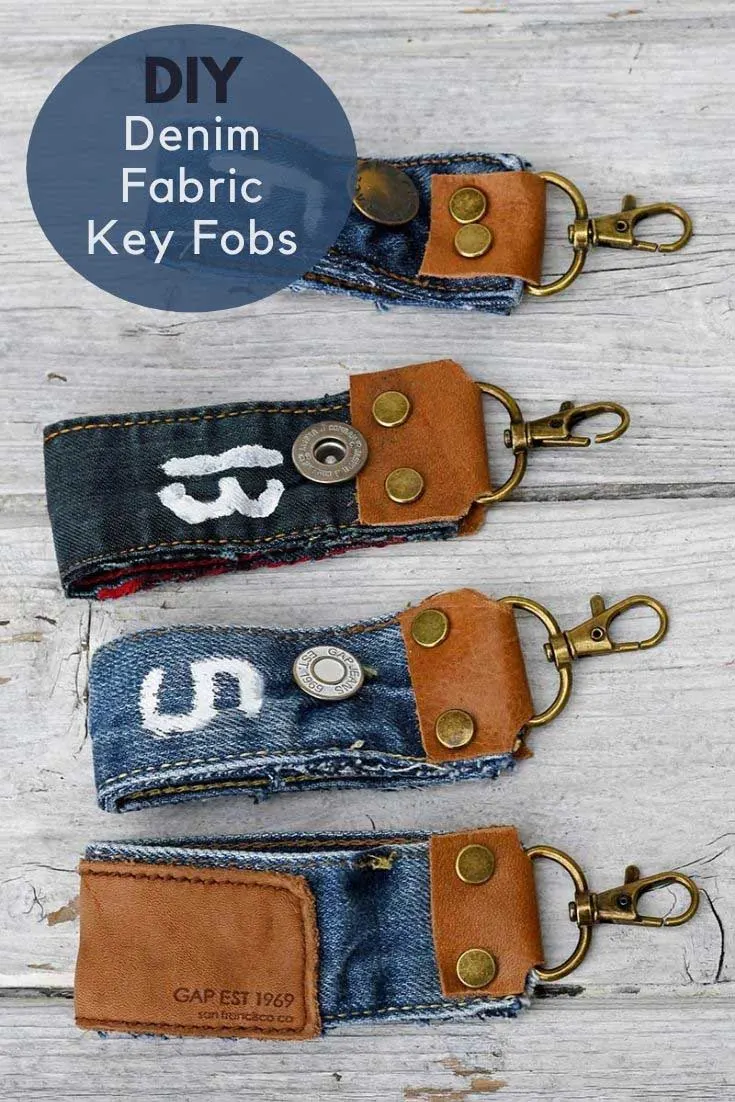 Yield: Upcycled denim fabric key fob
Denim Fabric Key Fob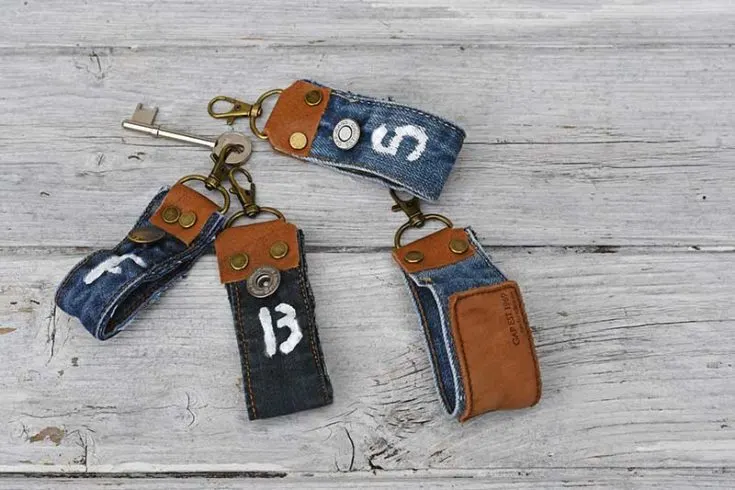 A tutorial on how to make these cool DIY fabric key fobs from old denim. All you need is the waistband from an old pair of jeans to repurpose into a five-minute key fob that requires no sewing. They can be personalized with a stencil and would make a wonderful fathers day gift.
Materials
Jeans waistband
Small scrap piece of leather
Lobster clasp d-ring
Chicago screws
Tools
Scissors
Crop-a-dile - hole punch
Letter ruler stencil
White acrylic paint pen
Instructions
First, cut off the denim waistband from a pair of old jeans.
Then cut the waistband into a 20 cm length
Cut a strip of leather as wide as the waistband and about 4 cm in length.
Using a stencil and the acrylic paint pen, stencil a letter of your choice onto the waistband strip, just below the button.
Next, punch two holes into each end of the denim waistband strip.
Then, punch two holes into each end of the leather strips. Make sure these holes match up with those in the waistband strip.
Fold the waistband in half (wrong sides together).
Next, thread the leather strip through the D-ring of the lobster clasp.
Then fold the leather strip over the ends of the denim. Match up the holes in the leather and denim. Using the Chicago screws secure all the fabric in place.
Featured as one of the top sewing blogs on allfreesewing.