I love the autumn as that's when I start crafting for Christmas. The first Christmas decoration I usually make is an advent calendar. This year I've made a repurposed paper bag advent calendar.
I have 3 boys who are really young men now but they still love an advent calendar, especially a fun homemade one. In the past I've made an upcycled advent calendar using tin cans, one from kraft paper and a jeans pocket one.
The jeans handmade advent calendar will be going up again this year, alongside the paper bag advent calendar.
Why A Repurposed Paper Bag Advent Calendar
When crafting I love to use the stuff around me rather than make trips to the craft store to buy unnecessary materials. Every time I go shopping and I buy something that is given to me in a paper bag, I keep the bag.
Sometimes I reuse these bags when gifting things to people, especially the pretty ones.
I noticed though I had quite a collection of paper bags some of which were in Christmas colours. ( Especially the ones from Anthropologie). I thought it would be fun to use these for this year's handmade advent calendar.
The paper on the bags is strong. Using cookie cutters to cut the paper from the bags into Christmas shapes, would make the advent calendars appear more festive.
I thought it would be fun for the boys to try and guess from which shops the shapes were from each day on the paper bag advent calendar.
Also, with this Christmas craft, I got to do one of my favourite crafty things, which is to stitch paper.
I don't know why but I love sewing paper on the sewing machine. Even more than stitching fabric. If you have never tried it I suggest you give it ago.
By the way, if you don't have a sewing machine it is just as easy to make this paper bag advent calendar with glue. However, I don't think it will be as much fun as stitching paper.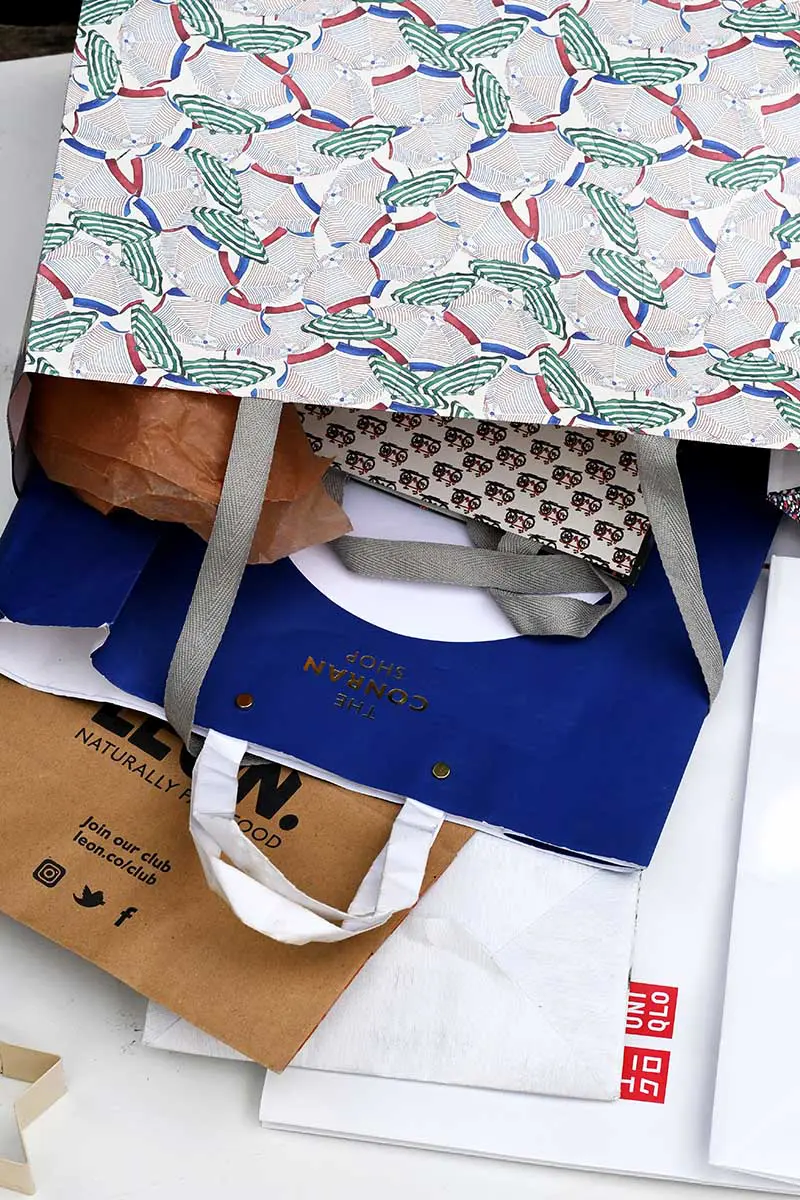 We're a participant in the Amazon Services LLC Associates Program, an affiliate advertising program designed to provide a means for us to earn fees by linking to Amazon.com and affiliated sites. As an Amazon Associate, I earn from qualifying purchases.
What You Need To Make A Paper Bag Advent Calendar
A collection of paper bags from shops. It doesn't really matter what size they are as you will be cutting them up. If they are in traditional Christmas colours or have fun patterns then even better. My favourite bags were from Anthropologie.
Christmas cookie cutters. If you don't have any Christmas cookie cutters you could just draw the shapes for the paper bag advent calendar by hand.
I have drawn some Christmas cookie cutter shapes with a previous Christmas craft, you can visit the post and download them from there.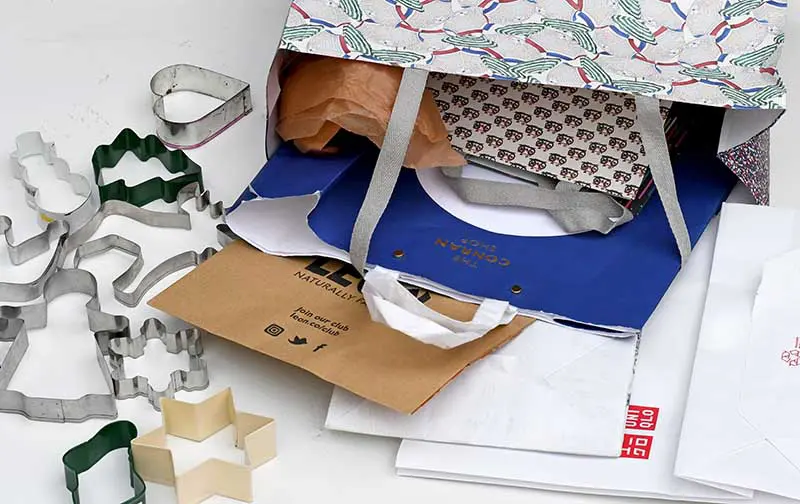 Sewing machine or strong paper glue
Treats for the paper bag advent calendar
How To Make The Handmade Paper Advent Calendar
1. Decide on how many days you want for the calendar? You may think this is obvious. I've learn't from previous experience that people have different views on the number of days on a Christmas advent calendar.
We are a 24-day advent calendar household. Some like a 25-day calendar and others even have them go up to New Year.
2. Next, place a Christmas cookie cutter on the paper bag you are going to use. Draw around it and then cut out 2 Christmas shapes the same.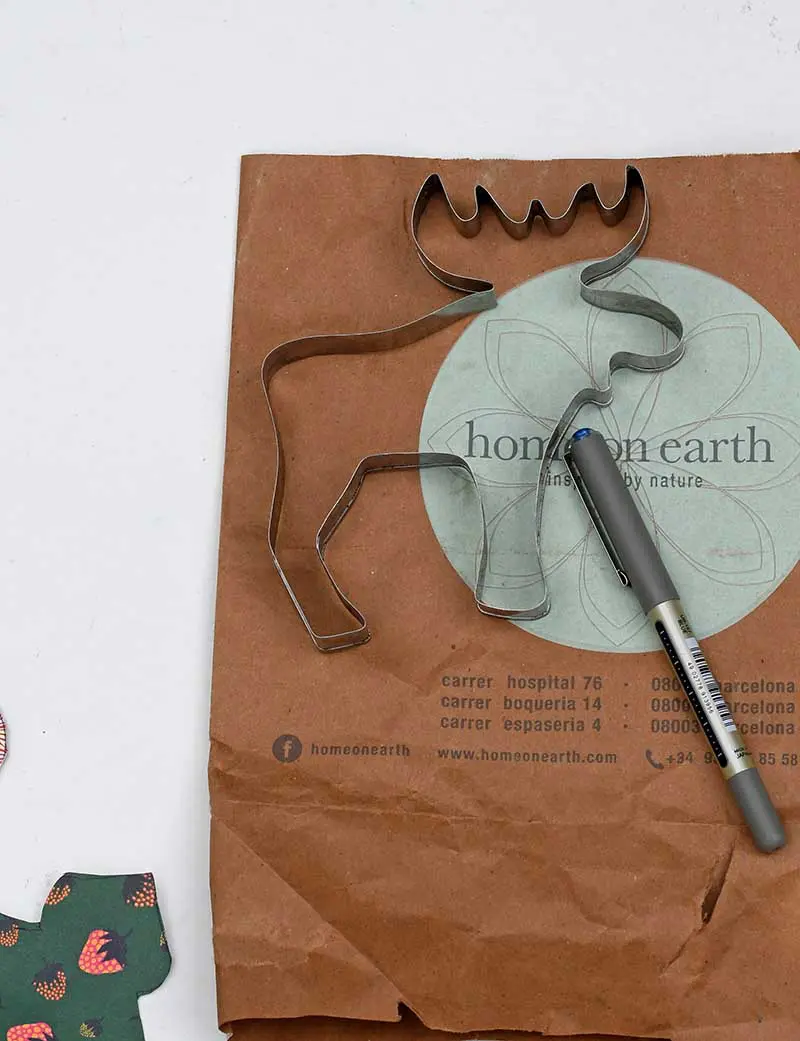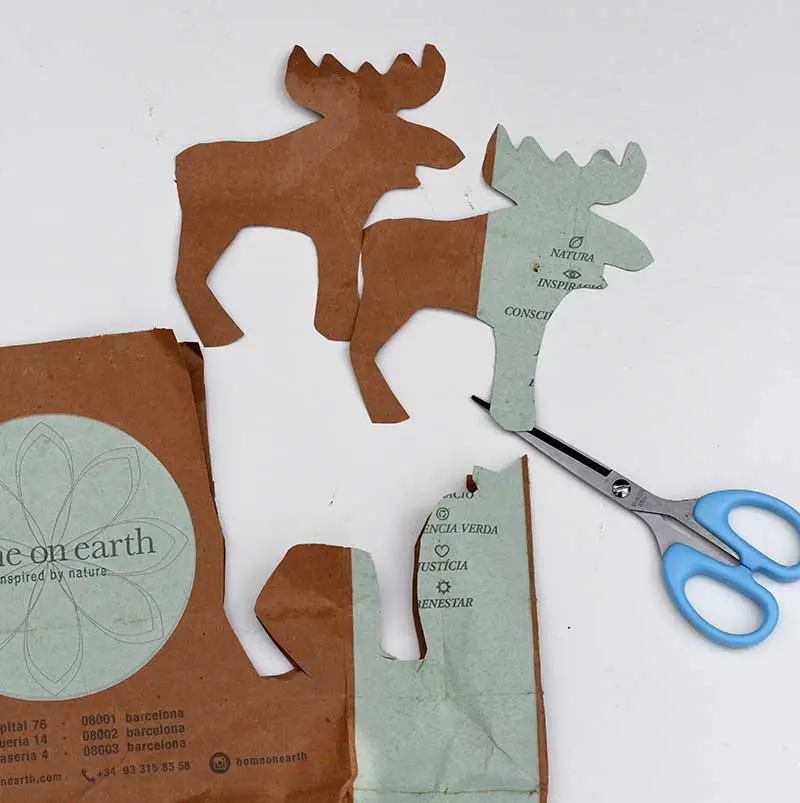 3. Carry on cutting out Christmas shapes from the bags until you have enough for your advent calendar. Whether it be 24, 25 or heavens above 31 days.
If you run out of cookie-cutter shapes, either duplicate some shapes or draw your own.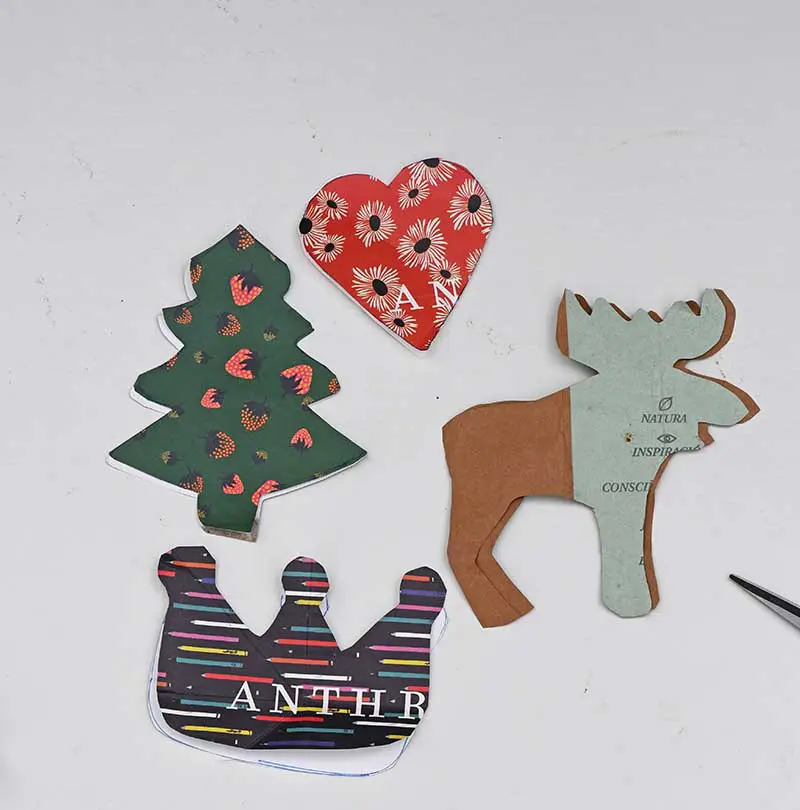 4. Next, here comes the fun part. Using a sewing machine stitch the shapes together. But leave a gap large enough for a treat to fit inside.
If you don't have a sewing machine you can just glue them together.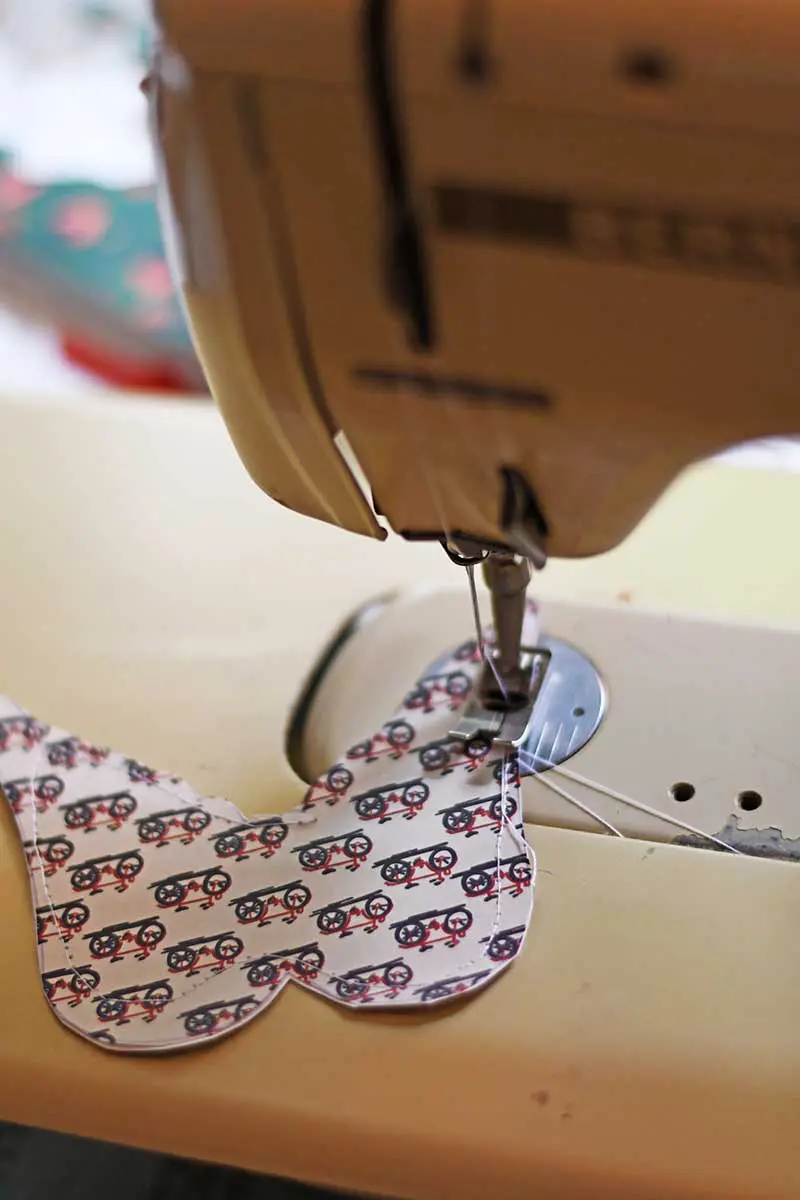 5. Next, using the ruler and a sharpie, stencil a different number to the front of each shape. (1-24, or 25 or 31).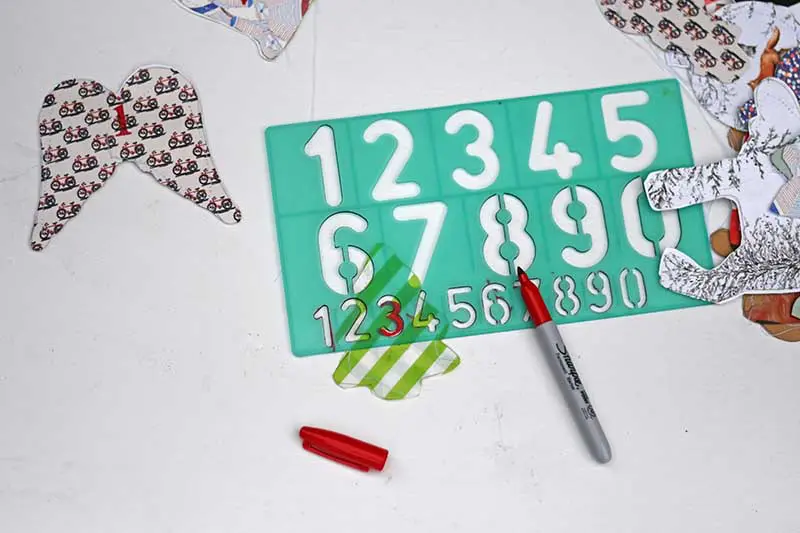 6. Next, comes the other potentially controversial element of making a handmade paper bag advent calendar. What do you put inside yours?
Personally, I like to put in a sweet treat and a cheesy Christmas joke. Others have suggested that the advent calendars should be full of inspirational quotes and motos. A few even suggest a daily chore!
My boys are only interested in a treat and a laugh. If there was a daily chore in the advent calendar they would remain unopened!
Once you have filled the paper Christmas shape simply sew (or glue) it shut.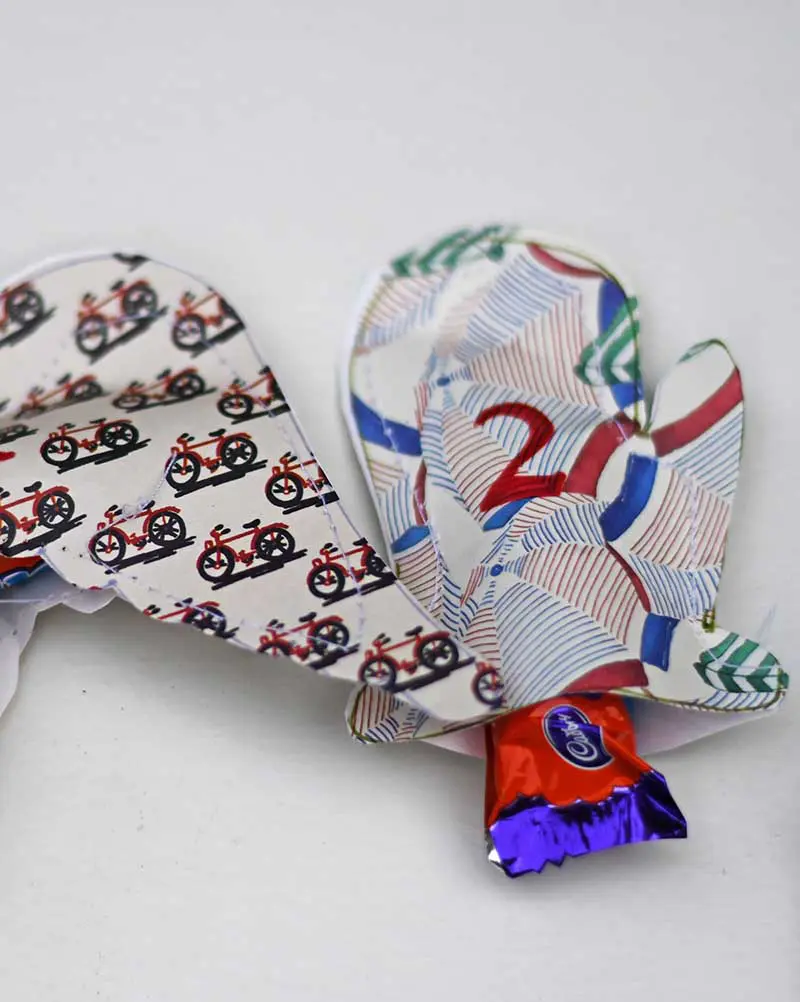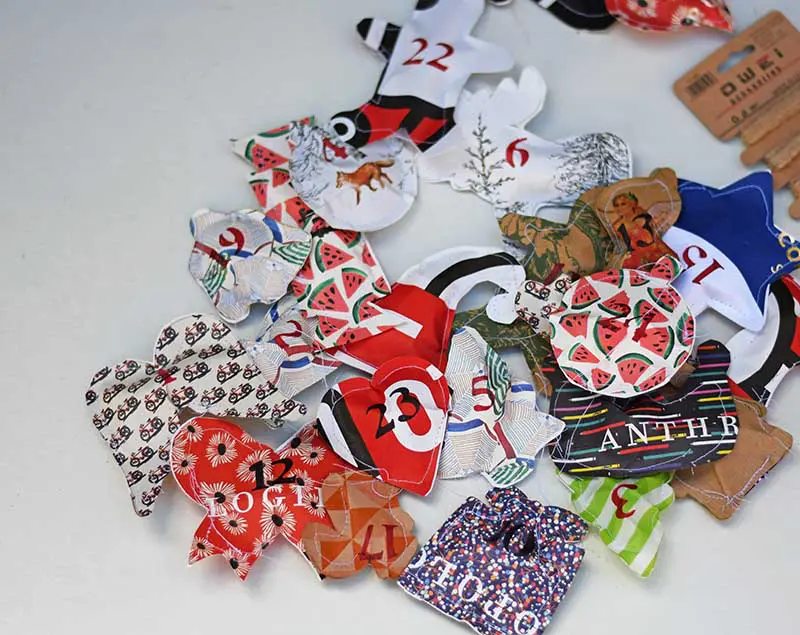 Hanging the Paper Bag Christmas Calendar
7. Finally, all that is left to do is to hang the DIY paper bag advent calendar. With just one more decision to make, do you hang the Christmas shapes in number order?
Personally, I like to hang my numbers in random order. Half the fun of an advent calendar is hunting for the right day.
I just used twine and the small craft pegs to hang the paper bag advent calendar in a picture frame. Another way to hang the calendar is by using a coat hanger as I did with this homemade paper envelope calendar.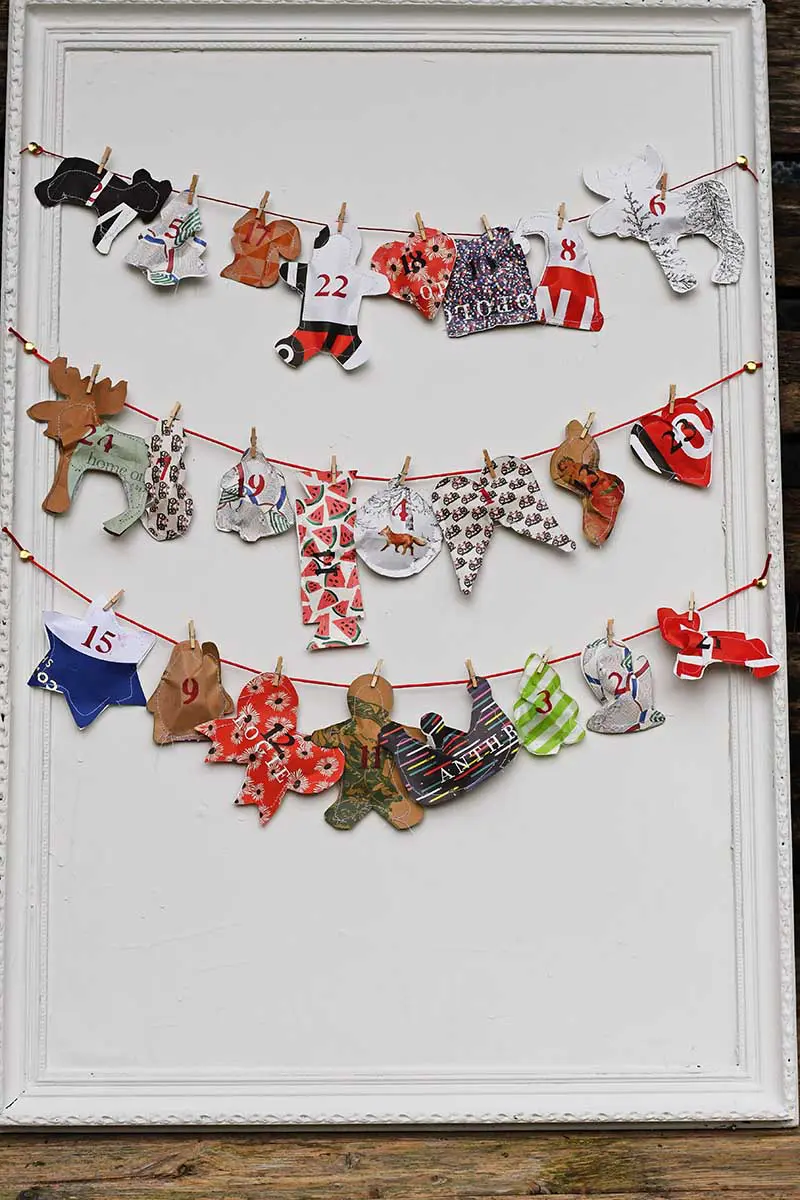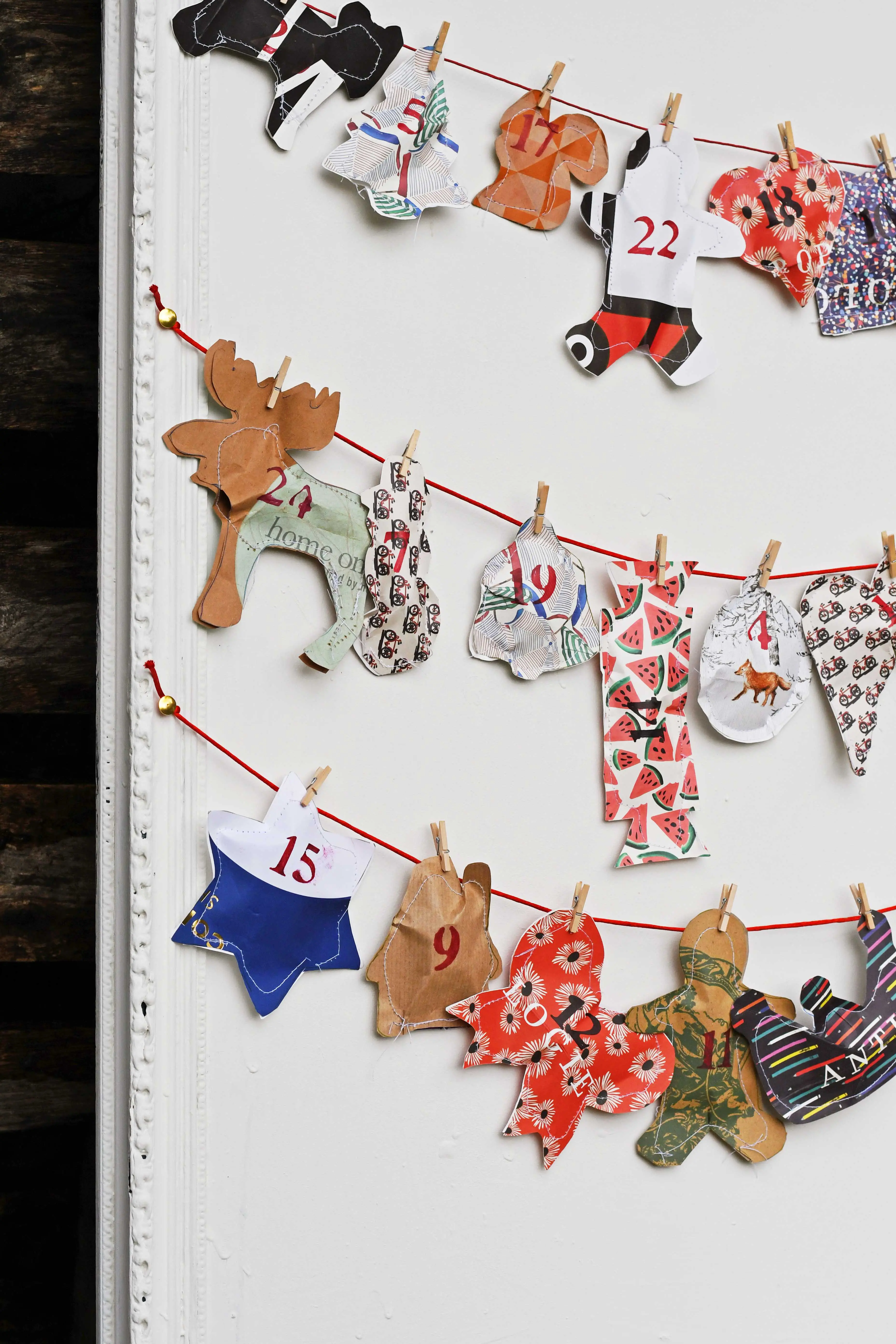 You might be thinking that even though this repurposed paper bag advent calendar is very affordable, it is a lot of effort for a one-off calendar.
Often I craft and upcycle just for the fun of it. It's not just about the results but the process too. I had a very fun relaxing afternoon making this homemade Christmas calendar on a wet Saturday.
It was very relaxing and for me the best therapy. Just what I needed to wind down after a busy week.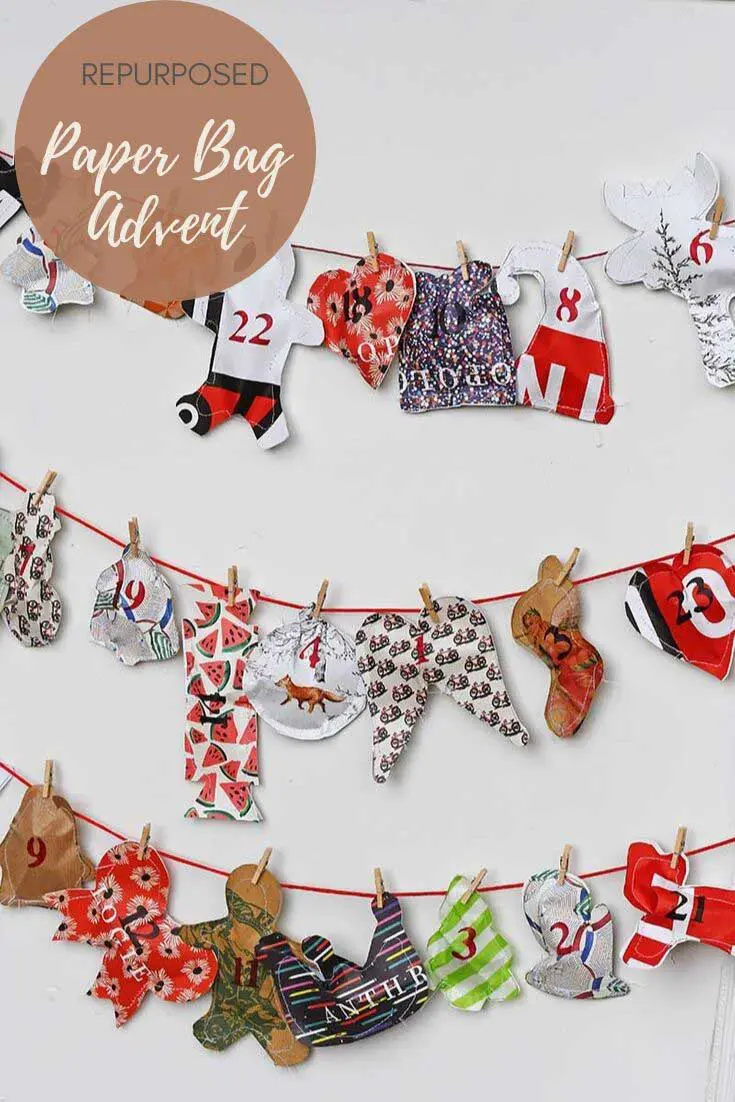 I have stitched paper before to make map heart treat bags for Valentine's and cute bunny treat bags for Easter. There is also a tutorial for hand-stitched embroidered dictionary art on Pillarboxblue.
If you enjoyed this craft you might want to check out these other papercrafts.
This upcycled bag craft featured under b for bags in the A to Z of upcycling resources.
For more DIY advent calenders visit here.