Inside: A step-by-step tutorial on how to make shrinky dink earrings with some free cool designs, including Marimekko flowers.
It was pure magic as a seven-year-old, peering through the oven glass door to see my designs curling, shrinking and then uncurling into cute figures. Even several decades later, I haven't lost my love of Shrinky Dink crafts.
With Shrinky Dinks, it's not only the beautiful things that happen in the oven but the whole process that's fun. This retro craft uses the basic skills your first learn as a child of colouring and cutting.
As an adult, I've used the incredible stuff to make a fun Christmas garland of lights and Valentine's heart string lights. And now, to make some easy DIY Shrinky Dink earrings.
I couldn't decide on one design for the homemade jewellery, so I made several pairs of earrings. Two were in the style of Marimekko flowers. (You may have come across my many Marimekko crafts and DIYs).
The other pair of earrings were in the shape of angel wings, another favourite crafting theme of mine. They would be fun to wear at Christmas.
About Shrinky Dink Plastic
Shrinky Dinks is a tradename for sheets of polystyrene used in crafting; other names include Shrinkles and shrink plastic. When heated, they increase in thickness about ninefold and shrink to about a third of their size.
The shrink plastic sheets come in clear, frosted and white. And some you can print on with an inkjet printer.
You can repurpose food packaging for your Shrinky Dink earrings for a more eco-friendly version. Use any plastic container stamped with the #6 recycling polystyrene label.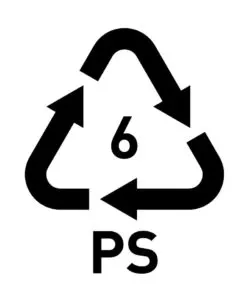 Colour the sheets with pencils, paint or markers. Permanent markers, like Sharpies, produce the best results when used on plastic. As the plastic shrinks, the colours intensify.
How To Make Shrinky Dink Earrings
Making these earrings is a craft that sparks joy for adults and kids. The earrings would make a charming gift, and I often see shrink-plastic earrings for sale at craft fairs.
What you need
We're a participant in the Amazon Services LLC Associates Program, an affiliate advertising program designed to provide a means for us to earn fees by linking to Amazon.com and affiliated sites. As an Amazon Associate, I earn from qualifying purchases.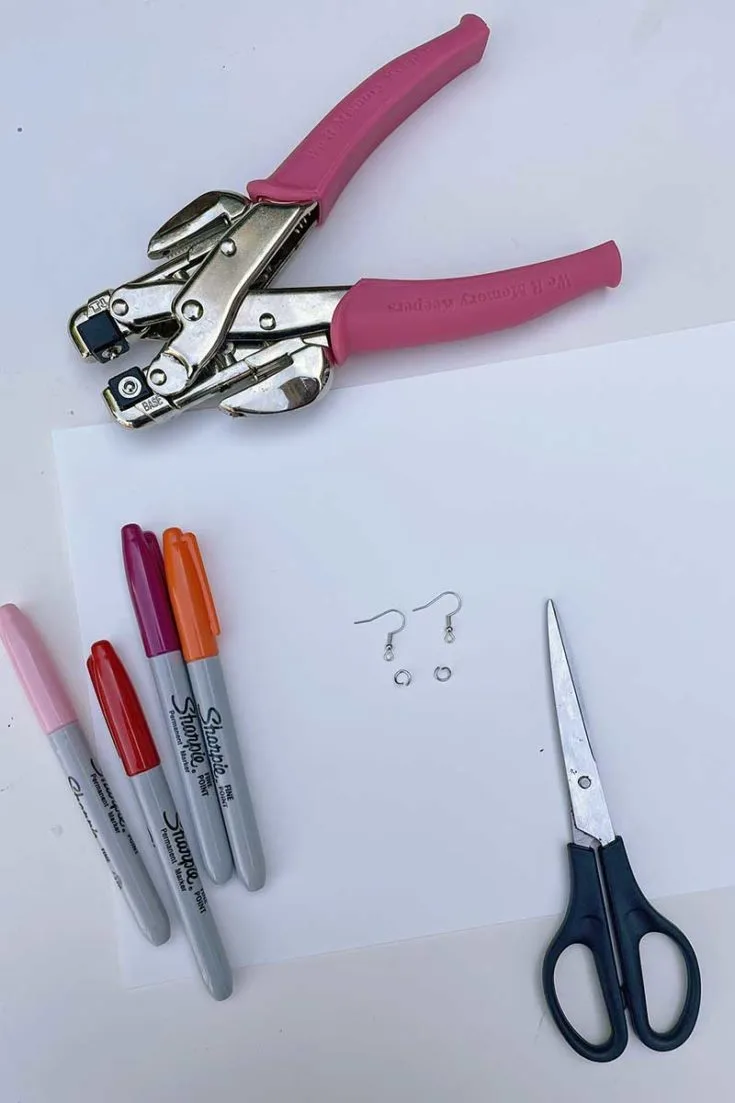 Step-By-Step DIY Shrink Plastic Earrings
Step 1: Print the free earring designs onto the plastic sheet using an inkjet printer. You can use tracing paper to copy the images if you don't have a printer.
There are three different pairs of earrings on one sheet.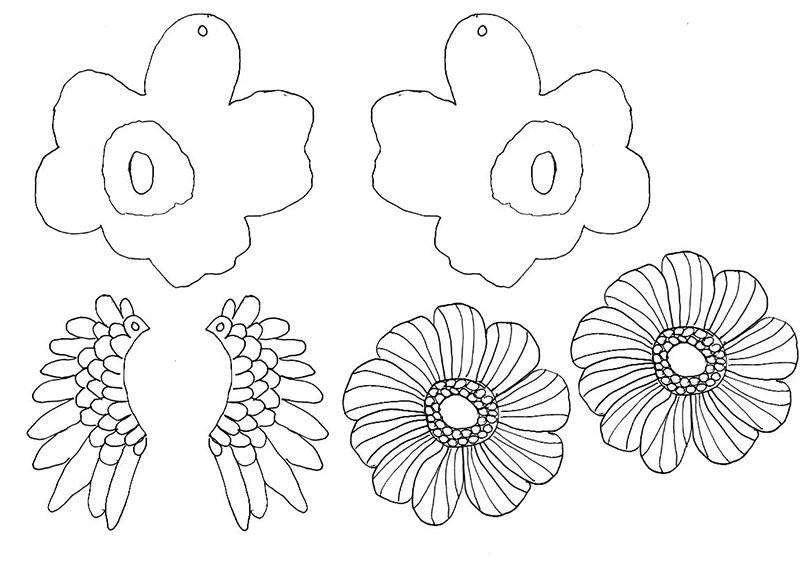 Step 2: With a black Sharpie, go over the outline lines to make them thicker and bolder.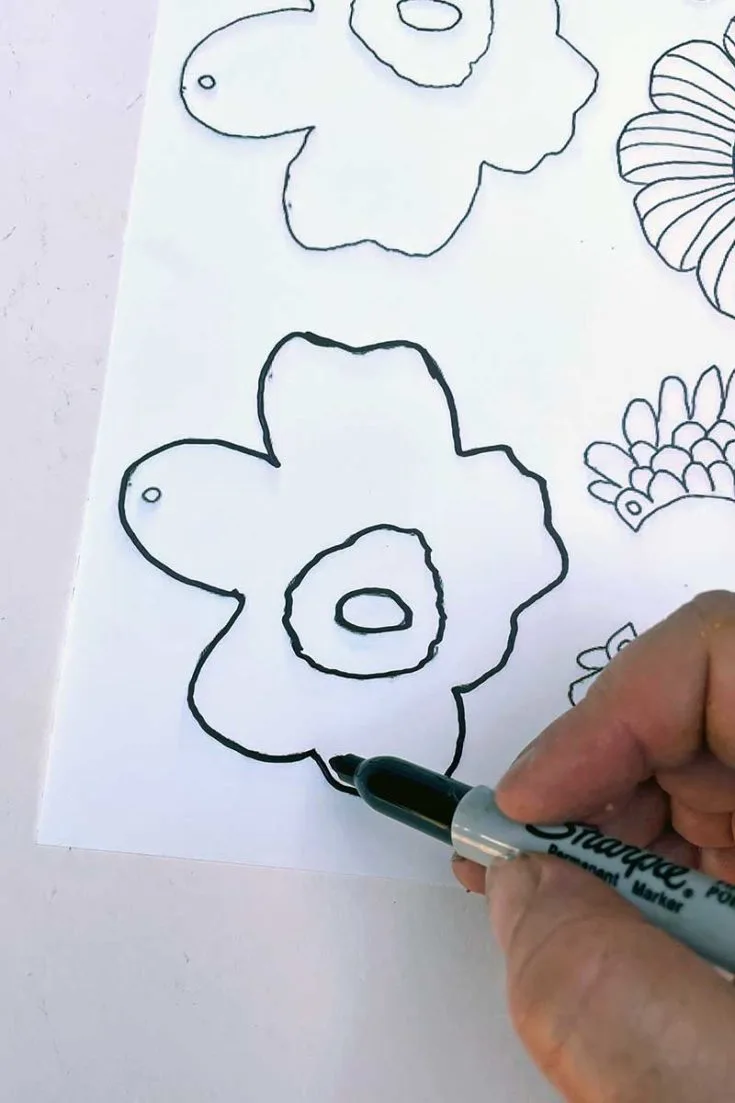 Step 3: Next, colour the Marimekko flower shapes with coloured Sharpies.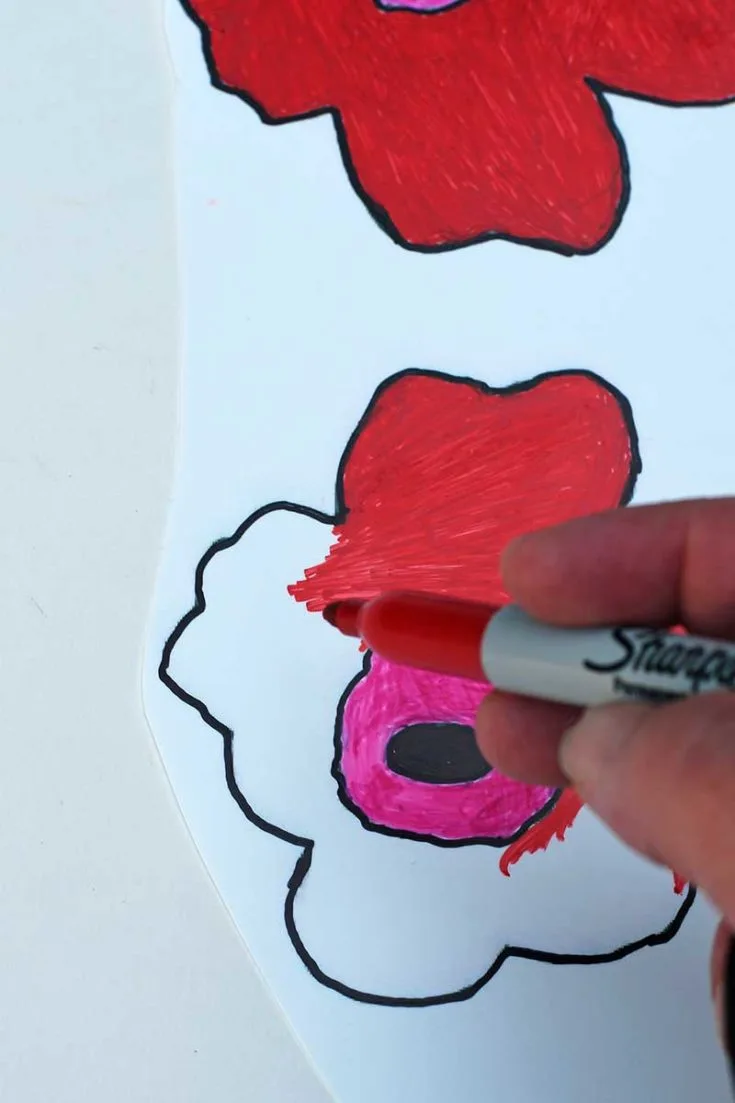 Step 4: Next, cut out each earring shape. I cut the flowers up to the thick black border, but with the angel wings, I left a white edge.
Shrinky dink sheets are easy to cut with scissors. But don't leave sharp edges.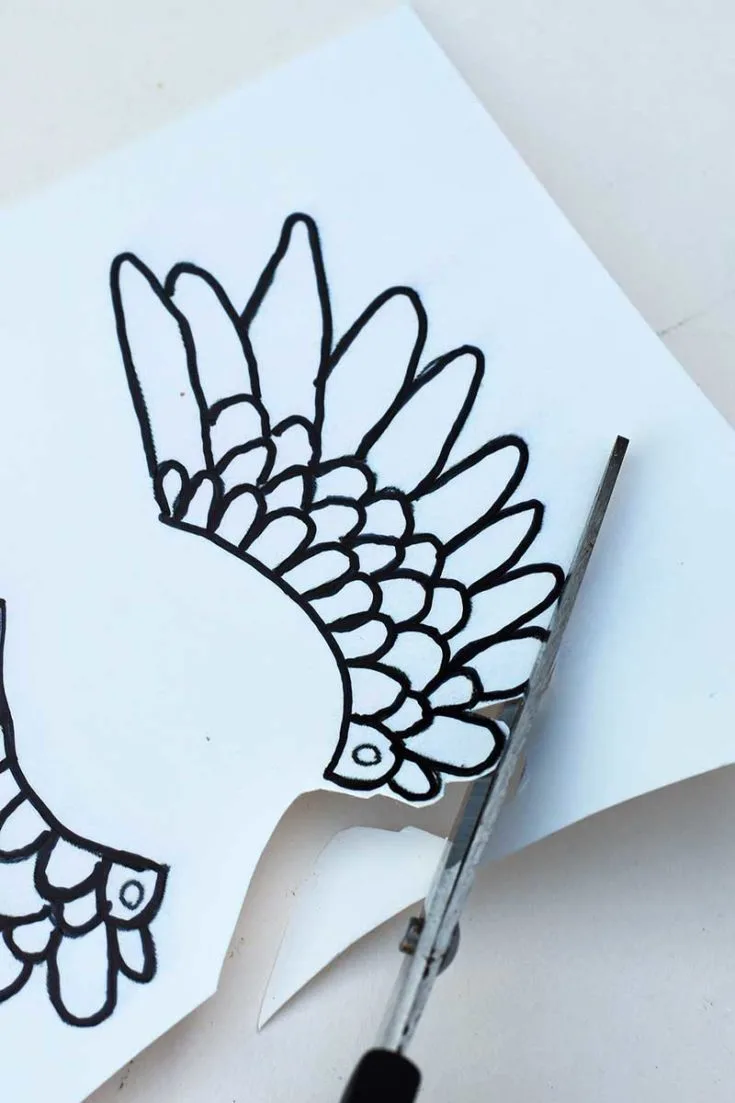 Step 5: Punch a hole into the plastic where the earring hooks will attach. They're marked as a small circle on the designs.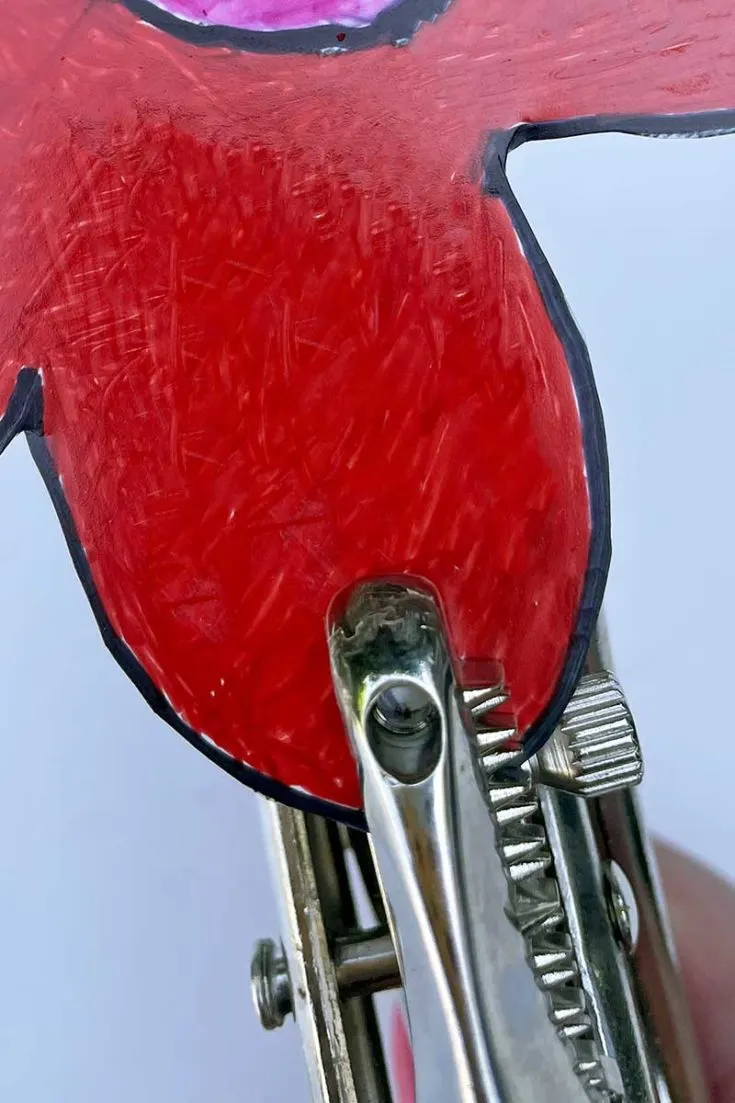 Step 6: This is where the magic happens. Place the plastic shapes face up with parchment paper on a baking tray. Make sure they're not touching.
Next, heat the oven to the temperature on the instructions with the Shrinky Dink paper (mine said 150-170 deg C). Place the tray in the oven for 2-3 mins.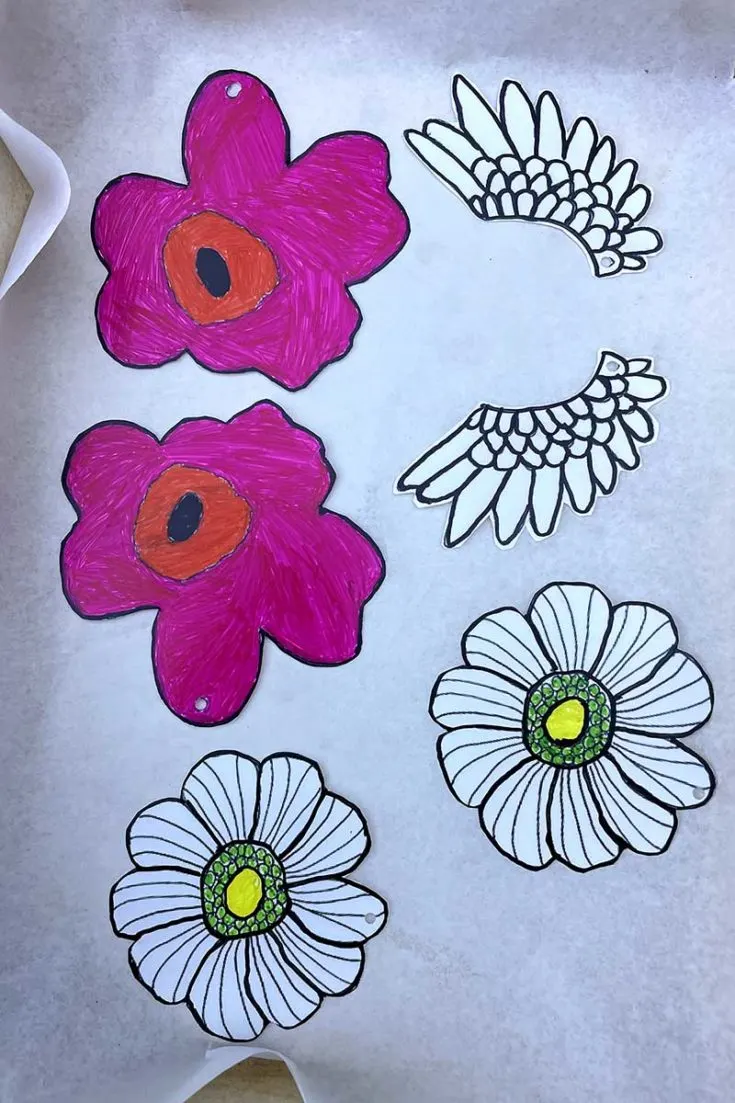 As the plastic shapes shrink, they will curl up and flatten. If they struggle to flatten after you take them out of the oven, place them under a plate for a few seconds. Squash them flat as they cool.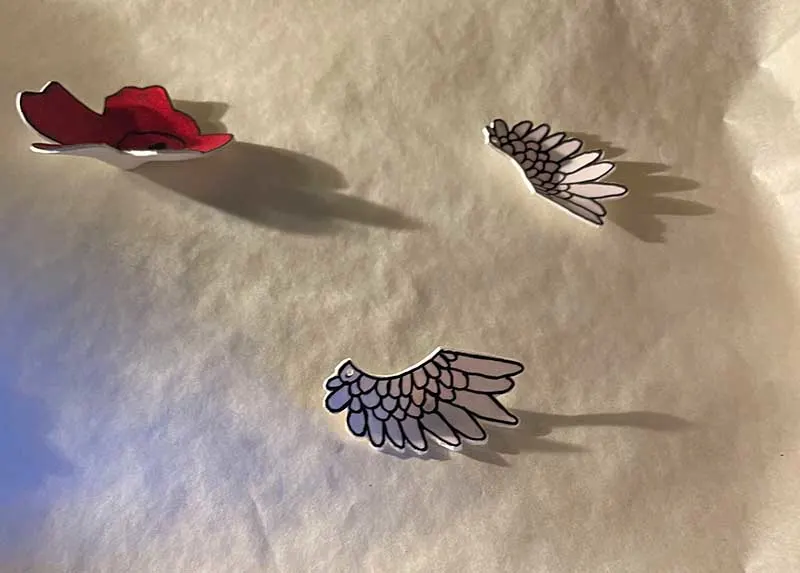 Step 7: To finish the DIY Shrink Dink earrings, using some pliers, place a jump-ring attached to an earring hook into the hole on each shape.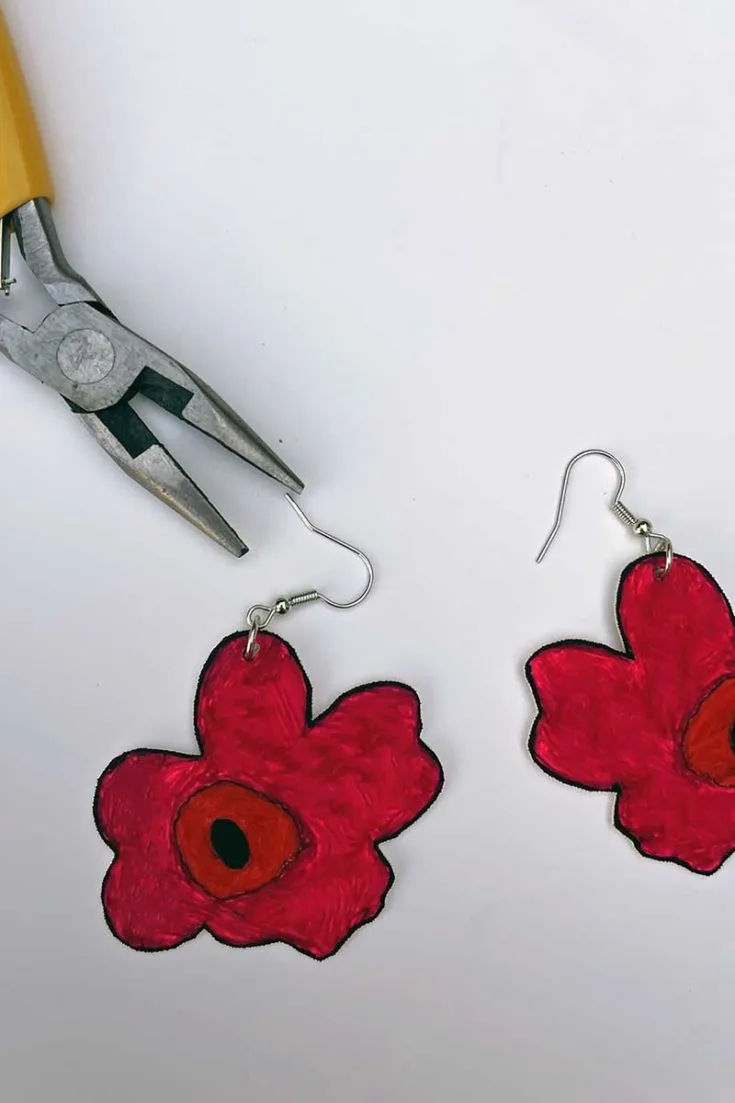 The Finished Earrings
I love how all three of the earring designs turned out. If I had to choose a favourite, it would be the white Marimekko style flowers; I have the perfect floral dress to go with them.
The earrings have a pleasant matt sheen to them. For glossier-looking earrings or if you're concerned about smudging, spray them with acrylic varnish or use a crystal clear lacquer. As I did with my map paper beads.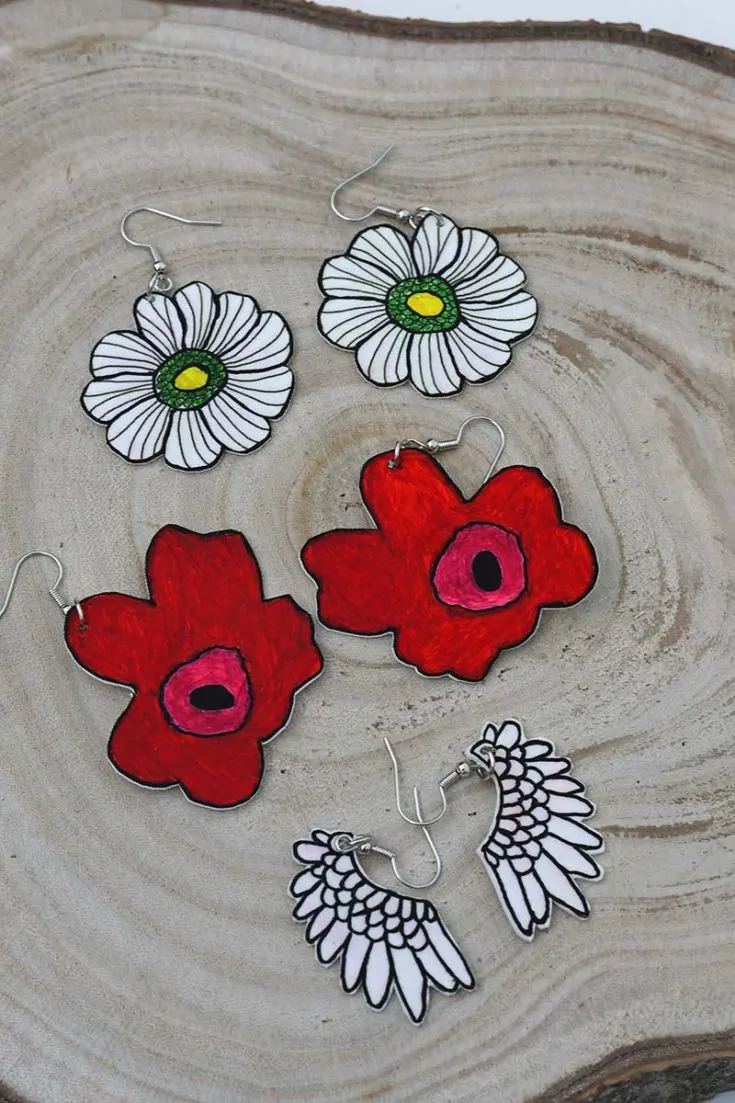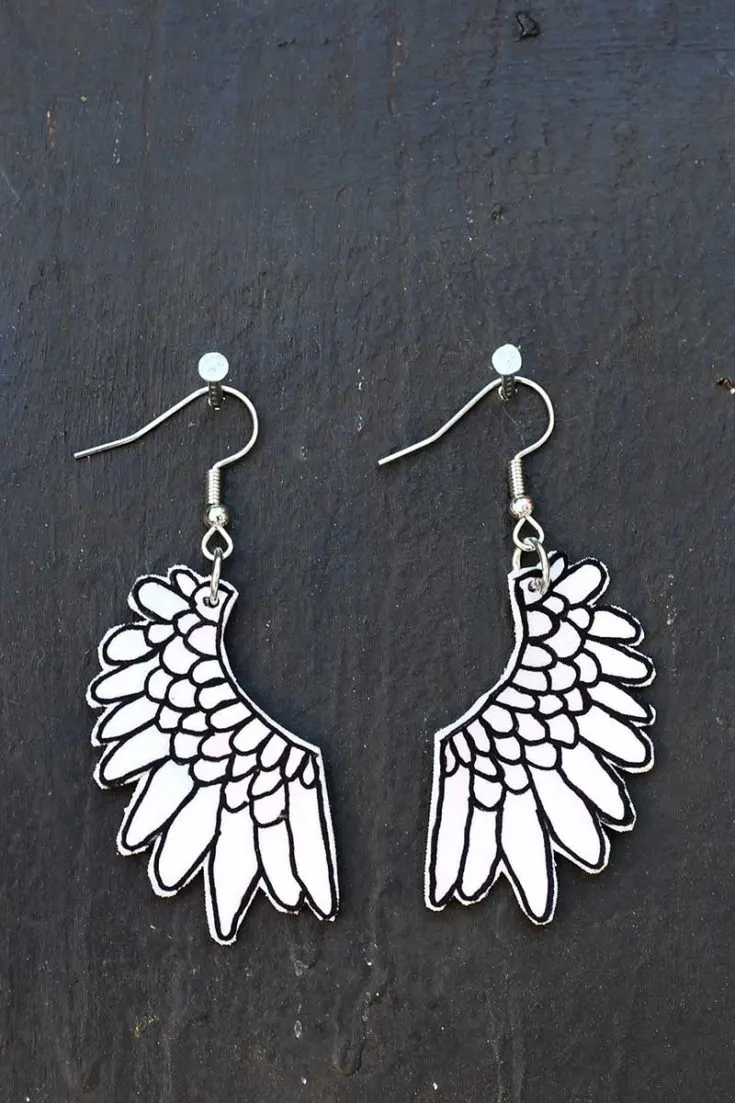 FAQs & Tips
Can I use any printer? Yes, but only use an inkjet printer. Please don't use a laser printer with the Shrinky Dink sheets, as they can damage the printer.
What if I don't have a printer? Use tracing paper to copy your designs onto the white shrink plastic sheets.
Can I use clear shrink plastic? Yes, but you'll only be able to print onto frosted plastic sheets. And the earrings will have a more transparent look about them.
After baking, the colour is too dark. Colours intensify and darken as the plastic shrinks. A light blue will become a darker blue after shrinking. Start with a lighter tone if you want less intense colours.
Can I make stud Shrinky Dink earrings? Yes, you can buy stud earring backs that glue to the back. Remember, with stud earrings, you'll want smaller designs, and there is no need to punch holes into the plastic.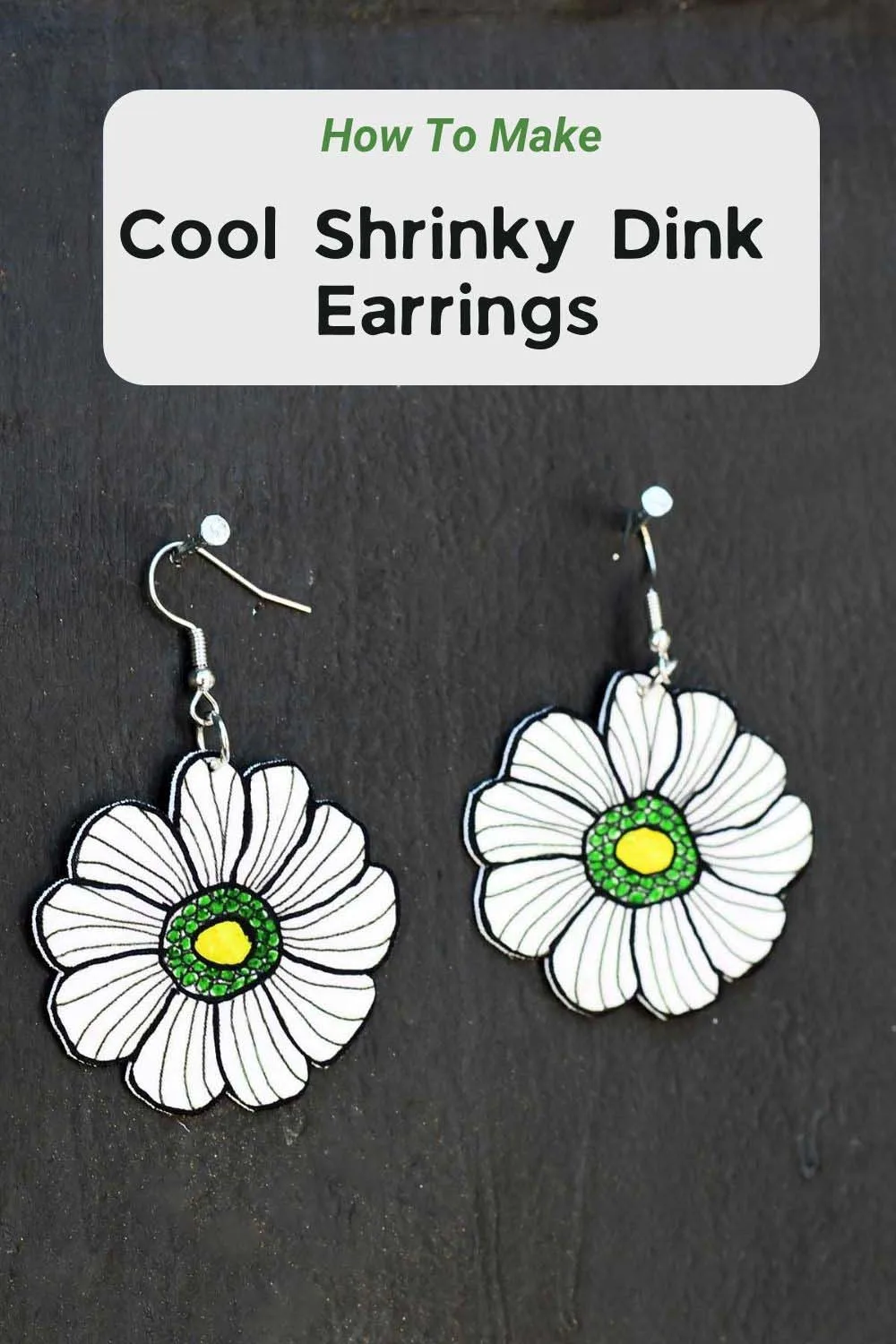 Other Shrink Plastic
As mentioned at the beginning, many everyday plastics can be shrunk. In the oven, with a heat gun or over a naked flame.
If using repurposed plastic, experiment with them first, as they may not shrink uniformly like the Shrinky dink sheets.
After my first introduction to the wonders of Shrinky Dinks as a seven-year-old, I continued to experiment with shrinking other plastics.
As a tween, I wore some rather funky earrings made from shrinking crisp (potato chip) packets. Unfortunately, they have changed many of those chip packets to foil these days, so it doesn't work. But the Marimekko earrings I make now are more sophisticated!
With this method, I melt plastic bottles over naked flames and have made some cool mini faux succulents. I think the tropical leaves would make gorgeous DIY earrings too.
Check out the other crafts you can do at home, including some retro classics like these shrink plastic earrings.
Yield: Three different pairs of Shrinky Dink shrink plastic earrings
How To Make Shrinky Dink Earrings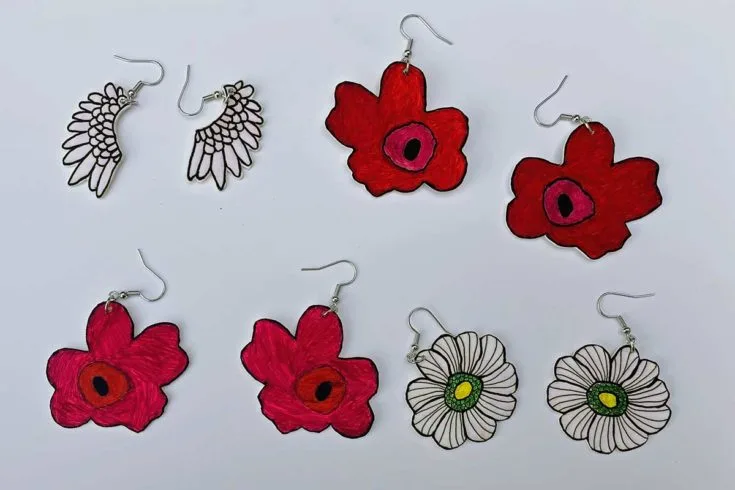 Use sheets of white shrink plastic to make some cool and funky earrings in either an angel wings design or Marimekko-style flowers. A fun, easy craft for all, the earrings would make a wonderful gift or could even be sold at craft fairs.
Materials
White shrink plastic printable sheet such as Shrinky Dinks
Black and coloured Sharpies
Parchment paper
Jump rings and earring hooks
Tools
Inkjet printer - or tracing paper
Oven
Scissors
Hole punch
Piers
Instructions
First, print the free earring designs from the blog onto the plastic sheet. If you don't have a printer, use tracing paper to copy the designs or draw your own.
Go around the outline of each shape with a thick black Sharpie. Then, colour in the rest of the earrings designs.
Next, using scissors, cut out each of the earring designs.
Punch a hole in the top of each shape for the earring hook.
Place the plastic shapes on parchment paper on a baking tray.
Bake in the oven for 2-3 mins at 150-170 deg C. Check the instructions that came with the plastic for the more precise temperature and timings.
Flatten the earrings with a plate if need be as they cool.
Add the jump ring and earring hooks to the holes.
Recommended Products
As an Amazon Associate and member of other affiliate programs, I earn from qualifying purchases.
I have also made some Boho denim earrings that you might want to check out.