AD | This project is in collaboration with Gorilla Glue, but all opinions are my own
Repurposing your old clothes to make things for the home is fun. In the past, I have made a felt rug and jean planters. This time I created upcycled fabric placemats for the table.
Old denim jeans are a perfect material for repurposing and upcycling within the home. Denim is so robust and all the lovely shades of indigo that it comes in can look fabulous. The downside is that old jeans can be difficult to sew, especially all the interesting bits like the waistbands, pockets and seams.
Even my superb Bernina sewing machine struggles with a thick denim seam. But don't worry, with the right glue you can still make fabulous denim accessories for your home.
Colourful Upcycled Fabric Placemats With Denim And Wool Scraps
I used Gorilla Contact Adhesive Clear to make these wool and denim fabric placemats. This is a great glue to use, it isn't runny so doesn't go everywhere, it dries clear and is waterproof. Therefore, if you spill something on your placemats and need to wipe them clean with a wet cloth you will be able to do so.
I could have made just denim placemats, but I wanted to add a bit of colour to them. I had some old felted sweater scraps left from other upcycled projects and decided to use these with the denim to add colour.
These fabric placemats cost virtually nothing to make as they are made from repurposed materials. You can add more placemats for your collection everytime you wear out an old pair of jeans. Each mat takes about 30 mins to 1 hour to make.
They will go really well with my DIY denim table runner.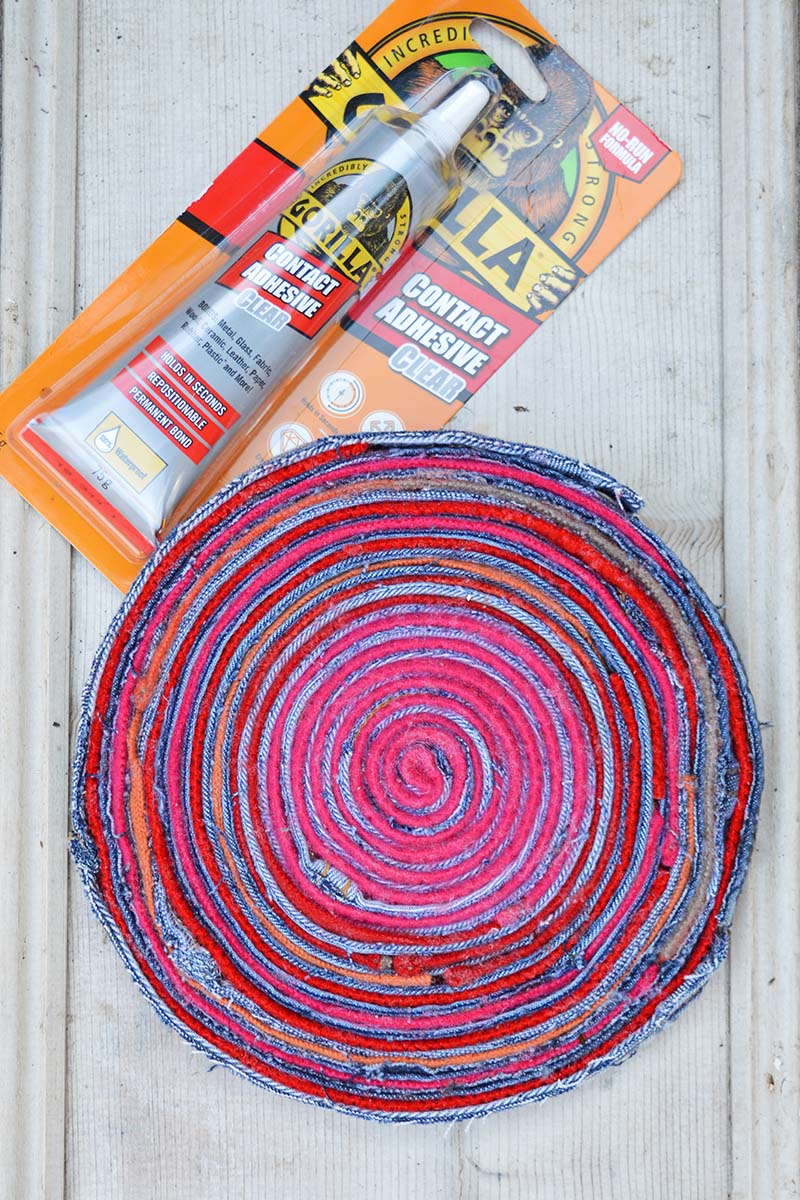 We're a participant in the Amazon Services LLC Associates Program, an affiliate advertising program designed to provide a means for us to earn fees by linking to Amazon.com and affiliated sites. As an Amazon Associate, I earn from qualifying purchases.
What You Need To Make Upcycled Fabric Placemats
The seams and hems of old jeans. I cut out the double stitched seams of jeans that normally run up the inside leg. There is often a double stitched seam across the back of the jeans too, just below the waistband.
Old felted sweater wool scraps – If you wash wool sweaters on a hot wash in the machine they will felt.
Rotary cutter, mat and pins.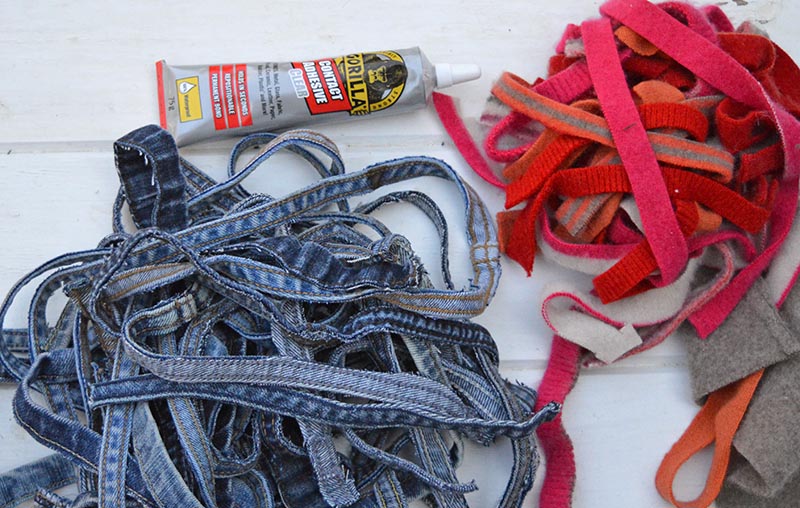 How To Make Upcycled Fabric Placemats
1. The first thing you need to do is to cut the felted sweater scraps into strips the same thickness as the denim seams. The best way to do this is with a metal ruler and a rotary cutter.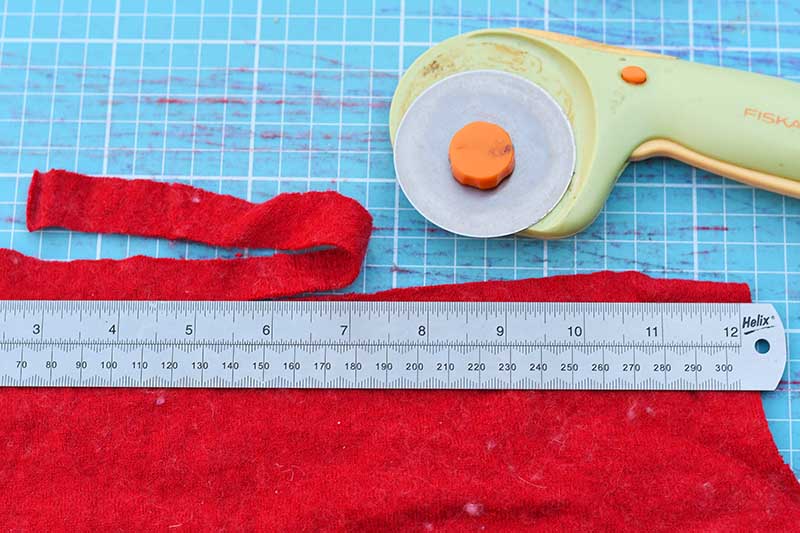 2. To start off the mat, grab one denim seam and one strip of sweater felt. Apply a small blob of Gorilla Contact Adhesive Clear to the end of the seam and to the end of the felt. Leave for about 1-2 mins depending on how strong you want the bond and then press them together.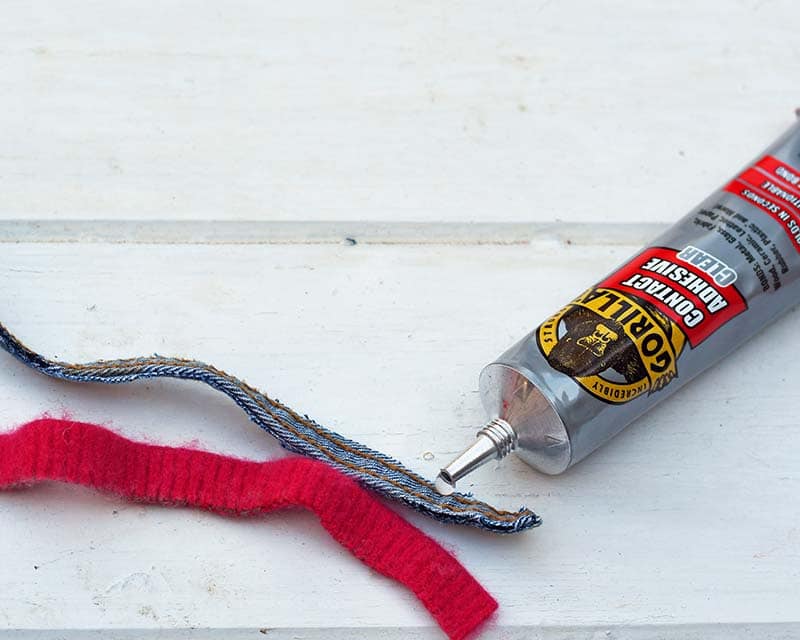 3. Next, repeat a few inches further along the seam and glue the denim and felt together. With these placemats you don't need to glue the fabrics together all the way along. Just a small blob of glue every few inches will work well.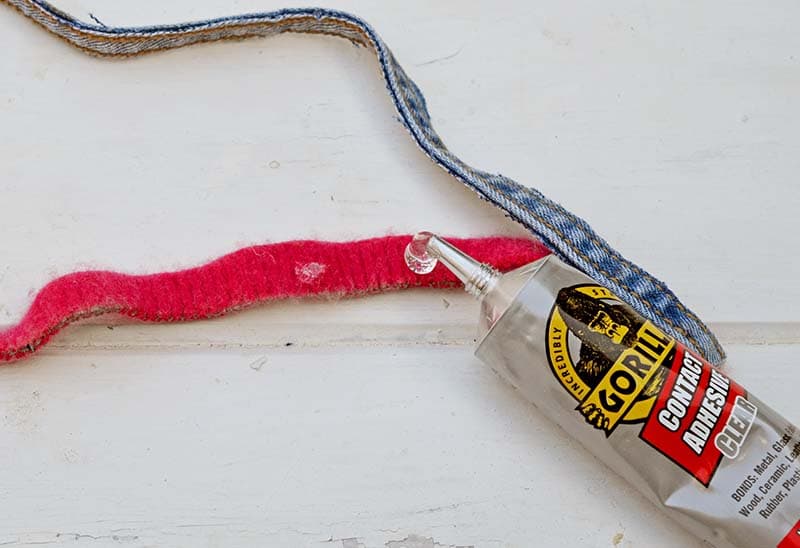 4. Next, start coiling the glued fabric strips together. Use the contact adhesive to hold the coil in place. Again glue every few inches, making sure there is a little bit of glue on both surfaces and leaving it for a few seconds to partially dry before pressing together. As the coil gets bigger I find that it helps to use a few pins to hold it in shape as the glue dries.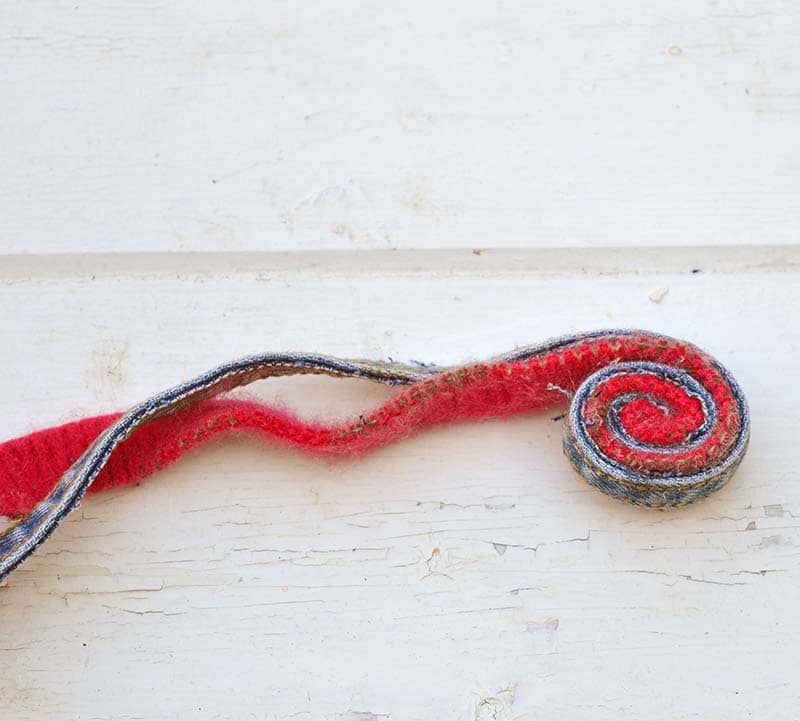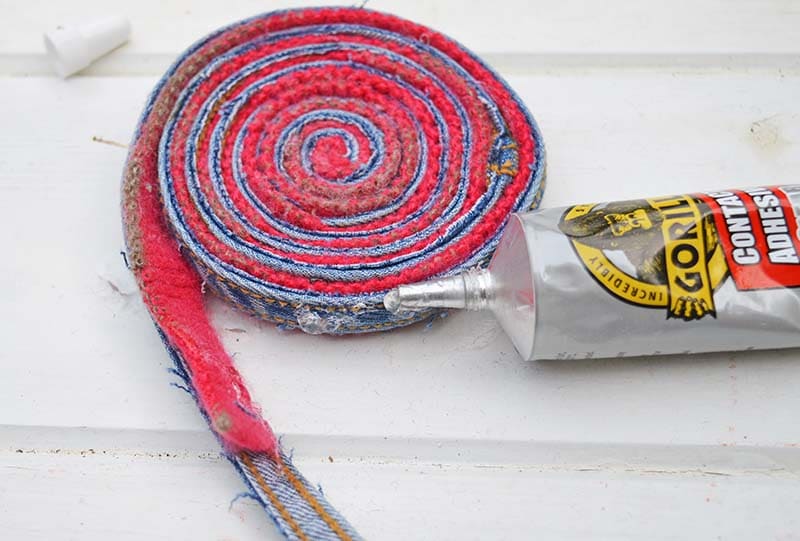 5. Carry on coiling to make the fabric placemat until you get to the size you want. Smaller coils could be used as drink mats. Just add in new bits of felt and denim when needed with the glue.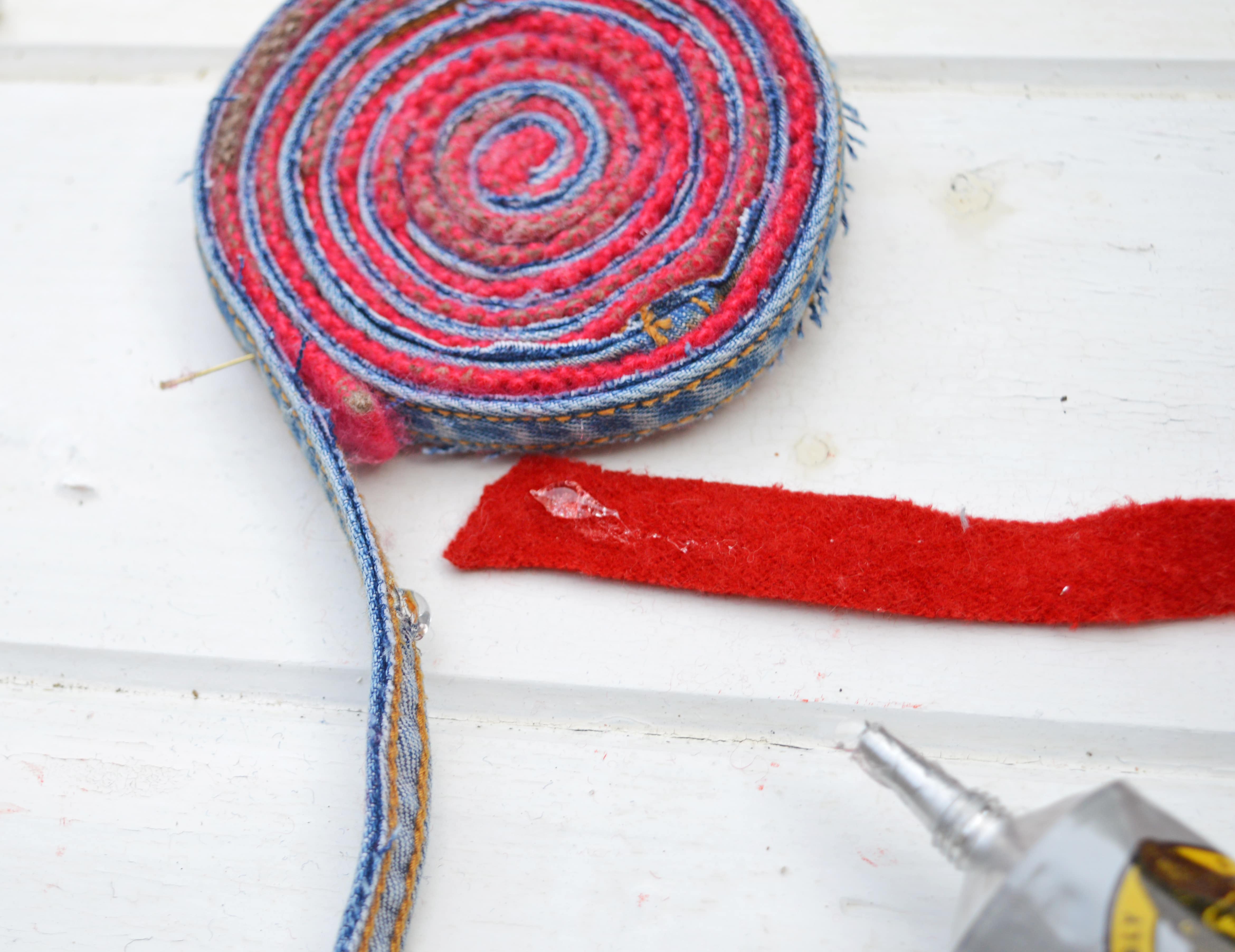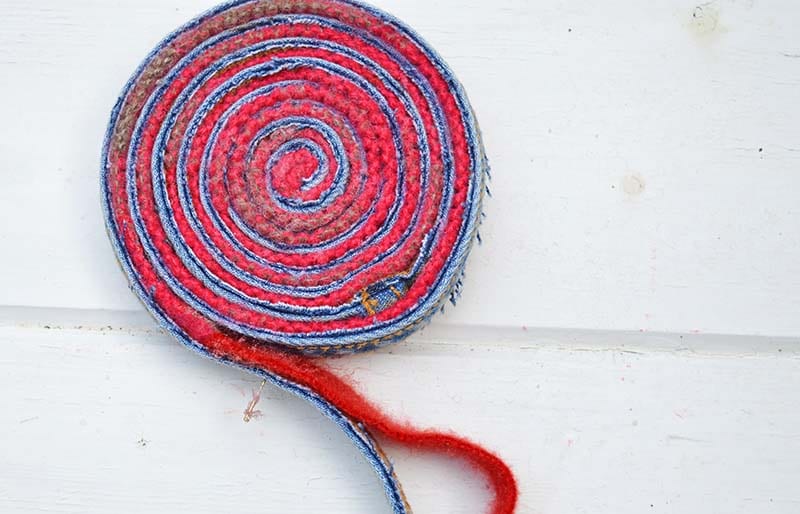 6. Finally, to finish off add a reinforcing denim cross to the back of each fabric placemat. To do this, spread the Gorilla Contact Adhesive Clear across the center of the placemat on the back. Also, spread the glue on a denim seam cut to the diameter of the mat. After about 1 – 2 minutes push them together. Repeat with another seam going across the other way.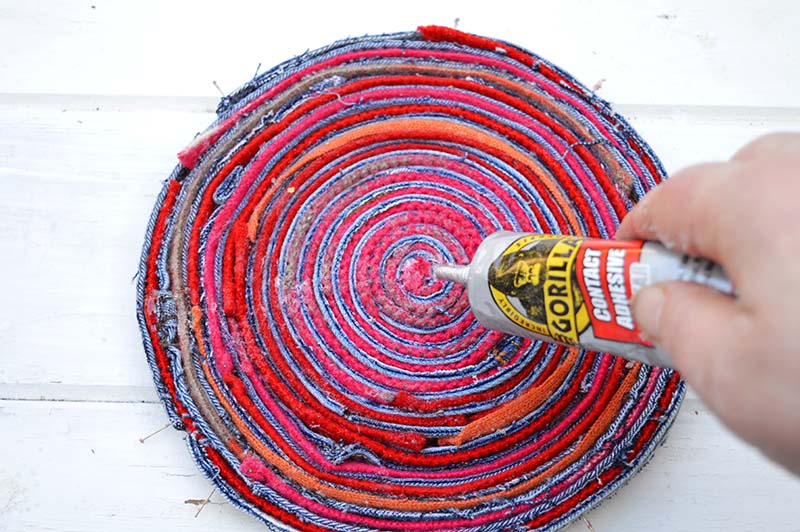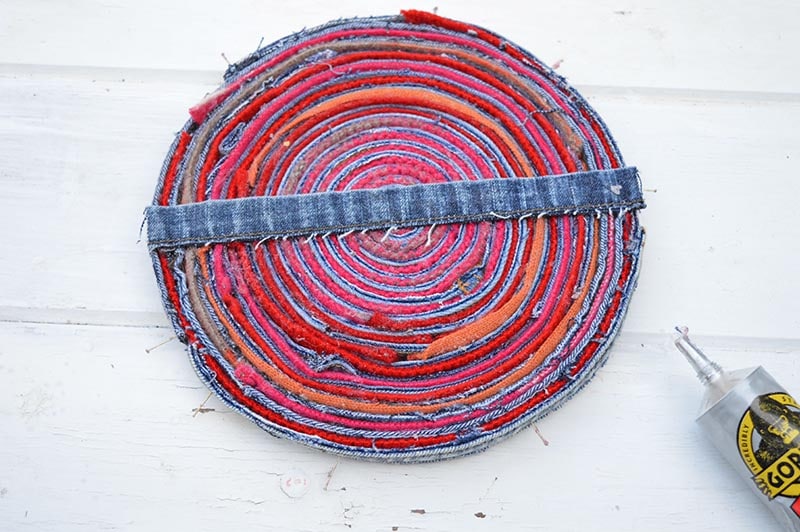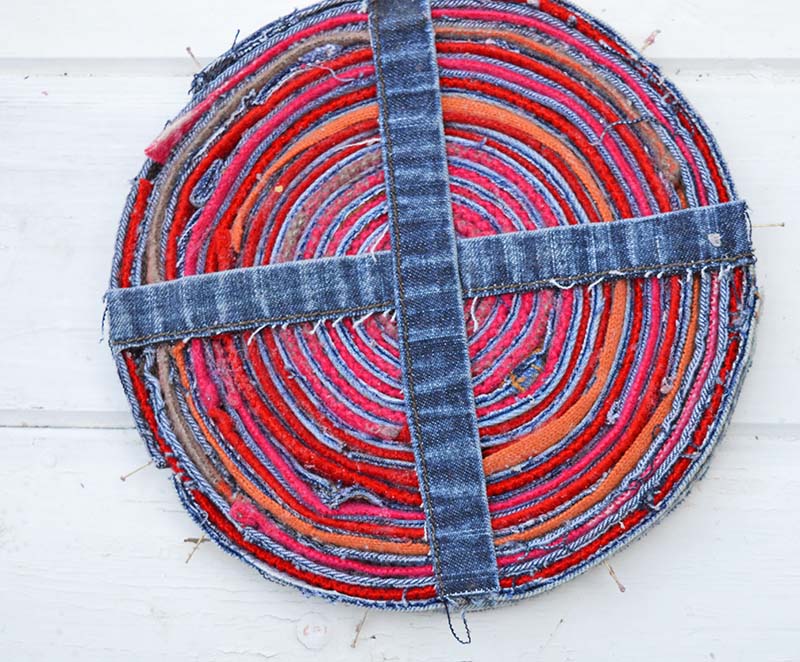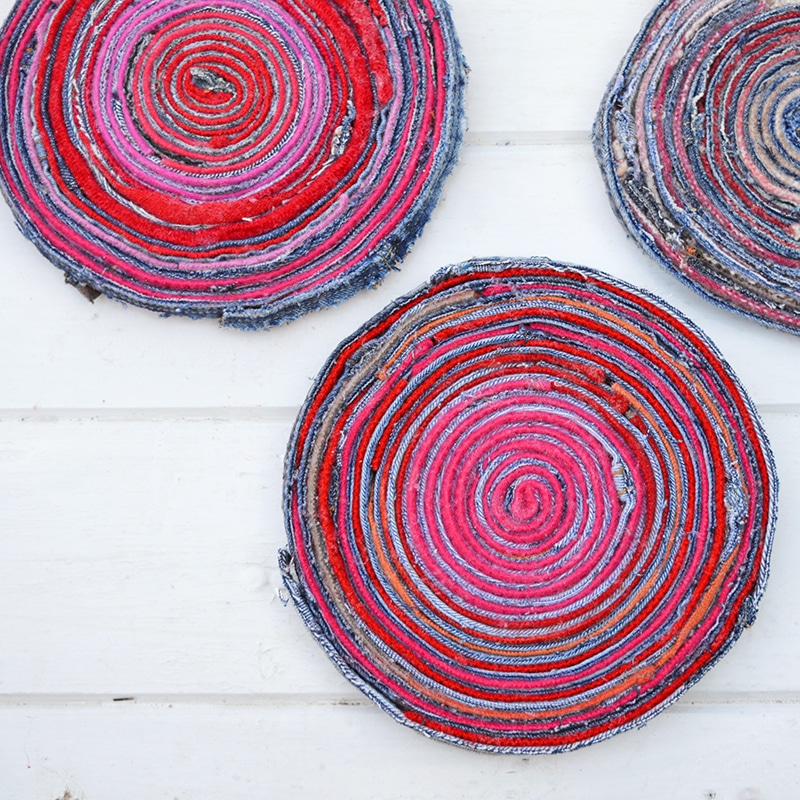 Even though Gorilla Contact Adhesive Clear is waterproof, you may still want to spray the placemats with protective fabric spray. That way if any liquid does spill on the mats it will just run off.
Not only do these fabric placemats look lovely, but as they are so thick they make great heat protectors. You will be able to put hot dishes on these coiled mats and protect your table at the same time.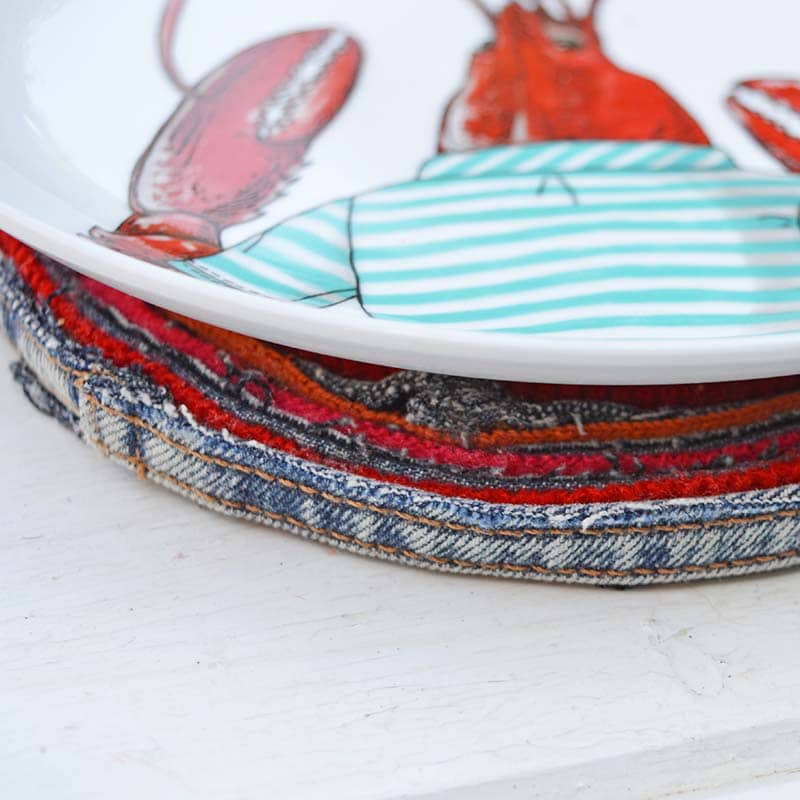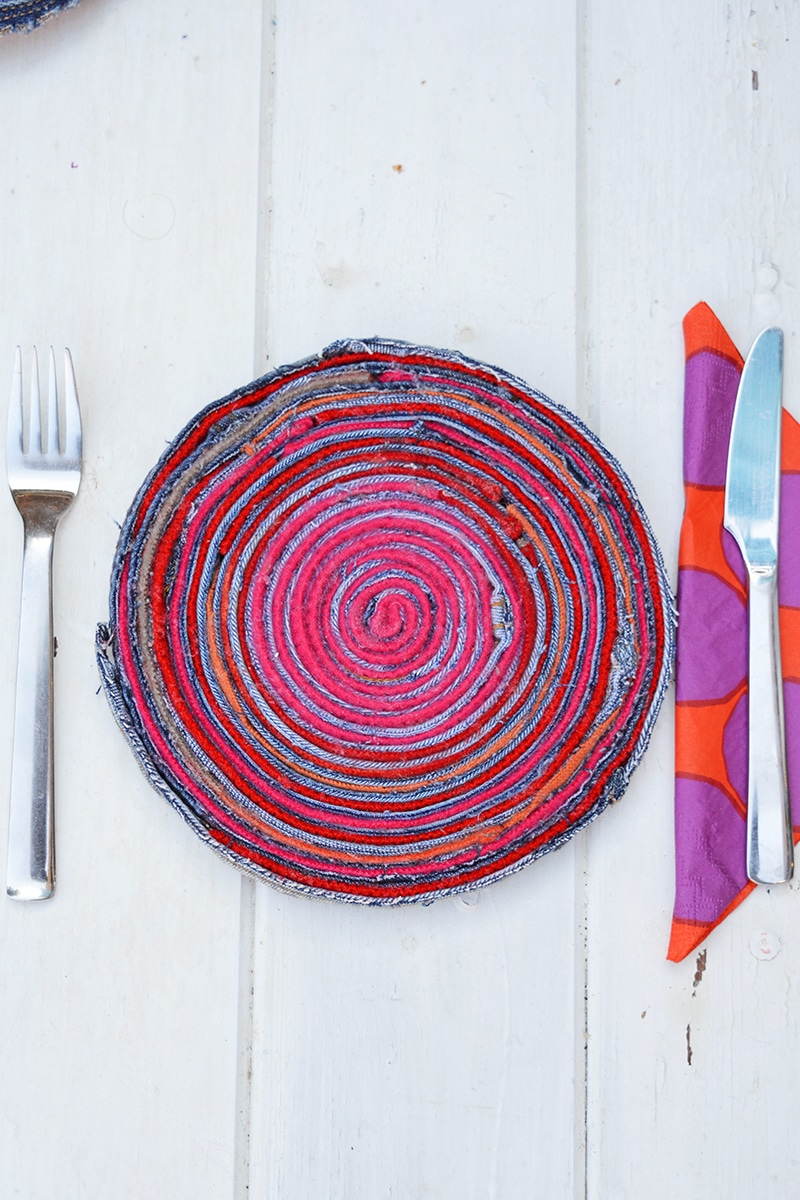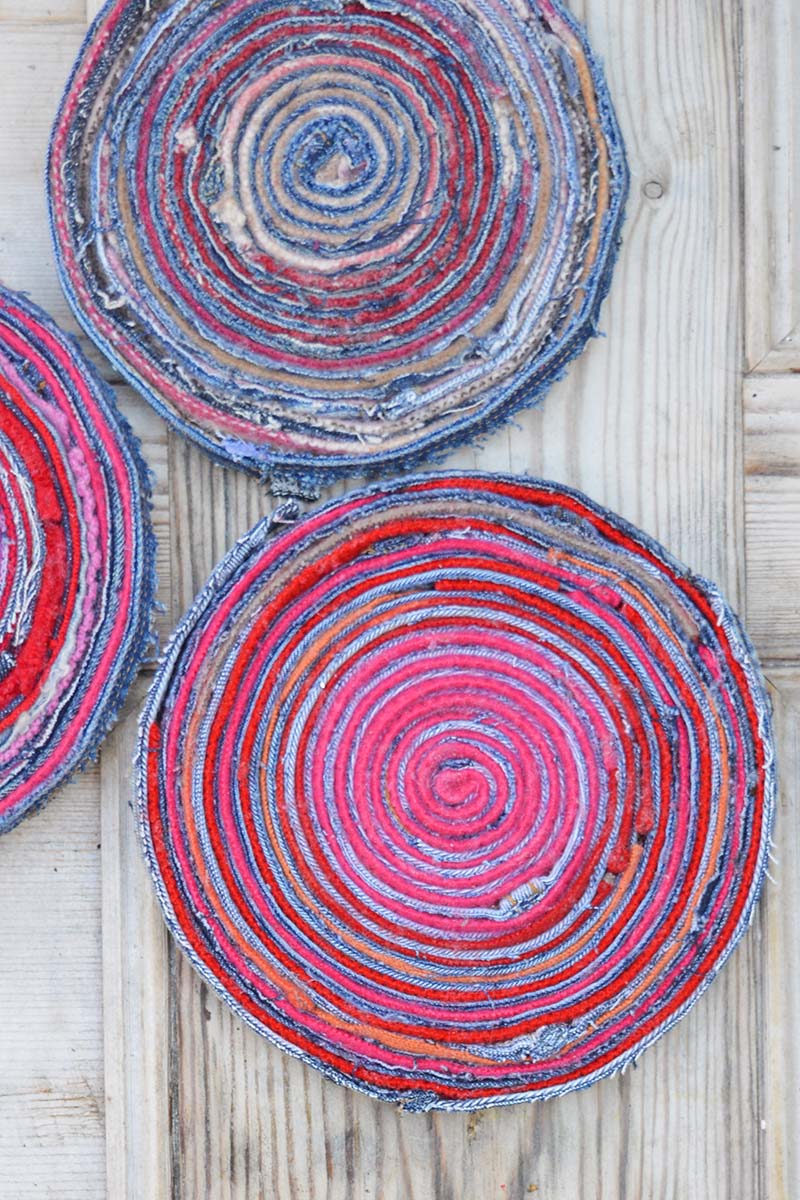 Yield: fabric and denim placemats
DIY Upcycled Denim Placemats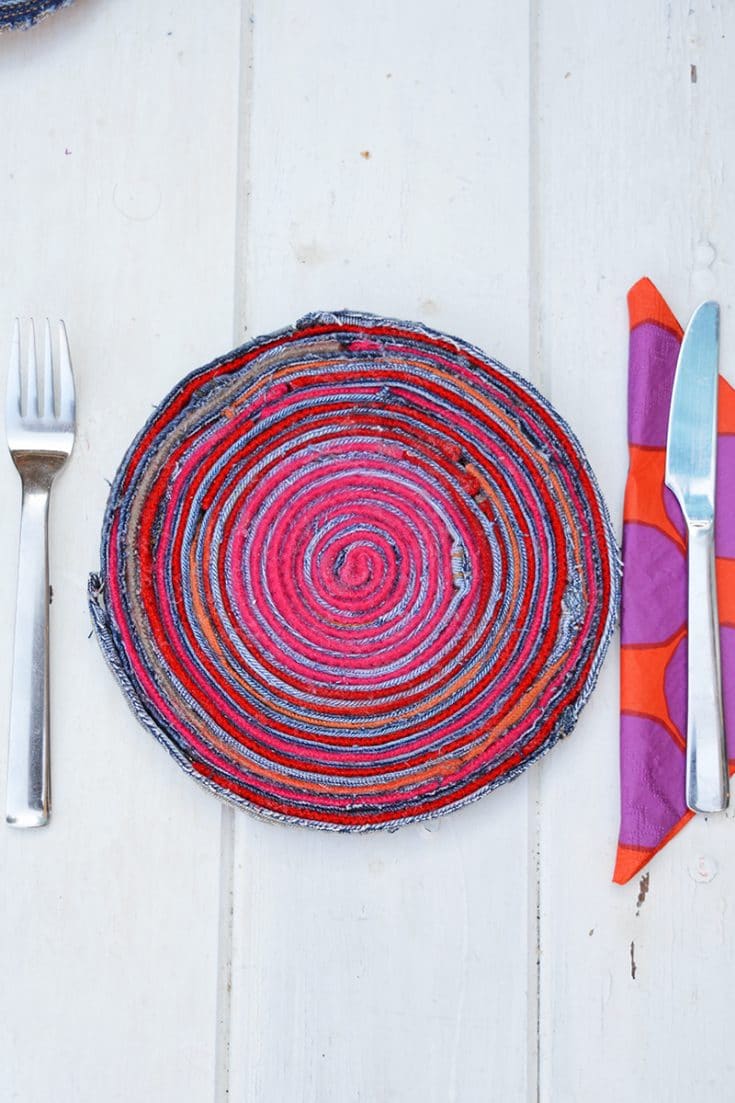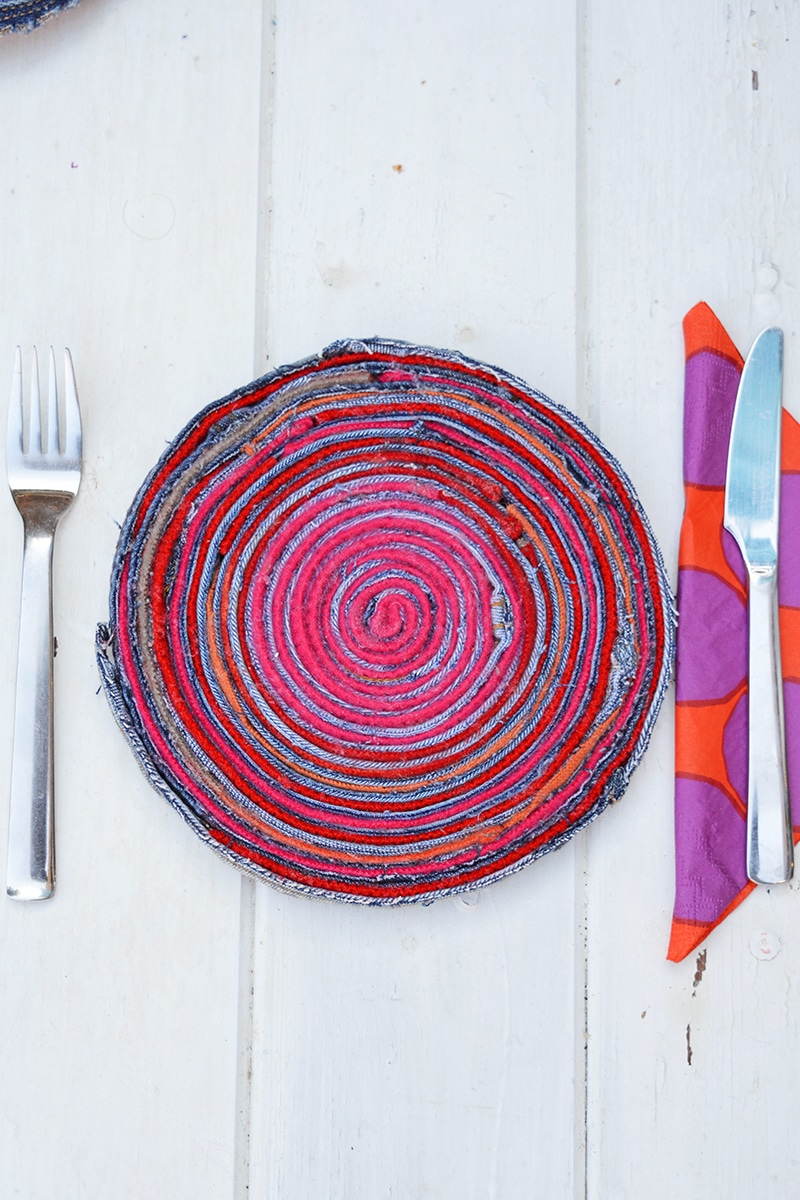 These gorgeous colourful denim and sweater fabric placemats are made without sewing.
Materials
Felted sweater scraps
Denim seams from old jeans
Gorilla Glue Contact Adhesive Clear
Tools
Scissors
Rotary cutter and mat
Instructions
Cut the seams and hems from old jeans
Using a rotary cutter, cut the sweater felt into strips the same width as the seams
Next, place contact adhesive on the denim seam and the strop of sweater felt.
Then, stick the denim and felt together then coil, using glue intermediately to stick the coil together
Use pins to hold the coils in place until the glue has dried
Finally, remove pins and glue a cross of denim hems to the underside of the placemats.
There are many more ideas for making placemats here. If you are looking for another denim version these woven denim coasters could be upscaled into placemats. The mats would also look fabulous on the dining table with a patchwork denim fabric bowl.
If you liked this upcycle you might want to check out the gorgeous no-sew denim rug I made out of waistbands. If you prefer something softer under feet then check out my felt rug made from recycled sweaters. There are a lot more no-sew denim projects here.
I have some hand-sewn patchwork denim placemats on the blog too.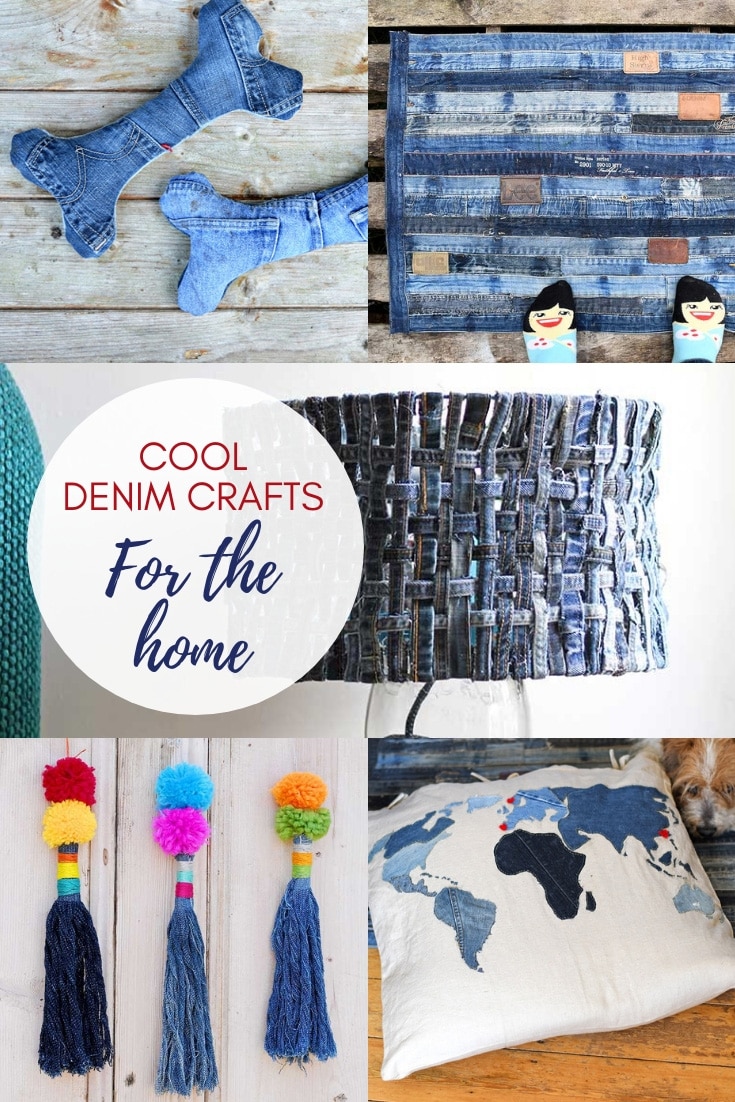 For more denim ideas visit the DIYideacentre.