Inside: A free mug rug pattern and tutorial for hand sewing one out of upcycled denim.
Are you someone who loves to start their day with a hot cup of coffee or tea? Do you find yourself constantly wiping up spills and drips from your mug on your desk or table? If so, a mug rug might be the perfect solution!
A mug rug is a small, decorative mat designed to sit under your coffee or tea mug and catch any spills or drips. Not only is it practical, but it can also add a touch of style and personality to your morning routine. Making your mug rug is a great way to use fabric scraps, get creative, and add a personal touch to your space.
The Fabric Mug Rug Pattern
I love to Netflix and sew, so I designed this mug rug pattern as a hand-sewn project. I used fabric scraps from leftover denim upcycles to make the coasters, as I love the indigo colours of the fabric.
Also, denim is a robust, easily washed fabric. It's sturdy enough for this project. There is no need to add a batting layer. But you can make this fabric mug rug with other fabrics using the same pattern.
The fabric coaster is constructed using an English Paper Piecing method.
English paper piecing is a technique that involves wrapping fabric around paper shapes to create precise and intricate designs. It's a great way to use fabric scraps and create beautiful designs. Combining this technique with denim scraps can create a unique and durable mug rug.
I used the classic hexagon shape for this paper-piecing mug rug pattern; download it here.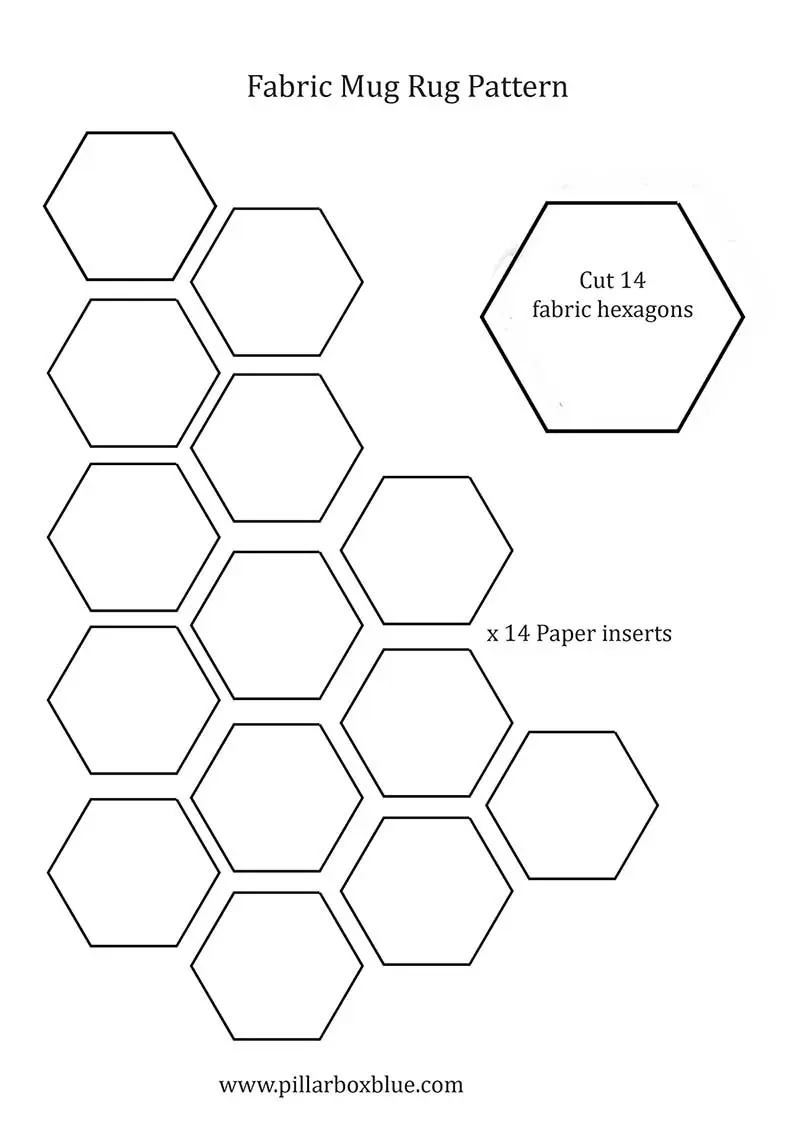 We're a participant in the Amazon Services LLC Associates Program, an affiliate advertising program designed to provide a means for us to earn fees by linking to Amazon.com and affiliated sites. As an Amazon Associate, I earn from qualifying purchases.
What You Need
Denim scraps the leftover from upcycled jeans projects—or other thick cotton fabrics.
Paper hexagon shapes. Cut them from my free mug rug pattern (above), or use a hexagon paper punch.
Thread
Sewing needle
Iron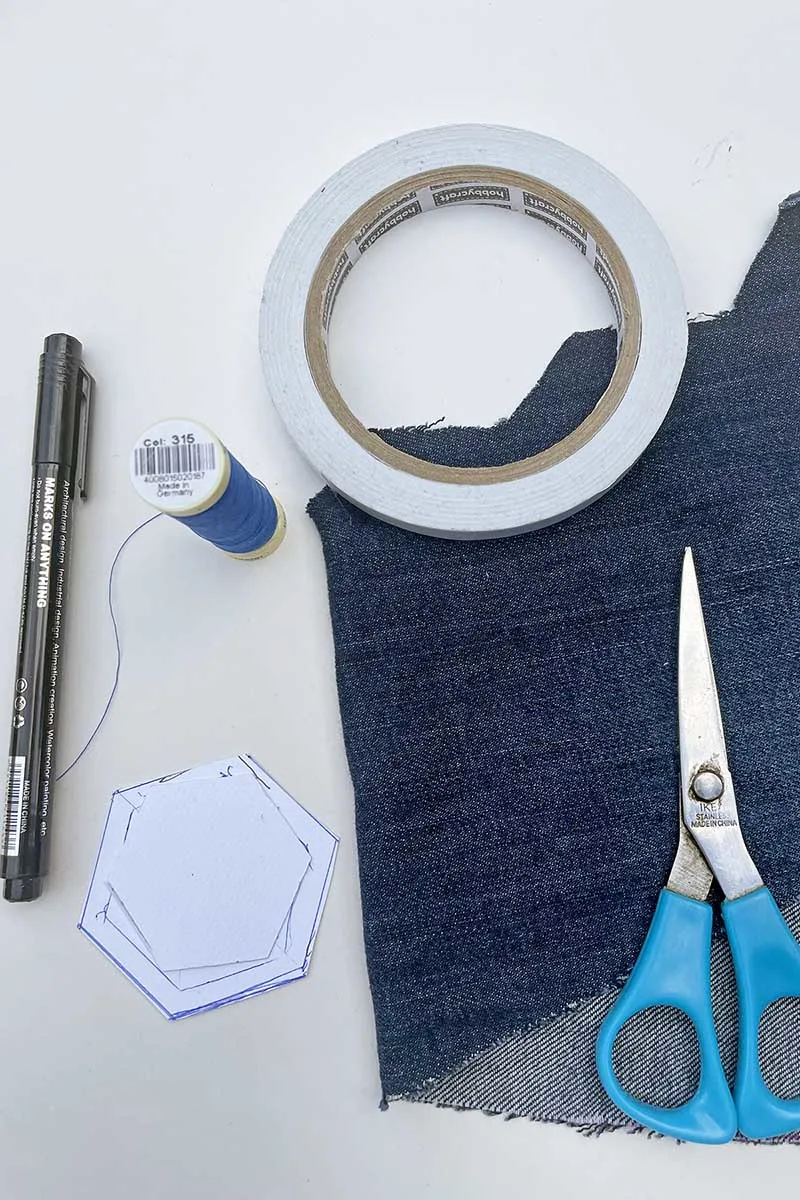 How To Make A Denim Fabric Mug Rug
Step 1: Cut out the paper hexagon shapes. You can use the pattern or a die-cutting machine to create uniform shapes. You will need at least 14 small paper hexagon shapes for a mug rug and one larger hexagon for a template.
Step 2: Cut out your denim hexagons using the larger shape as a template.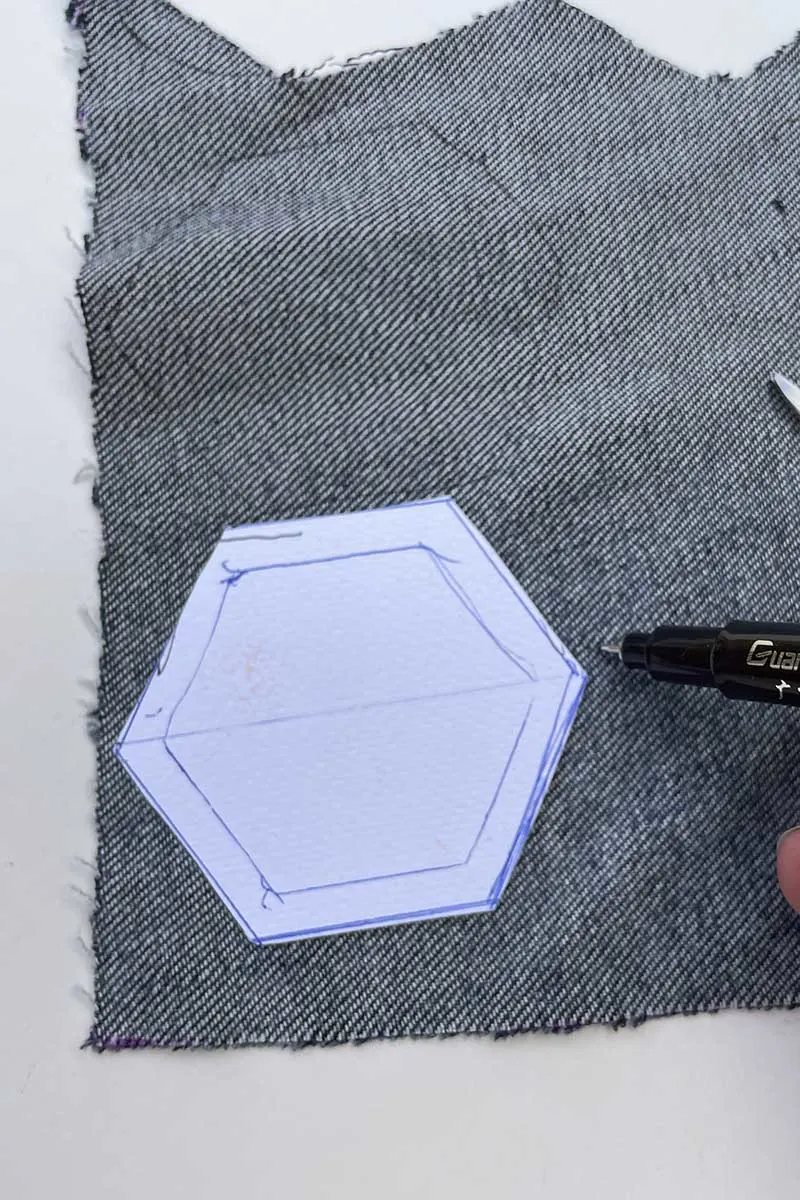 Step 3: Using double-sided sticky tape, place one of the smaller paper shapes in the centre of the denim hexagon wrong side up. You will need 14 hexagons for each fabric coaster.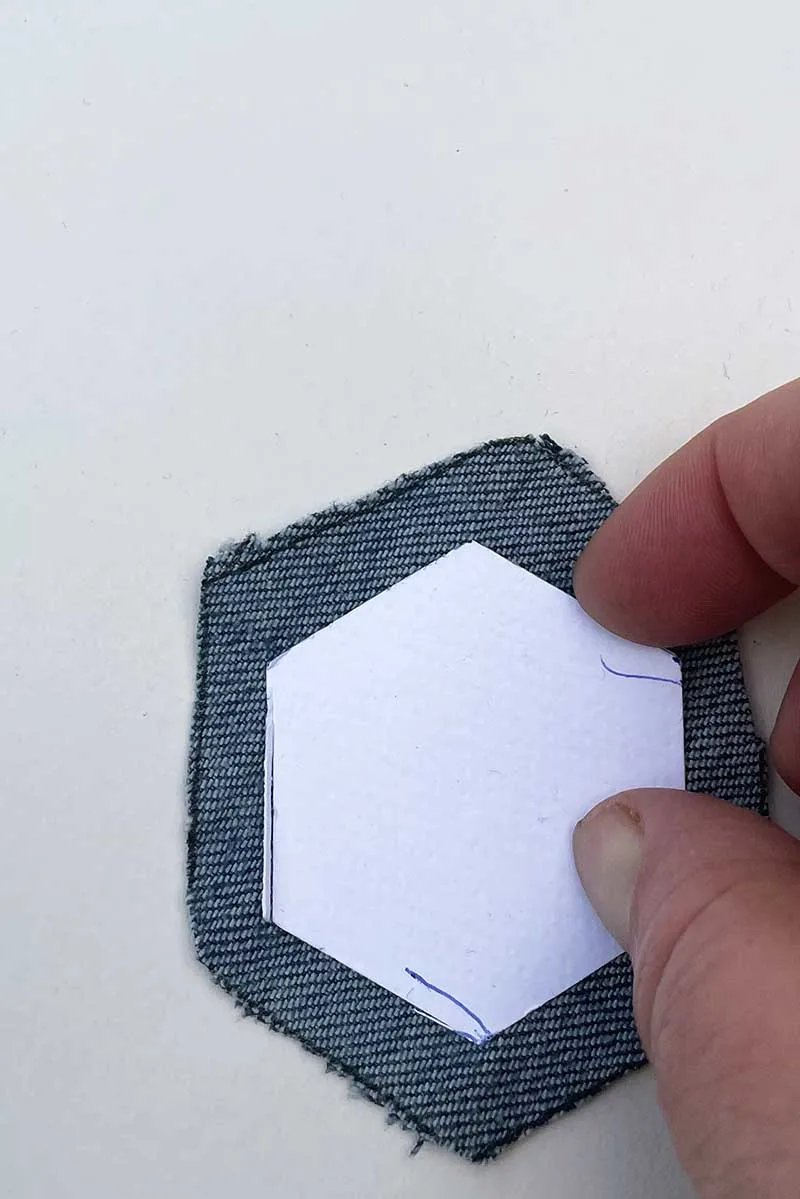 Step 4: Fold the edges of the denim over the paper shape and secure it with a few stitches. Continue folding and stitching around all sides of the shape until it is completely covered in denim. Repeat this process with all of your paper shapes. (Don't stitch into the paper)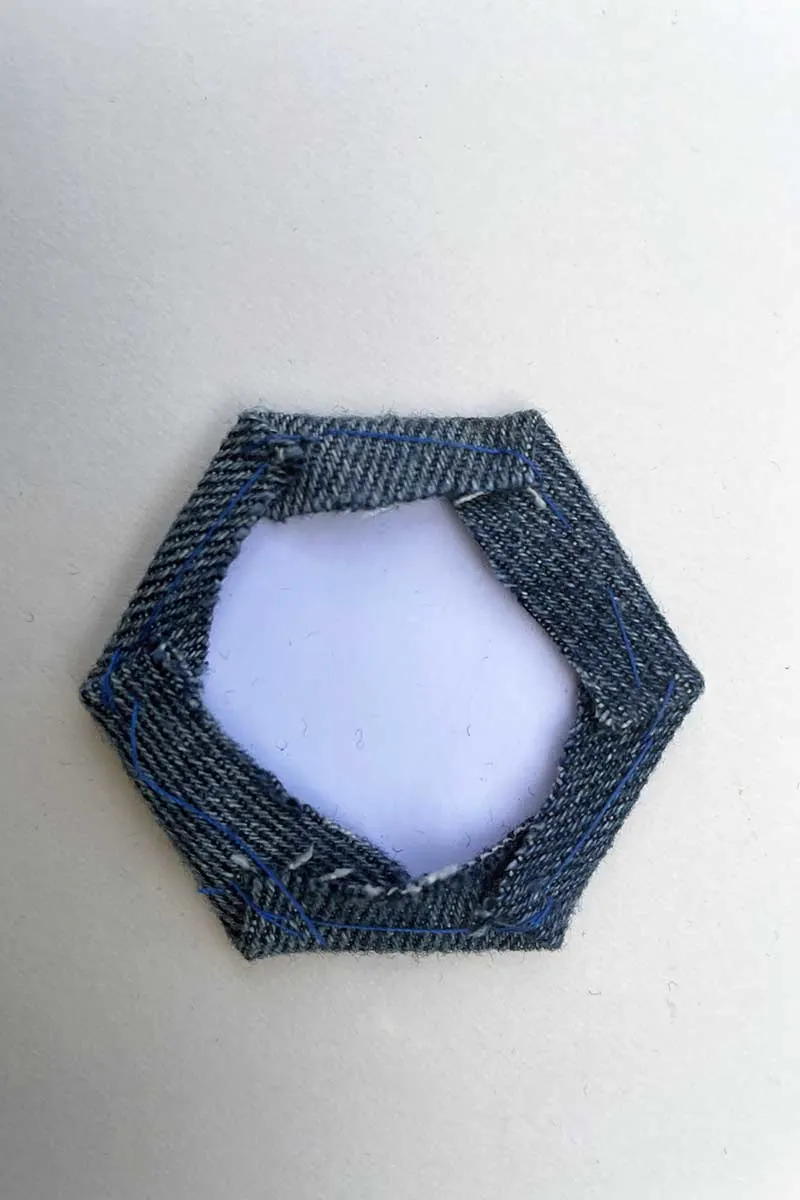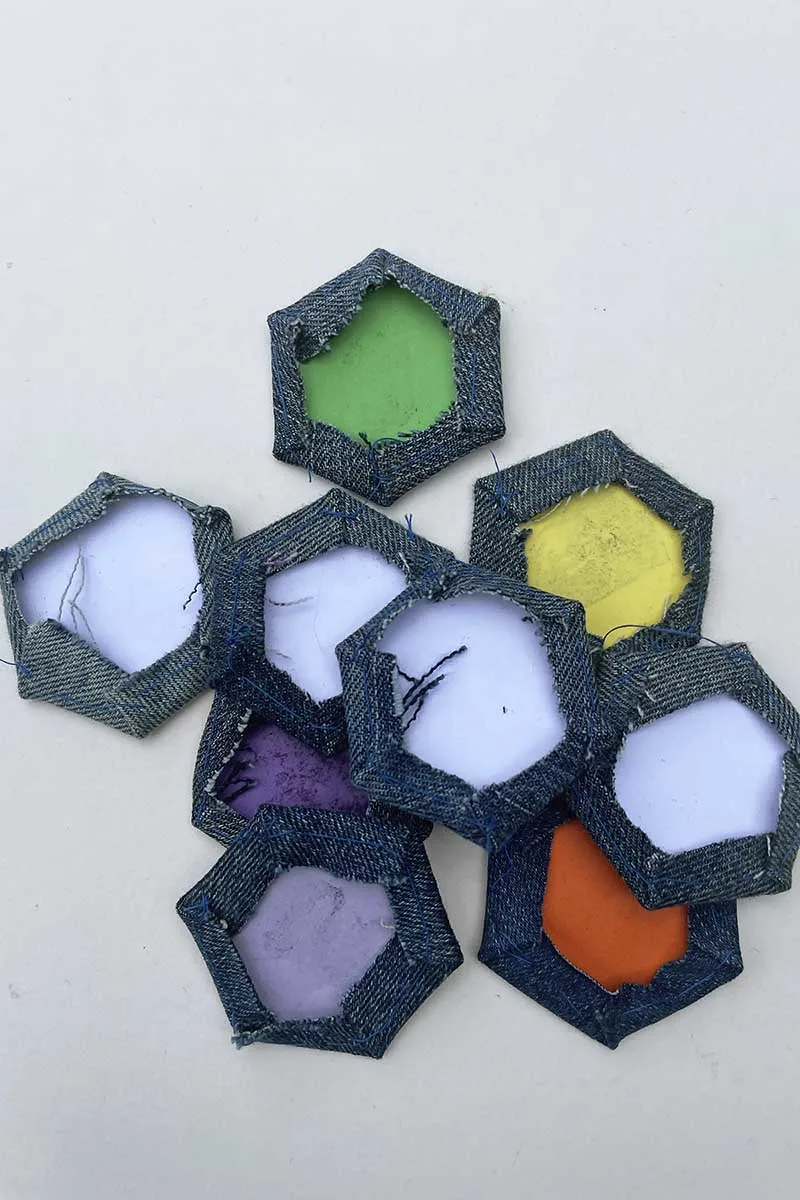 Step 5: Arrange your denim-covered shapes into a six-petal flower hexagon shape, right sides facing up. Hand-stitch them together using a whip stitch, joining the edges of the hexagons together. Continue until all seven shapes are stitched together, forming a hexagon.
You will want two of these hexagon flowers for each coaster.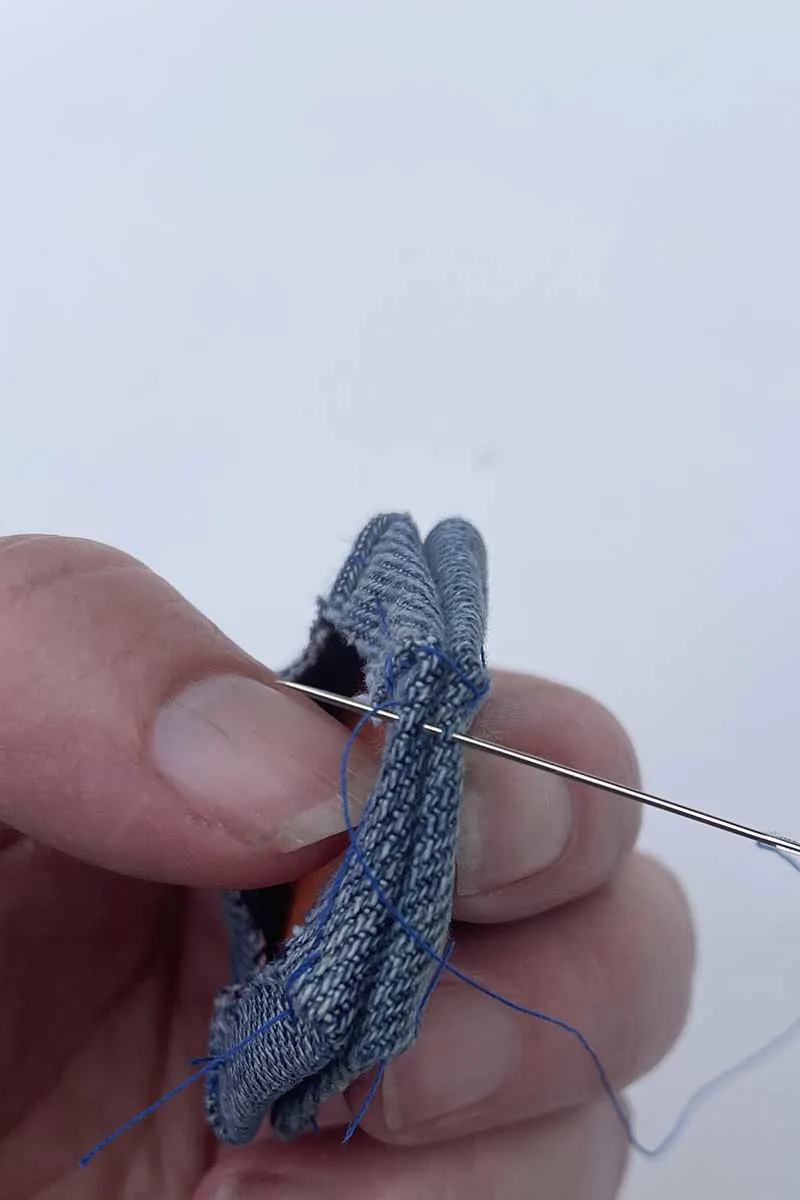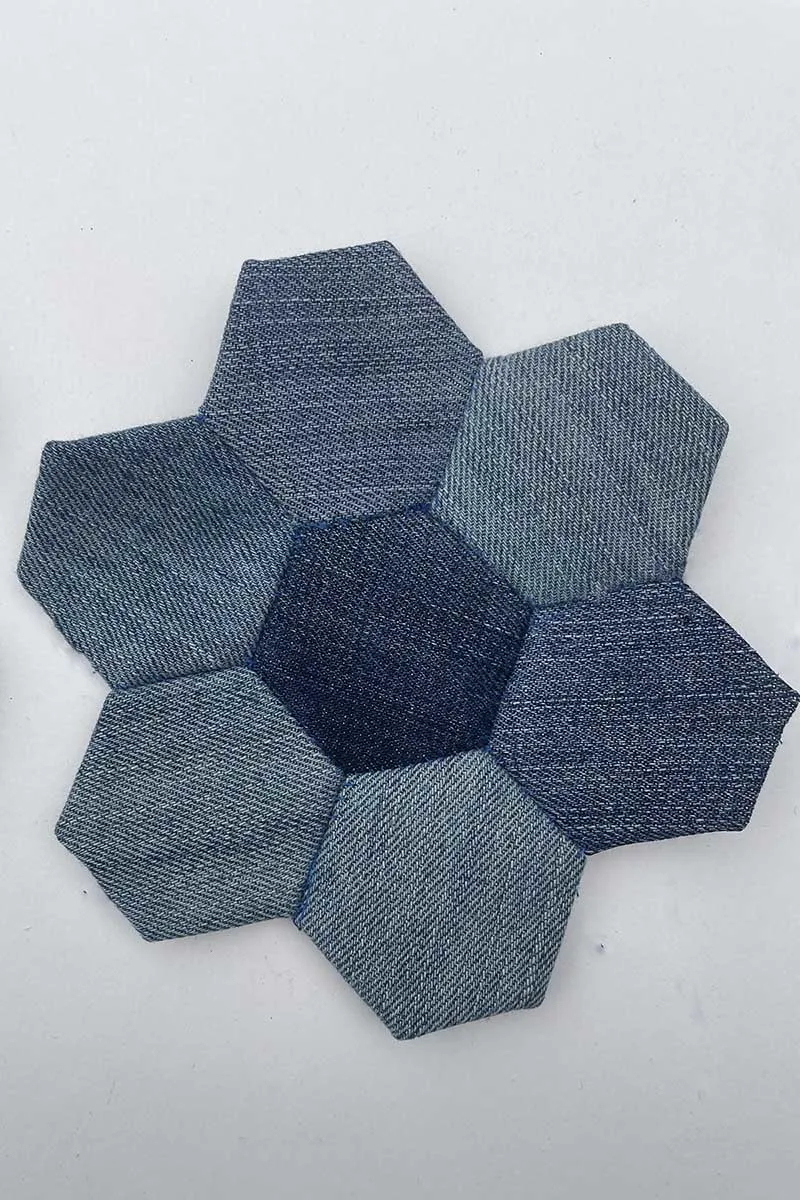 Step 6: Remove the paper shapes from the back of the hexagon by gently pulling them out. Press the mug rug with an iron to flatten any wrinkles.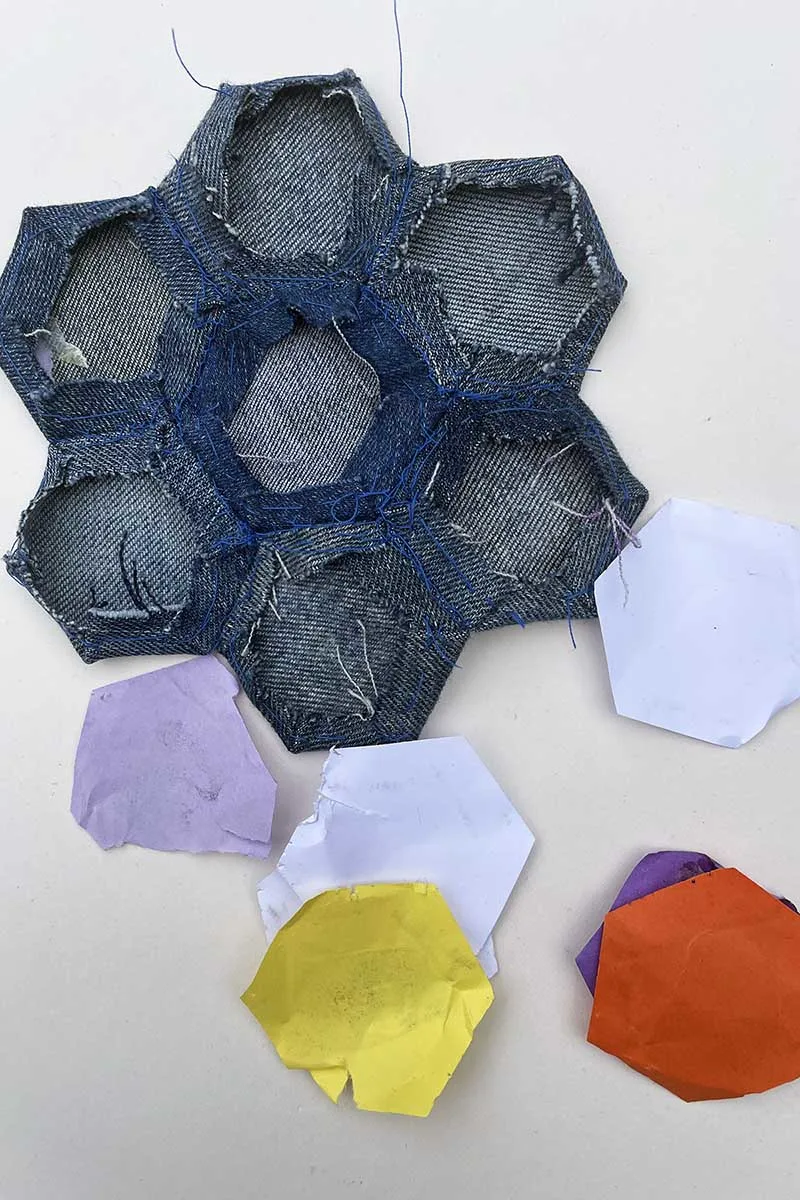 Step 7: Pin the two denim hexagons' right sides together. Then stitch around the edges using a simple whip stitch. Leave a gap of two hexagon sides. Turn the mug rug right side out and stitch up the hole.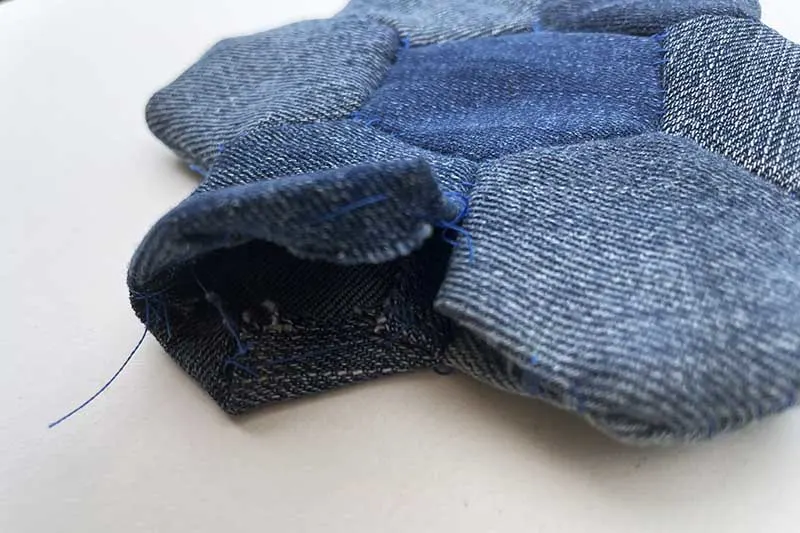 The Finished Mug Rug
And that's it! Using the English paper piecing technique, you now have a unique and durable mug rug made from denim scraps.
Upcycling fabrics like old shirts and skirts can make more colourful and patterned mug rugs. These fabric coasters would make for a lovely man's handmade gift, especially if you use their old jeans or shirt to make them.
Using larger hexagons with this pattern, you can easily make matching placemats.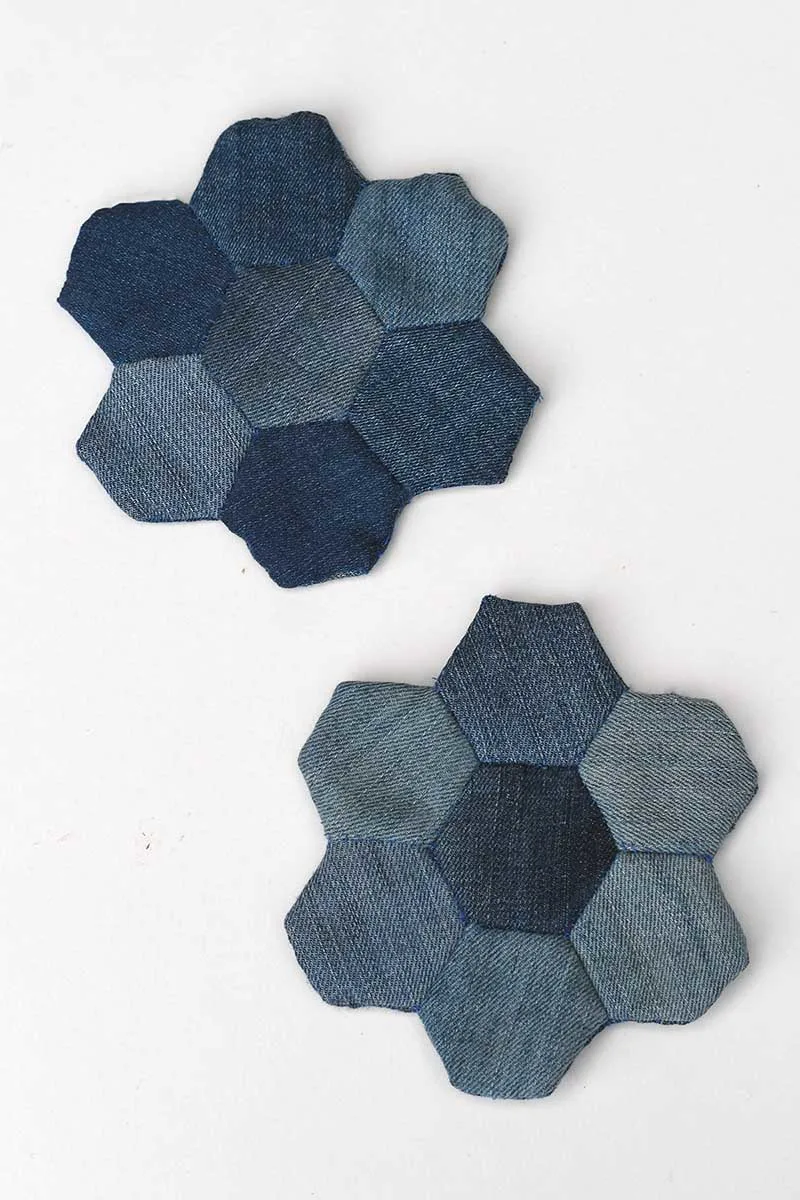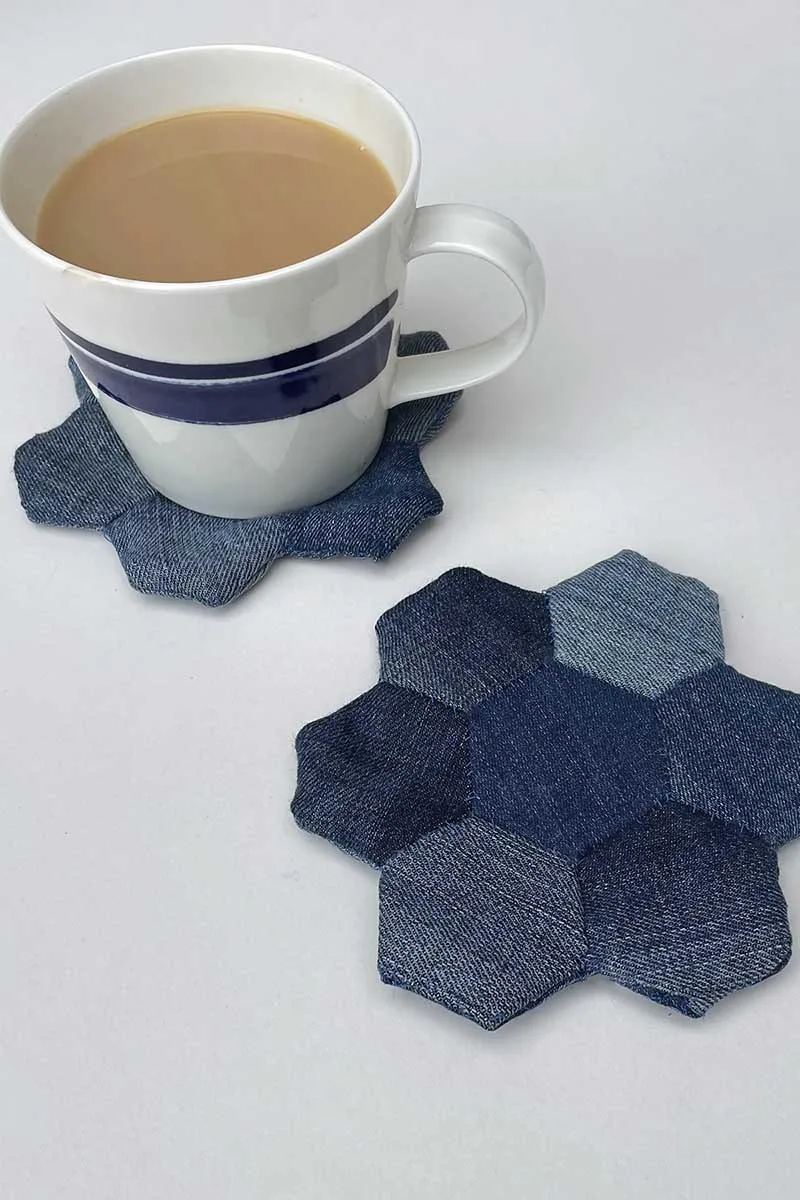 These cute mini denim rugs would also make excellent plant pot mats. Make bigger mats, use bigger hexagons or add more hexagons to your design.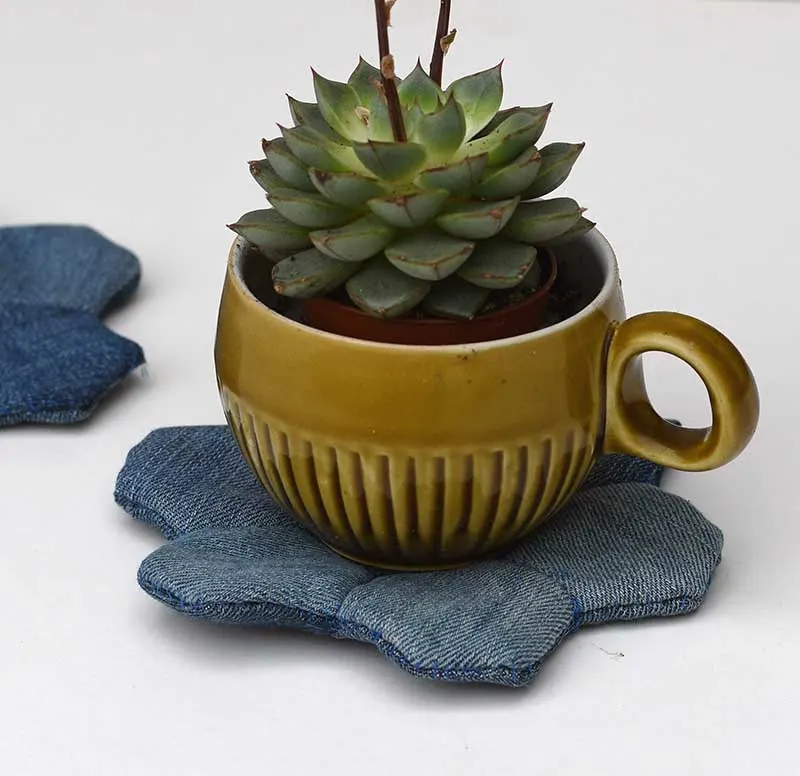 Other DIY Mats and Coaster Ideas
If you are looking for more mug rug patterns, some festive ones are in this round-up of Christmas sewing projects.
Check out these other denim sewing projects if you still have plenty of fabric leftovers to upcycle.
If you don't fancy a bit of Netflix and sewing but are keen to make a handmade fabric coaster, check out these no-sew denim coasters and upcycled fabric placemats.
However, if you enjoy denim patchwork and want a bigger project, check out these stunning denim patchwork chairs made with English Paper Piecing. There is even a hexagon-shaped rug in this collection of DIY denim rugs.
Other projects to check out are: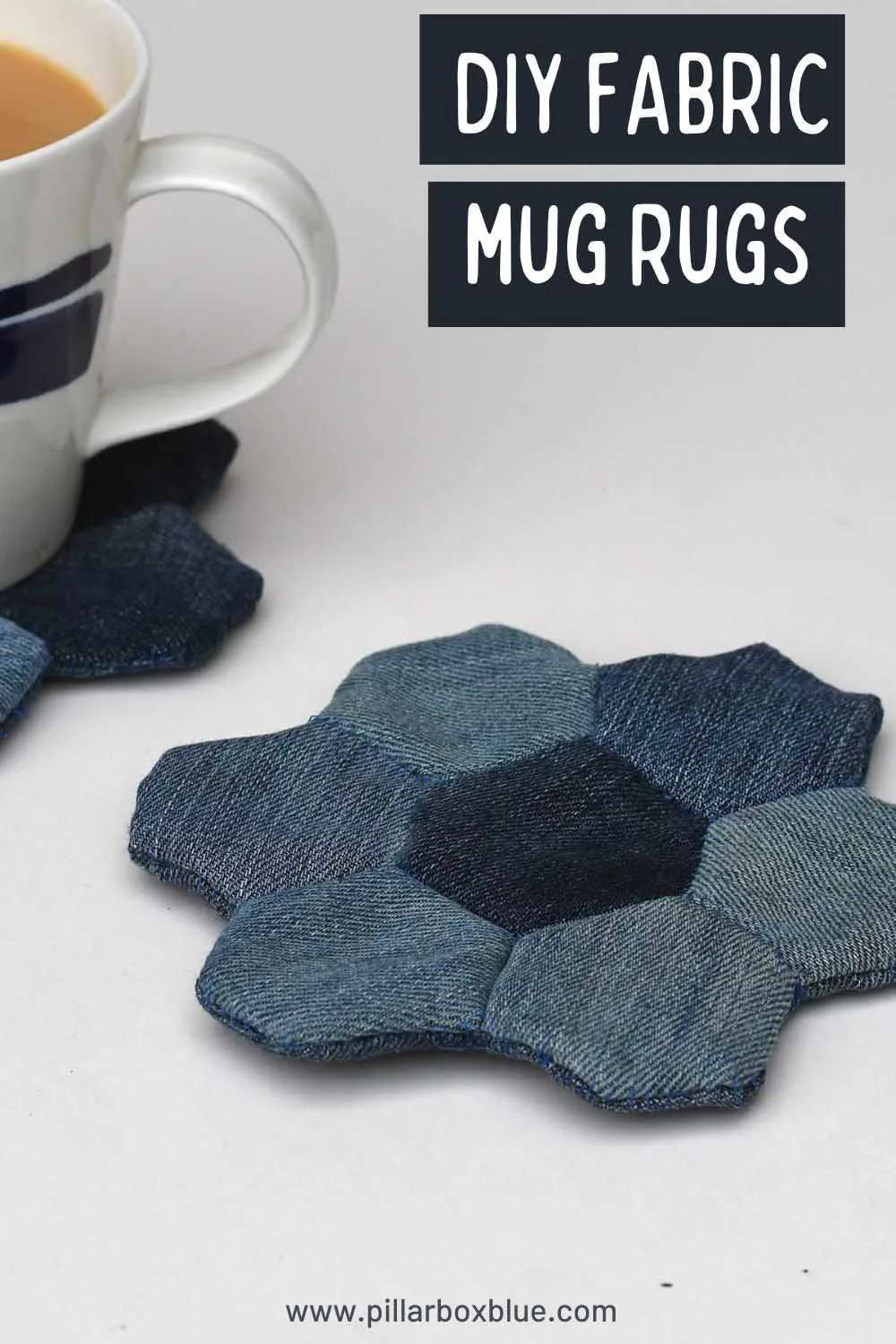 Yield: Makes a denim mug rug
How To Make A Fabric Mug Rug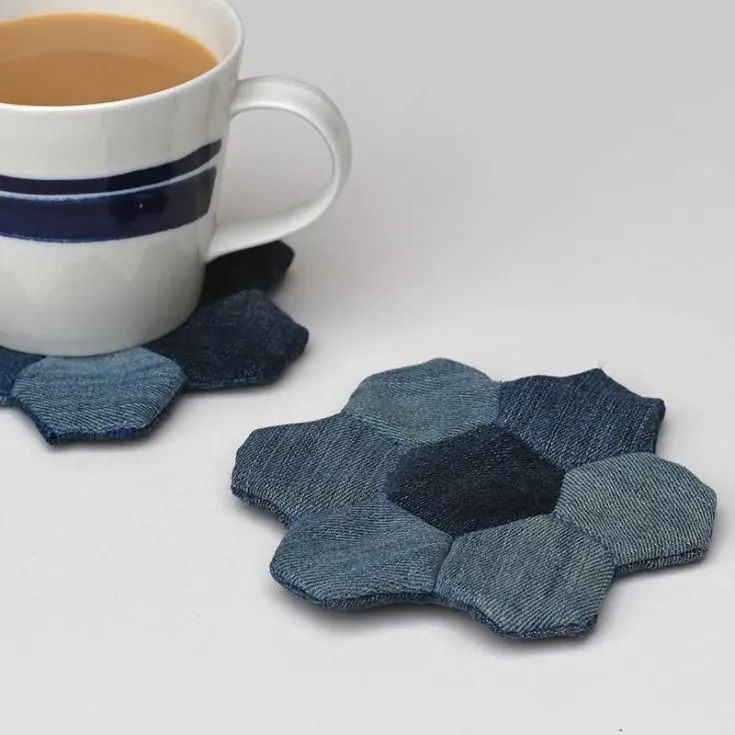 Download this free pattern to make a fun denim mug rug fabric coaster using an English paper piecing technique. This is a fun hand-sewing project suitable for beginners.
Total Time
2 hours
20 minutes
Materials
Denim scraps or other heavy cotton fabric scraps
Free pattern and hexagon template from the blog
Double-sided sticky tape
Tools
Needle and thread
Fabric scissors
Instructions
Print out the hexagon mug rug pattern template and cut out all the hexagon paper shapes.
Draw around the large hexagon template on the denim fabric and cut out 14 shapes.
Using the double-sided sticky tape, stick a small paper hexagon into the centre of the denim on the wrong side.
Fold over the denim edges around the hexagon paper and stitch them in place with a simple tacking stitch. (Don't stitch through the paper). Carry on until you have 14 denim hexagons.
Wipstich seven hexagons together until you have a flower shape. Repeat with the other seven denim hexagons.
Remove the paper shapes from the denim hexagon flowers.
Pin the two denim flowers' right sides together and stitch around the edges. Leave two edges open and turn the mug rug's right sides out. Then sew it closed along those two remaining edges.