The other day when I was on one of my morning runs, I spotted the cutest bunny. The rabbit did not seem to be bothered by my presence. It let me get close before it finally hopped away.
Spotting the cute bunny made me smile. It put a "spring" step into the rest of my run. When I got home, I decided that I was going to craft a cute spring bunny.
I've made an Anthropologie-inspired rabbits head for my wall in the past and an upcycled bunny pillow for the couch. This time it was going to be a bunny for the mantle.
If bunnies are your thing, there is also a collection of wonderful vintage Easter bunny illustrations here to print.
A Simple DIY Spring Bunny From Scraps For Your Mantle
As with most of the crafts I make, I wanted to make the spring bunny out of stuff I already had.
I spotted a lovely old rusty bed spring and thought that would make a great body. I went hunting for a wooden ball to use as a head.
Unfortunately, the bed spring was far too big for the wooden ball. That's when I decided to make a spring to size. I just used some old wire I had lying around in the garden.
The recycled little spring bunny turned out great. He has a rustic farmhouse vibe, as he's predominantly made from upcycled materials.
I'm still hunting for a bigger wooden ball to make another spring bunny, this time with the rusty bed spring. Sometimes you can get large wooden balls that have been used to top newel posts.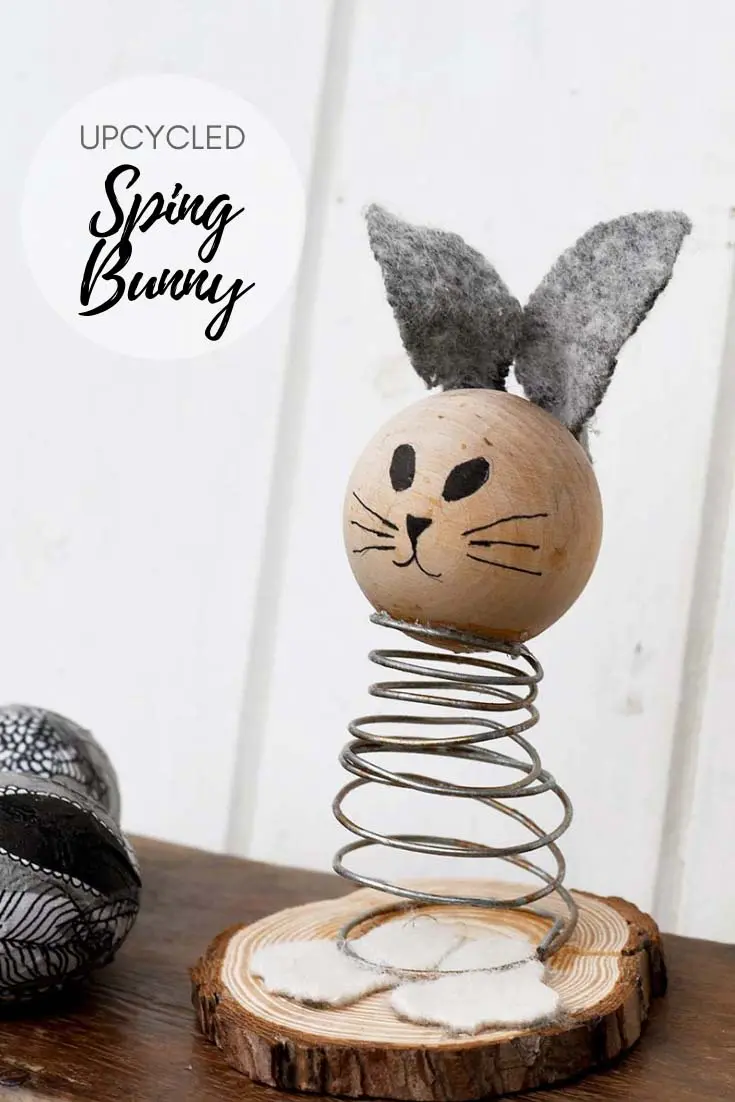 We're a participant in the Amazon Services LLC Associates Program, an affiliate advertising program designed to provide a means for us to earn fees by linking to Amazon.com and affiliated sites. As an Amazon Associate, I earn from qualifying purchases.
What you need to make an upcycled spring bunny
Old spring or wire to make one. You could even use a wire coat hanger.
Large wooden ball – the one I used was about 6-7 cm in diameter
Wood slice – 10- 12 cm in diameter
Scrap pieces of felt in grey and cream. I used some sweater felt scraps I had left over from other upcycles.
Superglue gel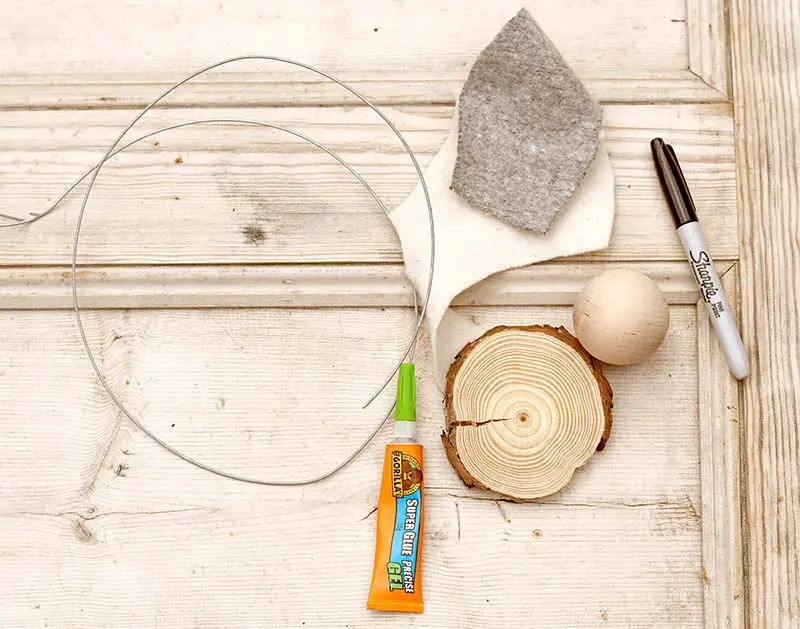 How to make the upcycled bunny rabbit
Step 1: The first thing to do is to make a spring if you don't have one of the right size. I used the neck of a large beer bottle for this, as I wanted a tapered spring. Simply wrap the wire tightly around the neck of the bottle to make the spring.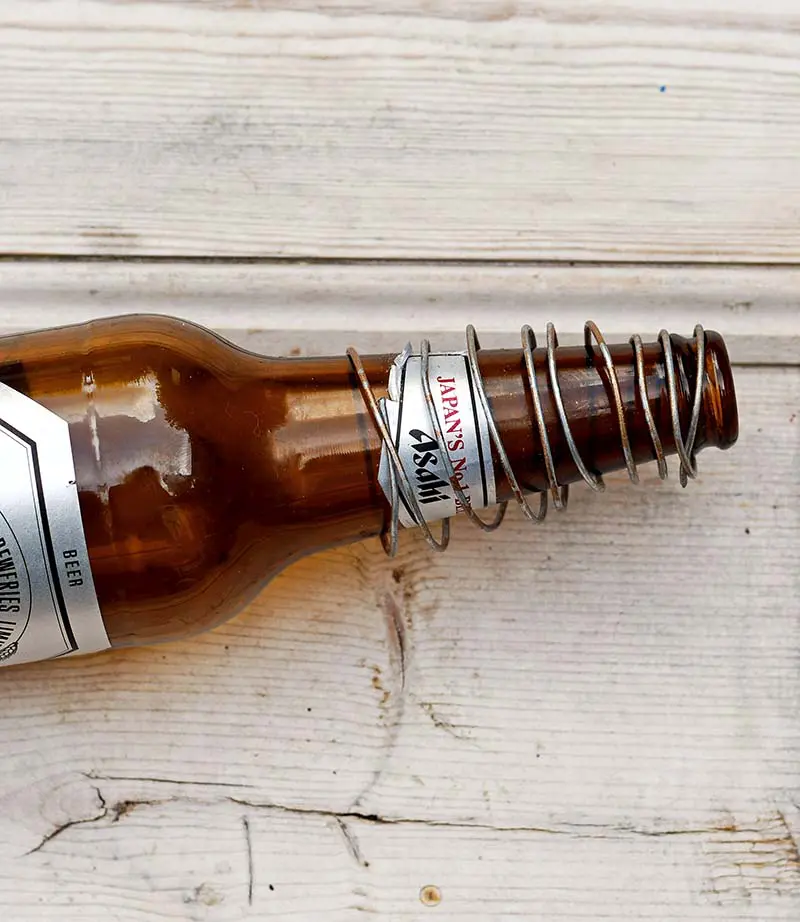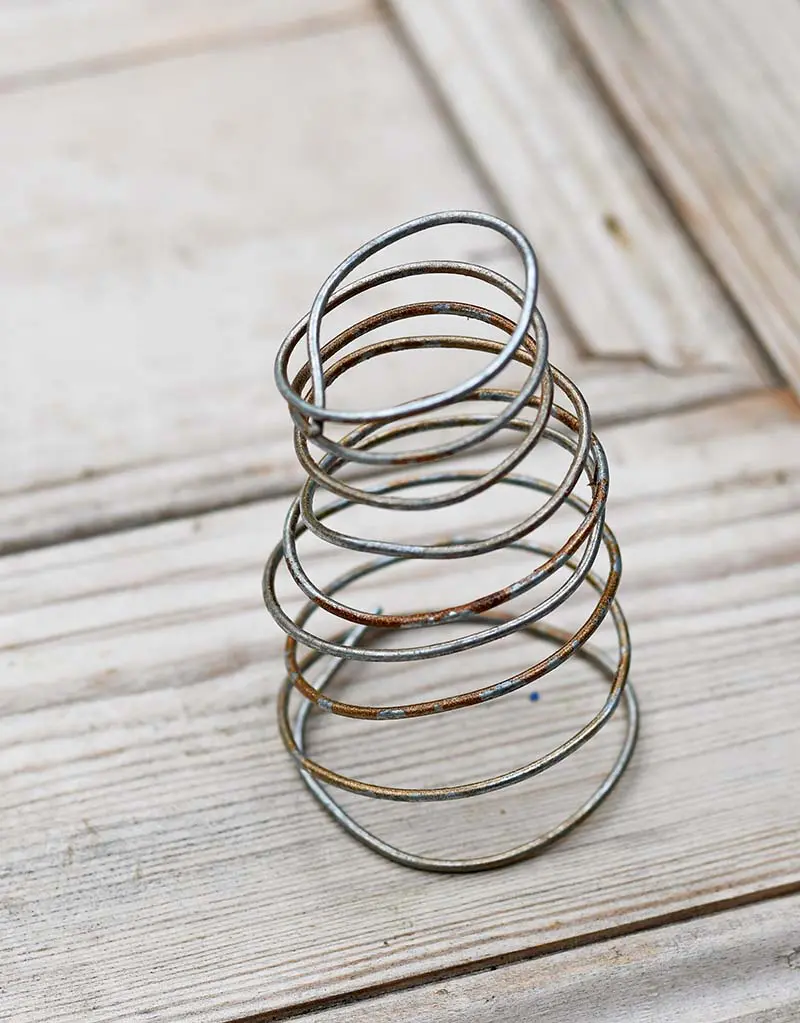 Step 2. The next thing to do is to cut out bunny ears from the grey felt and bunny feet from the cream felt.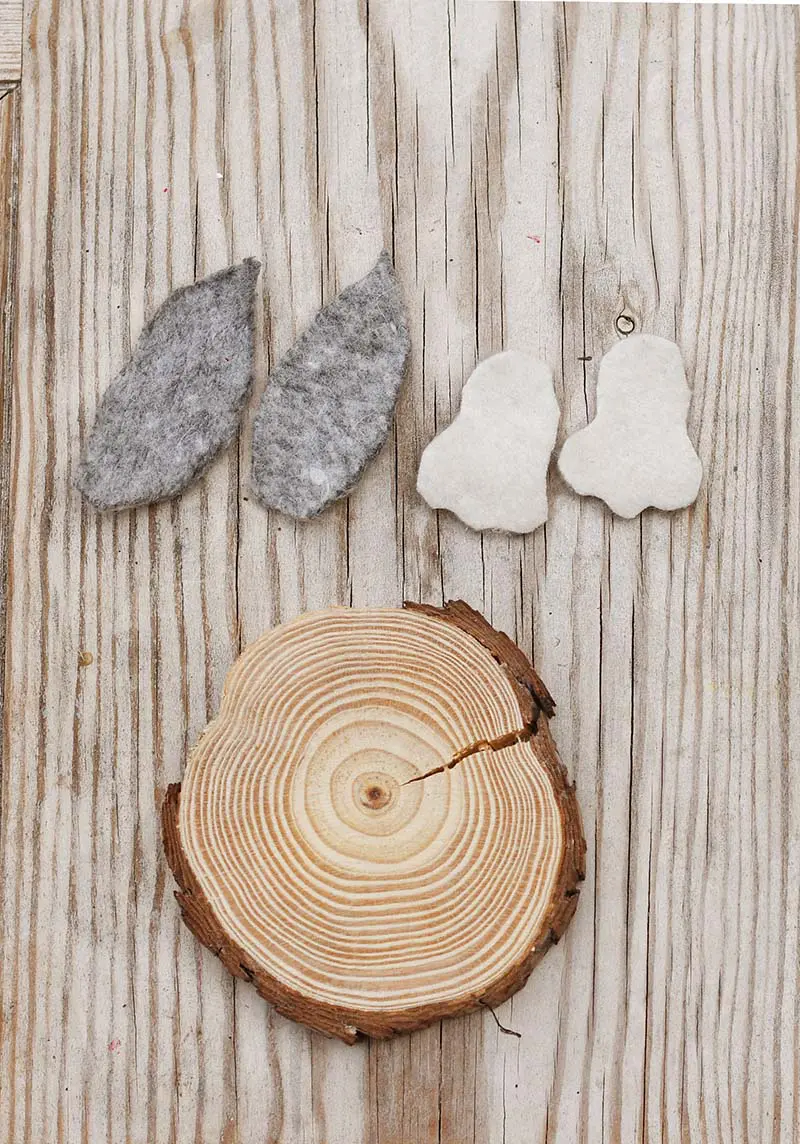 Step 3. Then, glue the feet to the wood slice for the base of the bunny spring, like in the picture below.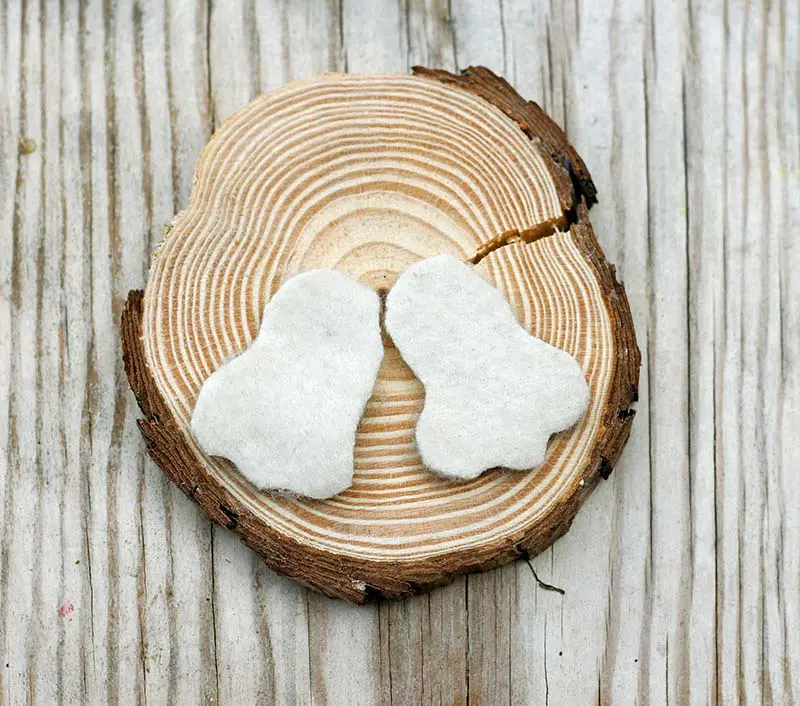 Step 4. Draw the bunny's face onto the wooden ball using a black sharpie. If you are not confident with your drawing ability, you can draw the face in pencil first.
Then, when you are happy with the face, go over the pencil lines with the permanent marker. Finish off the head by glueing on the bunny ears.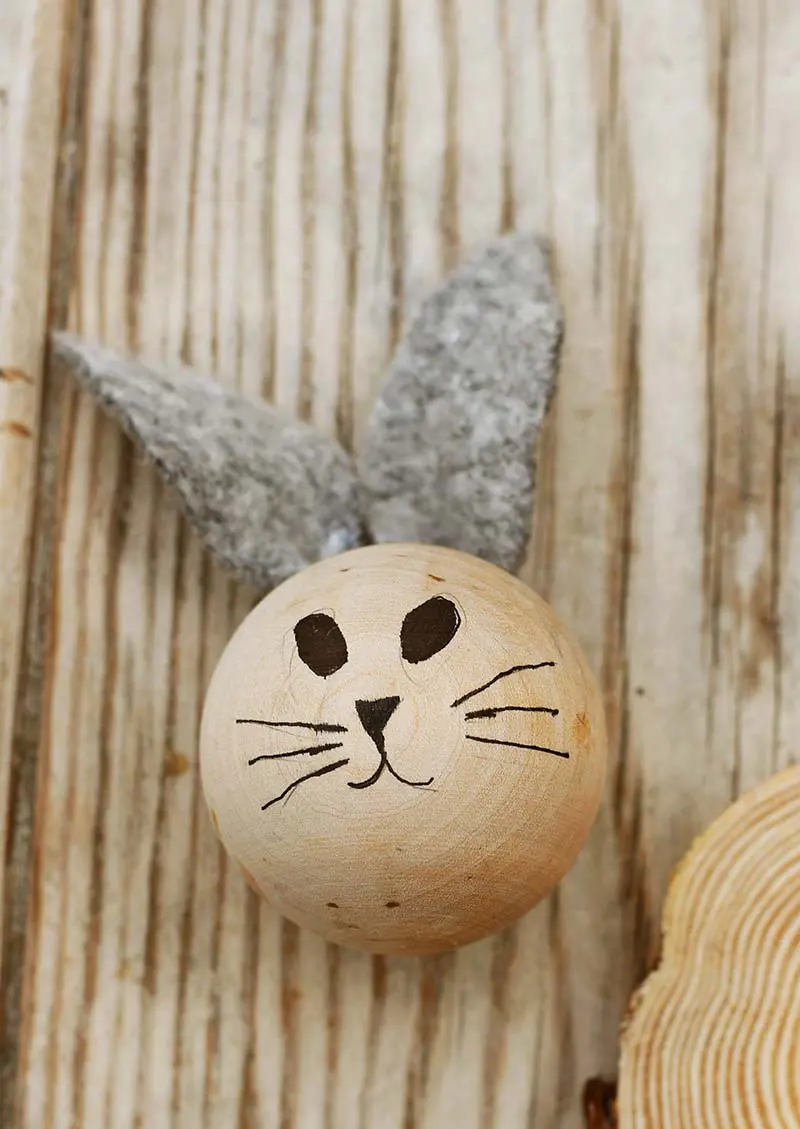 Step 5: Finally, glue the wooden ball head to the spring using the super glue gel. Then, glue the spring to the wood slice base.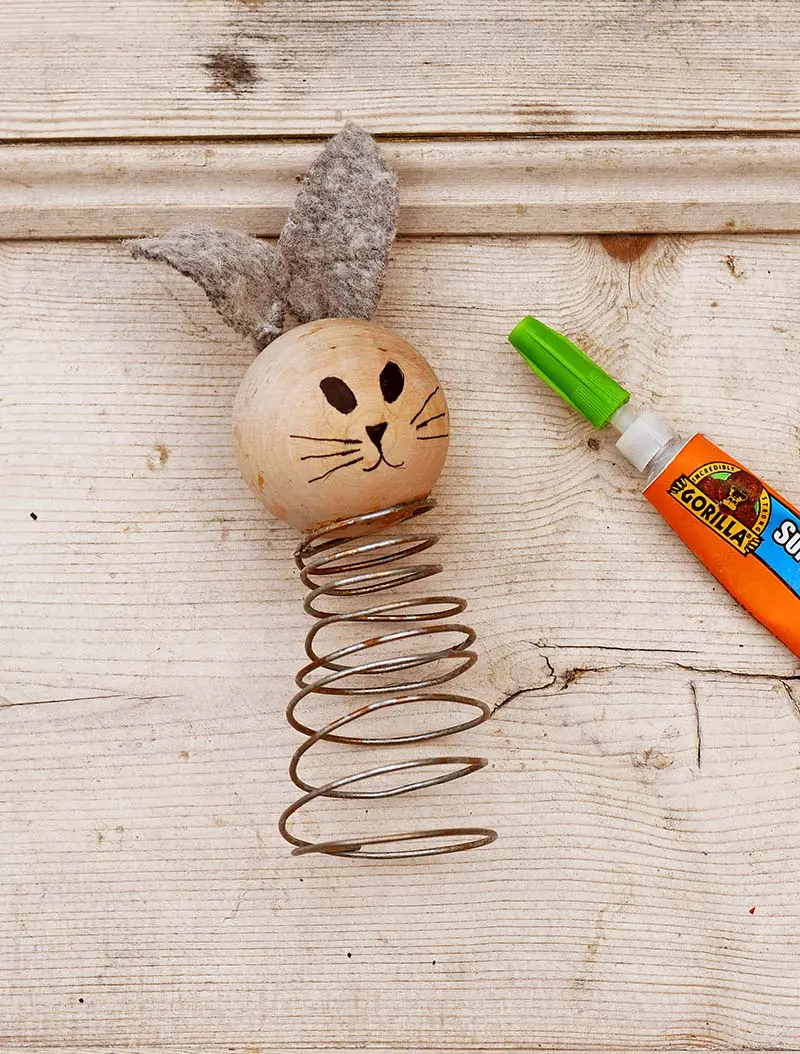 This spring bunny is a great addition to my mantle. I can't resist giving him a little nudge every time I walk. His little head wobbles for a while at the end of the spring.
A bit like those nodding dogs people used to have in the back of their cars.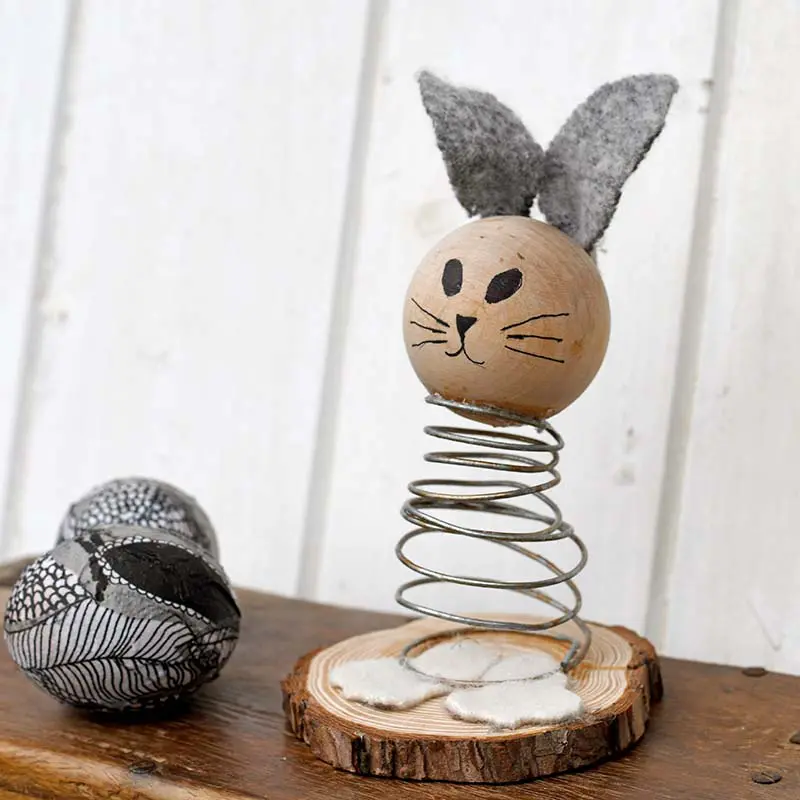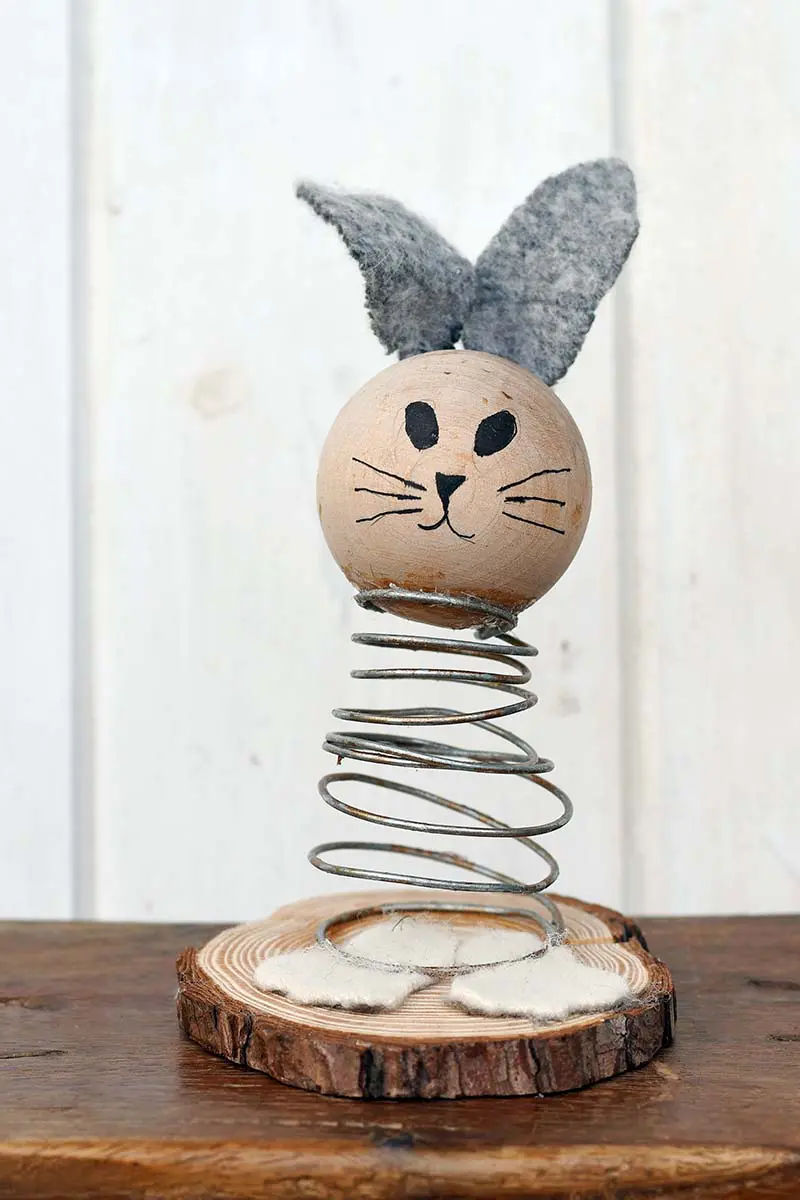 I can't wait to make another one of these spring bunnies with my large bedspring. I keep checking skips/dumpsters for a round wooden topper from a newel post. Hopefully, I'll find one soon.
Where I live, the streets are full of old Victorian houses, and there are always a few on each street being renovated. This means lots of skips/dumpsters for rich pickings.
I have used old bits of wire with my other Easter crafts, such as these gorgeous spring fabric birdcages and a decoupaged Easter egg wreath.
If you like this, you may want to check out my other upcycled spring crafts.
Also, there are some fabulous vintage Easter postcards here that you might be interested in. For more bunny crafts, visit allfreeholidays.com