These denim applique heart pockets are fun to use as little gift bags for Valentine's day and other occasions, such as Mother's Day and Birthdays.
The reverse heart applique technique I used here is straightforward to do. And even though this project involved a small amount of hand stitching, it is possible to make the denim pocket gift bags without sewing.
There are many fun ways to upcycle denim pockets. I've made a few excellent denim storage items with pockets, including a large denim pocket wall organizer I made years ago for my son.
With this craft, I used one denim pocket for each gift bag. But what makes these cute denim gift storage bags unique is the reverse applique heart.
Besides the back pockets from an old pair of jeans, all you need are some fabric scraps, which makes this a very affordable craft. The heart pockets are also effortless to make.
We're a participant in the Amazon Services LLC Associates Program, an affiliate advertising program designed to provide a means for us to earn fees by linking to Amazon.com and affiliated sites. As an Amazon Associate, I earn from qualifying purchases.
What You Need To Make Applique Heart Pockets
Back pockets from an old pair of jeans
A small square of scrap cotton fabric – I used some Liberty print scraps, but you could use some material from an old patterned shirt. Fabrics with a small pattern print work best, and if the pockets are for Valentine's day, then red or pink patterns would be even better.
Heart shaped cookie cutter and pen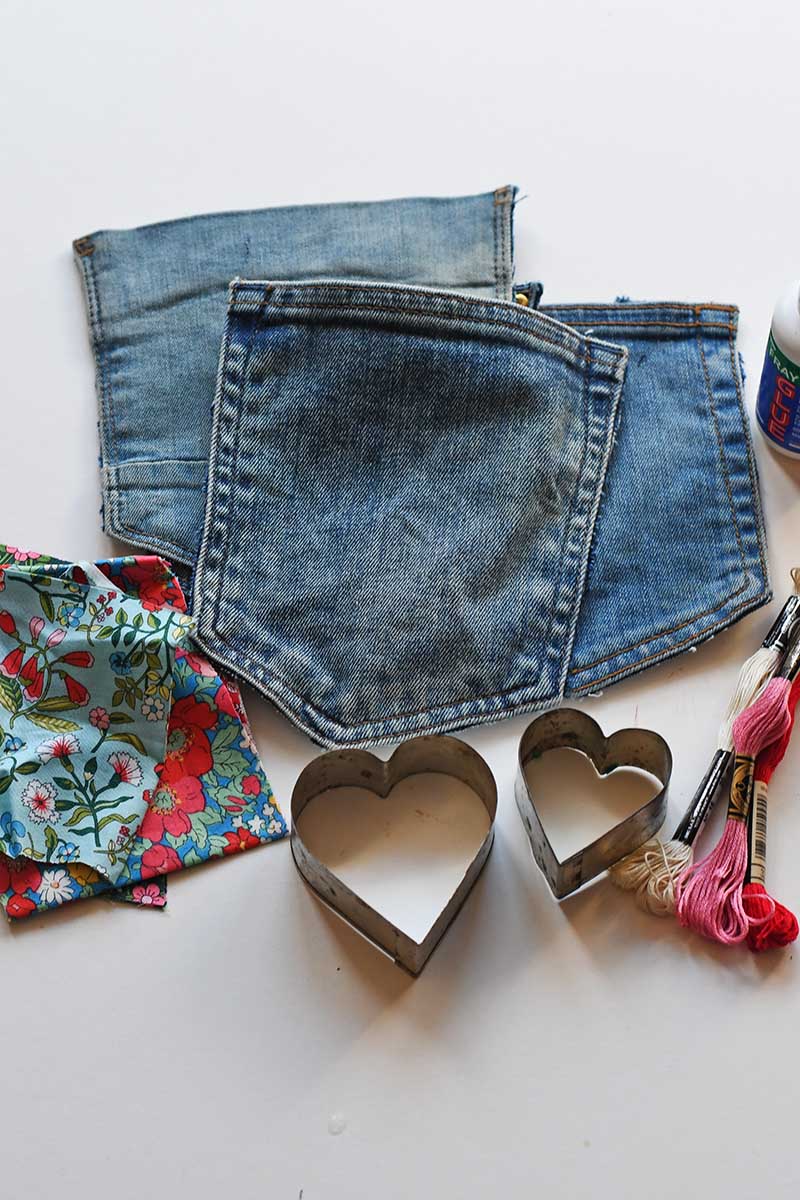 How To Make The Cute Valentine's Heart Pockets
Step 1: Cut out the back pockets from old jeans. Cut as close to the seam of the pockets as possible. Cut the whole pocket, front and back, so the pocket is kept intact.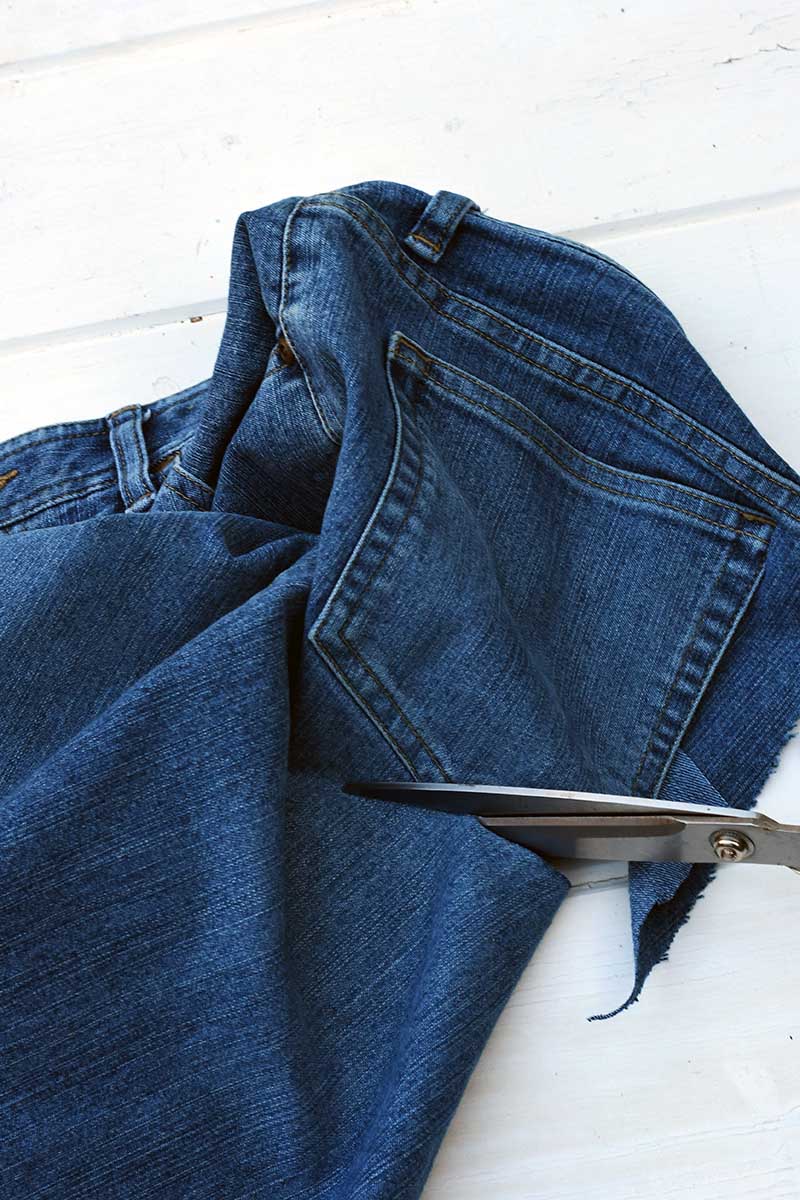 Step 2: Next, turn the pocket inside out. Then place a heart-shaped cookie cutter in the centre of the pocket and draw around it with a pen. The size of the cookie cutter you use will determine the size of the heart applique. A standard heart cookie-cutter should be fine.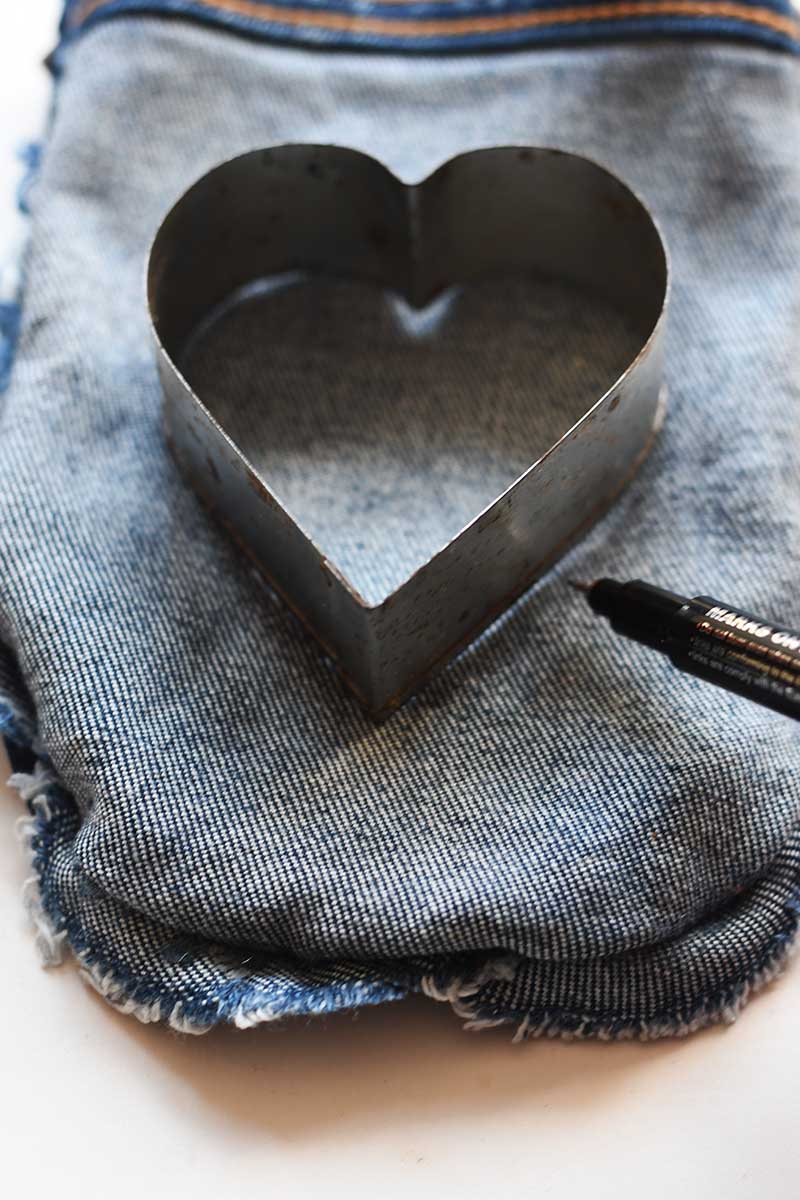 Step 3: Denim fabric frays easily. To stop my denim hearts from fraying, I applied a thin layer of Fray Stop glue around the edge of the drawn heart. If you don't have Fray Stop glue, other fabric glues should work just as well.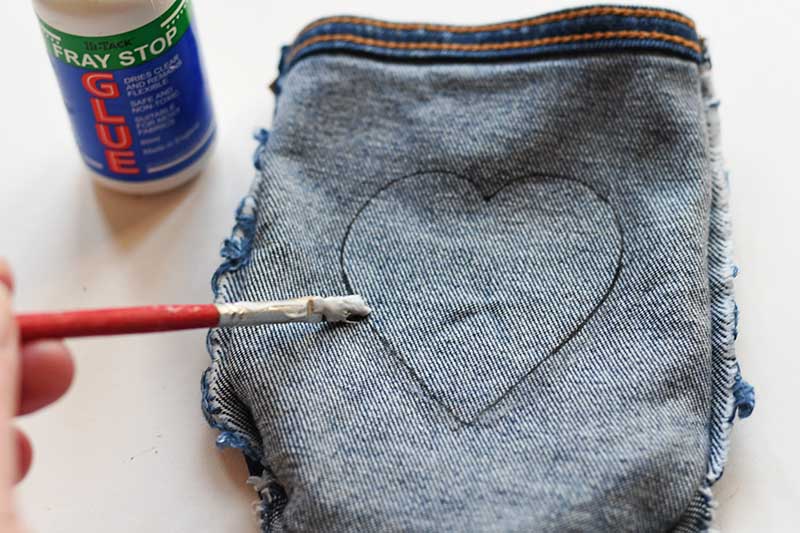 Step 4: Once the glue has dried (about 20 mins), carefully cut out the heart from the centre of the pocket. This should be easy to do with a pair of small sharp scissors.
Top Tip: Don't discard the heart cut out; it can be used to make cute denim heart keyrings or these cool hanging denim decorations.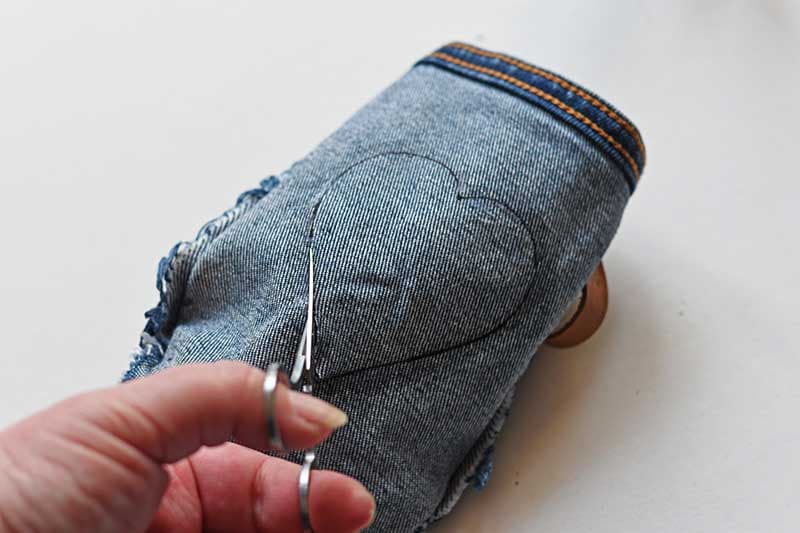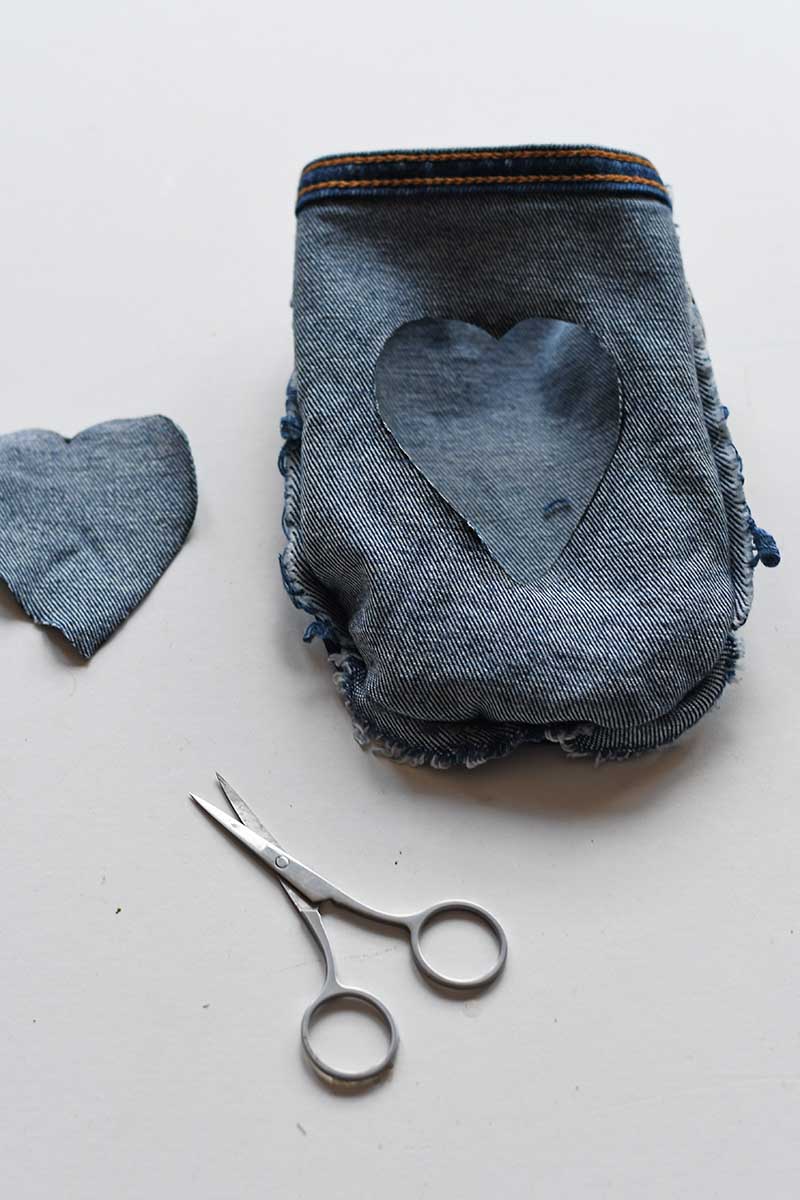 The Reverse Applique Heart
Step 5: Cut a small square of scrap fabric slightly larger than the cutout heart. Iron on some fusible interfacing on the back to stiffen the fabric scrap. Follow the instructions that come with the interfacing.
Top tip: Stiffening the scrap fabric is not essential, but it does make the craft more manageable and the applique heart more robust.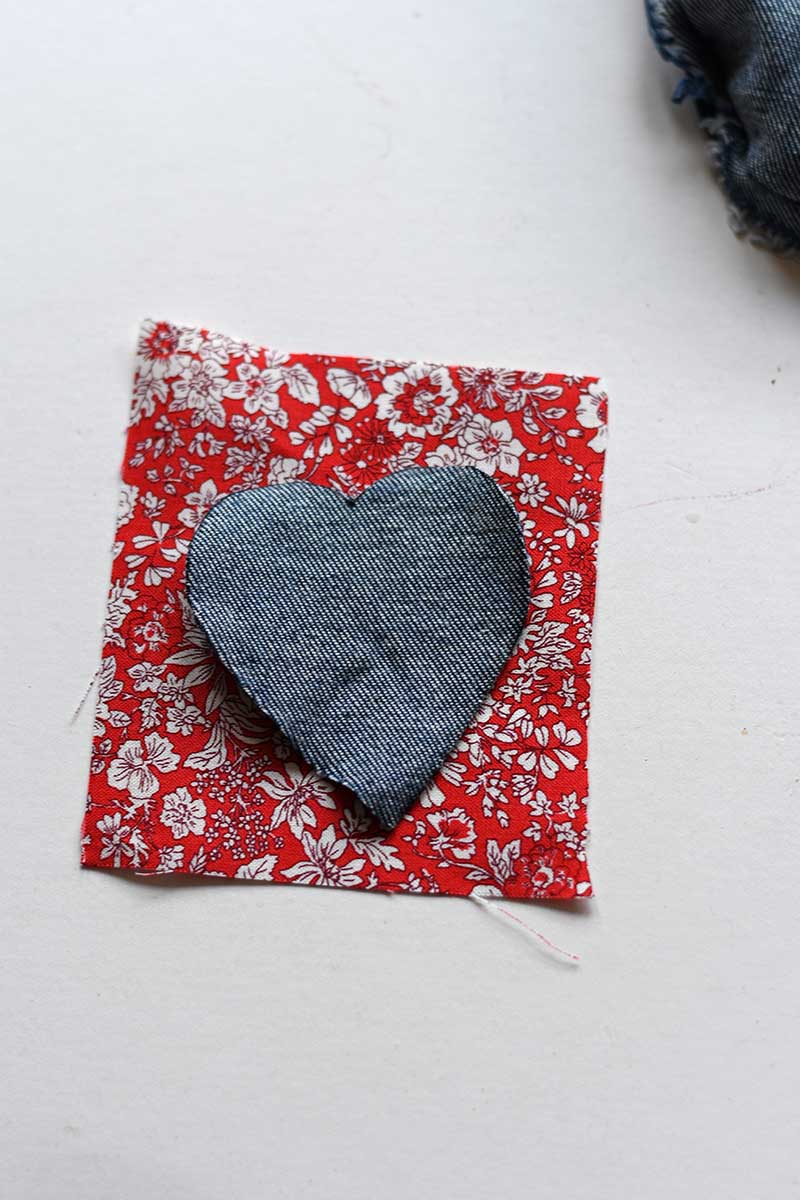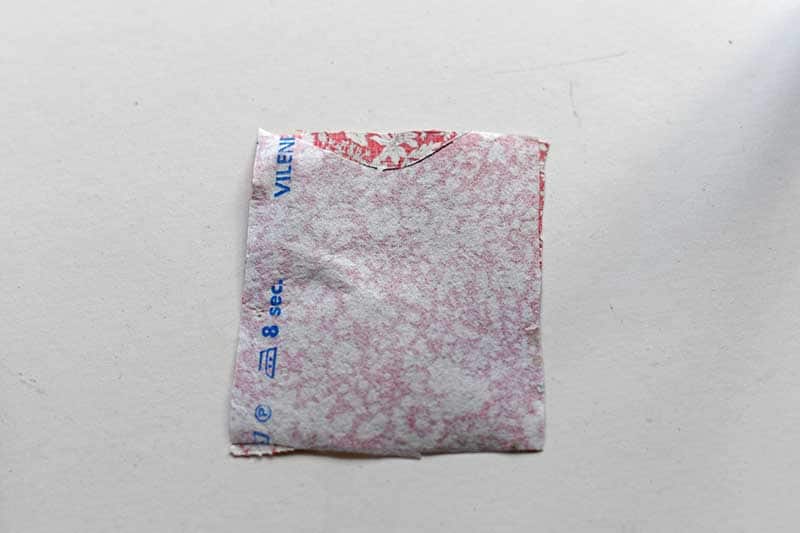 Step 6: Next, turn the cutout denim pocket the right way around. Then place the stiffened fabric inside the pocket covering the heart hole. Pin the fabric in place.
Top Tip: If you don't want to do any sewing, you can glue the fabric square in place and miss out on the next stage.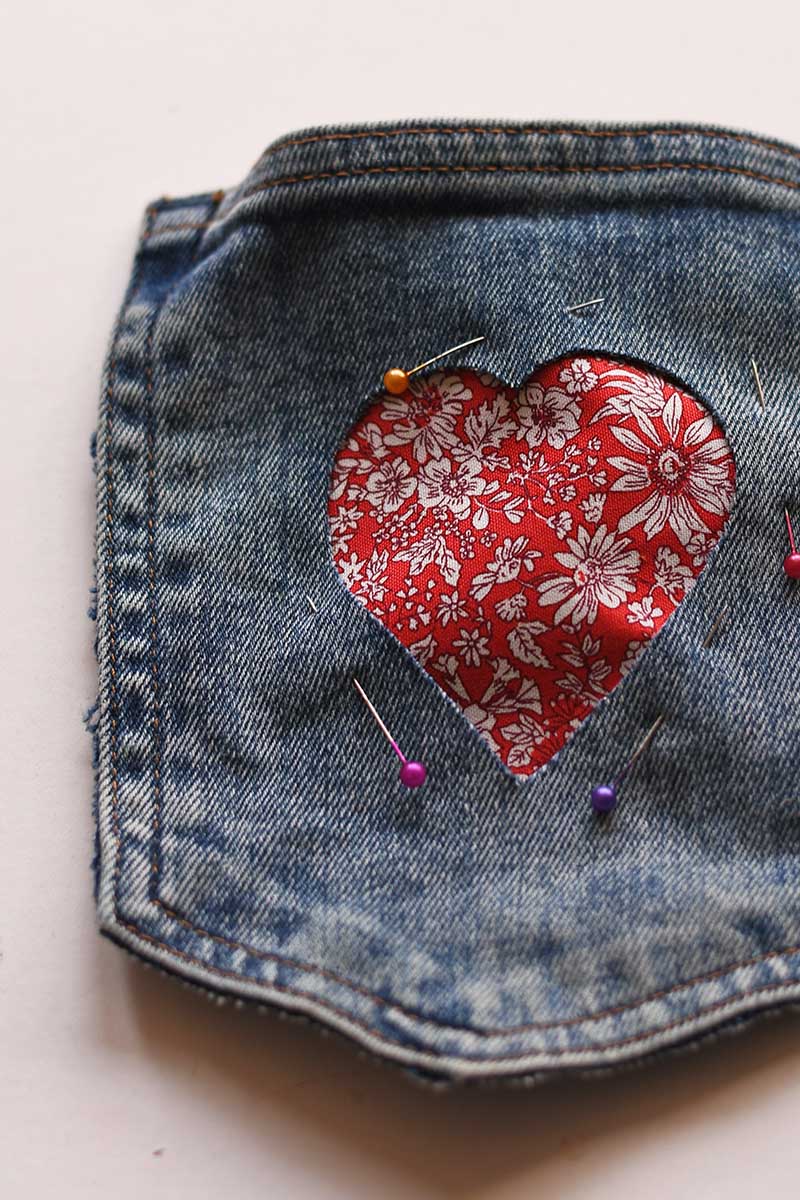 Step 7: Next, stitch the reverse applique heart in place. Use embroidery thread and a needle with a decorative blanket stitch for this. I used the full six strands of the embroidery thread.
It helps to keep one hand in the pocket to keep it open as you blanket stitch. This will ensure you don't accidentally sew both sides of the pocket together.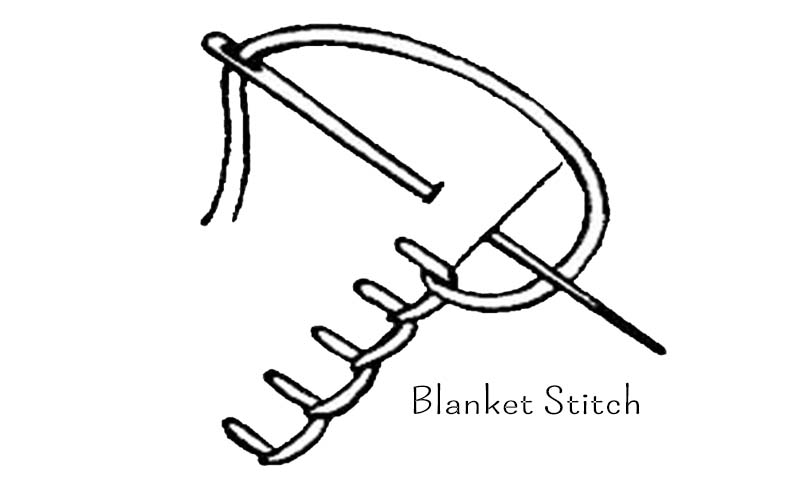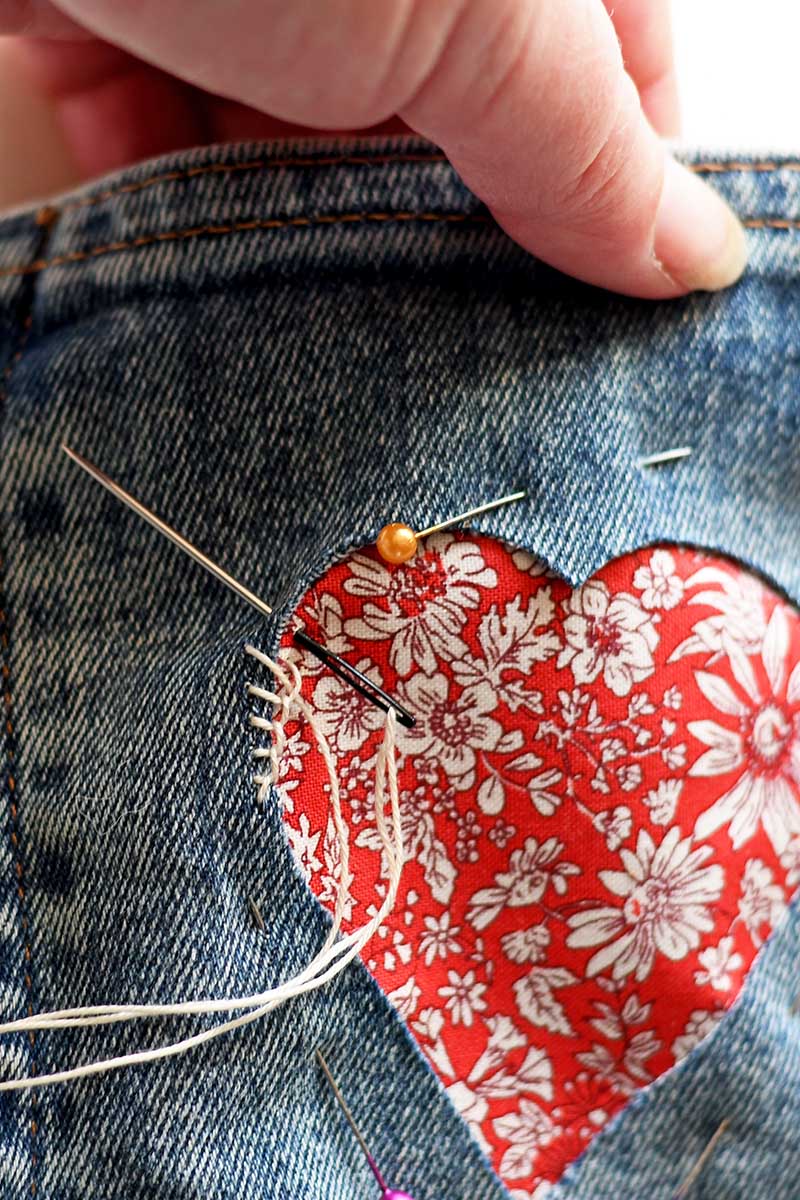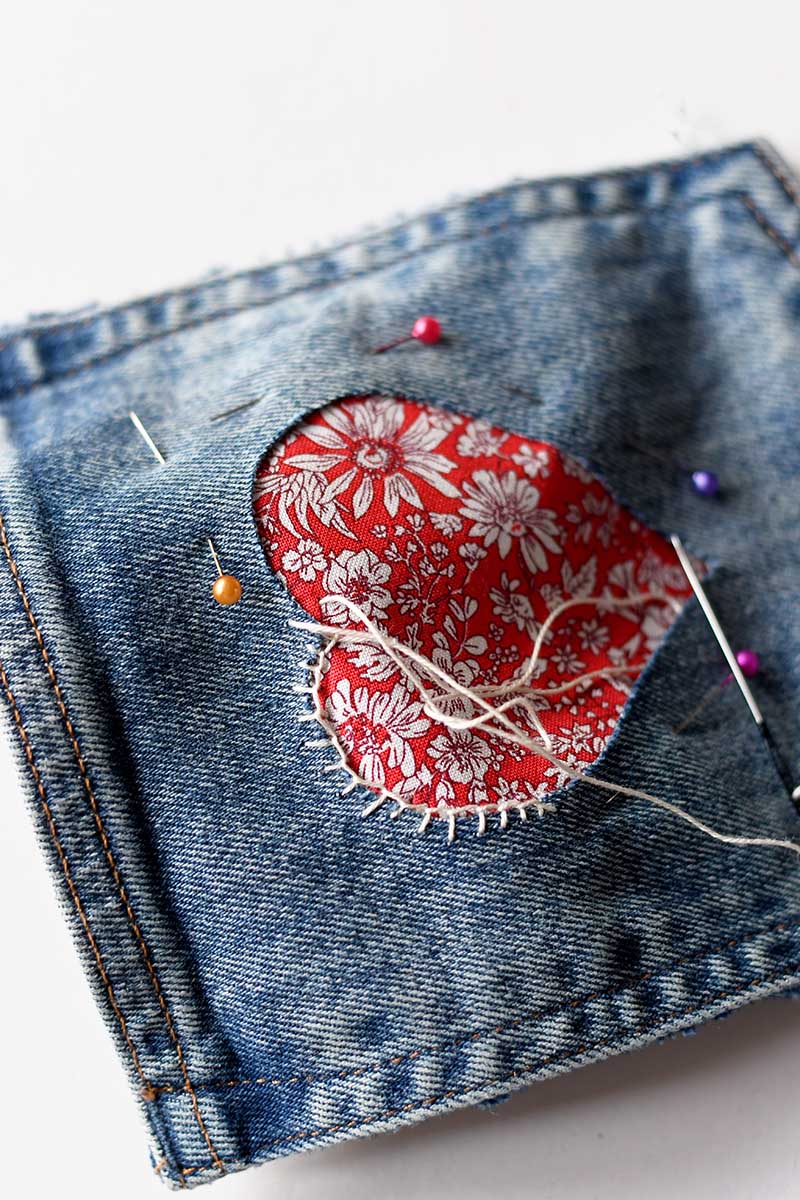 Step 9: When the stitching is finished, turn the denim pocket back inside out. Then cut away any of the excess applique fabric.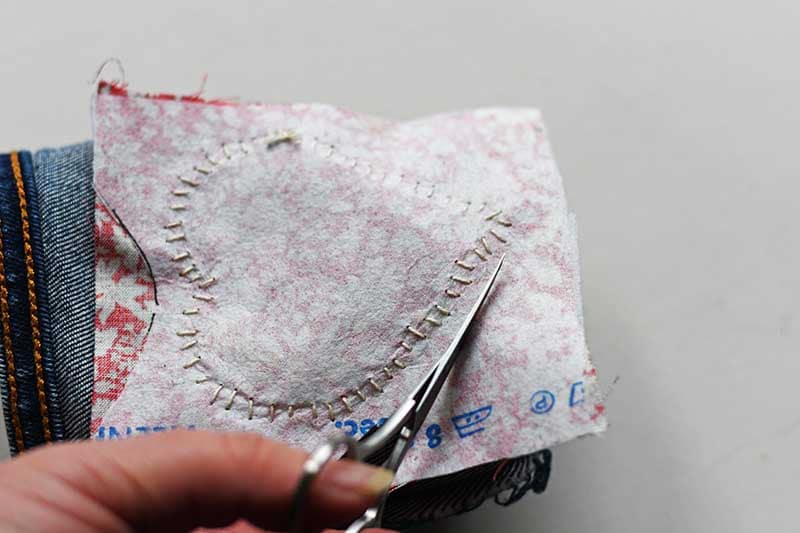 Step 10: Next, turn the pocket back to the right way and add a small hanging strap. Small strips of leather, denim seams or ribbon can be used for the straps.
If using leather, attach the straps with an eyelet punch, just like I did with my embroidered hanging pocket storage.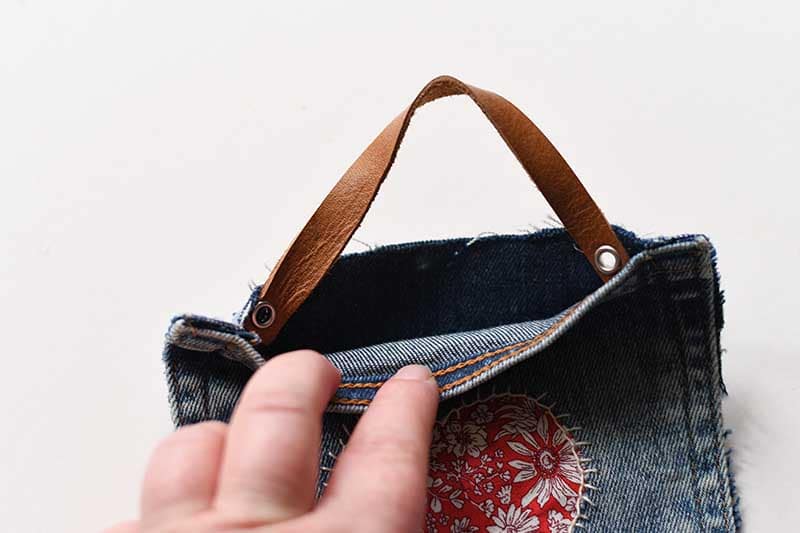 Denim seam and ribbon straps can be handstitched into the top of the applique heart pockets.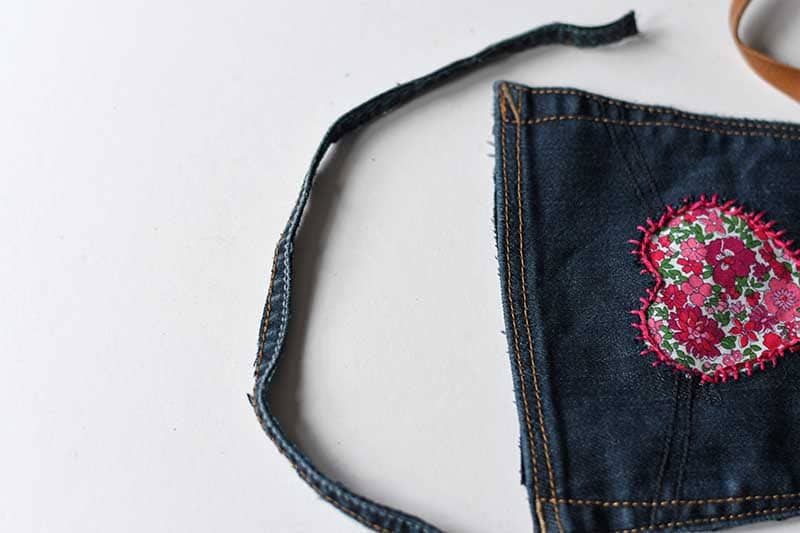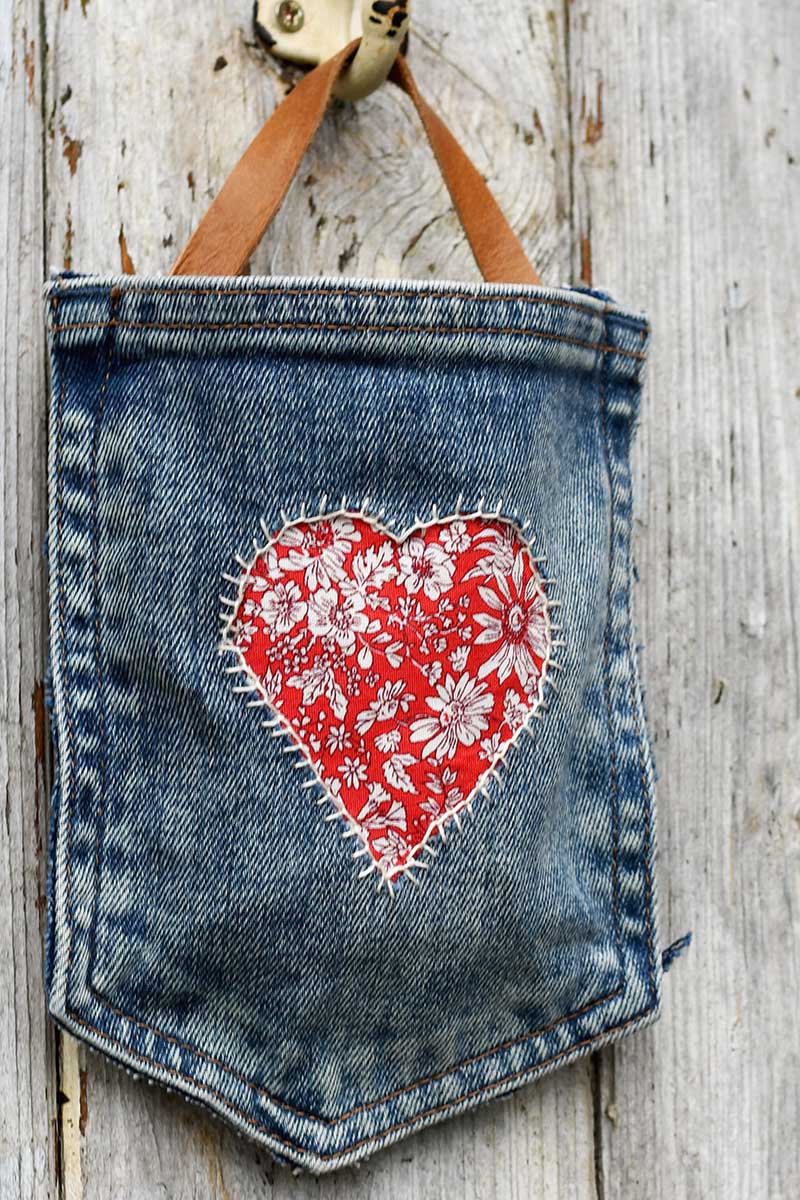 These denim applique heart pockets are perfect little pouches for giving Valentine's or Mother's day treats. They are so easy and affordable to make that I made a few of them, each with a slightly different design.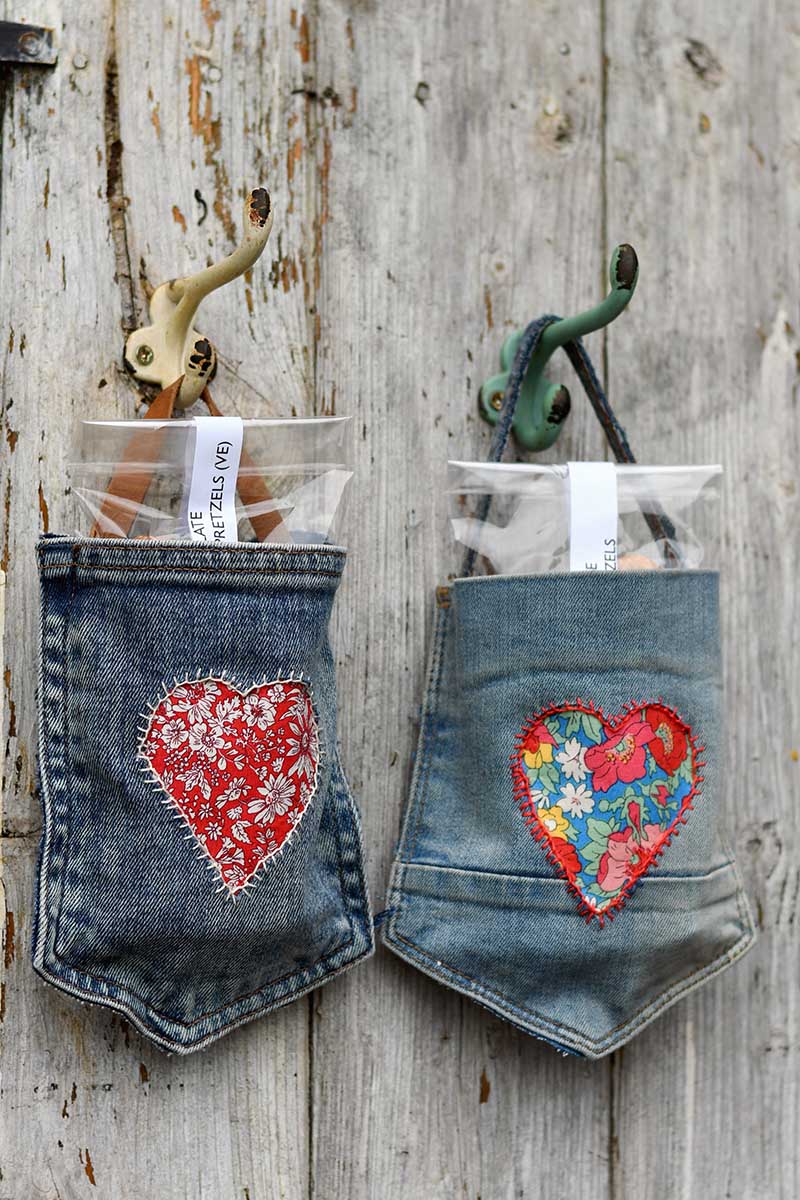 If you liked this upcycled denim craft, you should check out the other things you can make, from an upcycled pair of jeans and my comprehensive A to Z of denim crafts. I even have a collection of denim Valentine's ideas and many more fabric heart crafts.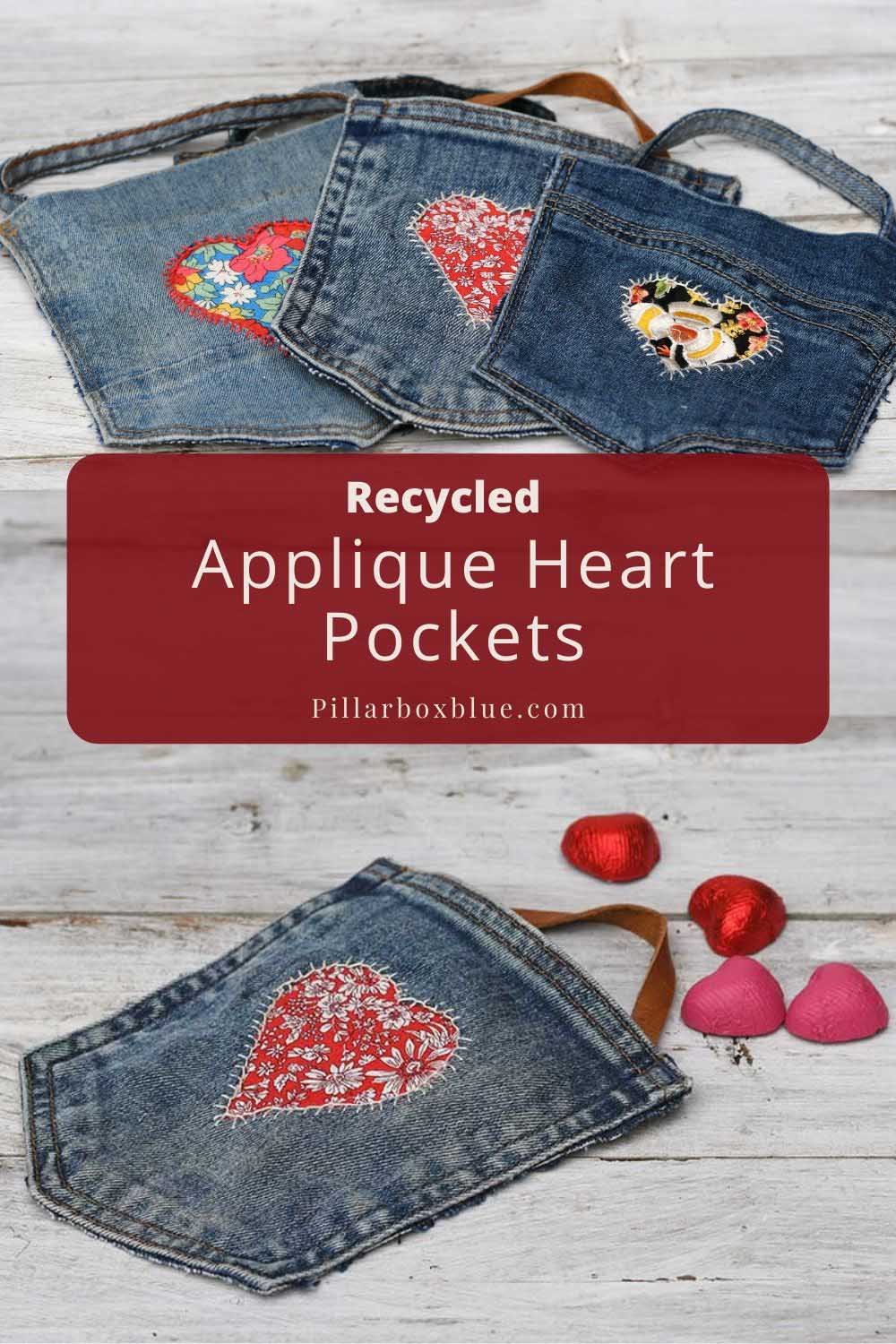 More cool adult crafts and Valentine's day craft ideas can be found here.
Yield: Repurposed jeans pocket gift bags with an applique heart design
Applique Heart Denim Pocket Treat Bags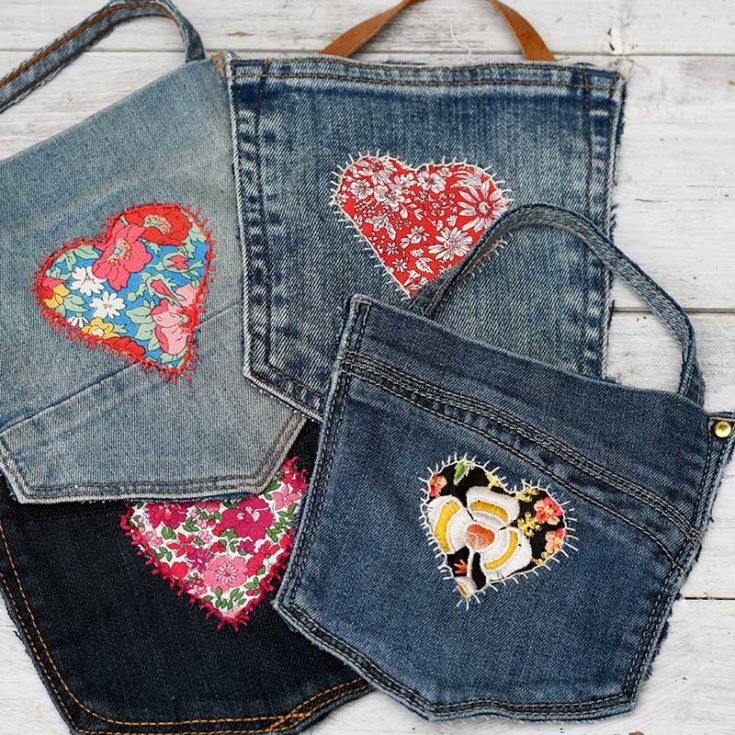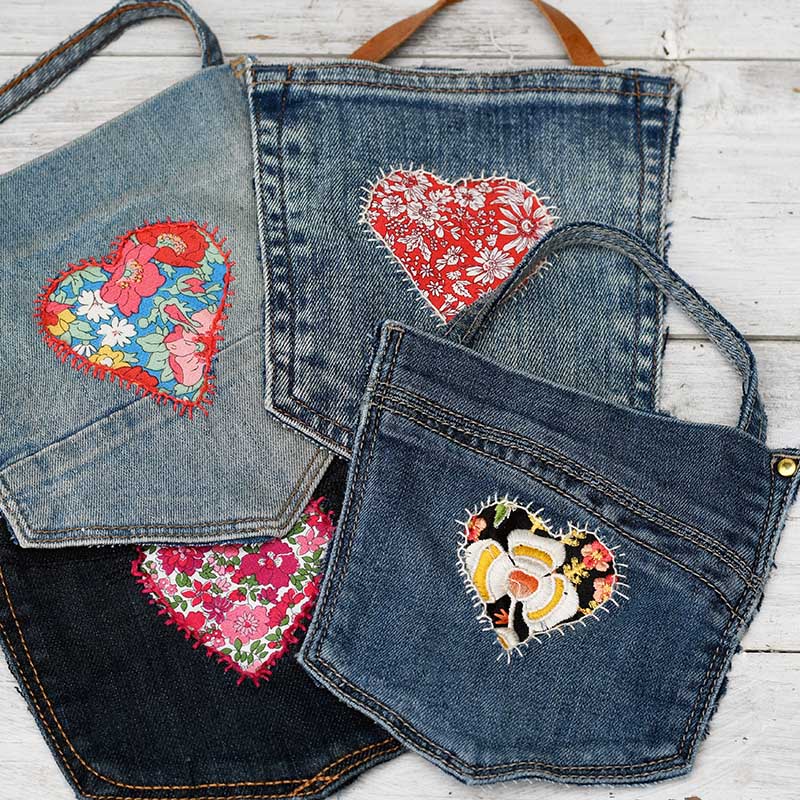 These cute repurposed denim pockets from old jeans are decorated with a reverse applique heart. They can be used as gift bags for Valentine's or Mother's Day, as well as birthdays. Very easy and affordable to make.
Materials
Denim back pockets from an old pair of jeans
Scrap fabric with a small pattern print
Fray stop glue
Embroidery thread and needle
Iron on interfacing
Tools
Heart shaped cookie cutter
Small pair of sharp scissors
Pen
Instructions
Cut a back pocket out from a pair of jeans. Cut as close to the seams as possible, keeping the back and front of the pocket intact., So that it can still be used as a pouch.
Turn the pocket inside out, then draw around the heart-shaped cookie cutter on the pocket.
Brush Fray Stop glue around the drawn heart and leave it to dry.
Next, cut out the denim heart.
Cut a piece of scrap fabric large enough to cover the heart hole. Stiffen the fabric with iron-on interfacing.
Next, turn the pocket right side out and pin the fabric inside the pocket to cover the heart hole.
Stitch the heart to the denim pocket using a blanket stitch around the edge.
Finish off the denim pockets by adding a strap. Strips of leather or denim seams can be used to make the straps.