Quick crafts are great but I also love a bit of slow crafting, especially if it's a portable one that can be done in front of Netflix whilst watching a box set. Like with this denim patchwork chair.
You see, I'm a bit of a fidget and find it hard to sit still in front of the telly unless I'm doing something with my hands. I think I've been conditioned to panic if I'm not multitasking.
Watching Netflix and crafting is one of my favourite kinds of multitasking. It's a win win situation, I get to watch my favourite programmes guilt free as I'm creating something at the same time. Hand sewing is a perfect craft for this.
Blue is my favourite colour hence the name of this blog. That's one of the reasons I love working with denim, all those gorgeous shades of indigo.
DIY Hexagon Denim Patchwork For A Chair Seat Pad
What better way than to show off the great variety of indigo blues you get from jeans than with a denim patchwork. So when I bought some extra chairs for my dining room with seat pads that were crying out for a makeover. It had to be a denim patchwork cover.
And no I didn't run out of denim! I consciously decided to break up the denim patchwork with 3 random patches in other coloured fabric. These chairs also go really well with the Boho denim table runner I made for the dining room.
I love a hexagon shape and have made Chinese applique hexagon patchwork cushions and a patchwork recycled sweater blanket. So I decided to stick to that same hexagon shape with this denim chair patchwork. Hexagons are a popular shape to craft and DIY within home decor.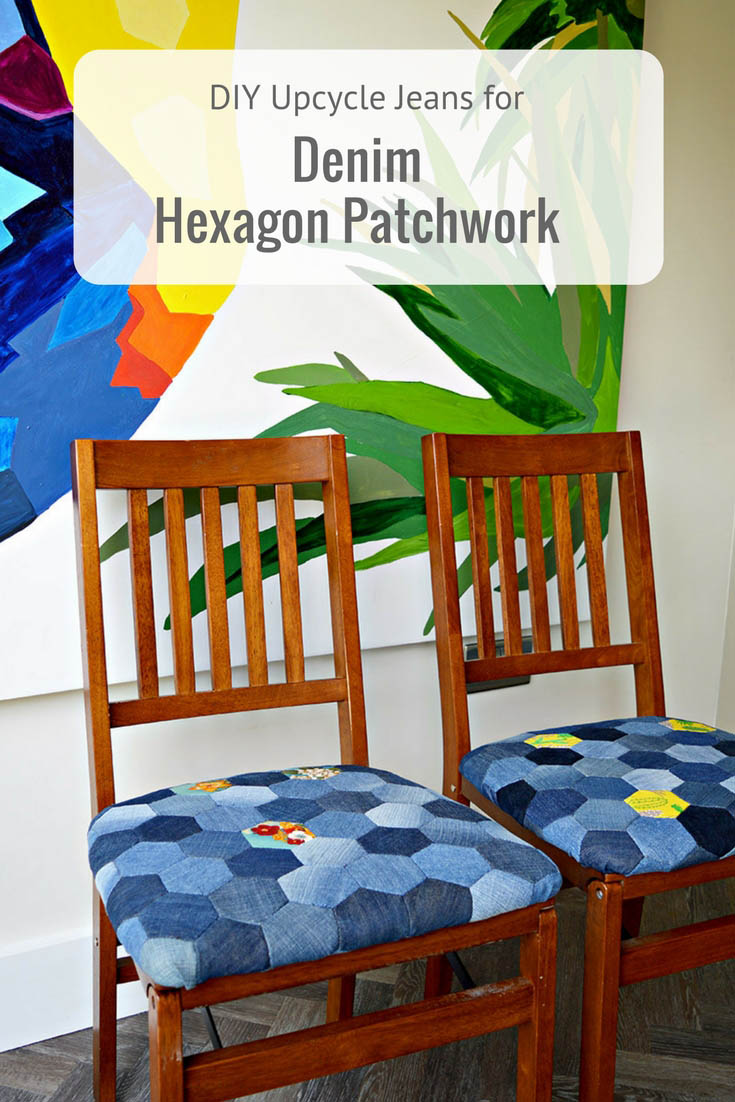 This post contains Amazon affiliate links for your convenience. Click here to see my disclosure policy.

What You Need
Old jeans – I used denim scraps from a least 3 different pairs of jeans. This was to make sure I had a variety of indigo shades of denim fabric.
Scrap craft fabric – 3 small pieces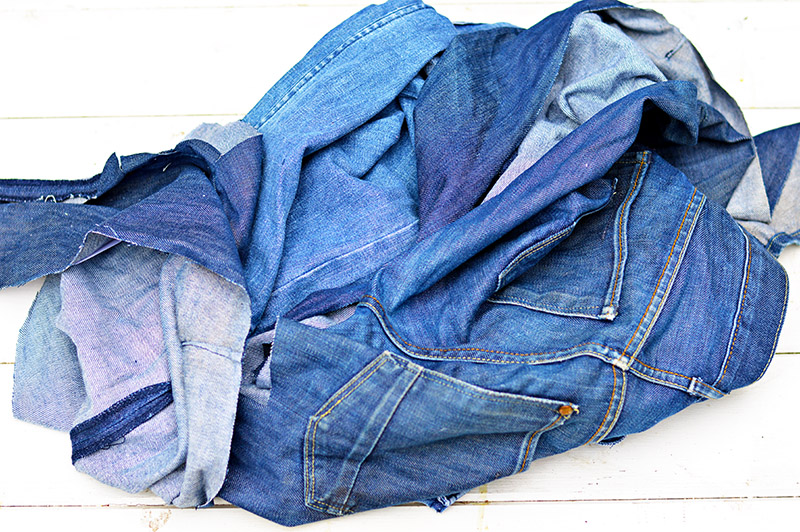 Chair with removable seat pad
Needle and thread
Iron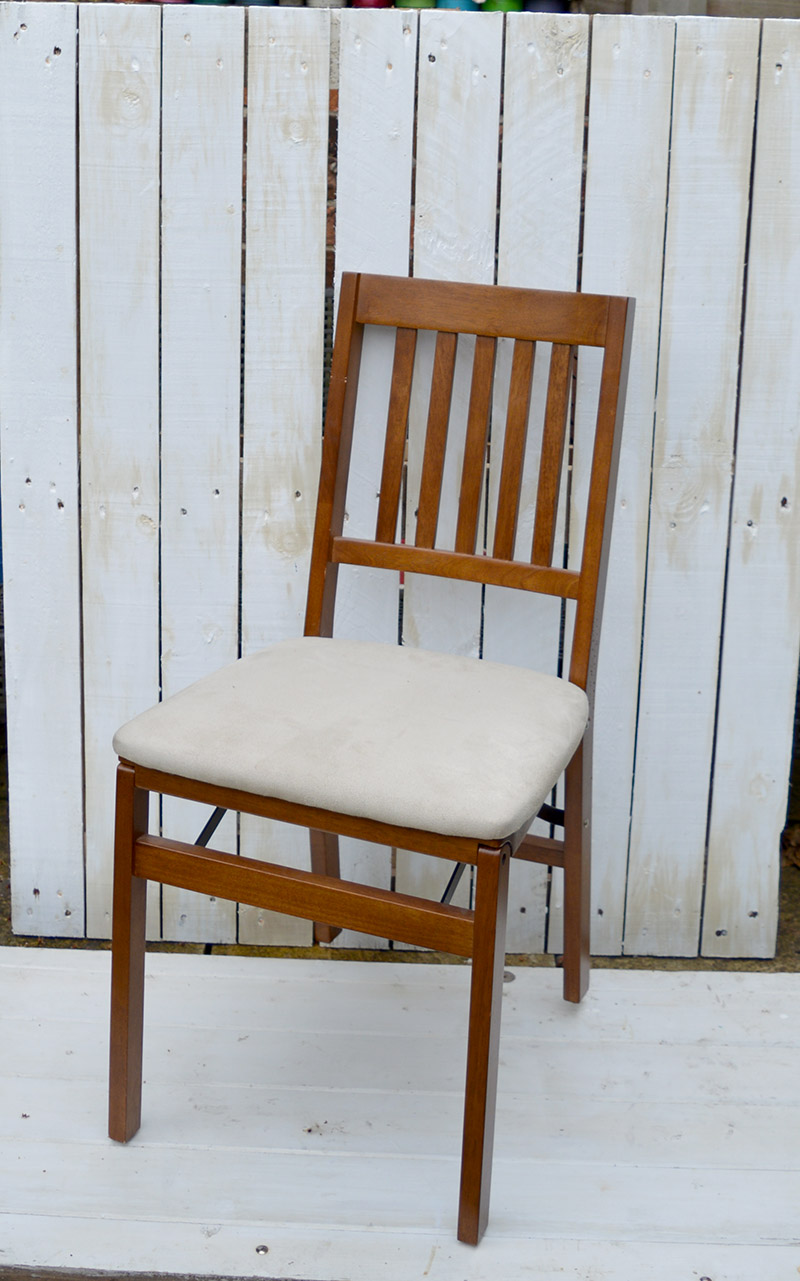 How to Make Hexagon Denim Patchwork
There are many great guides and videos to English paper piecing patchwork on the internet such as the sewing directory and youtube videos. I will still show you how I did it. For this denim patchwork, everything was hand sewn however if you want to, some bits can be machine sewn.
1.. The first thing to do is to cut out your denim hexagon shapes. Using the double back sticky tape, tape a paper hexagon to the denim. Then using the rotary cutter cut out your hexagon shape leaving a 1/4″ seam allowance.
Carry on until you have enough hexagons to cover your seat pad. As well as the denim hexagons I cut out 3 fabric hexagons from my fabric scraps box.
2. Next, take one denim hexagon and fold over the seam allowance over the edge of the paper. Using a needle and thread hand sew your hexagons in place with a tacking stitch. (I do this without actually going through the paper hexagon). Repeat with all the remaining hexagon denim cut-outs.
3. Next, iron all the individual denim hexagons flat. Gather the flat denim hexagons and sew them together one by one.
Place two hexagons right sides together and using a running stitch sew them together along the top edge avoiding the paper.
Some people like to stitch the hexagons together into a flower pattern or in rows and then join the rows. I however just stitched them randomly together in no particular order.
The reason I did this is I wanted to achieve a random effect with the different tones of denim. I also added my 3 fabric hexagons in randomly.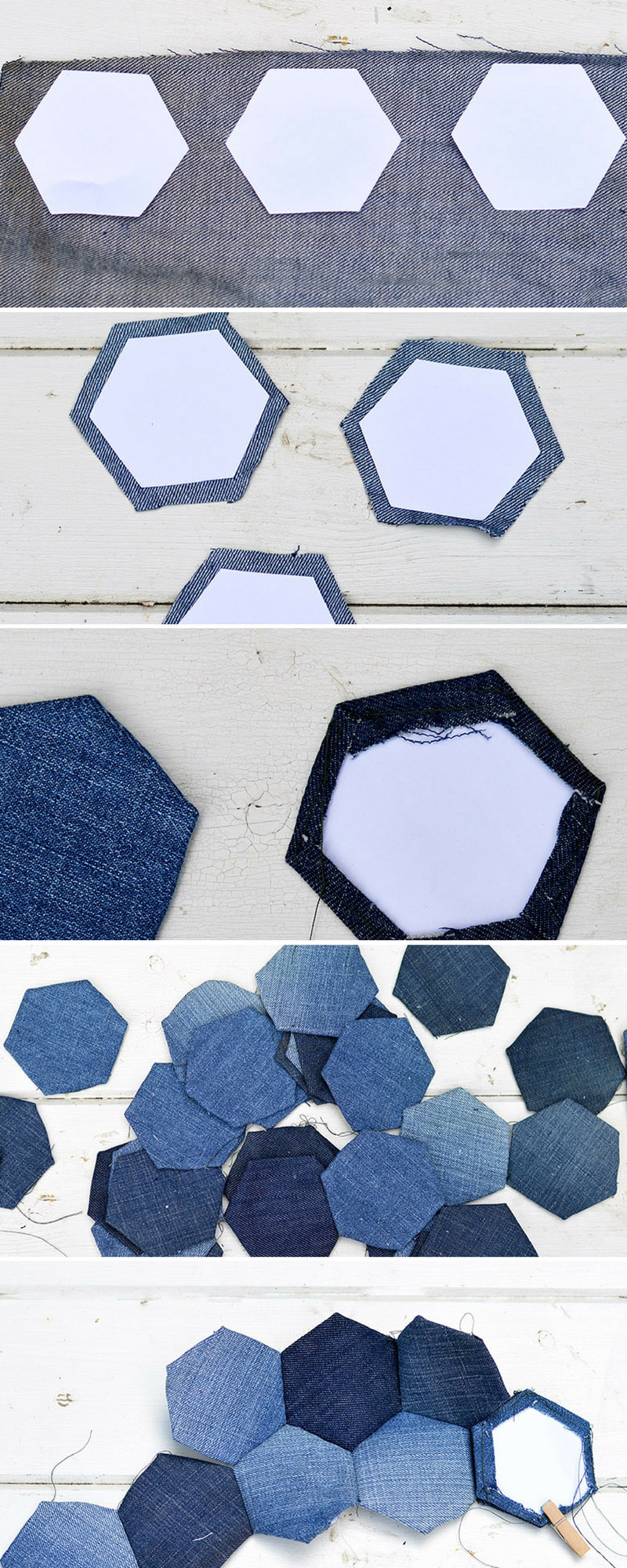 4. Then, continue stitching the hexagons together until you have a piece of denim patchwork that is large enough to cover your seat pad.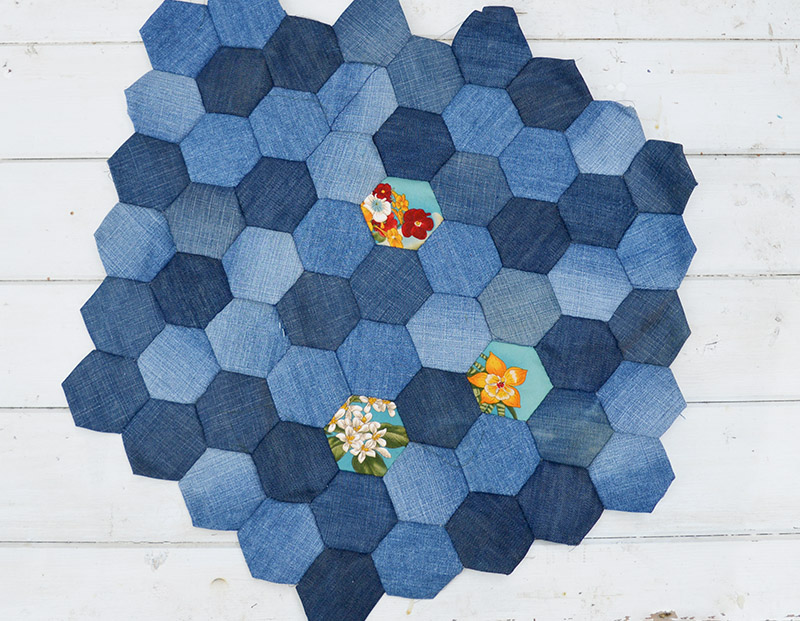 Covering The Seat Pad
5. Next, cut off all the loose threads and then turn your patchwork denim fabric over to remove all of the paper hexagons.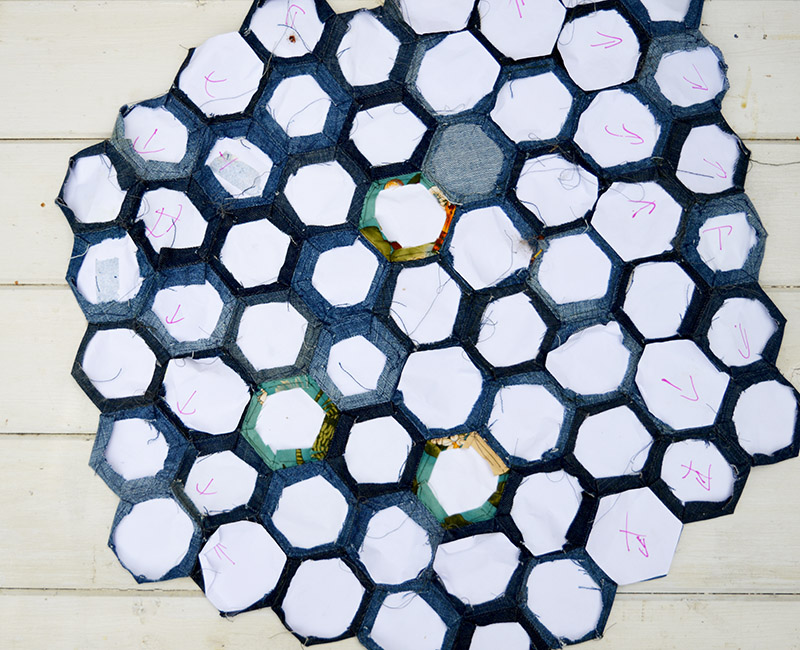 6. Next, unscrew the seat pad from the chair and remove the existing cover.
This will probably involve removing lots of staples from the underside of the seat.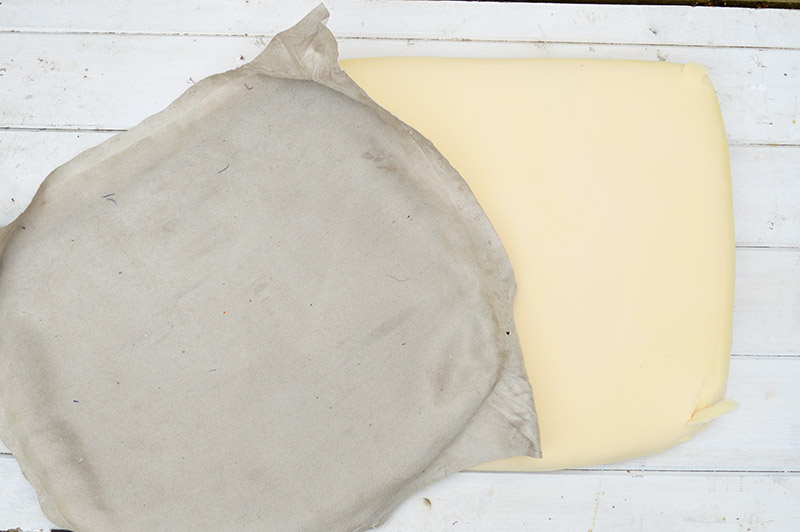 7. Next, place the denim patchwork on the top of the seat pad. Then turn it over and whilst pulling the patchwork tight staple it to the frame of the seat pad.
Top tip: I normally start with the four corners and then work my way around. To ensure a snug fit use a lot of staples all around the edge.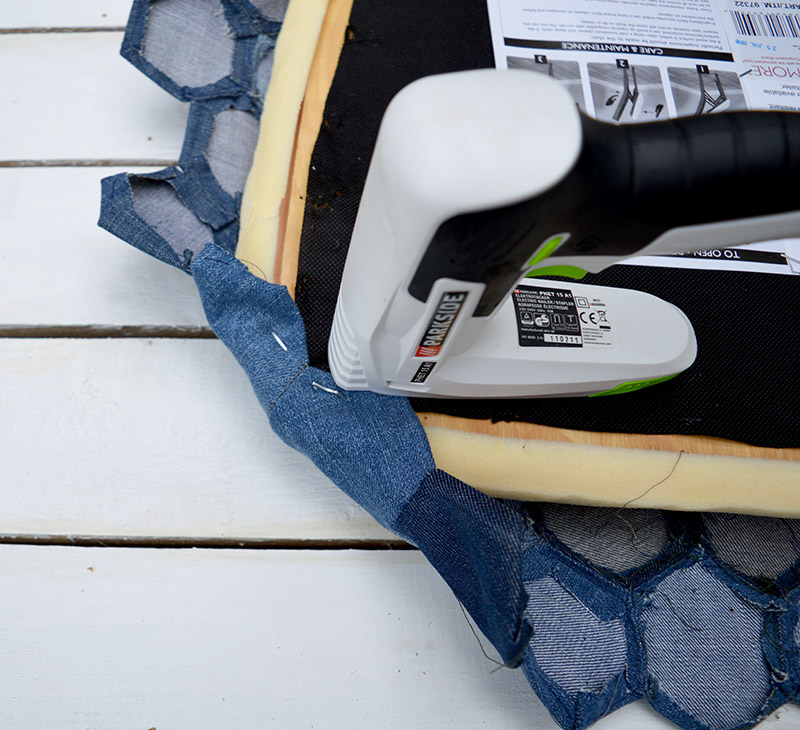 8. Finally, to finish off screw the seat pad back onto the chair frame.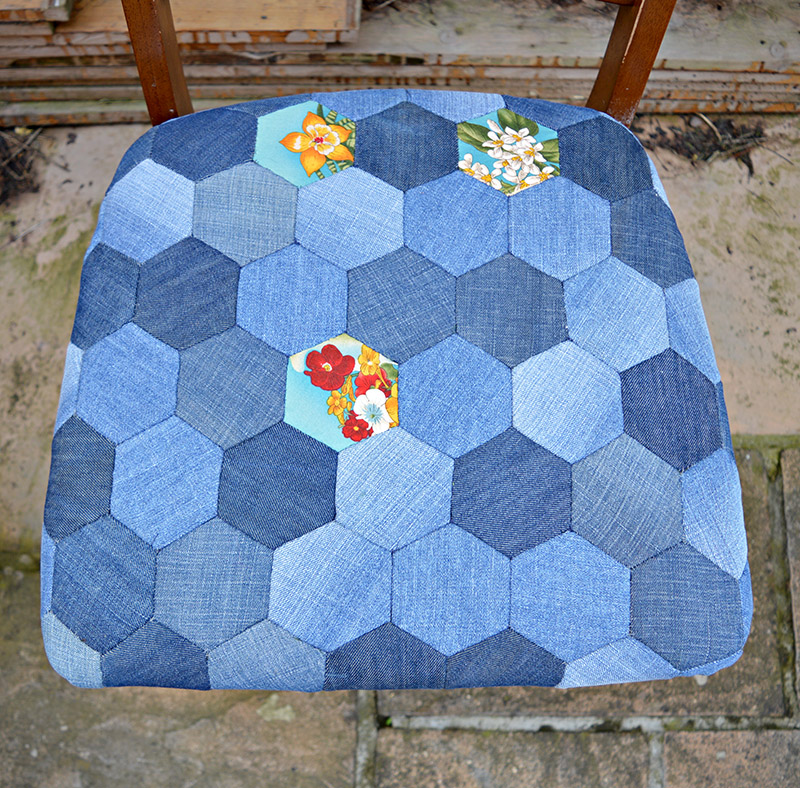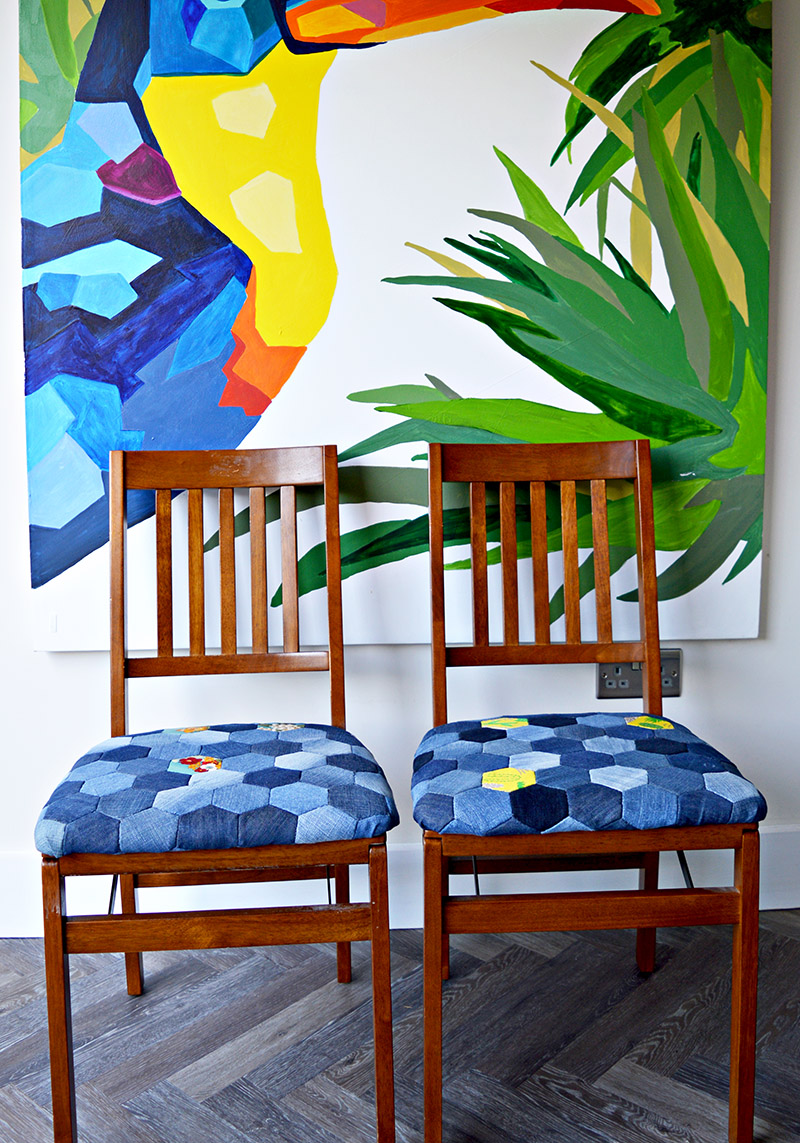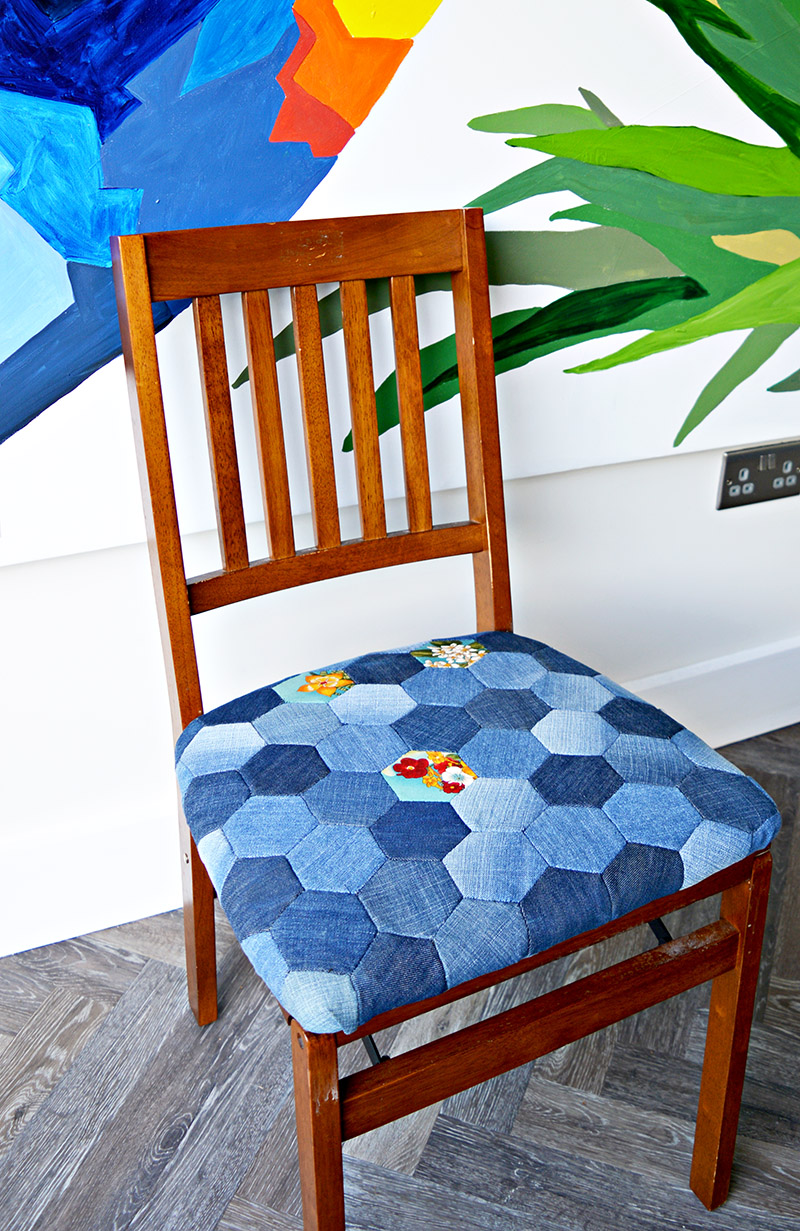 So far I have made two patchwork denim seat covers and have another two to go. I love how they have turned out, the hexagon patchwork really highlights the different tones of denim. Since posting this I have upcycled the other two chairs really quickly with fun colourful tea towel upholstery.
I also love how the 3 random hexagons of coloured fabric will make every chair slightly different. The hand sewing has made the end result worthwhile.
If you don't have the patience for hand sewing your hexagons together there is a tutorial for machine sewing them on youtube. However, I think the hand-stitched hexagons look better.
Personally, I can't decide which chair is my favourite yellow or blue. I think though I will look for some fabric scraps with green in them for the random hexagons on my next chair pad cover.
I have even made some patchwork denim hexagon table mats to match these chairs. Like the chairs, they also have an odd flash of colour. However, the patchwork is slightly different. If you have some denim scraps left over you might want to try one of these no-sew patchwork denim fabric bowls.
I love the look of different shades of denim hexagons together so much that his project inspired me to make a cool denim hexagon fabric pin board.
These denim patchwork chairs aren't my only denim upholstery project. I have recovered an IKEA Skruvsta chair in denim and made a denim ottoman storage crate.
I've even made a denim handmade chevron patchwork rug from my living room floor. And a no-sew denim patchwork suitcase. I've also used diamond patchwork to create some wonderful quilted denim star decorations.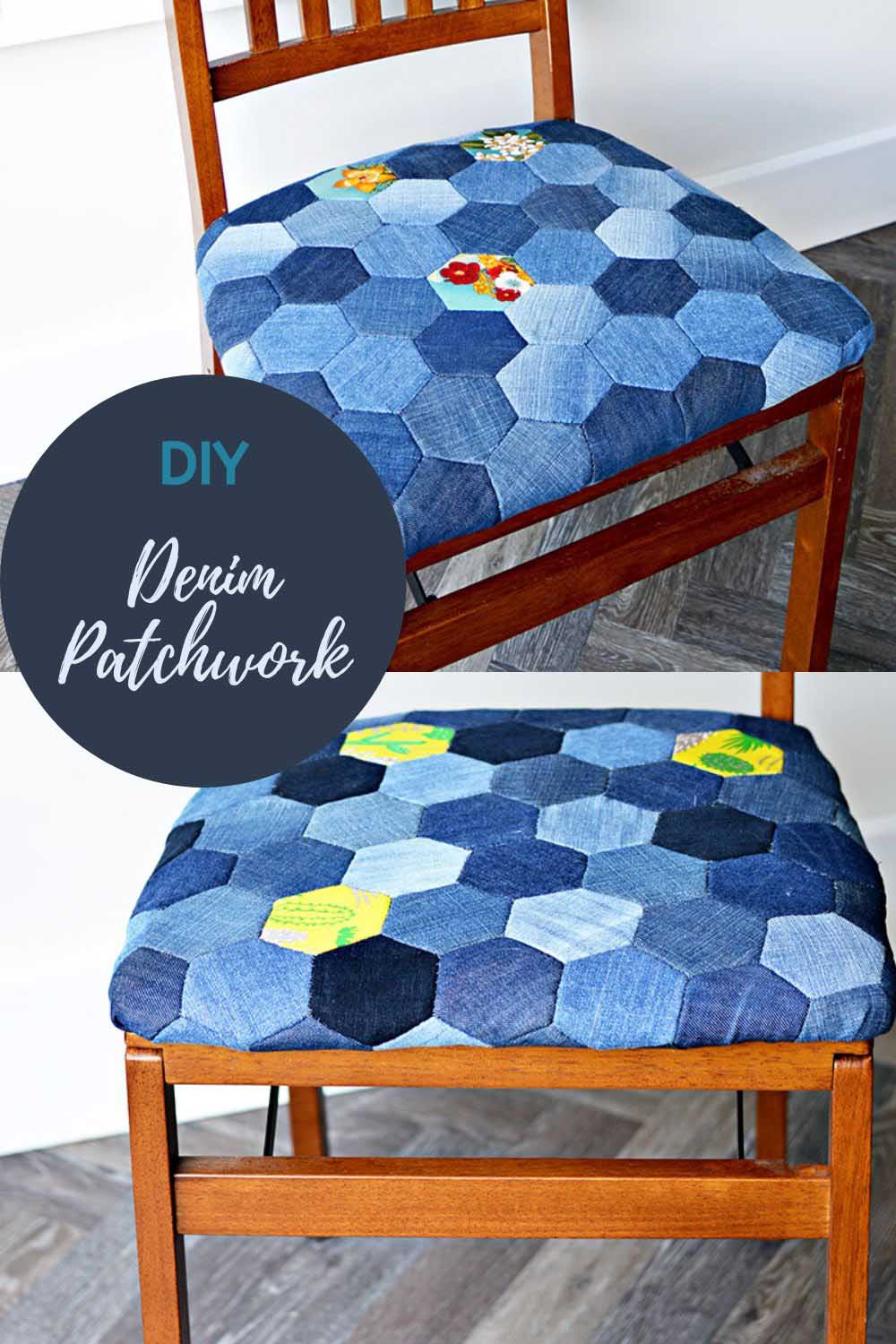 You should check out these other Denim crafts on this A to Z list of jeans upcycles.