Last Christmas, I made some fabulous illuminated bottle lights for my home. I loved them so much that I thought, why not make some DIY Halloween lights too?
You can use any old bottles for this craft as they are transparent glass. I like bottles in different sizes, so I used a variety of bottles from other drinks.
It also gave me an excuse to finish the small amounts of gin I had in the cocktail cupboards. Why is it that gin is always in the best bottles?
Scary Upcycled Bottle Lights For Halloween
What makes this craft is those very affordable cork lights you can get from the internet or your local dollar/pound store. These handy little lights enable you to make DIY Halloween lights in bottles without drilling into glass.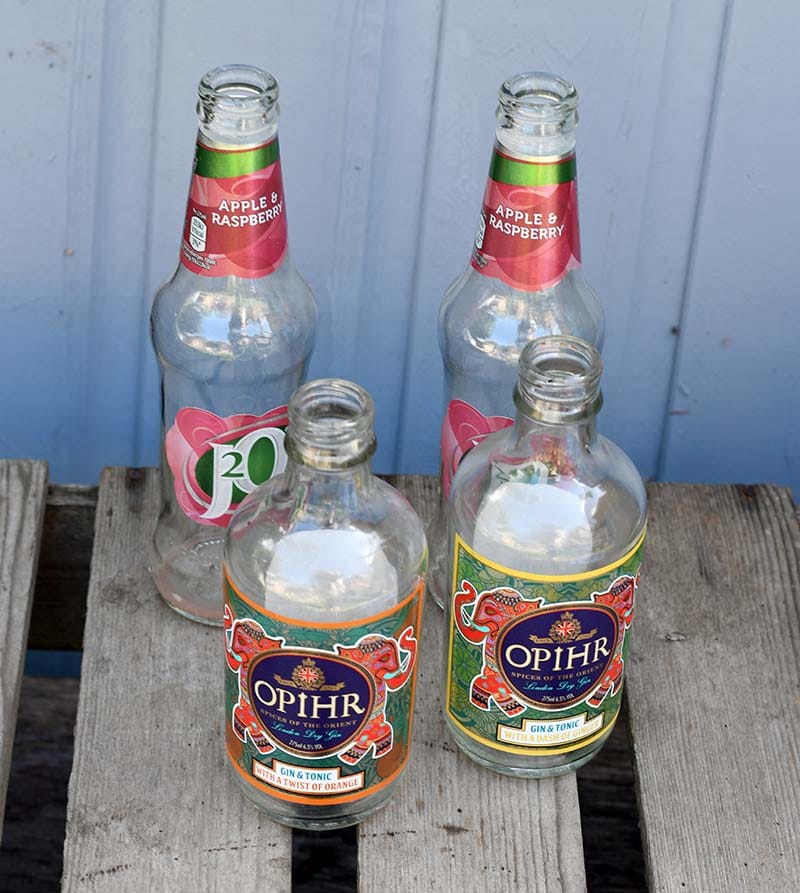 We're a participant in the Amazon Services LLC Associates Program, an affiliate advertising program designed to provide a means for us to earn fees by linking to Amazon.com and affiliated sites. As an Amazon Associate, I earn from qualifying purchases.
What You Need To Make Bottle Halloween Lights
Old clear bottles in a variety of shapes and sizes. I used a mixture of gin and juice bottles.
Halloween-shaped stickers, silhouettes, or die cuts.
If using die-cut shapes and not stickers, you will need some temporary spray adhesive.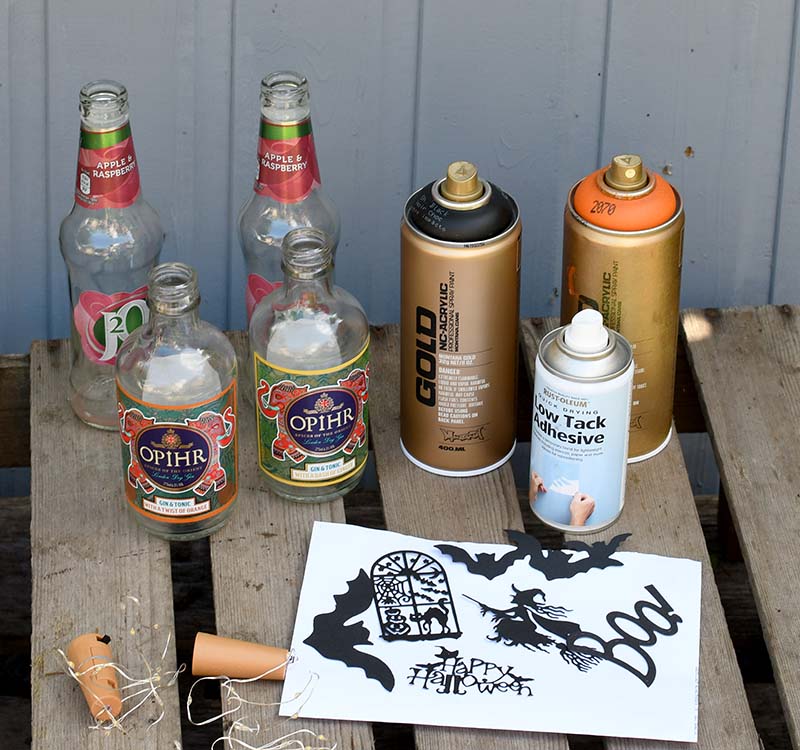 How To Make DIY Halloween Lights in Bottles
Step 1: The first thing to do is remove any labels from the bottles you will use. Most labels peel off if I soak the bottles in hot soapy water for about half an hour.
After soaking, you are still left with a sticky residue where the label was. Either scrub this with a scourer, or you can get a special sticky label remover.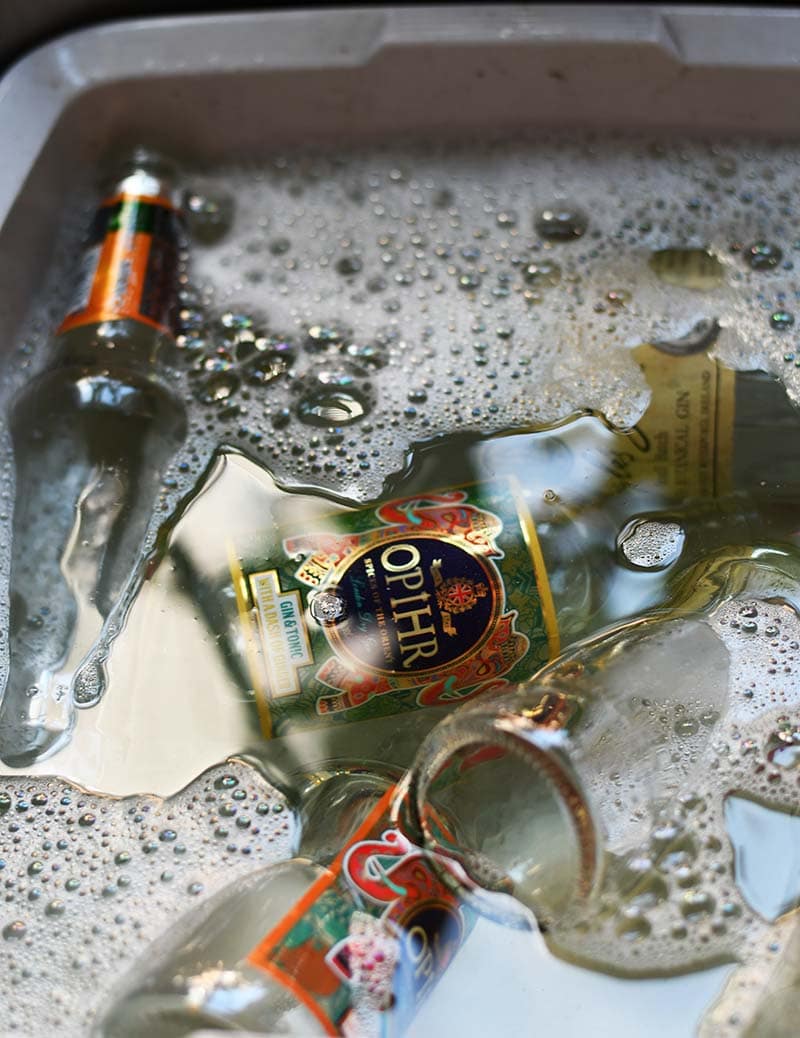 Step 2: Dry the bottles and choose what silhouettes you want for the DIY Halloween lights on each bottle. Stick the Halloween stickers or die cuts onto the bottles. If you use glue for this, use a repositional/temporary adhesive.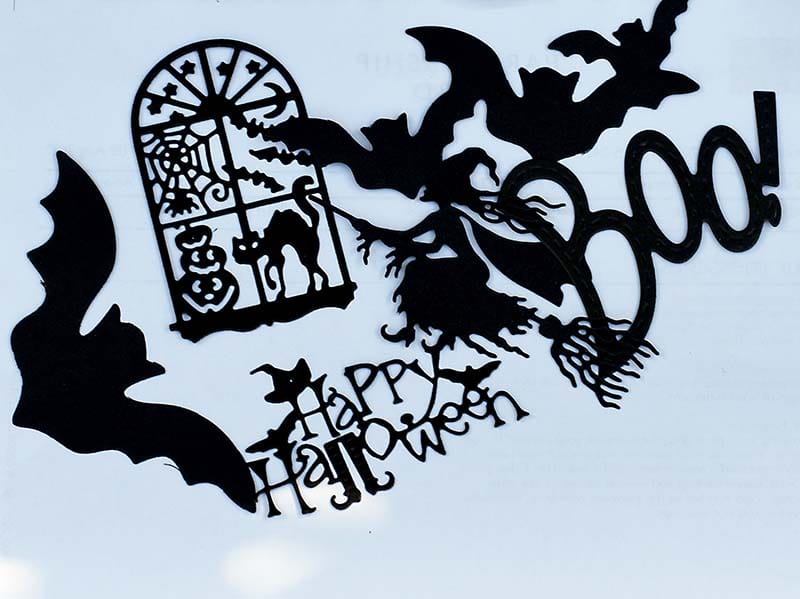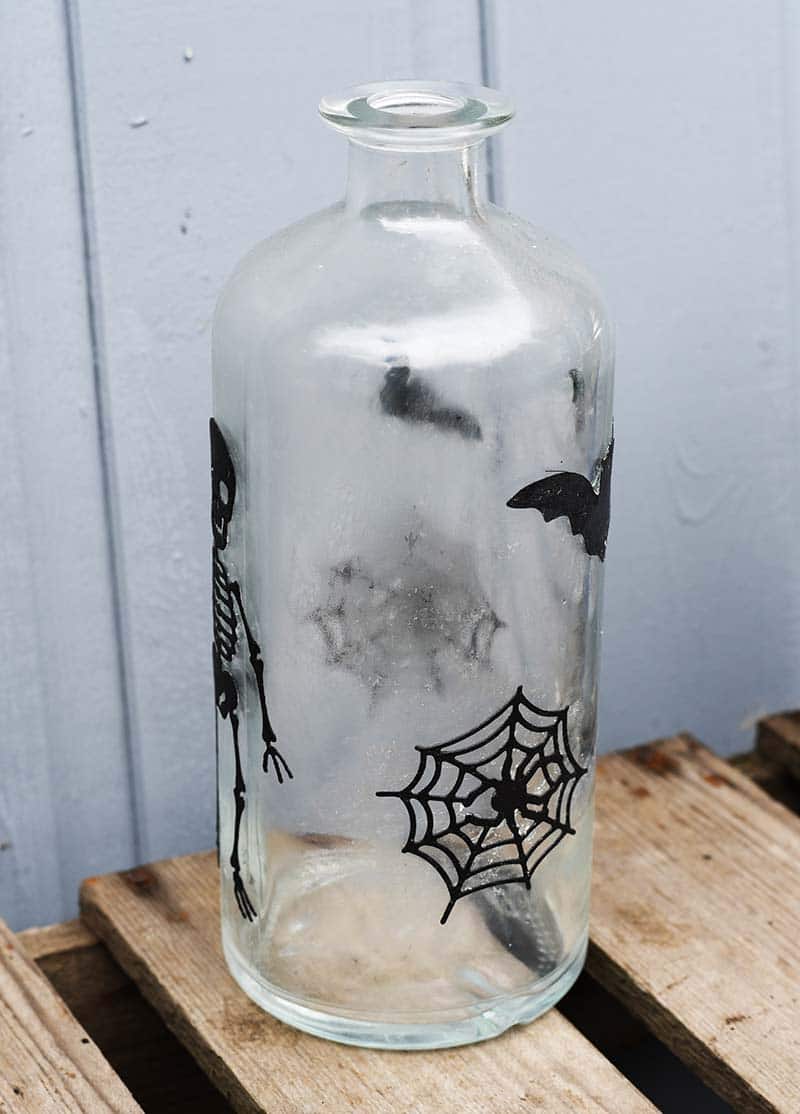 Step 3: Then spray paint the bottle either black or Halloween orange. I painted a few bottles black and a few bottles orange, so I ended up with enough bottle lights for a Halloween light display.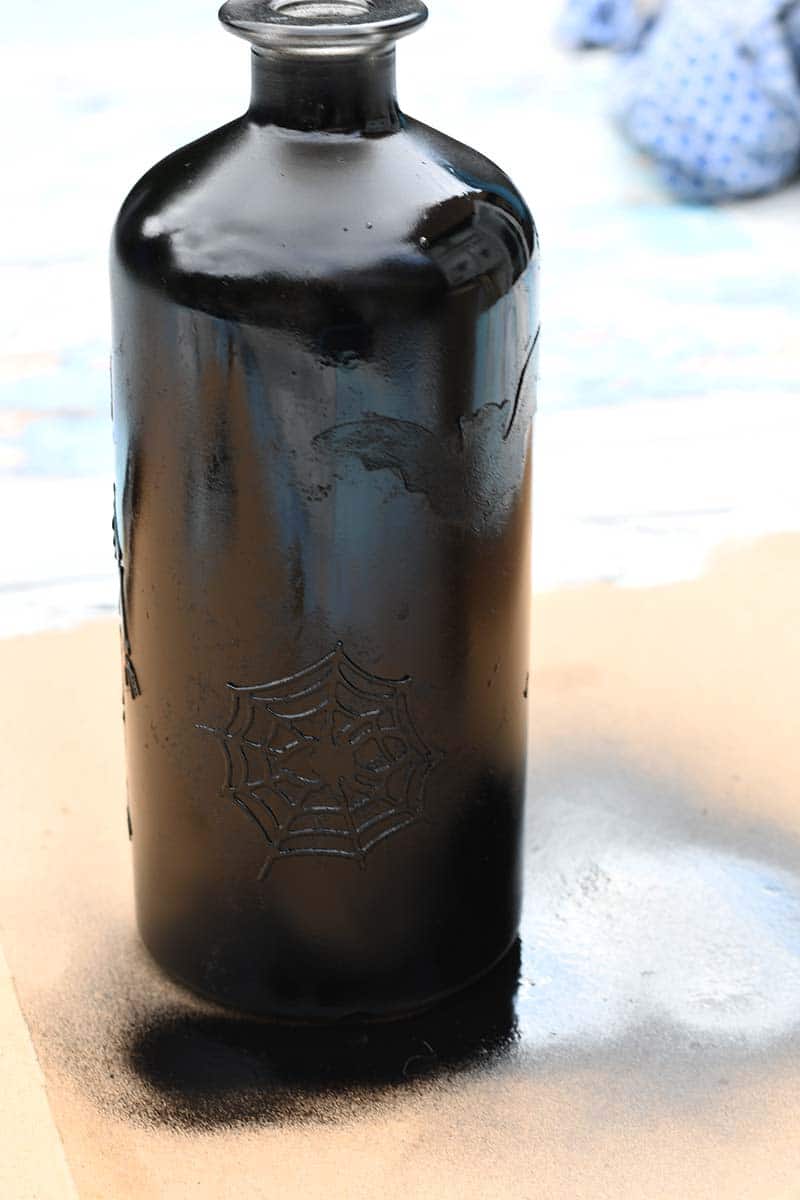 Step 4: Finally, carefully peel away the Halloween shapes once the paint has dried. Then all that is left to do is to pop one of the cork lights into the top of each bottle.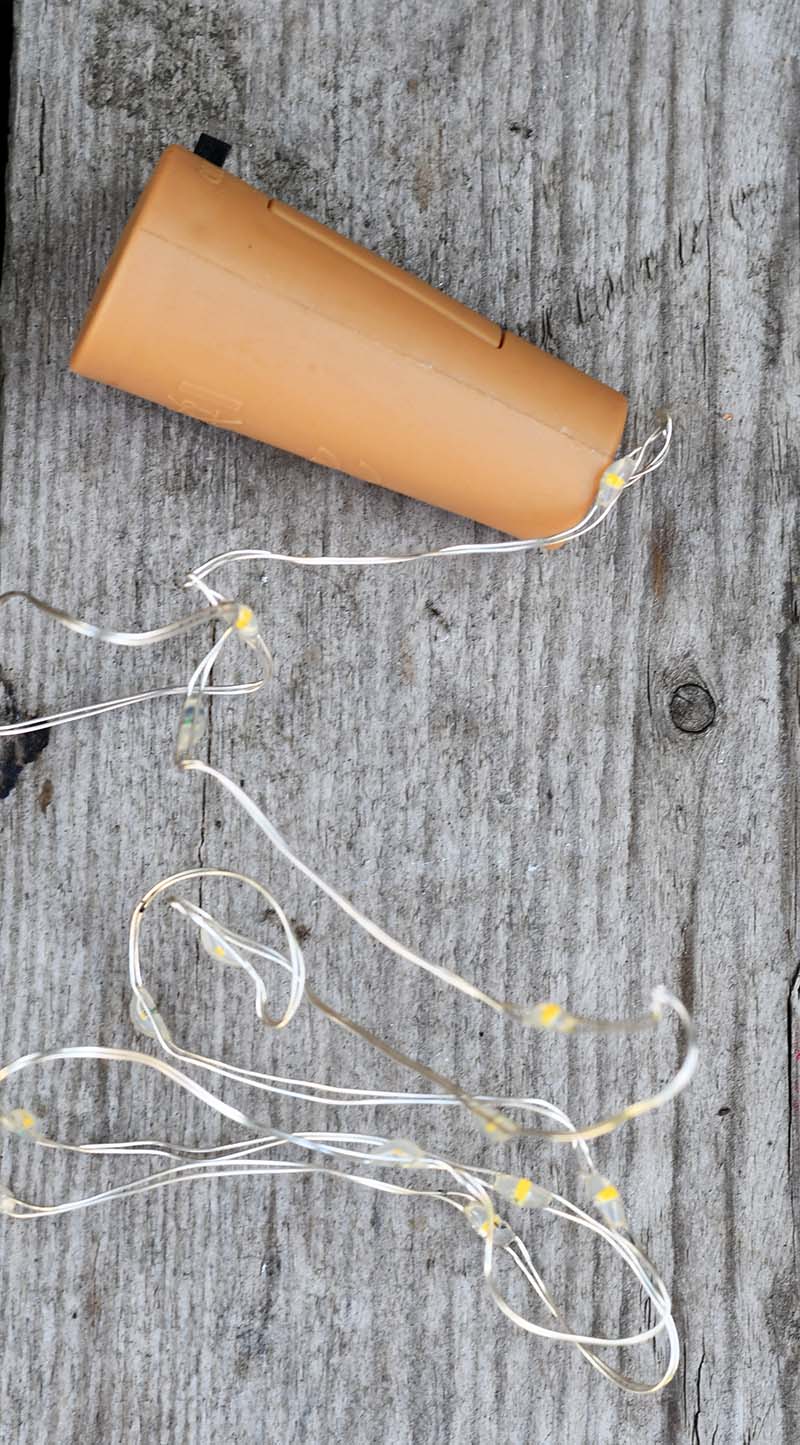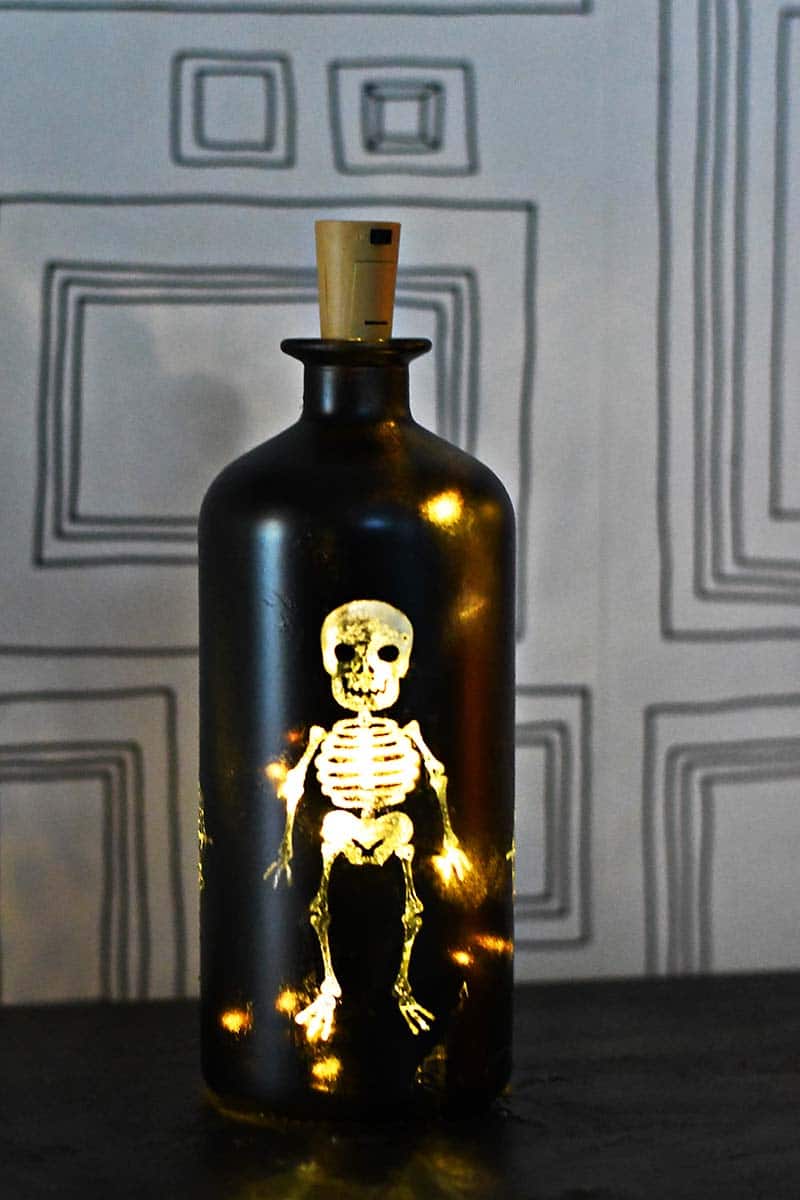 I love the way the lights shine through the Halloween silhouette. You can easily create a fun DIY Halloween lights display for your mantle by using a variety of bottle shapes in both orange and black.
I think that the black bottles look particularly good with the skeleton silhouette.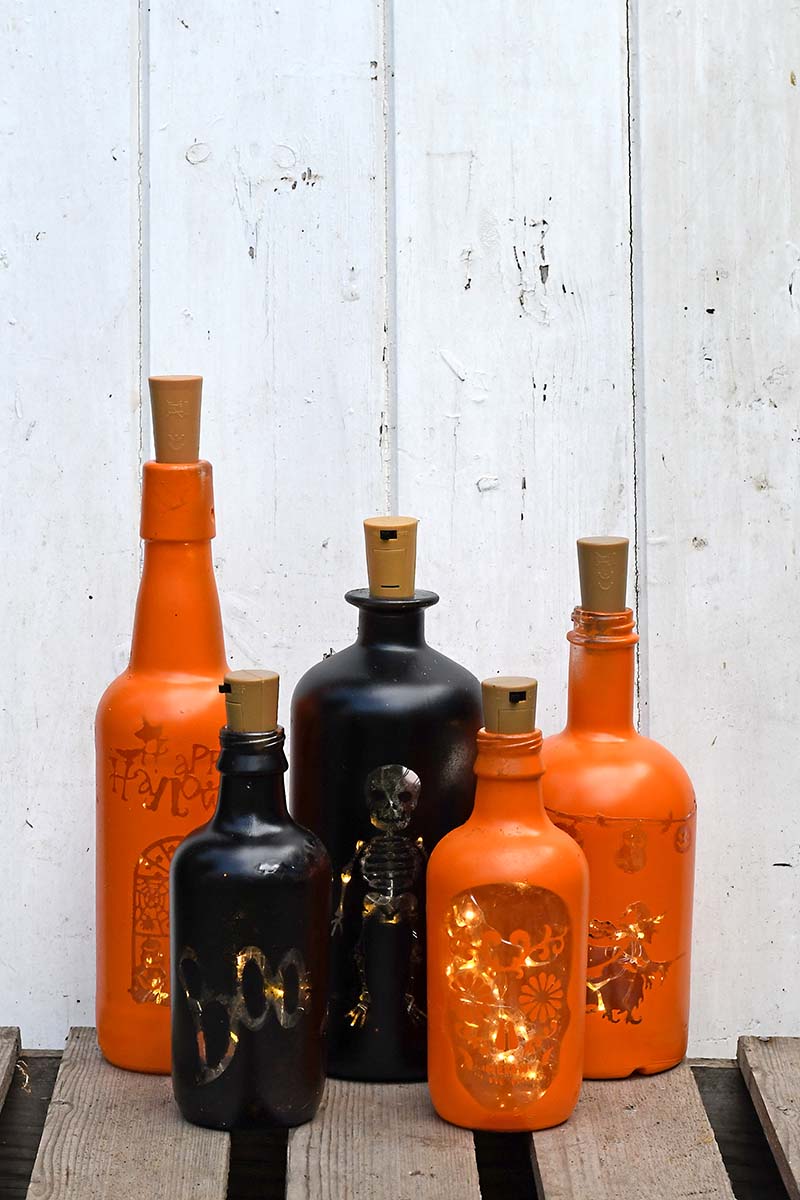 These upcycled Halloween lights are at their best on nights when the tiny fairy lights inside the bottles shine through the scary Halloween shapes.
The cork lights are straightforward to use; they have a simple on-off switch on the top. You can buy various lengths of string lights and even rechargeable ones.
If you still have the original corks from your old wine bottles, save them for another fun Halloween craft. They can be turned into spooky Halloween wine cork Characters to hang in a garland.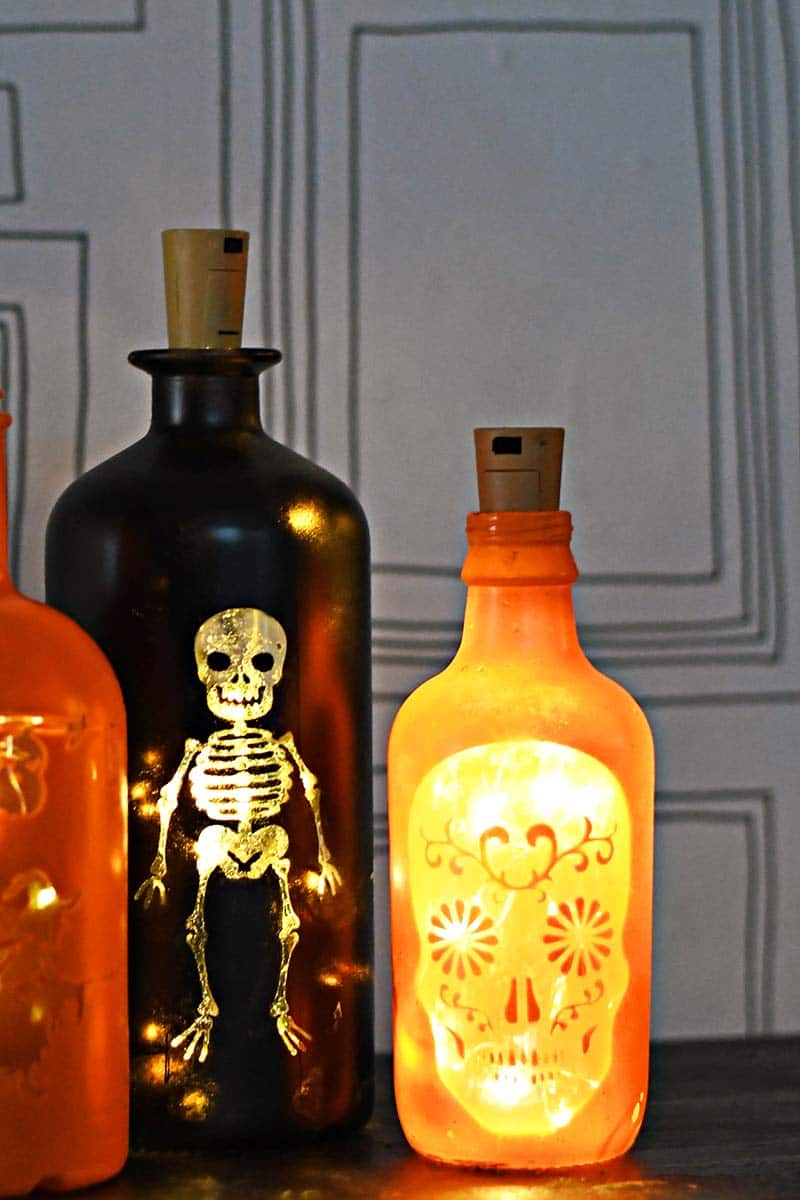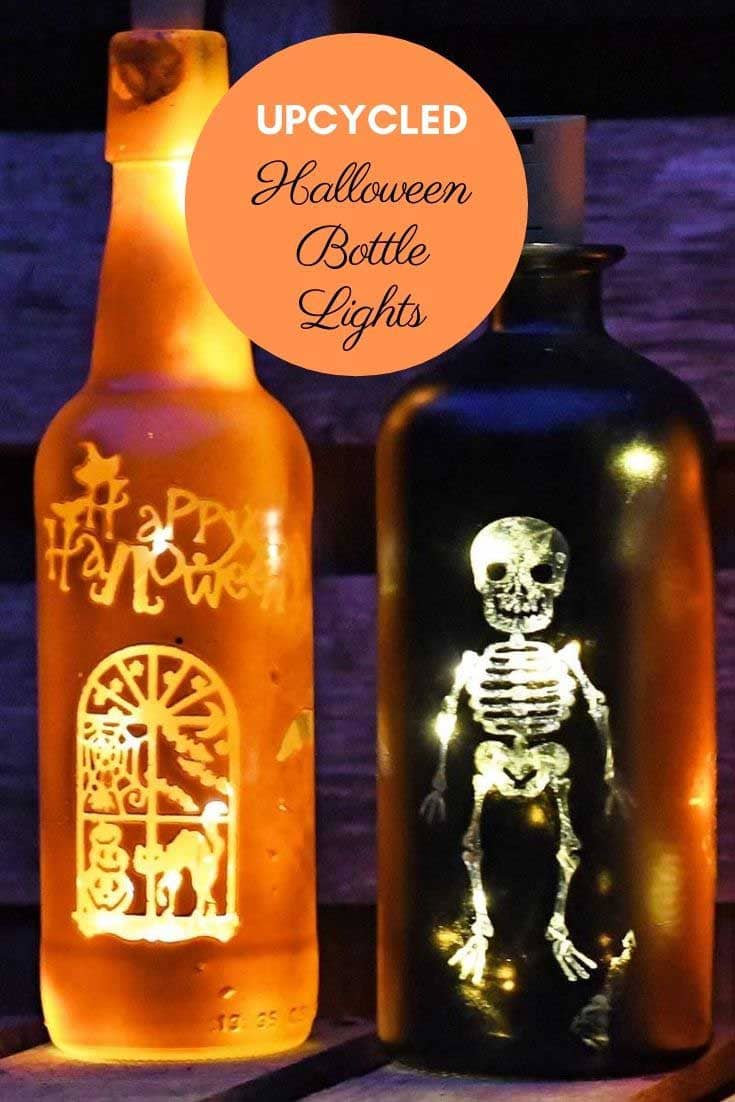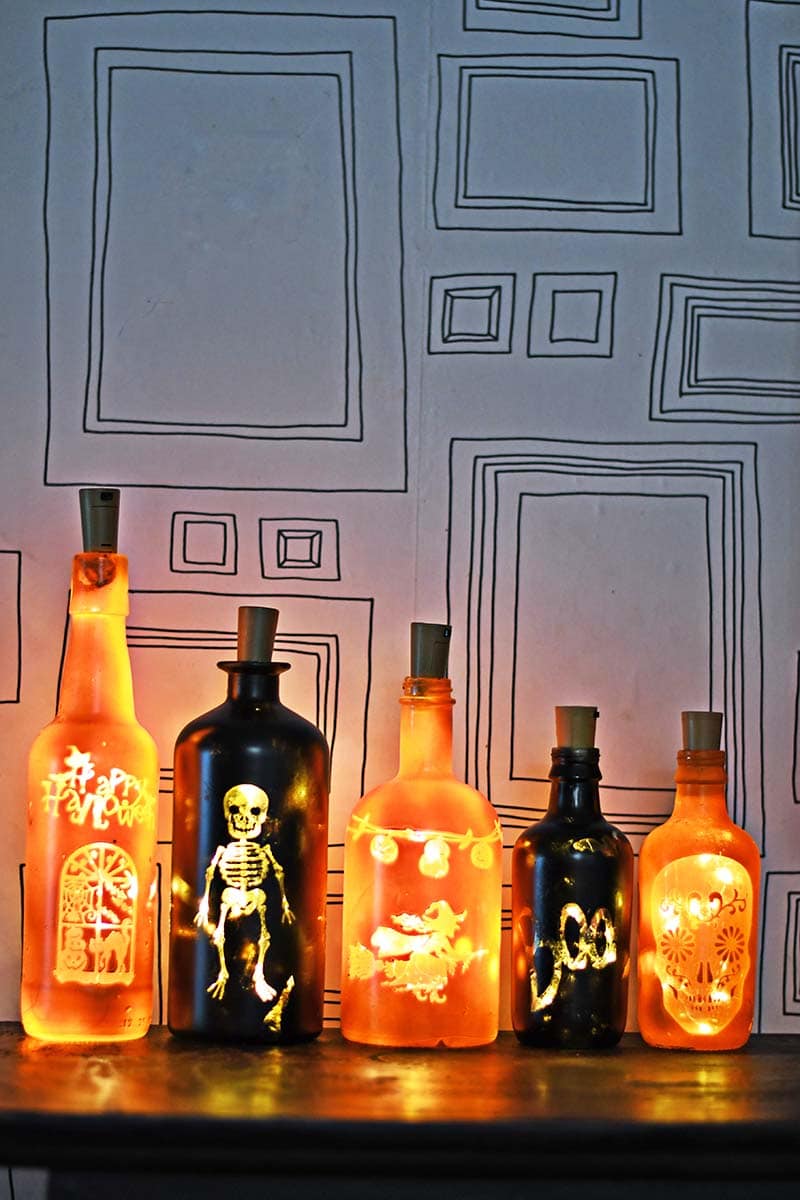 Yield: Illuminated Halloween Decoration
Upcycled Halloween Bottle Lights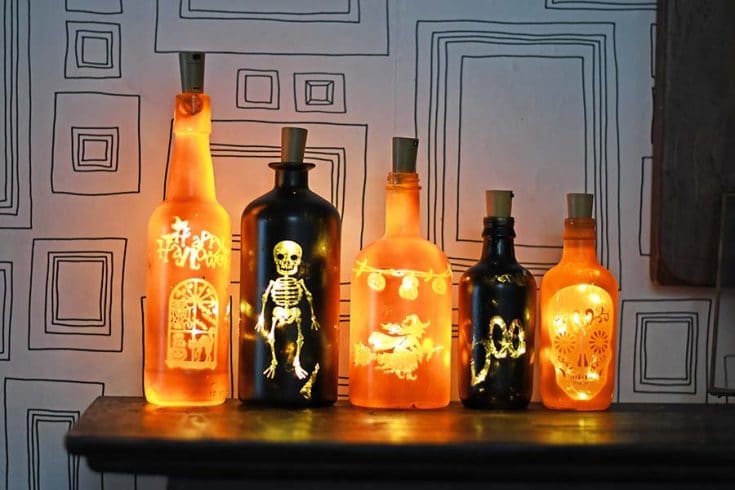 A fun and unique Halloween decoration for the home made by upcycling old bottles. This is a great craft to do with the kids. It's a very affordable Halloween decoration that is great for the front porch or the mantle.
Materials
An assortment of old clear bottles.
Montana Gold Black Spray paint
Montana Gold Orange Spray Paint
Repositional adhesive
Halloween shaped die cuts
Cork lights
Instructions
Soak the empty bottles in hot water to remove all labels
Stick the Halloween die cuts to the bottles.
Spray paint each bottle either black or orange
Once the paint is dry remove the Halloween die cuts
Insert cork string lights into the top of each bottle.
Notes
It's the cork string lights that make this project. By using these lights there is no need to drill into the glass bottles. You can use this method to make illuminated bottles for other holidays, such as Christmas and Valentines.
Recommended Products
As an Amazon Associate and member of other affiliate programs, I earn from qualifying purchases.
If you want something different for Halloween instead of the usual orange and black colours, check out this illuminated pink neon DIY skull decor. Or these Scandinavian DIY Halloween felt decorations. Or, for an eco-friendly holiday, these upcycled Halloween ideas.
These Halloween bottles are featured under B in the A to Z of upcycling.
There are some lovely vintage skeleton pictures to download here. If you liked these bottles' lights, don't forget to check out some of my other illuminated crafts and DIYs.
Or, if you are looking for more Halloween & Fall decoration crafts.
For more affordable Halloween crafts, visit cheapandthriftyliving.com.