Inside: Make stylish storage with DIY magazine holders from upcycled cereal boxes and old road maps.
My sister-in-law and I have given each other the same Christmas present for the last 20 years: a magazine subscription. It's a beautiful gift that lasts all year. I love getting my favourite interiors magazine through the letterbox every month.
I'm loathed to spend money on new magazine holders when I can make them for free from repurposed materials. All you need are some old cereal boxes or other cardboard of a similar size and paper or paint to decorate them.
As a family, we have wanderlust and love to travel. Many of my decor choices involve decorating and crafting with maps. My study is travel themed with a map pin board, map mason jars and map artwork. So it was inevitable that I covered my DIY magazine holders in maps to fit right in.
It's hard to believe these stylish magazine holders were once cereal boxes. The boxes have been reinforced with cardboard to make them pretty sturdy. The following is an easy step-by-step tutorial with some excellent suggestions for other things you can do with magazine holders at the end.
(There is a printable how-to card for this craft at the end of the post.)
What You Need
We're a participant in the Amazon Services LLC Associates Program, an affiliate advertising program designed to provide a means for us to earn fees by linking to Amazon.com and affiliated sites. As an Amazon Associate, I earn from qualifying purchases.
Large cereal boxes or similar, if using them for specific magazines, check that they are big enough to fit.
Strong scrap cardboard for reinforcement
Old road maps
Scissors, pen ruler
Rotary cutter and mat (optional)
Paper glue and repositionable spray mount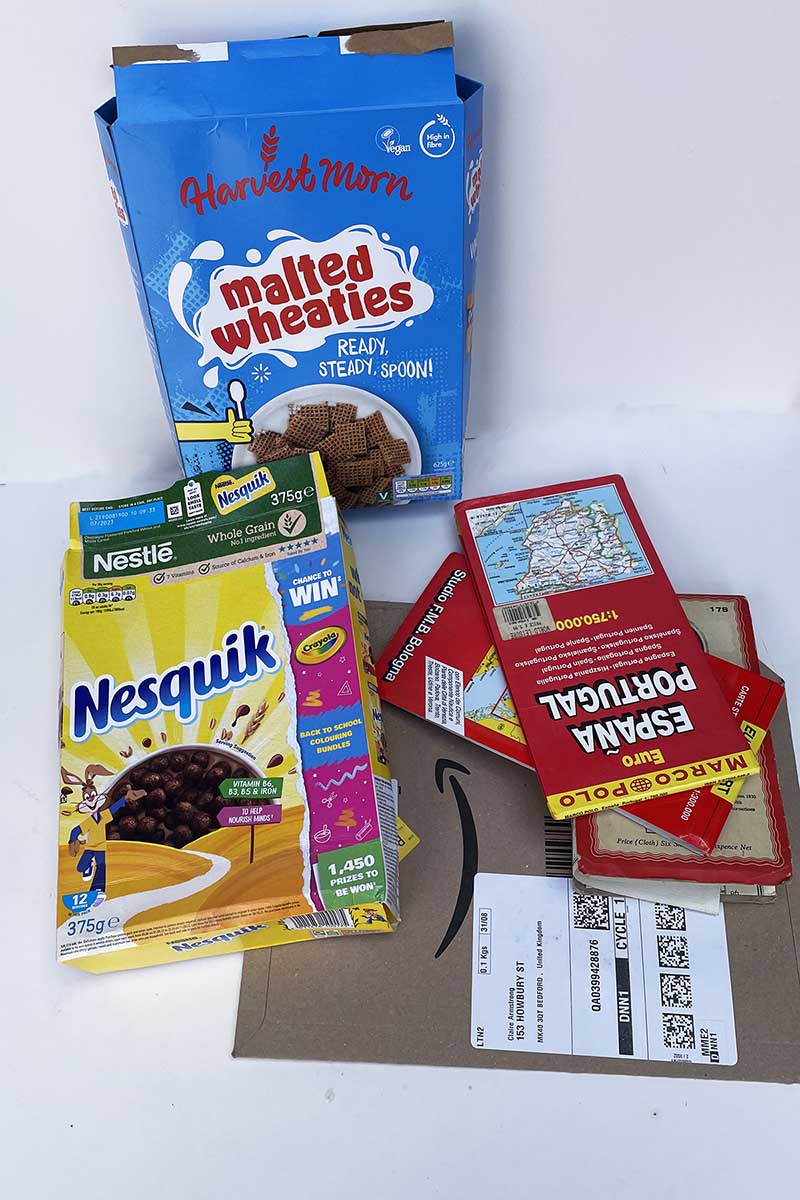 How To Make Repurposed Magazine Holders
Step 1: First, carefully lift the cereal box flaps glued down and open the box out into one flat piece. Then on the inside of the cardboard box, draw a line with a ruler to cut the left top corner away. I started the ruler 9cm from the bottom and 1.5cm in from the center spine.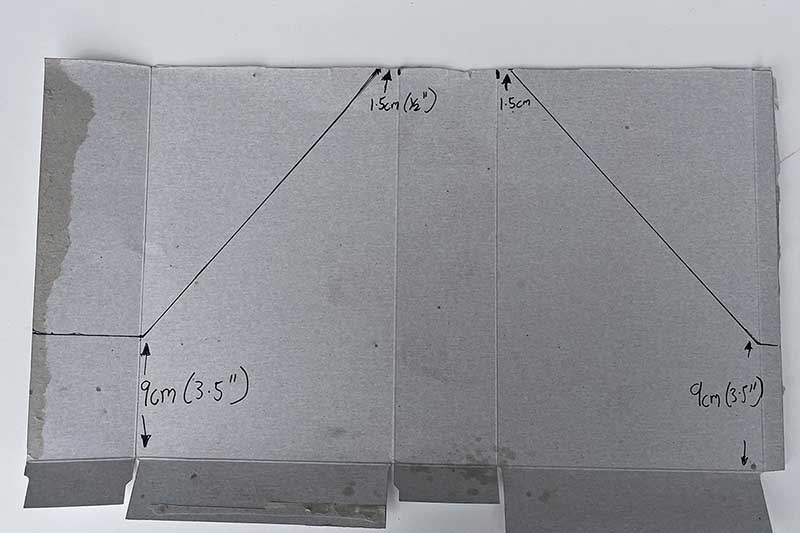 Step 2: Cut the cardboard box's corners following the marked lines.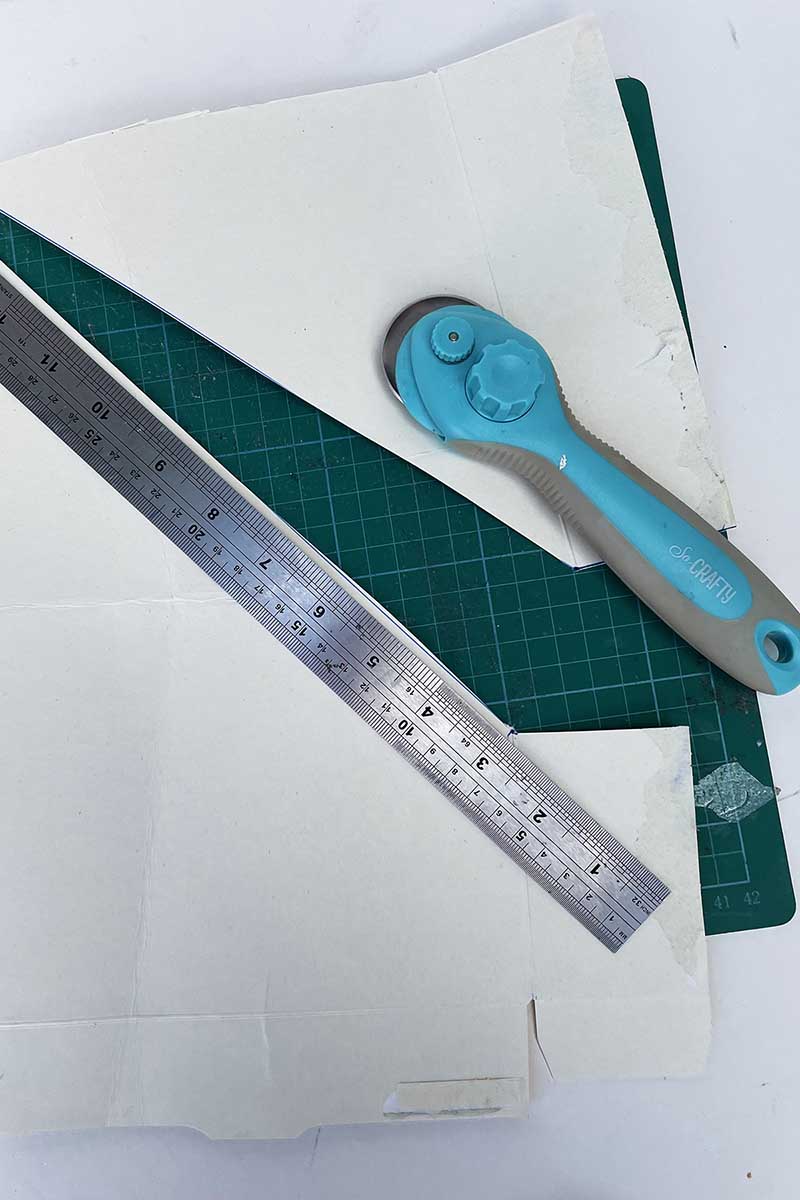 Step 3: Open up the road map you will use and lay the cutout cereal box on top. Then cut around it, leaving a 1cm margin so the map will overlap the edges.
Top Tip: I positioned the cardboard to ensure I included the places dear to me on the map.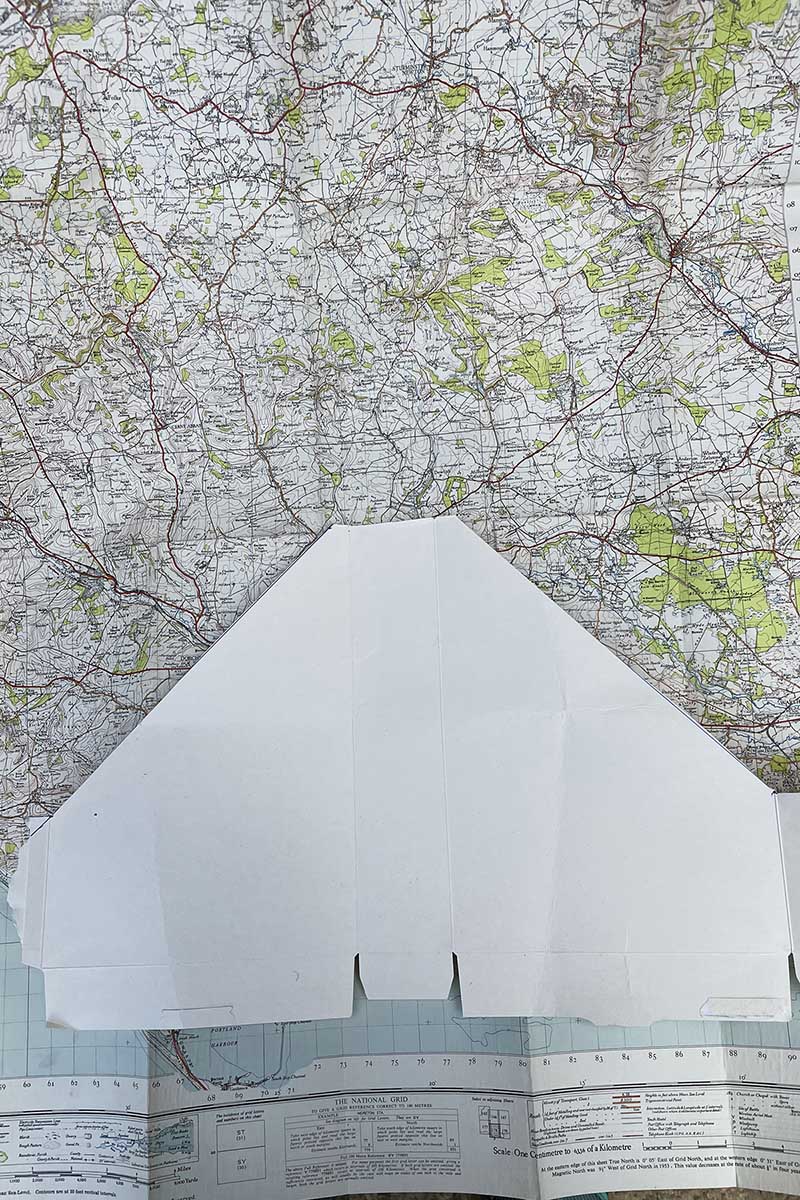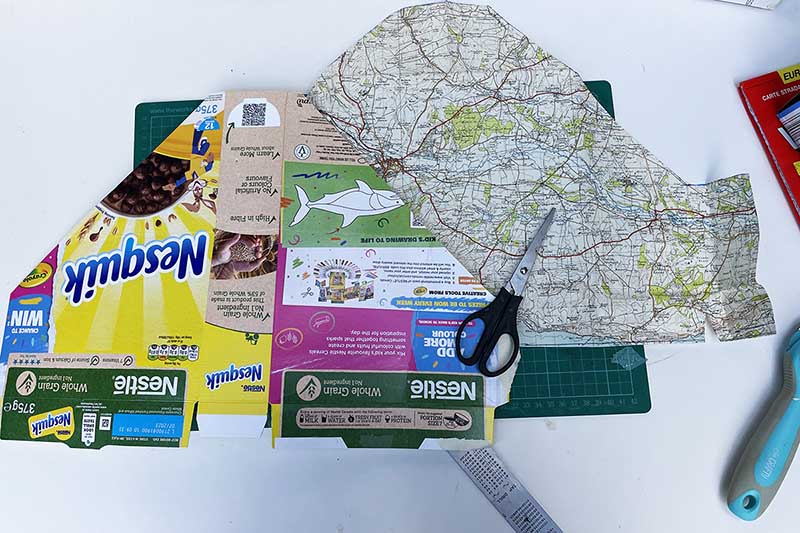 Step 4: Next, spray the cereal box with the spray mount outside and stick the map to it. Then fold the edges of the map over the edge of the box and stick them down with tacky glue. You may need to use some clips to keep the paper in place as the glue dries.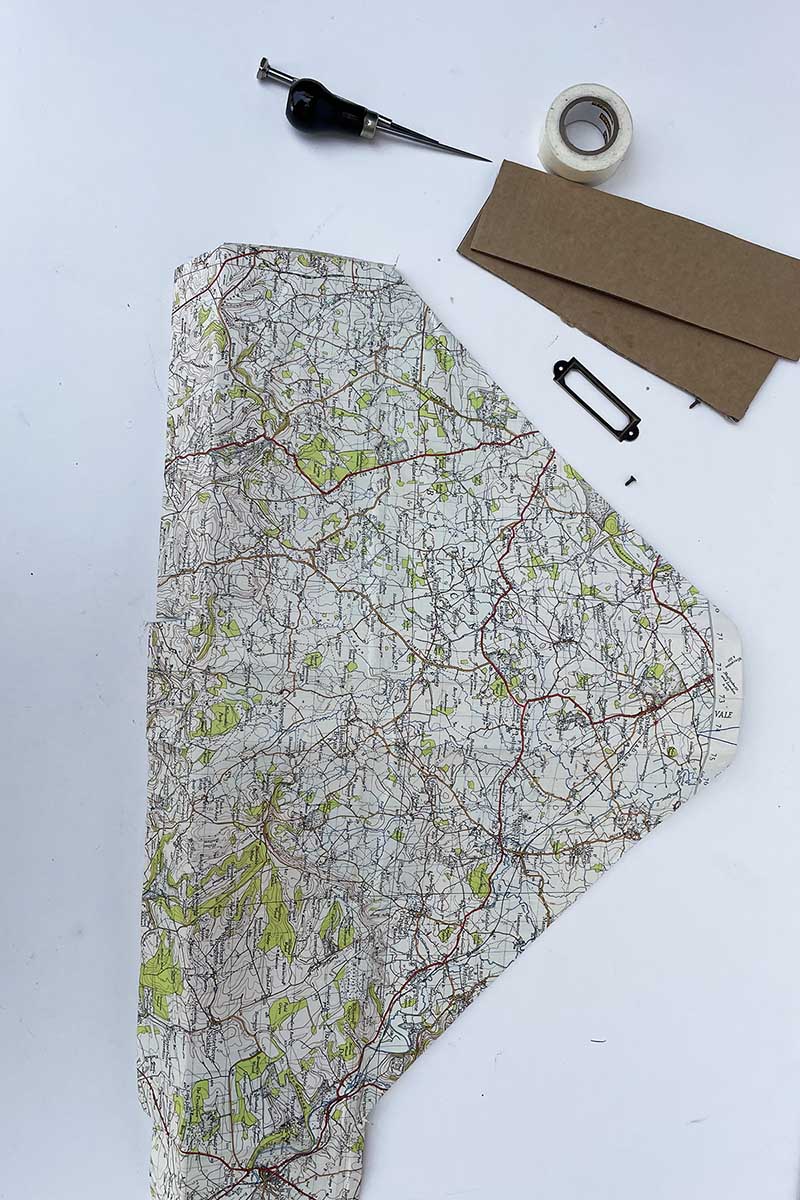 Step 5: Next, fold and glue the map-covered cardboard back into it's original box shape. To strengthen the DIY magazine boxes, I added two cardboard inserts. These were cut from stiff cardboard to fit the box's base and spine. I just used double-sided sticky tapes to secure them.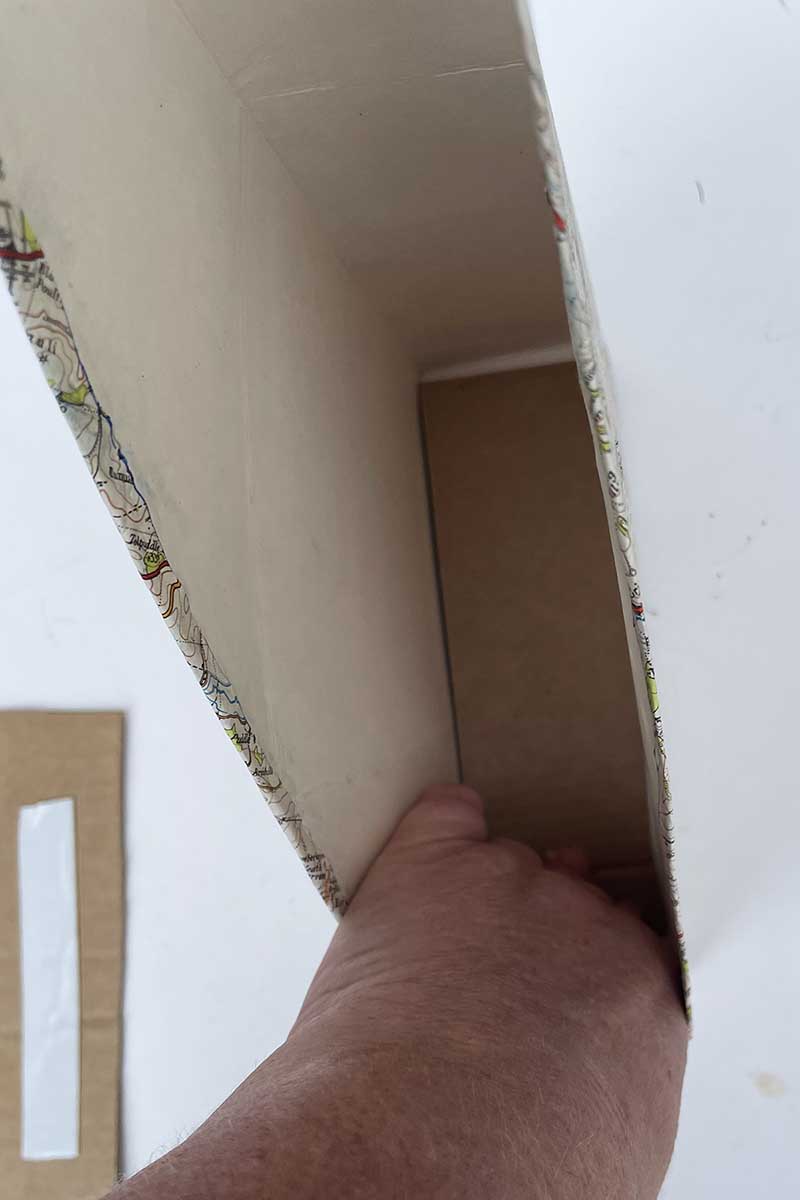 Step 6: Finally, I added some metal label tags to finish off the magazine holders and make them look more stylish. Simply screw them into the cardboard with tiny screws. Depending on how you plan to use the folders, fasten the tags to the spine or the front.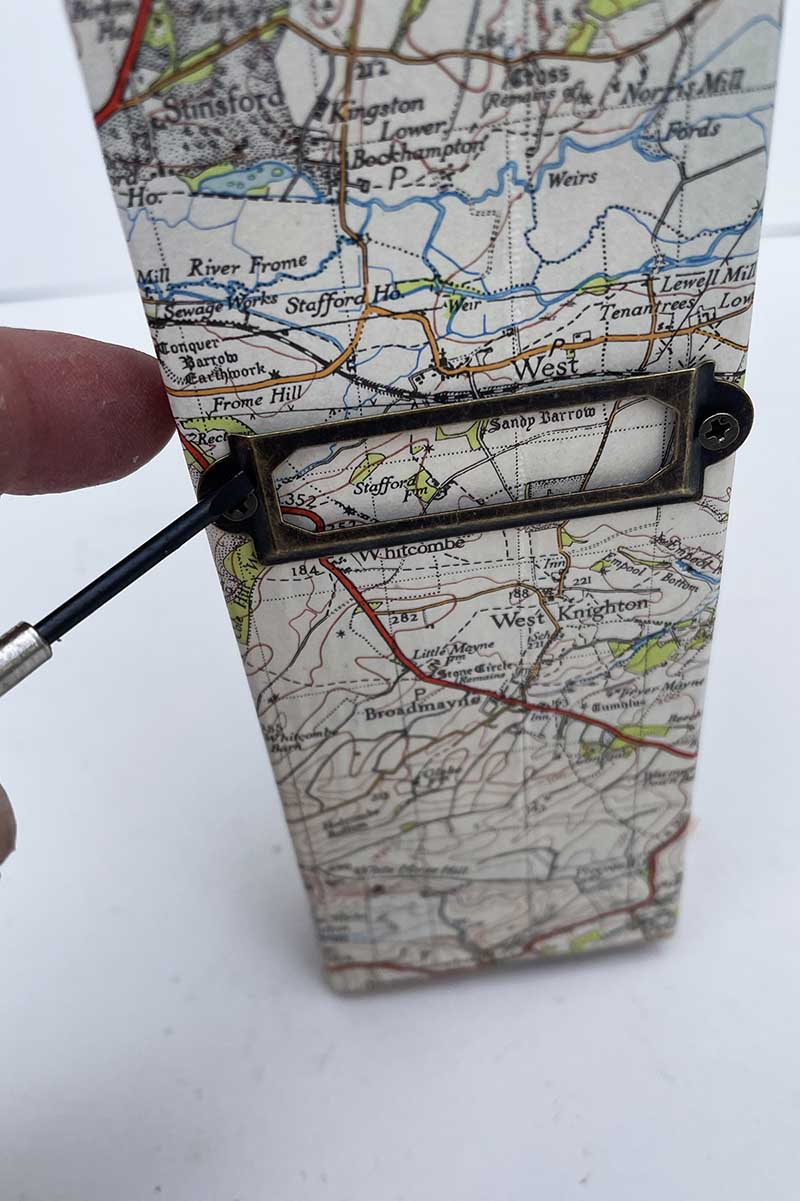 These finished magazine holders are handy and look good on the shelves in my home study. The vintage metal label tags go well with the road maps and give the storage boxes a sophisticated look.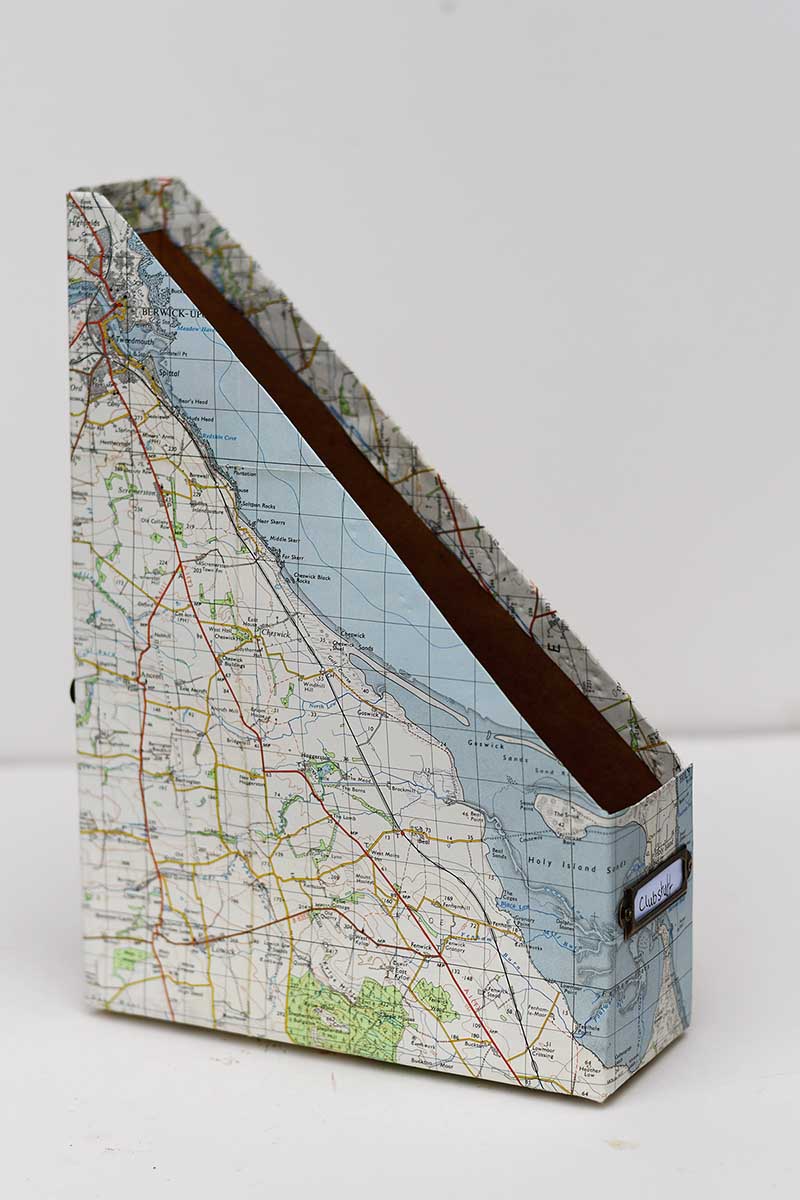 If maps aren't your thing, you can use other patterned paper to cover your boxes. Leftover wallpaper samples would be a good choice, as well as a gift wrap. You can then make storage boxes to match your decor.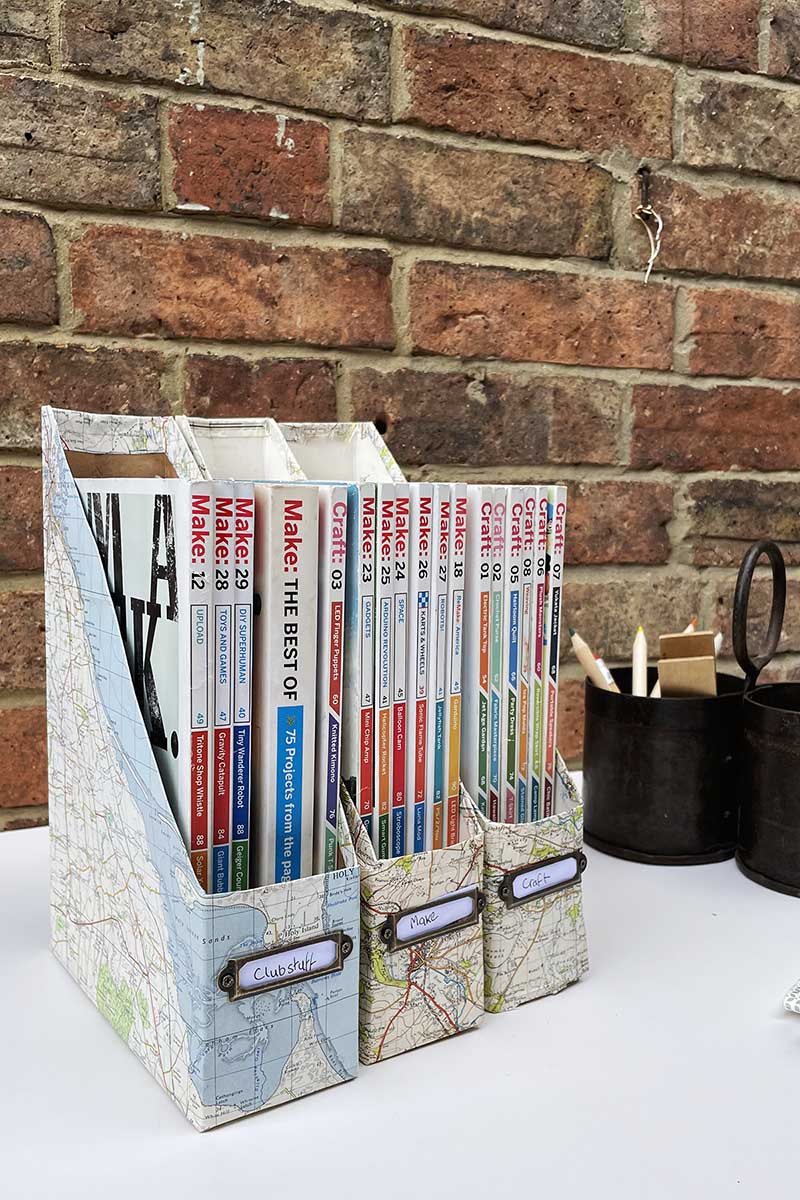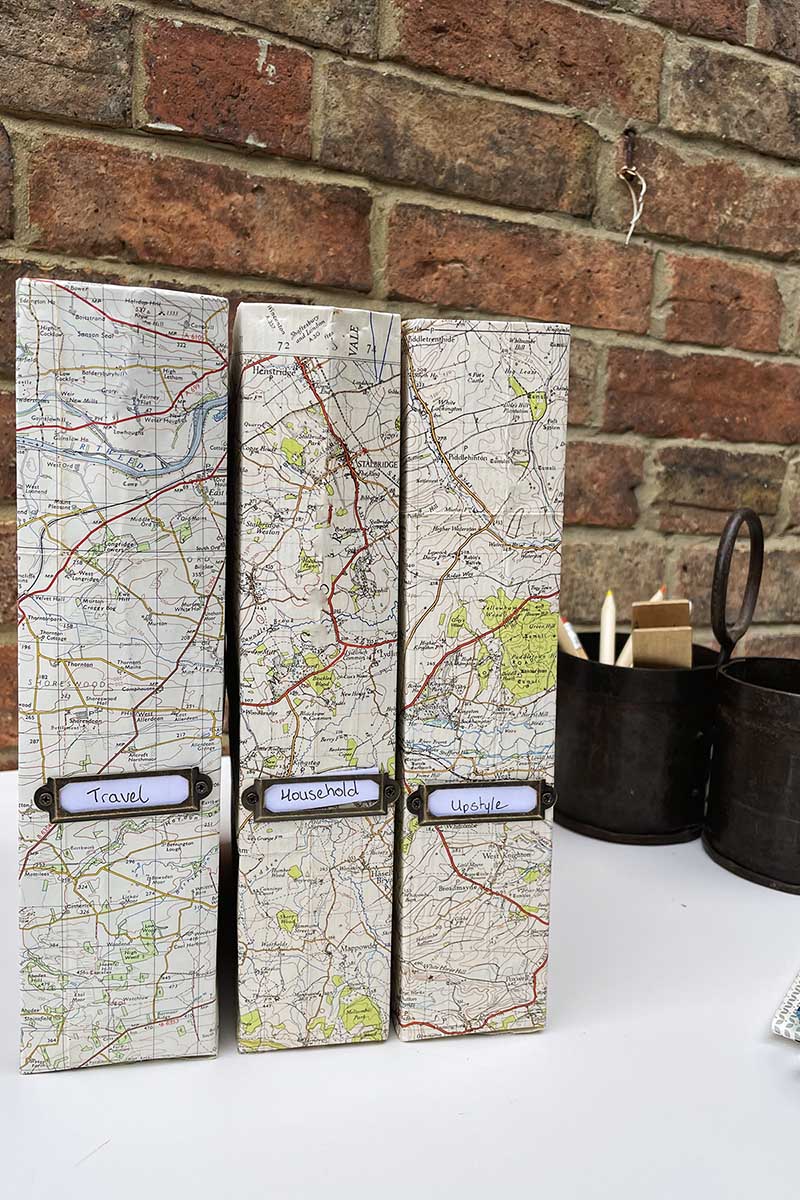 Other Uses For Magazine Storage Boxes
These upcycled magazine holders are handy for magazine storage and so much more. I'm going to make some for my craft room to store my computer craft papers and in the kitchen to store all my appliance instruction manuals and guarantees.
Here are some more creative ways people use magazine holders.
Gift wrapping station – use one box for bows, one for gift wrap and another for paper gift bags.
Yarn storage – store balls of yarn in each box and sort them by colour.
Kitchen roll storage – Use the boxes to hold kitchen foil, cling film and parchment paper rolls.
Cutting board organizer
Tupperware lid storage
Toilet roll holder – Store extra toilet rolls in the boxes
Fit flop holder – You can fit a few pairs of fit flops in each holder
Hair tools – Use an organizer to keep hair brushes, curling tongs and hair straighteners in the same place.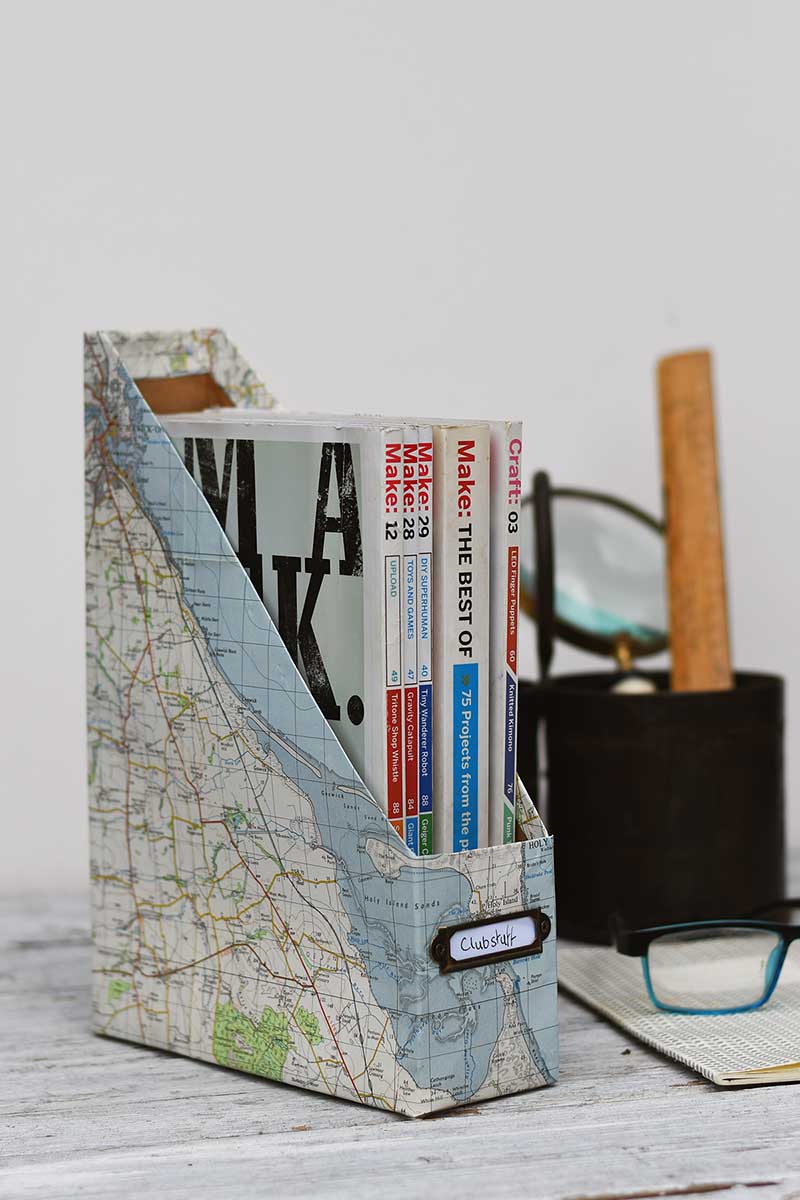 As well as makinging these upcycled magazine holders as stylish storage for my archived magazines, I have made a trendy denim magazine rack for the living room to hold the mags I'm currently reading.
Don't forget to check out my many other upcycled storage solutions, from the shoebox suitcase, denim boxes, pocket wall organizers and map tins.
How To Make Stylish Magazine Holders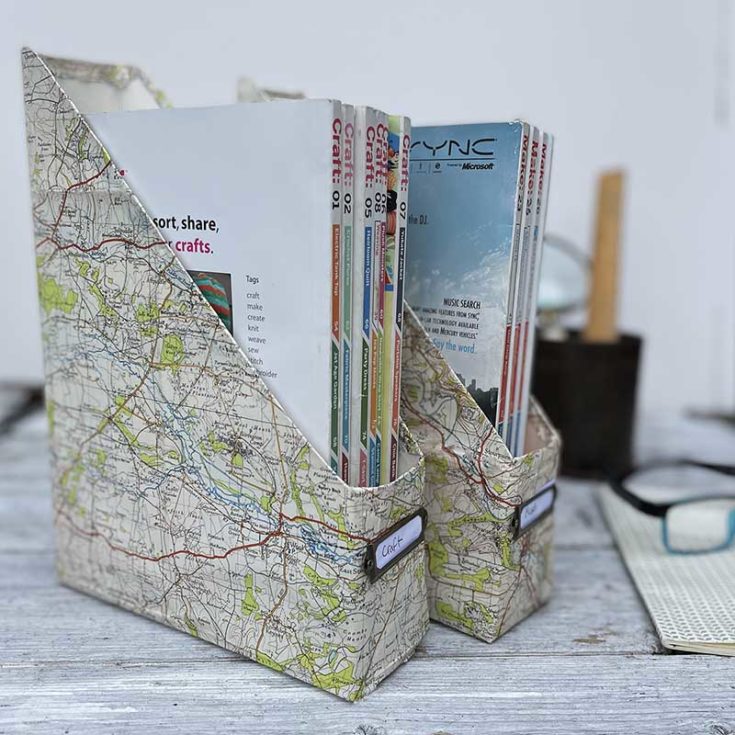 Give your old magazines a classy home with these DIY magazine holders. They are made from upcycled cereal boxes and repurposed old road maps with the addition of vintage label holders to give them a classy look.
Materials
Large empty cereal boxes
Old road maps
Spray mount glue and tacky paper glue
Vintage index metal label tags
Tools
Scissors
Pen & Ruler
Screw driver
Instructions
Open out the cereal box and cut off the top flaps.
Next, mark the corner of the boxes on a diagonal from the top to 9cm from the bottom with a ruler and pen (see diagram).
Cut away the marked corners with scissors.
Then, place the cut box onto the road maps and cut around, so there is enough map to cover the box with a 1cm margin. You might want to consider using a map of somewhere precious to you.
Next, using the spray mount, glue the map to the front of the cereal boxes, folding the extra map over the edges and sticking it to the back of the box.
Then, fold and glue the cardboard back into a box.
Finish off by screwing in the vintage metal label tags to either the front or spine of the magazine holder.