Inside: Over 40 cool denim sewing projects for repurposing your old jeans and many unique ideas you would never have thought of. Plus, handy denim sewing tips.
Denim is one of those fabrics that gets better with age. As it gets older, it gets softer. And I love how they fade over time.
Unfortunately, my jeans eventually wear out on the inner thighs (I have chunky athletic thighs 😂), but I still hang onto them for upcycling.
The kids' jeans wear out at the knees, but weirdly, they sometimes buy them like that!
There are many no-sew denim projects on the blog, but this post focuses on sewing tutorials. The fantabulous creations can be stitched by hand, on a sewing machine or a combination of both.
It doesn't matter if the jeans are straight leg, boot cut, skinny, high rise, low rise, flared, boyfriend, mom, cropped or stretch; you can sew many incredible things.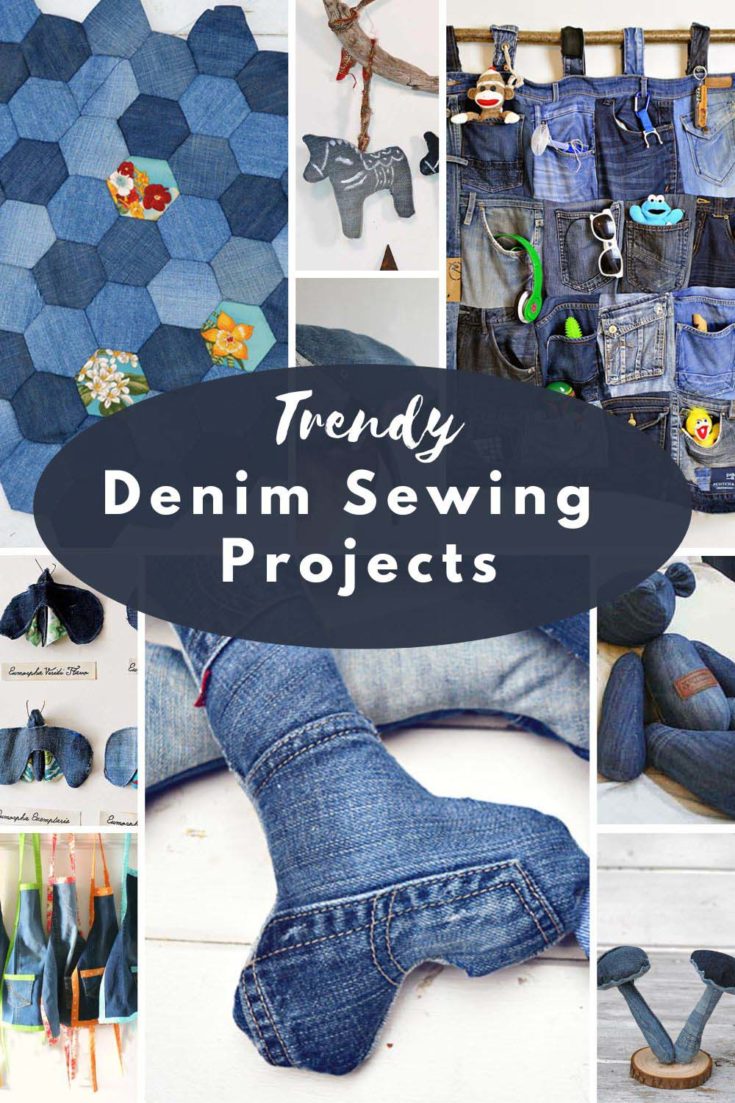 We're a participant in the Amazon Services LLC Associates Program, an affiliate advertising program designed to provide a means for us to earn fees by linking to Amazon.com and affiliated sites. As an Amazon Associate, I earn from qualifying purchases.
Best Tips For Sewing Denim
I tackle my denim sewing projects with a 55-year-old Bernina sewing machine. It's a solid beast that has lived on two continents. It's dealt with all sorts of crafts and DIYs deftly but is particularly good with denim. But no matter what sewing machine you use, these tips will help you.
Because denim is so strong and tough with thick seams, it's not the most straightforward fabric to sew. Before starting, practice with off-cuts on your machine to get your stitch length and tension right.
Use a fresh heavy-duty needle. For sewing machines, those marked as suitable for denim/jeans. A 90/14 needle for lighter weight denim and a 100/16 for thick denim. These needles are strong and sharp and have a reinforced blade to minimize movement and reduce the risk of breaking and skipping stitches. When hand-sewing denim, use larger size four needles.
Use very sharp tools to cut the denim. A good pair of scissors or sharp blades in your rotary cutter and a sharp seam ripper will make deconstructing your jeans for sewing projects quicker.
Use heavy-duty Jeans thread such as Gutermann.
If your sewing machine has one, use a jeans foot to deal with thick heavy denim.
Denim is a thick fabric and can get bulky around pockets, hems, waistbands and seams. Try to reduce bulk by opening up and flattening seams, mitre any corners, offset seams and using a zigzag or overlock instead of a hem.
Go slowly, hold the fabric firmly but let it freely feed through the machine, don't force it.
Use the handwheel when trying to sew through seams, hems and waistbands. Some sewing machines won't be able to deal with thick layers of fabric, so you might have to hand stitch those bits.
Watch out for metal on the jeans, such as rivets, buttons and zips. Sew around them, or they will break your needles.
Unique Denim Sewing Projects
Denim is a hardwearing and freely available fabric versatile and perfect for many diverse sewing projects. Whether you want to repurpose old jeans into bags, rugs, pillows, dog toys, hats, Christmas decorations or plushies, you should find something to inspire you to get the sewing machine out or to thread a needle.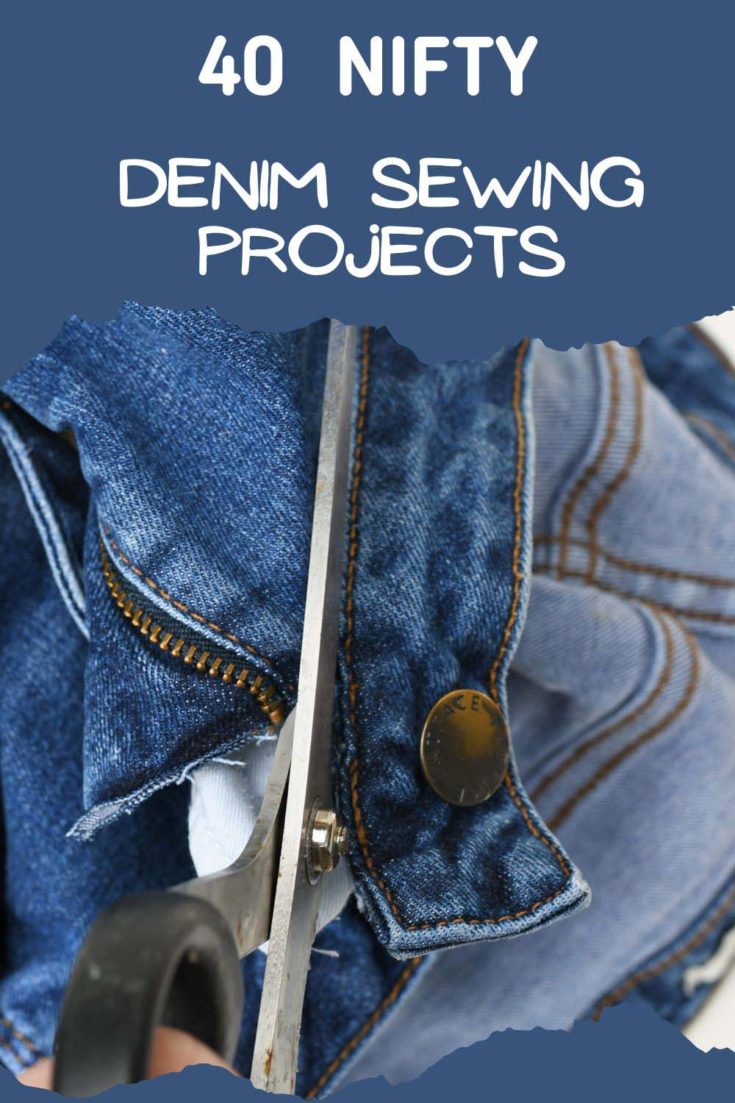 Don't forget to check out my comprehensive A to Z guide to denim crafts, where you will find a mixture of sewing and no-sew denim tutorials. Old jeans aren't the only clothes to upcycle for the home. Old sweaters and t-shirts are good too. Then, use the leftover fabric scraps for fun projects, including hand-sewn ones.