Paper Bunny Treat Bags for Easter
The great thing about these paper bunny treat bags, they are quick to make cost almost nothing and make an adorable Easter gift. After stitching paper for the first time for my Valentine Map hearts I got the idea to stitch a paper bunny for Easter. Like those Map hearts the bunnies are very addictive and I ended up making lots of them.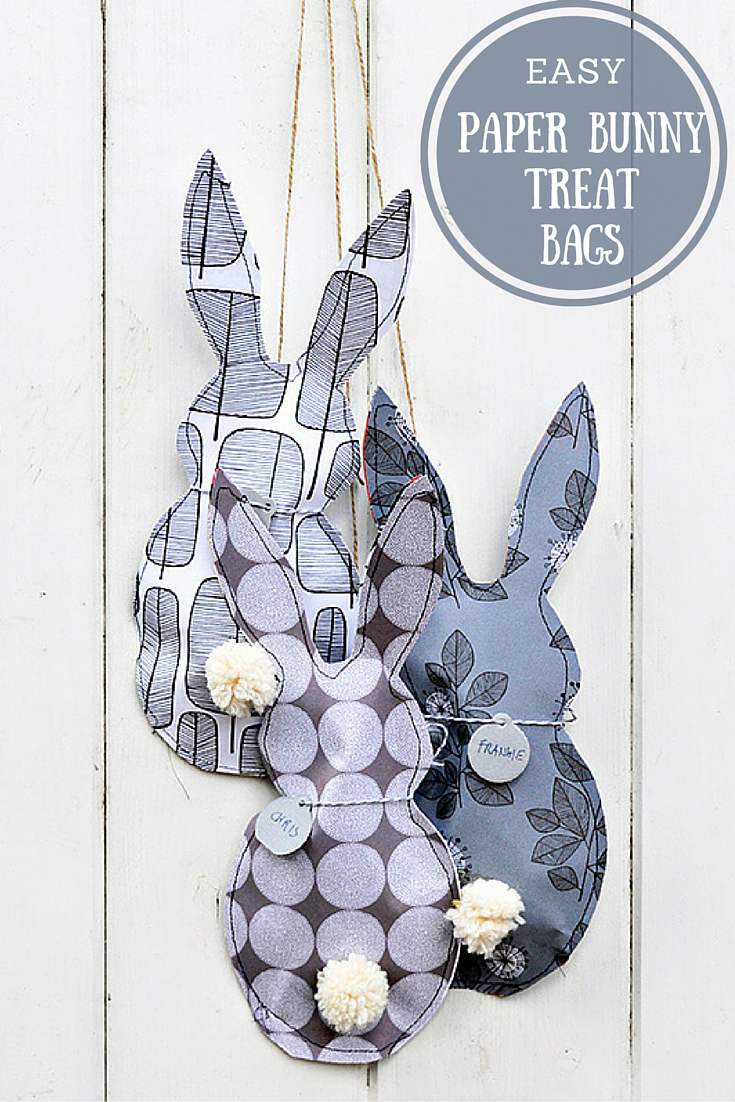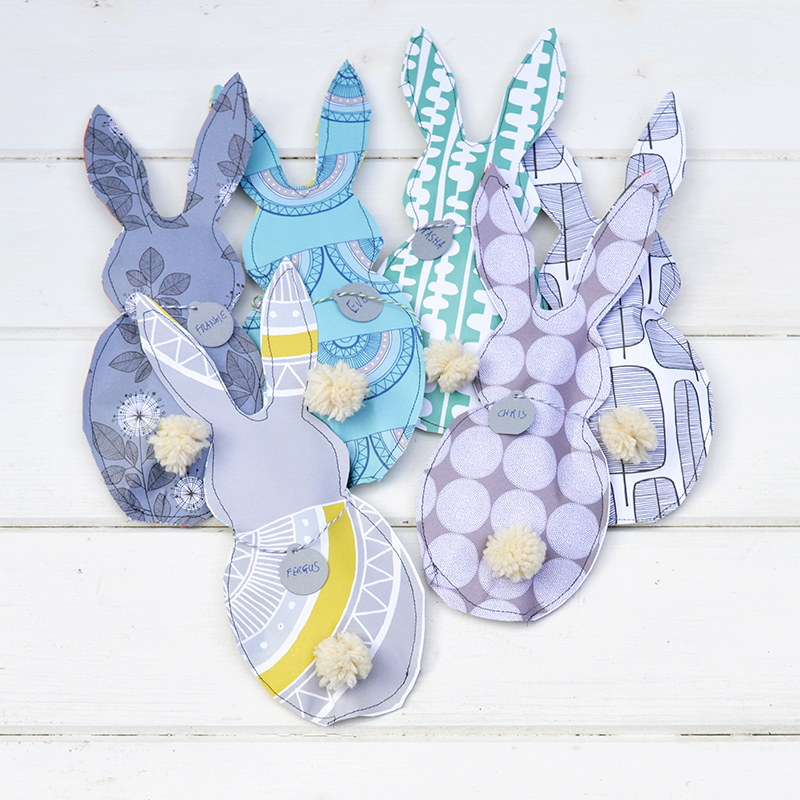 This post contains amazon affiliate links for your convenience. Click here to see my disclosure policy.

What you need to make a Paper Bunny treat bag
Decorative papers, I use whatever I can find, craft papers, wrapping paper scraps & wallpaper samples. In fact I used an old 2015 Lotta Jansdotter calendar for some of my paper bunnies, as I adore her simple Scandinavian prints. Lots of shops will give you free wallpaper samples, there are so many fantastic wallpaper designs out there. All you need is approximately one A4 size piece of paper for each bunny.
Paper bunny template which you can download here.
Scraps of cream wool for pom pom tail
Sewing machine, scissors, needle and thread.
Last but not least your Easter treats; I used mini chocolate eggs.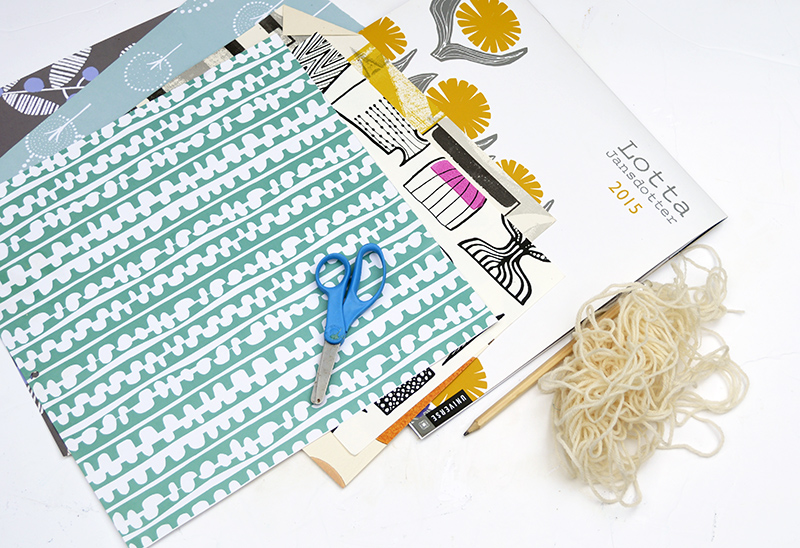 How to make a Paper Bunny treat bag
Download and cutout the paper bunny template or draw your own.

Once you have decided on the paper you are going to use (should be A4 in size), fold in half lengthways and draw round your template.

Cut out your bunny shape, you should end up with 2 bunnies. Place wrong sides together and stitch round the edge leaving a gap at the bottom.

Fill with your Easter treats and sew up to close

Add small pom pom for tail (tutorial below). Also you can add a name tag using a small luggage label and some bakers twine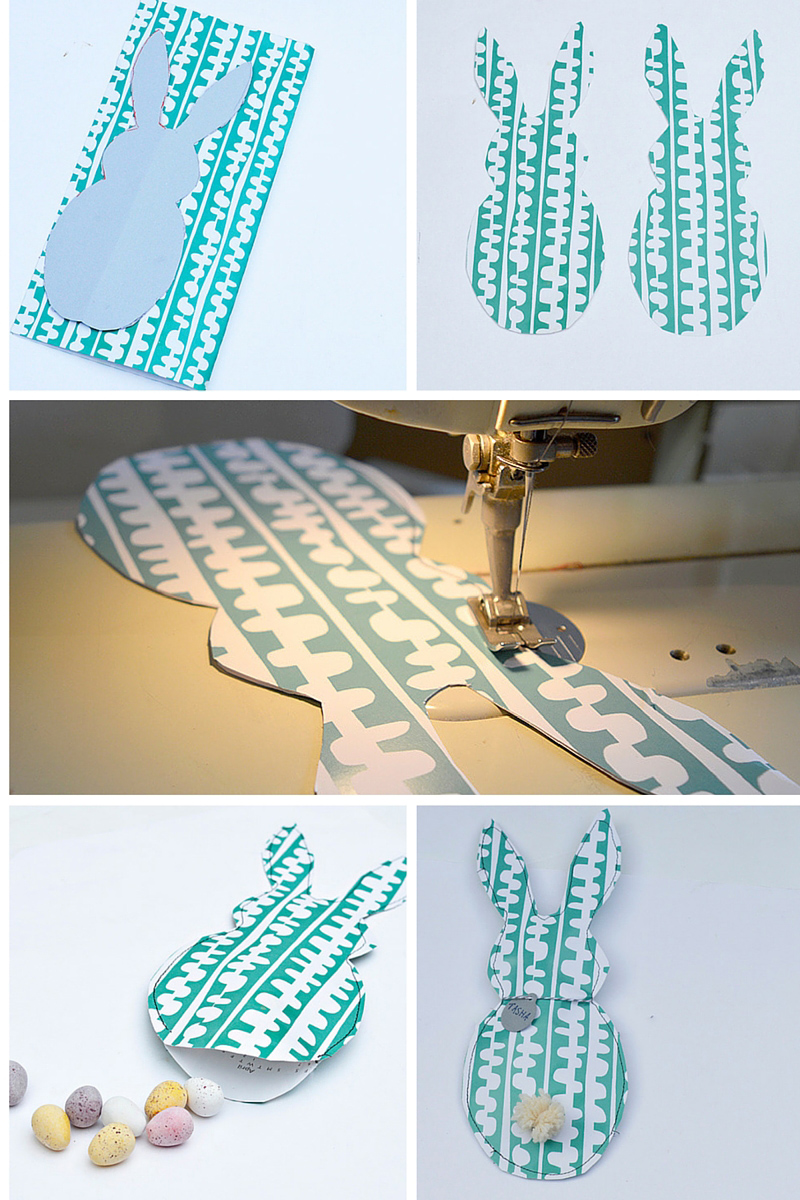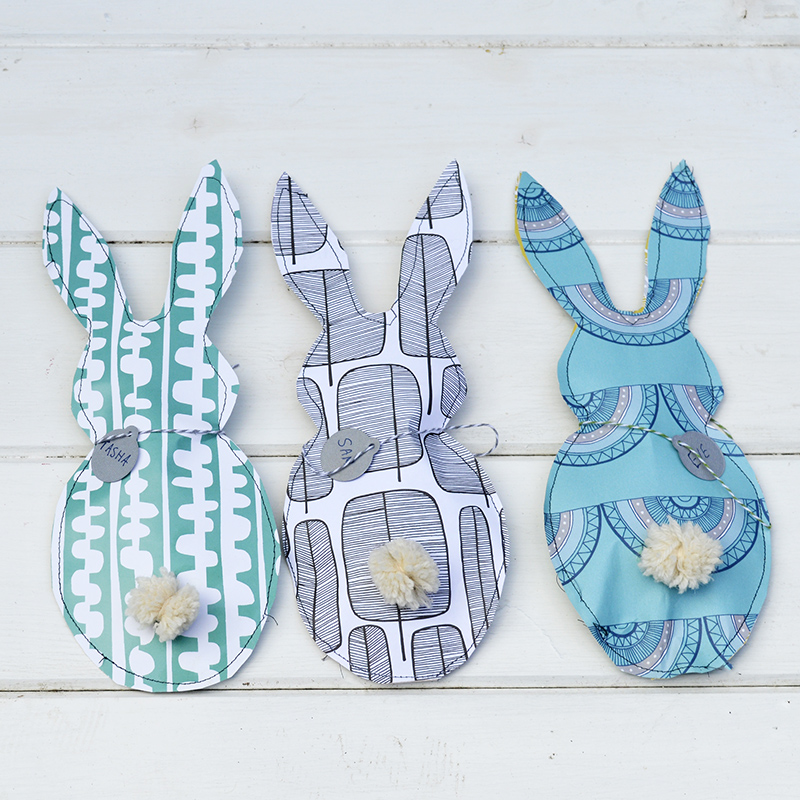 Quick way to make pom pom tails.
You probably know how to make pom pom's, but just in case you don't I'll show you my quick way to make lots of pom poms at once. All you need is a metal coat hanger, wool and scissors.
Squash your coat hanger into a more rectangular shape.

Wind your wool round the coat hanger at least 20 times, the more wool winds the bushier the pom poms.

Using wool tie round the wool strands at even spaces along the length of wool. These will be the middle of your pom poms, the more bits of wool you tie the more pom poms you will make but the smaller they will be. This is easier to visualise by looking at the picture below.

Now cut the wool in between these tied middle pieces and cut the wool off the end of the coat hangers. Finally fluff up and trim your pom poms as desired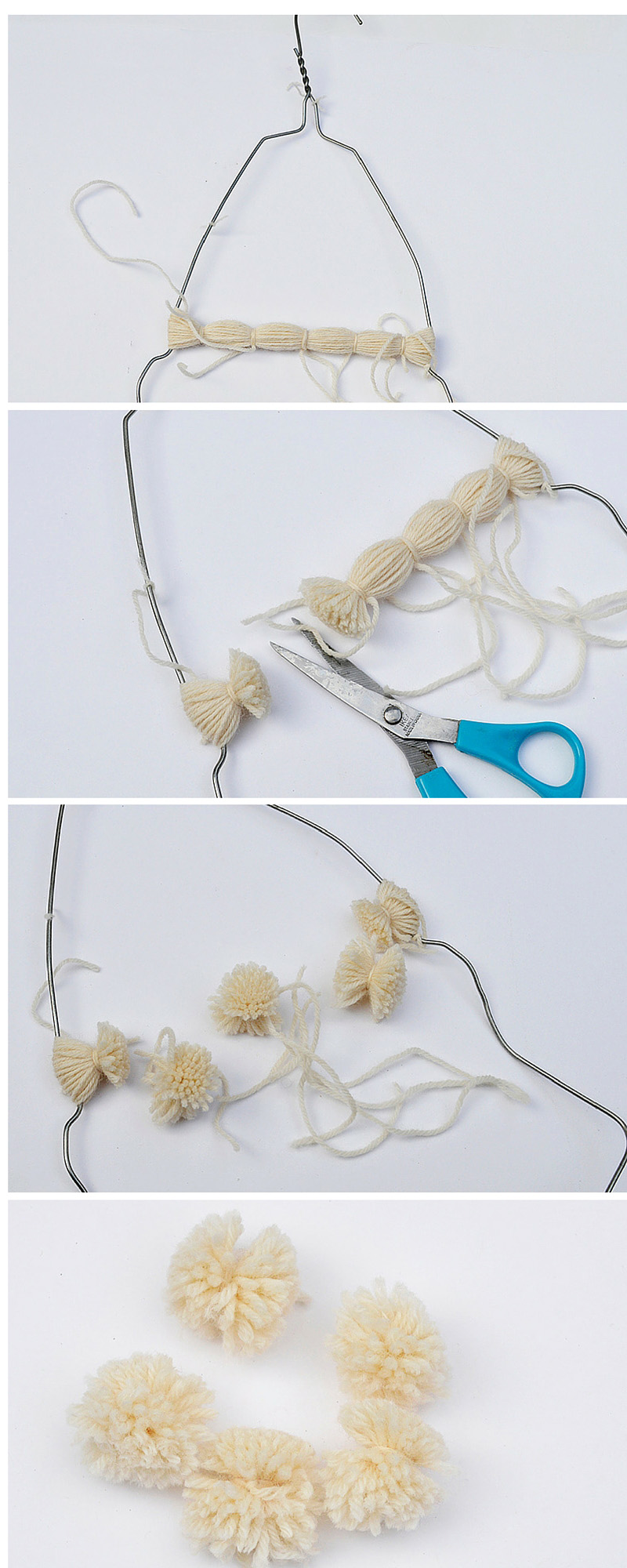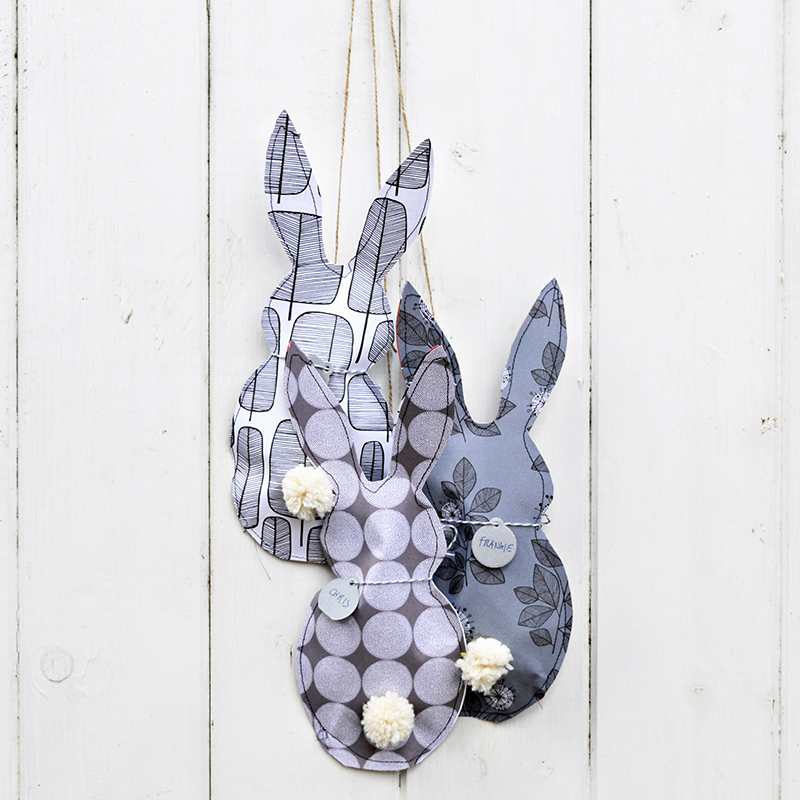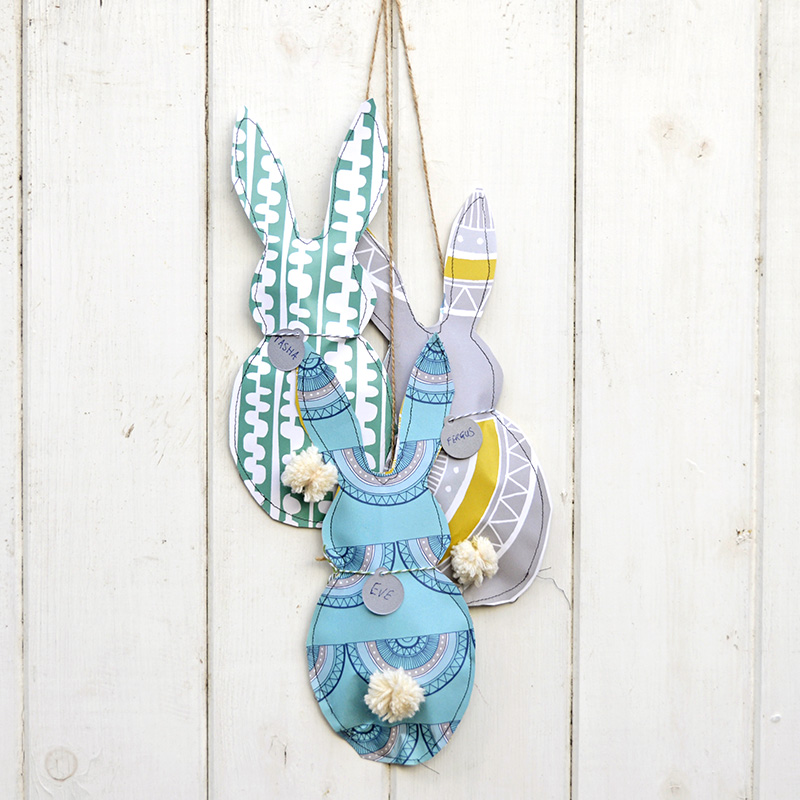 These paper bunny bags are not only great for giving out treats with at Easter but I think they will make great party favours as well. We are actually going up to my Aunts at Easter to a beautiful part of the English countryside the Consall Valley. My nephews who made the patchwork fabric eggs will be there as well, so I'm going to take these paper bunny bags with me. They are just perfect for an Easter egg hunt.