There's something about tin cans. I can't help finding new ways to upcycle and reuse them. This leather pen pot has to be one of my classiest tin can upcycles.
In the past, I've made gold crushed can DIY planters, a recycled jeans planter, Marimekko decorative tin can planters and even upcycled tin with a faux marble effect. You can see many more of my upcycled tin cans here.
DIY Upcycled Rainbow Leather Pen Pot
I was about to throw out an outdated white leather handbag when I got the idea of using it for my latest tin can upcycle. Having painted leather before, I thought it would be fun to add a rainbow of colour to the white leather and use this to make a leather pen pot.
I say leather, but the handbag turned out to be faux leather (so vegan-friendly!). Don't worry if you don't have an old bag to hand, you can easily pick a faux leather one up cheaply at a thrift/charity store. Or even buy faux leather online.
Also, I say leather pen pots, but they can easily be plant holders. Because the leather pen pot is so colourful, it looks great with all my colour pens.
This is a simple and affordable craft that uses mainly upcycled materials. It took about 30 minutes to complete.
We're a participant in the Amazon Services LLC Associates Program, an affiliate advertising program designed to provide a means for us to earn fees by linking to Amazon.com and affiliated sites. As an Amazon Associate, I earn from qualifying purchases.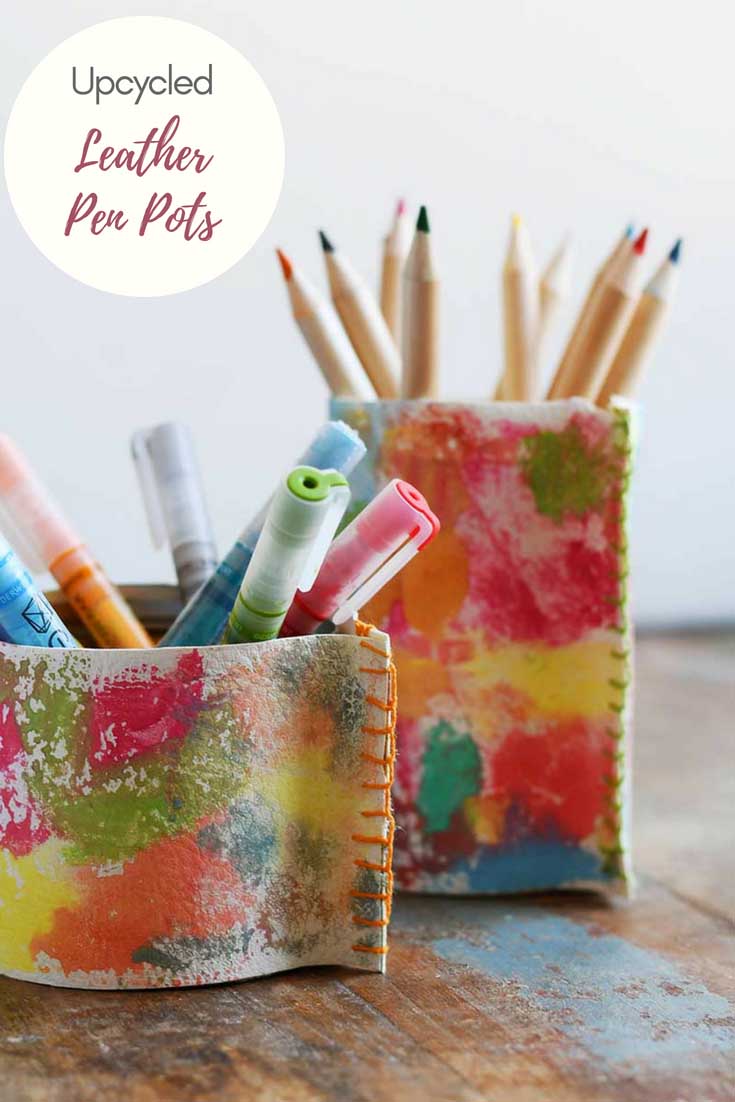 What you need to make an Upcycled leather pen pot
Tin cans – I used tin cans in a variety of sizes.
White faux leather – from an old handbag or bought online. I think the pots look better if you can get faux leather with a bevelled texture.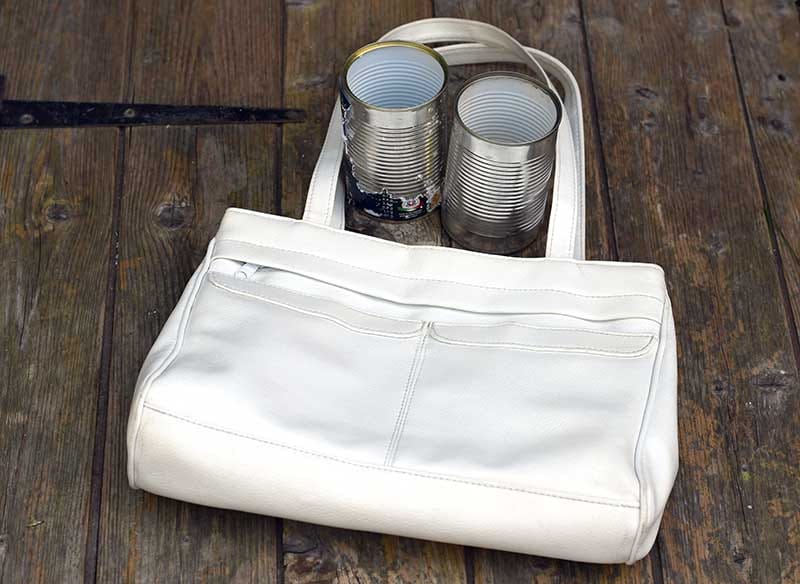 How to make a colourful Upcycled leather pen pot
Step 1: The first thing to do is cut the faux leather to size. As I was using an old handbag, this involved cutting it open with a pair of scissors first and removing all the lining.

The piece of leather to go around the pot needs to be the same height as the tin can and about 2cm longer than the diameter of the tin can you are going to cover.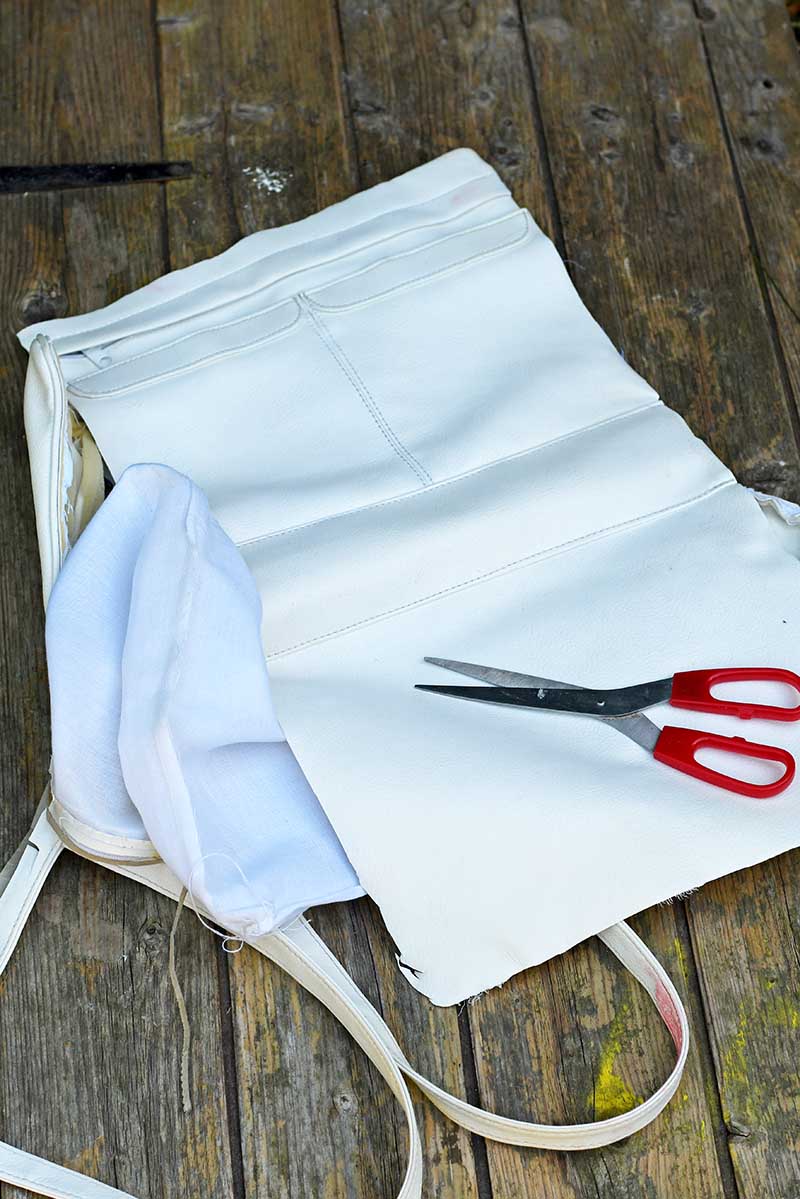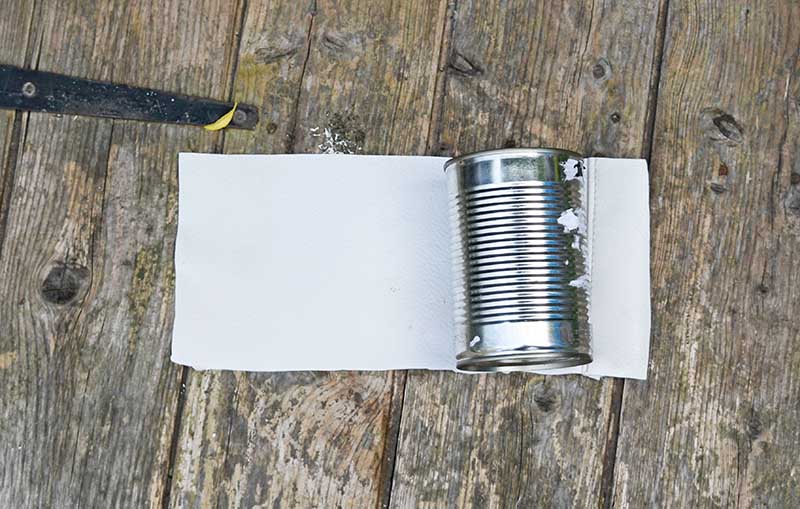 Step 2: Next, paint the cut piece of leather with watercolour paints. As you first brush the watercolour paint on the leather, you will notice that the faux leather appears to repel the paint at first, but if you leave it for a few seconds, it will stick to the leather.
It's hard to paint detail with watercolour paint, but I liked the washed-out effect it gives on the leather. I used lots of bright colours from my paint pallet to create a random rainbow pattern on the leather.
If you have never painted with watercolours there are lots of fabulous tutorials available. You may also want to practice on paper first before painting the faux leather.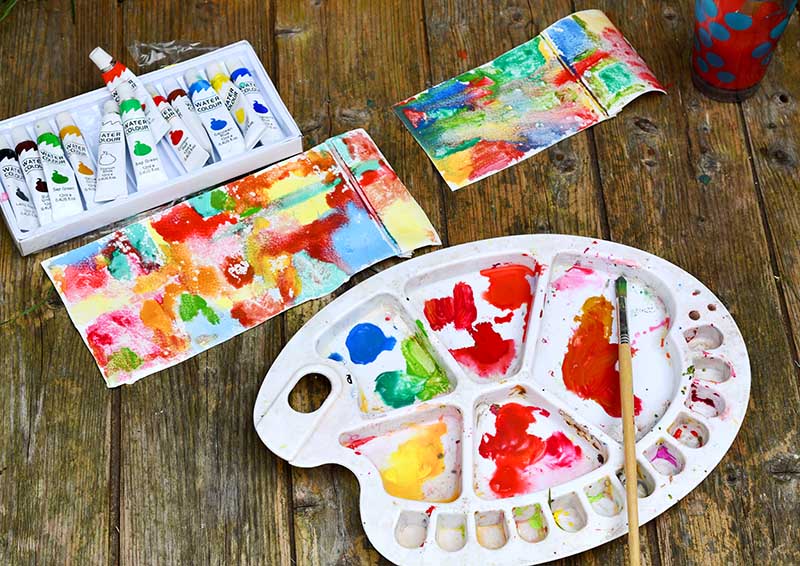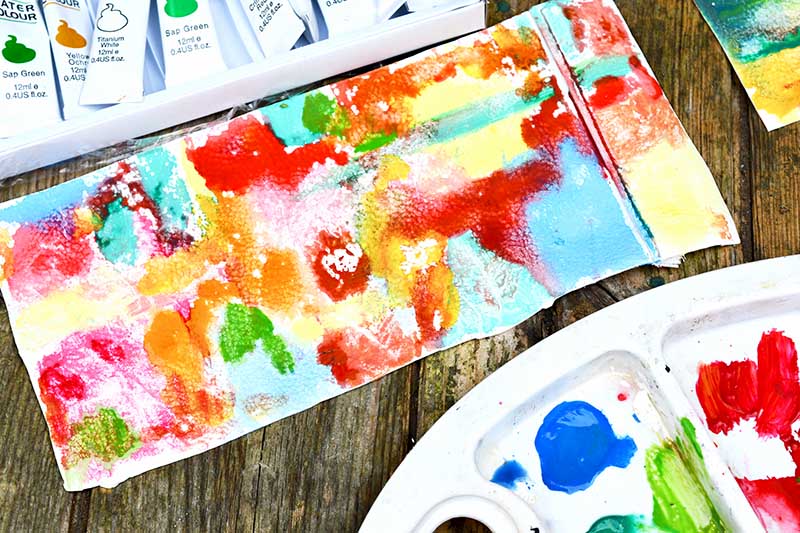 Step 3: It shouldn't take long for the paint to dry. I left it as it was. But if you want, you can seal it with an acrylic spray sealer. Which probably will give the leather pen pot a shinier finish.
Once dry, the sleeve is ready to sew. Stitch the two ends together, with a brightly coloured embroidery thread using a blanket stitch.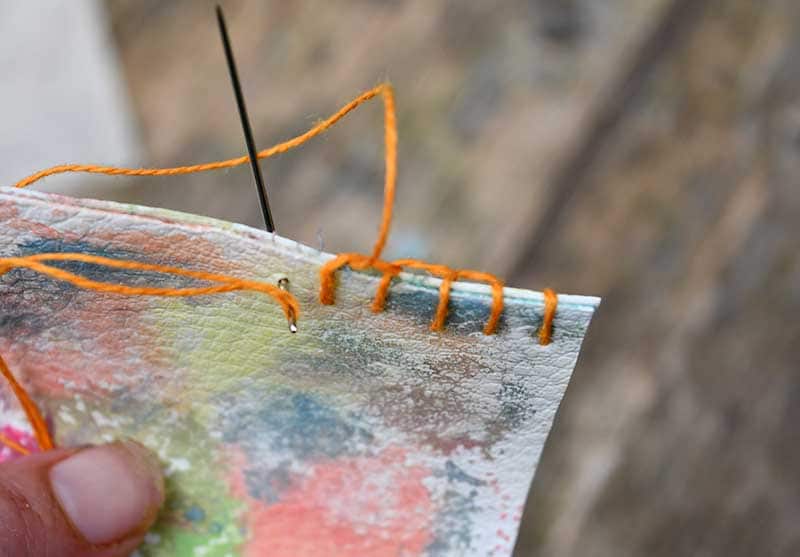 Step 4: Finally, slip the leather cover over the tin can to create your lovely leather pen pot.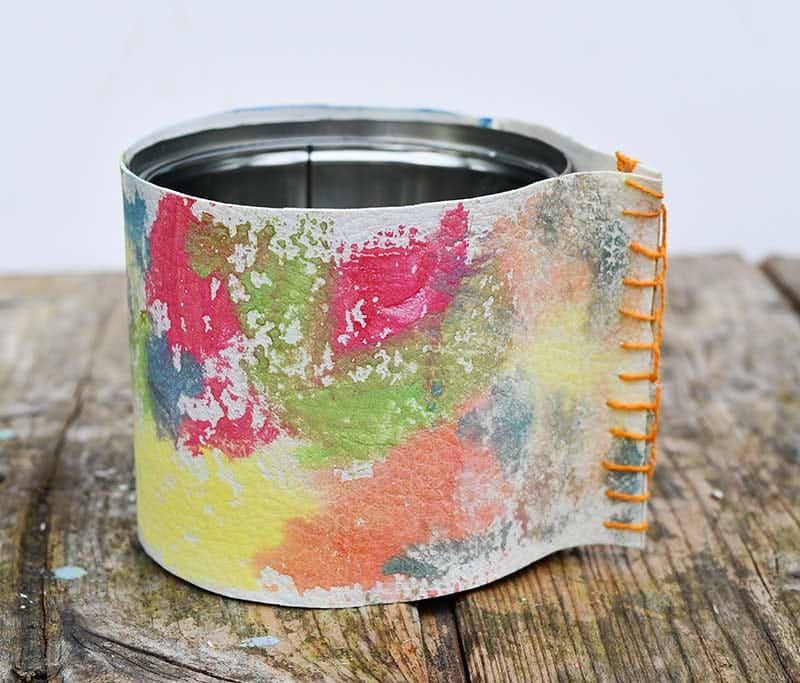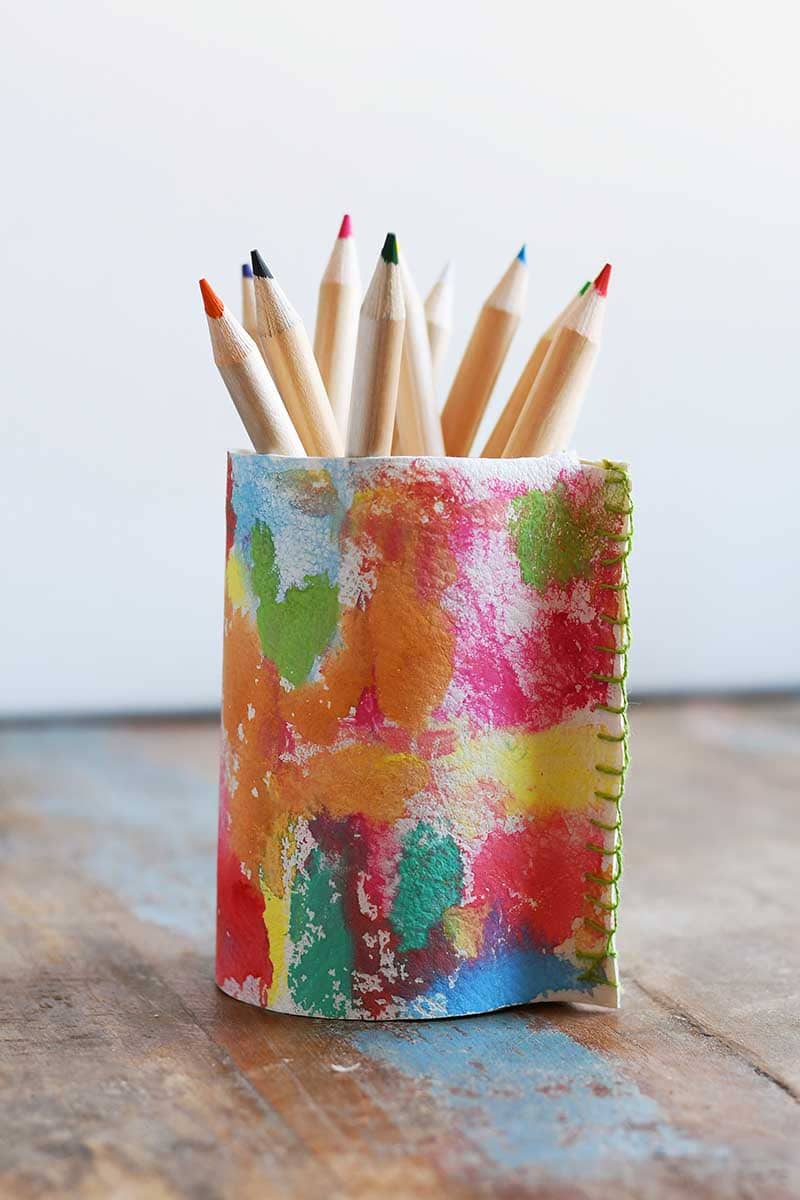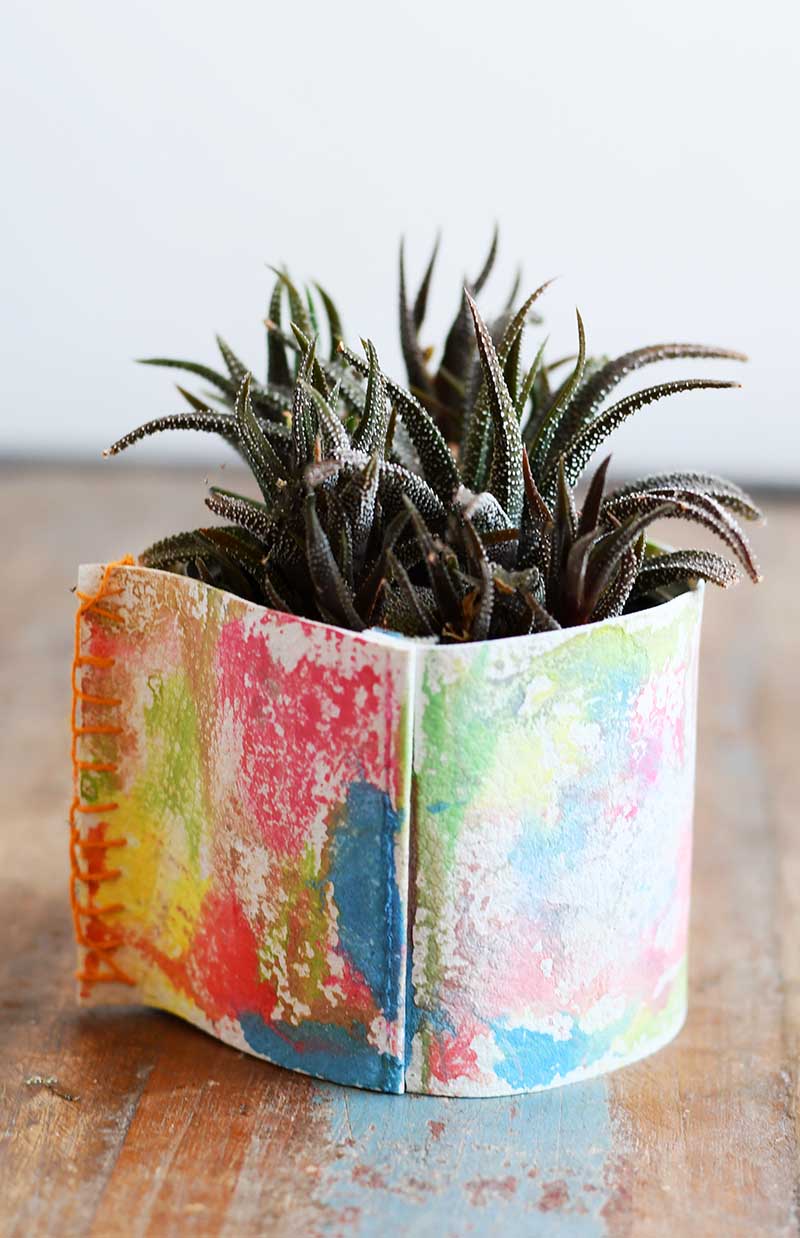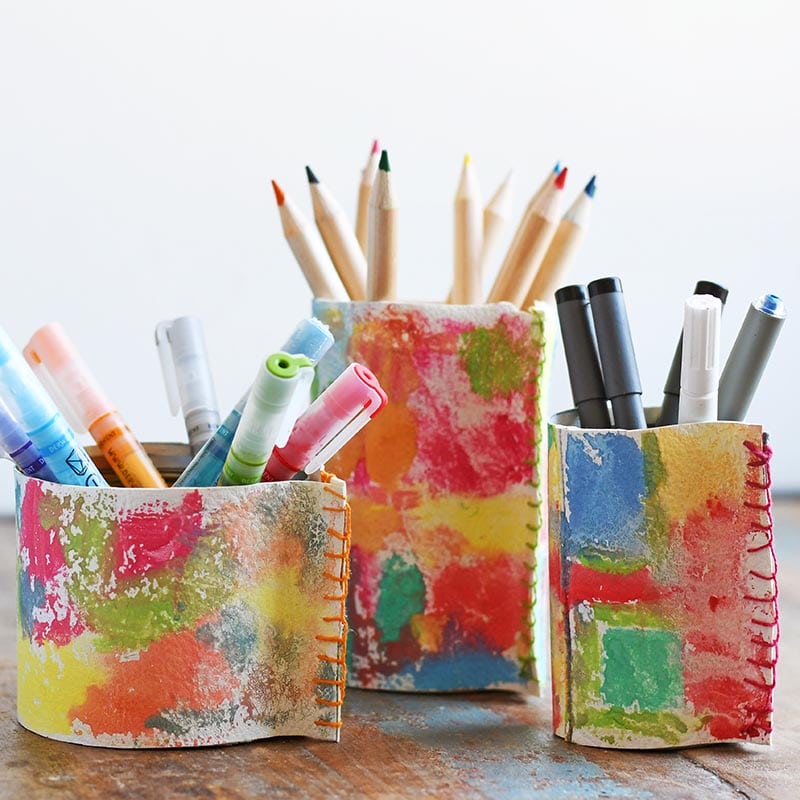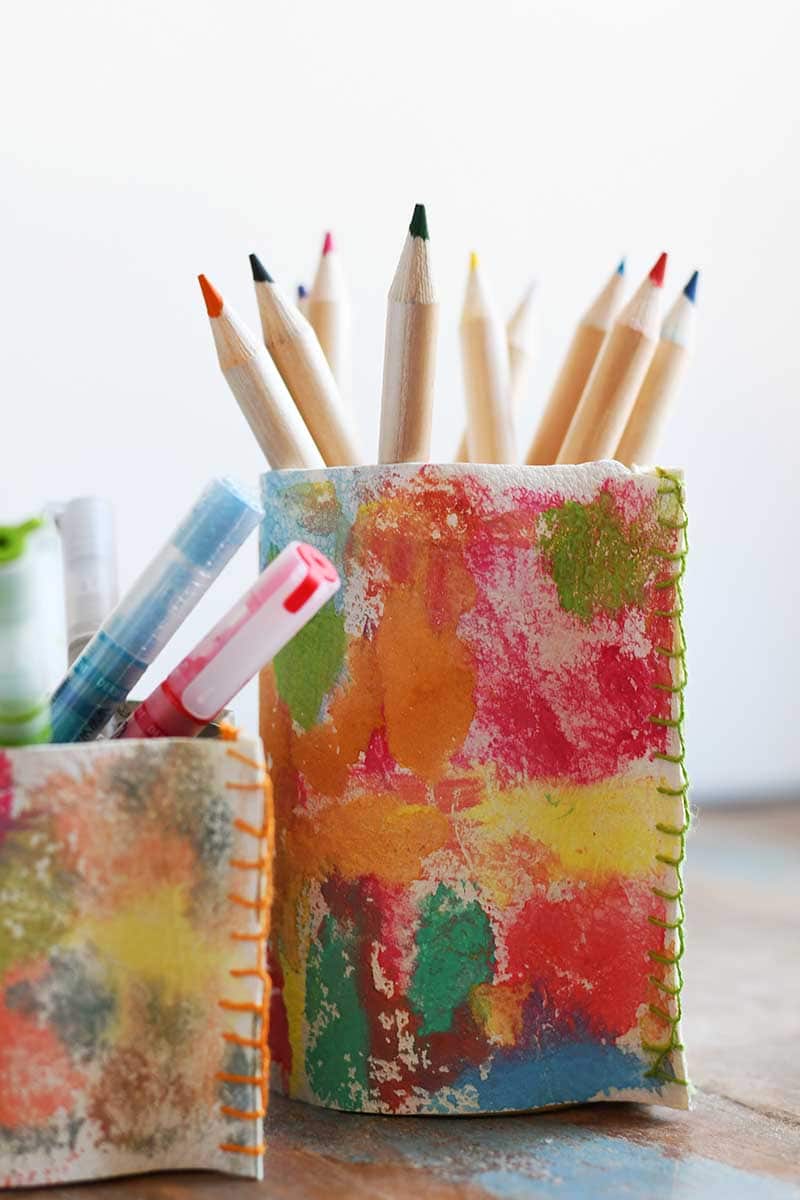 Or, if you prefer, you can use your upcycled leather pot as a unique plant pot for some succulents. Either way, a leather desk tidy or trendy planter will look great on my DIY world map desk!

This isn't the first time I've painted leather. In the past, I have made an upcycled leather bag with paint and iron-on transfers. You'll find more leather craft ideas and handmade gift ideas here.