Who says denim isn't for Christmas? I always like to sneak in an upcycled denim ornament or two into my Christmas decorations. This year I have made a scrap denim angel.
I actually made a few wire angels one of which I covered with denim and the other a fabric sample scrap.
As well as making a new denim Christmas ornament every year I also like to make angel-themed Christmas ornaments. I love to use upcycled materials when creating an angel ornament. I've made shuttlecock feather angel wings and doily angel wing Christmas ornaments in the past. I've even made angel wings out of painted pinecones.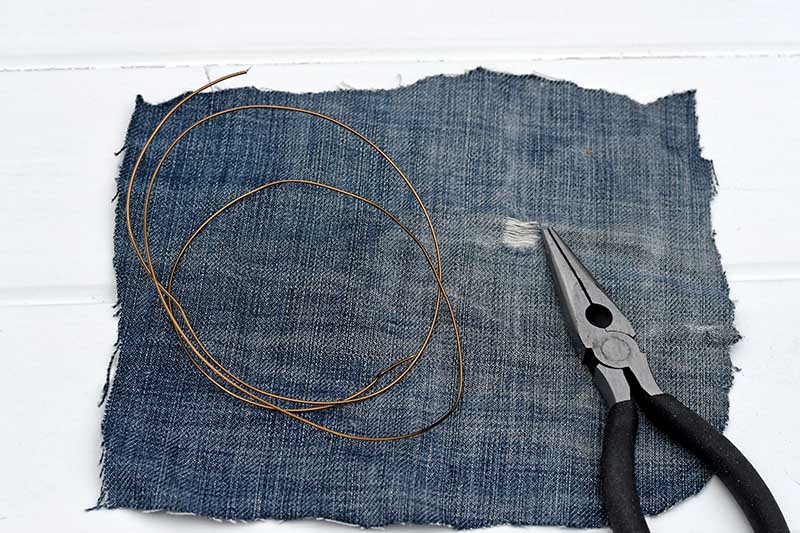 Angel Tree Toppers?
I've found that people can be put into two camps when it comes to decorating a Christmas tree. There are those that top the tree with a star ornament and those that like to top the tree with an angel or fairy.
The star on the top of the tree is supposed to represent the star of Bethlehem. An angel is supposed to represent the angel Gabriel.
I am very much in the star at the top of the tree camp. I've even made denim patchwork stars as a Christmas decoration
That is not to say there aren't any angels on my tree. If you look carefully you will find a few upcycled Christmas angel ornaments amongst all the others in the tree just not on the top.
Both the denim angel and the fabric angel will feature on my Christmas tree this year. I think I'll put them on the DIY wooden Christmas tree I hang in the kitchen.
This quick and simple craft shows how you can make a cute Christmas ornament out of a few bits of scraps. There is no need to go to the shop for expensive craft supplies.
We are a participant in the Amazon Services LLC Associates Program, an affiliate advertising program designed to provide a means for us to earn fees by linking to Amazon.com and affiliated sites. As an Amazon Associate, I earn from qualifying purchases.
What You Need To A Make Denim Angel
You hardly need anything to make this denim angel.
Scrap wire – craft wire or garden wire. I did try an old wire coat hanger but the wire was just a little bit to stiff to use for the wire angel frame.
A scrap piece of denim. I like to use a faded piece from an old pair of jeans.
A pair of pliers and wire cutters.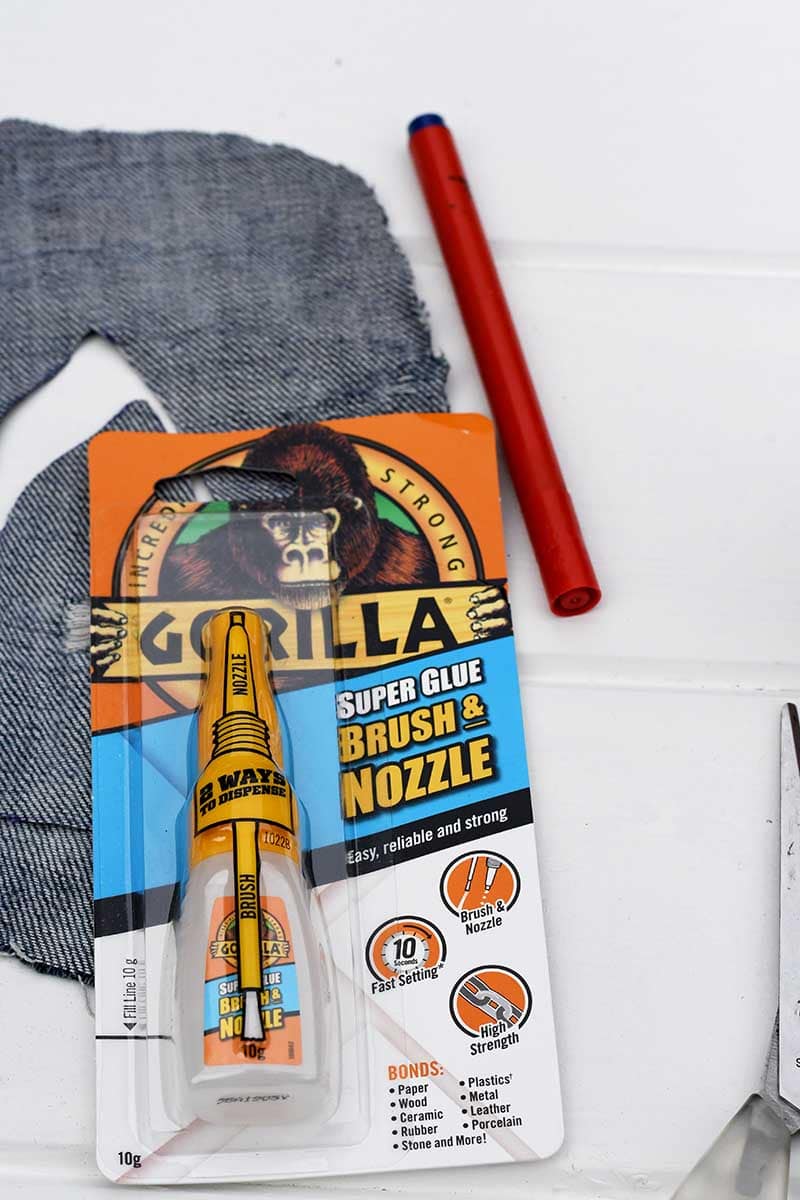 How To Make A Denim Angel
1. This must be one of the easiest Christmas ornaments I've ever made. To start off make a wire angel frame. Cut the wire to a length about 50cm.
Fold the wire in the middle to create a triangle shape, like in the picture below.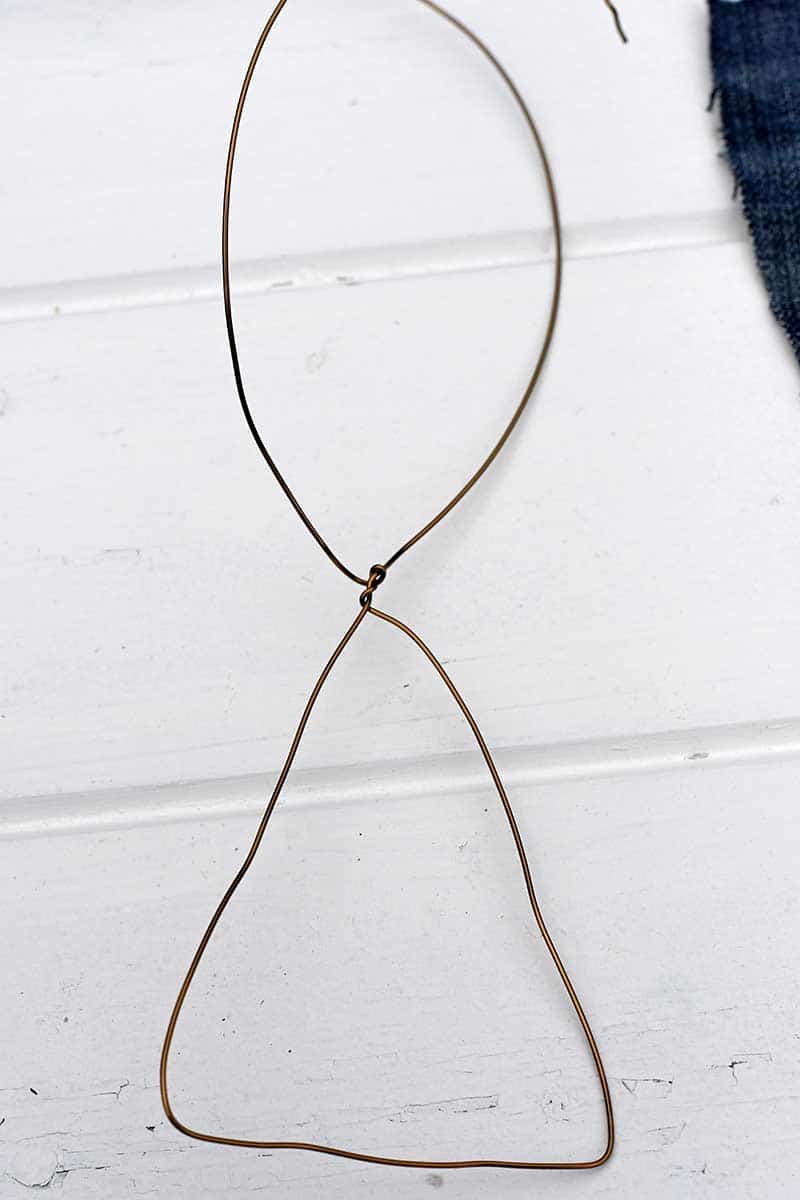 2. Next, make the angel head. This is easier if you use a round object about the circumference of the head you want to make. I used a shot glass for this.
Wrap both ends of the wire around the glass to get a nice round shape.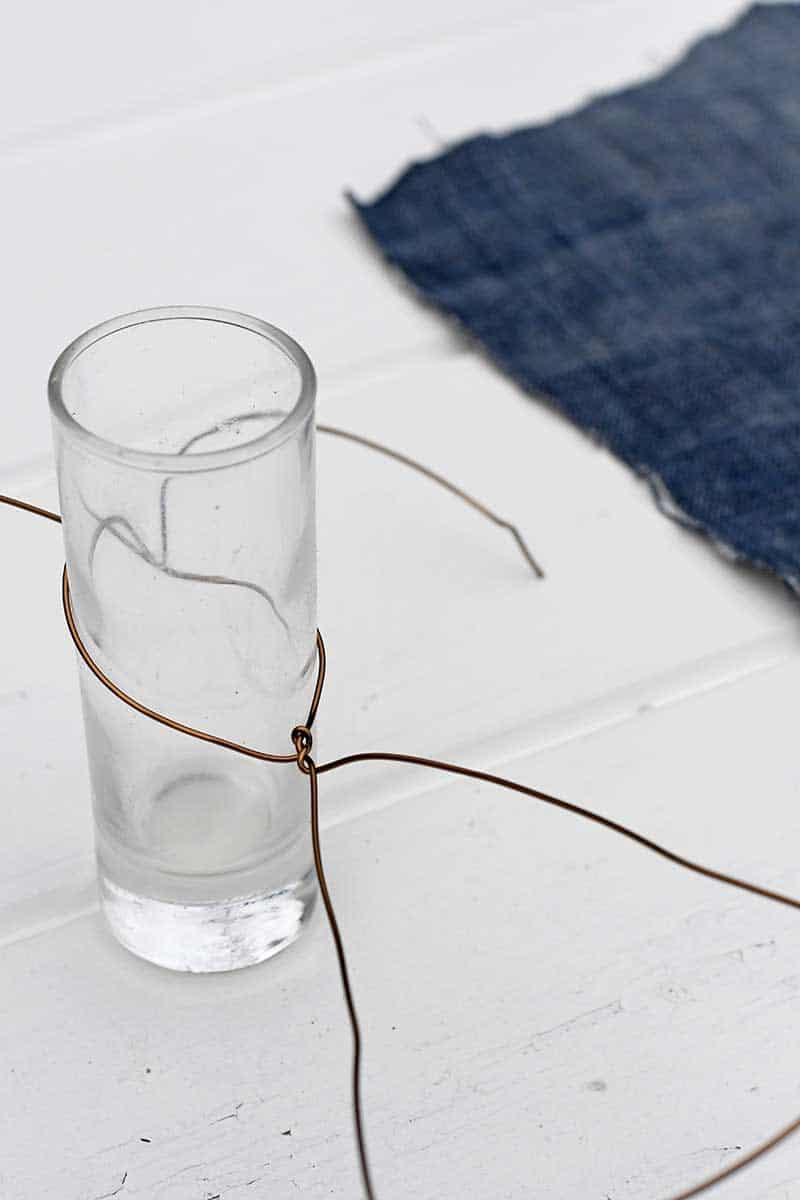 3. Next, wrap the two end of the wires together to secure them. Cut one end tight to the top of the head. With the other end of the wire make a small hook shape, and then cut to size.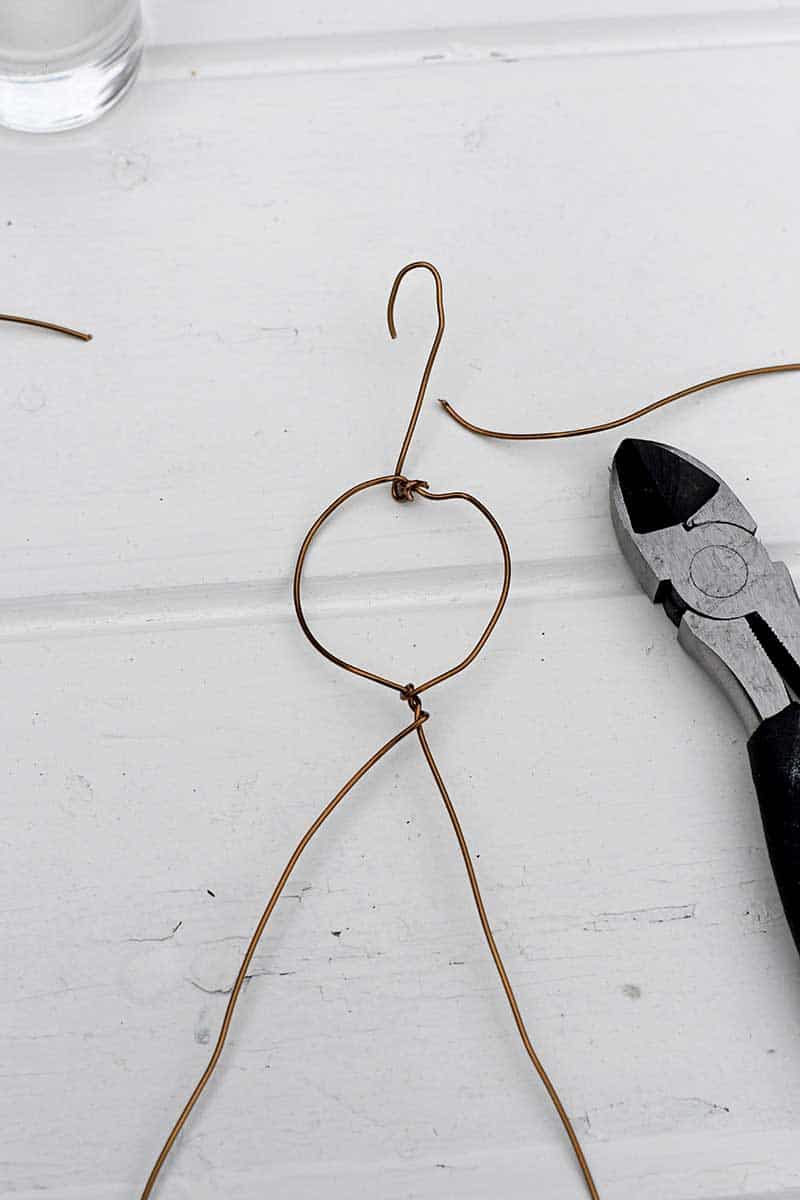 4. Finish the wire angel frame for the denim angel by making some wings. Just cut to smaller lengths of wire and twist them into basic wing shapes. Then attach them to the body by simply twisting the end of the wire around the frame.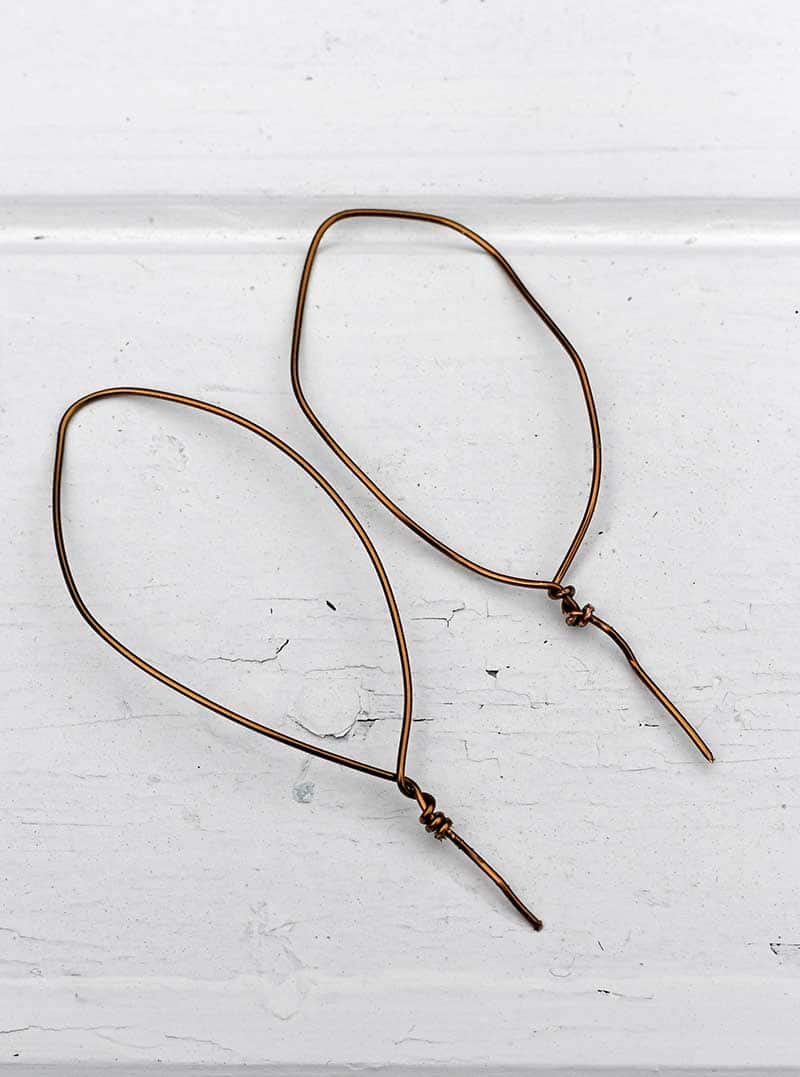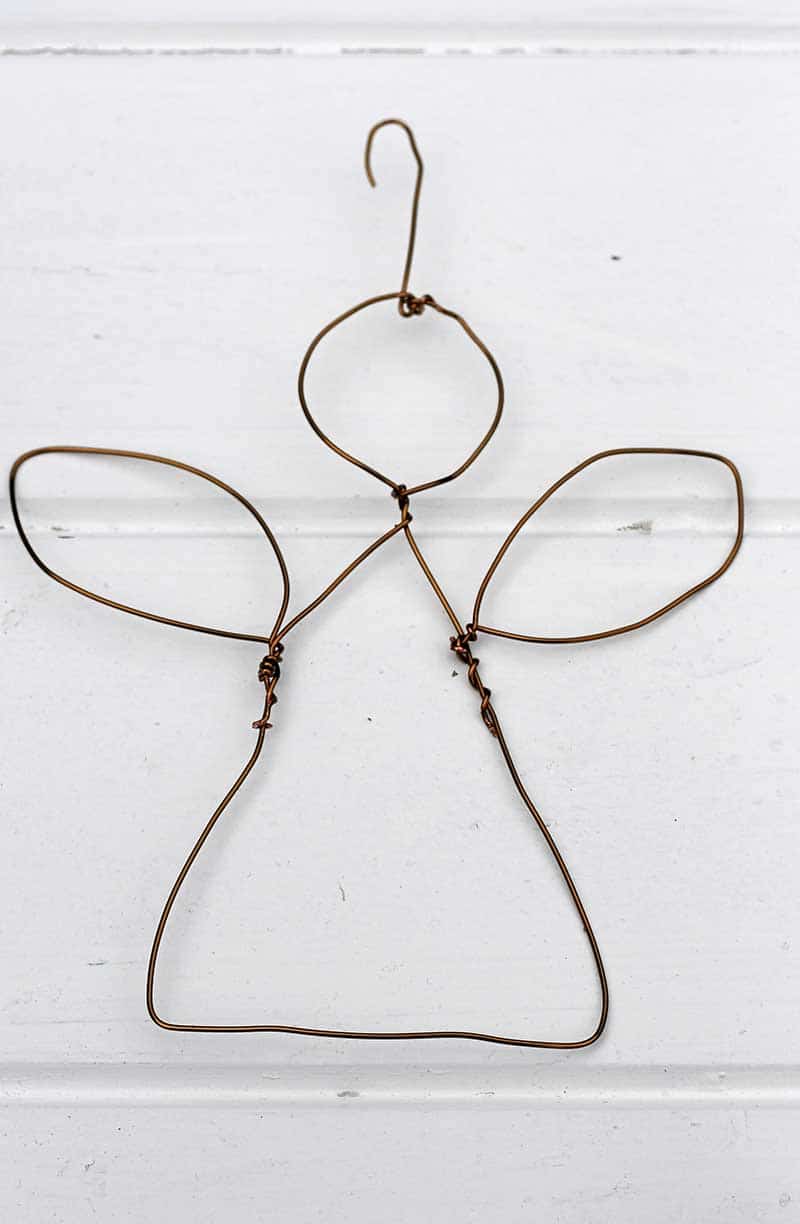 5. Place the wire angel on top of a scrap of denim and draw around the main triangle body with a pen. Then cut it out.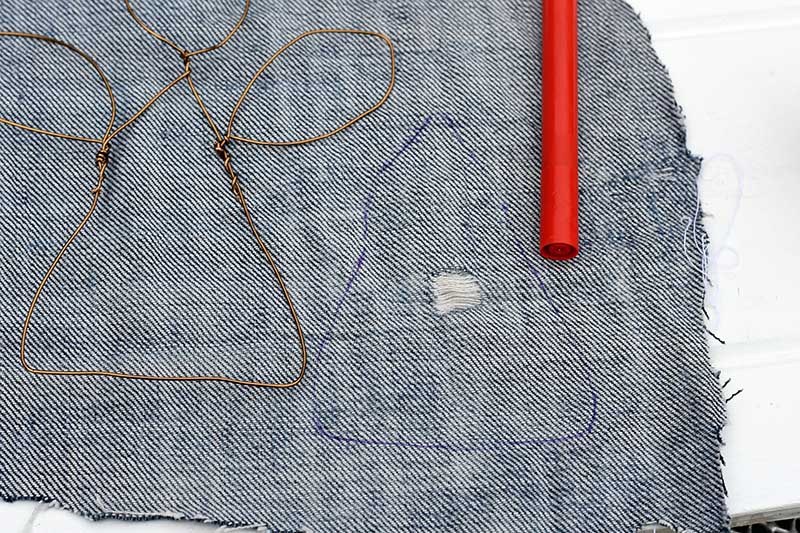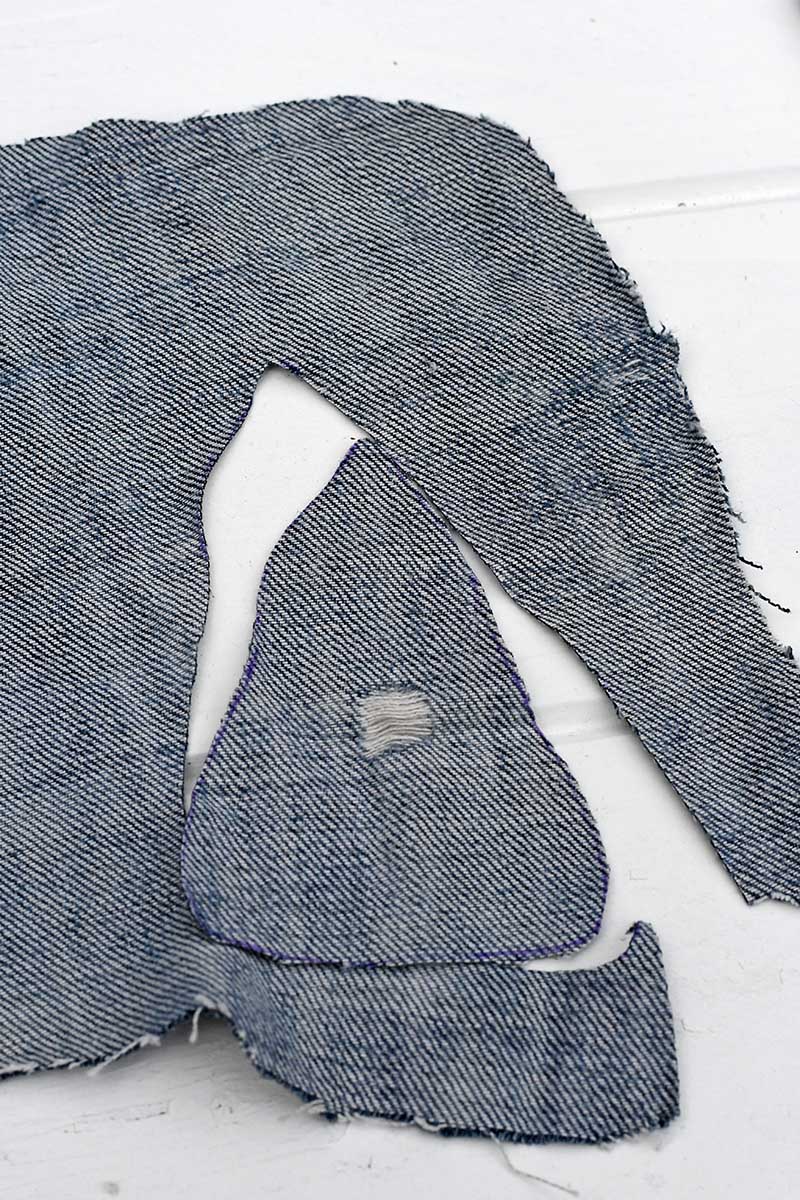 6. To finish off the denim angel brush super glue on to the wire angel frame and stick the denim triangle to it.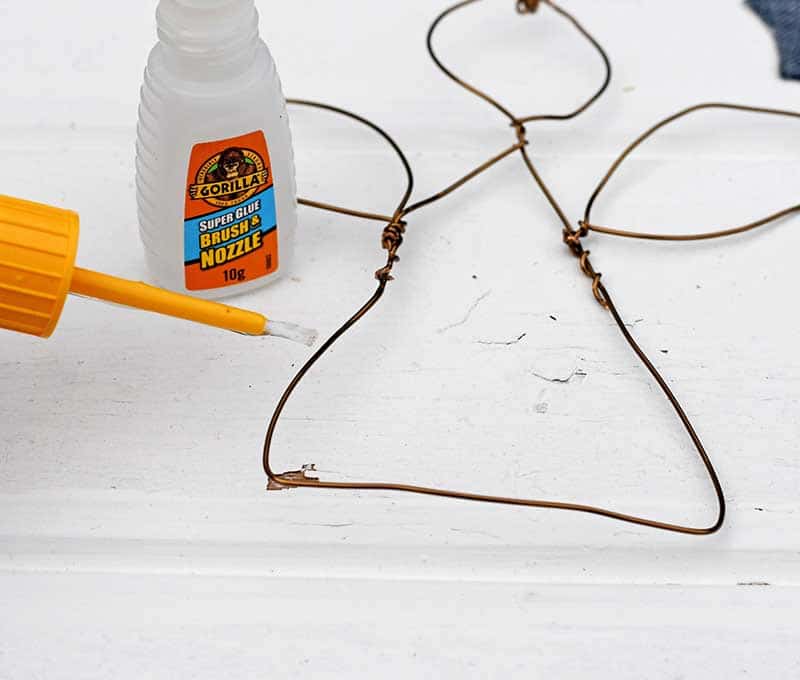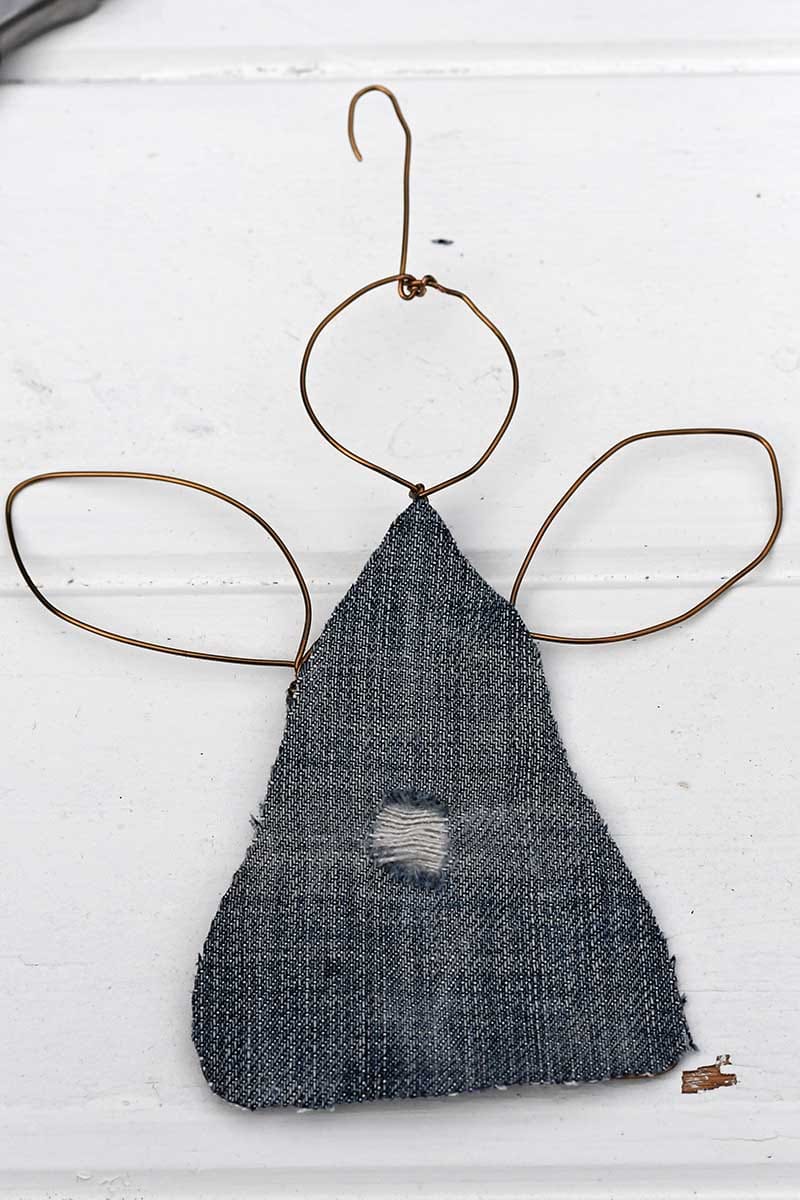 If you want a more colourful wire angel Christmas ornament you can use other fabric scraps, not just denim. I made another angel from some pink velvet in my scrap box.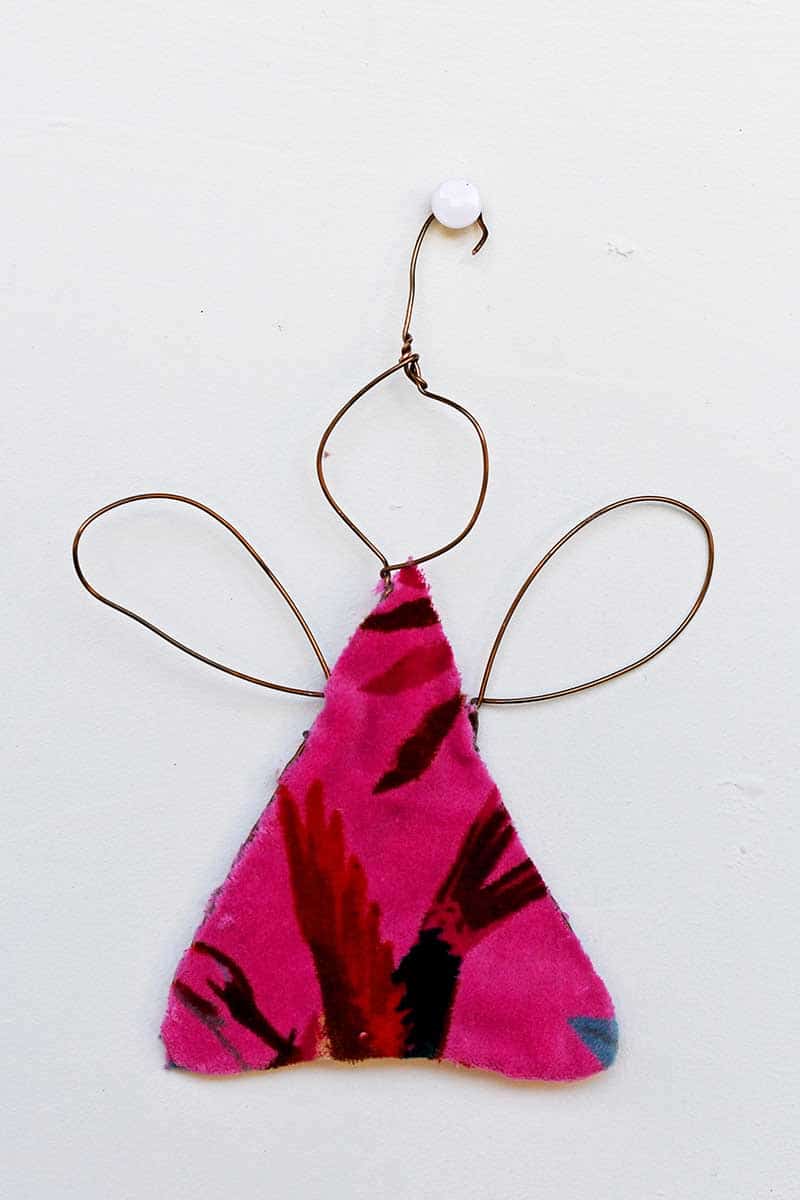 If you don't want to use glue, simple hand stitch the fabric scrap to the wireframe. You can also experiment with different shaped wings for your angels/fairies.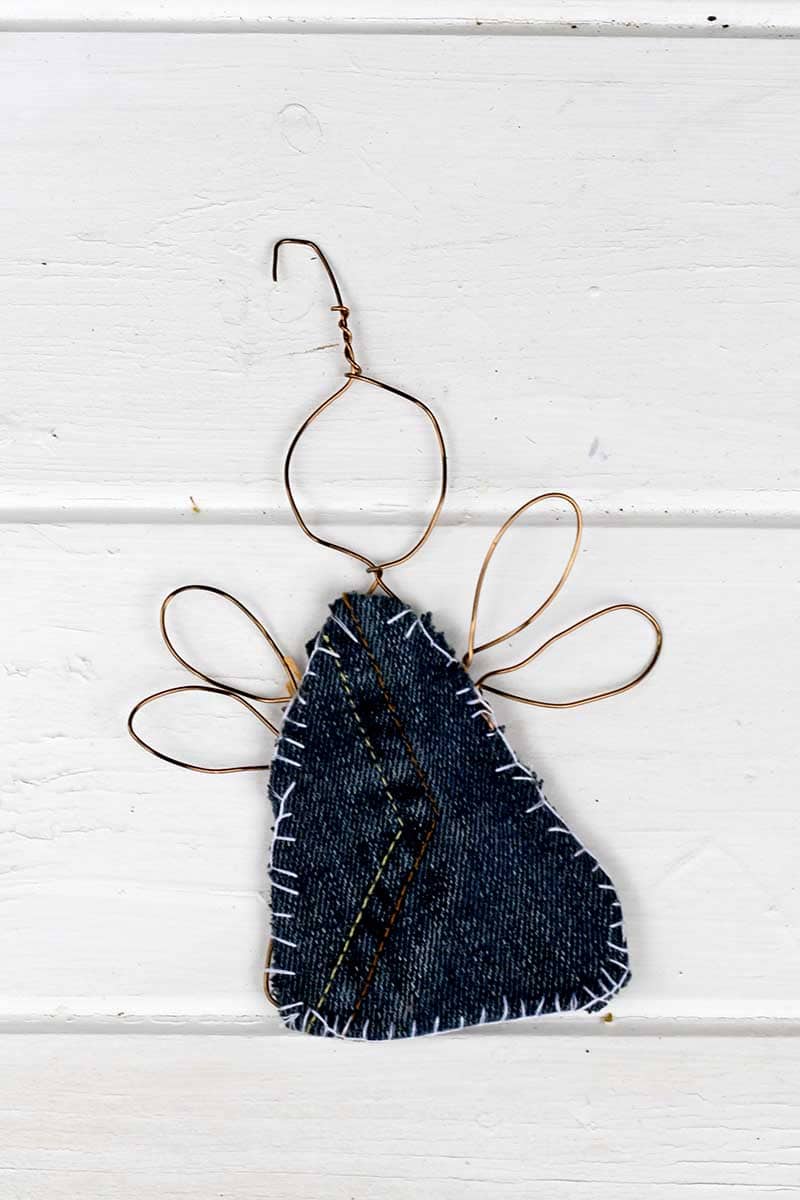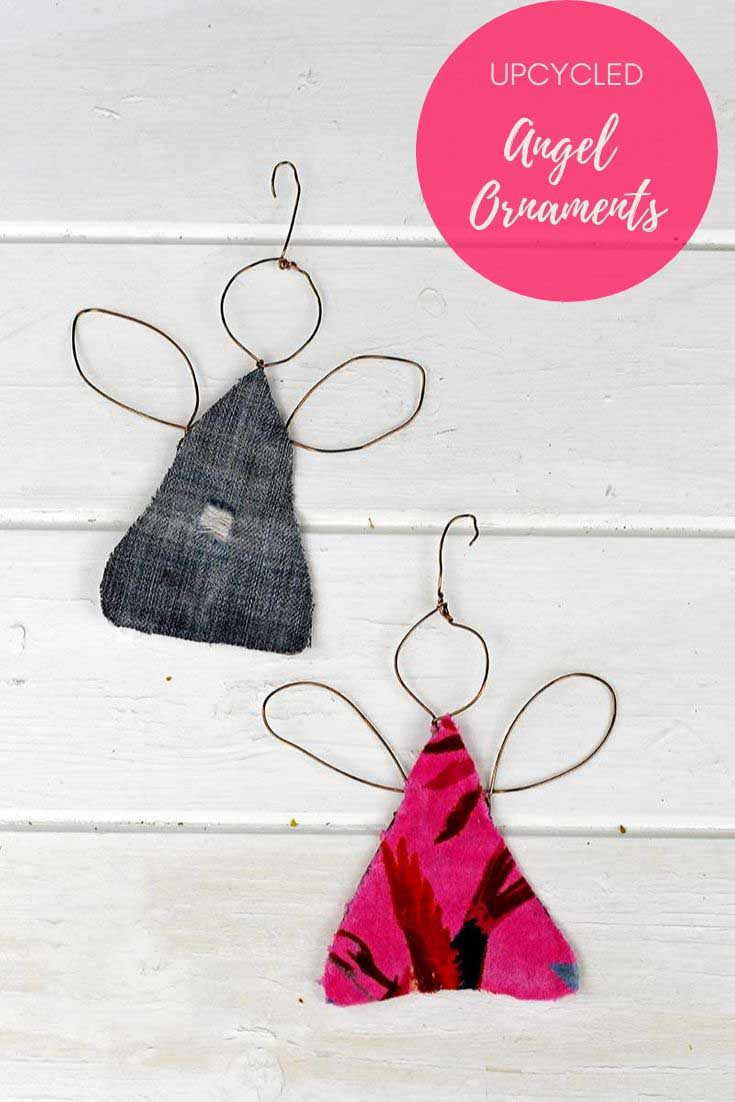 If you liked this denim angel Christmas ornament then check out some of my other denim and upcycled Christmas crafts.
Find more Christmas angel ideas here.