Inside: A tutorial on making fake fabric flowers with stems from repurposed cotton bed sheets.
Upcycling, to me, is all about turning the old and unloved into something more beautiful. One of my favourite things to make is faux flowers from repurposed rubbish. I've made beautiful map roses, a denim flower bouquet and sweater felt flowers in the past. I will show you how to make fabric flowers from old bedsheets.
Spring has finally arrived, and I've decorated my house with flowers to get into the seasonal mood. I love real flowers for about a week before they start dying and the water stinks.
The beauty of these upcycled fabric flowers is that they will last forever and require only occasional dusting. Also, there is no stinky flower water to deal with.
But don't ask me what kind of flowers they are. They are a made-up species of upcycled flower.
Old Bed Sheets Into Faux Fabric Flowers With Stems
With this upcycle, I managed to get the Sharpies out once again. I love playing with Sharpies; I have a collection, as my eldest son buys me a pack every birthday.
As I was so obviously delighted with them the first time I received them, my son decided he was on to a winner, so that's it now sharpies every year! I desperately need to think of more sharpie crafts, as they are beginning to stockpile.
These flowers were made in an afternoon with an old bed sheet and some floristry wire. They cost very little to make. I made some pink watercolour flowers and left some au naturel, but you can make them any sharpie colour you want.
I have also made some fabulous fabric mushroom art out of old bedsheets that can be seen on Pillarboxblue.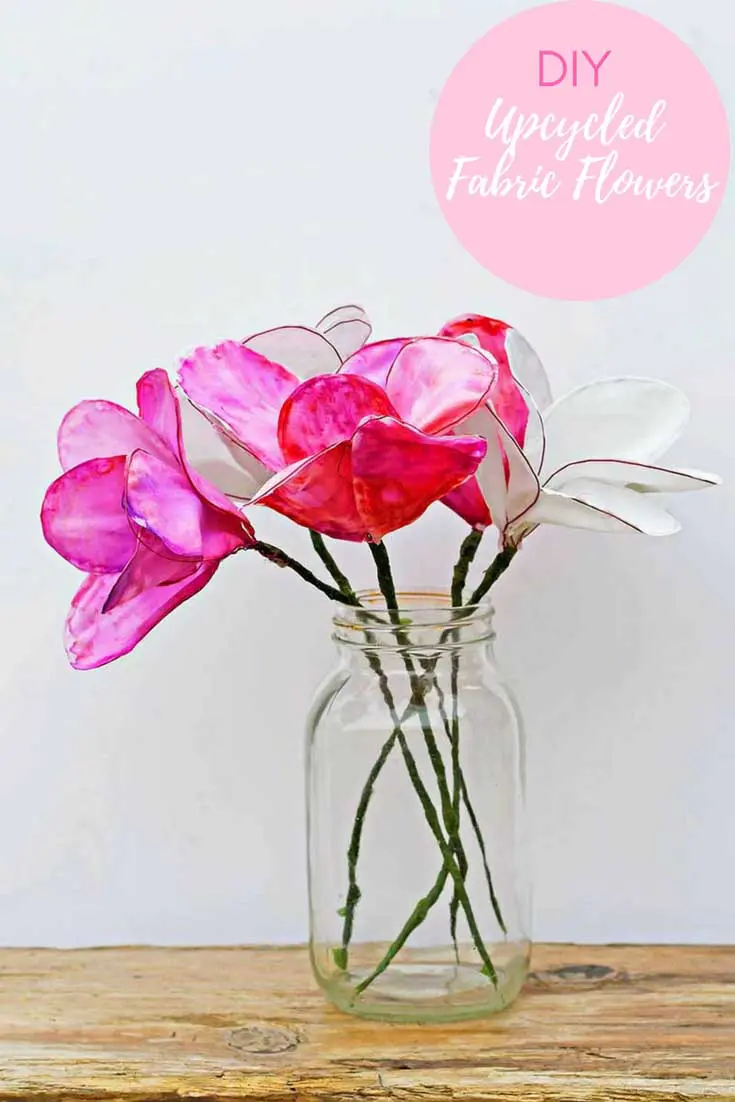 We're a participant in the Amazon Services LLC Associates Program, an affiliate advertising program designed to provide a means for us to earn fees by linking to Amazon.com and affiliated sites. As an Amazon Associate, I earn from qualifying purchases.
What You Need
An old bed sheet or any other cotton close-weaved light fabric.
Craft wire about 0.5mm thick – This comes in many different colours; I used pink for these flowers, but I've also used silver in the past.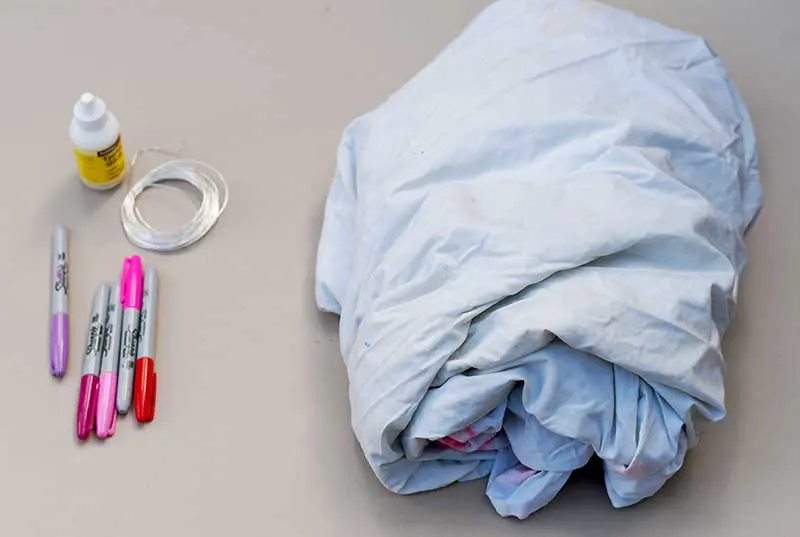 How To Make Fabric Flowers
Step 1: Cut a random piece of fabric from your bedsheet about 2ft square, and iron it flat.
Step 2: Cut several lengths of the craft wire about 30cm in length. Bearing in mind six pieces of wire are needed for each flower.
Make a frame for each petal by twisting each wire into a long petal shape with a small stem.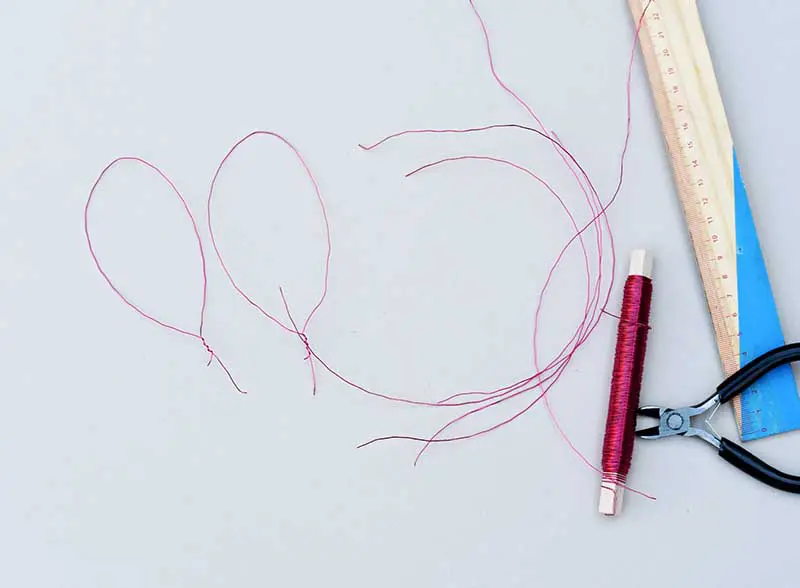 Step 3: Cover one side of the wire petal frame with a generous amount of tacky glue. Then stick the round part of the petals down onto the ironed sheet. Make sure the wireframe lies flat on the sheet.
Top Tip: You can lay something heavy on the wires while the glue dries to ensure they stick to the bedsheet.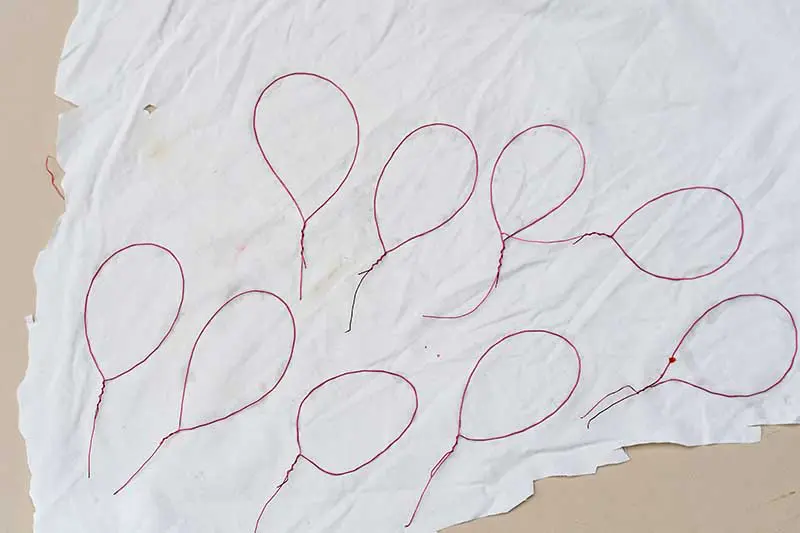 Step 4: After the glue is dried, carefully cut out each petal from the sheet.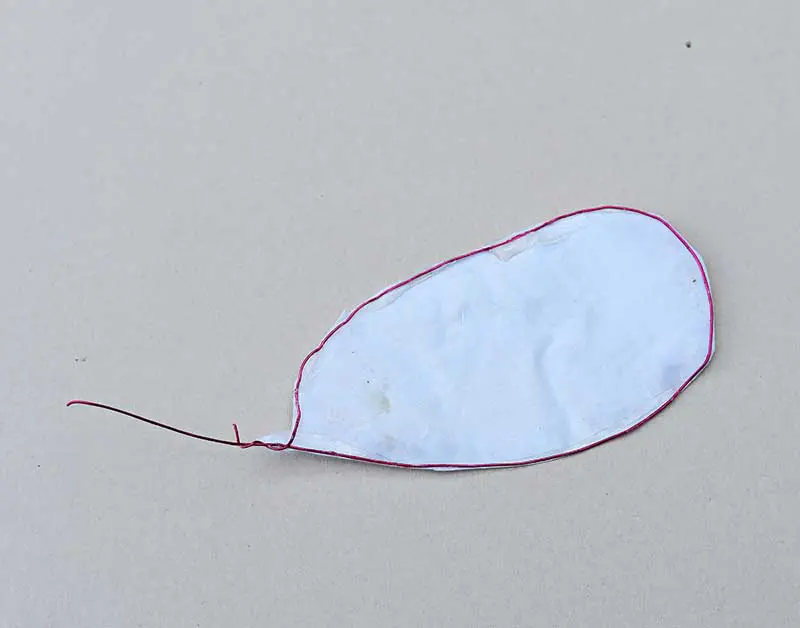 Step 5: This was my favourite part of this craft. Some of the petals I left au naturale, and the others I watercolour dyed with sharpies.
Using a selection of pink, red and purple sharpies colours in a fabric petal. Don't worry about them looking messy at this stage.
Step 6: Spray the coloured petals with rubbing alcohol; that's when the magic happens. The alcohol makes the inks run into one another, creating a watercolour effect.
Step 7: Next, gently squeeze and bend the wire petals into more of a flower shape.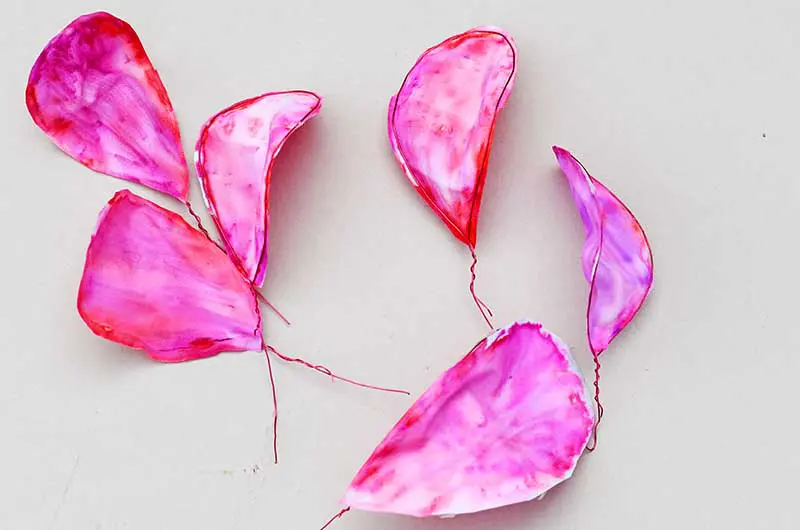 Step 8: Cover the floral stem with green floristry wire and then attach one petal to the wire by wrapping the wire end around the stem.
Repeat with the remaining five petals, adding them one at a time and spacing them around the stem.
Cover the stem with green tape to hide the wires when all the petals are attached. It is easy to shape your flower by gently bending the petals.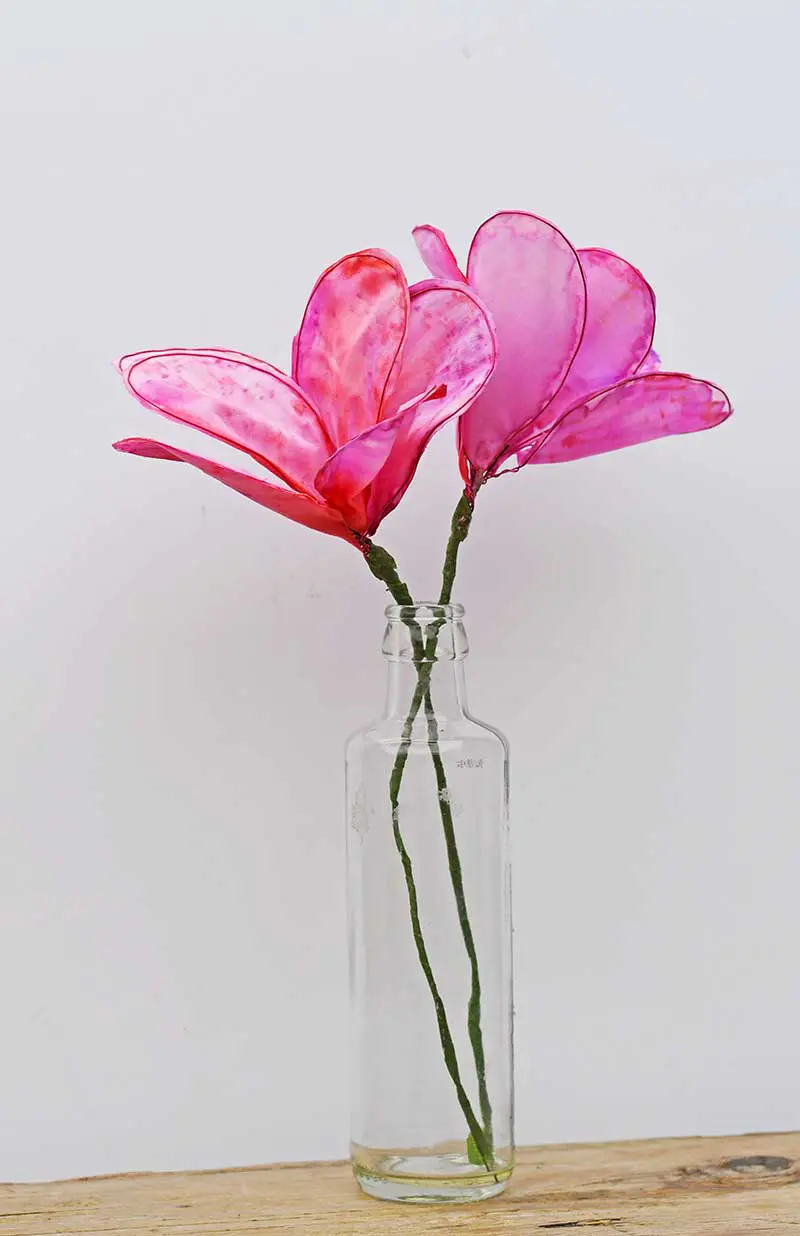 I planned to sharpie watercolour all the petals when I started this craft. However, I loved the look of the white petals, too, so I left half of them as they were.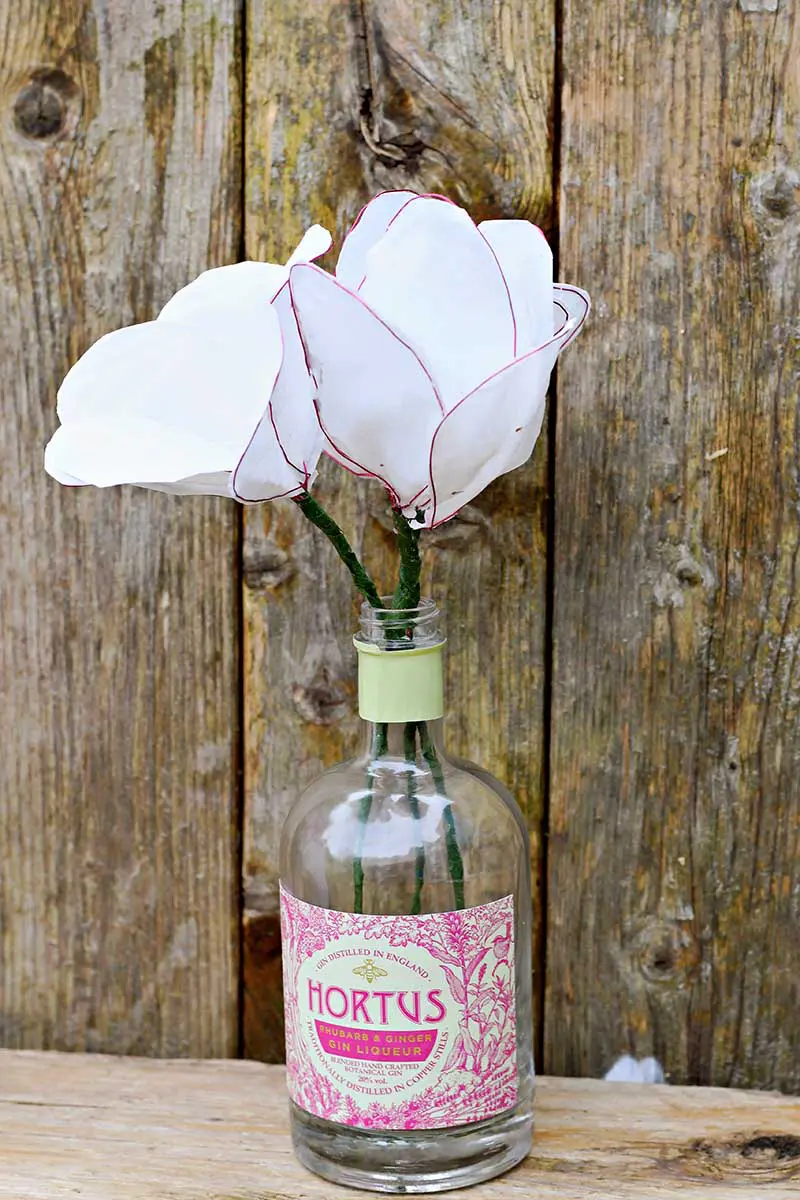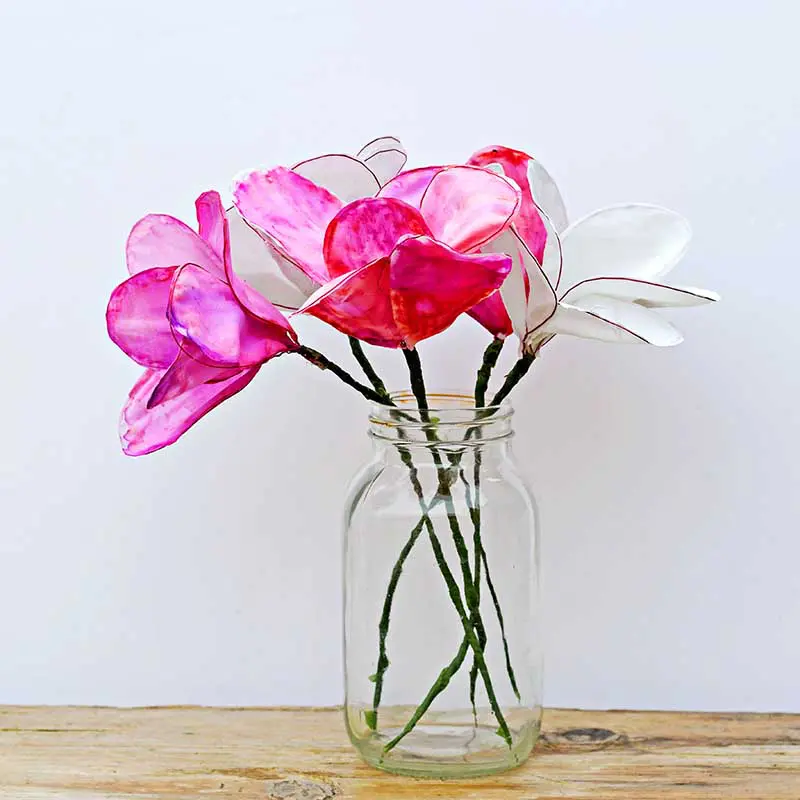 I do think that both the pink and white flowers look good together. If you want to make a different kind of faux fabric flower with stems then check out this no-sew tutorial for Chrysanthemum flowers.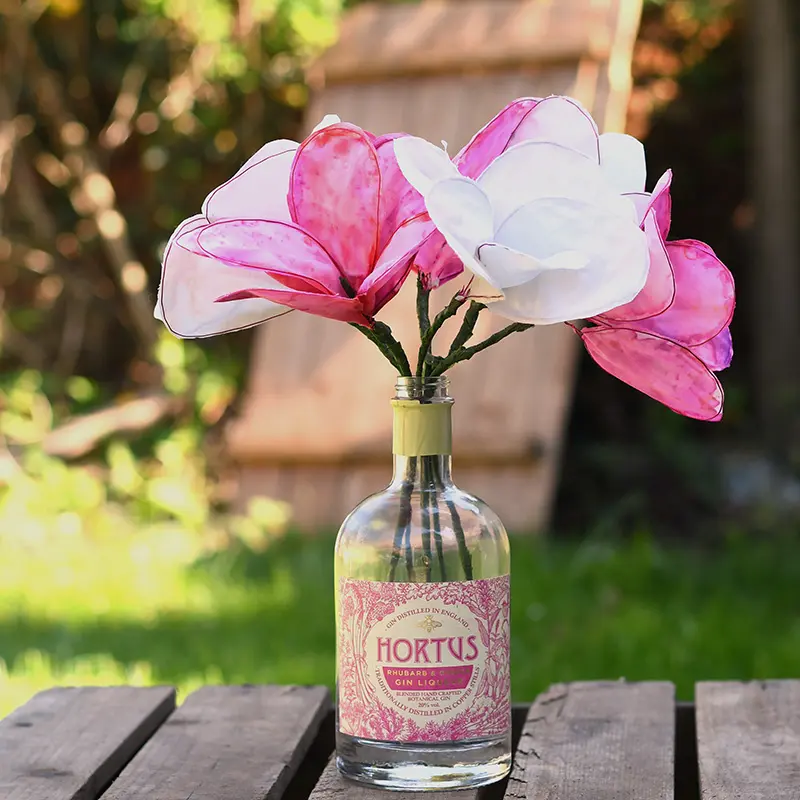 These fabric flowers would look fabulous in the hand-painted glass bud vases I made. Or even better in this upcycled denim hanging mason jar vase.
I also love to make faux flowers out of thick Italian crepe paper; I have several posts where I have made these flowers. Such as my gorgeous giant Boho flower vase and the large faux pineapple wall decor. I even have some wonderful doodle flower crafts.
Upcycled felt is also a great fabric to use when making faux flowers; I've used these felt flowers for a fun Frida Kahlo Pillow and have even made a whole repurposed faux felt succulent garden. Or you can even use yarn to make some pom-pom flowers.
I've even made DIY fabric sunflowers from old jeans and fabric poppy seed heads.
You can find more cool things to make with fabric scraps here.