Repurposed Map Rosettes for Christmas Decorations, Ornaments, and Present Toppers
If you look at many old roadmaps they are often printed in Christmassy colours (white, red and green)!. The backgrounds are white, forests and open spaces are green and major roads are printed in red. That's one of the reasons I decided to use them to make some Christmas paper rosettes.
What I love about these map paper rosettes is that they can be made in a variety of sizes and used in a variety of ways. They look great hung together in clump as a wall or door decoration. Hung individually on the Christmas tree as lovely ornaments. Or you can simply stick a map paper rosette to the top of a gift as a beautiful decoration. If you use maps of special places than that will make the decorations even more personal and special.
These paper rosettes are so affordable too! All you need is a hot glue gun, old buttons, and some old road maps. If you don't have any old road maps to hand you can pick them up really cheaply in charity and thrift stores. Buying old road maps to use in crafts is very economical as they are often cheaper than gift wrap or craft paper.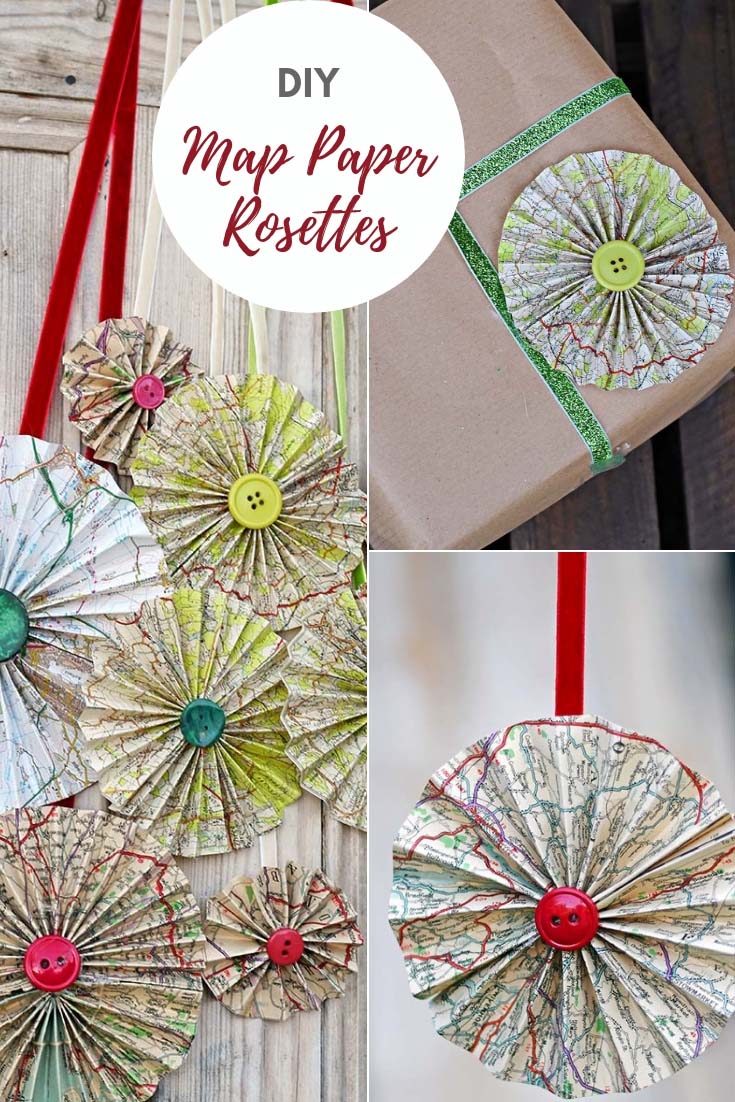 This post contains Amazon affiliate links for your convenience. Click here to see my disclosure policy.
What you need to make Map paper Rosettes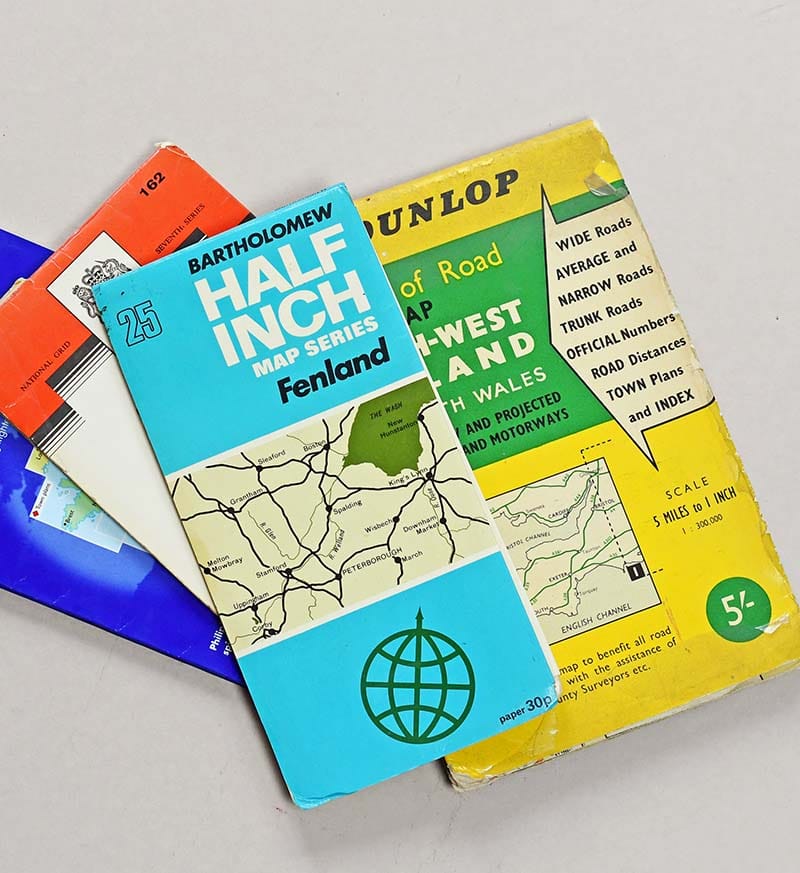 How to make Map paper rosettes
The first thing you need to do is to work out how large you would like your paper rosette. I made mine in a variety of sizes. Depending on how large you want the paper rosette will depend on how long a strip of paper you will need. Basically, the length of paper needs to be five times the width.

To make a map paper rosette that is 10cm in diameter (5cm radius), you will need 2 stips of map paper 5cm wide and 25cm long. So to make a paper rosette 8cm in diameter, you will need two strips of map paper 4cm wide by 20cm long.
To ensure a nice straight edge use a metal ruler, mat and rotary cutter to cut the stips of map paper. Cut 2 strips of paper for each paper rosette.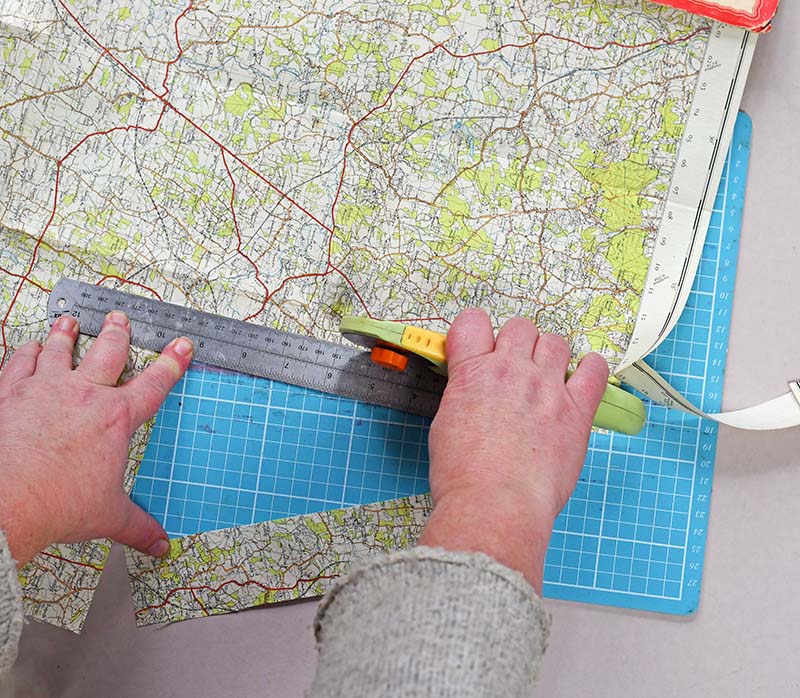 Next, concertina fold each map stip. The folds should be between 7-10mm apart.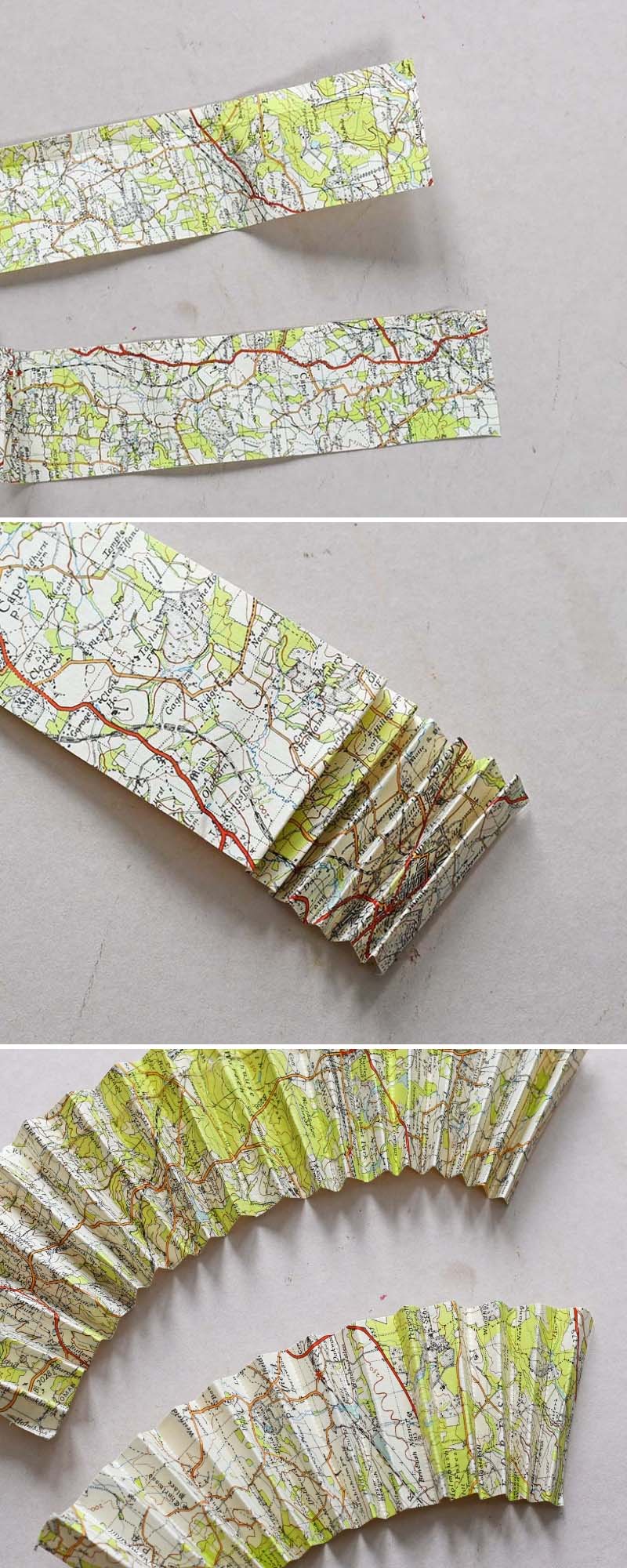 Next, fold each strip of concertina map strips round into a semi-circle shape. Use a hot glue gun to hold this shape in place. If the map paper you have used is a bit stiff sometimes it helps to glue a strip of paper across the semi-circle to help it keep the shape. (Careful when using a hot glue gun, they glue burns if touched with the naked skin.)

You should end up with two map semi circles. Again using the hot glue gun glue the two semi-circles together to make a paper rosette. Finally, finish off and tidy up the paper rosette by gluing a button or craft gem to the center.

I made lots of these paper rosettes in different sizes using different roadmaps.

As I mentioned at the beginning there are several different ways to use these Christmas map paper rosettes. They look great hung from velvet ribbon as ornaments on a tree. A few paper rosettes of different sizes hung together to make a fabulous wall decoration. Or you can simply use the map rosettes as a gift topper. The gift recipient could then hang them on their tree, it would be like a present in itself.

If you are looking for other Christmas ideas for upcycling with roadmaps you should check out these crafts.
DIY heart map ornament
Vintage Map Heart Garland
Repurposed map decorations
Repurposed Wood Map Ornaments
Beautiful Map Roses

For more paper home decoration craft ideas visit allfreepapercrafts.com