A tutorial on how to make some on-trend Boho-style jeans pillows.
The trouble with staying in gorgeous accommodation whilst on holiday is my home looks knackered on returning. It seems too cluttered, tired looking, and much of it desperately needs redecoration.
The solution is to either go on camping holidays so that I appreciate my home comforts more or tackle the house. As I hate camping, it will have to be the house.
So I made a pathetic start by chucking a load of old and worn throw pillows. And then I used up some of my craft stashes and made some fresh replacement boho-style jeans pillows.
Boho Jeans Pillows With Upcycled Sari Trim and Pom Poms
I'm a bit of a craft hoarder. I have a large stash of yarn, piles of fabric, and old jeans. Whenever I glance at my yarn pile in the craft room, I think it is mocking me for being a terrible knitter and average crocheter. I'm now just resorted to using my yarn to make pom poms.
I used vintage sari trim, recycled jeans, and more yarn to make pom poms. I found the trim in my craft stash; I had forgotten about it. The sari trim was just what I needed to give the jeans pillows that boho feel.
Vintage sari trims are gorgeous strips of brightly coloured and embroidered fabric used to adorn lovely Indian saris. I know you may be wondering, where do I get sari trim? Like most things, it's easy to find on eBay and Amazon.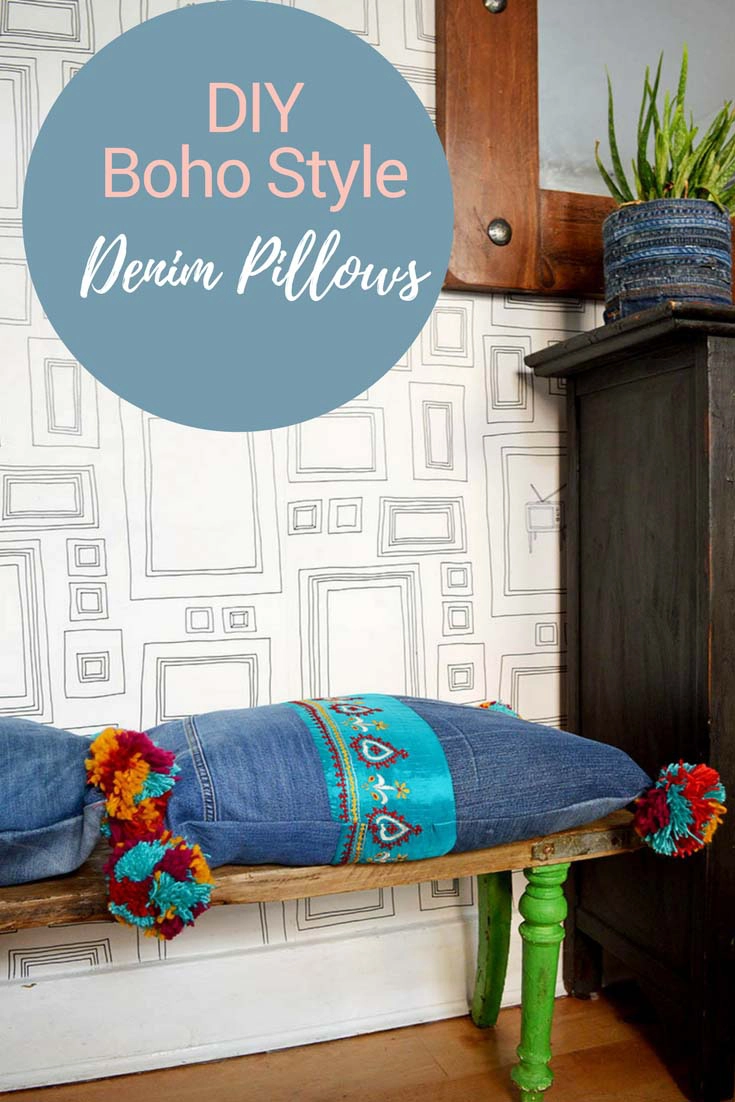 We're a participant in the Amazon Services LLC Associates Program, an affiliate advertising program designed to provide a means for us to earn fees by linking to Amazon.com and affiliated sites. As an Amazon Associate, I earn from qualifying purchases.
What you need to make upcycled boho jeans pillows
Old denim jeans
Vintage Sari trims – As I've already mentioned, this is readily available on eBay and Amazon. You will need a piece of trim about 90cm long for each jeans pillow.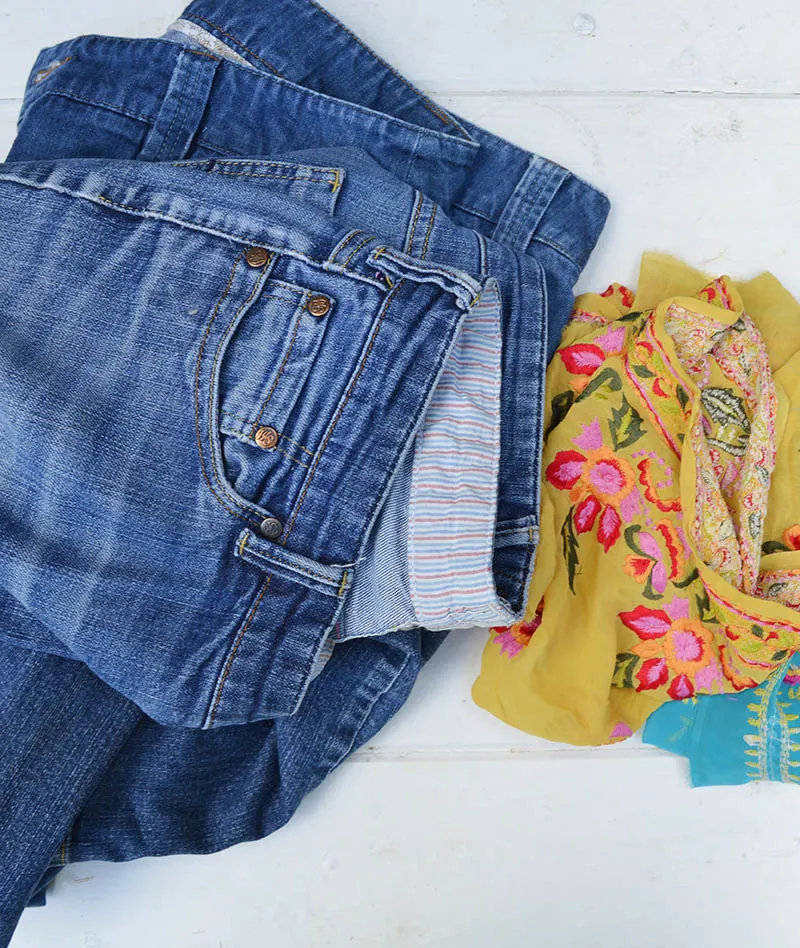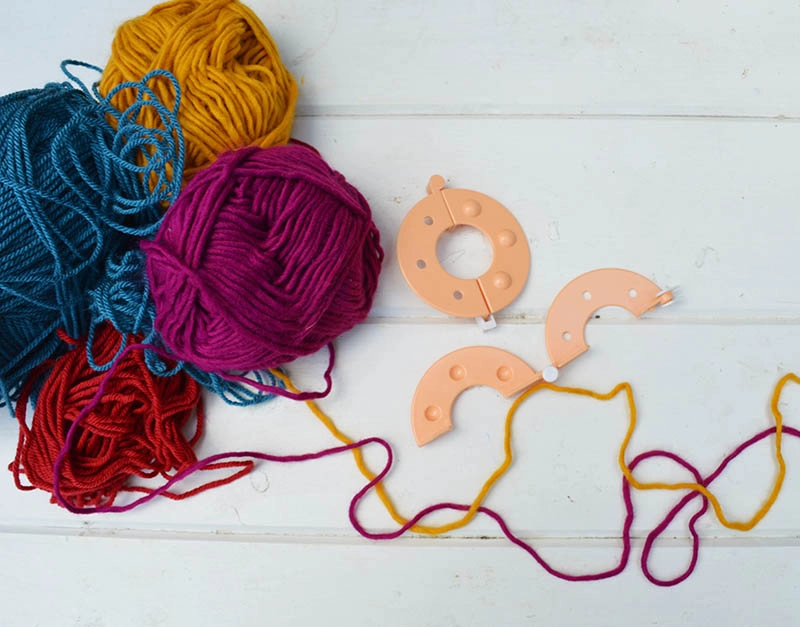 Needle, thread and 30cm (12″) zip
Pillow insert – I used a 65cm X 45cm (16″ x 26″) Ikea fjadrar insert
How to Make Boho Jeans Pillows
Step 1: Each pillow side comprised 3 panels of fabric (6 in total). The width of vintage sari trim will vary from piece to piece. First, I measured the width of the sari trim and then calculated the width of denim I would need on either side. I was making a cover for a pillow 65cm by 45 cm. Don't forget to allow for a seam allowance.
Step 2: For the front of the pillow, pin two pieces of denim and one piece of sari trim, right sides together and then sew. Repeat for the back of the pillow.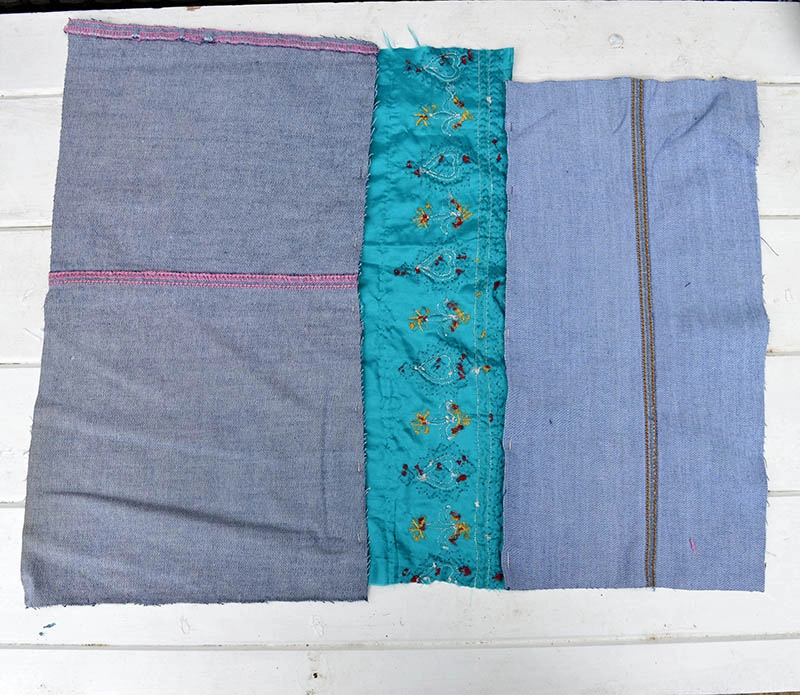 Step 3: Next, lay both the pillow sides (front and back) flat front sides up (see picture below). Then pin a zip between them and sew in the zip to join them. If you are unsure how to sew a zip into a pillow, there is a video tutorial here.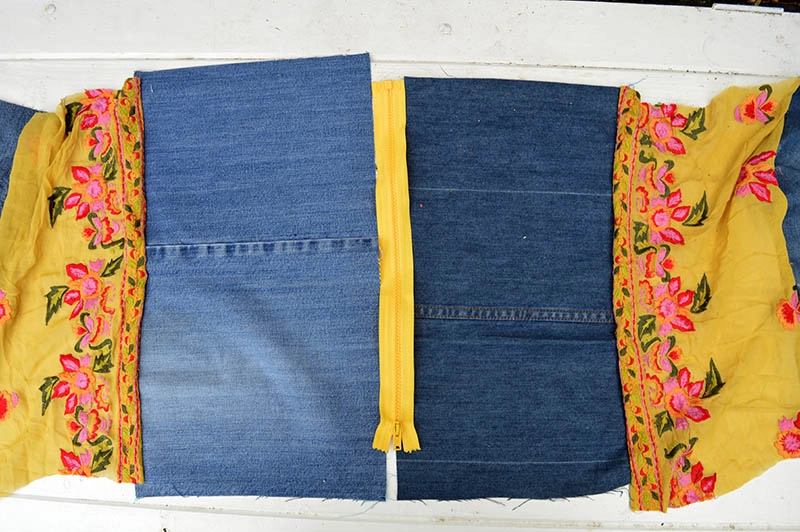 Step 4: Next, pin the rest of the pillow both sides together, leaving the newly attached zipper open.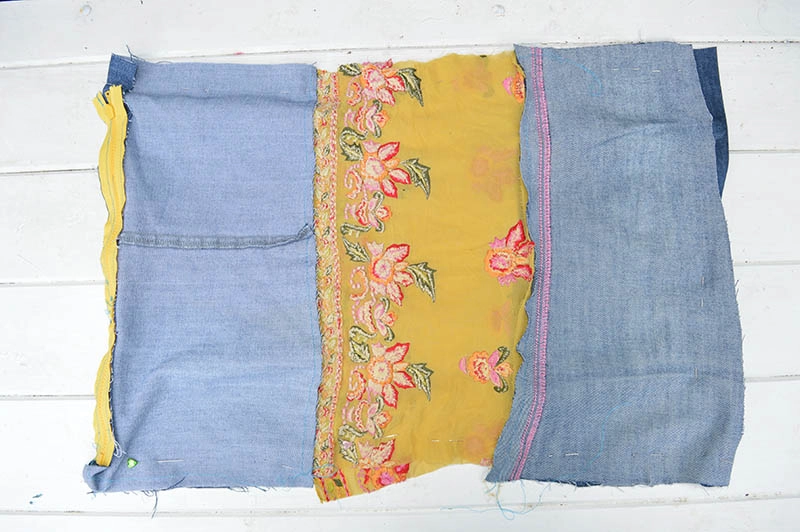 Step 5: Using a sewing machine, sew the pillow sides together. Then turn the cushion/pillow cover right sides out and add the pillow insert. I used IKEA 65 cm by 45 cm inserts for these Boho Jeans Pillows.

Step 6: Finish off by making multi-colour giant pom poms with your pom pom maker and hand sew one onto each corner of the pillow. To get the mixed-coloured effect, wind different coloured yarn in bands around the pom pom maker.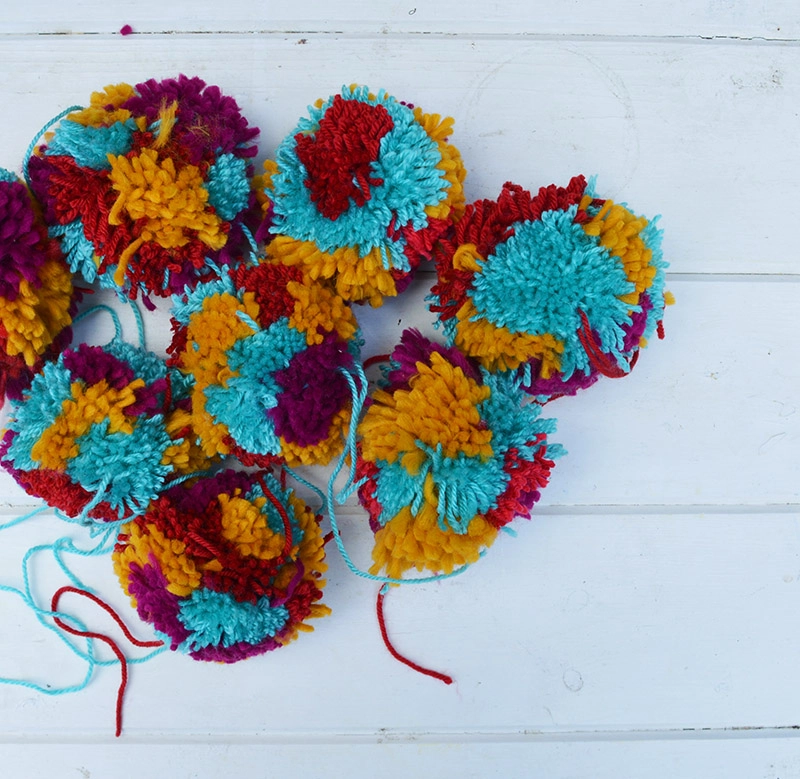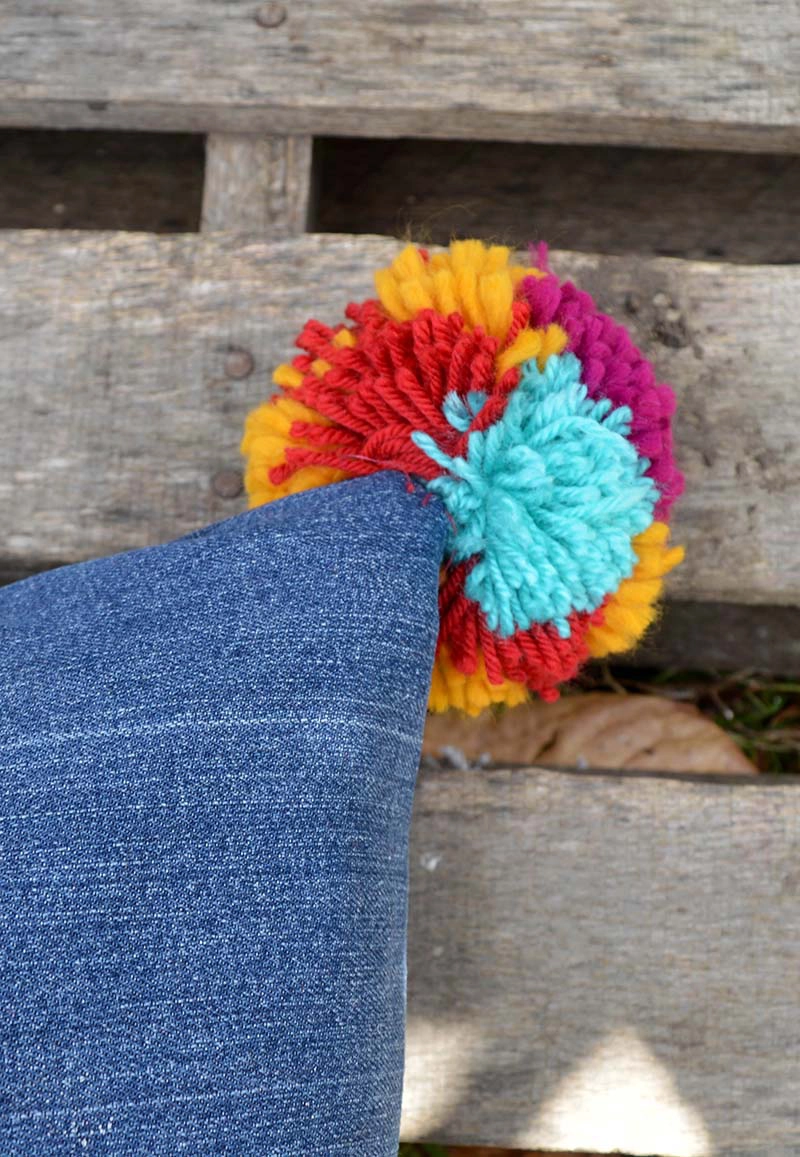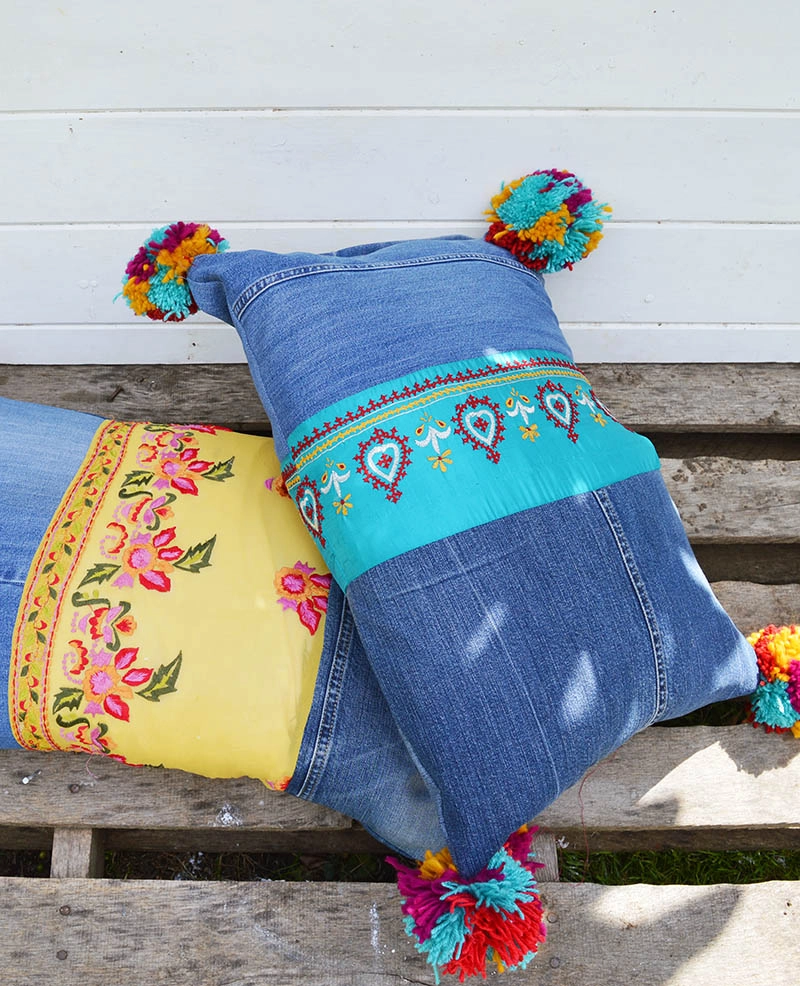 Other Related DIYs
I love how these pillows/cushions turned out. I love that they are made from recycled jeans but are still so colourful. The only thing is I can't quite decide where to have them in my home. I think I will need to make some more.
Another way to have combined the sari and denim fabric was to have made a denim pillow first. Then, applique the sari fabric hexagon patchwork to the pillow.
I'm also pleased that I found a use for the gorgeous vintage sari trim I bought on a whim a couple of years ago.
For more Boho upcycles, check out these DIY wooden ornaments made from old curtain fixings.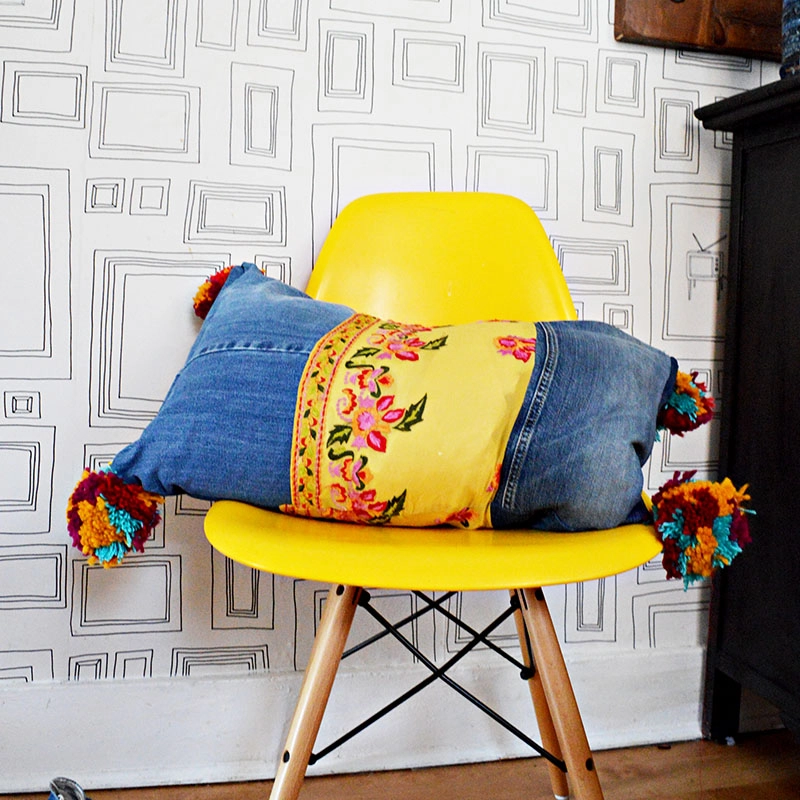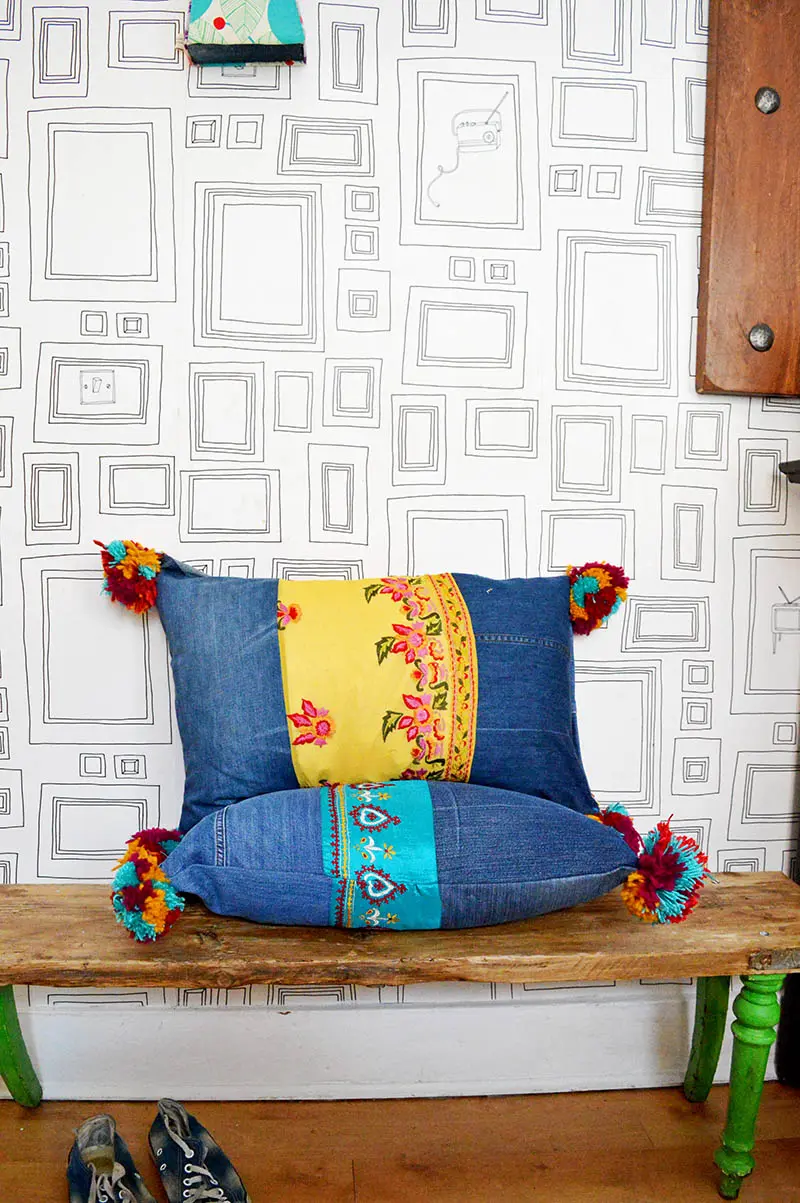 Yield: Upcycled Jeans Pillow
Boho Jeans Pillows With Sari Trim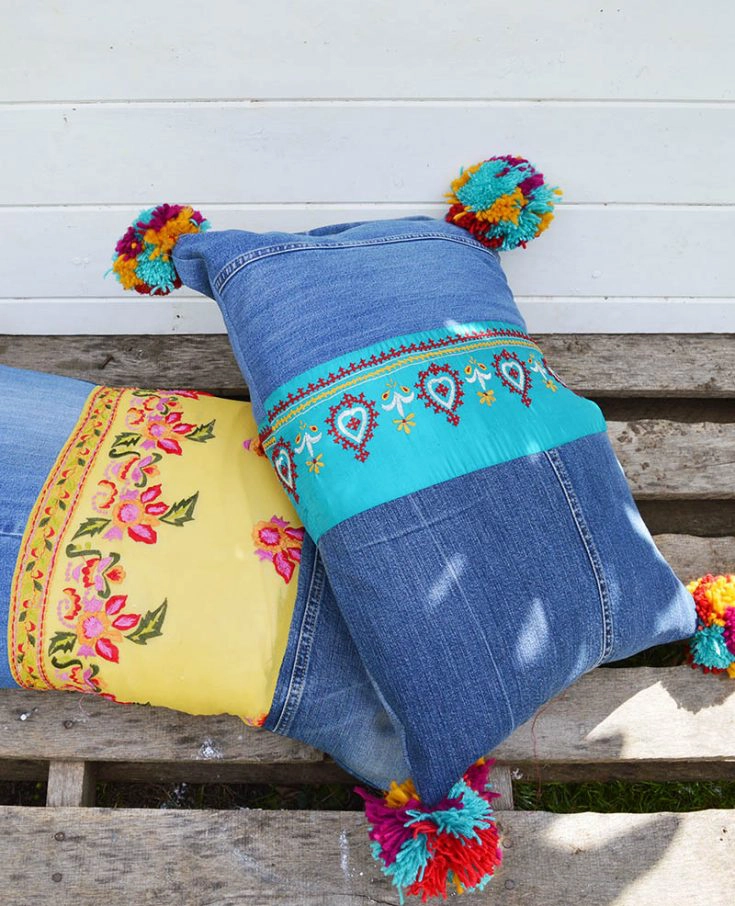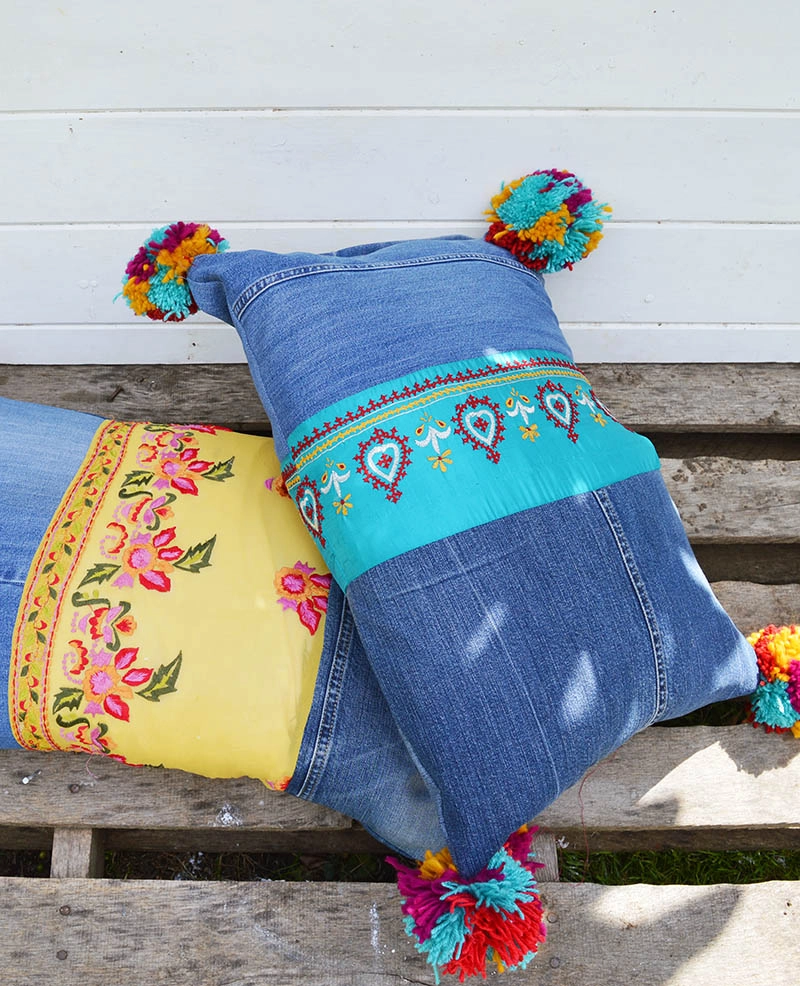 Make gorgeous Boho style jeans pillows with sari trim and pom poms
Materials
Old jeans
Sari Trim
Wool
Zip
Tools
Sewing Machine
Pom Pom Maker
Instructions
Cut the denim to make a panel 65 cm by 45 cm made up of 2 pieces of denim and one of Sari trim. Make 2 of these panels for each pillow.
Next, lay both panels face up and join together at one end with a zip sewn in.
Then, pin the panels right sides together with the zip open
Next, sew up the sides of the pillow, then turn right sides out.
Finally, make four multi-colored pom poms and sew one into each corner of the pillow
Check out the pillow cover design ideas, including
For more Boho DIYs and crafts, check out these tutorials.